---
"R&B Divas: L.A." Cast REVEALED! Lil Mo, Kelly Price, Chante Moore, Dawn Robinson & MORE Gear Up For The Drama!
Posted: 12 Feb 2013 09:09 AM PST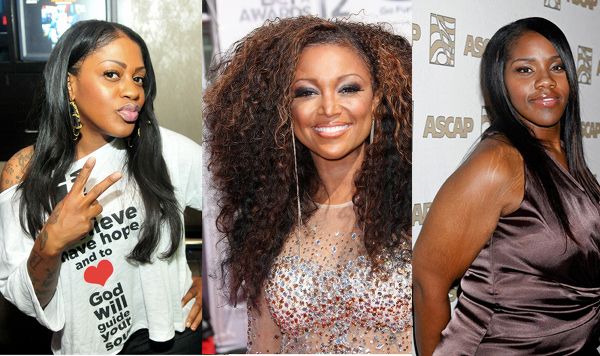 TV One's hit reality show "R&B Divas" is kicking off it's L.A. spinoff. And the final cast has just been announced. Check out some of our faves from the past getting their second wind...on reality tv.....
"R&B Divas: L.A." is kicking off its first season after the ladies in ATL had a successful first season. For this spinoff, we'll get to see a few folks we haven't seen in a while.
Kelly Price, Chante Moore, Lil' Mo, Claudette Ortiz, Michel'le and Dawn Robinson will begin production this month in Los Angeles, TV One has announced, with an anticipated premiere on TV One this fall.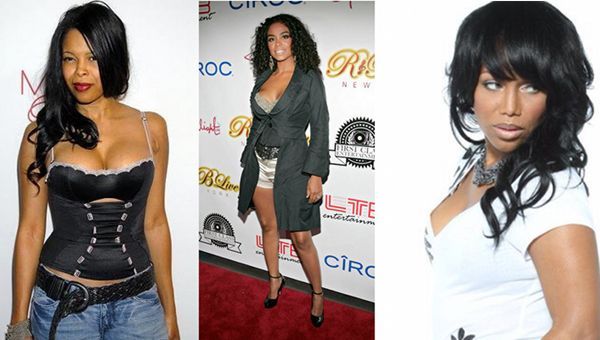 Learning more about Michel'le and Claudette Ortiz and any drama they have will be interesting. Especially since we haven't heard from Claudette since she left City High after getting married (to a guy not in the industry) and having a baby.
As for Dawn, she better dish ALL details about the beef amongst En Vogue (and WTF happened to Lucy Pearl). And Chante Moore and her drama with her ex husband Kadeem Hardison and current husband Kenny Lattimore ought to be interesting.
We're sure Kelly Price will give us some Whitney Houston insight as they were very close and Kelly was one of the last people to see her before she died a year ao.
And Lil Mo and her 4 kids and husbandger ought to be at least somewhat interesting as well.
Will you be watching?
The Randomness:
1. The Police Chief in the Chris Brown probation "scandal" has resigned. STORY
PARADE FAB! Nick Cannon's TOSSIN' BEADS Down At MARDI GRAS
Posted: 12 Feb 2013 08:46 AM PST
It's Mardi Gras Day! And Nick Cannon was spotted tossing out beads from atop a Mardi Gras float in New Orleans yesterday. Find out what parade Nick participated in inside....
'America's Got Talent' host Nick Cannon rode in the 'Krewe of Orpheus' Parade on a rainy Lundi Gras Monday yesterday. His job--to toss out beads to tons of screaming fans and parade goers.
Nick was the parade's celebrity monarch and rode the 'Smokey Mary' train Float.
While in town, Nick will also direct local auditions for "AGT" Friday on Feb. 15 and Saturday, Feb. 16 at the Ernest N. Morial Convention Center.
And we couldn't help but notice how he personalized his cell phone with an adorable pic of his son Moroccan. Cute!

Grab ya daiquiris and join the second line. Happy Mardi Gras!
Photos via PacificCoastNews.com
L.A. COUPLEDOM: T.I. & Tiny + Karrueche Tran & J. Ryan La Cour + Ne-Yo & Monyetta Have DATE NIGHT!
Posted: 12 Feb 2013 07:52 AM PST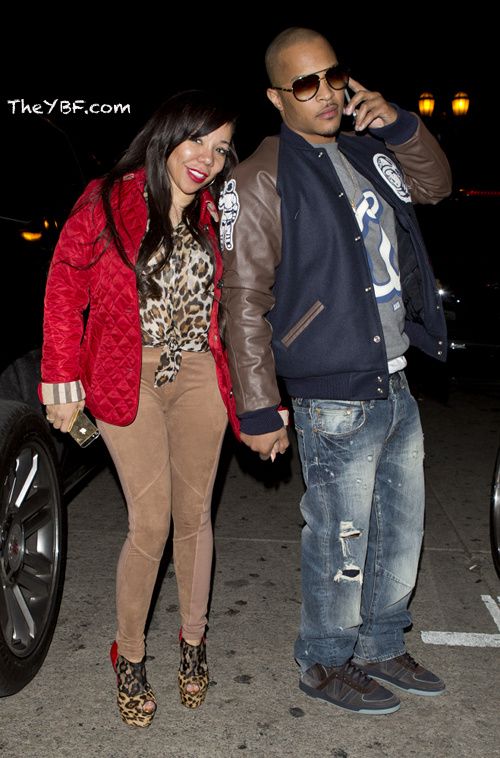 Love is in the air as we spotted a few YBF couples out and about yesterday. See pics of T.I. & Tiny, Monyetta & Ne-Yo and Karrueche Tran and her alleged new man inside......
No need to wait till Valentine's Day...these folks show the love everyday.
VH!'s favorite reality tv couple, T.I. and Tiny were seen arriving at Lure Night club in Hollywood, CA. T.I. wore a Billionaire Boys Club jacket (from the line owned by Pharrell).
And while Chris Brown is was probably boo'd up with Rihanna somewhere, Karrueche Tran was out spotted with her new "rumored" boo shopping for a few things. For some reason, he gives me the "I'm just the stylist" vibe. But hey, we're here to report the rumors. And rumor has it--they're an item.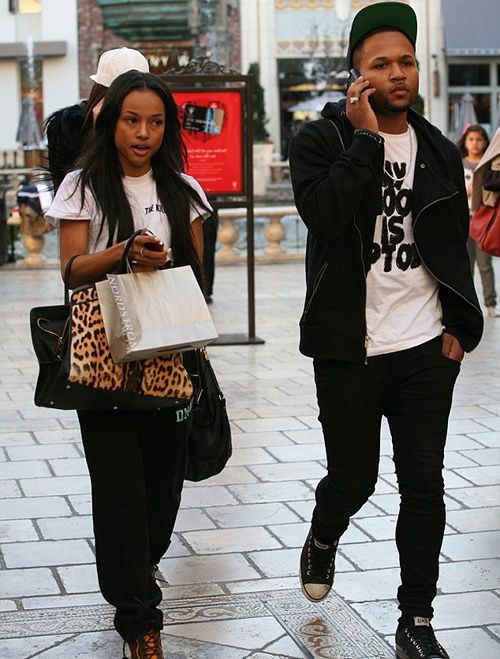 Karrueche and J. Ryan La Cour, (sources say he works in PR) were also spotted together at a post-grammy part for Hennessy over the weekend. It's great to see she's not sitting at home by the phone.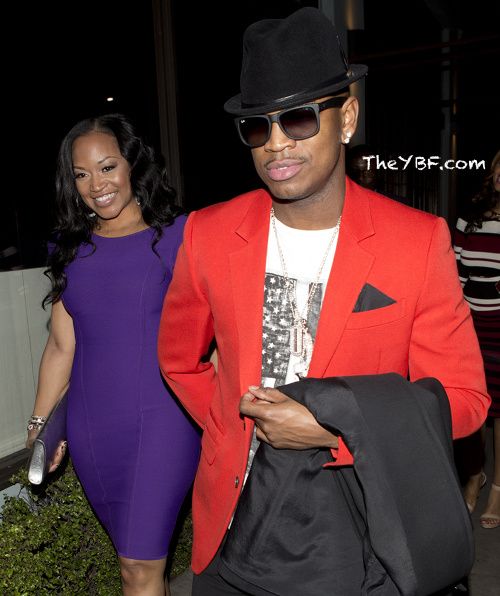 And in LA, singer Ne-Yo and Monyetta were seen leaving Osteria Mozza in Los Angeles, CA.
Ne-Yo and Monyetta had a very busy weekend as his Compound Entertainment hosted their 5th Annual Grammy Midnight Brunch a few days ago. Cute purple dress for the mom of two.

Photos via SPW/Splash News/PhMarcus 
Angela Simmons Catches Up With Ex Bow Wow At "106", Gets FLAWLESS At Fashion Week With June Ambrose, Tracy Reese, Angela Bassett & More
Posted: 12 Feb 2013 07:00 AM PST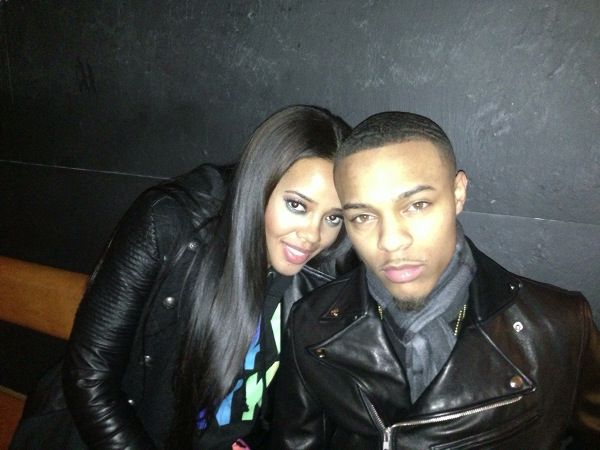 Angela Simmons made her way to "106 & Park" yesterday to give a fashion report on the Grammys. And she caught up with her ex-boyfriend and host Bow Wow.
Pics inside, who Ange's top 3 pics were and her Fashion Week looks....
Ange, who is getting over a cold and is getting her voice back, posted the above pic as she hit up the "106" studios yesterday of her and her ex boyfriend Bow Wow. She said, "Been riding 9 years and counting #RealFriendship"
Sweet! And we all know Bow's mom Teresa is a fan of them getting back together, so she re-posted the pic on her own account with a smiley face.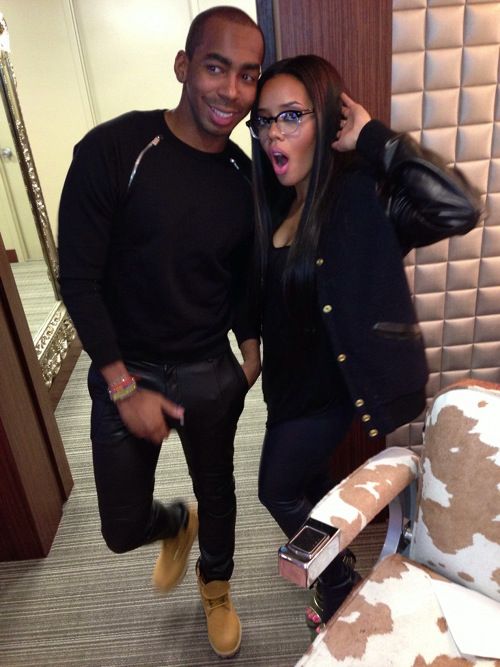 Angela was spotted getting ready with stylist Jason Bolden, who was also on the show to give a fashion report.
Check out their fashion recap and who they chose as Best Dressed below:
Angela hit up the DSquared2 Interview Magazine NYFW party hosted by Belvedere: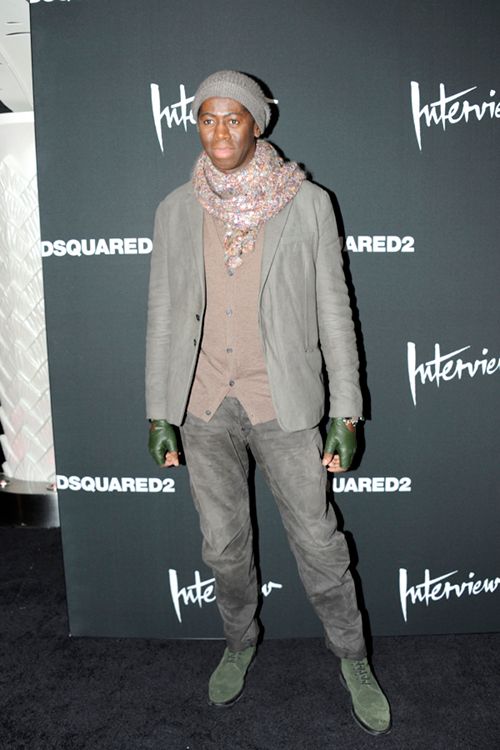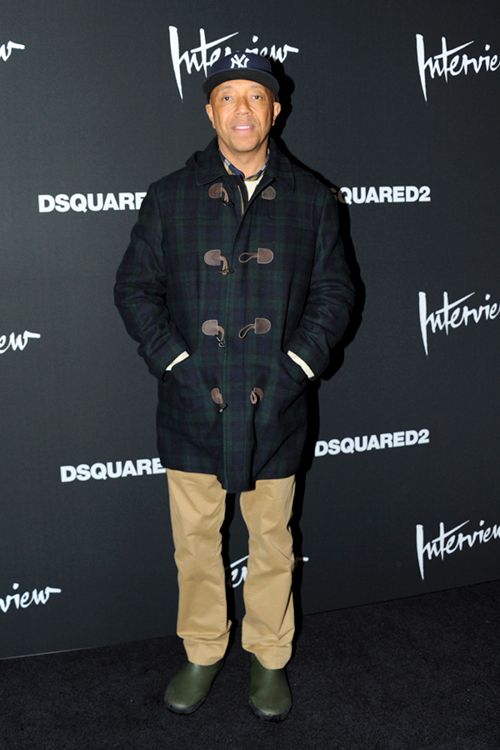 And her uncle Russ and Jay Alexander were there as well.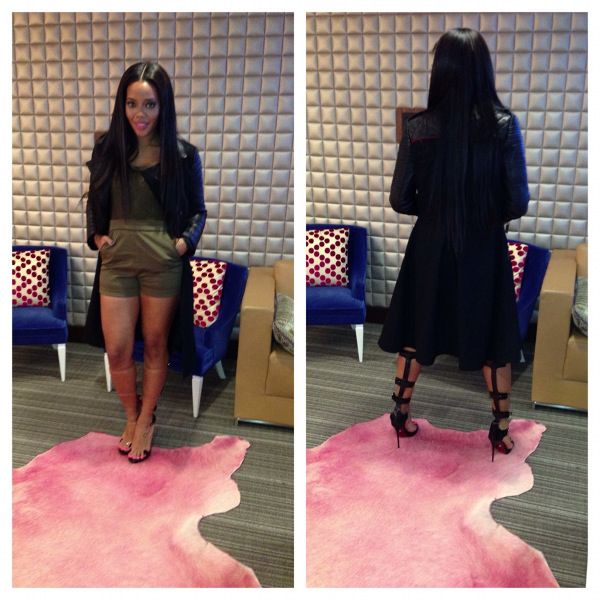 Meanwhile, Angela Simmons has been rocking cute looks all throughout New York Fashion Week. She headed to Alice + Olivia (above in those hot caged sandals), Tracy Reese and Vivienne Tam: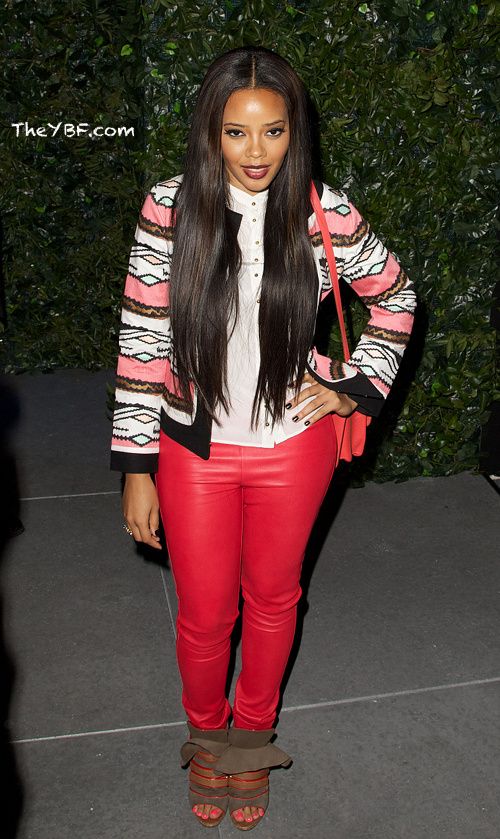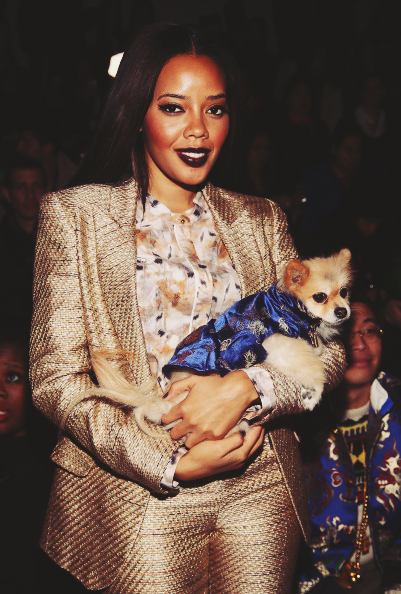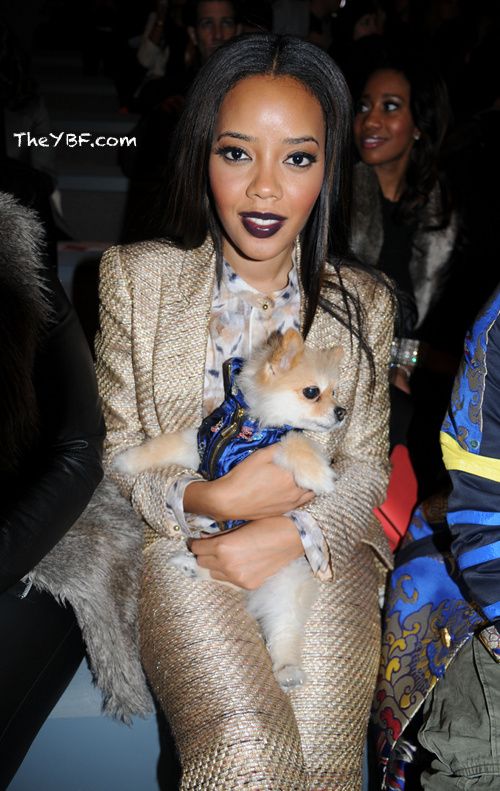 fro
Cute pup!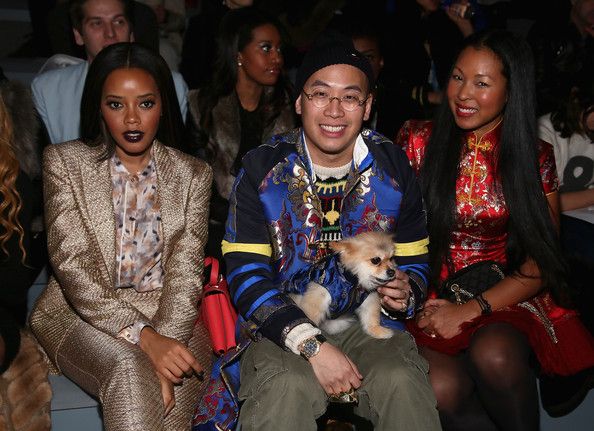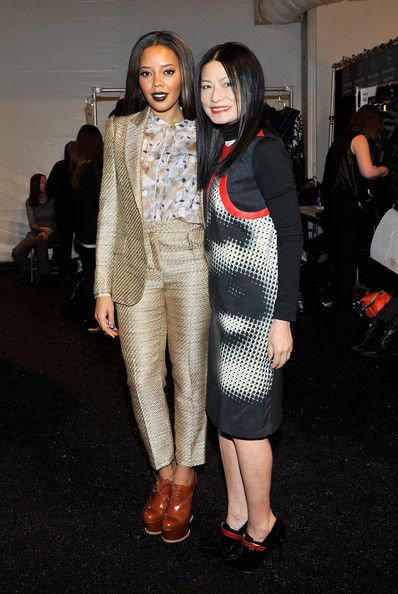 This gold look of hers as she poses it up with designer Vivienne Tam is one of our faves. Chic and fab.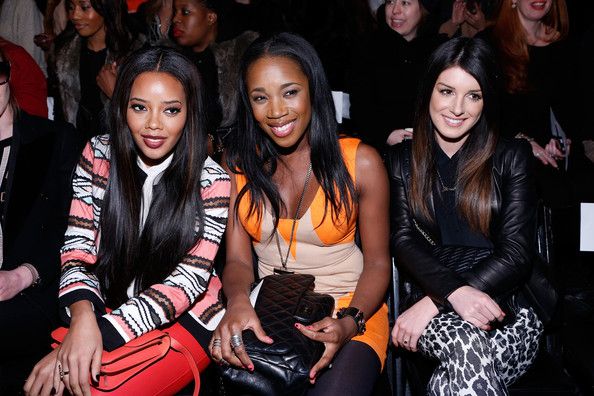 Ange hit the front row of the shw with DJ Kiss and "90210" actress Shenae Grimes.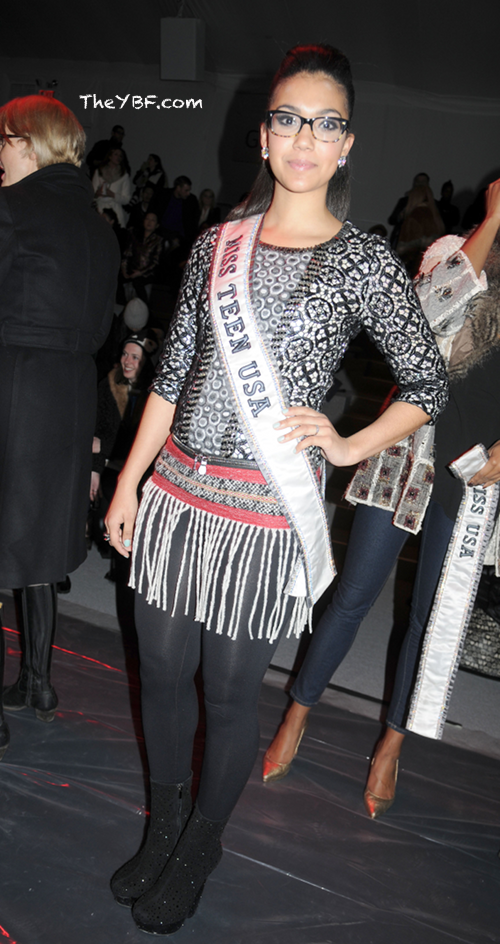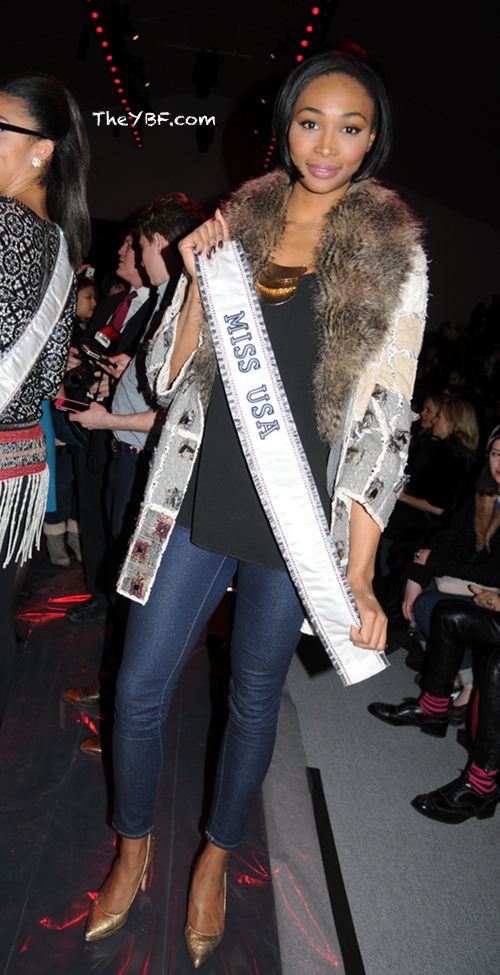 Beauty Queens Miss Teen USA Logan West and Miss USA Nani Merriwether made their way to a few shows.
Looking fab ladies.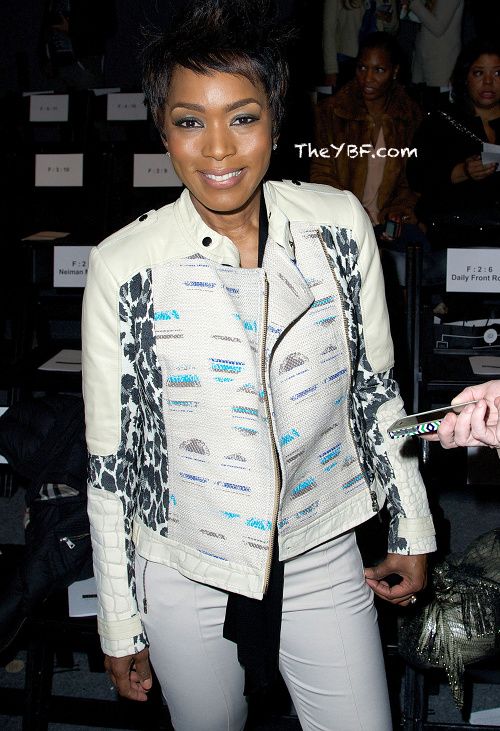 Angela Bassett's gorgeous self hit the Tracy Reese show this week.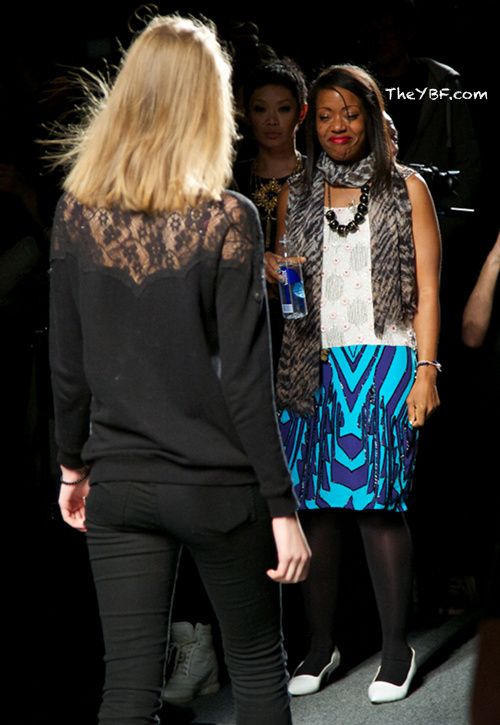 And the designer herself was spotted eyeing up her models backstage.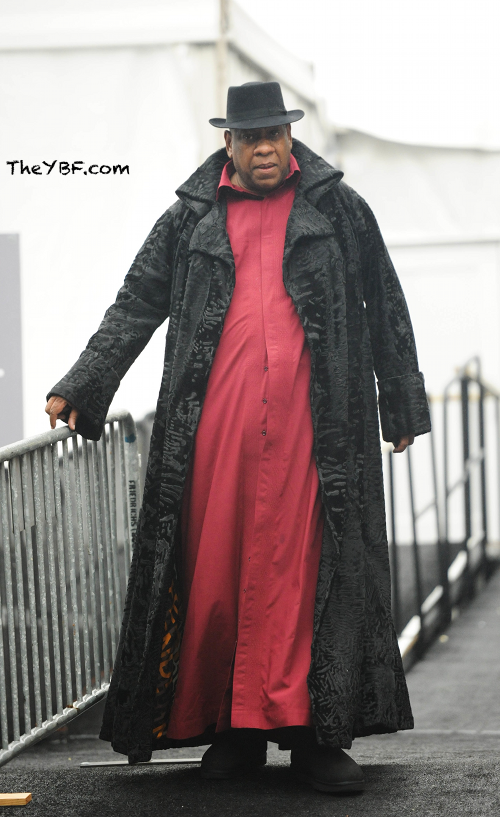 Oh ALT. Now we see where 2 Chainz got his GRAMMY red carpet inspiration from though.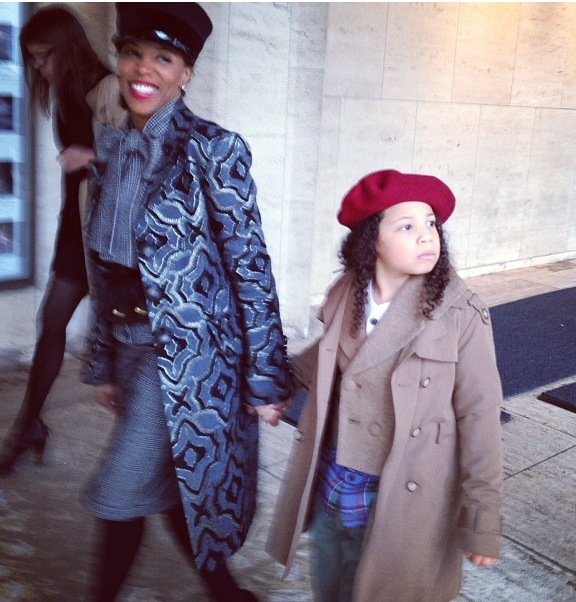 June Ambrose brought her mini me, her daughter Summer, along to all the shows: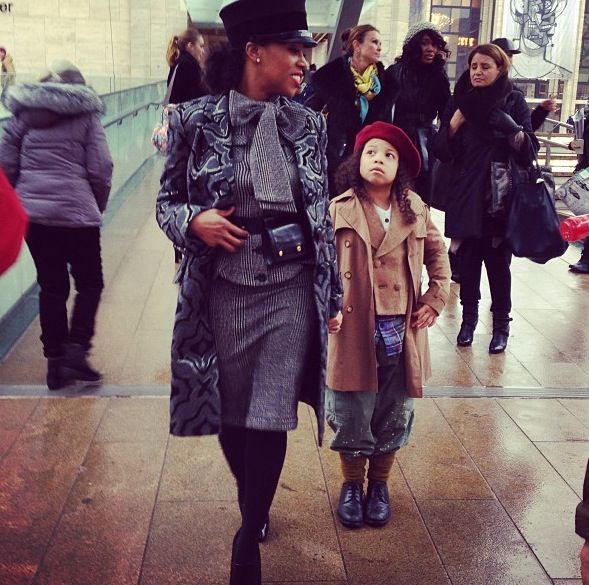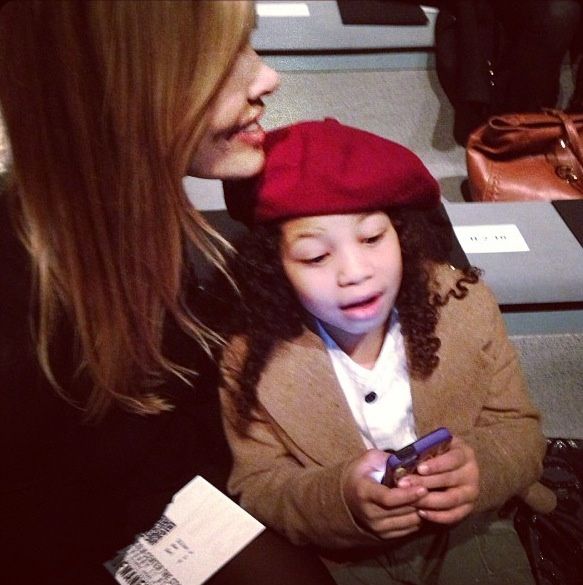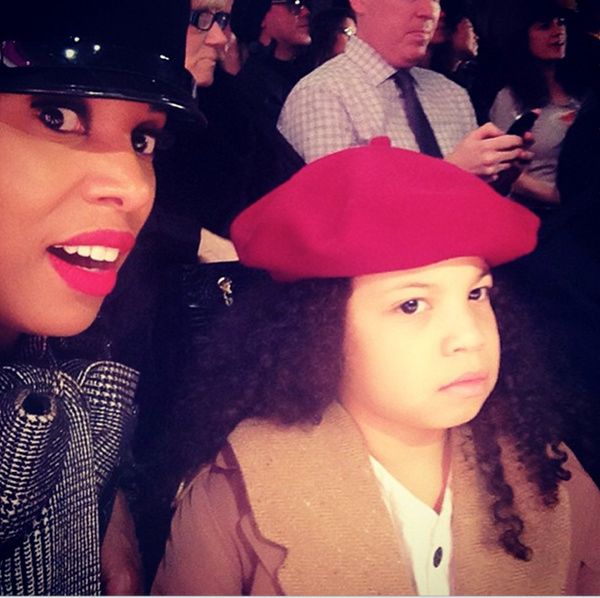 A stylist in training we see.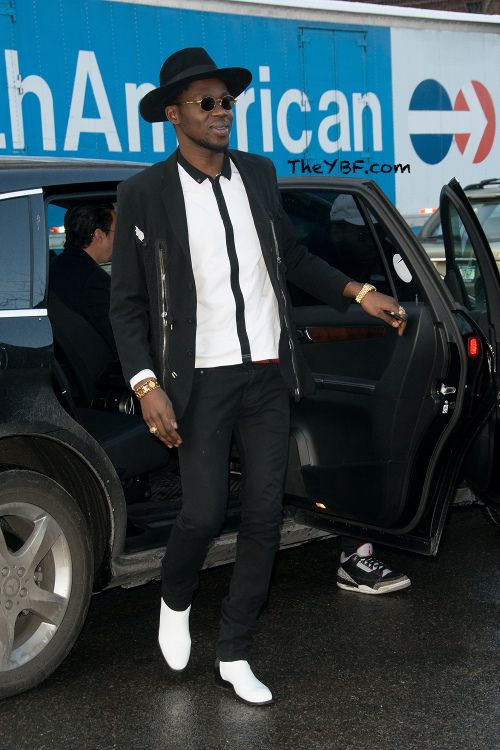 Rapper Theophilus London hit up a few more shows.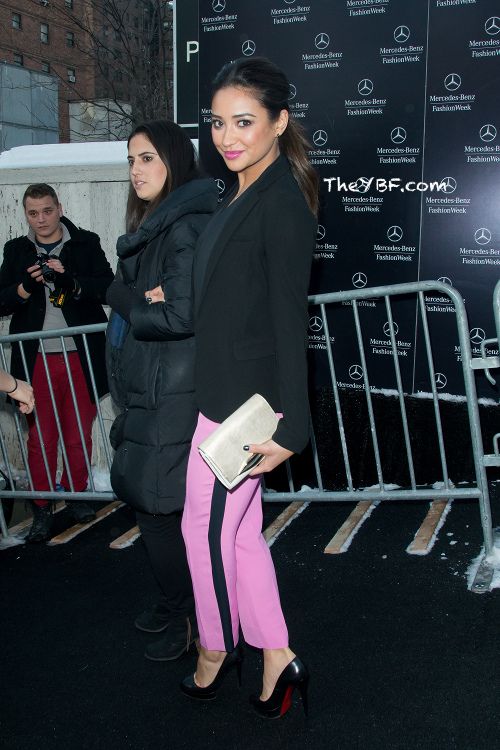 And our fave "Pretty Little Liars" chick Shay Mitchell made her way to the shows in pink tuxedo pants. LOVE this look.
SPOTTED: Beyonce, Jay-Z & Solange HEADING To LUNCH In Venice
Posted: 12 Feb 2013 06:38 AM PST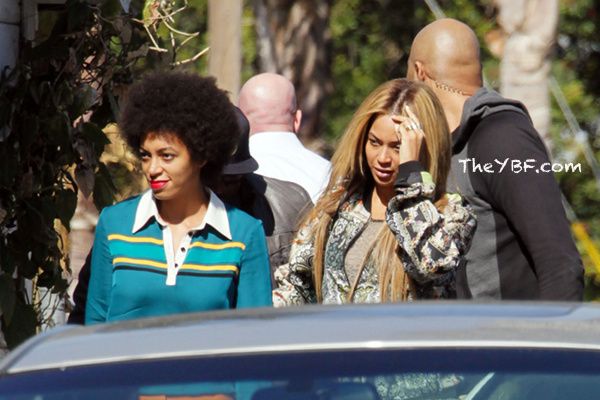 Mr. & Mrs. Carter were still in Cali yesterday where they were seen heading to lunch. See pics inside....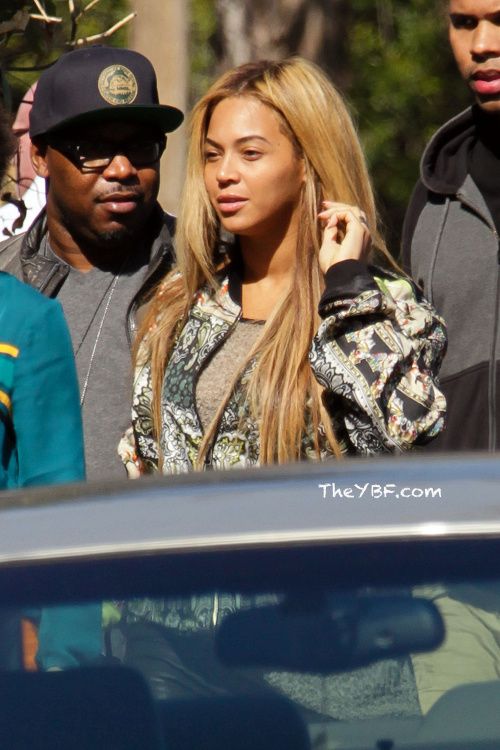 While Bey stans mark their calendars for her "Oprah's Next Chapter" episode and her HBO doc "Life is But a Dream", Baddie Bey was still in Cali yesterday after the Grammys.
Queen Bey was seen heading out to a light lunch with sister Solange at Gjelina restaurant, the same place they grabbed grub at with Blue Ivy over the weekend.
Jay-Z was seen following his wife and sister-in-law into the swanky eatery. And touring might have been discussed over some pasta as Bey will soon head out with The Mrs. Carter World Tour and Jay is rumored to be hitting the road with Justin Timberlake.
Photos via PacificCoastNews.com
Jill Scott, French Montana, Miley Cyrus & MORE Attend Ne-Yo's 5th Annual MIDNIGHT Grammy Brunch
Posted: 11 Feb 2013 05:47 PM PST
R&B singer Ne-Yo threw his annual Midnight Brunch over the weekend and it brought out Jesse Williams, French Montana, Miley Cyrus and Kelly Rowland. See the pics inside...
Ne-Yo, shown above with his mother Loraine Smith, and his Compound Entertainment hosted their 5th Annual Grammy Midnight Brunch over the weekend as STK and Bagatelle Restaurants in West Hollywood created a one-time chic event space.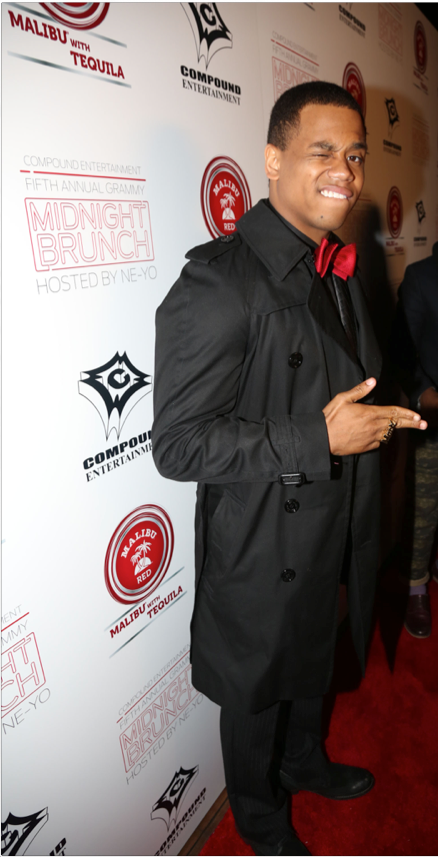 Actor Tristan Wilds was amongst the celebs who attended the Malibu Red sponsored event.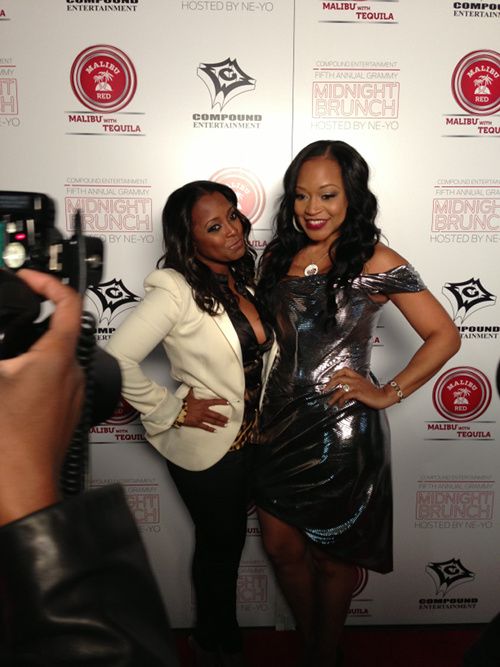 Ne-Yo's fiancee Monyetta Shaw posed with her girl, actress Keisha Knight Pulliam.
Jesse Williams, who got married last year, was seen partying it up.
"Empire Girls" star Adrienne Bailon wore a cleavage revealing top.
Kelly Rowland smiled for the camera while sitting with her friend Harmony at the event.
Meek Mill laughed it up with French Montana.
Jill Scott had a few laughs chatting with Miley Cyrus. What was THAT convo like?

28 Days actor Elijah Kelley and Ne-Yo's artist RaVaughn Brown also joined in the fun with Miley, French Montana, Monyetta and Ne-Yo.
And R&B singer Kevin McCall posed it up with his new girlfriend, actress Eva Marcille. Well aren't they cute....
Photos via Getty Images
VIDEO FAB: Rihanna Gets Vulnerable In The Bathtub For "Stay"
Posted: 11 Feb 2013 05:21 PM PST
Rihanna just released her simply yet vulnerable video for her emotional ballad "Stay." Check out the full video inside...
In the official Sophie Muller-directed visuals above, Rih Rih strips down and dips into her bathtub to wash away the pain of wanting someone to stay by her side.
Rihanna told Ryan Seacrest on last night's GRAMMY red carpet about the Mikky Ekko-written track off her Unapologetic album:
"I pretty much stay put in a bathtub. We shot it really close, really tight. Mikky Ekko is in the video. He's the one who wrote the song. It's a very emotional song and it's personal. It's almost like telling a story."

She even snapped a pic with Mikky backstage at last night's show after their performance: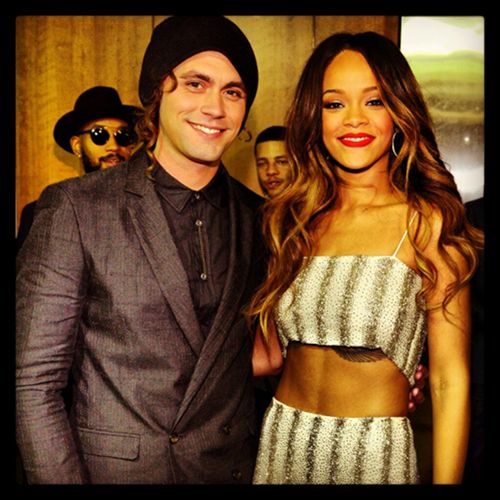 So....are we feeling the vid?
BONUS:
The above is the uncut 1-take version of "Stay".
Solange Knowles Rocks Out In The Back Of A Cab....CHECK IT
Posted: 11 Feb 2013 04:46 PM PST
Solange Knowles can rock out anywhere...including in the back of a cab. Check out her singing her song "Bad Girls" on "Black Cab Sessions" inside...
For a series called Black Cab Sessions, Solange belted out her song "Bad Girls" off her newest EP, True. And we get to see how our fave free-spirited chick rocks her tracks acoustically. And in the back of a cab.
What's Black Cab Sessions you ask? 5 friends in London came up with a way to meet their favorite artists and score a private intimate performance of one song. Solange is one of their latest performers. Seems a bit like Cash Cab....just more planned out and with music.
Check out their site HERE. And check out the talented Ms. Knowles below:
Rihanna Unveils SULTRY BTS Rolling Stone Cover Shoot Footage + "Stay" Video Sneak Peek
Posted: 11 Feb 2013 02:59 PM PST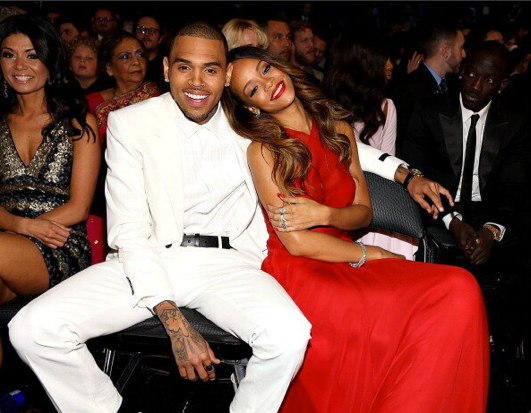 Rihanna dropped a few sneak peeks today--a look at her steamy bathtub filled "Stay" video and behind the scenes footage from her hot Rolling Stone cover shoot.
Check 'em both out inside...
We've all figured out by now that "Stay" is Rihanna's love song for Chris Brown. She snuggled up to him last night at the Grammys (above) before belting out her single on stage. And now, she's giving us a sneak peek at the video. The entire shebang gets released tonight at 7pm on E! News. But until then...
Check out her performance of "Stay" from last night HERE.
And you've seen her Rolling Stone cover and spread, now check out exactly how she and photog Terry Richardson captured those sexy ass shots Rih Rih seems to effortless give:
She makes work look fun.
WATCH: Director Ava DuVernay's "The Door" Short Film For Miu Miu....Starring Gabby Union, Goapele & Alfre Woodard
Posted: 11 Feb 2013 01:43 PM PST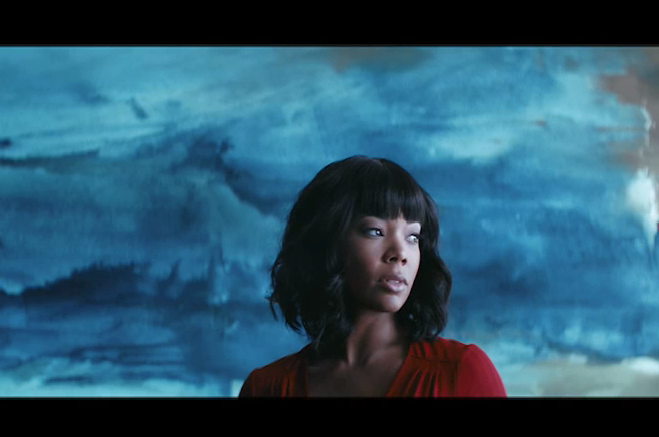 Here's a fabulous introduction to YBF chick Ava DuVernay--the first black director to win Best Director at the Sundance Film Festival. Ava just released her brand new short film for the fashion brand Miu Miu, that is part of the brand's "Women's Tales" series, which is a new way to link clothing with the changes in our lives.
Check out Gabby Union, Adepero Oduye, Alfre Woodard and more in the gorgeous visual "The Door" inside....
In a film with no words--just music--actresses Gabrielle Union, Alfre Woodard, Emayatzy Corinealdi, Adepero Oduye and now Goapele portray the life transformations and sisterhood that a woman experiences. From breaking away from a marriage to handling it with food, sadness and even partying, it's a fab look at how women help each other transform through life.
Director Ava DuVernay, who won at Sundance for her film Middle of Nowhere, showcases all of this in conjunction with a fabulous collection of Miu Miu clothing (the brand under the Prada umbrella), as this short is a part of the designer brand's own series. And we must say, this is a better way to show off your clothes and give them power than a simple fashion show.
Here's the full description given by Miu Miu:
The Door, by Ava DuVernay, the fifth Miu Miu Women's Tale, is a celebration of the transformative power of feminine bonds, and a symbolic story of life change. The symbolic centre of The Door is the front entrance of the protagonist's home. As she opens it to greet a friend in the powerfully framed opening scenes, she is shrouded in an oblique sadness.

"In the film, characters arrive at the door of a friend in need, bringing something of themselves," explains director DuVernay. "Eventually, we witness our heroine ready to walk through the door on her own. The door in the film represents a pathway to who we are."

Clothing is also a symbol of renewal, each change of costume charting our heroine's emergence from a chrysalis of sadness. In the final scenes, she takes off her ring, pulls on long, black leather gloves, and walks, transformed by the emotive power of the clothing, through the door.
Take a look at the gorgeousness above.
Check out the BTS footage where all the co-stars discuss what the film means in their eyes.
AFTER THE GRAMMYS: Ciara & Future, Chris Brown & Rihanna, Meagan & DeVon, Nas & More SPOTTED At SWANKY Parties
Posted: 11 Feb 2013 12:21 PM PST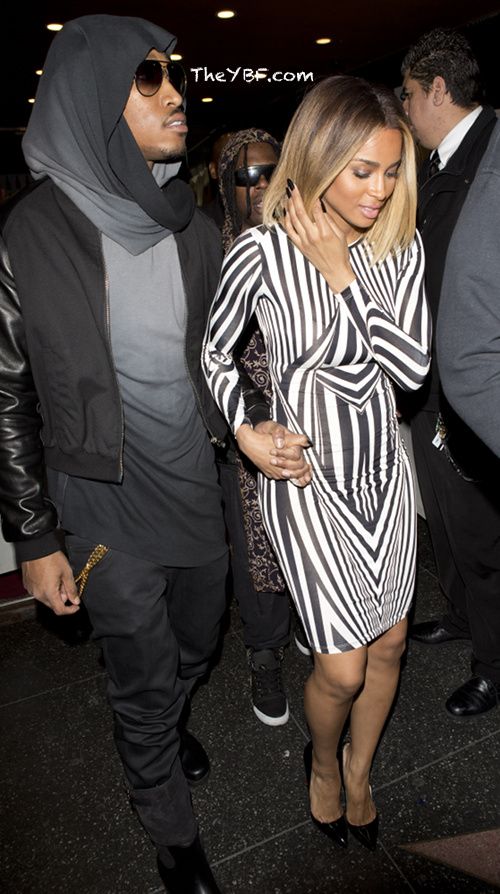 Ciara, Future, Rihanna, Trinidad James, Miguel and Chris Brown were among the folks spotted partying in Hollywood after the Grammys. Find out where everybody went inside...
Ciara was spotted holding hands with her boo Future on their way into Chris Brown's party at Supper Club for one of the many post-Grammy after parties. We hear they were inseparable all night.
Rihanna was spotted arriving to dinner and leaving, before hopping out her car at Supperclub herself.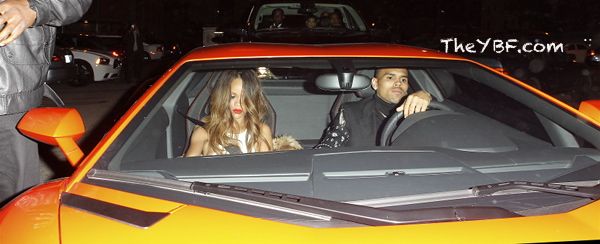 She arrived with her boo Chris for his party. And she rocked a revealing white two piece dress for their big night: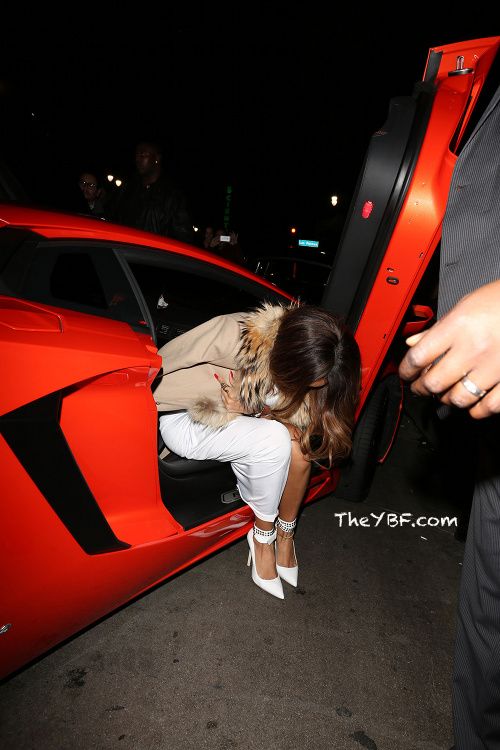 Rihanna had a pretty eventful evening having performed twice at last night's awards.
Once inside, she and Breezy smoked some weed (according to pics on the net) and drank up. Chris had teamed up with ZING Vodka to host the party.
Rihanna posed with Trinidad James. His breath MUST be on 100 with that mouth.

Miguel, rocking a Lanvin suit and Prada shoes, brought girlfriend Nazanin Mandi along to Chris Brown's party.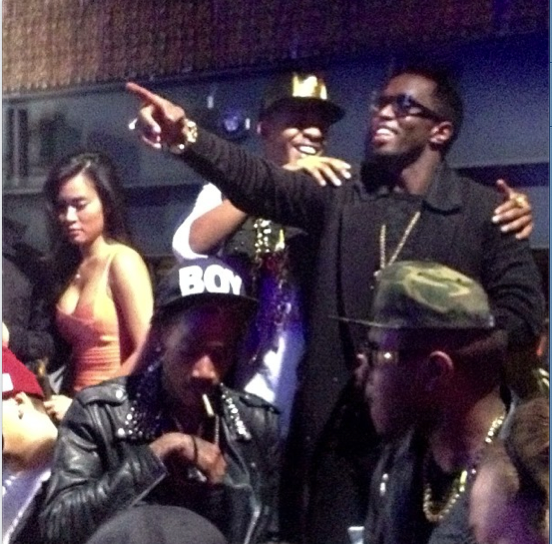 Meanwhile, Diddy partied at Greystone Manor with Wiz Khalifa and Russell Simmons.
Meek Mill, Nas, and Kevin Hart were also there.
Drake partied at a few spots to celebrate after winning best rap album at the Grammys.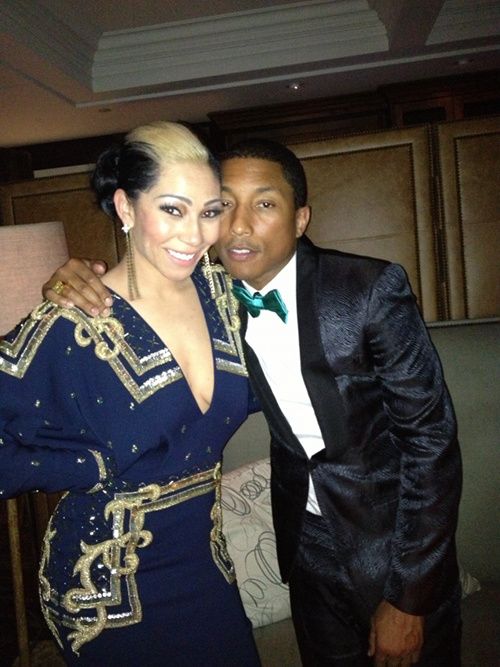 And "Special Delivery" singer Bridget Kelly, won her first Grammy award as a writer on Kelly Clarkson's Stronger album, which won "Best Pop Vocal Album." Rocking a Bagdley Mischka gown, she posed with Pharrell at the Los Angeles Confidential And Harmony Project GRAMMY After Party Honoring Mary J Blige .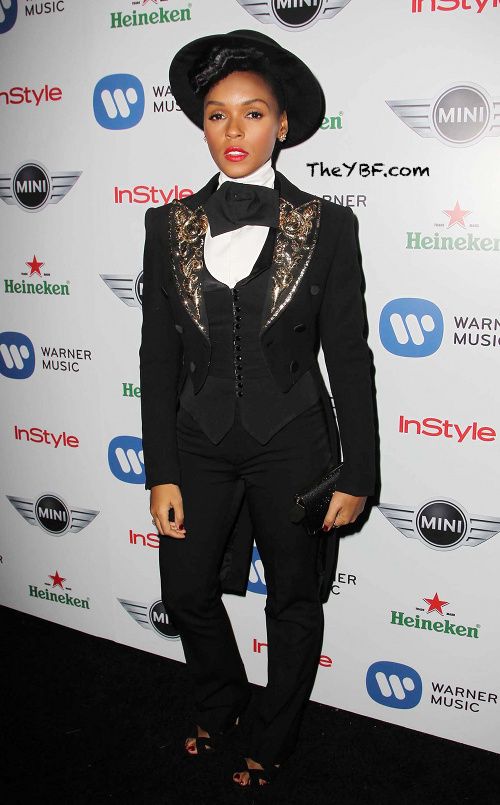 Janelle Monae, who sang on FUN.'s Grammy-winning record "We Are Young" was seen partying at the Chateau Marmont for the Warner Music afterparty.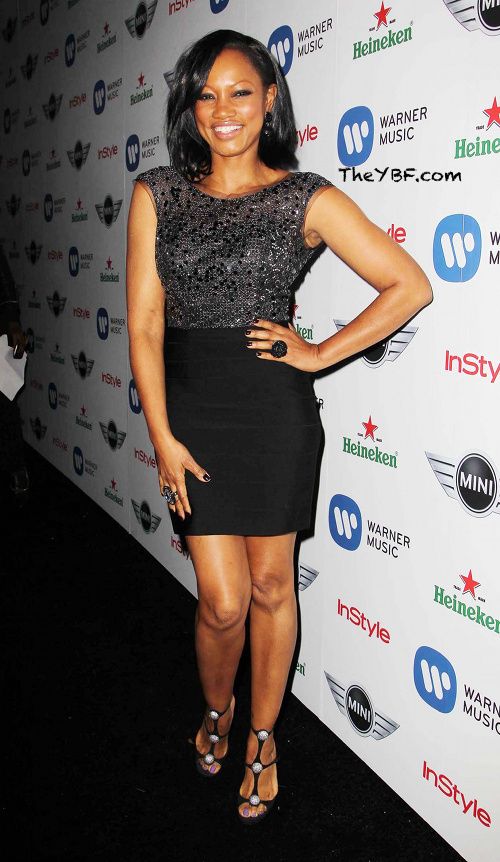 The Warner Music Group 2013 Grammy Celebration Presented By Mini (which honored Mary J. Blige) also brought out Garcelle Beauvais.
Debra Lee was there looking age appropriate.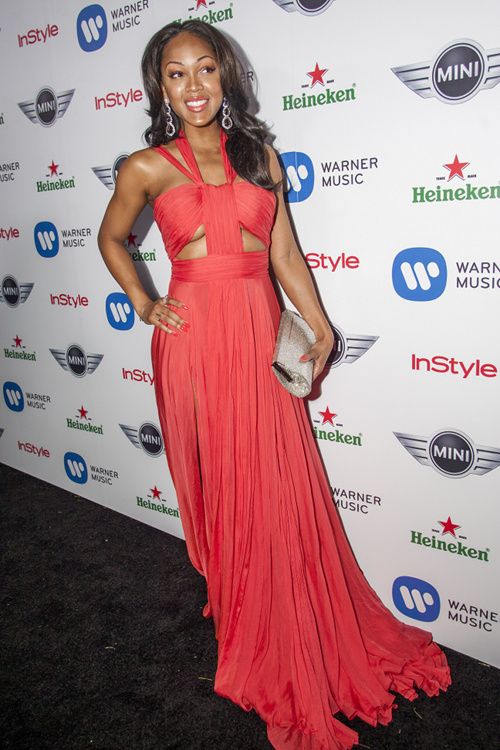 "Deception" actress Meagan Good swept through the event in a stunning (and revealing) red gown. Chick's boobs are trying to get their life in that dress.
She was seen getting kissy with her husband, producer Devon Franklin inside the event. So clearly the "minister" approved. And was sweet enough to carry his wife's purse.
And Estelle was seen performing at one of the swanky after parties.
Photos via JD Pht Bx & MCGM / Splash News / SPW /  Karl Larsen/INFphoto.com / FayesVision/WENN.com
2013 GRAMMY AWARDS Highlights & Leftovers--Who We Missed On The Carpet, Hov Drinks D'Usse From His Grammy, An Awkward Breezy & Frank Ocean Moment & More!
Posted: 11 Feb 2013 11:18 AM PST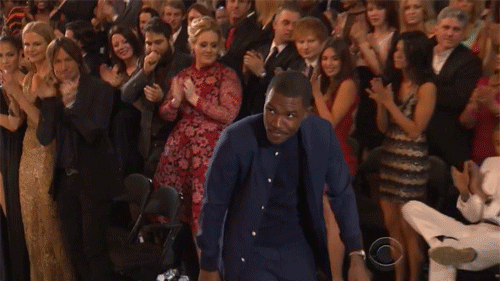 The GIFs and the ish that happens away from the stage is what makes suffering through a three and a half hour award show worth it. Check out our fave highlights from last night's 2013 GRAMMY AWARDS, and the folks we missed in our first red carpet sweep, inside...
The awkwardness was at a semi-high last night as Frank Ocean beat out Chris Brown for the Best Urban Contemporary Album. And, with his his hand still bandaged from their alleged "fight" at the studio a few weeks ago, he had to walk past Breezy who sat on he front row in order to accept the award.
Everyone in the audience gave a standing ovation....Chris stayed seated. But we don't really blame him He still was a good sport and clapped for the guy. What more can you expect when he says he's being falsely accused by Frank of hitting him? Still....it was the talk of Twitter. And GIF land.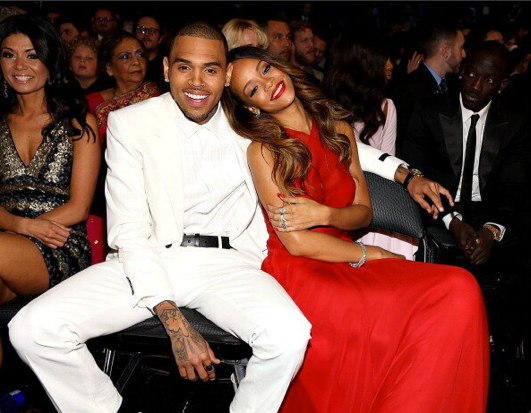 Chris & Rihanna were also on everybdy's radar as they snuggled up in the audience--after walking the carpet separately--four years after the incident.
Jay-Z and Drake had to catch their breath and adjust their suit and ties after J.lo walked out on stage damn near giving folks the Holy Ghost in her sexy Anthony Vaccarello dress. She trumped Angelina's "Jolie leg" with this hotness. And this is how the cameras caught the fellas reacting int he audience:
Hilar.
Speaking of Hov, he said bump a red cup, he's drinking his own D'Usse Cognac out of one of his 3 brand new Grammys. Literally.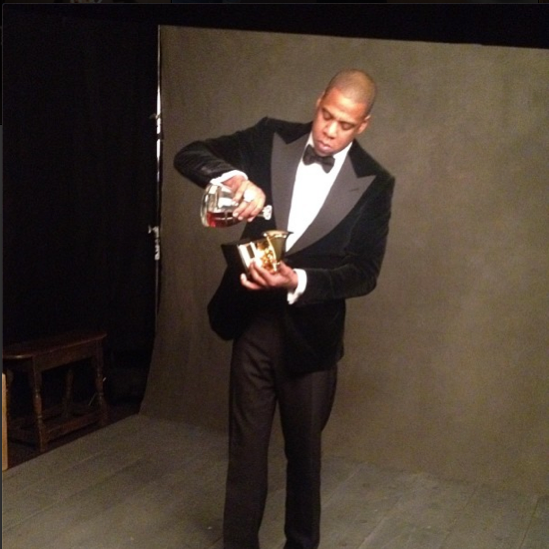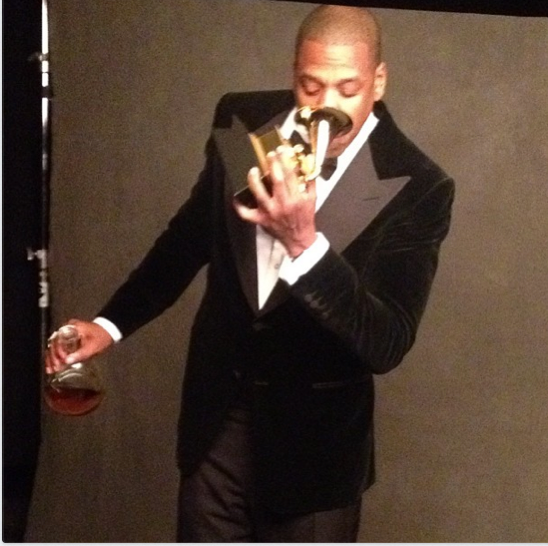 Gotta love the press room flicks.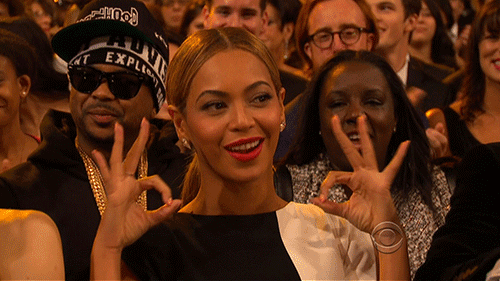 This Bey "sign" had folks all a-Twitter last night. People said she was doing everything from throwing up gang signs to signaling the Illuminati to her own Bat Call. Everybody calm down. Host LL Cool J had just shouted out where certain celebs were from, and he mentioned Beyonce coming from Houston. Like she has done many times before, she was signifying "3rd Ward", the well known section of H-Town she was born and raised in. Chill.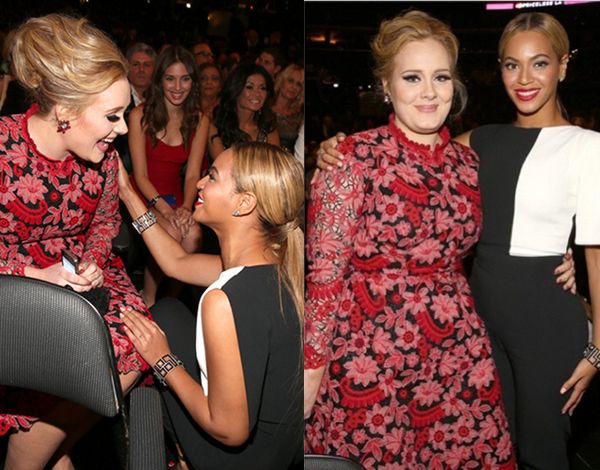 And speaking of Bey, we loved the mutual love she and Adele were spotted sharing in the audience. They're self proclaimed stans for each other.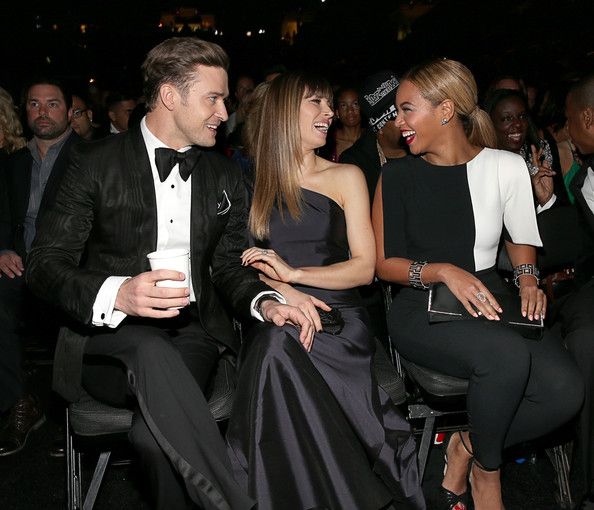 Sitting front row with Jay & Bey is always the fun place to be it seems. Justin Timberlake and his new wife Jessica Biel hammed it up with the Carters before and after JT & Jay's performance.
People got a kick out of Ellen and Bey's introduction of JT's performance.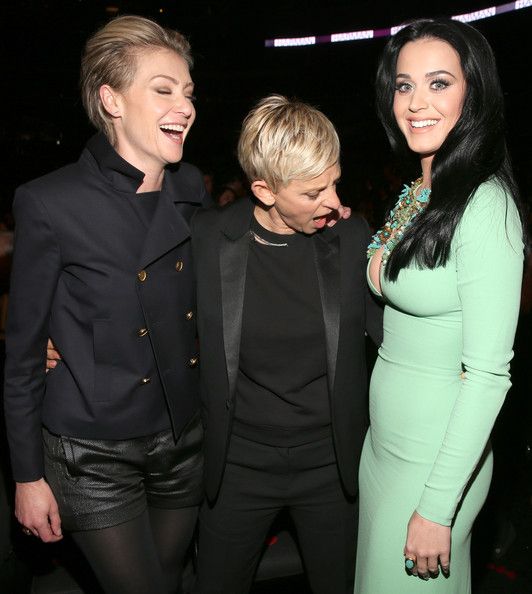 And we got a kick out of Ellen salivating over Katy Perry's boobs in that Gucci dress.
The Dream got publicly played by Hov for his "SwapMeet" hat. Ha!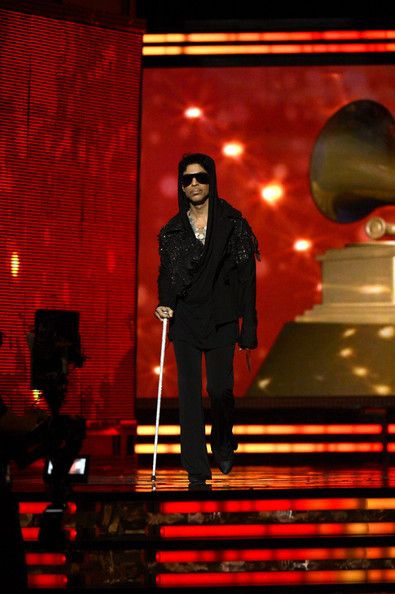 Prince shut everything down with his cane and shades as he hit the stage to present.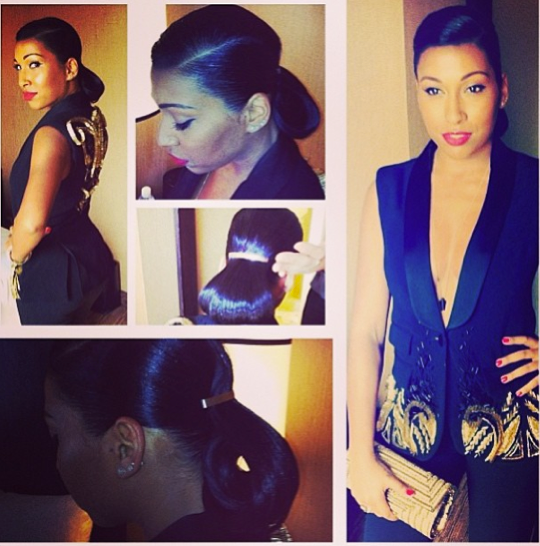 We missed Melanie Fiona on the carpet, but the Grammy nominee showed off her hot look from last night on Instagram.
Producer Hit-Boy wore a Tom Ford Spring/Summer wool and silk cocktail jacket, black Faille tuxedo pants, purple liquid velvet evening slippers and purple liquid velvet bow tie. And even copped and award for Best Rap Song, for his work as a producer on Jay-Z and Kanye West's "N****s in Paris".
Folks thought Kelly Clarkson clowned Miguel when she screamed into the mic when she won her award, "I don't know who you are...but I want to work with you!" She was just being a innocent self who likely really doesn't know who Miguel is, but loved what she saw form his performance She even tweeted a pic backstage with him to show her excitement.
THIS is what Lupe Fiasco looked like last night. We're highly upset about it.
Bringing your mom as your date was the trend last night. Questlove from the Roots did it, and so did Luke James and Frank Ocean: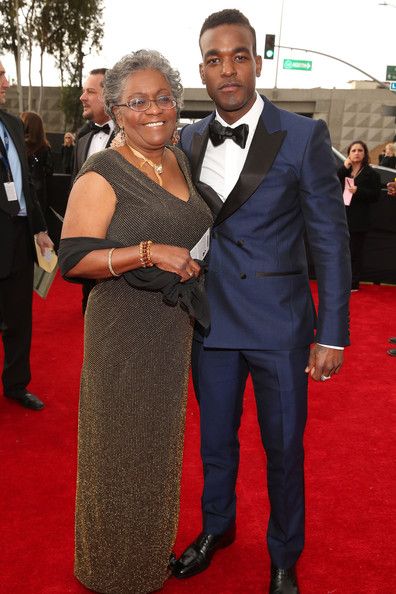 By the way, Luke rocked a suit by Devon Scott.
We can only guess what this convo was like.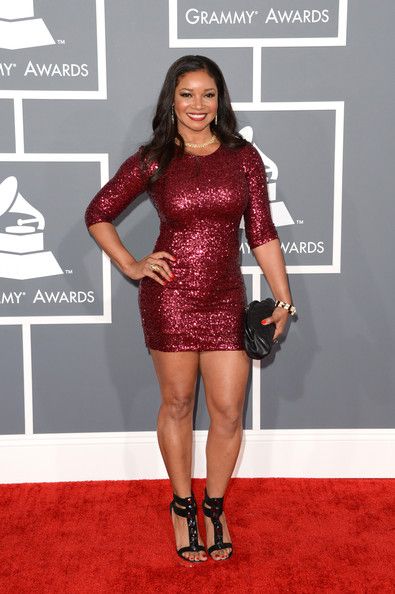 How did Tamala Jones get in?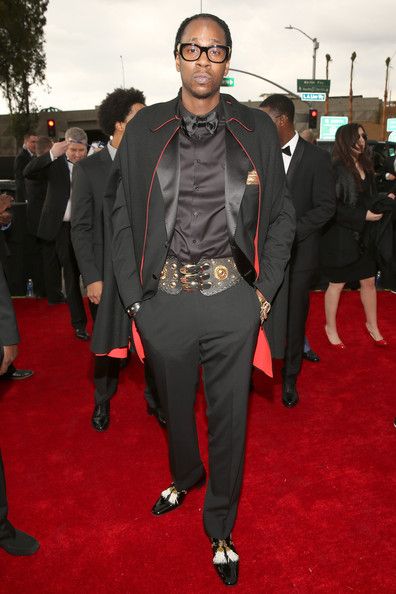 Count 2 Chainz rocked his cape and embellishments on the carpet.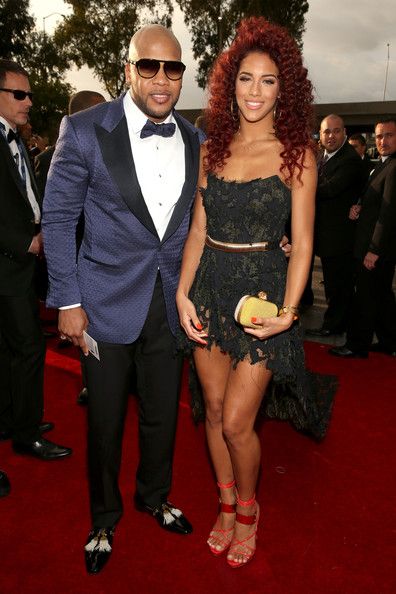 Flo Rida brought his new artist Natalie along for the red carpet ride.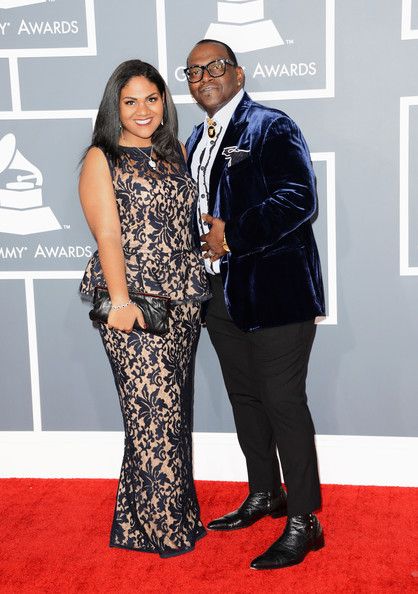 Randy Jackson brought his daughter Zoe with him as his date. Pops rocked Angelo Galasso and Armani, while Zoe rocked a blue lace Tadashi number.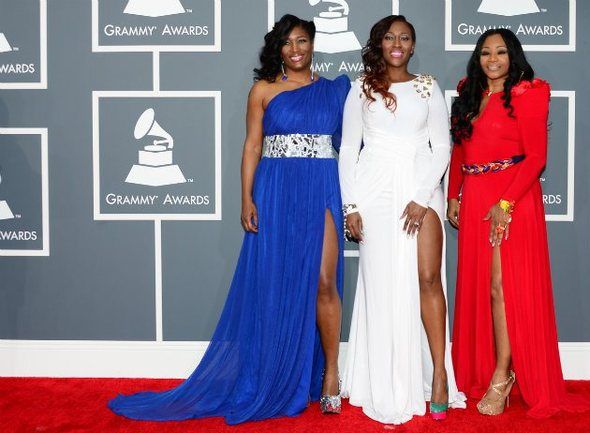 The Grammy nominated SWV--Tamara Johnson-George, Cheryl 'Coko' Clemons and Leanne 'Lelee' Lyons--wore custom gowns created by Philadelphia bred fashion designer, Ty'ron Perrin of the Marquette Collection. And we're loving the red, white and blue coordination.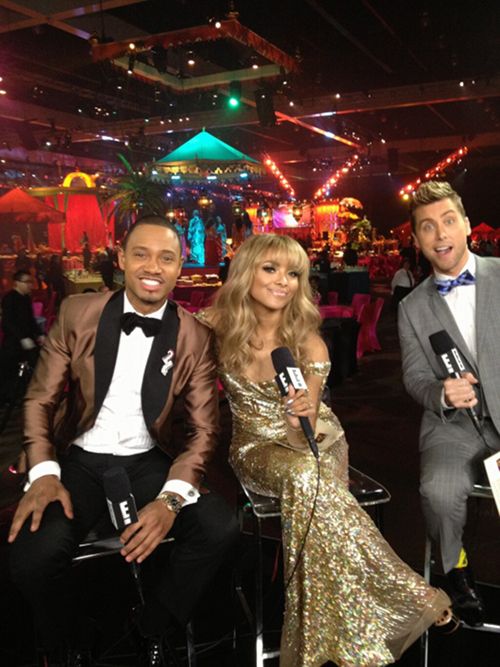 And Terrence J. hosted the E! afterparty show with "Vampire Diaries" actress Kat Graham and Lance Bass. TJ rocked a gold 5001 flavors jacket, Gucci slacks, Ferragamo shoes, a Black Label Ralph Lauren shirt, his Lanvin bowtie and a Rolex on his wrist. Kat Graham went blonde and rocked a gold George Chakra dress with Guiseppe shoes.
CELEBS GIVE BACK: Vivica Fox, Tatyana Ali, Darrin Henson, AND Craig & Damien Wayans' BIG Field Trip To Carnival In Trinidad & Tobago
Posted: 11 Feb 2013 10:01 AM PST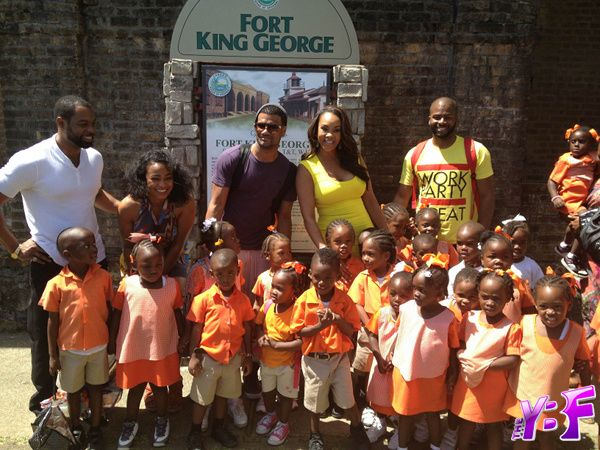 Vivica A. Fox and a few of her close celebrity friends took a group of Trinidadian school children on a big field trip in Tobago this weekend. And the celeb crew hit up a few carnival festivities. See the pics inside....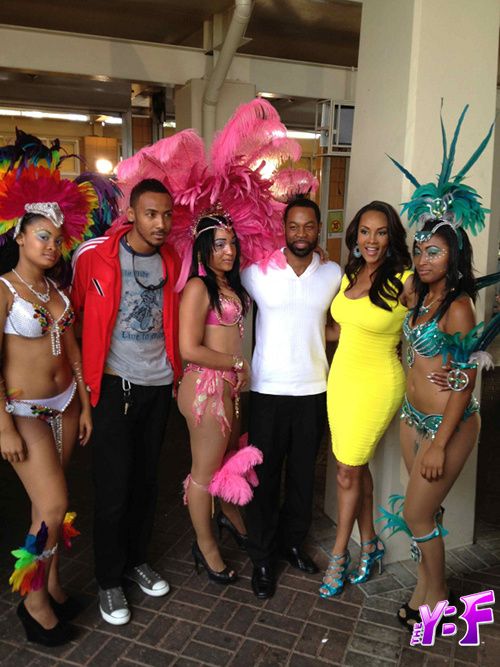 While in town to celebrate carnival time, Hollywood celebs Vivica Fox, "Second Generation Wayans" star Tatyana Ali, her co-stars Craig & Damien Wayans found time to explore Trinidad & Tobago and take a few local children out for an educational outing as well.
Vivica, who's currently starring in the "Mr. Box Office" tv series, was seen kiddies from the area to Fort King George in Tobago. And though we can't determine what the kids will remember about Fort King George, we bet they'll never forget Vivica and this extra bright yellow dress.
"Second Generation Wayans" star Tatyana Ali was also along for the trip and was seen helping a few of the adorable kids get their feet planted on the ground after the bus ride.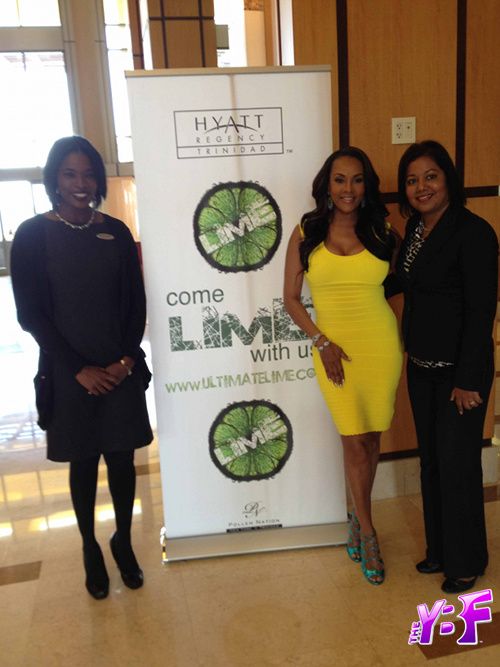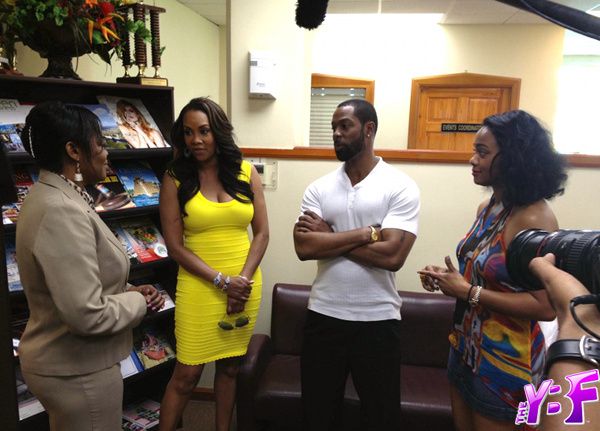 The group also visited with Parliament officials in Trinidad where they learned about local cultue and customs.
It looks like both the celebs and the kids got a little education....and had a little fun along the way. Fab times!
You have read this article with the title The Young, Black, and Fabulous. You can bookmark this page URL http://thisgirlreprobate.blogspot.com/2013/02/the-young-black-and-fabulous_12.html. Thanks!