---
FITNESS KINGS: The Game FLEXES His MUSCLES While JOGGING + Usher's BIKE RIDE Through LA
Posted: 31 May 2013 07:48 AM PDT
The Game was spotted shirtless after working out yesterday. See his workout candids inside and watch Usher get in shape for his next film role.
Rapper The Game was seen showing off his muscular bod during a workout on the Runyon Canyon hiking trail in Hollywood.
The Game was there with a fellow group of joggers who are all a part of his "60 Days Of Fitness" program.
The program, which seems to be creating VERY visible results for the rapper, also counts Rob Kardashian and LaLa Anthony among its participants.
In other workout news.........
"The Voice" judge Usher was spotted on a bike ride in LA yesterday.
We told you earlier that Usher had signed on for the role of Sugar Ray Leonard in the film Hands of Stone, so he gave the photographers a little boxing move with his fists.
Usher, who's taking his fitness very seriously, has revealed that he plans to reutrn to "The Voice" but will be handling outside projects as well.
Photos via Vanessa Pacheco/PacificCoastNews.com/Cousart/JFXimages/WENN.com
VIDEO FAB: Tamar Braxton's "The One"
Posted: 31 May 2013 06:12 AM PDT
Tamar Braxton's fun-filled video for "The One" has been released. Head to the beach with Tamar inside....
Tamar Braxton heads to the Santa Monica pier with her baby bump in her video for "The One." Using samples from Notorious B.I.G.'s "Juicy" and Mtume's "Juicy Fruit", the summer jam (produced by Yung Berg and LaShawn Daniels) comes "jeep" ready.
Though Tamar exclusively told TheYBF.com that her album was complete, she hasn't nailed down a release date yet. No worries....this jam will last us all summer and give her and Vince time to bond with the baby.
Watch the Gil Green-directed vid above.
THAT'S ALL FOLKS: Mariah Carey And Nicki Minaj BOTH ANNOUNCE Their DEPARTURE From "American Idol"
Posted: 30 May 2013 04:47 PM PDT
Earlier today, Mariah Carey and Nicki Minaj both used Twitter to announced their departures from "American Idol". Watch the divas bow out gracefully inside...
Following in the footsteps of Randy Jackson, both Mariah Carey and her hip hop rival Nicki Minaj announced that they're leaving "American Idol."
Earlier today, Mariah retweeted an announced from her publicist...
Following her tweet, Fox and producers FremantleMedia and 16 Entertainment released a statement that said:
"Mariah Carey is a true global icon — one of the most accomplished artists on the planet — and we feel extremely fortunate that she was able to bring her wisdom and experience to the American Idol contestants this season. We know she will remain an inspiration to Idol hopefuls for many seasons to come."
And in what "might" have been a power move to steal Mariah's thunder, a very short while later, Nicki Minaj ALSO announced her departure from the show.
As they did with Mariah, the "AI" producer released a statement praising Nicki's job saying,
"Nicki Minaj is a superstar who brought a level of honesty and passion to American Idol and who had a tremendous positive impact on so many contestants this season. Given her extremely busy career, we understand and respect her decision and wish her the best."
So....it looks like reports about all the judges being fired from the show might have been true! Of course, Nicki and Mariah "kept up appearances" and said they're going back to music....but it really sounds like they were replaced.
We guess Keith Urban's announcement will come tomorrow. Today.....was for the ladies.
Photos via Kevin Winter/Getty Images North America
Oprah Winfrey DELIVERS the 2013 COMMENCEMENT ADDRESS To Harvard University (VIDEO), Cops Honorary DOCTORATE Degree
Posted: 30 May 2013 04:18 PM PDT
Earlier today, Oprah Winfrey received an honorary doctorate from Harvard University and delivered the 2013 commencement address to the university's graduating class. Watch the video of her inspiring speech inside...
"It doesn't matter how far you might rise...At some point, you are bound to stumble. … And when you do, remember this: there is no such thing as failure. Failure is just life trying to move us in another direction."

-Oprah Winfrey
During today's 2013 commencement address, talk show maven and media mogul Oprah Winfrey shared several of her personal "aha" moments with the graduating class of Harvard University. Using her "own" perceived failures as the backdrop of her inspiring speech, she challenged the class to live a life of purpose.
Another poignant moment came when Oprah offered her advice on getting over the inevitable hurdles of life. She suggested that individuals develop an internal GPS and build a resume that doesn't tell the story of what they want to be, but one that tell's "...a story that is really about [their] purpose."
She added..."When you inevitably stumble and find yourself stuck in a hole...that is the story that will get you out."
Also, she received a Doctor of Laws degree and ended by telling the class, "...you now have a chance to better your life, the life of your neighbors and that of your country... When you do that, that's when your story gets really good."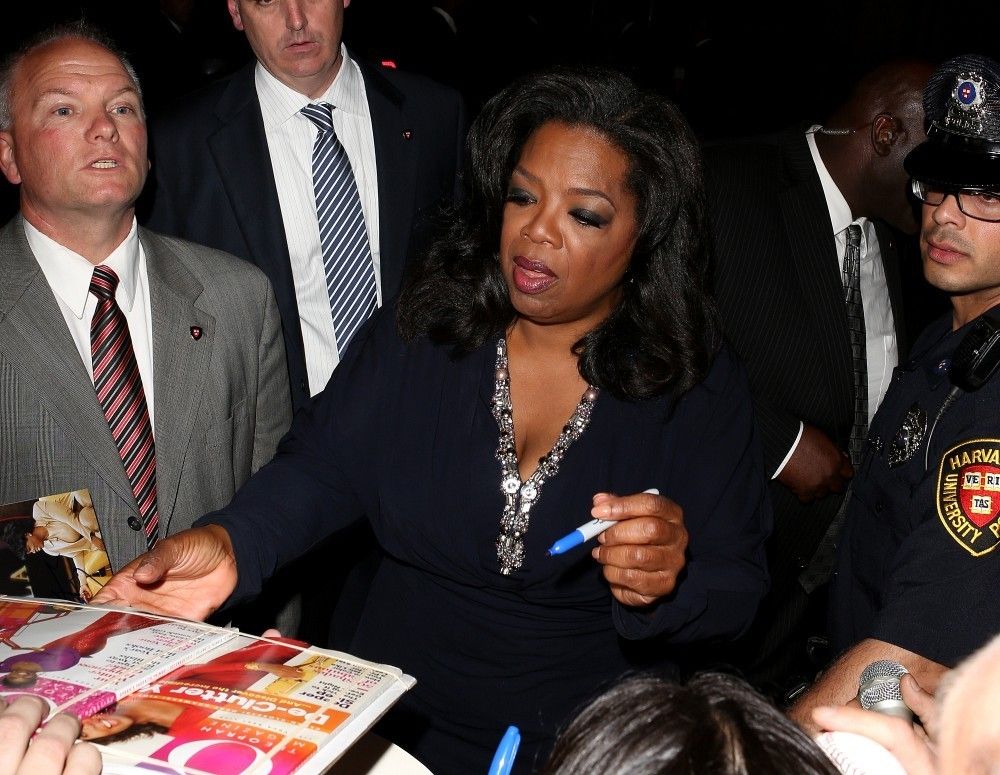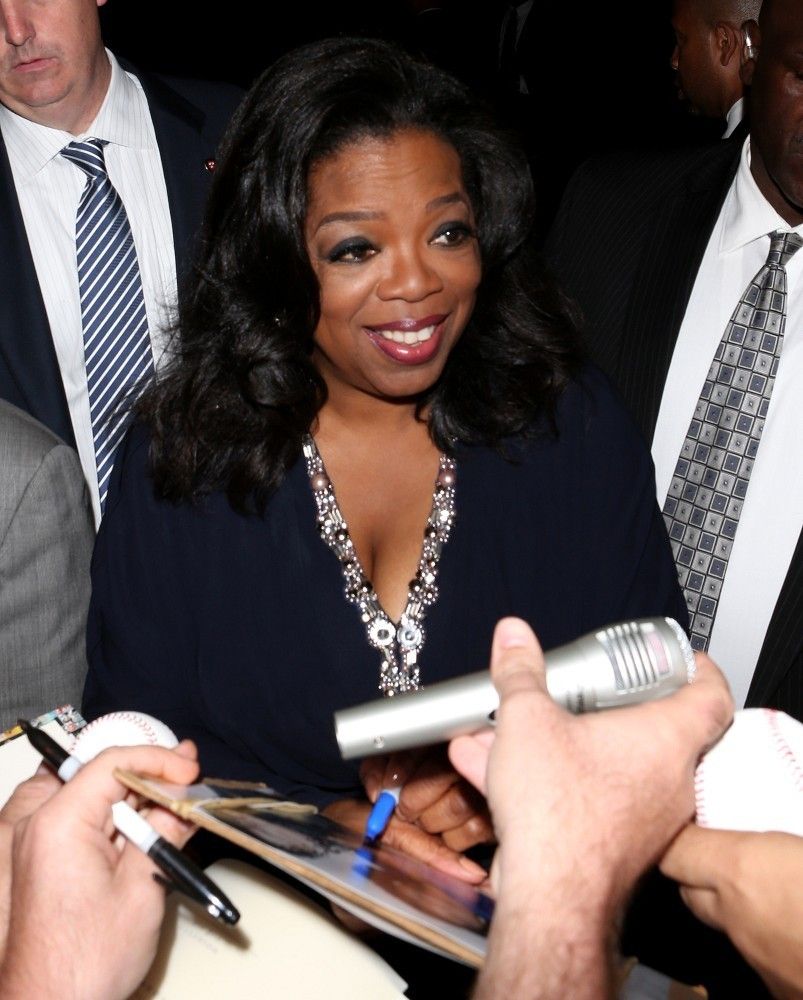 Prior to her commencement speech, Oprah attended a private event the unversity held in her honor.
Watch the address here:
Photos via AP
FAMILY FAB: Mashonda OFFERS Advice On MAINTAINING Blended Families
Posted: 30 May 2013 03:36 PM PDT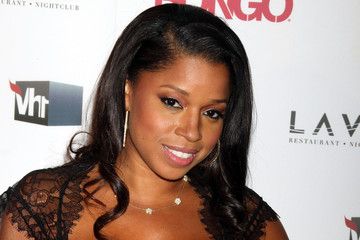 After suffering one of the most painful (and watched) breakups in music history, Mashonda is using her experiences to offer words of advice on creating and maintaining blended families. Get her words of wisdom inside....
Despite enduring one of the nastiest divorces we've even seen (pre-dating Kordel and Porsha Stewart) R&B singer Mashonda has flourished since we watched her ex-husband marry and impregnate pop icon Alicia Keys.
Though the incident would have made some women crumble, the "Juicy Fruit" singer has thrived since parting ways with Swizz Beatz, and this month, she use her column (via Global Grind) to offer other women advice on doing the same. Mashonda has created a list of helpful tools and guidelines that can be used for oving on and blended families. Though her advice, she drives home the ideal that the children should come first.
Let's Start Here:
"The key to co-parenting is to focus on your children—and your children only.

Yes, this can be very difficult. It means that your own emotions—any anger, resentment, or hurt—must take a back seat to the needs of your children. Admittedly, setting aside such strong feelings may be the hardest part of learning to work cooperatively with your ex, but it's also perhaps the most vital. Co-parenting is not about your feelings, or those of your ex-spouse, but rather about your child's happiness, stability, and future well-being."

Separating feelings from behavior:

It's okay to be hurt and angry, but your feelings don't have to dictate your behavior. Instead, let what's best for your kids—you working cooperatively with the other parent—motivate your actions.

Get your feelings out somewhere else:

Never vent to your child. Friends, therapists, or even a loving pet can all make good listeners when you need to get negative feelings off your chest. Exercise can also be a healthy outlet for letting off steam.

Stay kid-focused:

If you feel angry or resentful, try to remember why you need to act with purpose and grace: your child's best interests are at stake. If your anger feels overwhelming, looking at a photograph of your child may help you calm down.

Use your body:

Consciously putting your shoulders down, breathing evenly and deeply, and standing erect can keep you distracted from your anger, and can have a relaxing effect.
Well isn't this grown up of her. We're all about focusing 100% on the kids you share. But no woman has to LIKE their ex or his mistress/jump off turned wife. Loving Mashonda's positivity though... Read more from Mashonda's column here.
Miguel FACING "POSSIBLE" Lawsuit OVER "DROP" Kick + Tyler Perry's "The Haves And The Have Nots" EARNS OWN'S Highest DEBUT Ratings
Posted: 30 May 2013 01:52 PM PDT
Singer Miguel might be facing legal action following his "drop kicking" performance mishap at the 2013 Billboard Awards. Get the deets inside and see how well Tyler Perry's "The Have And Have Nots" did for the OWN network.
"#Beautiful" crooner Miguel may face some serious legal action following an accident during his performance of "Adorn" at the 2103 Billboard Awards. Fans will recall that the energetic singer attempted to leap over a mosh pit of audience members but mistakenly landed on the head of Khyati Shah. Although Khyati said she was "ok" during post show interviews, her lawyer, Vip Bhola, told E! News that she has been experiencing "difficulties" as a result of the incident and may pursue legal recourse.
When ask specifically for a possible timeline for filing the suit, Vip said, "We will determine that after we have feedback from medical providers." So far, reps for Miguel have not commented on any possible legal action.
In other Miguel news, after tweeting comments about African Americans being very "judgmental", Miguel used a recent interview with BBC radio to explain what he meant:
"What is clear is when you put it all in context, I'm saying that we are judgmental of our own. We're very judgmental of each other. We're tearing each other down, and that's why the second tweet about us being preprogrammed and preconditioned to hate each other and hate ourselves is valid. I see more black people tearing down other black people than I see any other culture regardless of what they're doing, and whether or not you agree with that, that's okay. I'm just talking about what I see, and how disappointed I am in that. I'm not judging my own people. That's a fallacy. I'm merely speaking on what I see and making a conversation of it."
Not that he's cleared that up....do you agree that Blacks are highly critical of one another?
Watch the interview here:
And in tv news....
Banking on Tyler Perry's expertise clearly paid off for Oprah the OWN netowrk as the series debut of "The Haves and the Have Nots" earned OWN's highest debut ratings with 1.77 million viewers.And the good news kept coming at the ratings increased to over 1.8 million viewers for the second episode at 10 p.m., according to Nielsen.
Congrats to Tyler and Oprah!
The Randomness:
1. Mary Mary's Tina Campbell asks fans to prayer and fast during her marital troubles. Story.
HOTTIE ALERT: Cassie Rocks Her ESQUIRE Spread, Cracks Some Jokes While Doing So
Posted: 30 May 2013 01:20 PM PDT
Cassie's still doing what she does best....modeling and keeping it effortlessly sexy. The "Paradise" singer is showing off her chic summer swimsuit looks for ESQUIRE. And also flexing her comedic skills. Maybe this is what's got Diddy all hemmed up. Check the pics and more inside...
Connecticut cutie Cassie is rocking yet another steamy spread. And this time she's getting everybody in the mood for summer. In gold & white one piece swimsuits, the singer chick is serving it all....face, body, and skin. Can't even be mad at it.
So Cassie participate in the Esquire's "A funny joke from a beautiful girl" feature. And we're sure plenty of guys will find her quirkiness hot:
Another joke:
A gorilla walks into a crowded bar.

"I'll have a manhattan, please," he says.

The bartender serves the drink and says, "That'll be $17."

While getting the gorilla's change, the bartender says, "You know, we don't get many gorillas in here ordering manhattans."

The gorilla says, "At $17 a drink, I'm not surprised."
Oh Cassandra....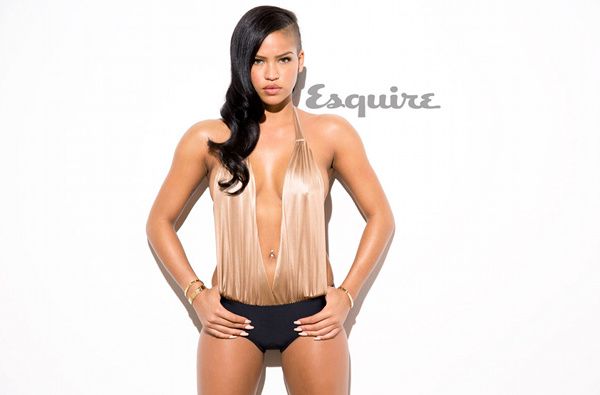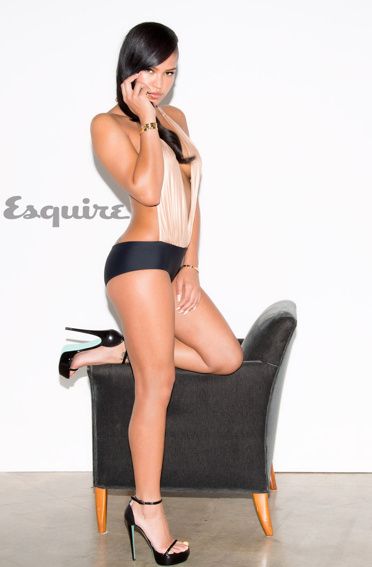 The 26-year-old told the mag she simply goes by her first name.
"It's not like I'm Madonna," the Connecticut native says. "I've been Cassie my whole life." But why no last name? "People would meet me and say, 'What's your stage name?' 'Well, Cassie.' "
Cassie's new RockAByeBaby mixtape is available now.
Photog: Chris Fortuna
DAMN: Kendu Isaacs' Daughter Tweets She's PREGNANT & HOMELESS...Says Her "Parents" Aren't Helping
Posted: 30 May 2013 12:05 PM PDT
Mary J. Blige's husband Kendu Isaacs may want to go check on his oldest daughter Briana. Because baby girl is about to have her own baby boy...and she's having a homeless and lonely melt down.
Peep her recent tweets inside...
It's no secret that Kendu Isaacs and his oldest daughter, Briana Latrise, have been at odds for years. Back in '09, Briana blasted him for being a deadbeat dad and tweeted that she needed someone to find her father so she could wish him a Happy Donor's Day.
Fast forward to this week when Briana, who calls herself an artist, is letting the world know that she's struggling in life. Like really struggling. But she's also still in school. She tweeted that she's pregnant with a baby boy (and posted the ultrasound pic), she's homeless because she can't find anywhere to go while she moves, and her parents are no help: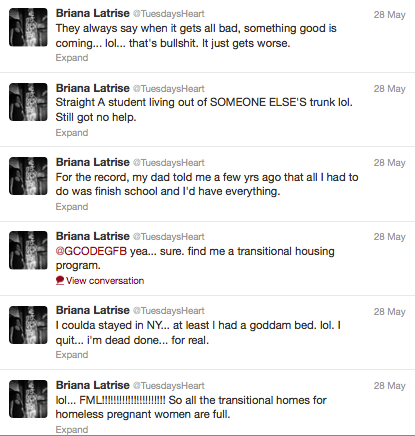 Would love to know where her child's father is. But apparently putting the onus on HIM as well is too much like right.
Other shocking tweets? She revealed she feels like killing herself and she also dreamed she would be having a baby alone.
I've never wanted to kill myself so badly in my life. I really don't see any other options at this point.

I don't think I ever really worried about my future before now.

I once had a dream that I had a baby & no one was there... I gotta start dreaming about successful shit.
Well, between this drama and the drama of MJB facing millions in tax debt and people blaming Kendu since hes her husband AND manager.....ish looks like it's about to hit the fan.
By the way, it's vintage gossip that Kendu wasn't only married to Briana's mom when he met Mary, but he allegedly swept Mary under his spell while he was married, and became involved with Mary while she was vulnerable after overcoming drug addiction and an abusive relationship. He's also been accused of firing Mary's whole team when they first got together (including her ride or die sister) and hiring his own family to help manager her career.
Chile...
PROMTASTIC: Evelyn Lozada Plays Prom Date To Detroit High School Senior--The Details
Posted: 30 May 2013 11:17 AM PDT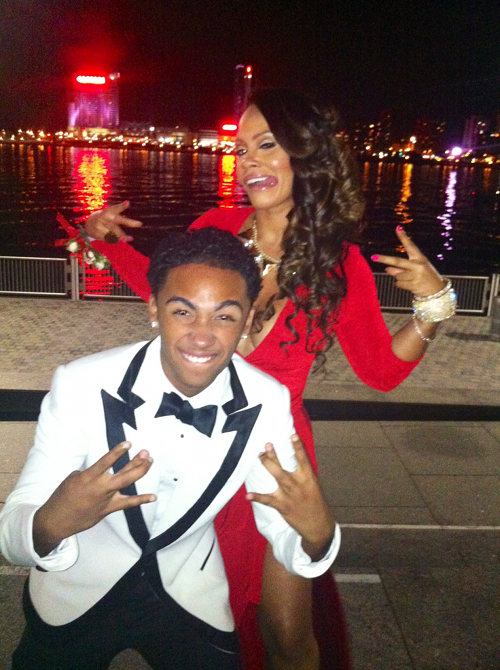 Evelyn Lozada rewarded one of her Twitter followers with the gift of her presence...at his prom. Check the pics inside of Evelyn hitting up the high school prom she never got to attend...
Rocking a sexy red dress with a bit of midriff exposure and lots of cleavage on display, "Basketball Wives" star Evelyn Lozada made a high school boy's wet dreams come true. She accompanied the extra happy young man to his high school prom recently.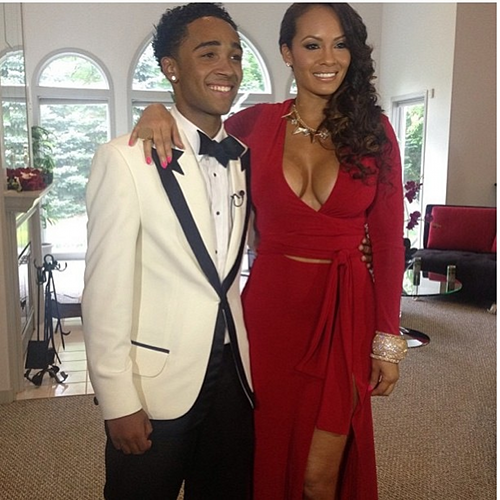 Anthony Nelson, a Senior at West Bloomfield High School, asked Evelyn via Twitter to be his prom date back in October 2012, and naturally, she said yes!
Ev's rep tells us the reality star wasn't able to attend her own prom because at the time, she was pregnant with her daughter Shaniece. So, this was a chance for her to experience for the first time what the seniors in high school look forward to.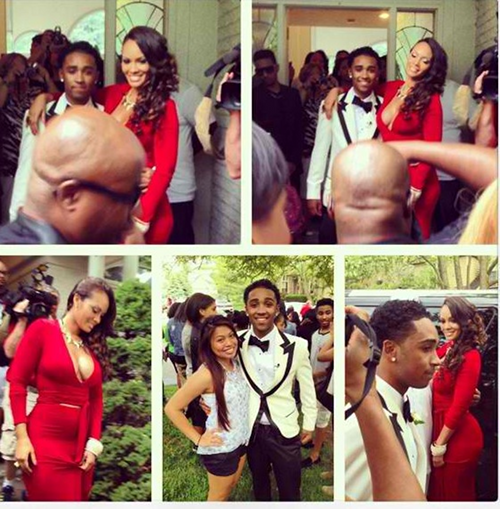 The reality star/author hopped a plane to Detroit, Michigan from Los Angeles to make Anthony's dreams come true. And when she got there, dude had over one-hundred of his family members, friends and local media there. Y'all know his mom and granny called ALL the cousins and neighbors. Hilar!
Ev and Anthony snapped lots of pics, headed to The Detroit Country Club, and the young man even graced her with a corsage. How sweet.
Evelyn said, "I had the absolute time of my life and never experienced anything like this before because I wasn't able to attend my own prom. I felt so special and Anthony is a really good kid, his family was so sweet and everyone welcomed me with open arms. We all had a great time and I'm so happy to be here!"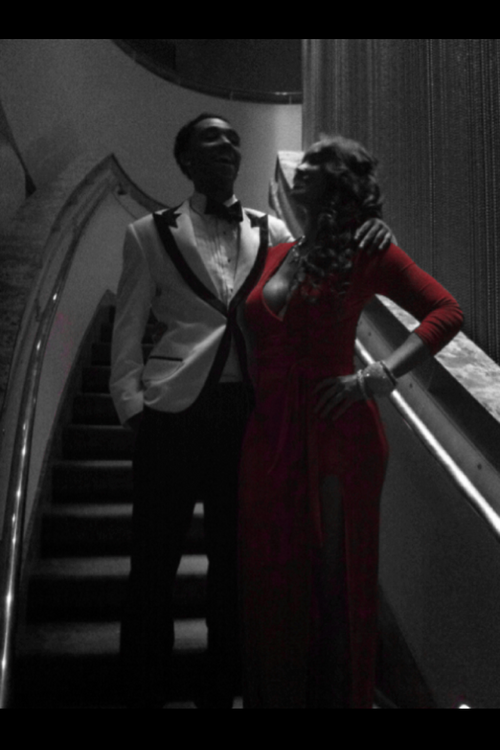 The couple for the night lived it up at prom and afterwards dined at Coach Insignia overlooking downtown Detroit.

By the way, just last month, Ev also purchased a prom dress for a Twitter follower who was unable to afford it. Reality chicks with hearts...
Photos: Evelyn's Instagram
SPOTTED: Jaden Smith DONS "Ironman" COSTUME, DINES ON Sushi With Kylie Jenner
Posted: 30 May 2013 09:59 AM PDT
After Earth star Jaden Smith drew the stares of on-lookers as he donned an "Ironman"costume during a sushi run in NYC yesterday. And if he's trying to dodge all the paprazzi attention, this probbaly isn't the best way. See pics of Jaden in his costume with gal pal Kylie Jenner inside.
Yesterday, three of Hollywood's "Super Rich Kids" (Jaden Smith, Kylie Jenner and Stephen Baldwin's daughter Hailey Baldwin (Not pictured)) dined at NYC's posh sushi hotspot Nobu 57. As the trio exited the hotspot, Jaden was seen wearing an "Ironman" costume he'd picked up earlier in the day.
His own sci-fi/action movie, After Earth, hits theaters tomorrow. Could anyone else pull off a stunt like that?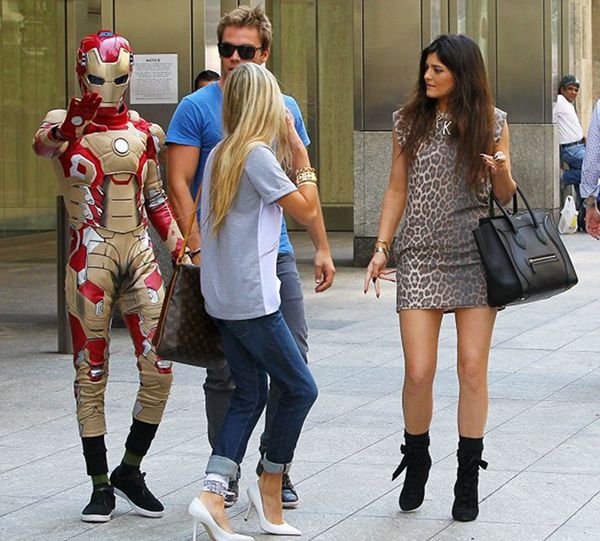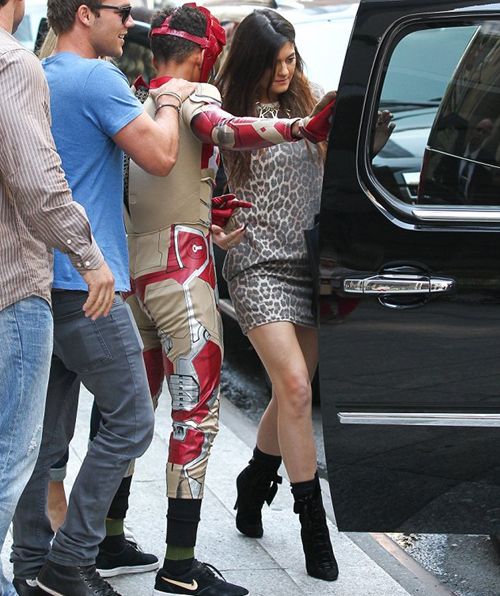 Though Will Smith has defended the "Smiths" against comparisons with the fame-seeking "Kardashians", you have to suspect that Jaden is a "bit" of an attention-seeker himself. Dressing as Ironman while standing next to one of the "Kardashian-Jenners"? Really?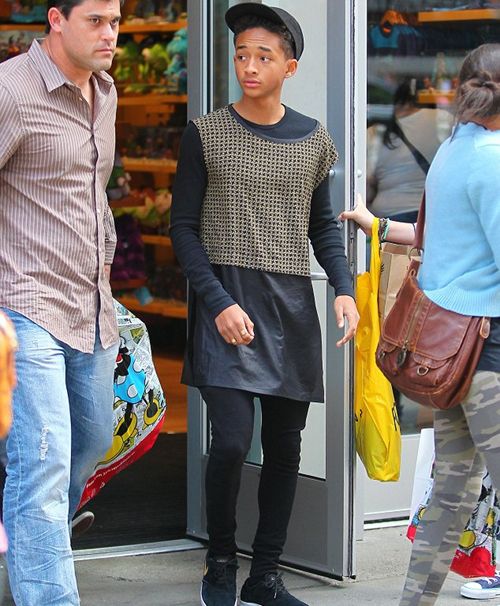 But after the afternoon of sushi and crime fighting, Jaden took off the costume and prepared to attend the After Earth premiere with his gal pals. Must be nice...

Photos via Splash
Celebs Rock The "AFTER EARTH" NYC Premiere Red Carpet
Posted: 30 May 2013 09:05 AM PDT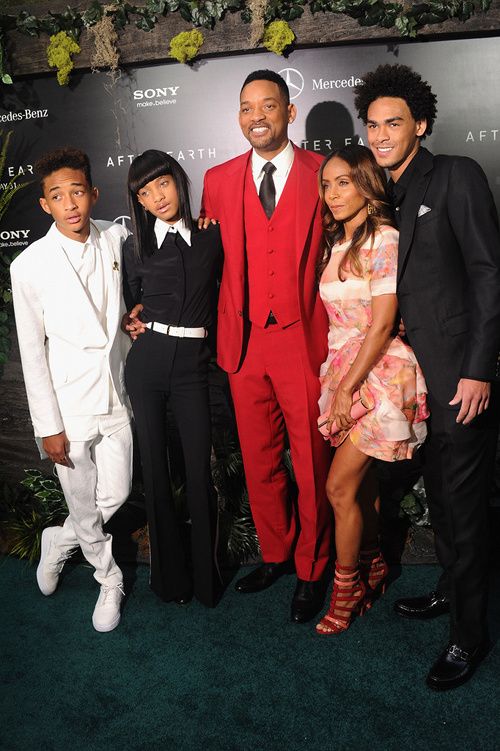 The whole Smith family clan--Will, Jaden, Trey, Jada & Willow--was in full force last night to support Papa Will & son Jaden's new sci-fi flick After Earth. Check out the fab fam, plus all heir celeb friends who came out to support inside...
It's all about the Smith boys this week as they release their newest flick together After Earth. The premiere went down in NYC last night at Ziegfeld Theater.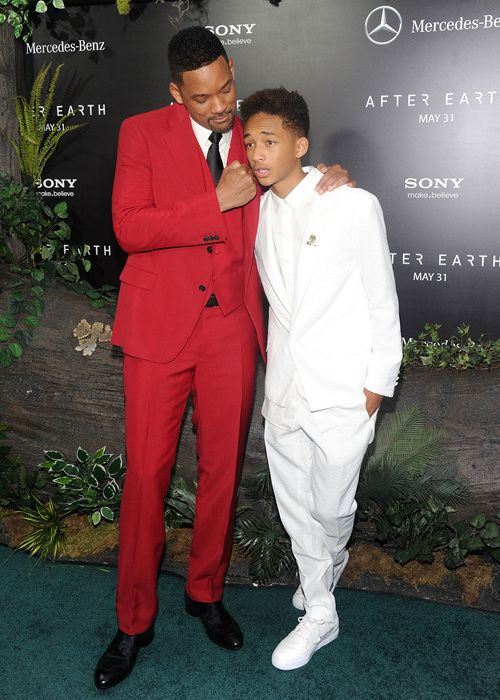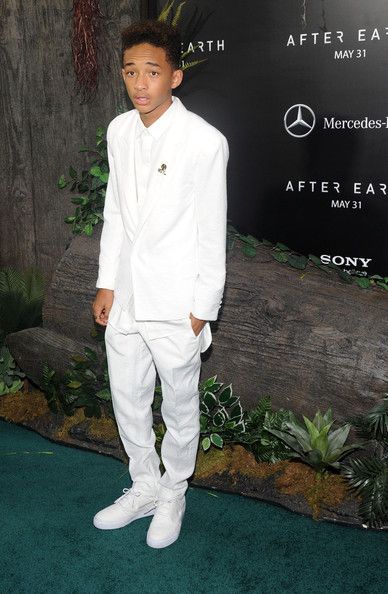 Pops and son are pros at the promo gigs since thie isn't their first film together. After starring in the big film The Pursuit Of Happyness--as father and son in that one as well--the pros are back at it on the carpet for their next collabo film.
Will & Jaden chatted up the press, including AJ at "Extra". And Jaden kept it cool in an all white look.
Mom Jada rocked a cute floral Blumarine dress with caged Azzedine Alaia sandals we're drooling over. Daughter Willow look cute and age appropriate.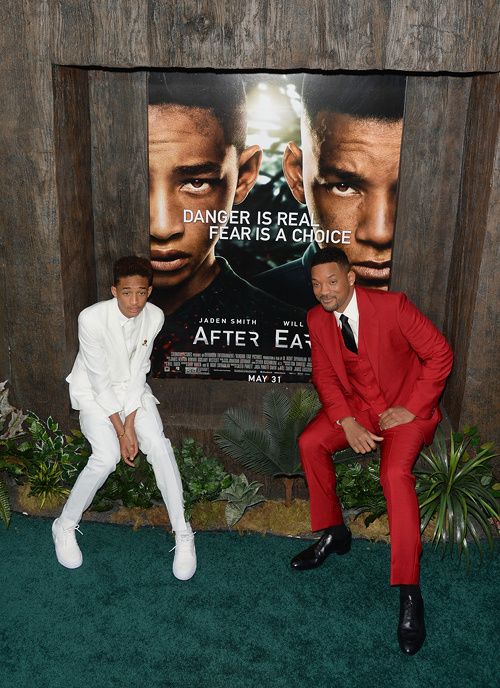 Will's on-screen wife from Independence Day, Vivica Fox, came out to support her long time friend: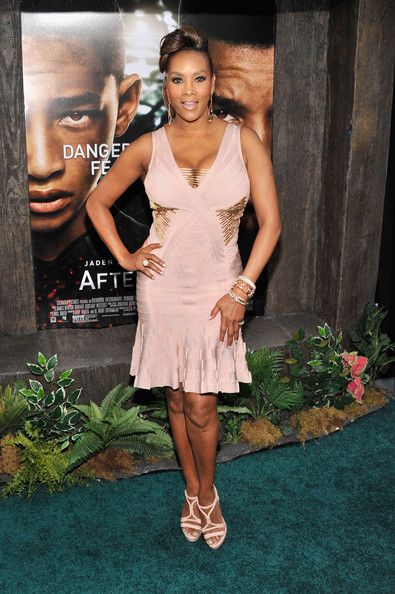 And Will's ex-wife Sheree Fletcher was there to offer up support as well: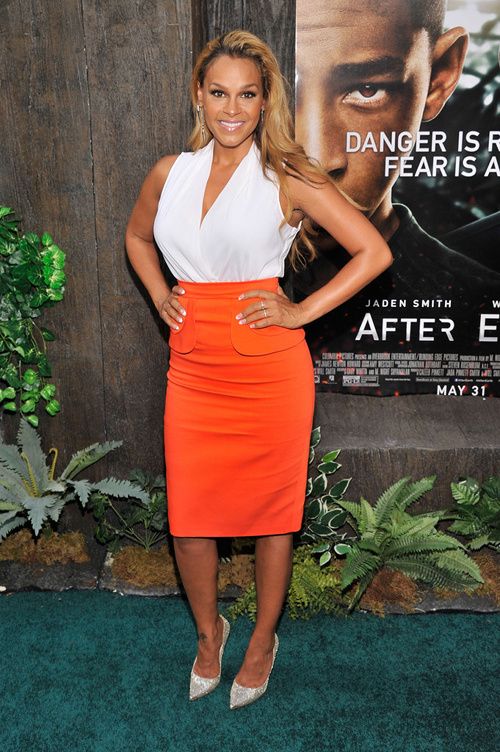 Fab look for her.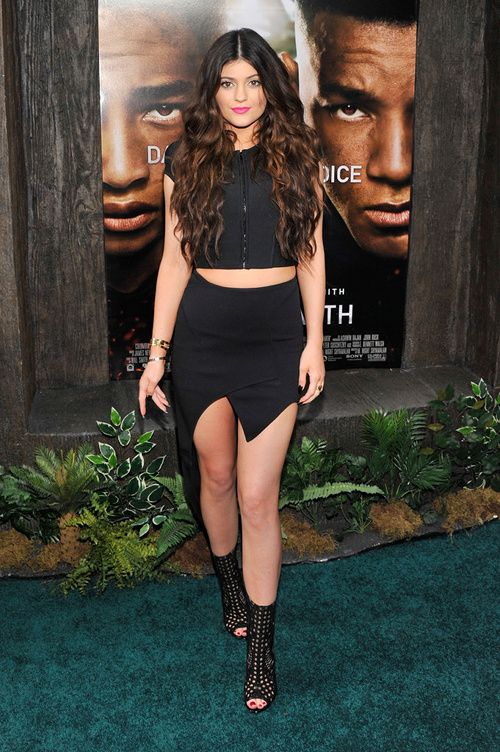 Jaden's "friend" who seems to becoming more like a boo, Kylie Jenner, was there looking....not like your typical 15-year-old.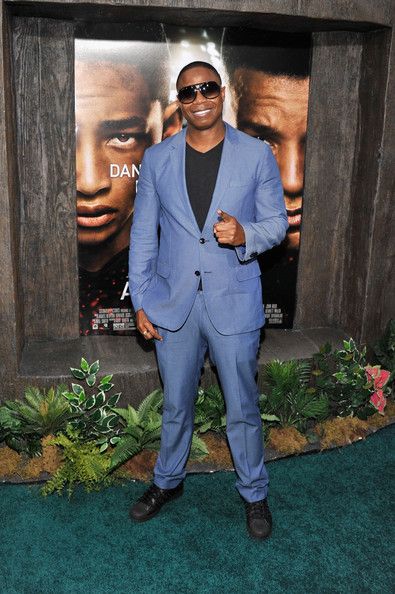 Doug E. Fresh came out for the movie.
The gorgeousness that is "Have Or Have Nots" actress Tika Sumpter was there in red: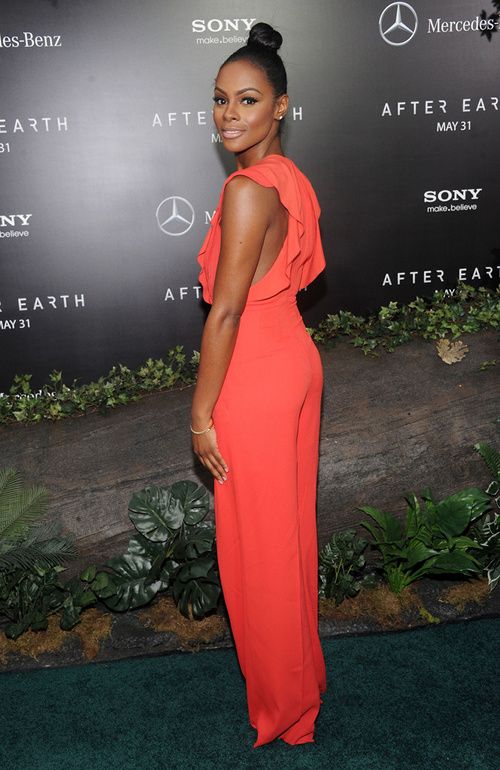 Perfect look for her.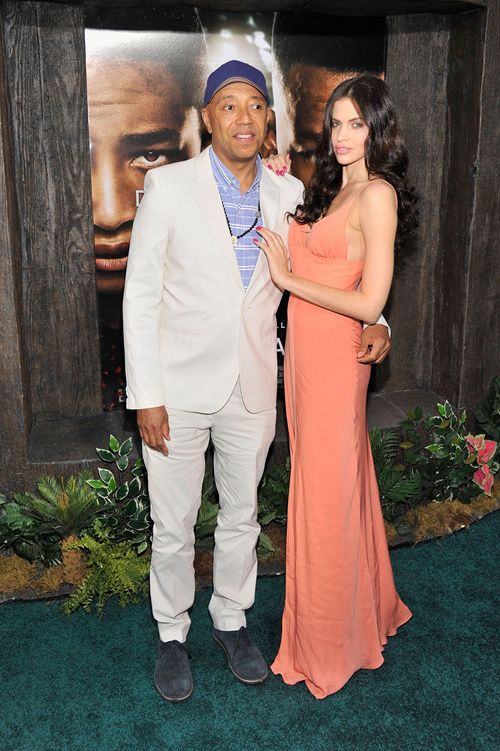 Russell Simmons and his mode boo were there on the carpet. Y'all know his steez...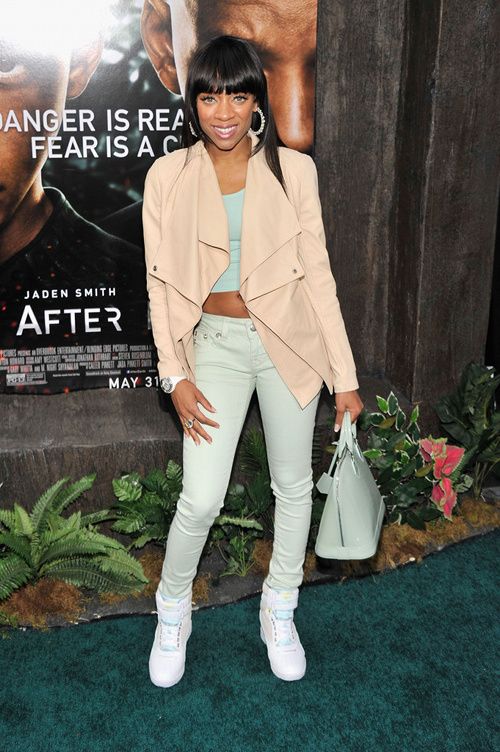 Star of VH1's upcoming "TLC" movie, Lil Mama, made her way to the carpet in sneakers.
It was a baby bump fest on the carpet too: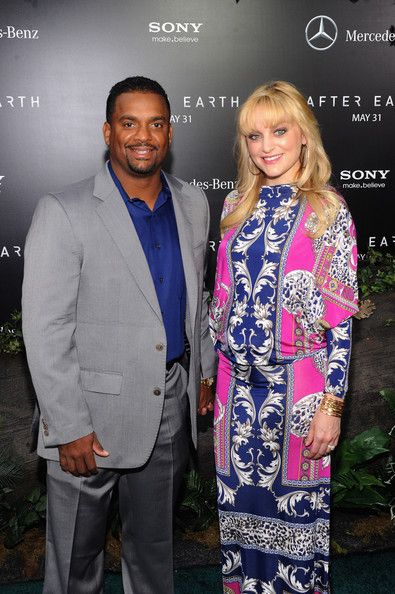 Will's on screen cousin and real life good friend Alfonso Ribeiro was there with his new wife Angela. The couple announced earlier this month that they're expecting!
And AJ Calloway was there with his pregnant fiancee Dionne Walker.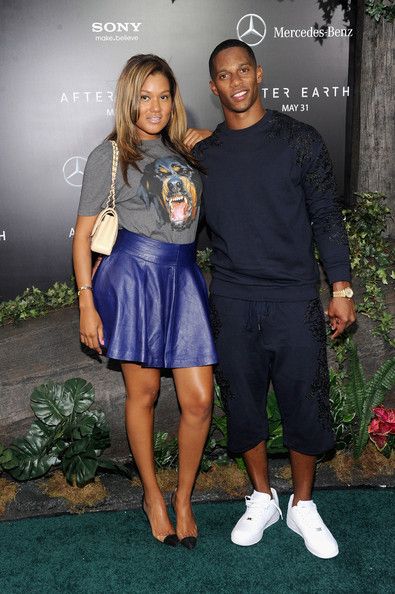 Giants baller Victor Cruz hit up the carpet with his baby moms, girlfriend Elaina.
And of course, DJ Jazzy Jeff and his wife were there to support his long time bestie the Fresh Prince of Bel Air.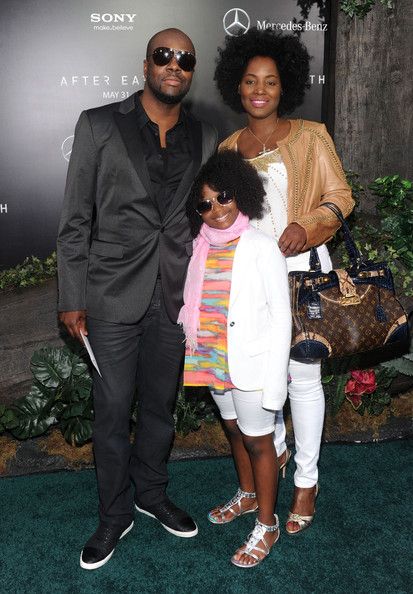 Wyclef brought his wife and daughter. How cute is she!
And Spike Lee brought his wife Tonya and their kids as well.
Fun times!
After Earth hits theaters this Friday!
You have read this article with the title The Young, Black, and Fabulous. You can bookmark this page URL http://thisgirlreprobate.blogspot.com/2013/05/the-young-black-and-fabulous.html. Thanks!