---
John Travolta sued for sexual battery by second masseur, this time in Georgia
Posted: 09 May 2012 08:41 AM PDT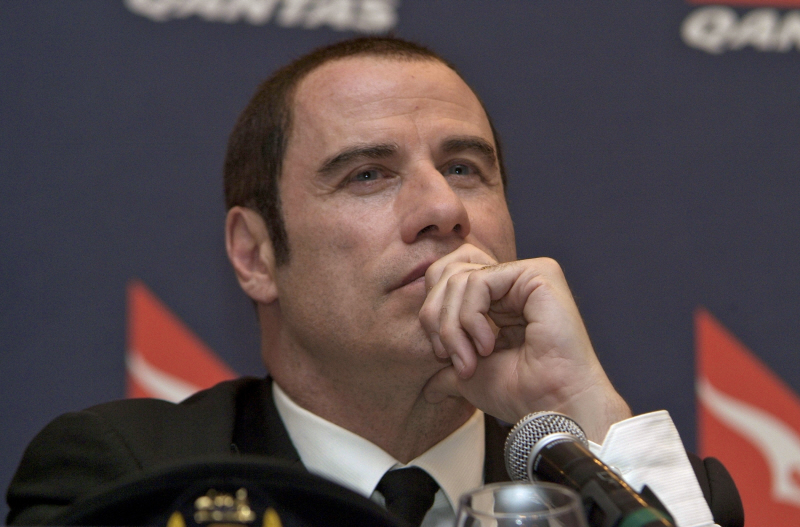 On Monday afternoon/evening, TMZ reported that John Travolta was being sued by a masseur (a male massage therapist). The masseur claimed that Travolta groped him thoroughly during a massage at the Beverly Hills Hotel. Travolta – through his lawyers – jumped on the lawsuit and issued denials far and wide, claiming that Travolta wasn't even IN LA at the time of the alleged incident. Go here to read yesterday's story, including my background information on Travolta's VERY ALLEGED history with gay spa sex. Oh, and here's a bizarre update to that story: Travolta (through his lawyers) claimed that he wasn't even in LA on the date of the first masseur's groping/assault. Last night, Travolta's lawyers released a Mr. Chow bill from NYC to "prove" that Travolta wasn't in town. They also seem to have provided TMZ with one of the weirdest Photoshopped images ever – go here to see it.
So, yesterday, in the midst of the Met Gala fashion explosion, Radar reported a new twist. According to Radar, Travolta is being sued by a second masseur who also claims that Travolta got quite handsy (and then some) during a massage at "an unspecified resort in Atlanta, Georgia on January 28, 2012." This second masseur has the same lawyer as the first dude too! Once again, the language and imagery are pretty graphic, so if you'd like to read all of Radar's story in all of its gory NSFW details, go here. The basic gist: the second masseur claims that during a deep tissue massage, Travolta started jerking off. There are some really gross details, but this part made me sad: "Sweat was pouring down Travolta's neck, and he asked Plaintiff again to say something nice to him." Poor, sad, sweaty Travolta. Also, Travolta was pretty much begging this guy to do a lot of "work" on his glutes and he was trying to maneuver his butt in a certain way to ensure… well, you get the picture. After that, Travolta allegedly grabbed the masseur and groped him.
Beyond the sex stuff, you know what I find interesting? How a common thread to all of these stories seems to be "everyone knows John Travolta gropes masseurs." This second plaintiff claims that he asked a co-worker to take the in-room massage but the co-worker refused because "Travolta has been banned from a spa that the coworker used to work at in Los Angeles." And after the masseur was assaulted, he complained to his bosses "to no avail" and Travolta even demanded that the masseur come back and "finish" – which the masseur refused.
And this time, Travolta can't claim he was out of town – everyone knew he was in Atlanta, working on Killing Season with Robert DeNiro. As for Travolta's response? His lawyer says, "The problem in America is anyone can sue anyone. However, in this case this unidentified plaintiff and his lawyer will regret they filed this fabricated suit. We intend to sue both of them for malicious prosecution." Yeah… this is no longer "funny stories about gay spa sex." These are stories about Travolta physically assaulting men and everyone turning a blind eye. If the stories are true, I hope Travolta has to pay out, big time. If the stories aren't true, I hope he can defend himself in court.
UPDATE: Oh, and this lawyer representing the two masseurs? He says that there are plenty more victims of Travolta's sweaty groping. Ugh.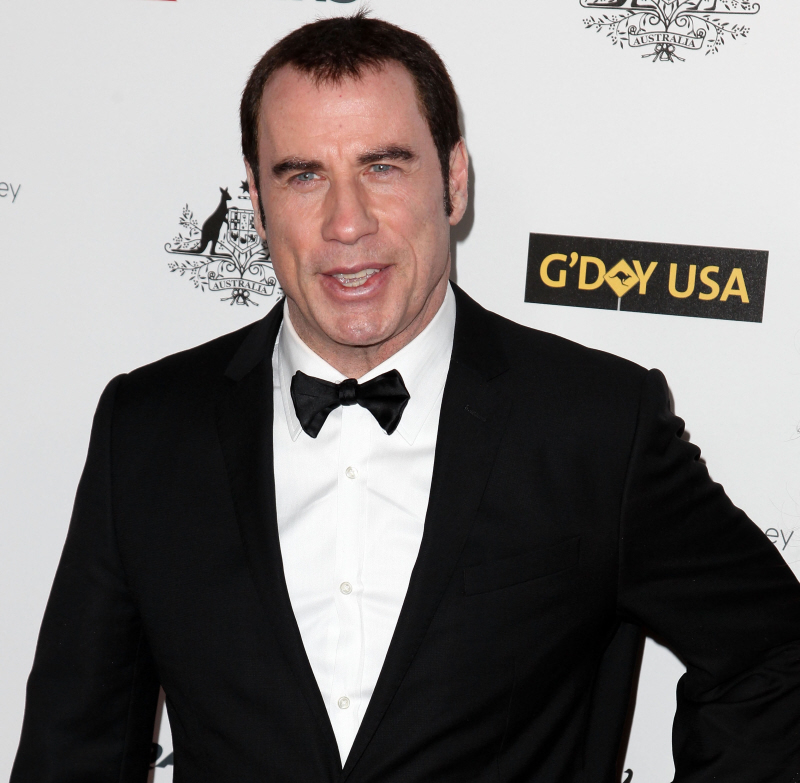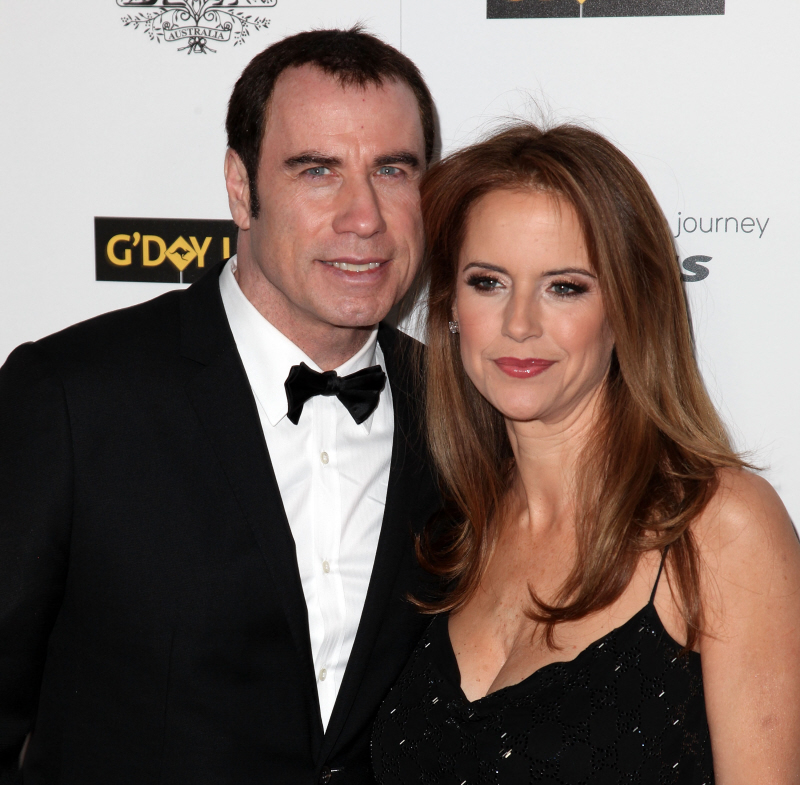 Brad Pitt officially named the new face of Chanel No. 5, first photo released
Posted: 09 May 2012 08:40 AM PDT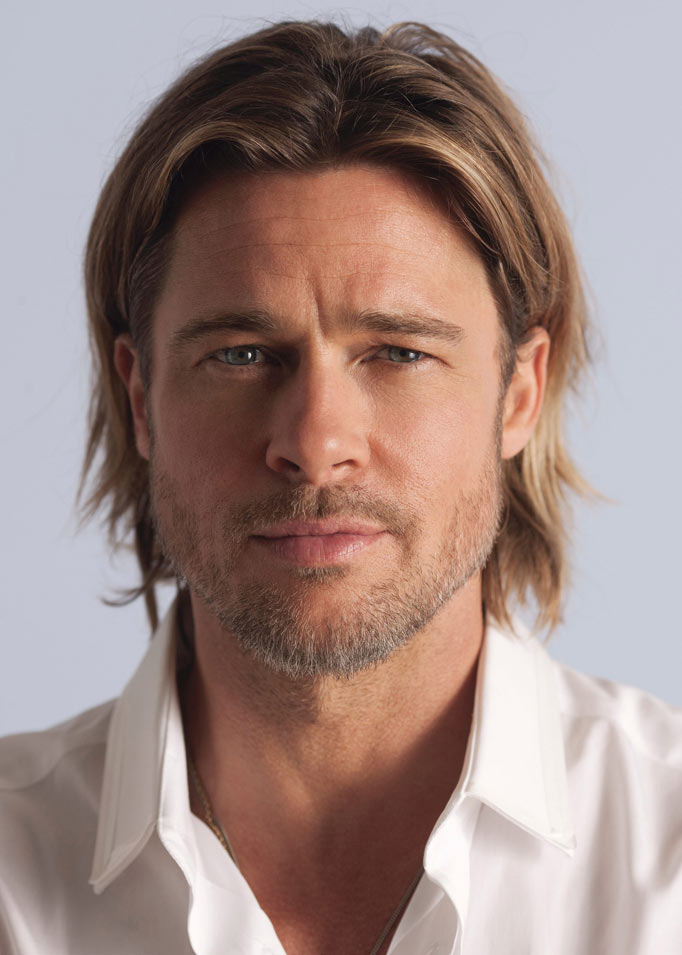 *This is the official image that Chanel released with the announcement.
It's official now! Reports surfaced yesterday that Brad Pitt was being signed as the new face of Chanel No. 5, one of the most famous perfumes in the world. I already talked about the rumors here – and now it's been confirmed. Chanel released an "official" image of Brad Pitt (that's the header pic), and they confirmed Brad's deal:
Ooh, la la! C'est Brad! Brad Pitt's famous mug has landed him a major deal unrelated to blockbuster films — a spokesmodel deal with Chanel.

"Chanel has selected world renowned actor Brad Pitt to be the face of the upcoming advertising campaign for CHANEL No. 5," the brand said in a release.

The Chanel deal mark two firsts: it's the 48-year-old actor's debut beauty spokesmodel gig and the brand's first time having a man represent its famously iconic women's scent that launched back in the 1920s.

Pitt follows in the footsteps of Nicole Kidman, who starred in the short film No. 5 The Film in 2004 and Audrey Tautou who has held the spot as the scent's visage since 2008.
[From Us Weekly]
Everyone is still claiming that Brad will take home seven figures for this deal… which I believe. I don't think Brad even bothers with commercial work unless it pays more than, say, $5 million a pop. Here's what I don't understand: why hasn't Chanel announced a female companion for the ad campaign? I just don't understand how the commercial (much less a print ad) would even work unless they paired Brad with an actress or model. Or is the campaign going to be of the "Brad Pitt says you ladies should smell like this" variety with Brad just holding up the Chanel bottle? So many questions.
Oh, and I caught some of you blaming Karl Lagerfeld for this. You know what? I don't think Lagerfeld had a hand in whatever this is. Lagerfeld famously and publicly bitched about Audrey Tautou becoming "the face" of the perfume, and I don't think he has much to do with the Chanel perfumes or anything. He's just about clothes and handbags.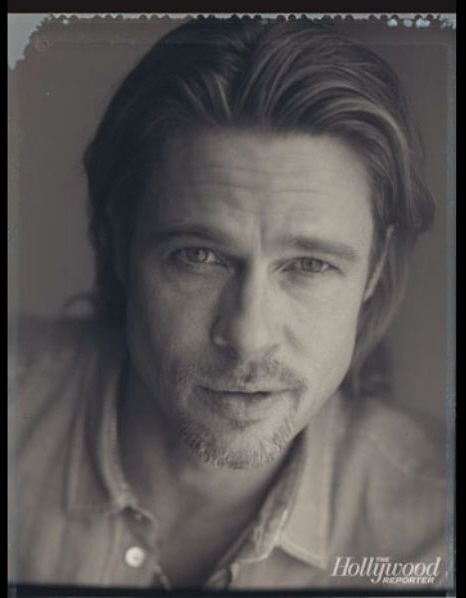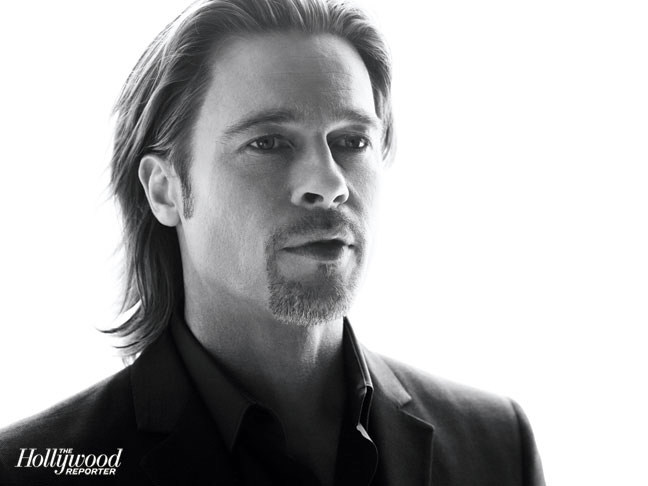 Header photo courtesy of Chanel, additional images by THR.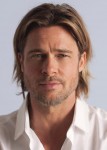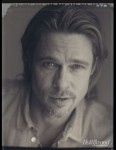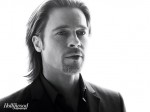 Katherine Heigl wears a cute little white dress: is her style improving?
Posted: 09 May 2012 08:05 AM PDT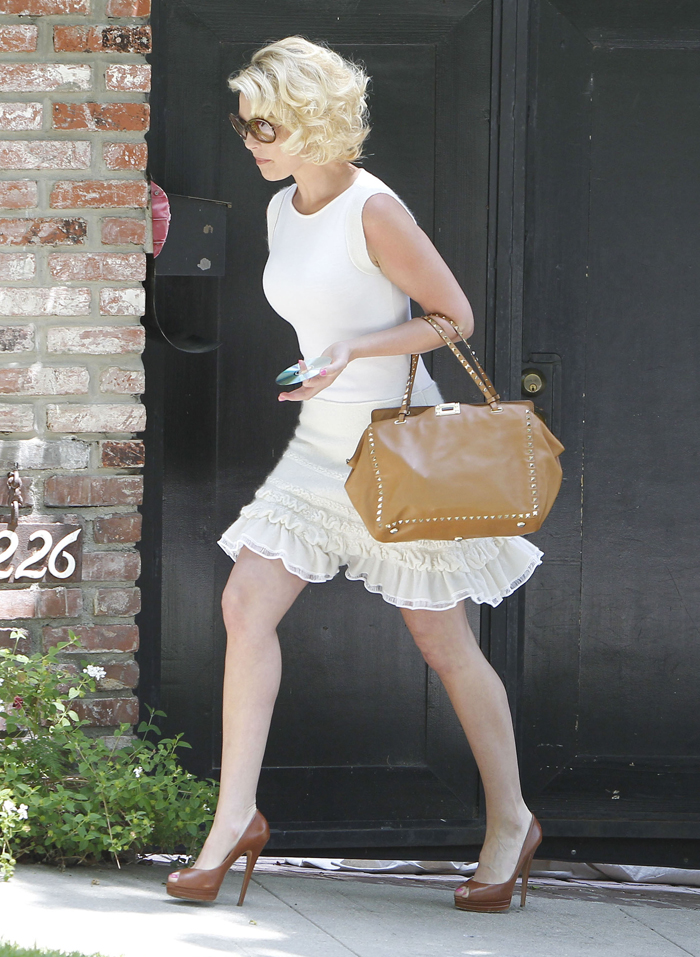 Katherine Heigl stepped out in a gorgeous (by her standards) little white dress for a meeting yesterday in Los Angeles. While this outfit would probably not be notable on any number of other Hollywood actresses, I feel like we should applaud Katherine for making an effort to look stylish instead of falling back into her default fug mode both in candid shots and on the red carpet. This dress is really cute on her and flattering to the figure, right? Of course, that hair is still a total disaster (I think she should grow it out to shoulder length), but I'm just amazed that she didn't screw up the dress with some fug booties. Because she loves her fug booties.
Maybe Katherine got a new stylist. She's obviously been trying to work on her image lately, and looking good is one way to easily score some points. She's still filming romcoms for now (her latest, The Wedding, is in post-production), but Katherine needs to watch it because she's been stuck in some underperformers — One For the Money and New Year's Eve — lately, and her days might be numbered. As shallow as it may seem, this dress is a good start to generating interest outside her ice-queen image.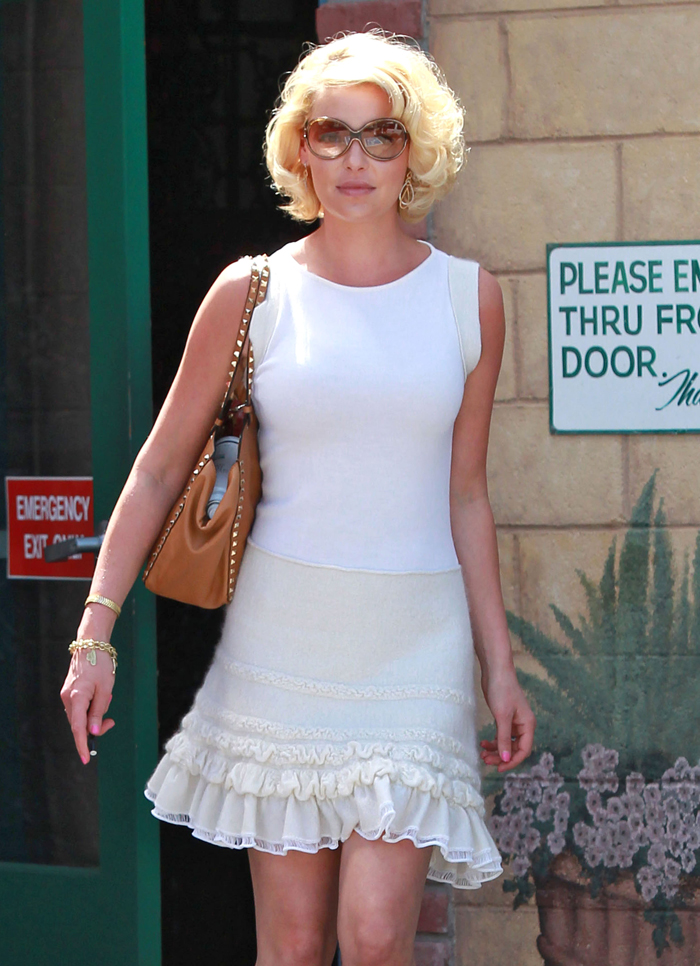 Of course, Katherine went out to lunch with her mother after her meeting. Mom looks good too. They really seem inseperable, right? Maybe they'll both end up signing on for Mother's Day — which is looking to cast 11 more mother/daughter sets of actresses after signing on its first duo, Susan Sarandon and Eva Amurri Martino. Or maybe not.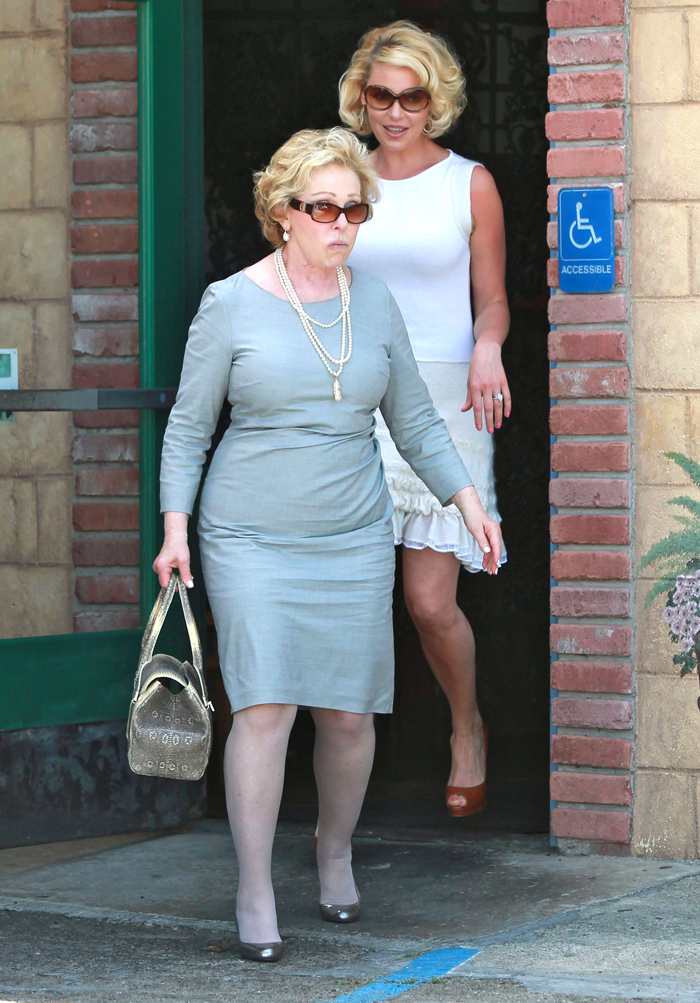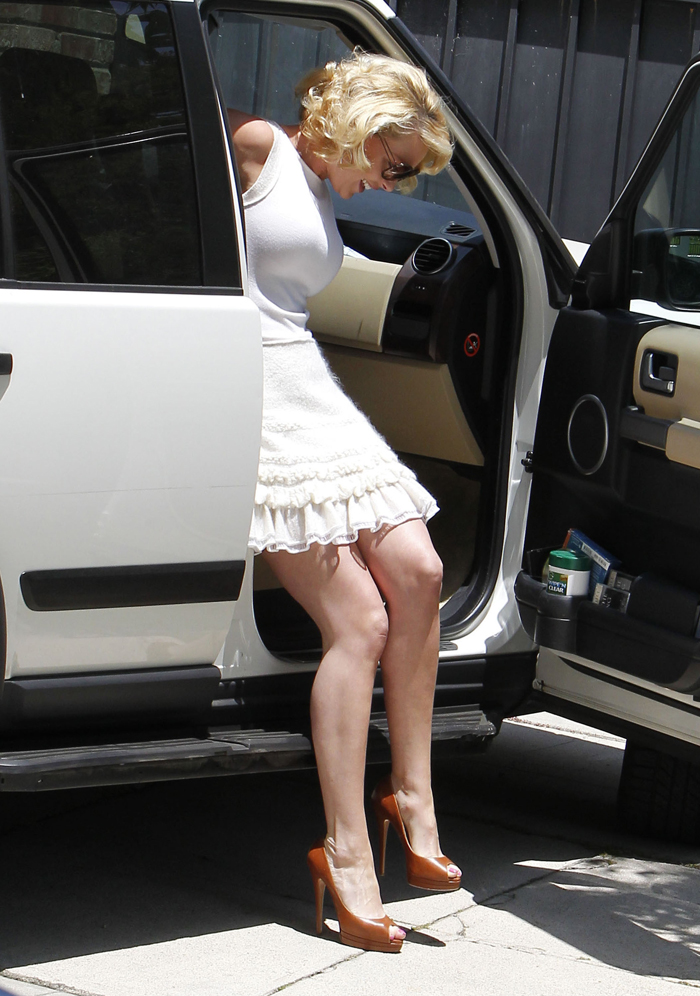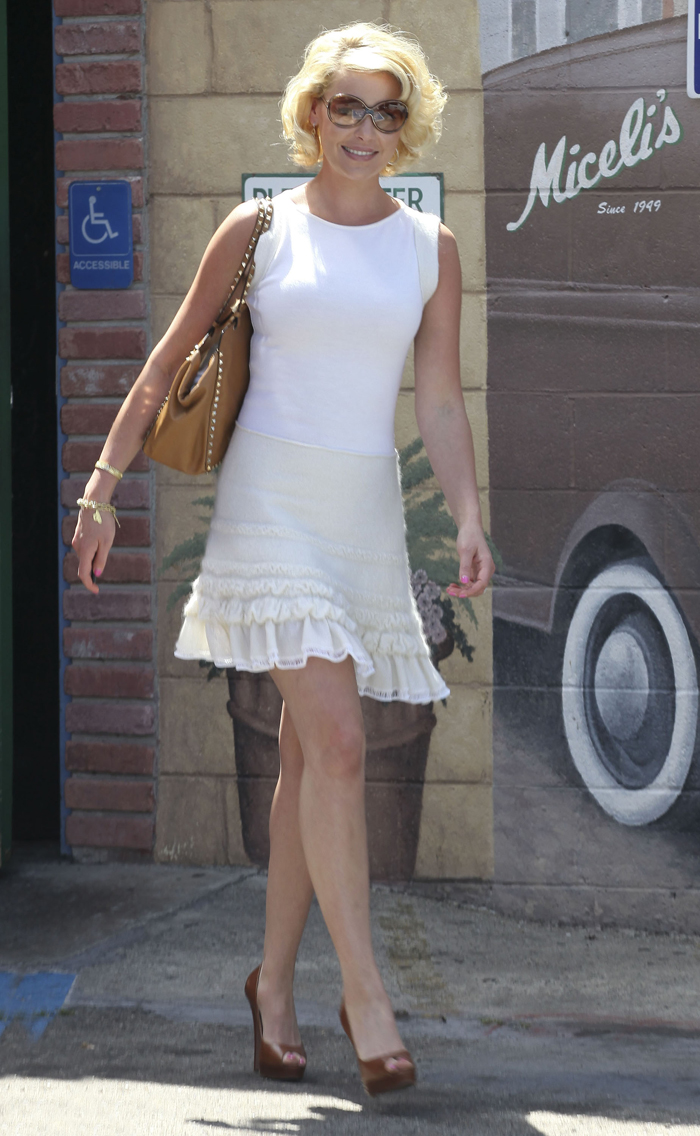 Photos courtesy of Fame/Flynet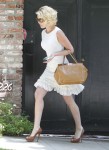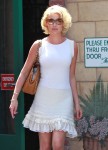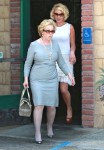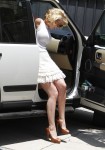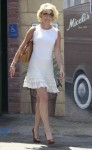 Sandra Bullock on the cover of People; has her career suffered from the scandal?
Posted: 09 May 2012 08:01 AM PDT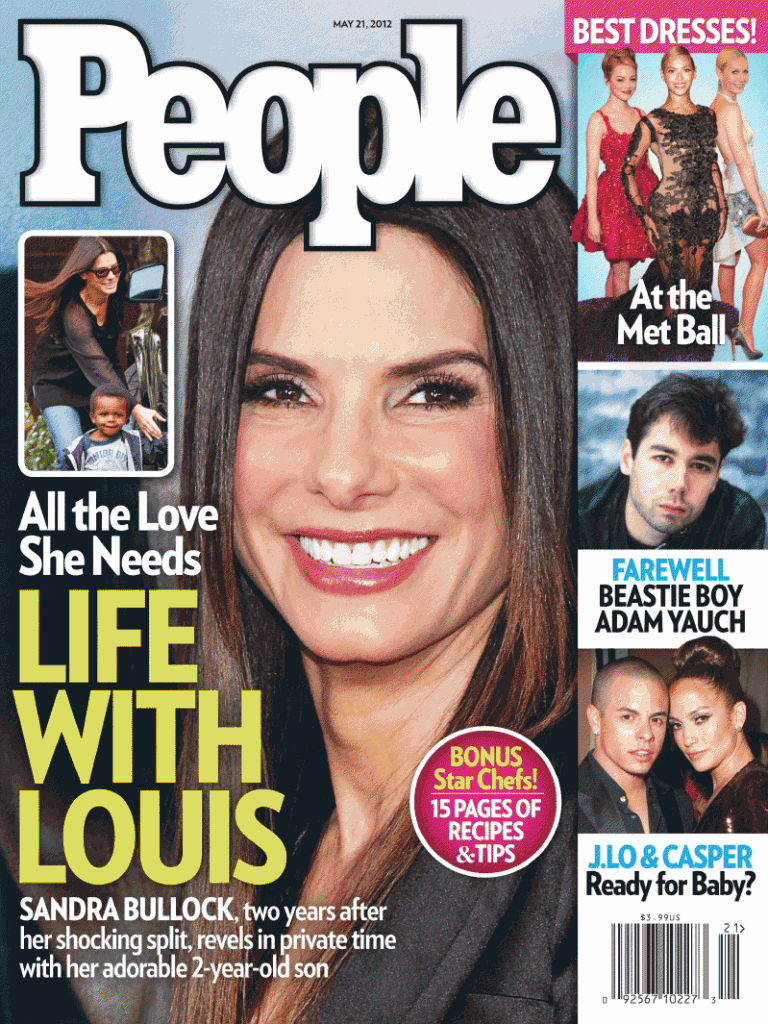 Remember Sandra Bullock's amazing, jaw-dropping adoption announcement following the huge cheating scandal with her then-husband, professional dirtbag Jesse James? That was in People Magazine at the end of April, 2010, just over two years ago. The interview and resulting PR blitz were pure genius, with Sandra looking like she had moved on and changing our focus on her adorable new baby, Louis. That also helped prove that Sandra had her life on complete lockdown, since she had been the focus of tabloid stories for months and there wasn't a peep about her even considering adoption despite the fact that she'd had little Louis since January. Well Louis is growing up and he's really adorable, and has been seen looking happy and chatting to friends outside his preschool. Sandra hasn't been dating again that we've heard of, but she seems really fulfilled as a mom. People is featuring her on their cover this week. Here's some advance details on this story:
Sandra Bullock, meet Thomas the Tank Engine.

The actress recently took her 2-year-old son Louis to a meet-and-greet with a full-size version of the famous train – one of many Mommy-and-me outings for the inseparable duo.

"Being a mom is her total focus now," a Bullock source tells PEOPLE in this week's cover story. Along with her work, "Louis has become her whole life."

Currently renovating a $16 million Beverly Hills mansion, the Oscar winner, 47, regularly shuttles between work at her Fortis Films production office and her son's preschool.

"She is raising Louis as a single mom, and she never thought it would be this way," says another Bullock source. "She's still trying to figure out [her new life]."
[From People Magazine]
That sounds really sweet, but I'm not sure it will be a big seller for People. It might be if they featured a photo of Sandra with Louis as the main picture on the cover instead.
Some of those advance quotes sound like Sandra is trying to put to rest the rumors that she's considering adopting a sibling for Louis, but it's hard to tell. I would be more apt to believe those stories if we didn't have such a great example of how Sandra is adept at keeping her private life out of the tabloids. Also, it kind of makes me sad that it sounds like Sandra is apologizing for not having another partner at this point.
IMDB only lists one film coming out for Sandra this year, Gravity, which is out in the fall. Last year she had just one film too, Extremely Loud and Incredibly Close. In 2010 when she won the Oscar, adopted a child and went through all that, she had no films out. So did that scandal affect her career or did she deliberately take a step back to focus on being a mom?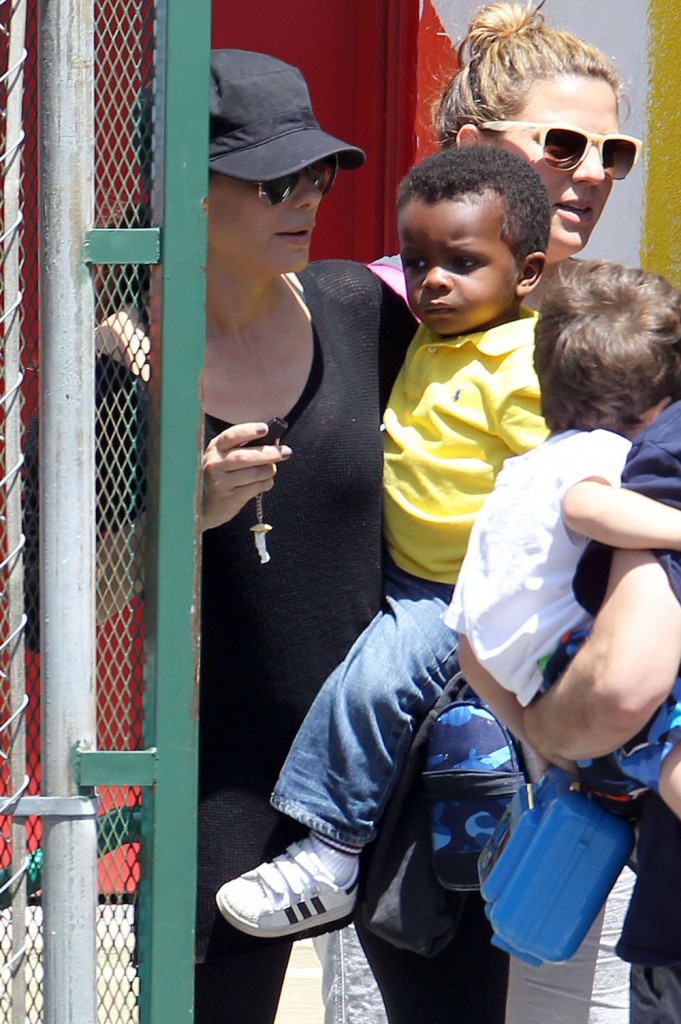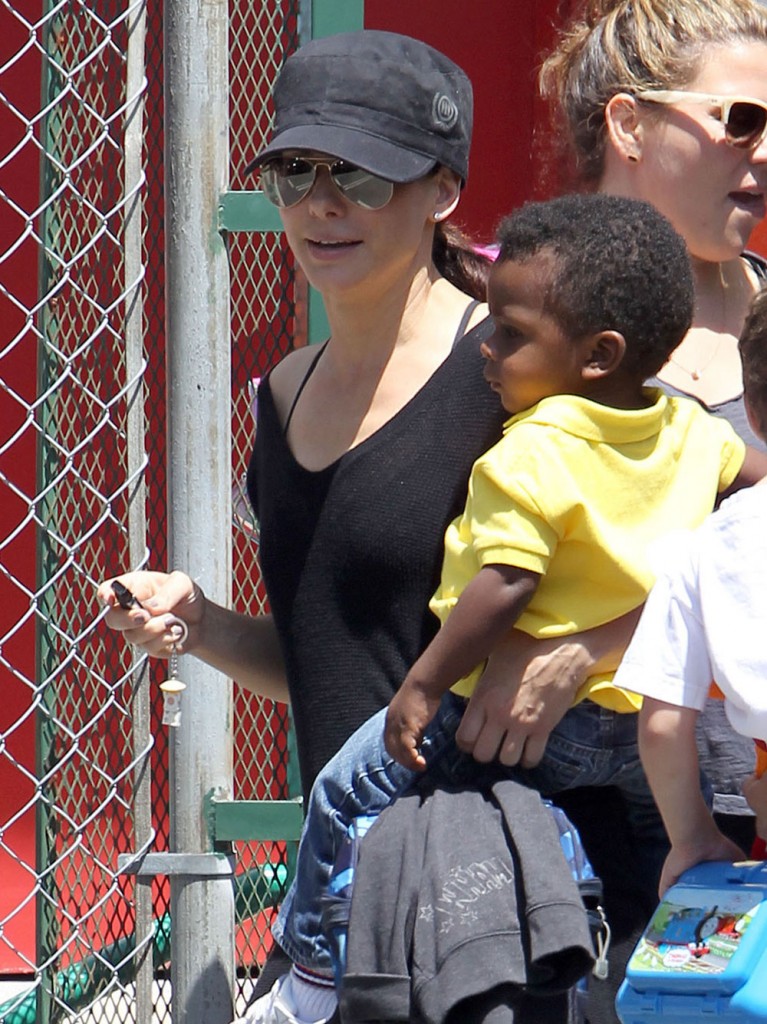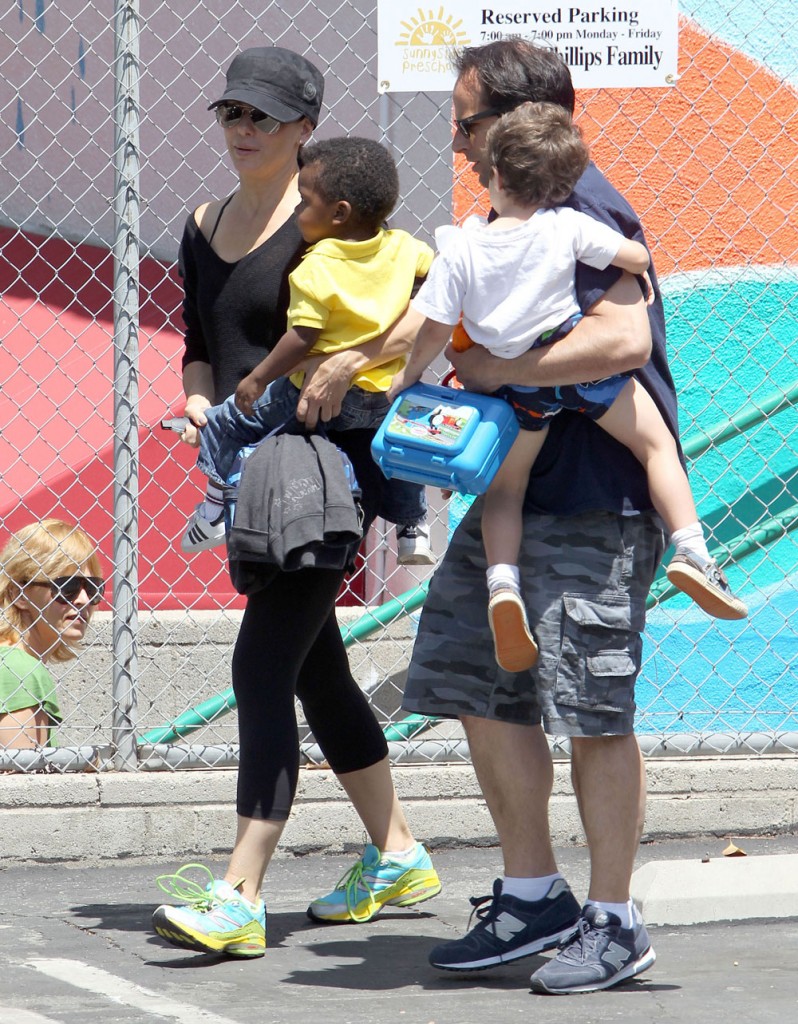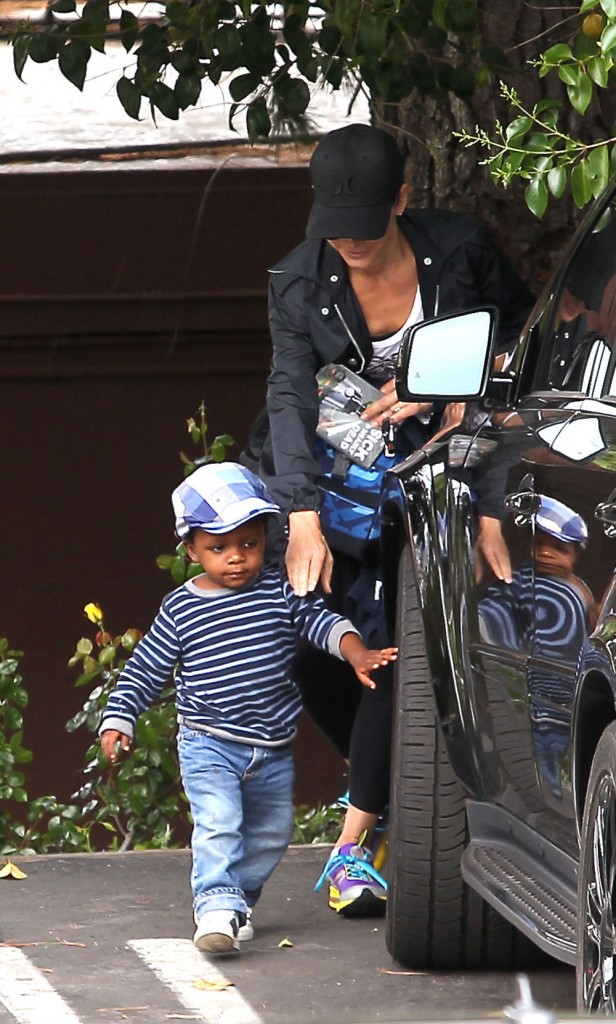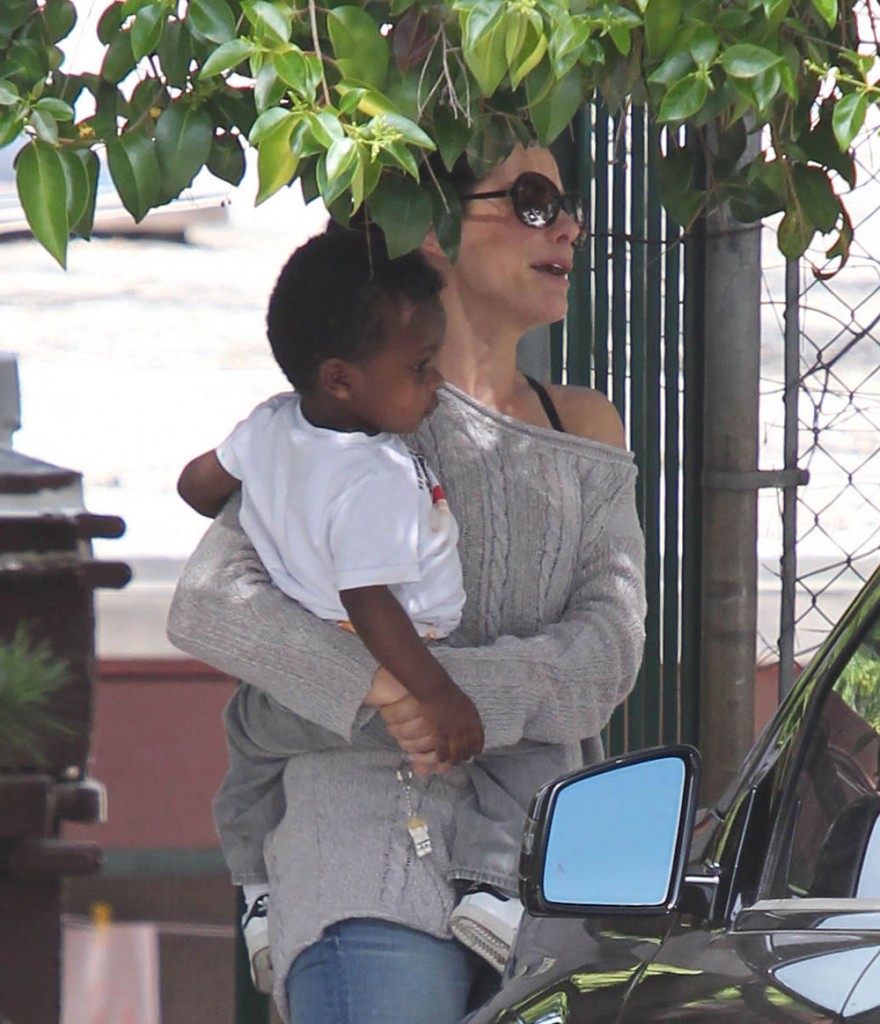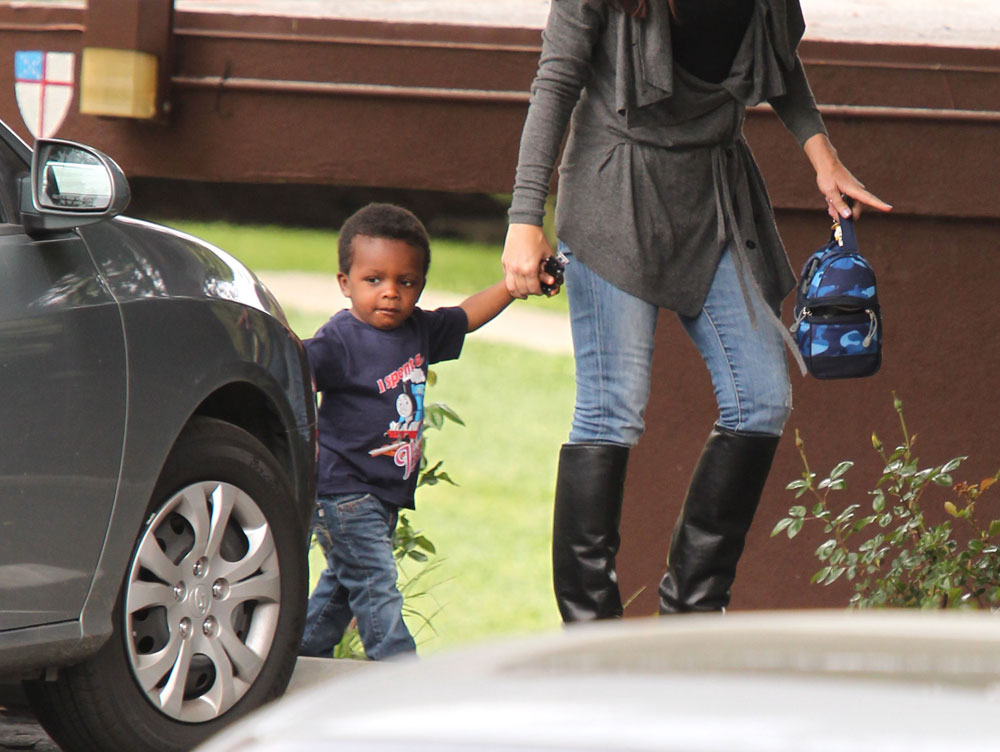 Sandra is shown out with Louis on 4-10. 4-19, 4-24, 5-3 and 5-8-12. Credit: WENN.com and FameFlynet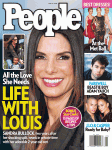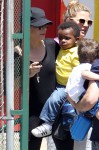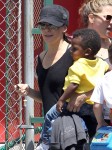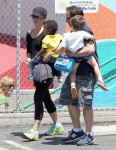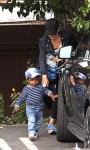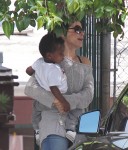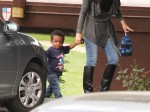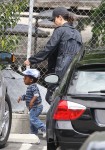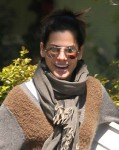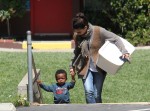 Christina Aguilera is "disgusted with" Adam Levine's treatment of her
Posted: 09 May 2012 07:08 AM PDT

Christina talks at 3:11 into this video. Adam and Christina start arguing around 4:15. At 4:45 Christina says "I motivated you," which bolsters this story that "99 Problems" was aimed at her.
None of us are watching "The Voice," so we all feel a little unqualified to talk too much about whatever is going on with that show. Apparently one of Adam Levine's contestants, Tony Lucca, sang a rock version of Jay-Z's "99 Problems" on Monday night's show. After his performance, judge Christina Aguilera chastised him for singing a song that could be considered derogatory toward women, since it contained the word "bitch," although NBC made sure the word was edited out before it aired. (Sidenote: bitch should not be a dirty word.) XTina said "Your beautiful wife and your daughter and family are here tonight, and I just thought, you know, the lyrical connotation was a little derogatory towards women, but all-in-all, it was good fun." Then when Adam tried to explain that the song was about dealing with adversity, Christina spoke up that it was about problems with women and they got into an argument about it, with a lot of cross talking. (That happens at 4:15 in the video above.)
Christina has taken issue with Lucca, a fellow Mouseketeer alum, in the past. Apparently she sort-of knows him from when they both were child stars on The Mickey Mouse show, and Lucca has kept in touch with Justin Timberlake. So any beef she has with him may be somewhat personal for her.
According to Radar Online, Levine had Lucca sing that song as a message to Aguilera for giving Lucca a hard time. Aguilera supposedly was "highly offended" and blew up about it during rehearsals. Adam and Christina got in a big fight, with Adam calling Christina the c-word and Christina demanding Adam be fired. Radar's source said:
"Adam went right up to Christina and said 'you're the biggest f***ing c***. Obviously Christina was appalled and hissed that Adam should be fired. She's sick of being treated this way.
"Christina is so sick of Adam being looked at as the golden boy of the show. If America knew how disgusting he was, they would be appalled, she always says."
Anyway this feud is heating up between Christina and Adam Levine, which has been brewing for some time. Christina thinks Adam is trying to annoy her, and given her reaction it's working. Here's that story, thanks to Radar Online:
"Adam is making it more about getting at Christina this season and he's very good at getting under her skin," a source close to the show exclusively tells RadarOnline.com.

"He comes off as a really great guy, but he's very smart the way he takes jabs at Christina. Adam's very subtle and doesn't use words, just sneaky actions. She is sick of the way she's being treated and she's disgusted with Adam."

"Christina really takes it to heart when Adam does these things. She doesn't know why he does it, she doesn't understand why he's being so mean," the source says.

Adam and Christina collaborated on the pop hit Moves Like Jagger, and while the source says they used to have a "brother sister relationship," there is no love lost between the two of them anymore.

"It's just weird the way Adam is treating Christina. She's the only girl there and she doesn't think the coaches should be against each other," the source tells RadarOnline.com.
[From Radar Online]
You can tell just from the clip of the show above that these two don't get along. If Adam is deliberately provoking Aguilera, it's obviously working like a charm. She's getting her hackles up and responding to him, which is only egging him on. He's doing it because it gets to her. Two divas trying to work together on a TV show are unable to get along. It's not surprising.
US Weekly reports that Aguilera has apologized to Lucca for calling him out on Monday's show. Lucca waxed poetic to US about what he learned from Christina's criticism on the show. He said "Her criticism for the most part has inspired me and led me to a higher plane than I might not have found otherwise."
Last night was the finale of The Voice. Spoilers are in this link if you'd like to know who won.
Update: I forgot to mention this very low cut dress that XTina wore during a performance on The Voice last night. (video is here)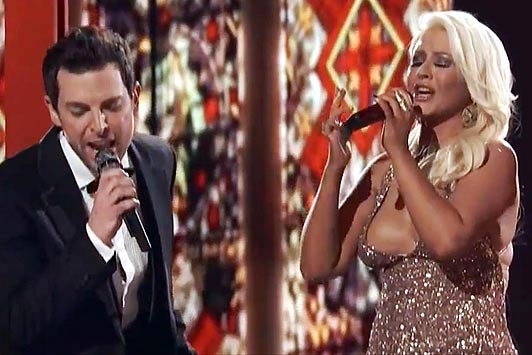 This was the back. [via Evil Beet, OMGBlog]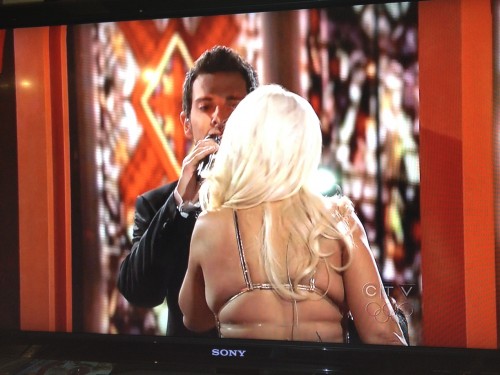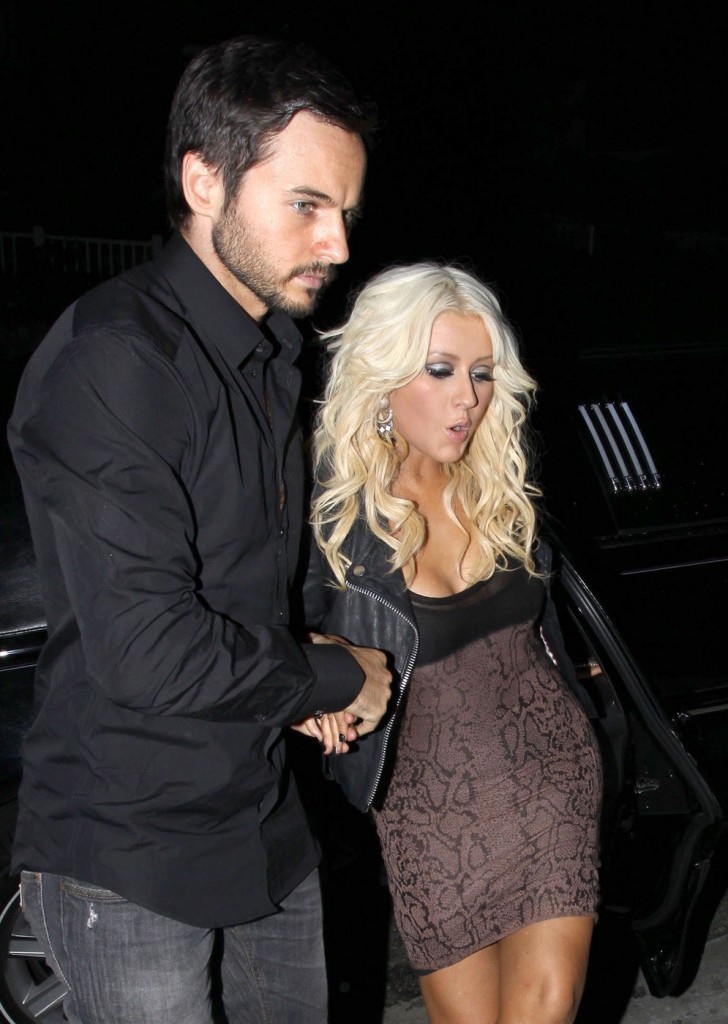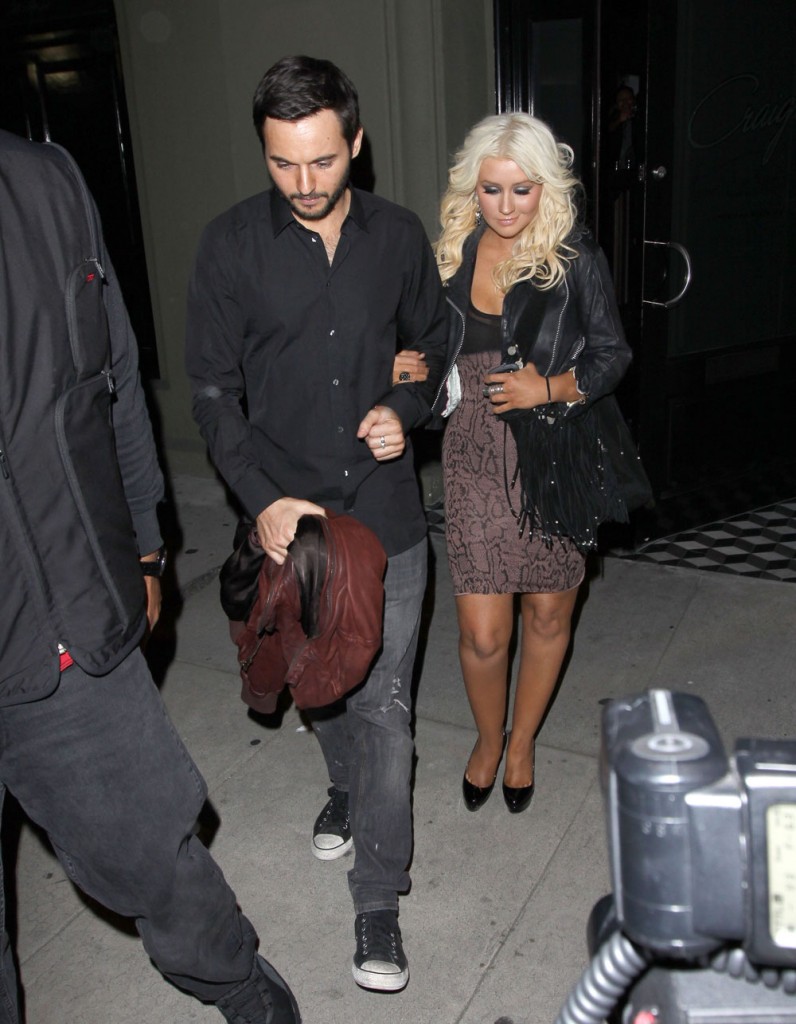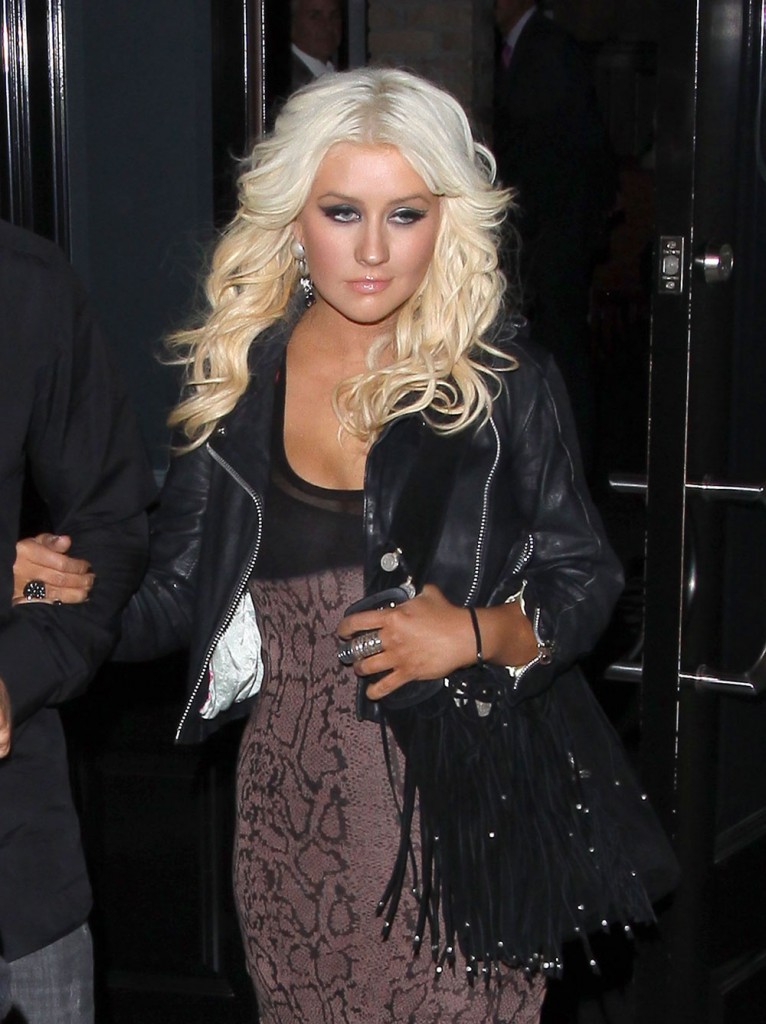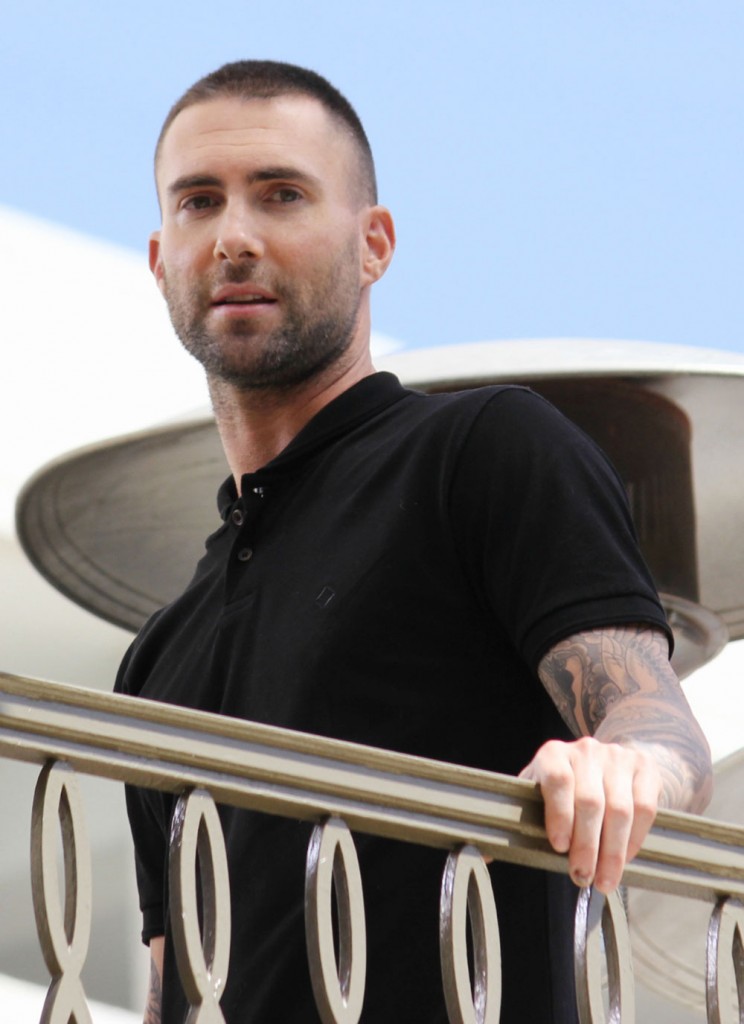 Photo credit: FameFlynet and PCNPhotos
Kristen Stewart admits she feels "arrogant" about her inability to express herself
Posted: 09 May 2012 06:15 AM PDT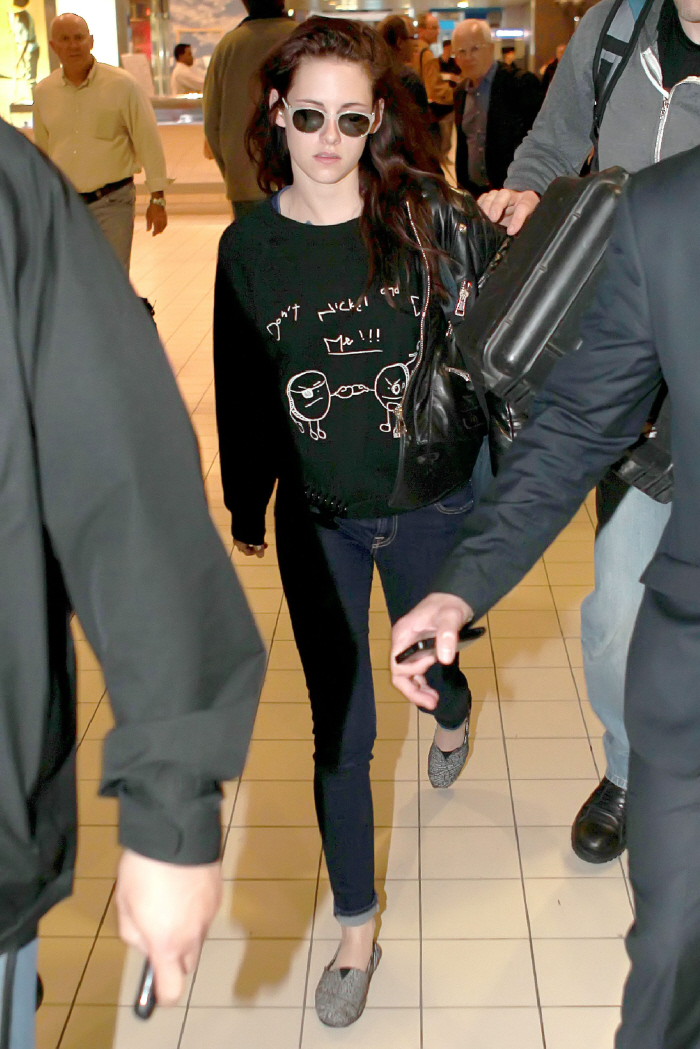 The photo above is of Kristen Stewart arriving in Paris, probably to start promotion on Snow White and the Huntsman. Charlize Theron was coming into Paris in those photos yesterday, which makes me think Paris is going to be ground zero for all things SWATH this week. Maybe there will be a big Paris premiere? Hopefully. At the end of the post, I'm also including photos of Kristen at the Met Gala and just before the Met Gala, in NYC. Kristen's Met Gala look was one of the most talked-about fashion moments of the night… which I think is kind of undeserved. I didn't care for her Balenciaga dress that much, but she was far from the worst, I think. Plus, I'm really loving her hair these days. She's lightened it a bit, and she's letting her natural curl come out. It looks awesome.
Anyway, getting back to SWATH. MTV has been promoting the crap out of this film, and they've gotten a lot of the early exclusives. I enjoyed this interview they had with the cast of SWATH:
Kristen talks about relating to "Snowy": "I think that I related to Snowy because … I love her. She feels such strong things and sort of can't say exactly why she feels those things … and I can completely relate to that and I also can relate to feeling arrogant about it a little bit. Sort of like 'It's not about being who you are; it's sort of not saying what everyone thinks I'm going to say because I'm uncomfortable' … She's like very instinctive and sort of awesome in that way. I mean she's such a child in the beginning and has such a strong sense of self in a way that sort of isn't normal, like supernaturally almost. She's got this connection to the Earth and to her people that makes her like so truly empathetic and not sympathetic. She's not putting herself in a position and going, 'Oh, how horrible would that be for me.' She's truly bleeding for other people. It's a different feeling. It's something I want to get to if I can be a better person. She's a great girl. She's a good person."
There's also a new clip from SWATH:
That didn't impress me. Now I'm kind of worried.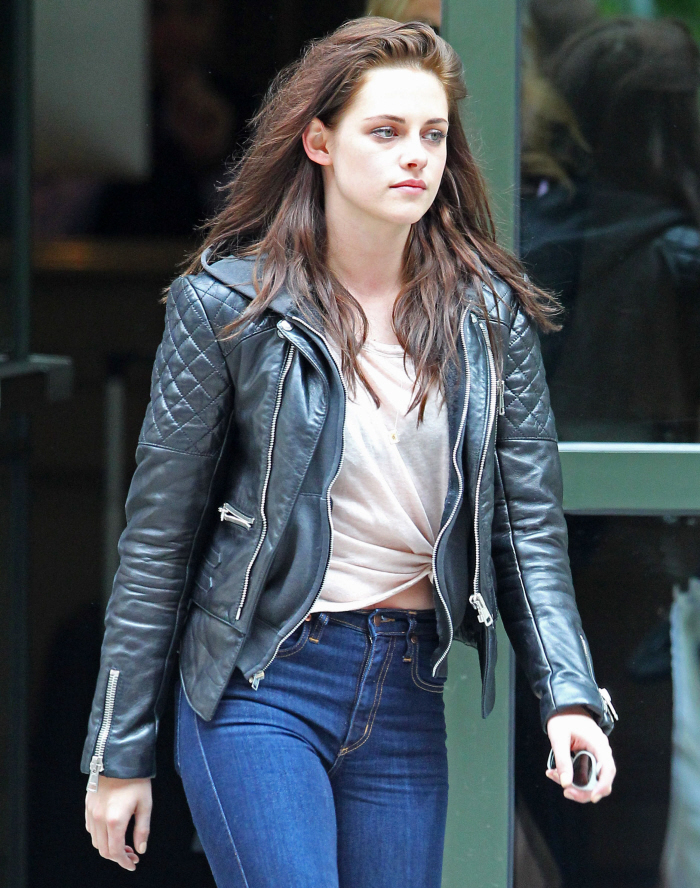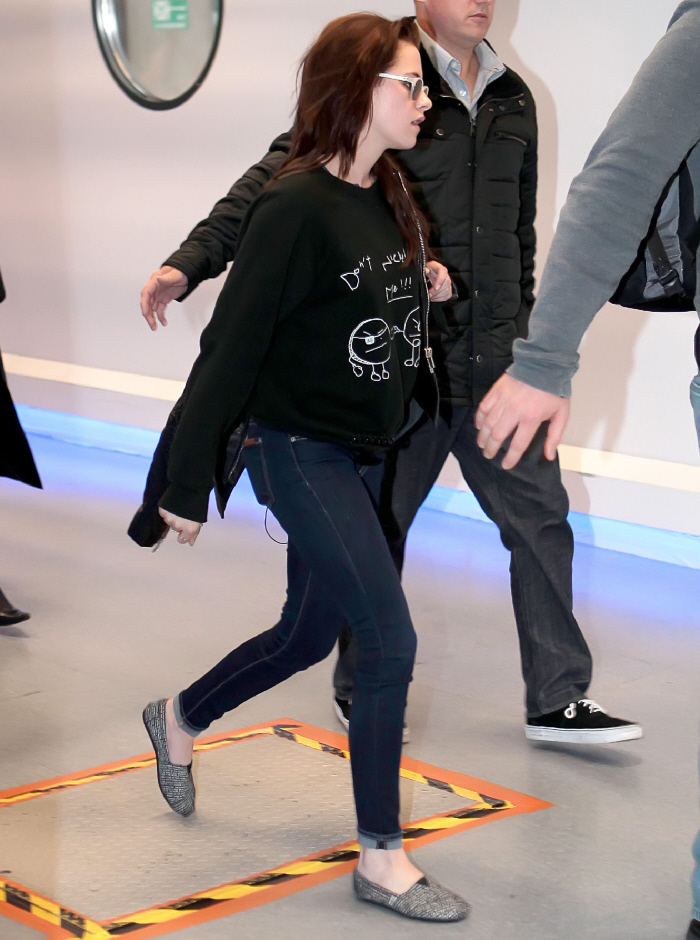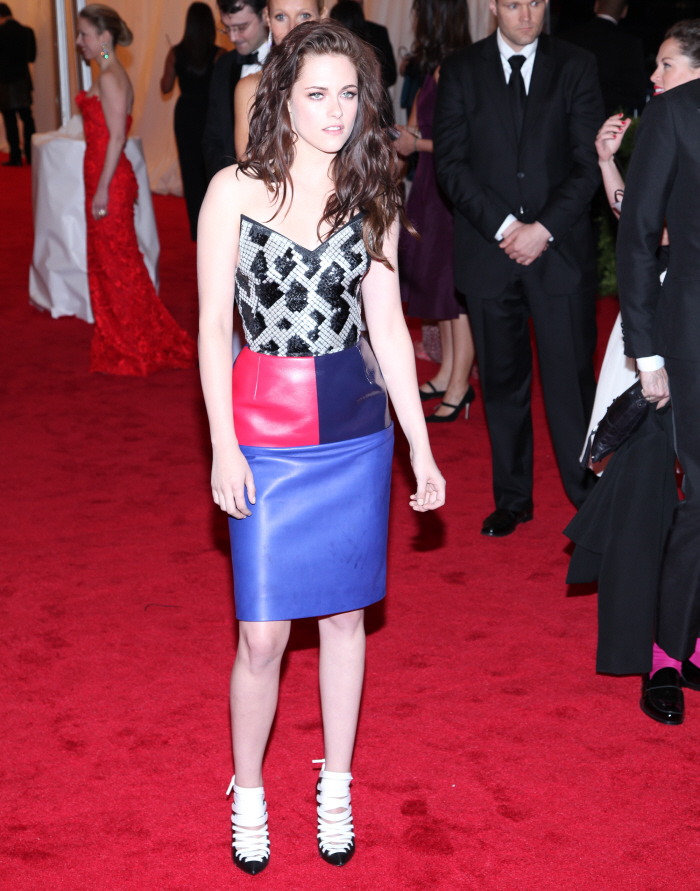 Photos courtesy of WENN, Fame/Flynet.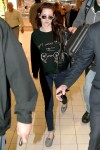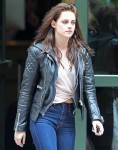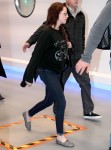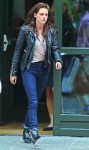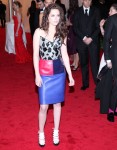 Johnny Depp at the LA premiere of 'Dark Shadows': oddly smooth & waxy?
Posted: 09 May 2012 05:39 AM PDT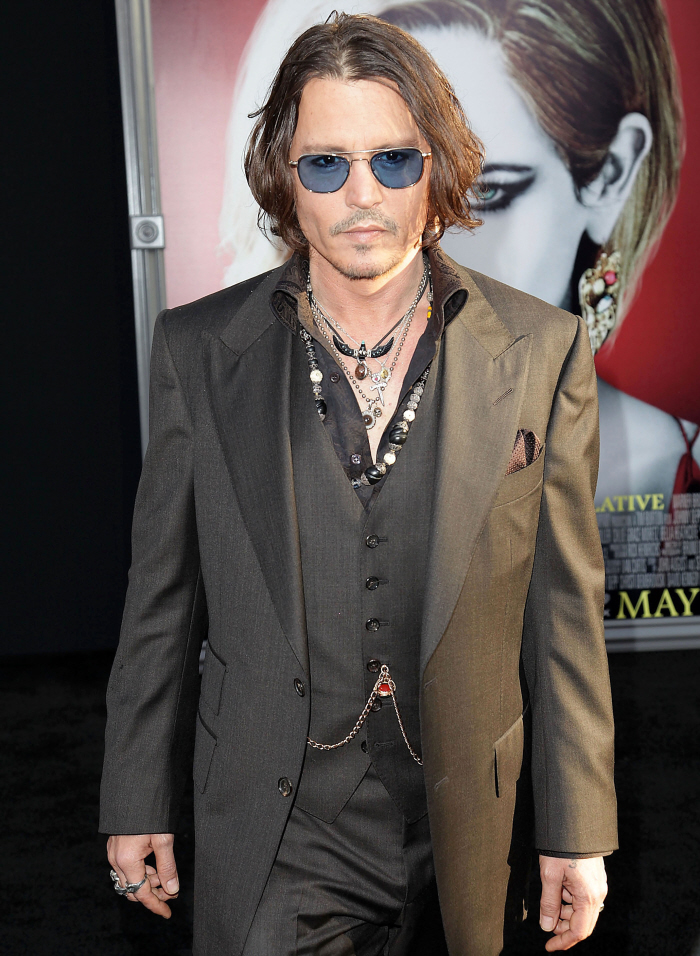 The LA premiere of Dark Shadows went down two nights ago, but we missed covering the photos from the event yesterday (because of the Met Gala). So… even though these pics are kind of late, I hope you enjoy them. Because I'm seeing a lot of gossip-potential and gossip story lines here. First up, Johnny Depp. When I first glanced through the pics, I thought for sure that I was looking at Johnny's wax figure. Right? His face looks really different/weird to me. Oddly smooth. I'm not screaming "BOTOX!" but it wouldn't surprise me to learn that Depp has had a little something done. Maybe a chemical peel? Some kind of laser treatment? He's also gotten a tan – he's been working out in sun, I think, on The Lone Ranger. Other than that… this is the face of a mid-life crisis.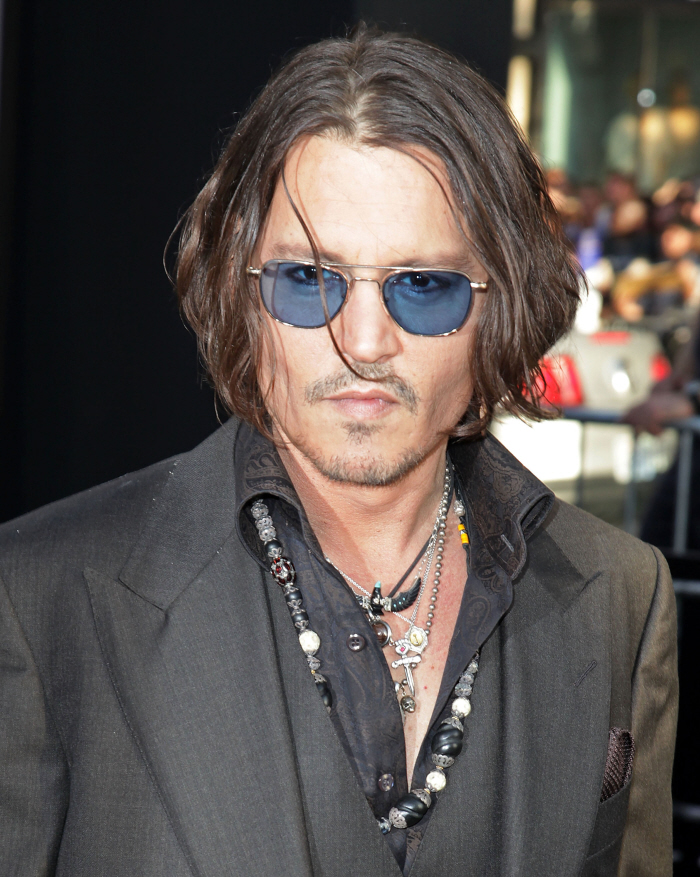 Next up: Eva Green! I still believe the rumors that Johnny and Eva might have had an affair while filming Dark Shadows, and that they might still be engaged in a little something. Eva and Johnny took pains not to pose together. Eva looks kind of crazy, but I think that's her "look." She actually IS crazy/beautiful.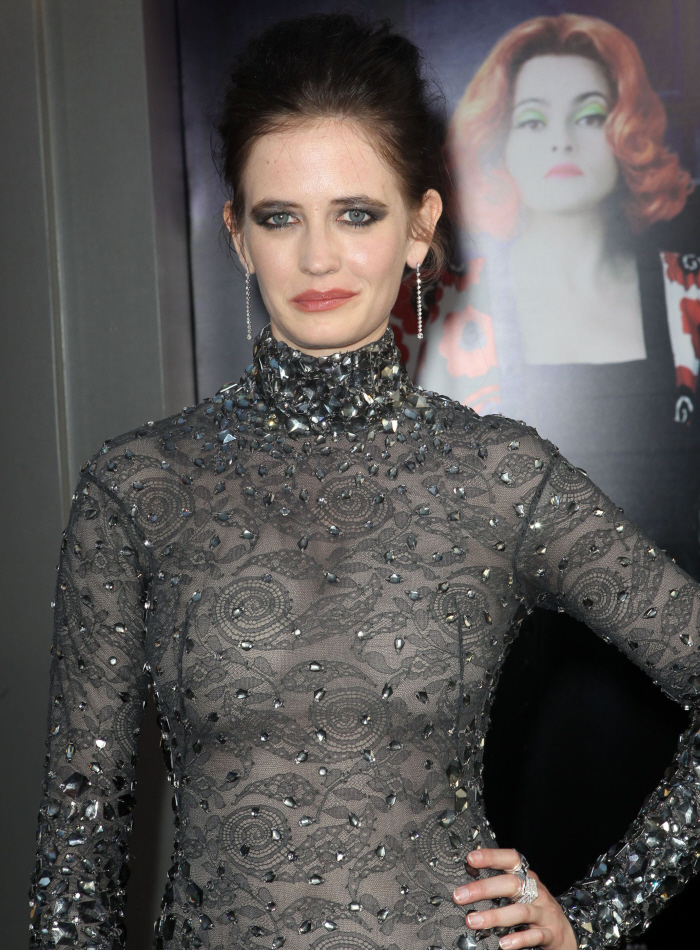 Here's Bella Heathcote. That name may sound familiar to you. Not only is she in Dark Shadows, but she was also had a part in a Brad Pitt film, which shot last year. The tabloids tried to make it sound like Bella and Brad had an affair – go here to read the old story. She does look a little bit like Angelina. I'd like to see what she looks like without those damn bangs.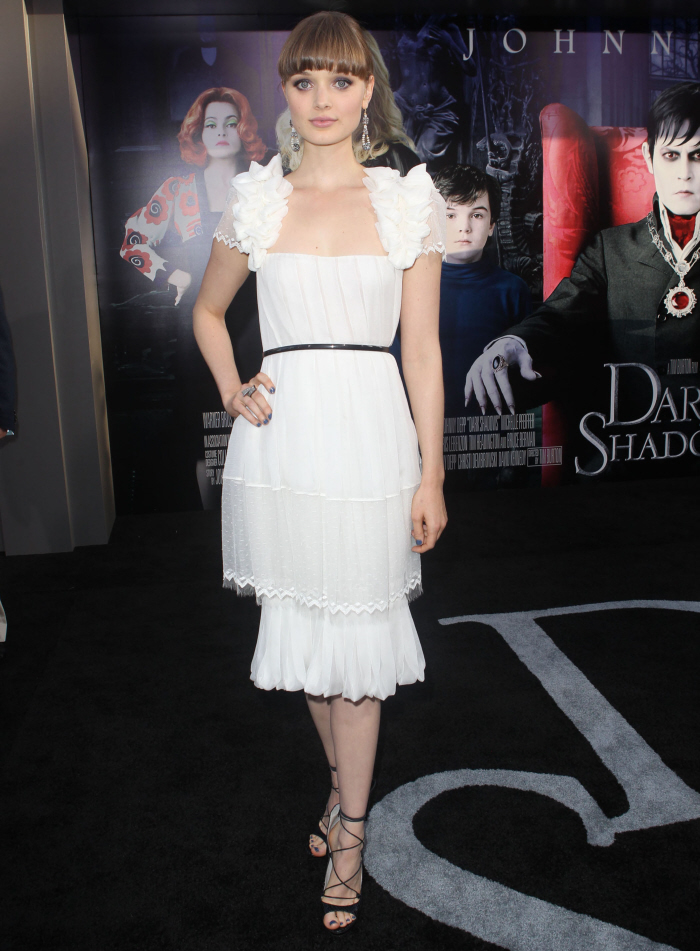 Chloe Moretz… she's a pretty girl. I like that she's covered up on top.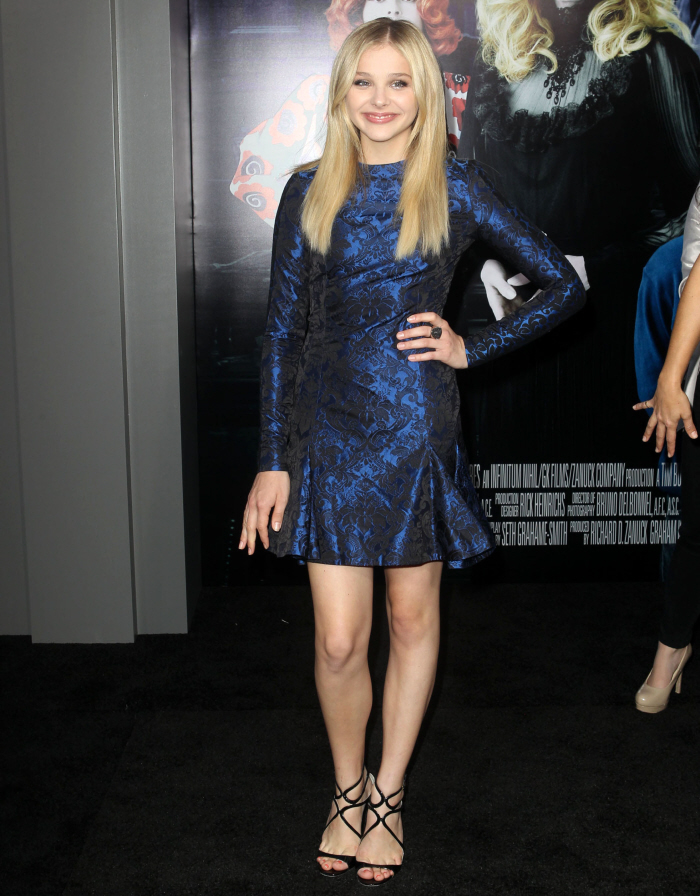 I'm pretty sure Michelle Pfeiffer is a vampire. For real.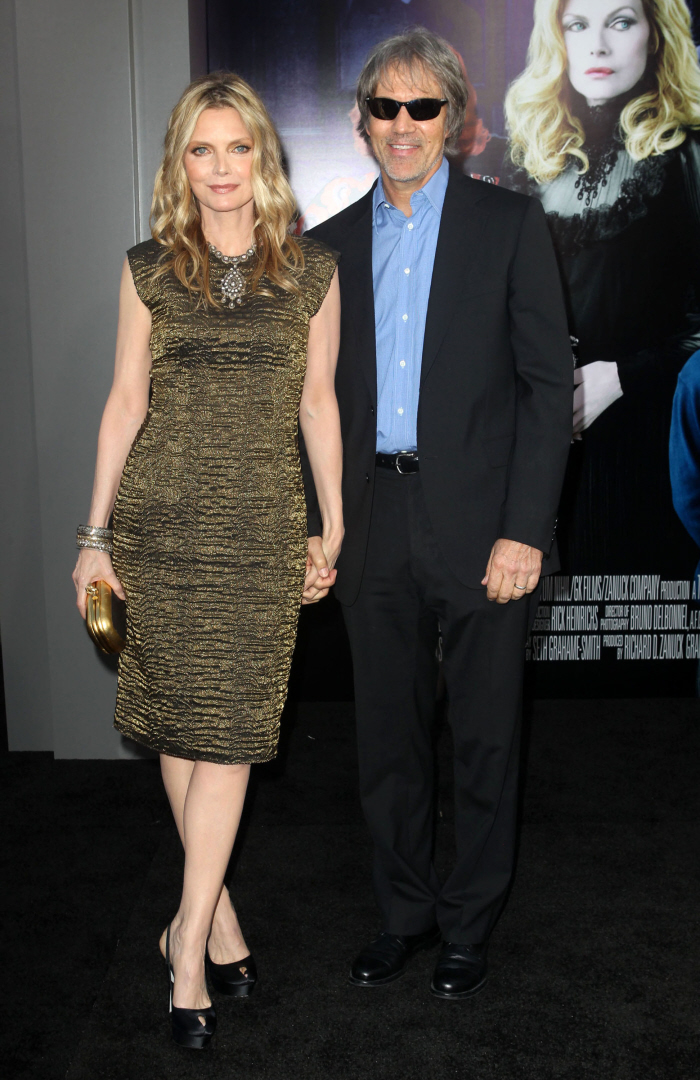 I apologize to all of you who don't understand my Jonny Lee Miller obsession, but good GOD I love this man. He's so sexy (to me).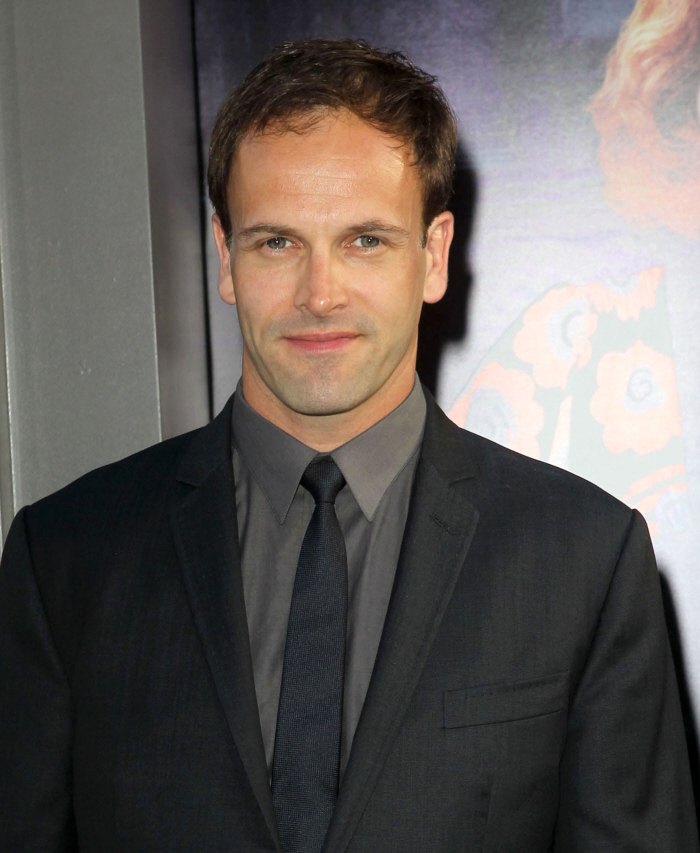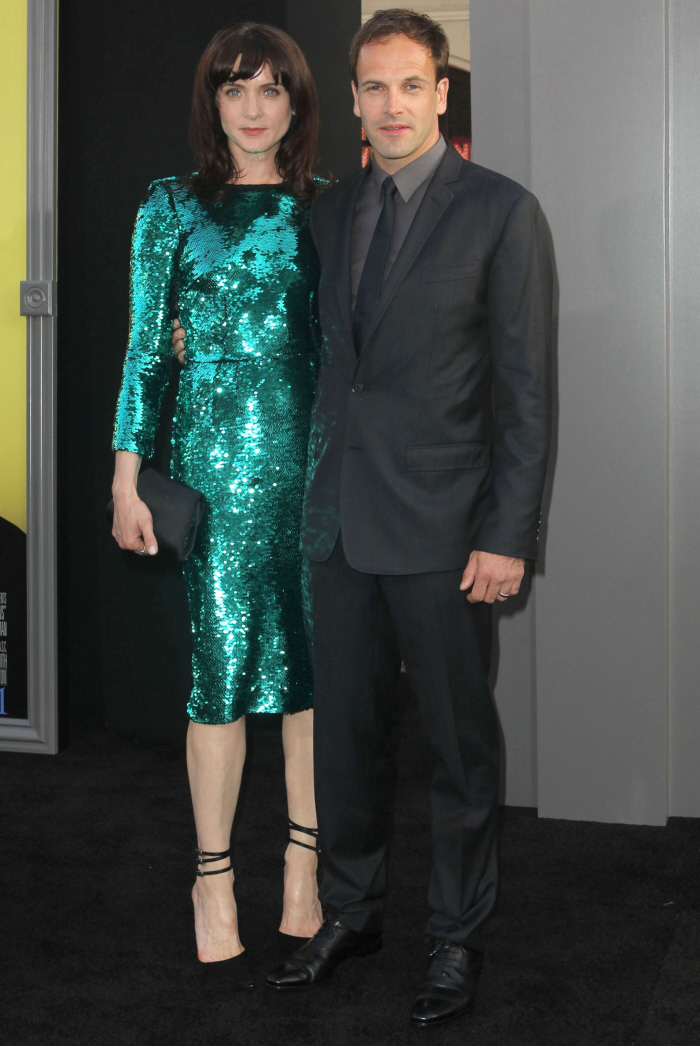 Was Brad Pitt just made the new "face" of Chanel No. 5 (perfume for women)?
Posted: 09 May 2012 04:15 AM PDT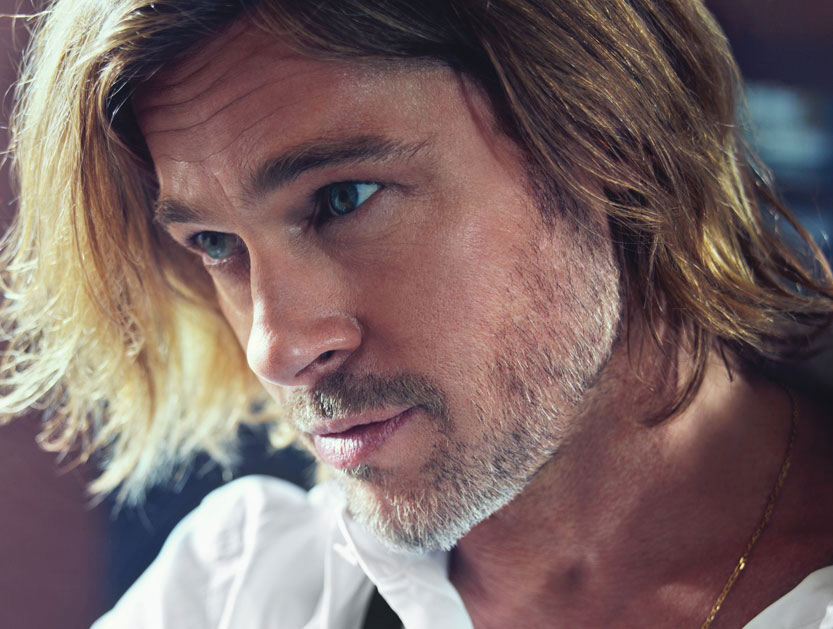 Last year, Louis Vuitton paid Angelina Jolie a truck full of money to become one of the new faces of their on-going "Core Values" campaign. The campaign – which has also featured ads by Mikhail Gorbachev and Bono – tries to unite the Louis Vuitton brand with "icons" who are famous for being more than a pretty face. Angelina shot her LV commercials in Cambodia, and honestly, the ads are more likely to get people to visit Cambodia than buy an LV bag. But it was interesting – Angelina Jolie, up for the shill. Up for being "the face" of an ad campaign.
So is it any surprise that Angelina's fiancé is also up for the shill? Brad Pitt has done commercials before, of course – but most of his commercial work is done outside of America. According to E! News, Brad is being named the face of… Chanel No. 5? Er… that's not a men's cologne, correct?
Yes, it's a scent for a woman, but if ever there was a man pretty enough to render that particular point moot, it's Brad Pitt.

Proving yet again that his musky appeal knows no bounds, E! News has exclusively learned that Angelina Jolie's better half has signed on as the new face of Chanel's signature No. 5 scent.

Reps for neither Pitt nor the perfume house have commented on the new partnership, but a source tells E! News that the actor will be shooting his first perfume ad in London sometime this week (the superstar family has set up their most recent homestead in the UK).

And for his endorsement troubles, Pitt will be bringing home some serious bacon for the Jolie-Pitt clan, with his paycheck for the spot somewhere in the seven-figures. The Chanel No. 5 ad will be released overseas sometime later this year. Makes scents to us.
[From E! News]
Previous "faces" of the Chanel No. 5 brand include Nicole Kidman, Audrey Tautou and Catherine Deneuve. So… Brad would be in good company, I guess. I wish they would bring Deneuve back… with Brad. I would wear No. 5 if Brad and Deneuve were shilling together. No, I wouldn't. No. 5 gives me a headache. Still, it's always nice to know that Brad still gets a lot of offers for commercial work. Maybe he's going to blow all of his Chanel money on the wedding?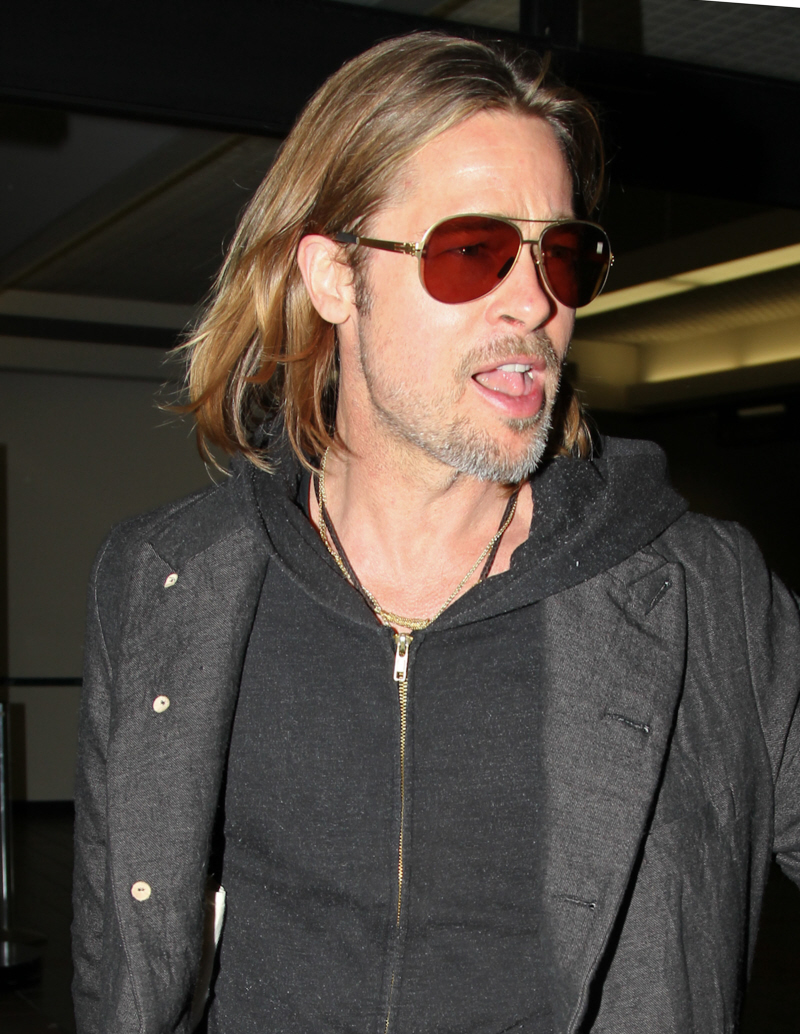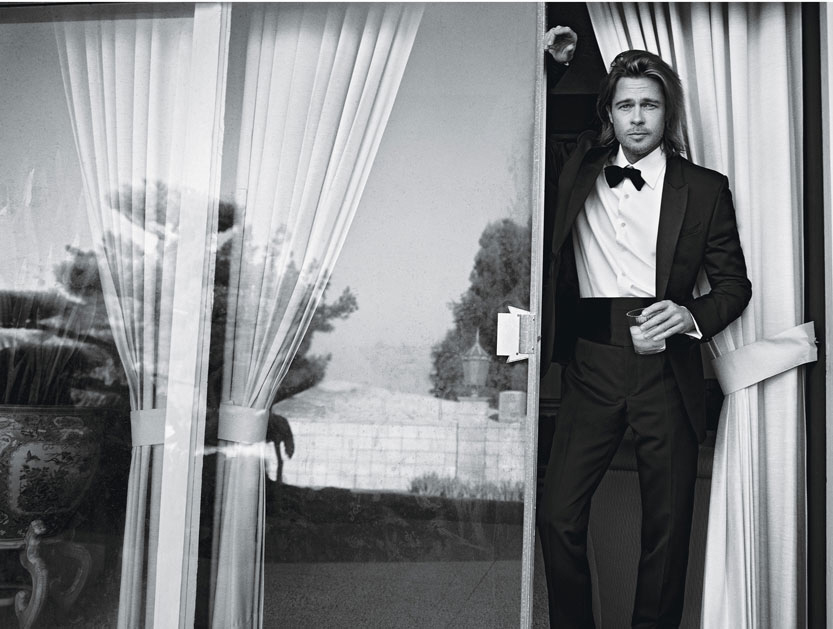 Photos courtesy of W Magazine, Fame/Flynet.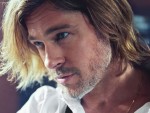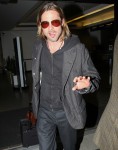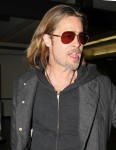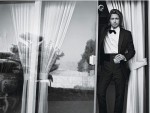 Kim Kardashian did not go to the Met Gala because Anna Wintour "hates her"
Posted: 09 May 2012 04:10 AM PDT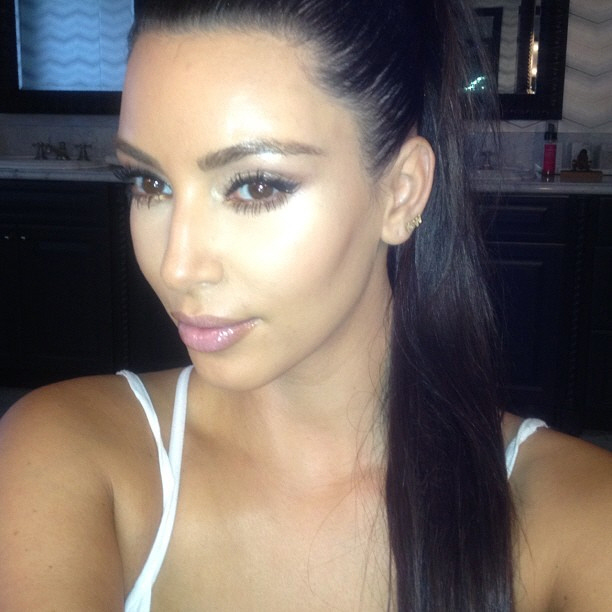 In our (somewhat excessive?) Met Gala coverage, I was surprised that no one asked the most important question of all: "Where IS Kim Kardashian's kat-face? I demand to know!" Well, now you do. According to Radar's sources, there are few people in this world that make Anna Wintour's skin crawl, but Ol' Kat-face is one of them. Anna Wintour, editor in chief of Vogue and permanent co-chair of the Met Gala, simply decreed it: "There will no Kardashian on this red carpet!" I imagine a "10 Commandents"-like ceremony, where Anna slowly and painstakingly chiseled out her red carpet rules in polished marble. 1. No Kardashians. 2. Any other kind of Bosworth-like famewhore is allowed as long as they kiss the ass of The Wintour.
The most glamorous stars in Hollywood sizzled at the Met Gala in New York City Monday night but there was one starlet who was noticeably absent – Kim Kardashian!

Kim's new boyfriend, superstar Kanye West, was at Anna Wintour's fabled Metropolitan Museum of Art Costume Institute Gala, but Kim was not by his side, and that's down to an edict straight from the famed Vogue editor for years, a source exclusively told RadarOnline.com.

"Anna hates Kim," a source says. "Why would she be invited to the event? It is all the biggest stars in the world and Kim doesn't fit that bill at all."

This year, big screen bombshell Gwyneth Paltrow, sexy new mom Beyoncé, and supermodel Gisele Bunchen and her QB hubby Tom Brady attended the Elsa Shiaparelli and Miuccia Prada exhibit dressed in the hottest couture from the world's most important fashion designers, but Kim wasn't among them.

"The Met Gala is $25,000 a ticket, but Kim can't even buy her way in, Anna Wintour does NOT want her there!" the source says.

Kim and her very pregnant sister Kourtney Kardashian were snapped on Monday running errands in Los Angeles, and the source says she'll likely try and justify her absence.

"Kim and her camp will deny that she wasn't invited by saying that she had business in L.A., but that is a lie," the source says. "She would of done anything to be there with all the A-listers."

Dating Kanye can get Kim lots of bling, but it can't get her into the most coveted party of the year!

And, don't expect to see Kardashian gazing out from the cover of the esteemed fashion mag anytime soon either!

"Anna Wintour would allow Kim Kardashian on the cover of Vogue over her dead body," the source says. "As long as Anna in charge you will NOT see Kim on Vogue."
[From Radar]
Well… I mean, Anna allowing Kim to come to the Met Gala doesn't automatically mean Kim would get a Vogue cover. I would be pissed off if Kim was on Vogue too, but I don't think I would have been angry if Kim was at the Met Gala. It's a fun event full of try-hard famewhores – Kim would have been in her element, especially if she came on Kanye's arm. Incidentally, there was a rumor that Lindsay Lohan was trying to score an invite to the Met Gala – and I for one am glad that Wintour managed to shut that down. At this point in time, Kim Kardashian > Lindsay Lohan.
Incidentally, Kim did a post on her Celebuzz blog about her favorite styles from the Met Gala – you can see it here.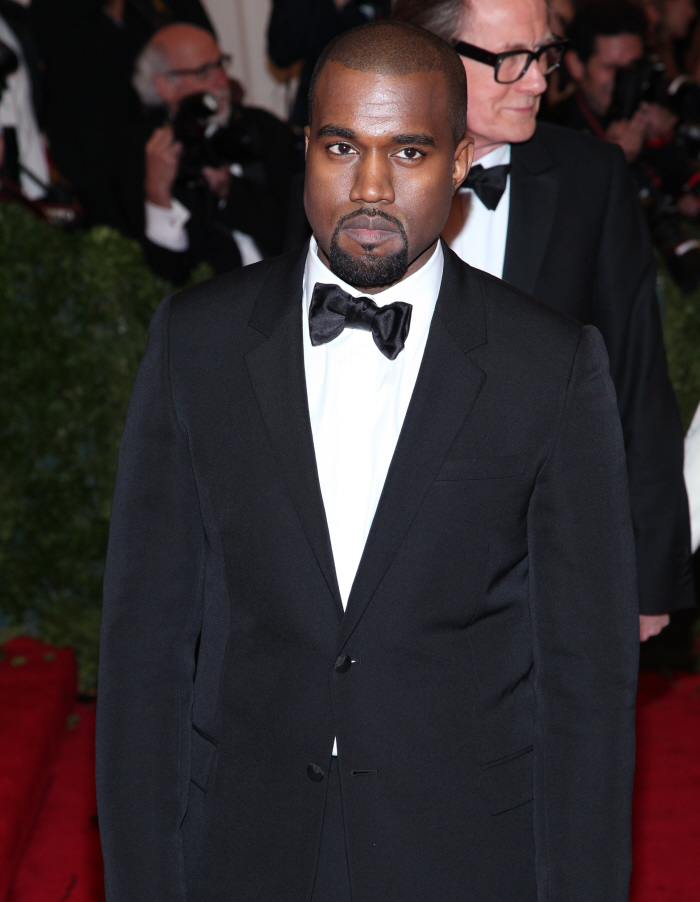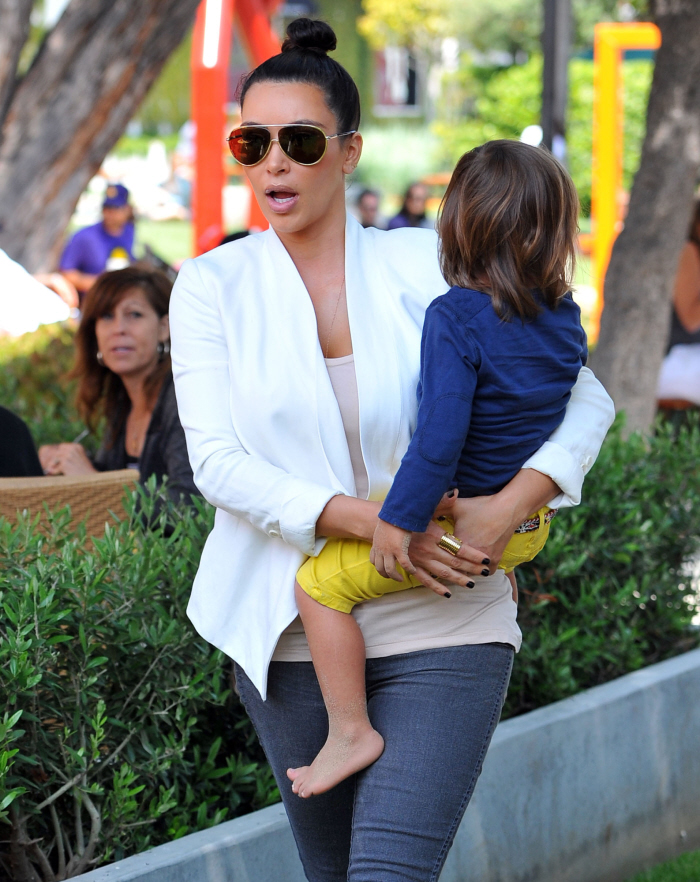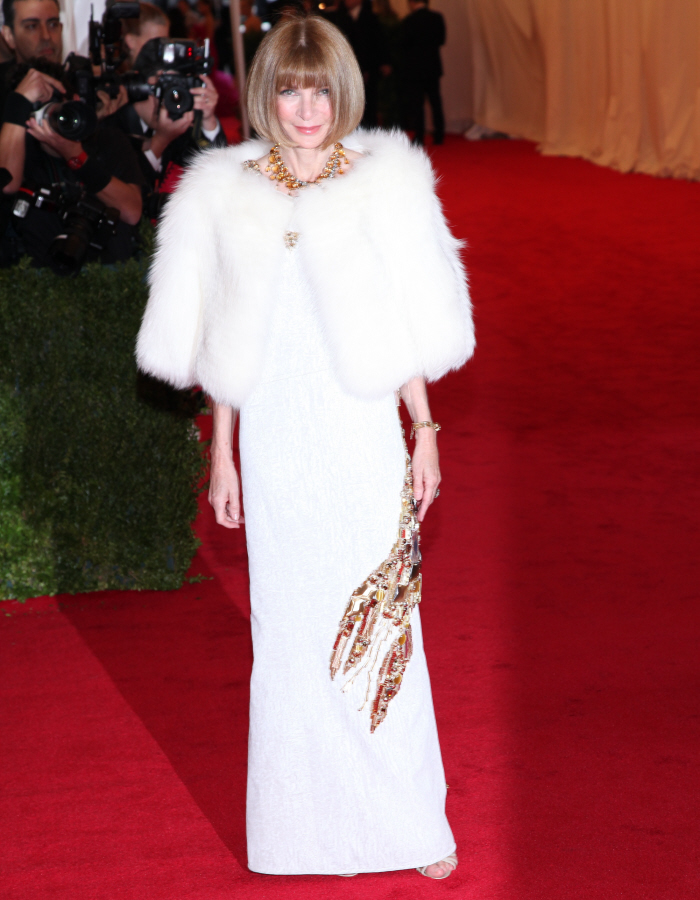 Photos courtesy of WENN, Kim's Twitter.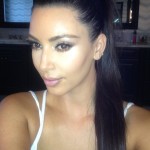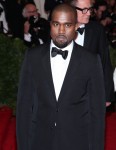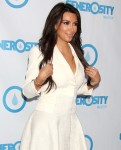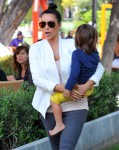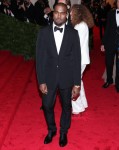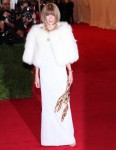 Duchess Kate in a cream Roland Mouret gown: fussy bridal or beautiful?
Posted: 09 May 2012 04:06 AM PDT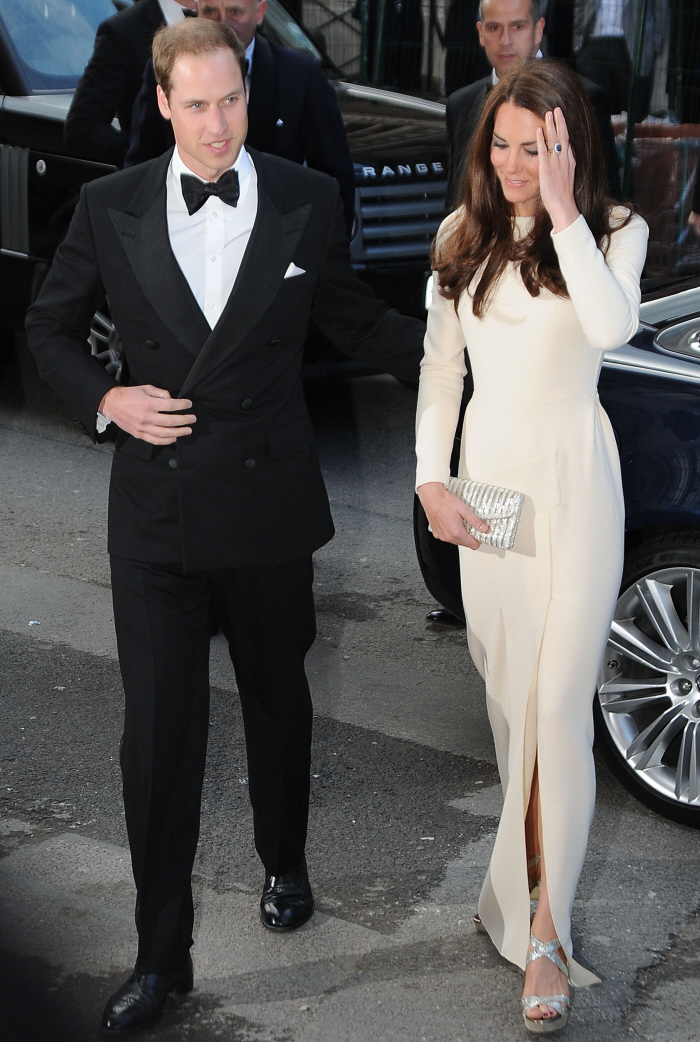 Last night in London, Prince William and Duchess Kate made yet another outing. I can hardly believe they've gone this long without a vacation! I don't want to refer to this outing as a "public event" or "public appearance" because it wasn't really. William gave a speech at a meeting of the Thirty Club at Claridge's. The Mail describes the Thirty Club as "some of the most powerful men and women in advertising and the media." CoughcoughIlluminaticough. Kate was just along for the ride – "to support" William during his speech. So… even though she wasn't the main event, she still dressed up. I would too if I was hanging out with the Illuminati.
Early reports indicate that Kate's long-sleeved, center-slit cream gown is Roland Mouret. I really like Mouret – and I really like this dress, so I'll buy that. I wish you could see more of the detailing on this gown in these photos, but it seems like The Mail has some of the best shots of the gown in different angles – go here to see. Should we talk about Kate's hair? She should be wearing it up. She's not. It's not the length… it's how she styles it.
Oh, but my favorite part? THE DUCHESS IS WITHOUT PANTYHOSE. OMG. You can clearly see her little toes and her righteous pedicure. Love the dark pink toenails! The shoes are Jimmy Choo – do you think Kate is trying to be more adventurous in her shoewear these days?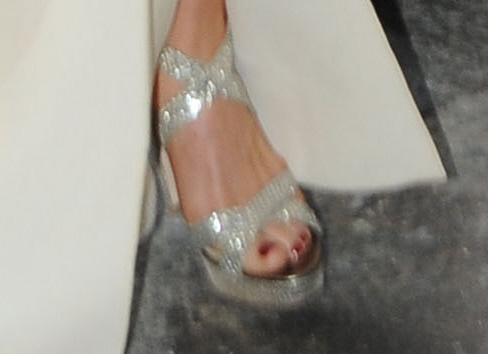 Anyway, here's more about the event:
Founded in 1905 for the 'betterment of advertising', the Thirty Club monthly dinners are a chance for the movers and shakers of the industry to meet, discuss issues of the day and sometimes even seal deals.

The man with the keys to entry is Bartle Bogle Hegarty's Nigel Bogle but it also attracts big media players including Michael Grade, Lord Puttnam and Stephen Carter. Rupert Murdoch is believed to have attended one dinner, although clearly in light of recent events was not present yesterday.

Their meetings feature a guest speaker – in this case Prince William who was following in the footsteps of many other senior royals who have made address including his late mother, Diana, Princess of Wales, his grand-father Prince Philip and aunt Princess Anne. The Duchess was accompanying him, palace sources said, for support.

A St James's Palace spokesman said William had decided to attend in honour of the Queen's jubilee and his own 30th birthday next month.

'The Duke has been invited for around nine years now and thought that it was right to accept the invitation this year because of the Queen's Diamond Jubilee. It also seemed rather apt as it his 30th birthday next month,' they said. 'Other senior members of the Royal Family also suggested that it was an interesting event to attend.'

They declined to say what issues his speech would be tackling, however, as it was 'a private occasion' and the engagement was not publicised in advance The Thirty Club was named after its 30 founder members – ten senior figures from the advertising industry, those who advertise and the media. Today it still has 30 full members on roughly the same line, but has expanded its number of include some associate members.

Some refer to Thirty Club members as 'peacocks' and their dinners as a 'great flurry of feathers'. Apparently a great deal of meaning is written into the table plans and the further you sit away from 'the top table', the less influential you are considered – although clearly the Duke and Duchess of Cambridge had little to worry about there.
[From The Mail]
I realize that William gets invited to all kinds of things, but when it's an Illuminati meeting of influential press people, you would think that William would know better than to shine them on for nine years in a row. THAT is why he and Kate get so much bad press about all of their vacations. Well, that and the fact that they vacation all the time.
More pics!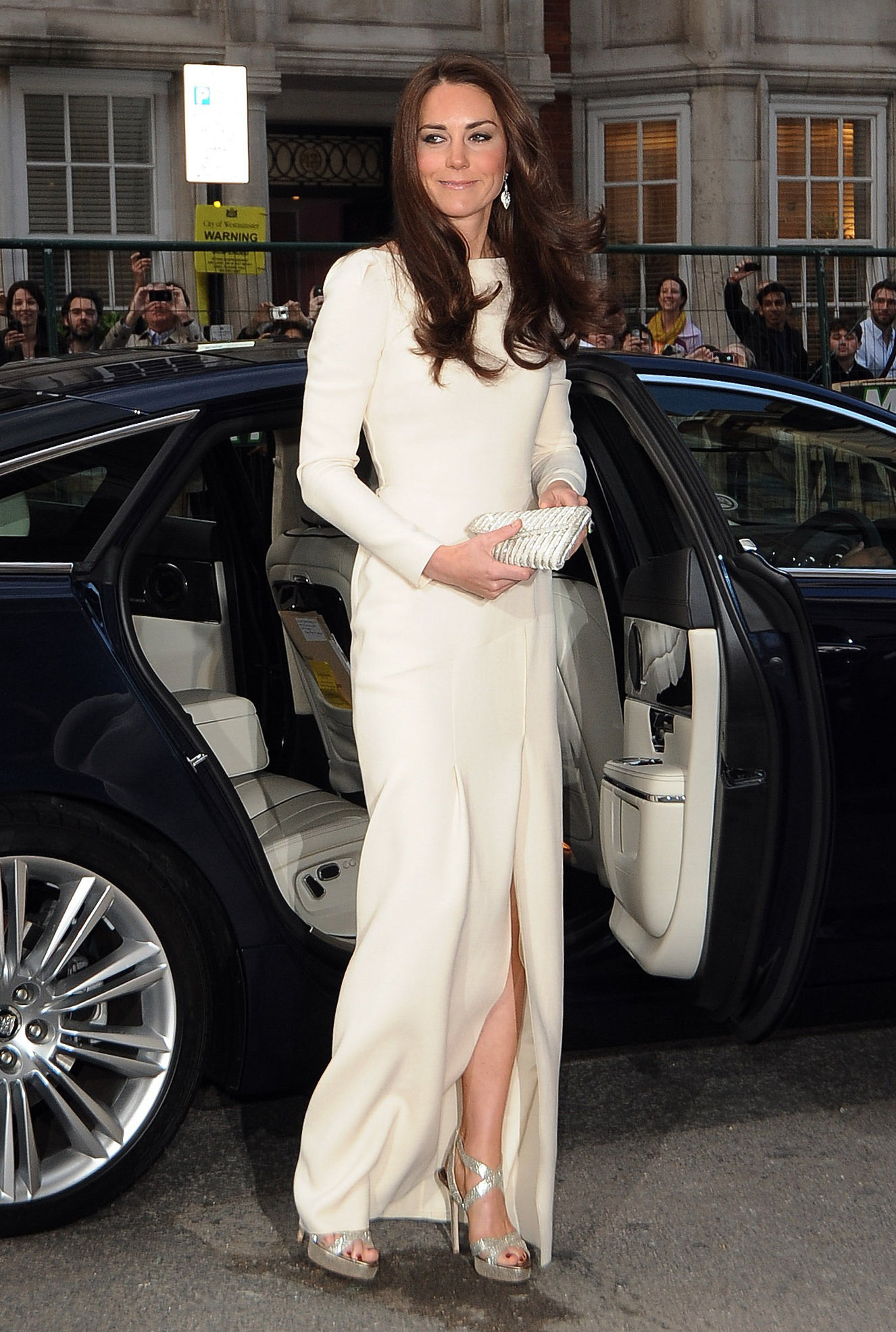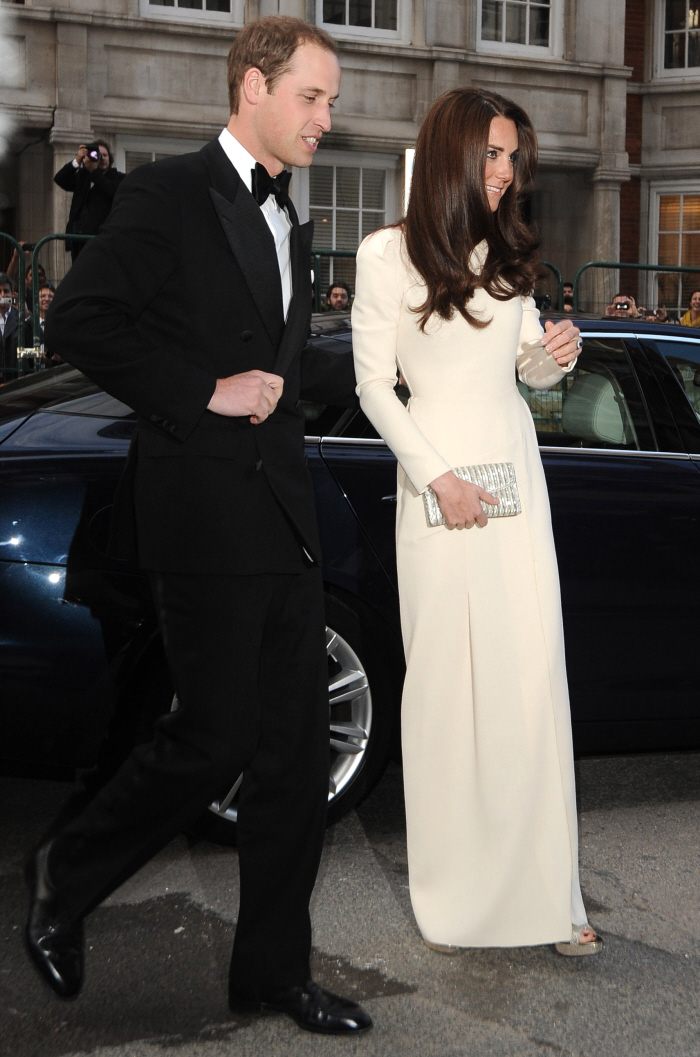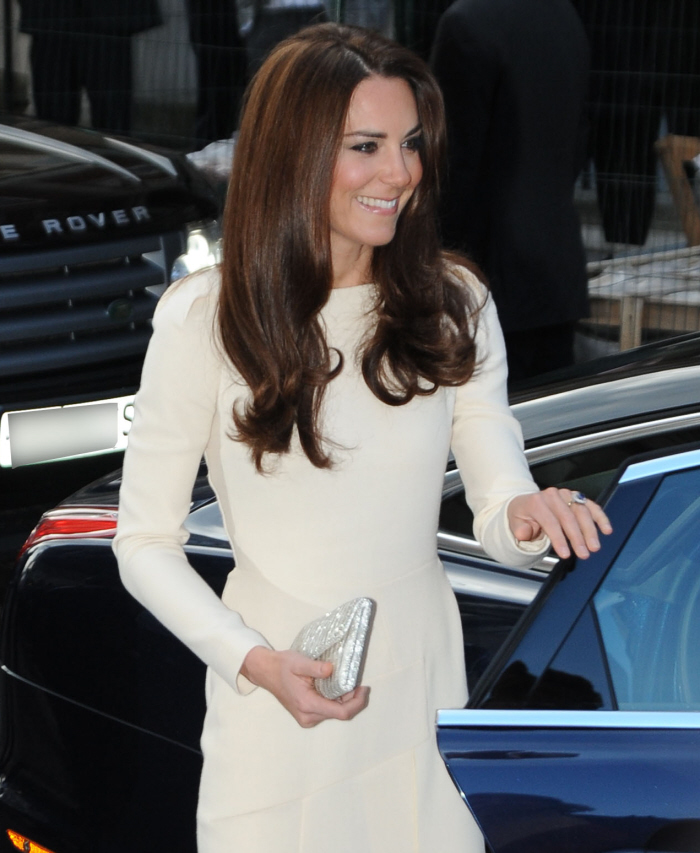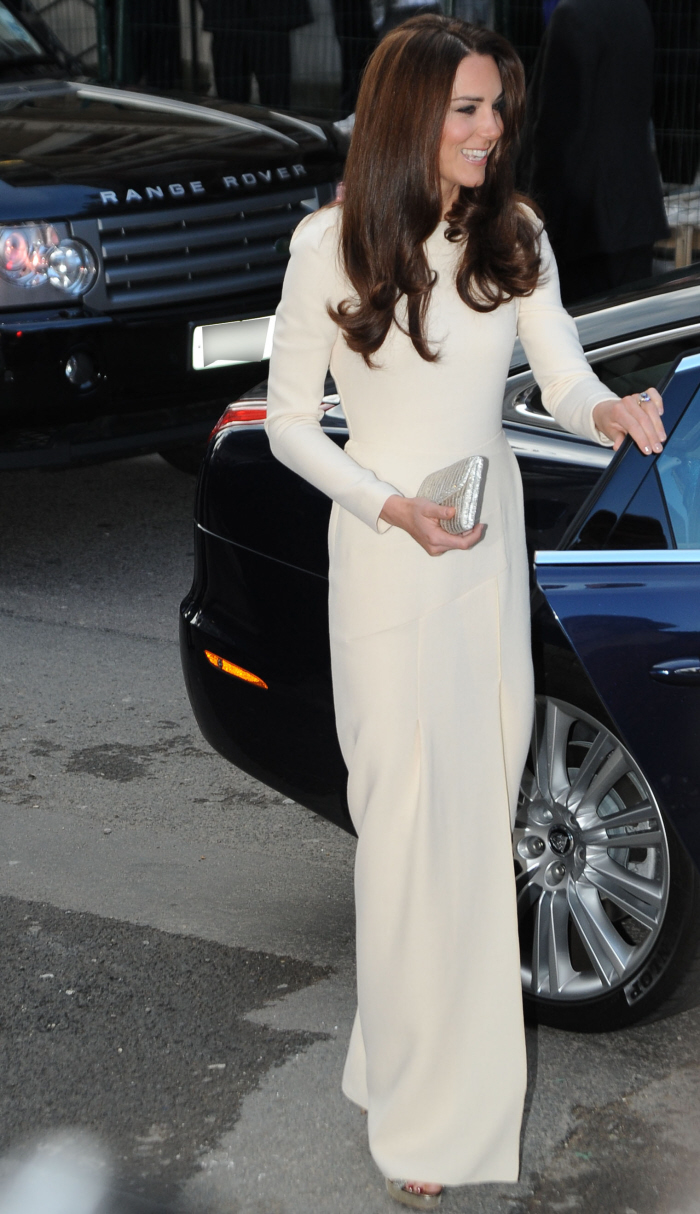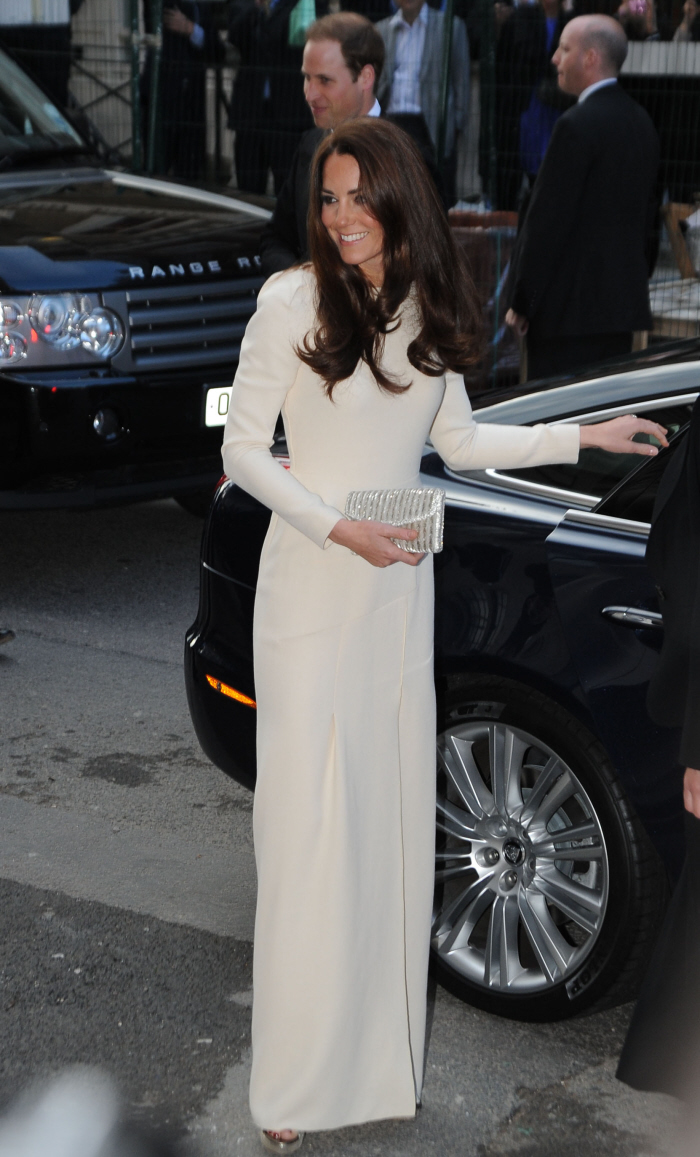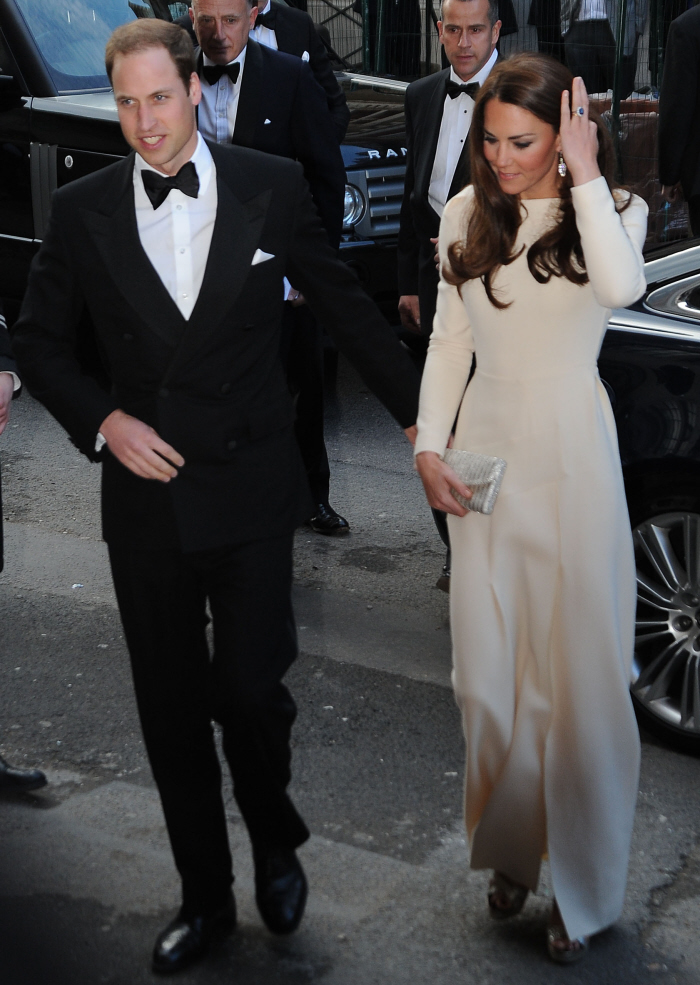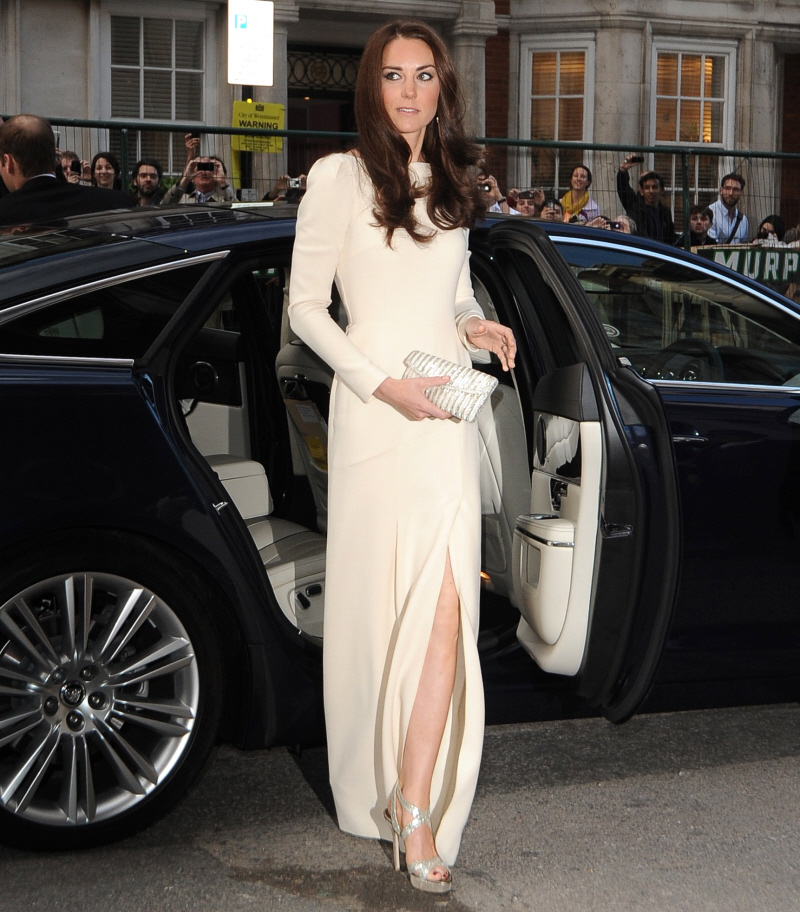 Photos courtesy of Fame/Flynet, WENN.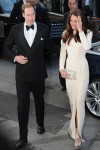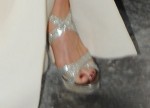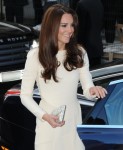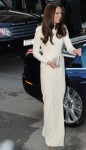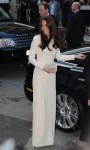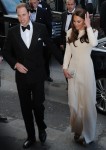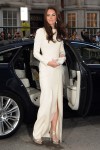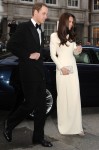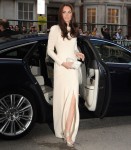 You are subscribed to email updates from Cele|bitchy
To stop receiving these emails, you may unsubscribe now.
Email delivery powered by Google
Google Inc., 20 West Kinzie, Chicago IL USA 60610
You have read this article with the title Cele|bitchy. You can bookmark this page URL http://thisgirlreprobate.blogspot.com/2012/05/celebitchy_9.html. Thanks!