---
Pamela Anderson forgets her pants in Berlin – twice
Posted: 20 Apr 2012 09:02 AM PDT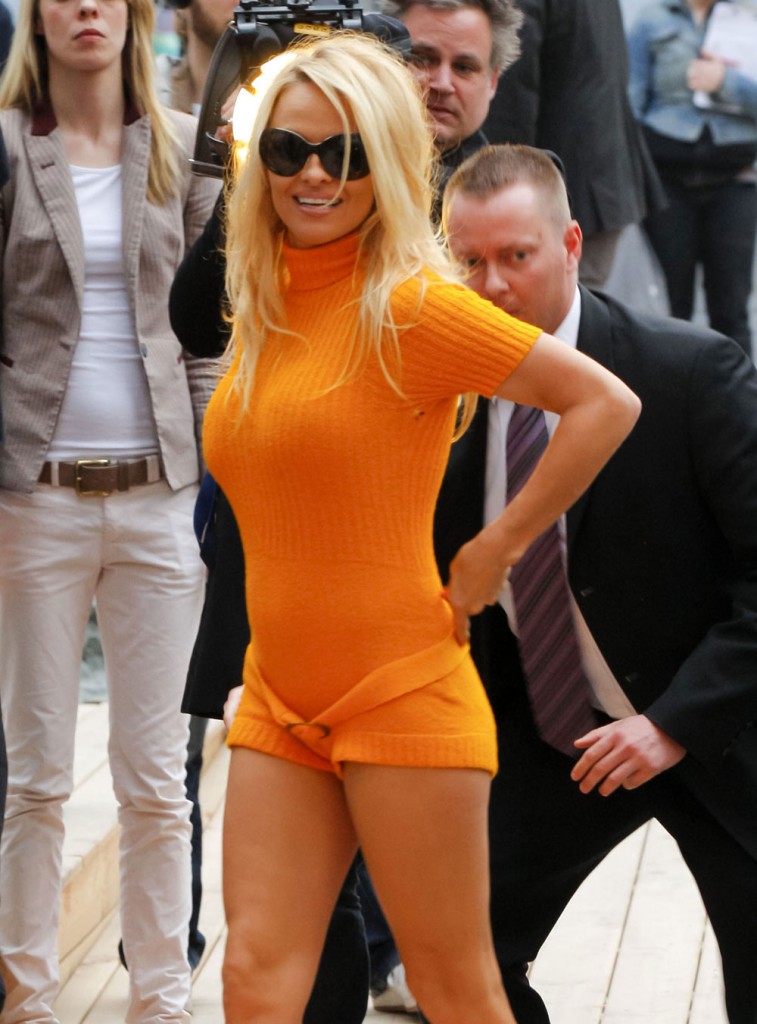 Here's Pamela Anderson strutting her stuff in Berlin in a canary yellow sweater onesie that would be too short for an average 10 year-old. I want to find something to like about this outfit, but even her shoes are bad.
Pam was attending the launch party for a new alcoholic beverage called "Andaloe," since it's such a great idea to have someone with Hepatitis C promote booze. She's still got "it," if by "it" we mean the ability to embarrass her poor teenage sons in every single outing she makes. That ship has pretty much sailed already, though. This is how Pam regularly dresses, and how she still occasionally gets some attention on a slow gossip afternoon like today.
Pam got some other attention earlier this week, because she's one of the celebrities who owns a ton of money to the tax man. Honestly those stories make me feel much better about myself when I'm stressing over filing my taxes. Pam isn't at Wesley Snipes-levels of tax evasion yet, but she owes over half a million to California and made the list of the top 500 delinquent taxpayers in the state. She's owed the state of California money since at least 2009.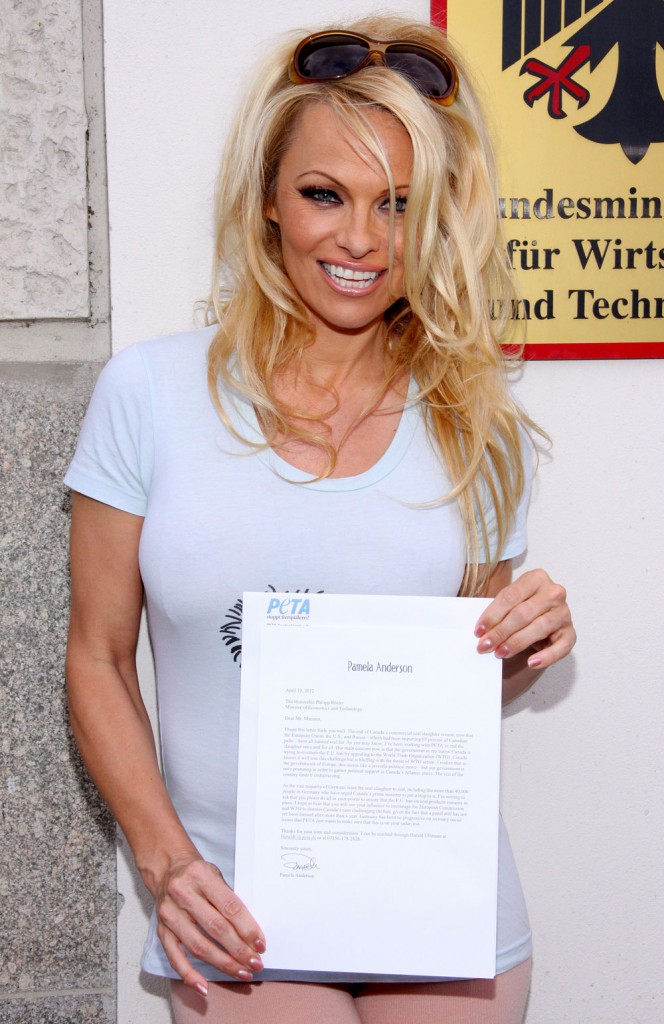 She's still hustling at 44. The sweater romper is actually more demure than the t-shirt and nude-colored leggings she wore in Berlin to deliver a message from PETA to the German Minister of Economics, Philipp Rösler, on the seal skin trade. Rösler was off having a currywurst or something so she just gave it to an office worker. If you want to see Pam's butt and cameltoe you can check Holy Moly. We picked the more demure photos of that outfit to use here. No wonder she kept tugging at her shirt.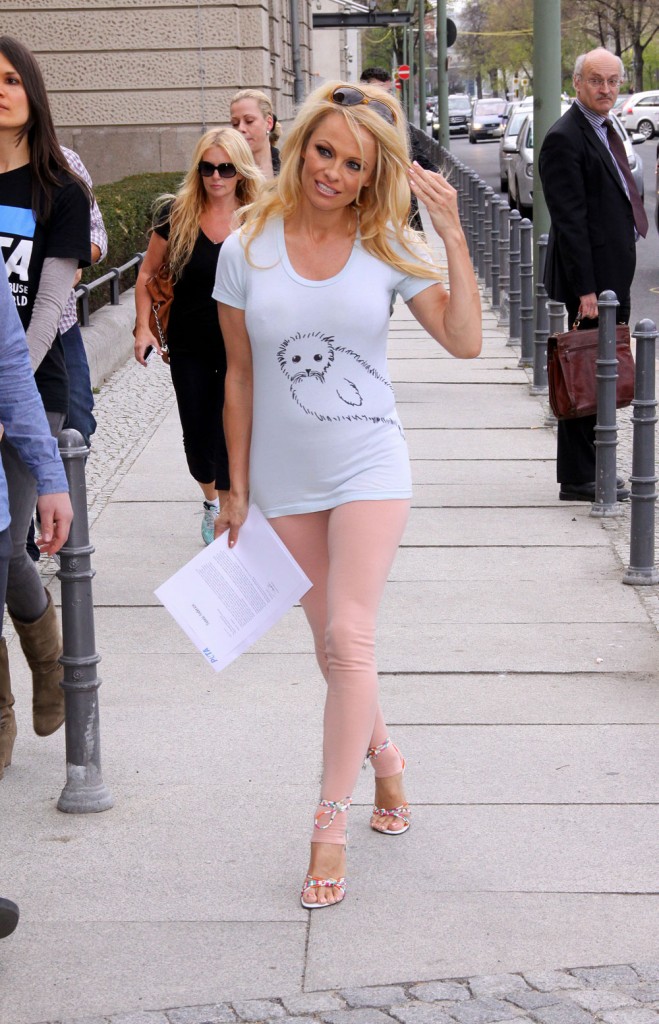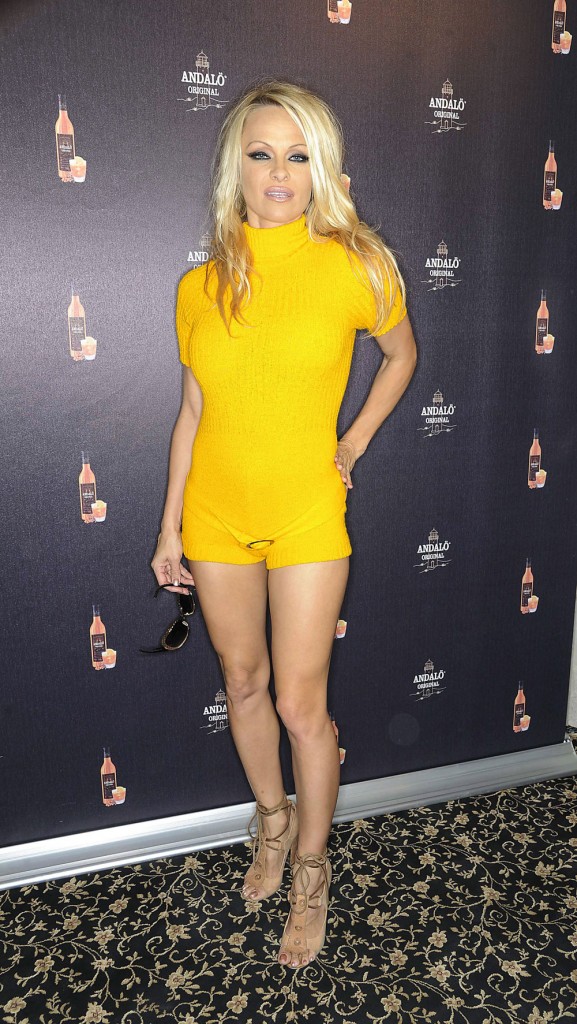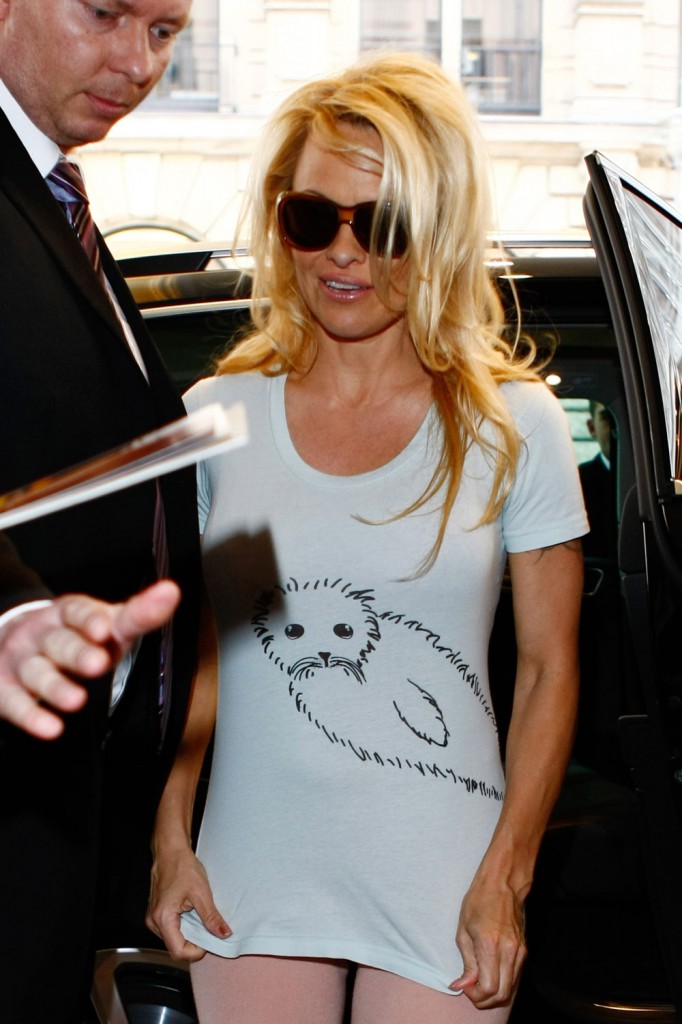 Here she is in a cuter mod-style dress on 4-18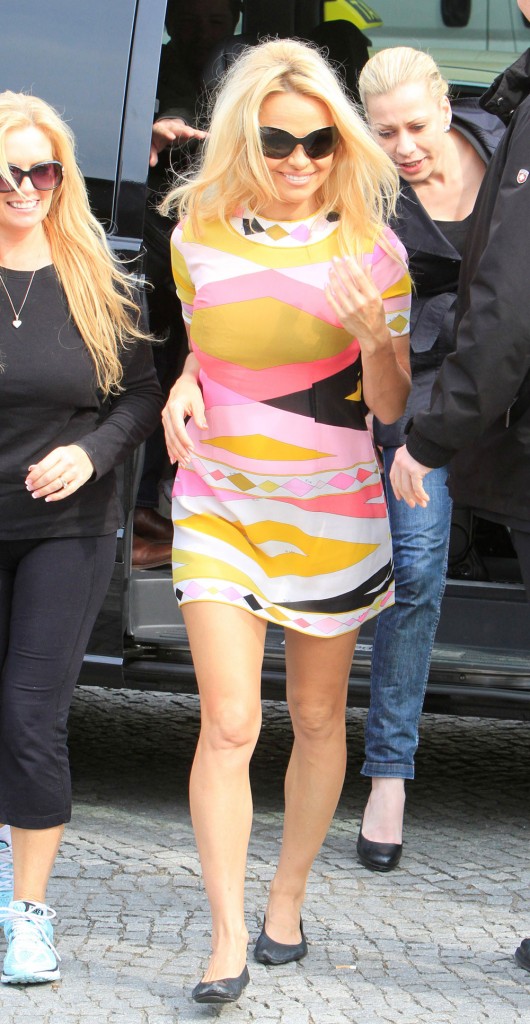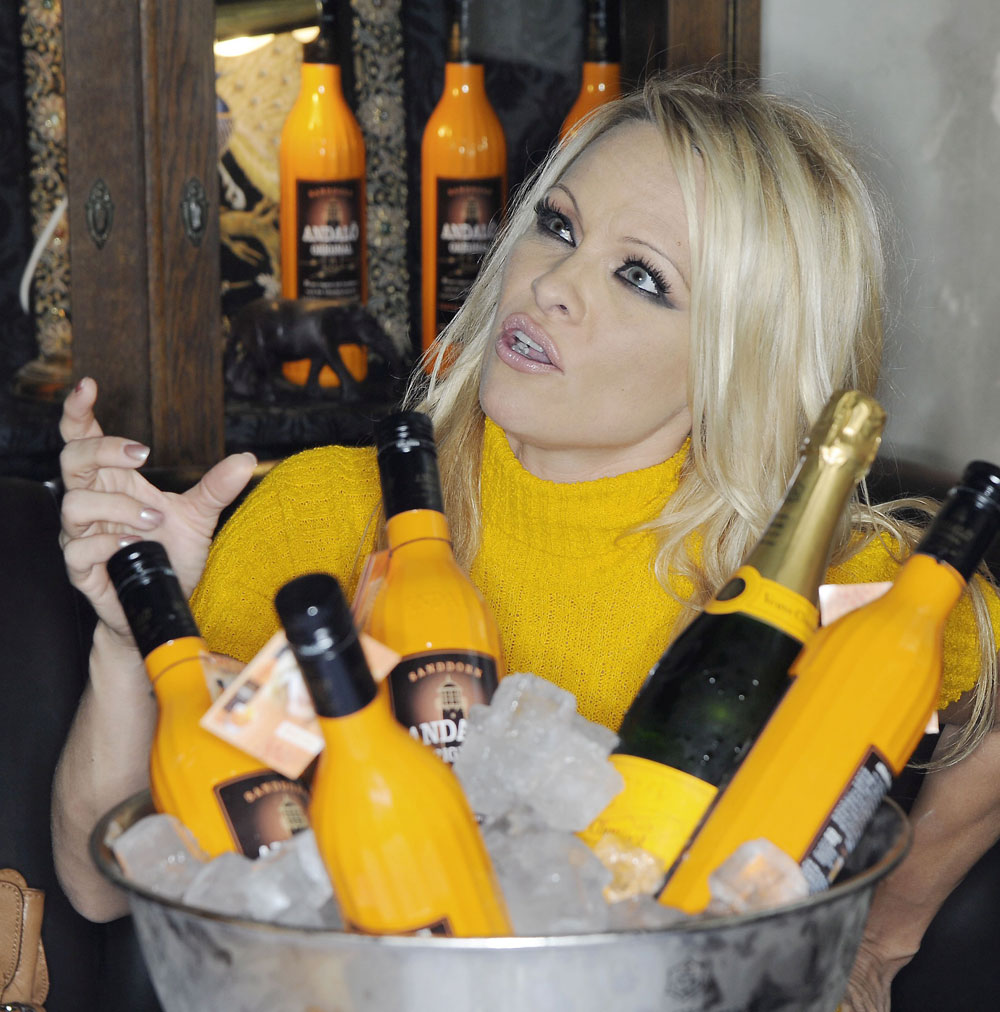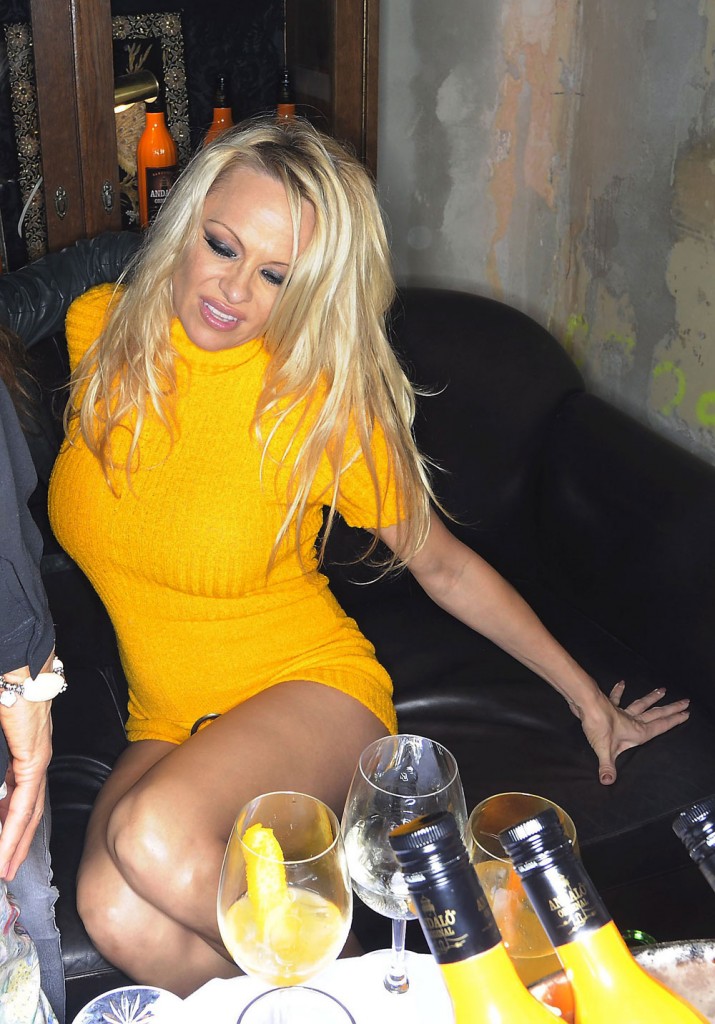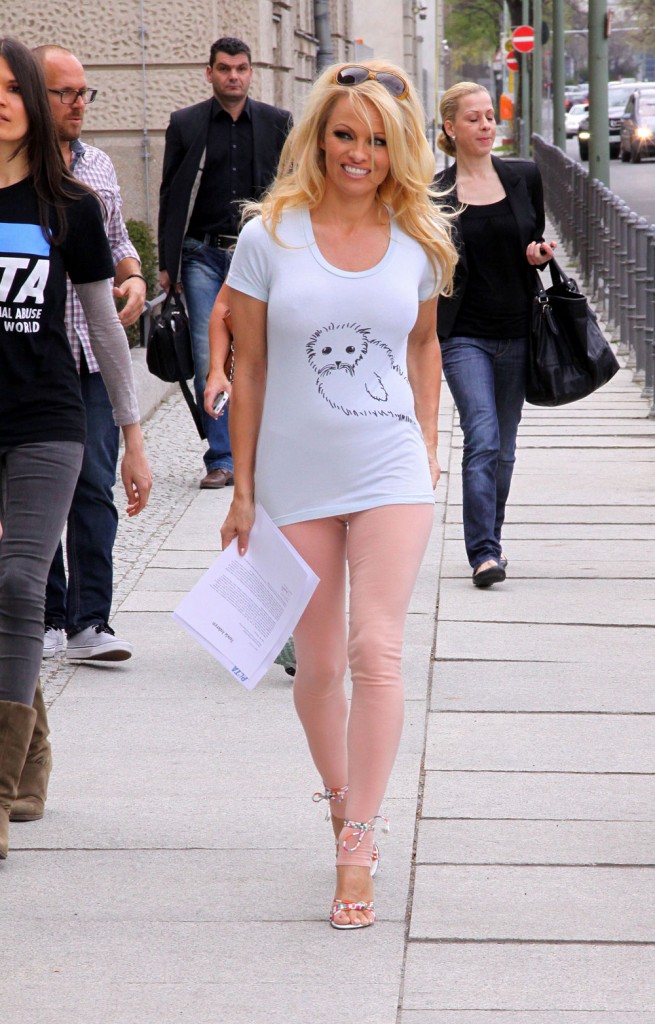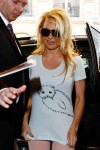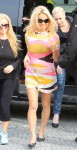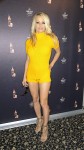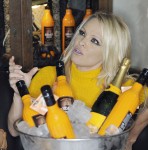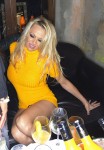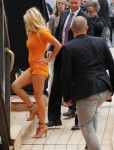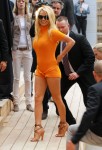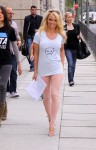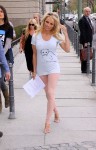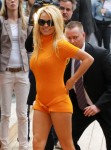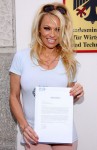 Photo credit: WENN.com and FameFlynet, Inc.
Tyra Banks just fired everyone on 'ANTM': Nigel, Jay & Miss J are all out
Posted: 20 Apr 2012 08:22 AM PDT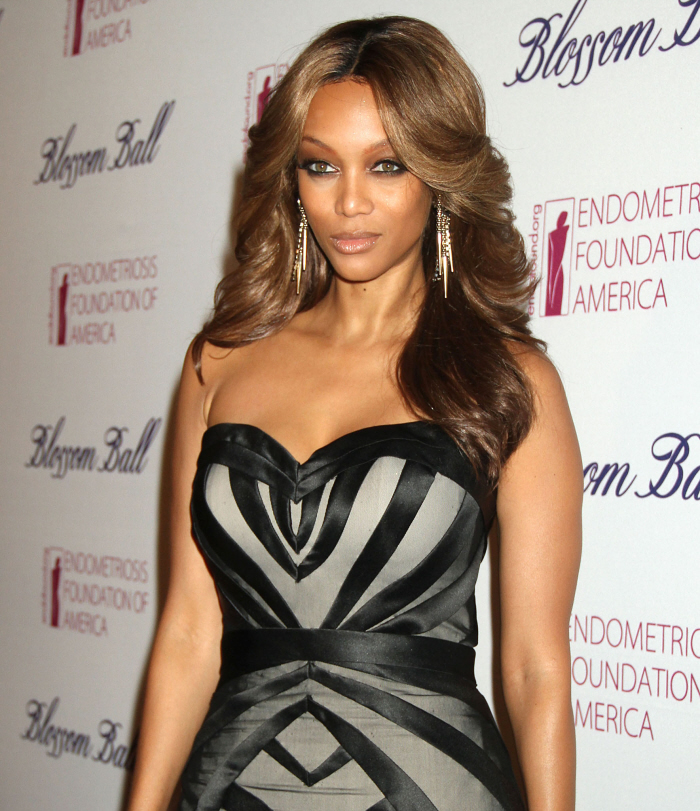 I haven't watched America's Next Top Model since Season 1. I really liked Season 1. From what I've seen of everything since then, it doesn't really seem like quality television, but I understand that it's still pretty popular – my mom watches it, after all. Well, my mom is going to be super-disappointed. Tyra Banks just fired EVERYONE. Breaking news: Tyra is a monster. She probably thinks she can do it all, too. TYRA ALONE WILL JUDGE EVERYONE. Tyra will single-handedly do this show!!!
Tyra Banks has one photo in her hand . . . and none of them belong to America's Next Top Model's Nigel Barker, J. Alexander or Jay Manuel.

Host and producer Banks, 38, has fired her panel of experts, The New York Post's Page Six reported Friday. They were reportedly informed Thursday morning that their contracts would not be renewed for Cycle 18.

Banks later confirmed that photographer Barker, 39, runway coach Alexander, 53, and creative director Manuel, 39, will be leaving America's Next Top Model via her official Facebook page.

"To my Nigel Barker, Miss J, and Mr Jay: Thank you for all of our years together on America's Next Top Model," Banks wrote. "Working with you is always an absolute pleasure. Excited for what the future holds for us."

Barker, Alexander and Manuel have been with America's Next Top Model since its inception in 2003. Previous judges include Janice Dickinson, Kimora Lee Simmons, Twiggy, Paulina Porizkova, Andre Leon Talley, Beau Quillian, Eric Nicholson and Nole Marin. As of Friday, judge Kelly Cutrone is expected to return for Cycle 18.

In a statement, executive producers Bank and Ken Mok tell Us Weekly: "Nigel Barker, Jay Manuel and J. Alexander have been an integral part of the America's Next Top Model brand and they helped turn this show into the household name it is today. They have been amazing assets to the show and will always be a part of the Top Model family. We will continue to actively work with each of them on future projects."
[From Us Weekly]
I'm not going to get into every single little detail about who Tyra has fired and how all of her ex-employees say she's terrible, and a void of narcissism and drama. Let's just say that she has a long history of alienating everyone, from audiences to employees, and that most people would rather cut off a limb than have to deal with her. So while it sounds like Nigel, Jay Manuel and J. Alexander just had their asses handed to them, I'm sure all three are probably a little bit happy that they don't have to deal with Tyra anymore.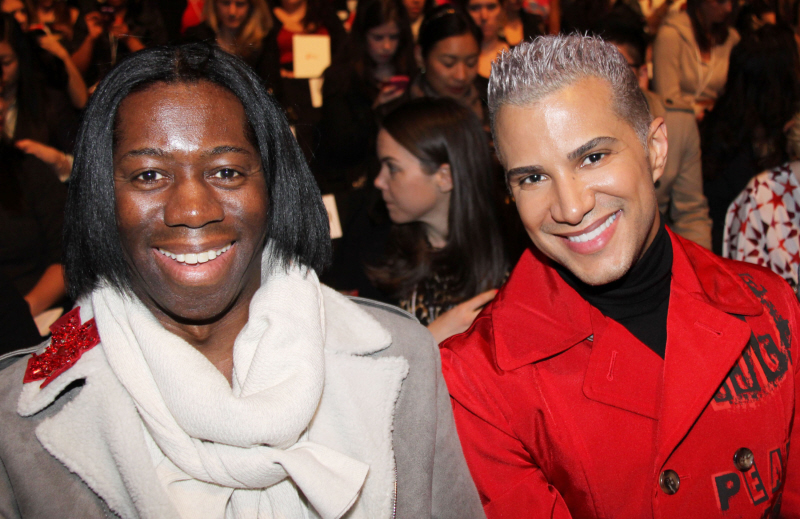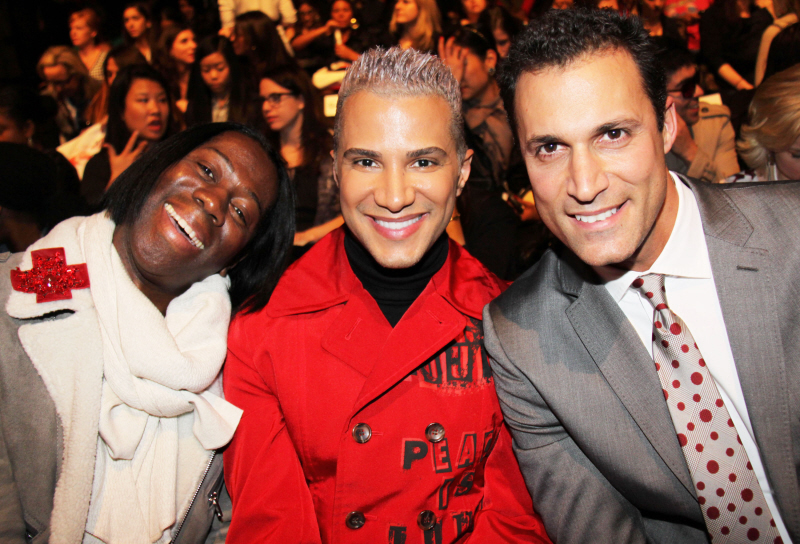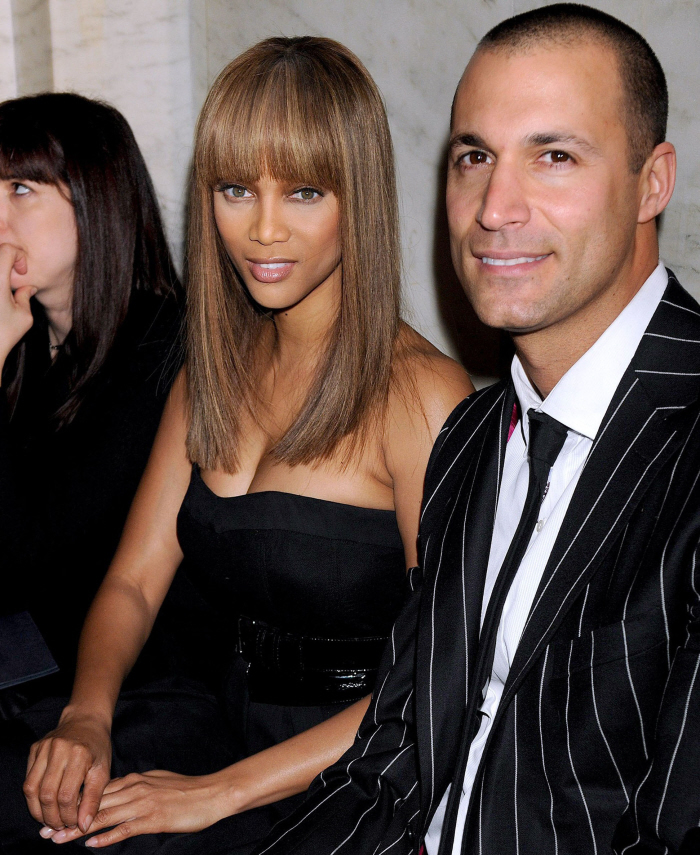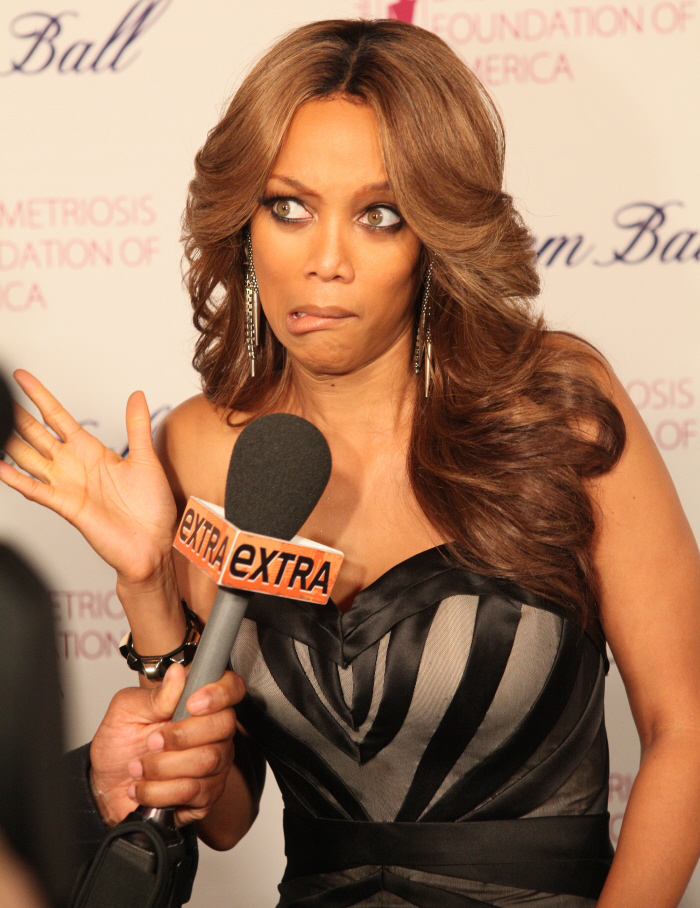 Liz Hurley & Shane Warne are planning two weddings in the UK & Australia
Posted: 20 Apr 2012 07:43 AM PDT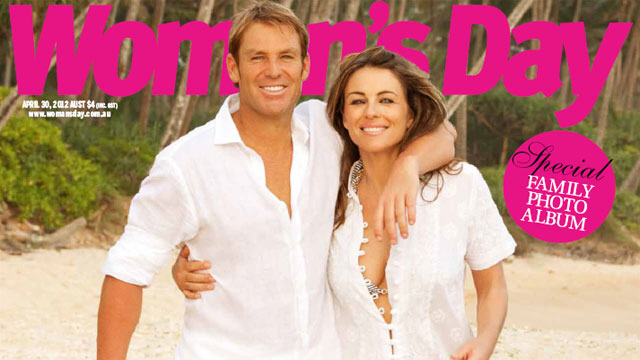 It's been way too long since I've covered anything involving my favorite celebrity couple, Elizabeth Hurley and Shane Warne. They've been quieter the past few months, and I've missed them. Since we last saw them, not much has changed though. They're still hilarious and fabulous. Shane's new face has settled in a bit more so he doesn't look so… TAUT. but that's about to change. Shane and Liz are on the cover of new Woman's Day magazine – it's an Australian publication, I think it's like Us Weekly…? Shane and Liz are planning TWO weddings. Just like Liz had with her ex-husband – she did one in England and one in India. With Shane, they're going to do one in England and one in Australia. Because that doesn't get old, does it, Liz?
Elizabeth Hurley and Shane Warne don't want to disappoint any friends or family members when they tie the knot next year, so the international couple are planning weddings in both her native Britain and Australia.

The couple, whose first Australian interview together is exclusively in this week's Woman's Day (out Friday!), are said to be "extremely happy".

"I think we just 'get' each other," 42-year-old Shane told Woman's Day. "I understand why Elizabeth and I getting together initially seemed strange to some people and why it created a lot of interest. We are from different worlds, but funnily enough they are very much the same, too."

Speaking of this week's exciting Australian exclusive, Woman's Day editor Fiona Connolly said: "It doesn't get much bigger than this for Australian magazines. Shane and Elizabeth are one of the world's most intriguing couples. The story of their romance, engagement and blended family has remained untold — until now. You've seen Shane Warne wearing many hats from cricket hero to Aussie larrikin but this is a side of him you could never have imagined."

"Woman's Day readers will be surprised by how honest the couple are about everything from his colourful romantic past, their ex's, jealousy between the kids, how she's changed him and even plastic surgery."

In the article, Elizabeth and Shane also reveal their special names for each other: she calls him the "Big Blond" while his nickname for her is "Luna" — after the fairground Luna Park.

"Elizabeth calls me a lot more than just the Big Blond — she has dozens of names for me, all of them too embarrassing to share," Shane tells Woman's Day. "I have a handful for her, too, but I usually call her Luna as there was a terrible paparazzi picture of her once looming in to kiss me, which reminded me of the massive mouth at the entrance of Luna Park."
[From Woman's Day]
Oooh, he talks about plastic surgery? In the past, Shane has never admitted that his new face is anything but completely natural and the result of "weight loss". It's good to hear that he might actually be confirming that he did in face have a very noticeable facelift. As for Liz and Shane being "one of the world's most intriguing couples" – please. They wish. They're just funny and kitsch and silly. I enjoy them. Let's not make them into something they're not. It also seems like Shane and Liz did an interview in Hello Magazine this week, and they confirmed that they "briefly" split up last year – Liz said, "Yes, but ultimately we decided we got on too well not to give it a shot." That must have been when Liz decided to completely remake Shane, Pygmalion-style.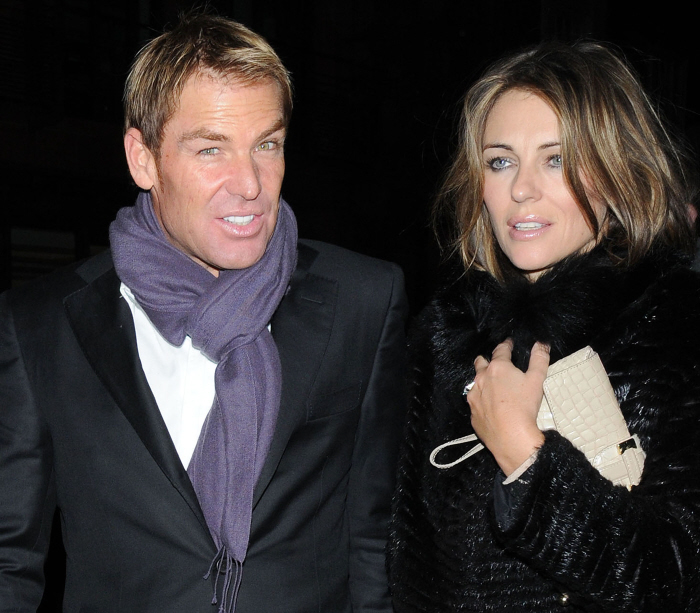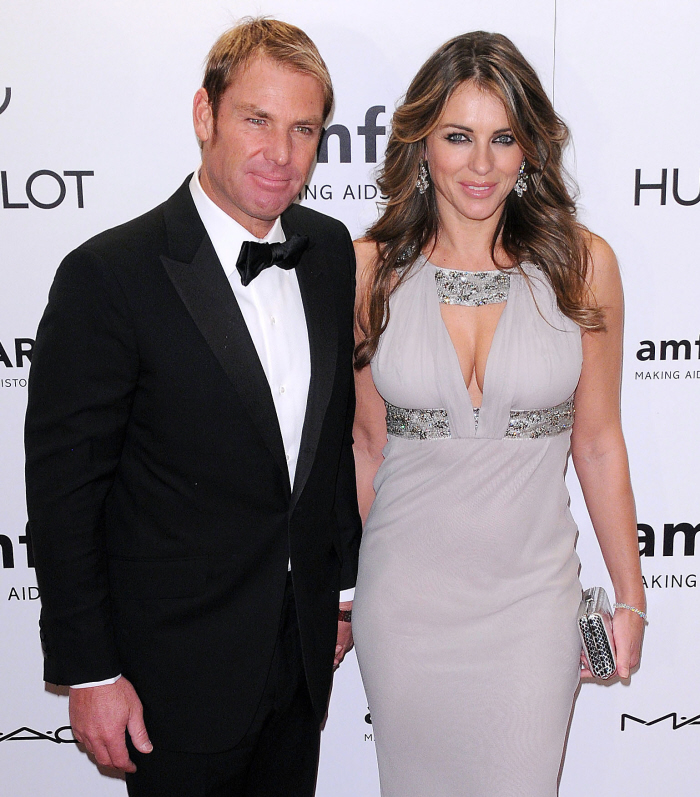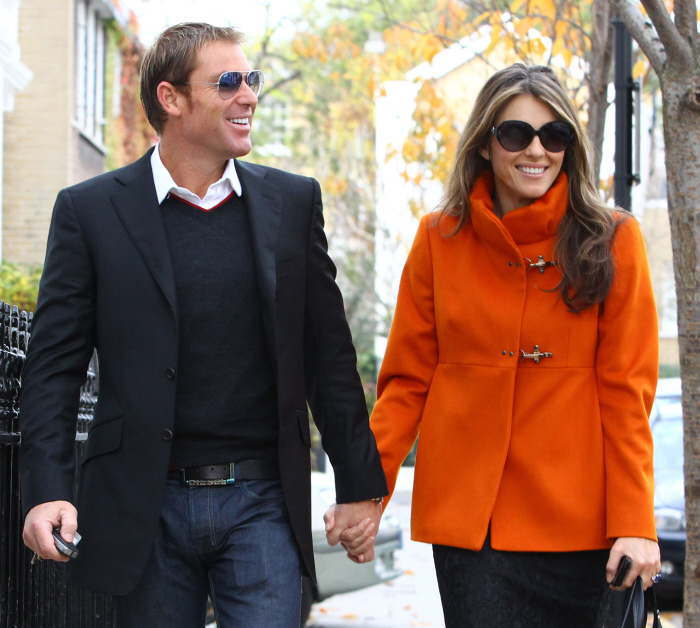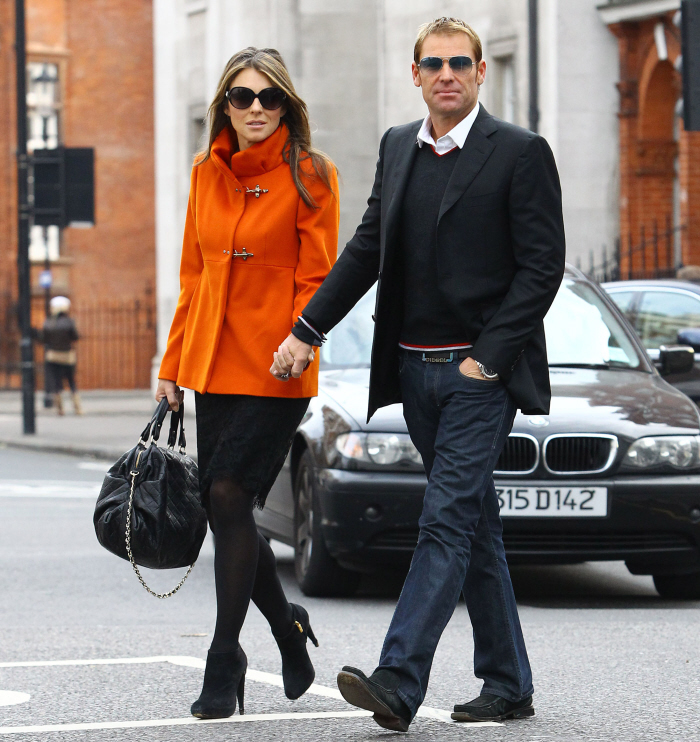 Lindsay Lohan is both the attacker and the attacked, the alpha and the omega
Posted: 20 Apr 2012 07:35 AM PDT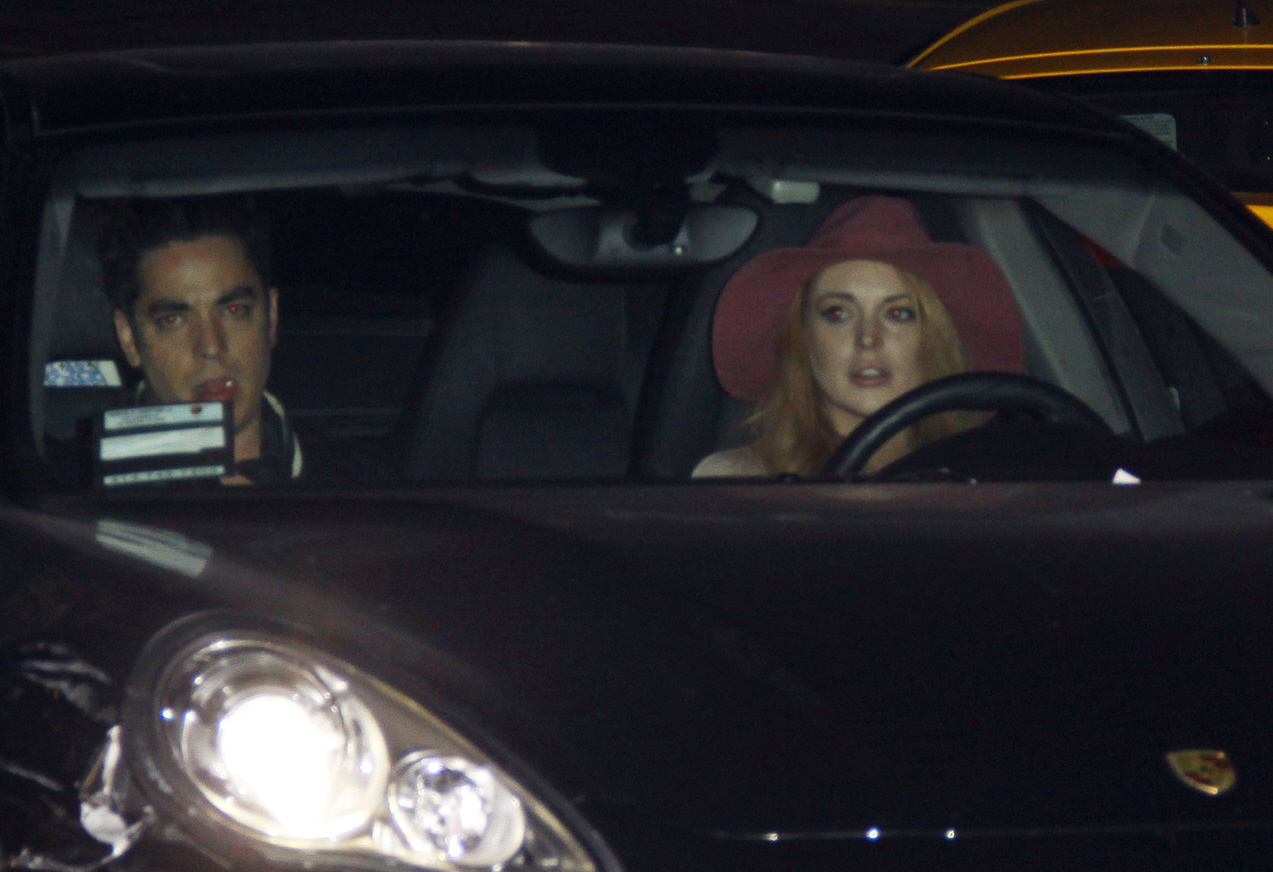 The header photo is of Lindsay Lohan and an "unidentified man" leaving the Chateau Marmont two nights ago. You know, because the Marmont is "home" to this crackie, so when she claims she's a "homebody," she's just saying that she only drinks and does drugs at the Marmont these days. Anyway, we have some standard-issue crackhead stories today. Let's go with chronological – yes, that makes sense. Two weeks ago, a woman accused Lindsay of slapping the hell out of her inside The Standard. LL claimed that she was nowhere near The Standard, and that she was at "home" watching Homeland. Guess what? Crack liars tell crack lies.
Detectives from the Los Angeles County Sheriff's Department have officially received the surveillance video from The Standard Hotel in West Hollywood from the night that a woman claims Lindsay Lohan assaulted her, and the video clearly shows Lohan at the club, despite her claims that she was at home watching television, RadarOnline.com is exclusively reporting.

As previously reported, Lindsay is being investigated for allegedly assaulting Marisa Dugas almost two weeks ago. The actress vehemently denied being out that night, claiming she was at home watching television when the incident allegedly occurred, even though three people – including the accuser — have now filed police reports.

"Investigators obtained the surveillance video from the Smoke & Mirrors nightclub at The Standard Hotel and it clearly shows that Lindsay was there on the night of the alleged assault," a law enforcement source tells RadarOnline.com. "The investigation is still ongoing and follow-up interviews will now be conducted as necessary. Of course, investigators want to interview Lindsay about the incident, but she hasn't been interviewed yet, nor is she under any obligation to do so. Remember, two other witnesses besides the alleged victim filed police reports, including the bouncer of the nightclub."

When contacted for comment, Lohan's rep initially denied his client was at the hotel and told RadarOnline.com, "Whomever is responsible for this lie will be held accountable for their misguided actions." However, he is now saying, "We're going to wait for the Sheriff's Department to release their findings before we comment any further."

Lindsay's rep had no comment on this story.
[From Radar]
That's when you know sh-t just got serious – when poor Steve Honig couldn't even push out some delusional crack theory about what really happened. So… I guess LL really did assault someone, and everyone was just saying it was Amanda Bynes because why not? I'm sorry, Amanda Bynes. You were falsely accused.
In addition to that, TMZ reports that LL was at The Standard again two nights ago, and yet another assault took place. But this time, LL was the victim!!! Wow. That never happens:
Lindsay Lohan returned to the scene of the (alleged) crime!!! We've learned she showed up at The Standard Hotel on the Sunset Strip Wednesday night … went to Smoke and Mirrors, the same nightclub where she allegedly pushed a woman 2 weeks ago, and got into it with ANOTHER woman … and it ended with LiLo on the receiving end of a flying drink.

Here's how it went down. Lindsay's friend drove her car to the hotel — LiLo was in the passenger seat. The driver pulled into the parking garage and hit another car. Witnesses say Lindsay then called her dad, Michael, for help, and he dutifully showed up.

So what did Michael do? He took Lindsay inside the club and the two hung out for hours … we're told without any alcohol.

Around closing time, a woman in the booth next to theirs made a snide comment about Lindsay showing up with her dad. Lindsay then got up and screamed at the woman, "Shut the f**k up." We're told that's when the drink drenched the actress.

We're told Michael then grabbed his daughter and made a beeline for the door.
[From TMZ]
This story is so ridiculous, it must be true, right? Or have I just become completely inured to cracktastrophes? Here's what probably went down: Lindsay decided to leave the Marmont on Wednesday night, so she and her friend decided to hit up The Standard. Lindsay drove, and she hit another car because she was drunk and/or high. She didn't want to call Dina because Dina demands payment in blow. So LL called her dad, who did nothing to help LL clean up the car accident, but did take her into the club where father and daughter shared two dozen tequila shots. At one point, LL threatened a chick ("Because of HER FACE.") and the chick threw a preemptive drink on LL. Michael then ushered his daughter out of the club, and she drove them home, only crashing into two babies on the way. The end.
UPDATE: …. And of course Lindsay was the one to throw the drink. Of course.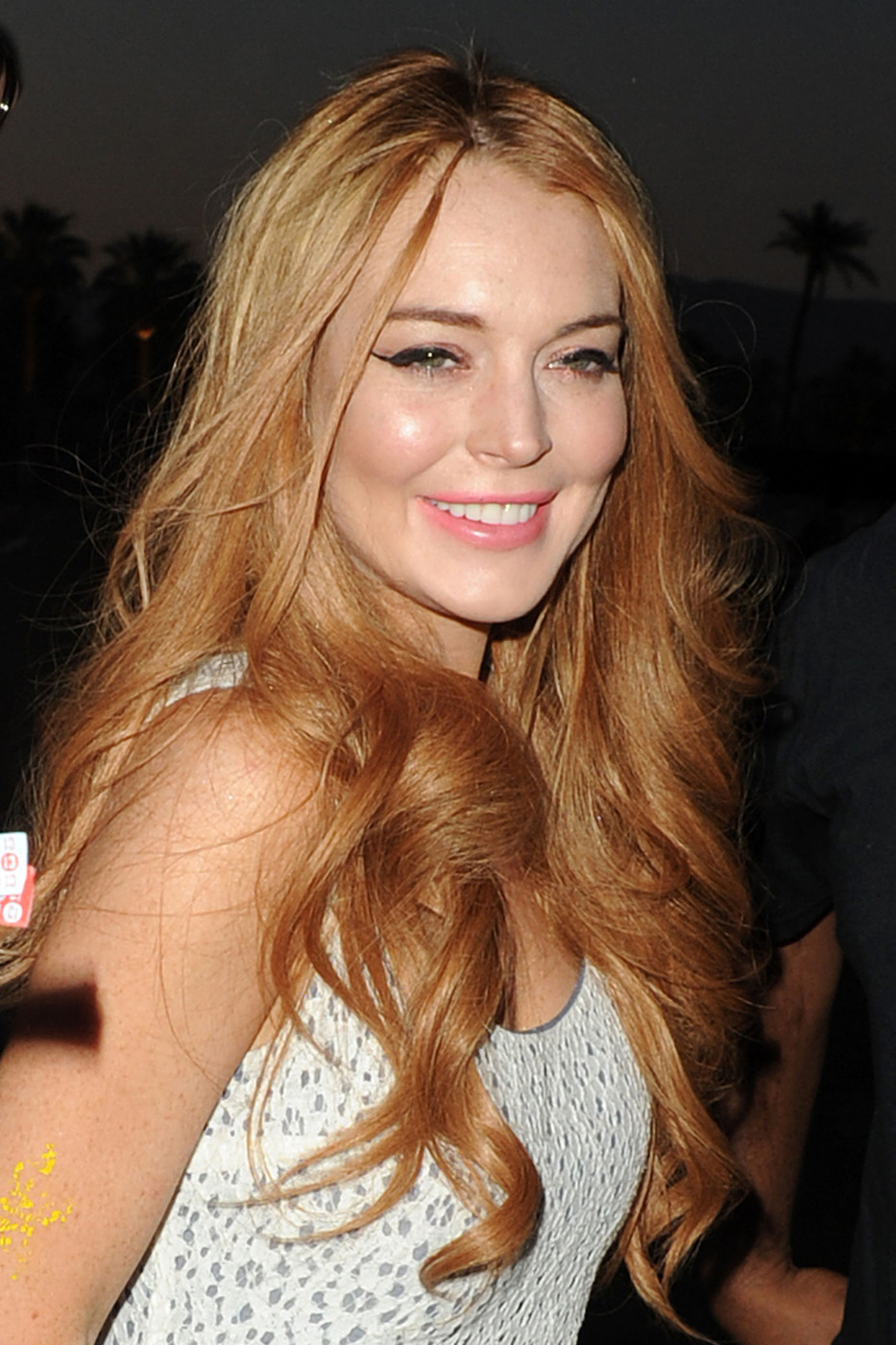 Photos courtesy of Fame/Flynet, Pacific Coast News.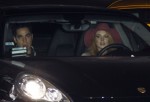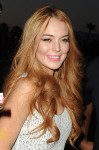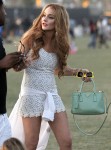 Jessica Biel's parents hate Justin Timberlake, and they have excellent reasons
Posted: 20 Apr 2012 07:30 AM PDT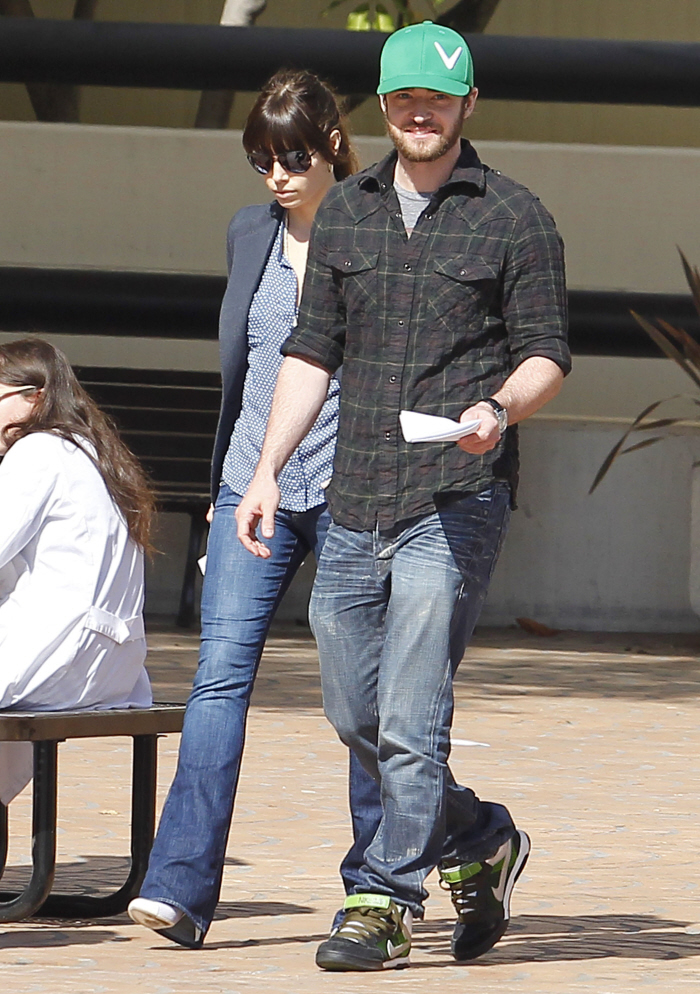 Justin Timberlake and Jessica Biel were just in Italy last week, on what seemed like a romantic pre-wedding vacation. Biel had been in Paris beforehand, allegedly meeting with various designers about her wedding dress. Everyone seems to think that the wedding will be going down some time this summer – my guess is that it will be a late summer wedding. Maybe late June, early August? That's what I consider late summer – I'm not one of those people who counts September as part of the "summer". I'm old-school like that. Anyway, everything seems on track for Biel and Timberlake. And by "on track" I mean that everything is a complete mess but Jessica won't stand up to Justin because she's so hypnotized by the idea of becoming a bride. According to this week's Enquirer, Jessica's parents still have major qualms about their future son-in-law. With good reason, as you'll see:
Jessica Biel's engagement to Justin Timberlake is being rocked by her family's distrust of him! Tensions in the Biel family have reached fever pitch with Jessica's devoted dad remaining suspicious of Timberlake's intentions, sources say. And Justin's reached the end of his rope.

"Justin has tried everything to win over Jessica's family – gifts, wining and dining her parents, attending key family events, and even giving her brother Justin a job, only to have it thrown back in his face," revealed a friend of Justin. "He finally got frustrated and blew up at Jessica. She begged him to have patience and assured him that she loves him and has faith in him."

But it's easy to see why her parents would feel otherwise.

"Jessica dad and her mom Kim will never forget the hurt Justin caused their daughter when they split early last year," said a source close to the Biel family. "They'd been together for four years and she put up with so much, including his on-set affair with Mila Kunis and him hooking up with Olivia Munn shortly before they split."

Justin has also been linked to Olivia Wilde and Ashley Olsen, and Jessica constantly fins phone numbers from girls in his pockets, added the source. Even after they got engaged in December, Justin reverted to his bad-boy ways.

"Jessica started to complain that she hardly ever saw him… in February, Jessica actually begged Justin to teach her how to sing – not because she wanted to try musical theater, which is what she told him, but because she wanted to spend quality time with him!"

Still, her parents remain worried that he'll cheat on her again, according to the source.

"Justin refuses to sell his bachelor pad on Mulholland Drive, and that's left a foul taste in her dad's mouth," explained the source. "Justin insists he wants to keep his boys-only parties away from Jessica's house, where he normally stays. But even when Jessica offered to build him a 'man cave' on her property for him, he refused to sell. As far as her parents are concerned, these are not the actions of a man who's serious about settling down – and no amount of cash-flashing will convince them otherwise."
[From The Enquirer, print edition]
Look, I've said it before – this wedding should not be taking place. Jessica and Justin are a MESS together, and this story only emphasizes that. I'm not saying that everything in here is true – although many of the details can be verified or assumed by most logical people – but if only a fraction of it is true, how can Jessica walk into this marriage? He won't give up his "bachelor pad." He still gets digits when he goes out "with the boys." Jessica has taken him back after he flaunted his infidelities. Basically, her parents seem like nice, normal people who have no interest in seeing their daughter marry a cheating d-bag. But I have to wonder – what are Jessica's parents saying to HER? "Honey, you don't have to marry him. Think about it. Stand up for yourself." Why isn't she listening?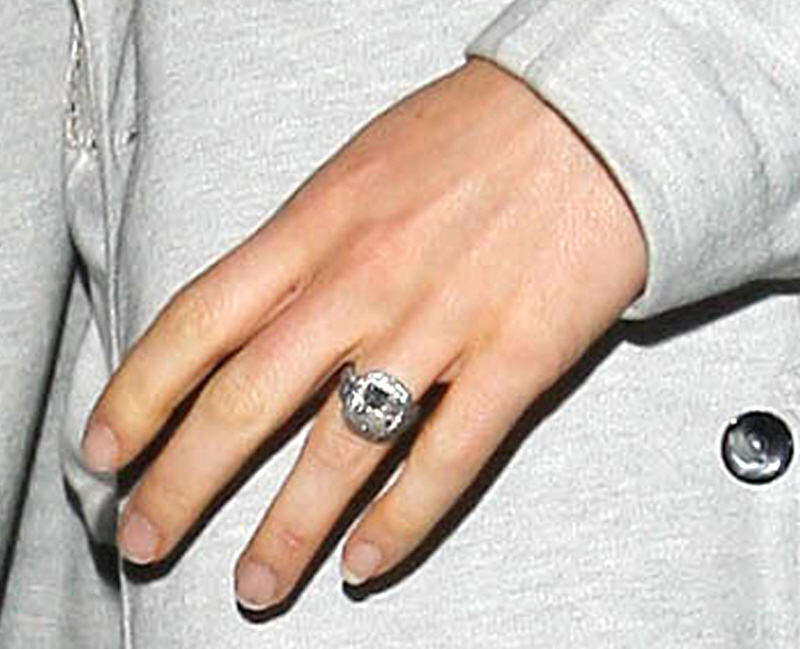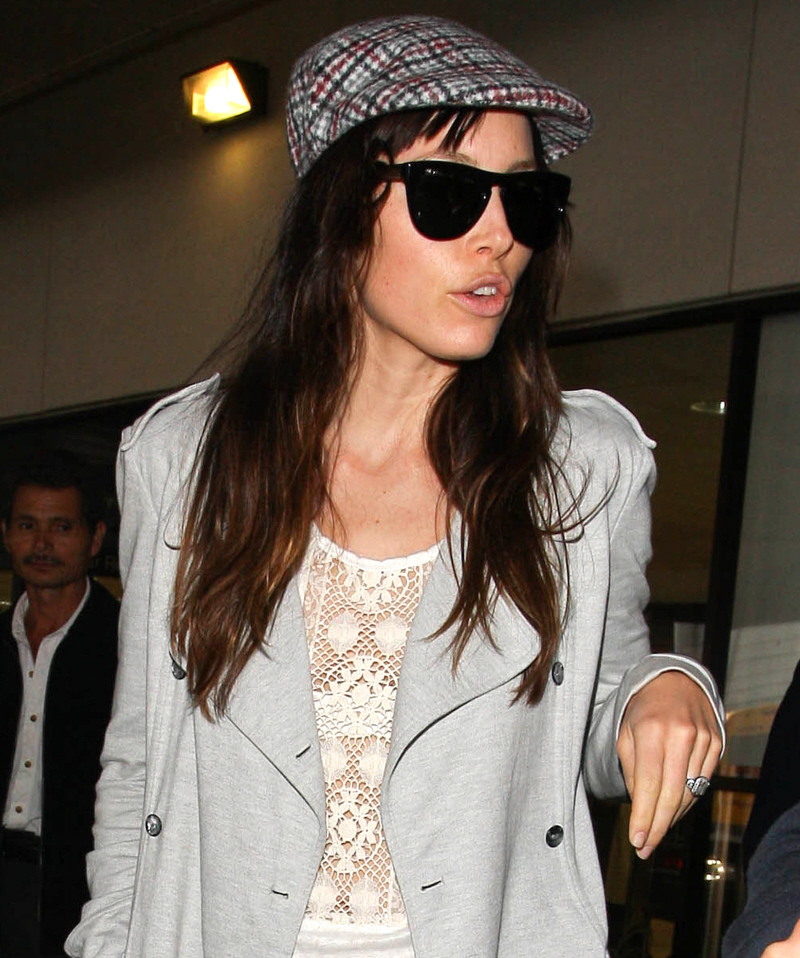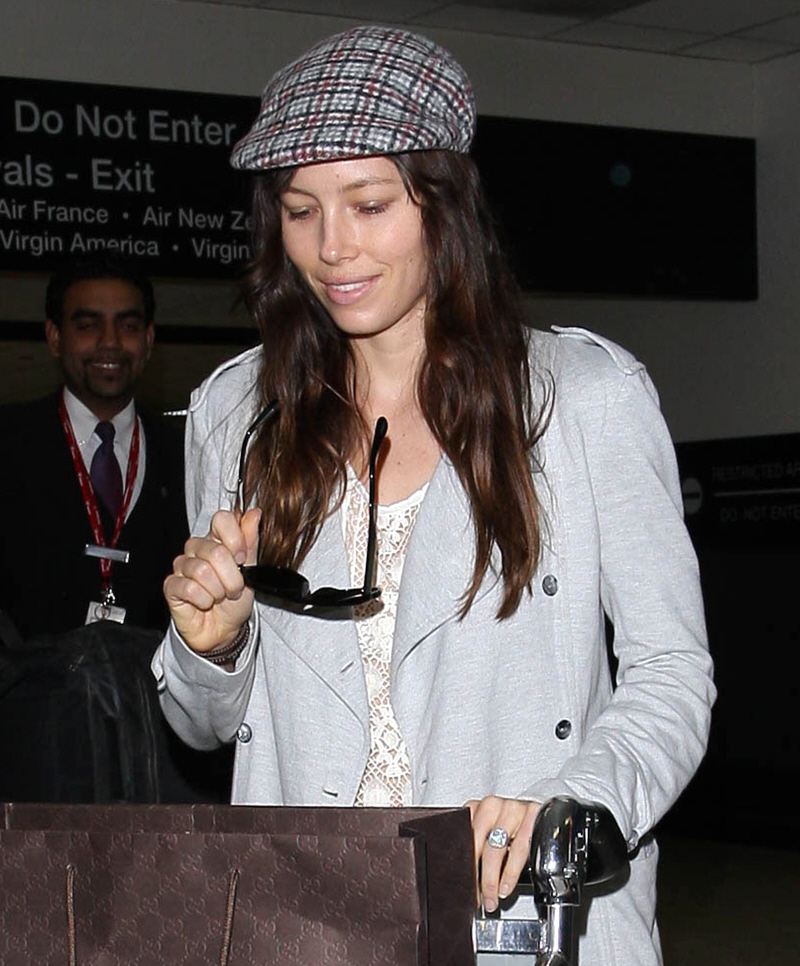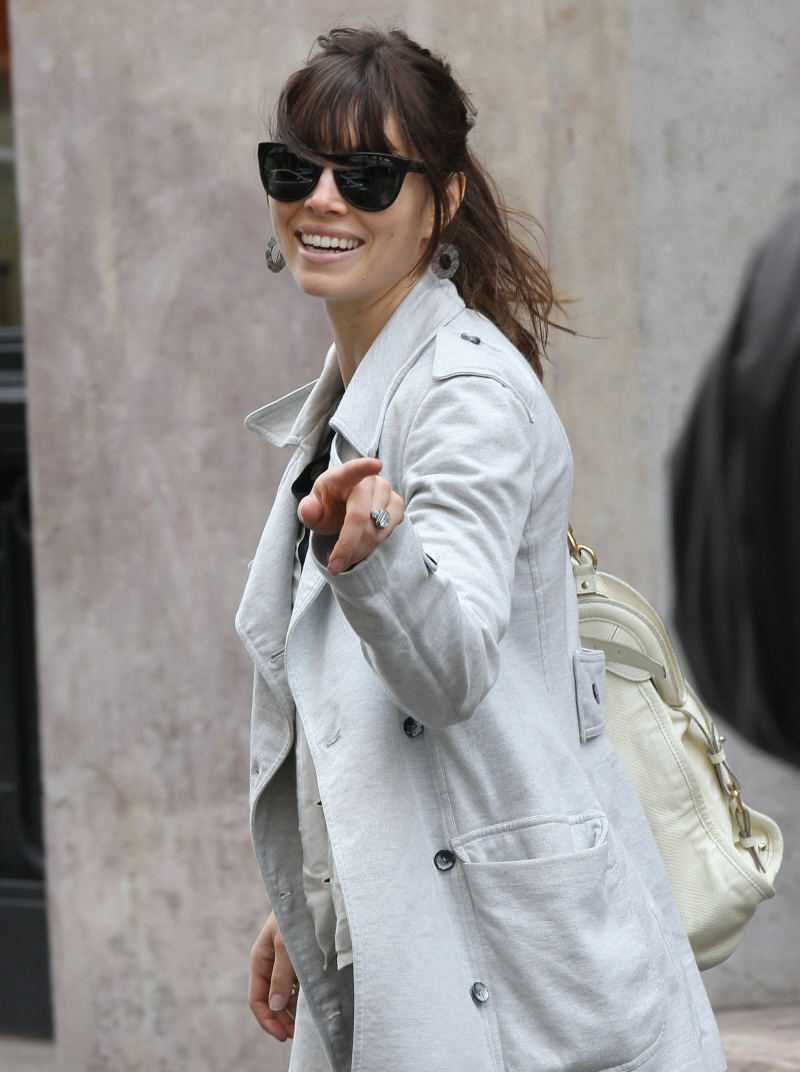 Photos courtesy of Fame/Flynet.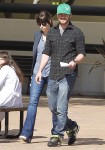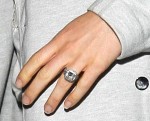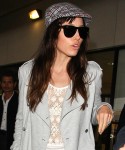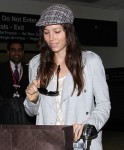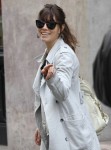 Enquirer: Jennifer Aniston "collapsed" when she heard about Brad's engagement
Posted: 20 Apr 2012 06:17 AM PDT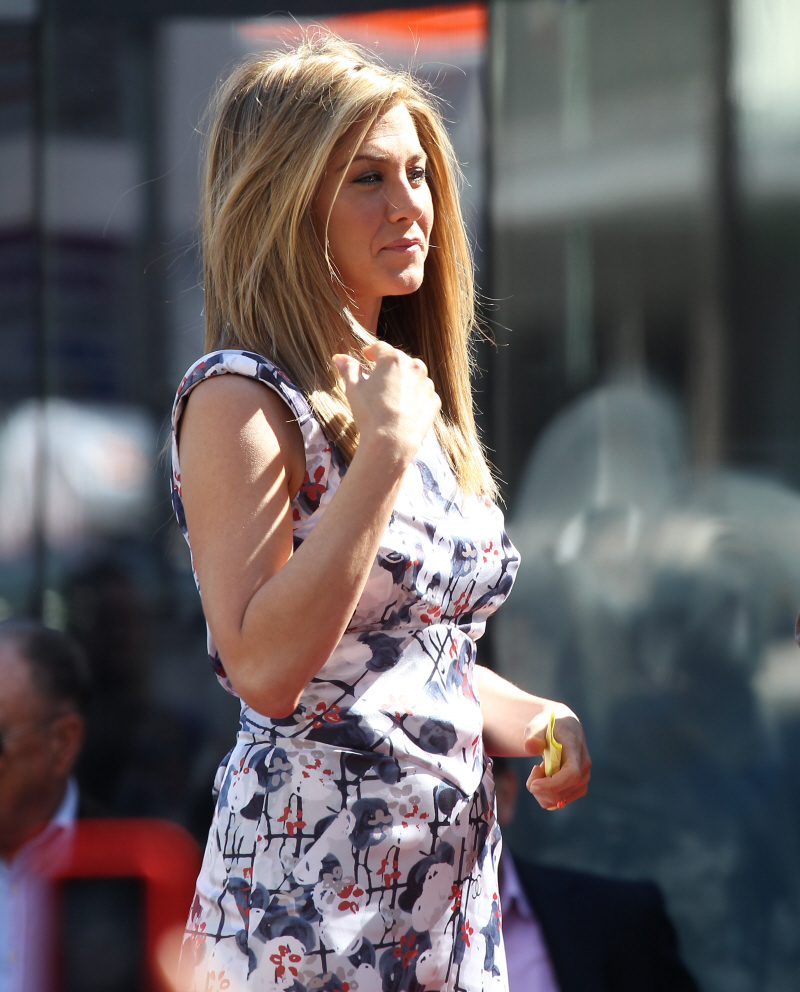 First and foremost, I am not cosigning this National Enquirer story. As I've already said in two of my previous post-Brangelina-engagement stories, I do think Jennifer Aniston is in a good place right now, I think she's happy with Justin Theroux, and I really don't think that she's actively looking to throw herself a giant pity party over her ex-husband's engagement. That being said, I did enjoy this Enquirer story for it's sheer melodrama, and for making Aniston sound like an image-obsessed PR genius. According to the Enquirer, Brad Pitt called Aniston to let her know about the engagement a week before he announced it. And after Jennifer "collapsed" in a fit of tears, she picked herself up and arranged for several planted items about how "happy" she is with Justin. Genius!
Jennifer Aniston collapsed when Brad Pitt called her to break the news that he's marrying Angelina Jolie, sources say. Despite her broken heart, Jen quickly shifted into damage control and publicly boasted about her own happy love life, according to insiders.

"Brad called Jen the first week of April to tip her off about the engagement," revealed a source close to Aniston. "Brad said, 'I wanted you to hear it first from me. I asked Angelina to marry me and she said yes.'"

"The news hit Jennifer like a ton of bricks. Jen never actually believed that Brad would actually marry Angie. Even though she was in a state of shock, she didn't want to let Brad know how heartbroken she was. But as soon as they got off the phone, Jen burst into tears and collapsed! She just sank to the ground in a heap."

After her phone conversation with Brad, Jennifer was sobbing and pouring over mementos of their life together when her current beau, edgy actor screenwriter Justin Theroux, found her, added the source.

"Rather than being supportive, Justin blew up at Jen for continuing to obsess over Brad," the source said. "It was awful. Jen needed comforting, but Justin was too hurt and angry. He accused Jen of still being in love with Brad, and they wound up having a huge fight."

But Jen bounced back. In a true masterstroke, she made a glowing reference to Justin in a magazine interview that hit newsstands shortly before Brad's engagement was announced. "Jen obviously knew the engagement announcement was coming… it was no coincidence that her own story was leaked right beforehand."

Then, after Brad and Angie made their announcement official, Jen had her PR team put out word that she was "happy" for the couple – even though she has called Angelina "really uncool" over her hookup with Brad. Added the first source: "Jen's public face is very different to her private one over Angie. She's never stopped seething over the way she lost Brad to her."
[From The Enquirer, print edition]
I think the whole "Jennifer planted the 'Justin is a protector' story as a way to combat the engagement story" thing is dumb – there's no way Marie Claire Australia would have had such a short lead time. Aniston said that "protector" stuff long before she knew about the engagement. Plus, that's just the way she talks. She wasn't angling – that's how she is. Now, she totally had her publicist plant the E! and the People Magazine stories this week, though. As she should – why would she comment directly when she can get "unnamed sources" to do the heavy lifting?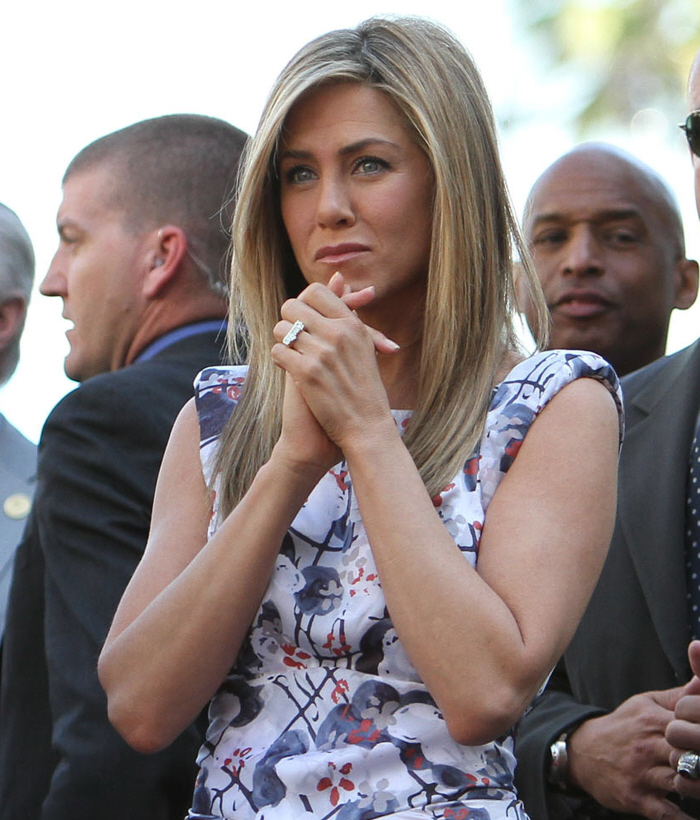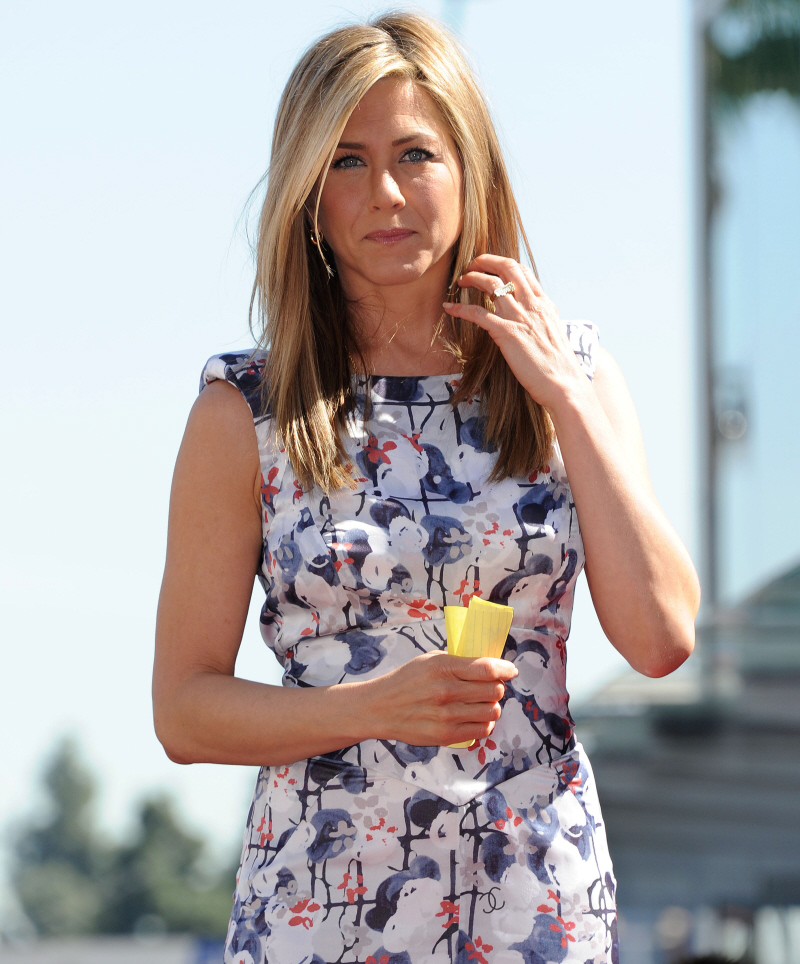 Photos courtesy of Fame/Flynet and WENN.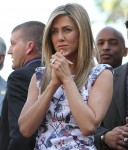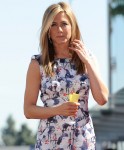 Did Rihanna tweet photos of herself rolling a blunt at Coachella?
Posted: 20 Apr 2012 06:16 AM PDT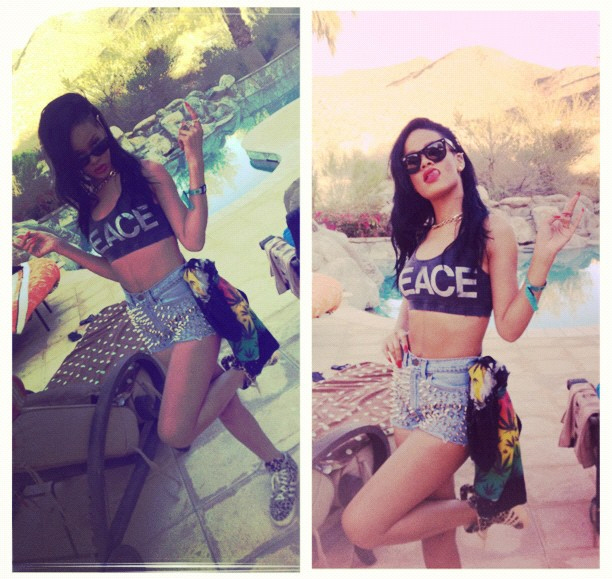 This "controversy" is several days old, so I'm sorry if you're all "Old news." People are still talking about it. When Rihanna was at Coachella over the weekend, she began tweeting lots of photos of herself and her friends. If you've never checked out Rihanna's Twitter page, I suggest you give it a whirl at least once. Rihanna has a sense of humor, she has lots of girlfriends, she loves clothes and boys and she really loves drugs and liquor. I know all of this because she tweets about all the time, and because she takes Twit-pics constantly. She's not like LeAnn Rimes, who uses Twitter to buffer herself in the cacophony of her own delusions. Rihanna is actually one of the biggest pop stars in the world, she has a BIG life and her tweets from day-to-day range from charming and cute to disturbing and offensive. Basically, Rihanna's Twitter is always the place to stop when you need to know what's going down with RiRi.
Anyway, while Rihanna was at Coachella, she tweeted this photo: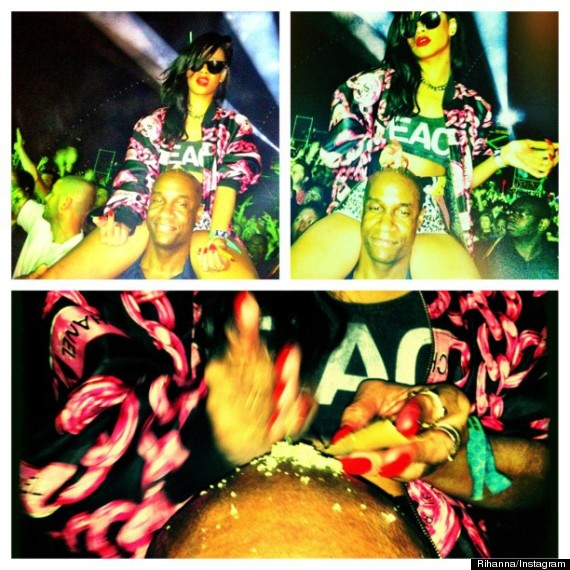 I looked through her Twitter feed for the past week, and I swear I think she's pulled this photo. As soon as she posted, everyone was like, "OMG, COCAINE." Which… sure, that's what it looks like. Would you be surprised if Rihanna did coke? Rihanna responded by tweeting, "I'm crazy, and I don't pretend to be anything else." She also had some harsh words for MTV UK (which I won't repeat) for their reporting on the "story" and she issued another tweet saying "Yikes… I've run out of f–ks to give." Other media outlets claim that the white powder could be… marijuana? Um… what? True, it looks like rolling paper in Rihanna's hand, but I've personally never seen marijuana look like white powder. But I haven't used drugs in years… maybe drugs have changed since my day. Anyway… Rihanna doesn't want to be a role model. She's made that abundantly clear.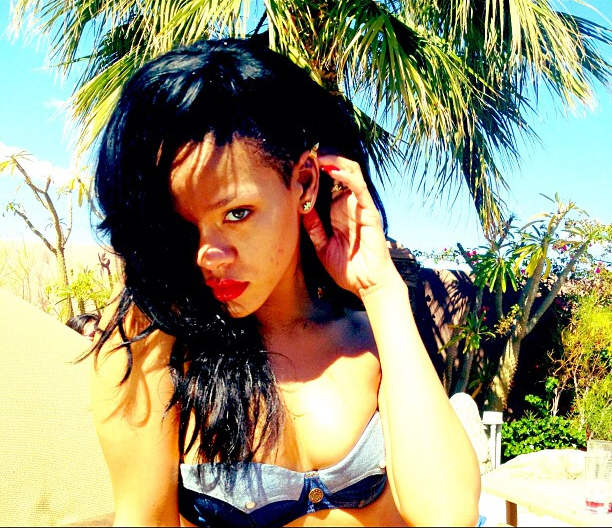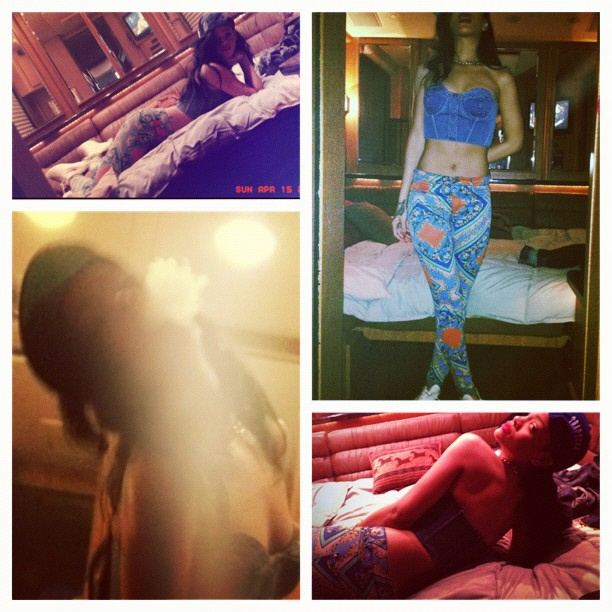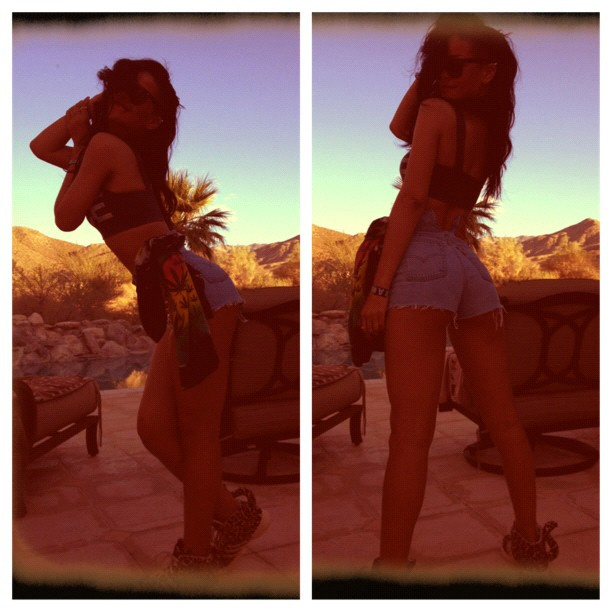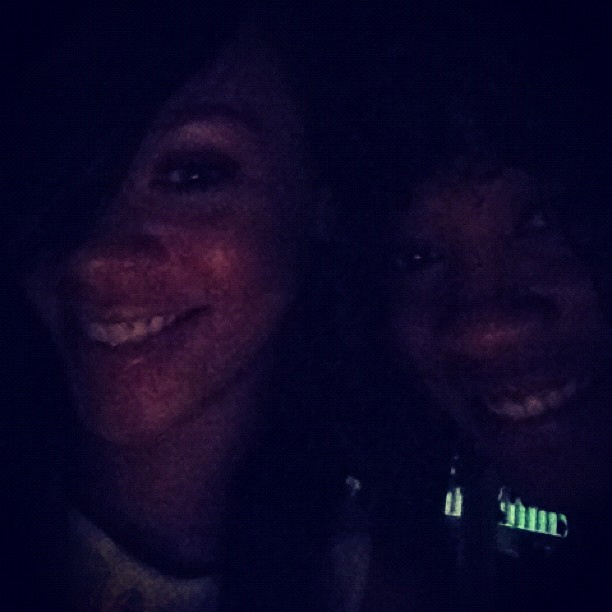 Photos courtesy of Rihanna's Twitter.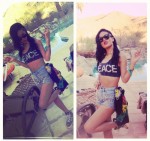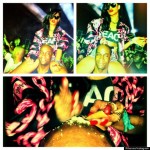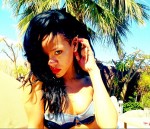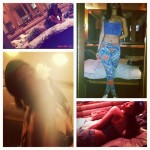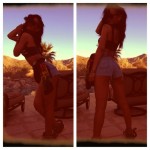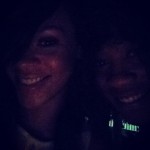 Are Beyonce & Jay-Z already trying to conceive their second child?
Posted: 20 Apr 2012 05:04 AM PDT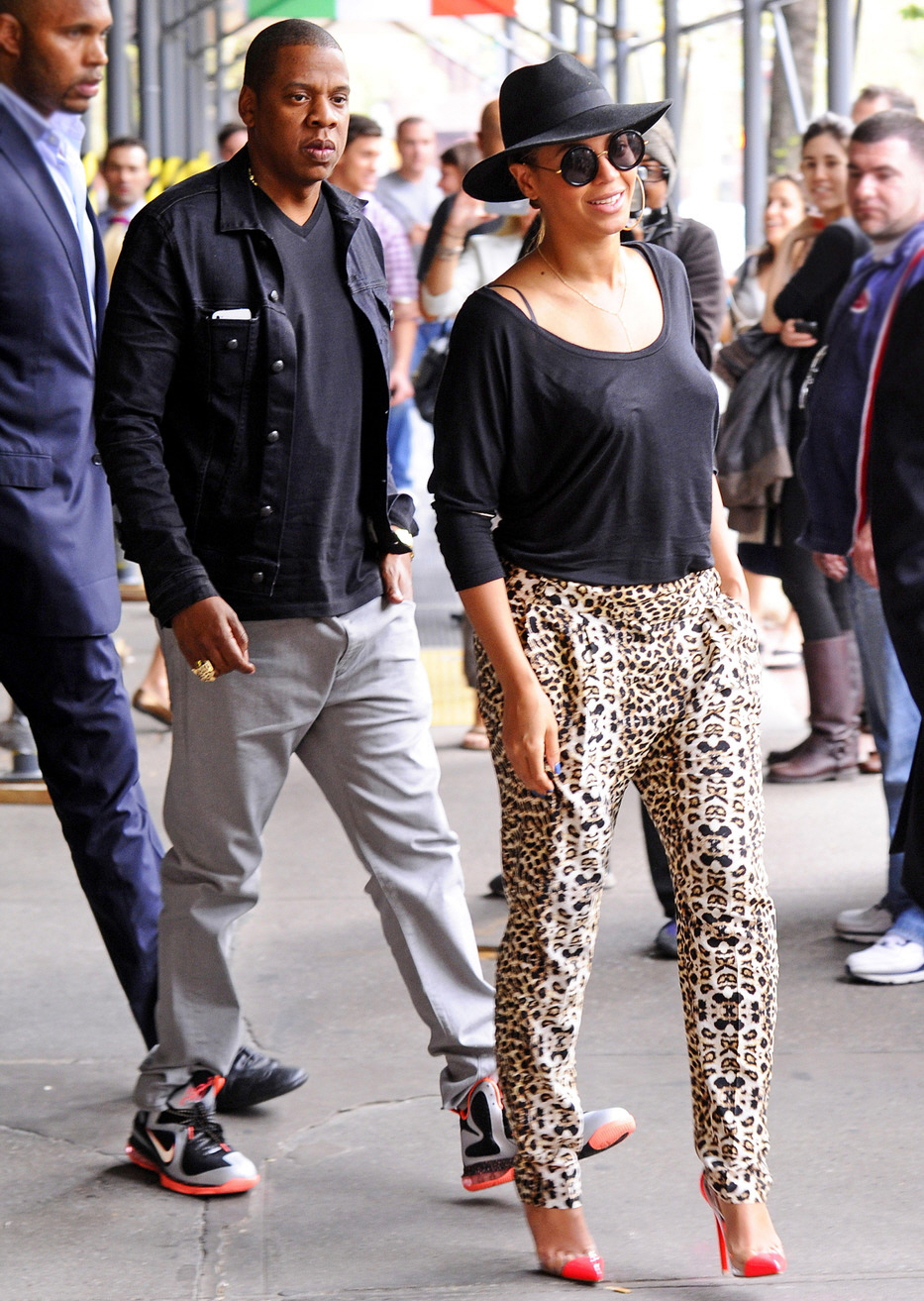 Sometimes I really do wish that I could just write "NO COMMENT (on this whole mess)" and be done with it. Star Magazine has a completely hilarious story about Beyonce and Jay-Z and how they're totally ready to try for a second baby. Because Blue Ivy is only three months old and Bey is really happy with how "easy" her pregnancy was, and how "easy" it was to lose the baby weight. Cough. Cough. Mutter. Cough. Something caught in my throat. Truly.
It's been just three months since Blue Ivy was born, but Beyonce and Jay-Z are already trying for another little one!

"They see no reason to wait," a source tells Star. "Beyonce has said giving birth and dropping the baby weight was far easier than she thought. Everyone in their circle is saying that another baby could be on the way before you know it."

In fact, insiders say that's the reason behind the couple's recent romantic getaway to St. Barts. "It took them awhile to conceive Blue Ivy, so they don't want to waste another second," another source adds.

While the megastars long put music first, Blue Ivy has changed their priorities. "Beyonce and Jay-Z adore being parents, and they're as hands-on as they possibly can be," the source says. "Beyonce has found a passion other than music, and it's being a mom."

And since Beyonce's career is on the back burner right now, "it's in the best interests of both of them to have Beyonce pop out another one before she goes back out on tour," continues the first source. "If she gets pregnant soon, they will be thrilled. She'll just extend her break, and next year she'll have the biggest comeback ever!"
[From Star Magazine, print edition]
So will Beyonce pull a Tori Spelling and get pregnant again two seconds after giving birth? Does Beyonce really have no huge career moves planned? No and no. There have already been legit media reports about Beyonce plotting her "comeback" – it involves a $150 million tour, new albums, filming a movie with Clint Eastwood, and much, much more. Now, I'm not saying that Beyonce can't do all of that with a pillow firmly strapped on while pregnant. She's already proven how much she can do while pregnant. Cough. But I'm just saying that it's probably not going to happen right now.
Some photos of Beyonce and Blue earlier this week in NYC: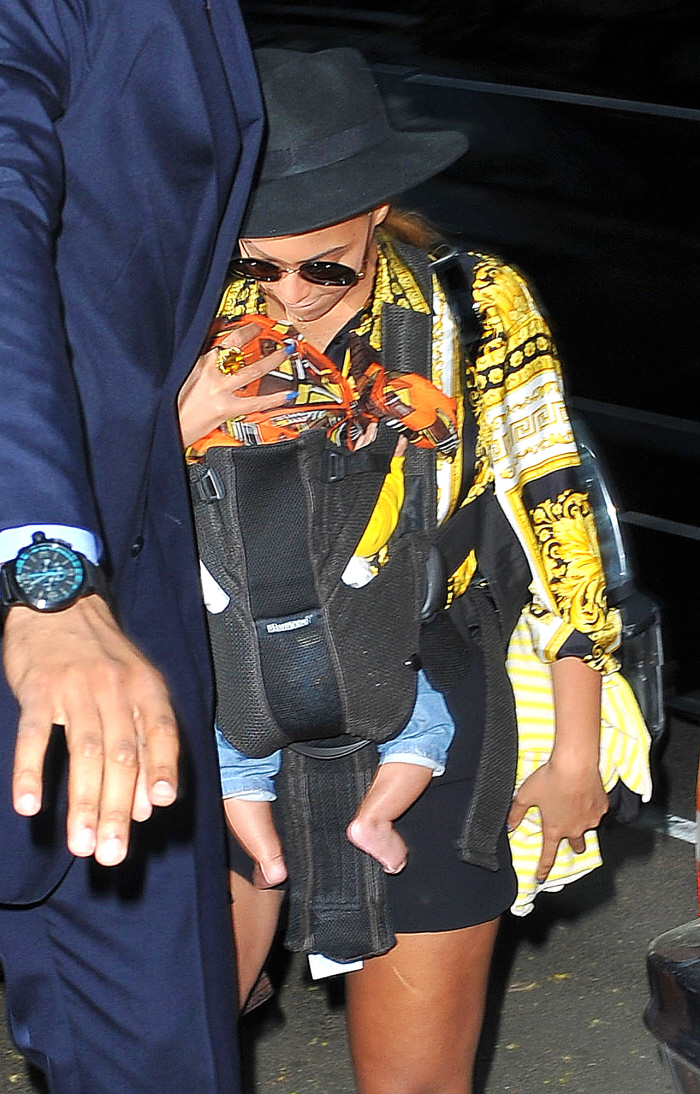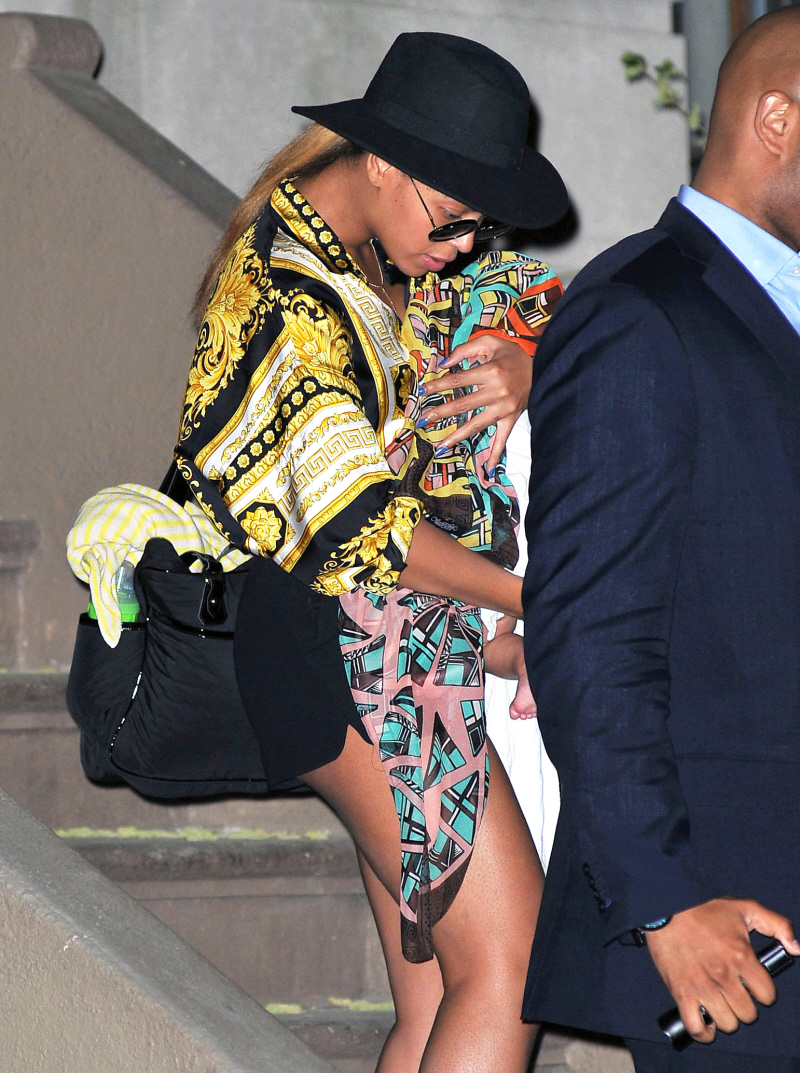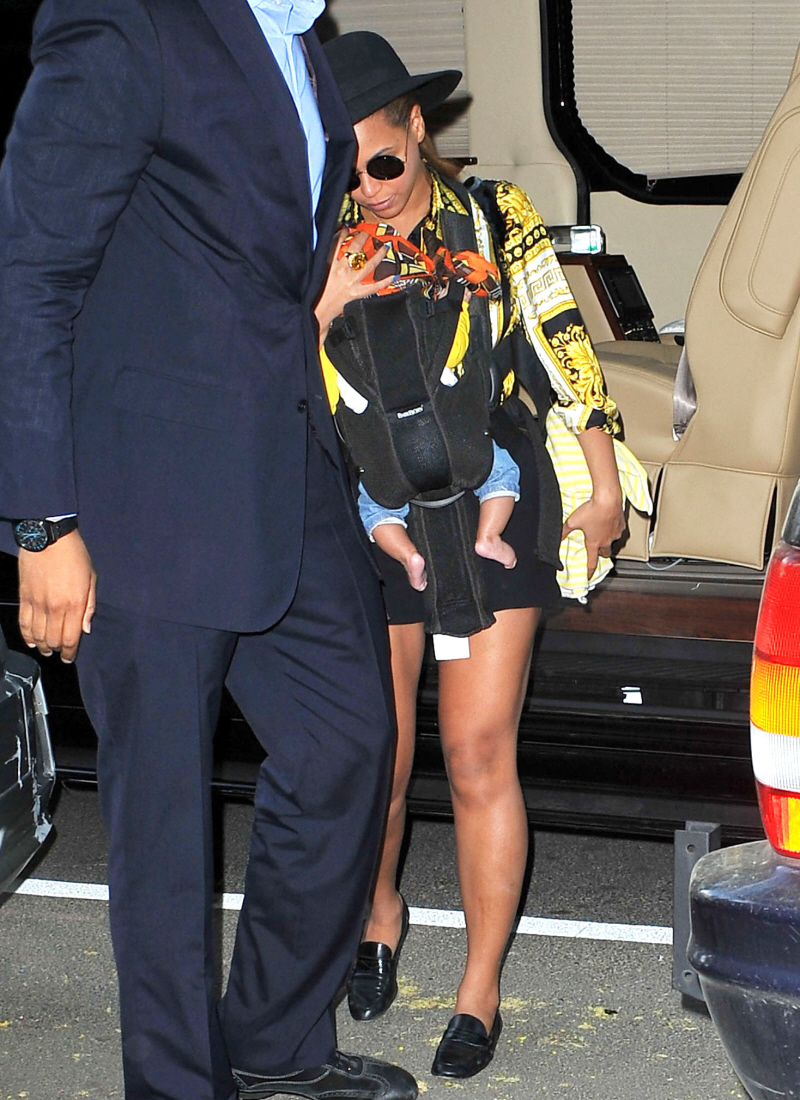 Photos courtesy of PCN, Fame/Flynet.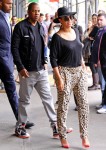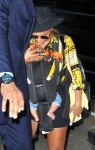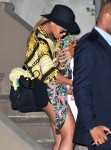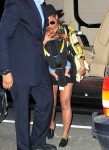 Scarlett Johansson in Prada at the UK 'Avengers' premiere: lovely or too dust-ruffled?
Posted: 20 Apr 2012 04:20 AM PDT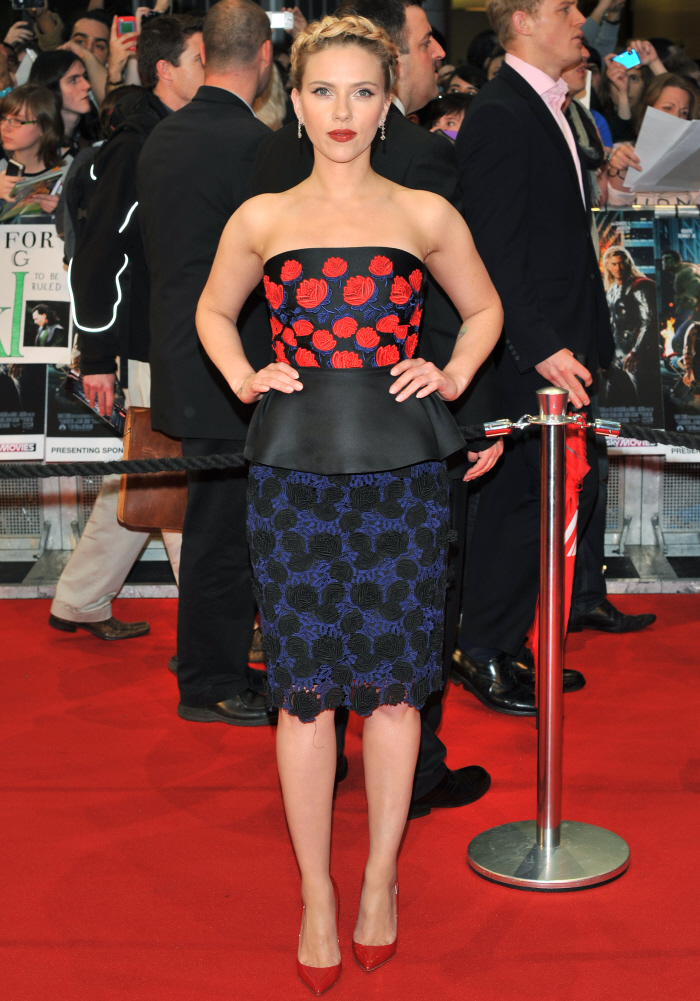 I'm going to be gender biased today and break up last night's Avengers premiere photos into two posts, one for the girls and one for the boys. This is the girls' post. Obviously. Let's start off with The Avengers' Jiggle, Scarlett Johansson. ScarJo wore this polka-dotted Prada for the big London premiere… well, I say "polka dots" but they're not really. I think they're roses? It's some kind of flower print, but from a distance it looks like "dotty". Something nice… er… I don't hate the color combination of black, blue and red. Those colors could have been garish, but they're not. As for the actual design… meh. I would like to see it without the vagina dust ruffle. And with different shoes – something in black or blue (or both). I'm also not a fan of ScarJo's hair for this carpet.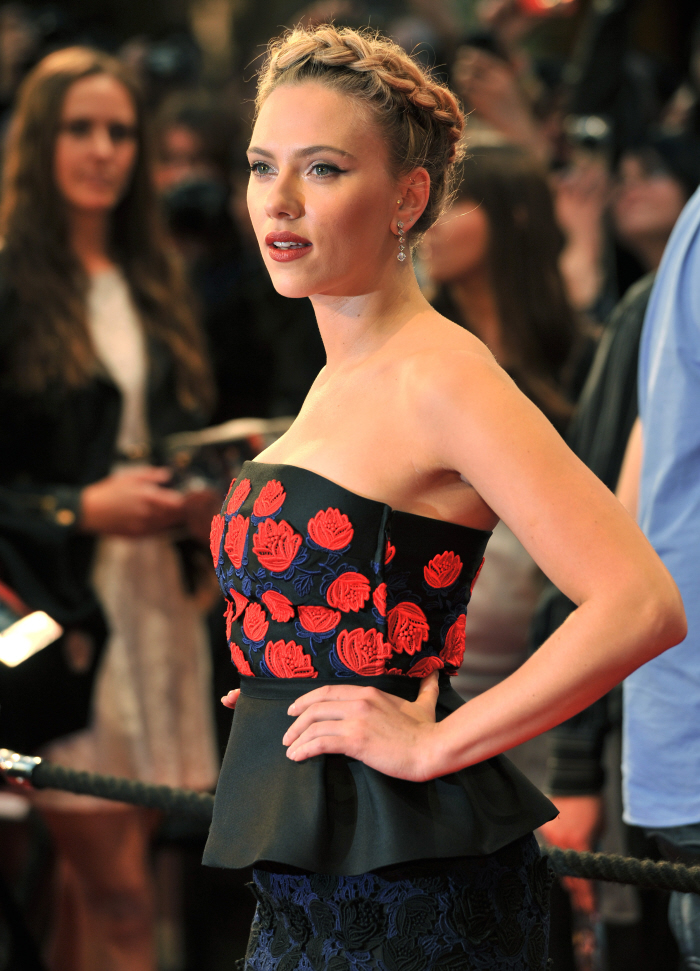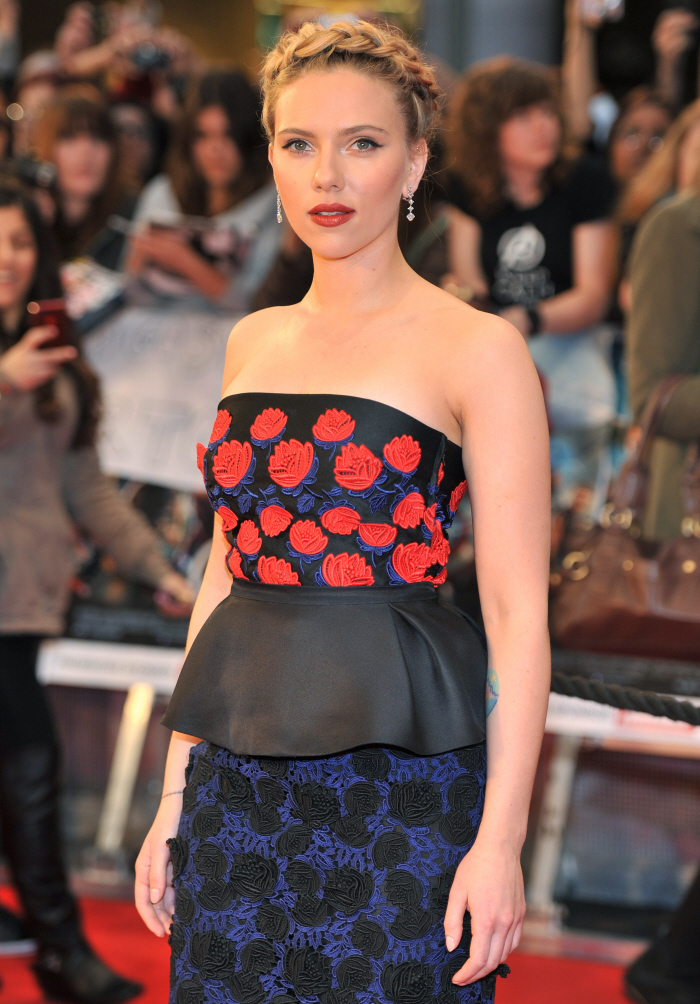 Cobie Smulders has a small part in the film. She's a pretty girl, but I'm not crazy about this red Alexandra Vidal Fall 2012 gown. One, it feels like overkill considering she's not even close to one of the top 10 billed actors, so why is she wearing an Oscar gown? Two, the quilted detail on the shoulders makes her look bulky, and she's not. Bad design.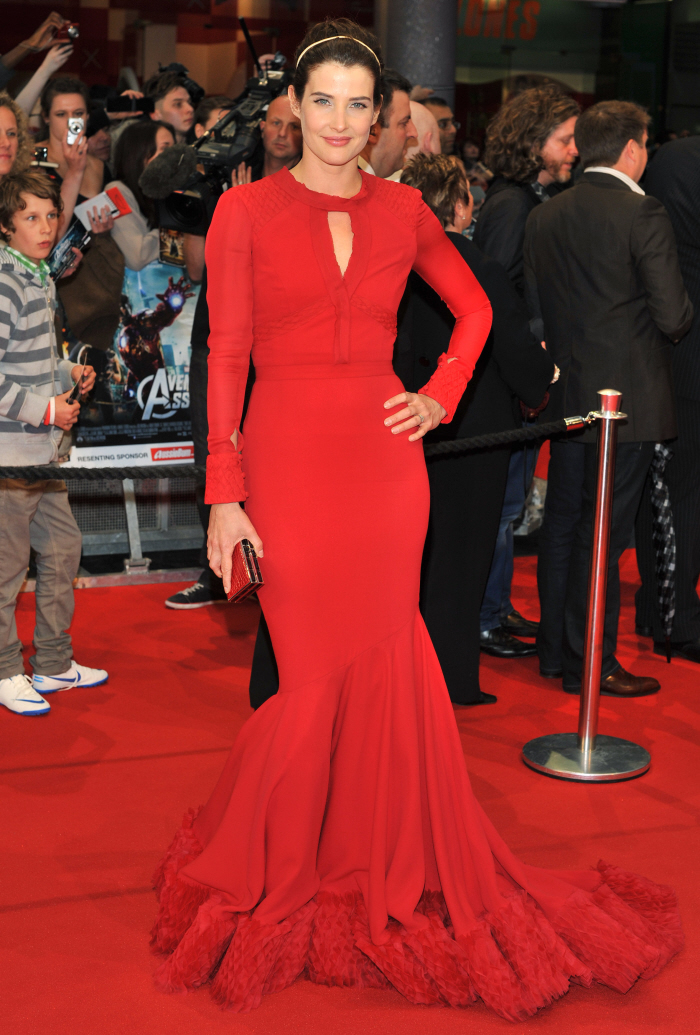 Elsa Pataky is Chris Hemsworth's pregnant wife. I feel like she's been pregnant forever, right? Incidentally, Elsa is totally the girl who dated Adrien Brody, and he bought her a CASTLE, and then she dumped him for Olivier Martinez, and then somebody dumped somebody, and instantly Elsa was with Chris and she was knocked up. It happened really quickly from what I remember. I don't know who did her dress, but it's very pretty.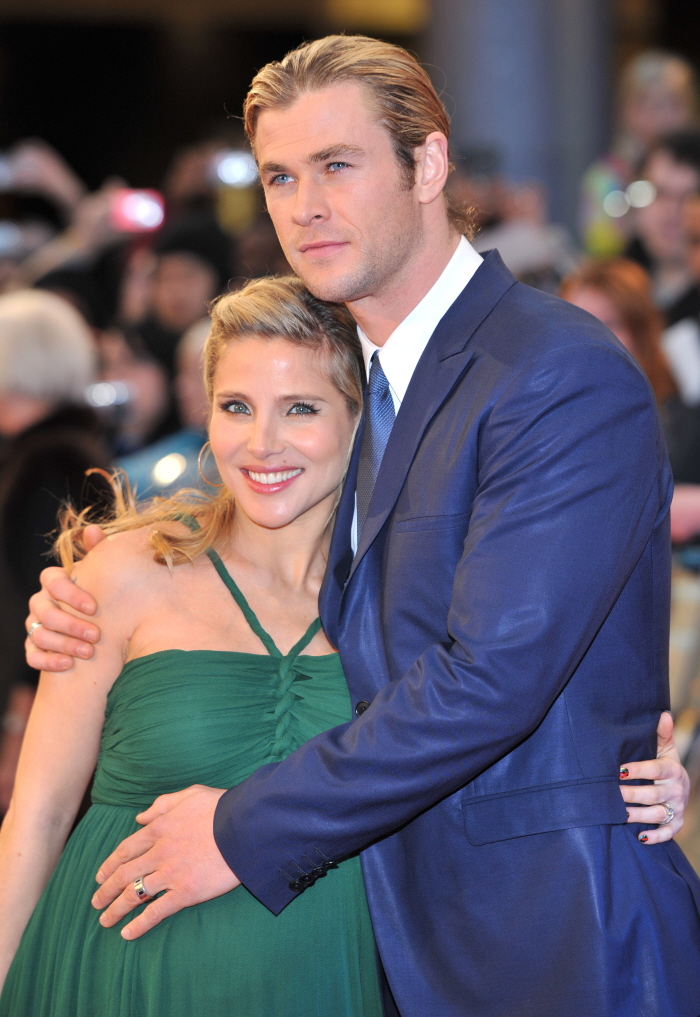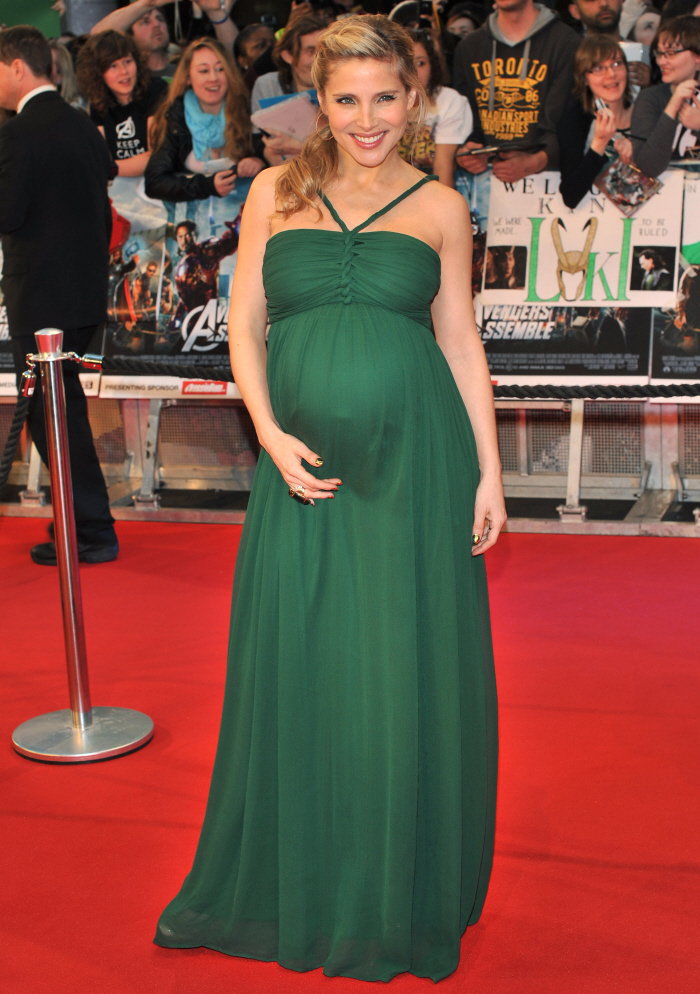 Katy Perry wants to be a movie star now, because she's so pretty
Posted: 20 Apr 2012 04:17 AM PDT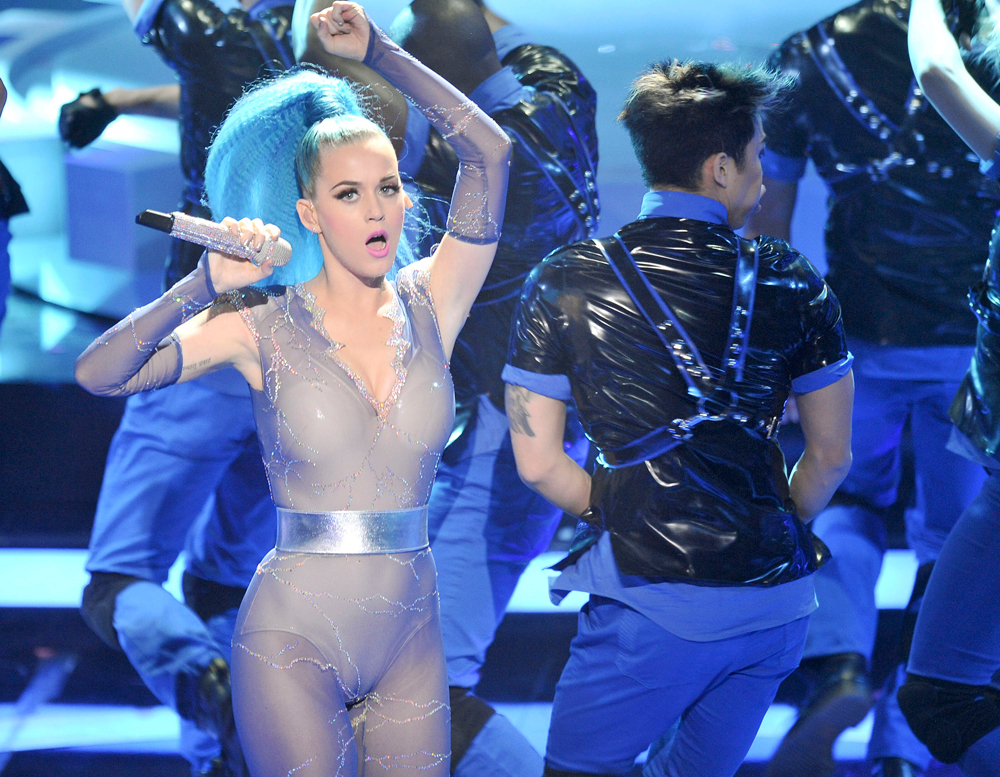 I knew this day was inevitable — Katy Perry has been bitten by the acting bug and decided that she's got the talent and wherewithal to be an actress, possibly even a "serious" actress. Never mind that the acting skills demonstrated in Katy's "Part of Me" video (the one where she joins the Marines) was laughably lousy; but in her defense, no one ever expects Oscar-caliber stuff in a music video, right? Well apparently, Katy is taking herself seriously on that note, and her ego has also been bolstered by a cameo in Get Him to the Greek (in which she made out with not-yet-husband Russell Brand) and a role as the voice of slutty Smurfette in last summer's The Smurfs.
I guess since Katy is now participating within her own 3-D concert movie, perhaps some producers are getting the bright idea that it's not that big of a stretch to toss her into a romantic comedy and see if an audience shows up to put their butts in seats. Indeed, Katy was even almost hired for a role in The Help, and she was "upset" that the role didn't work out due to scheduling conflicts. Can you imagine? Well Katy can definitely imagine, and according to this week's Enquirer, she's now begging Kristen Wiig to write her a perfect script and help her get started as a true Hollywood ingenue: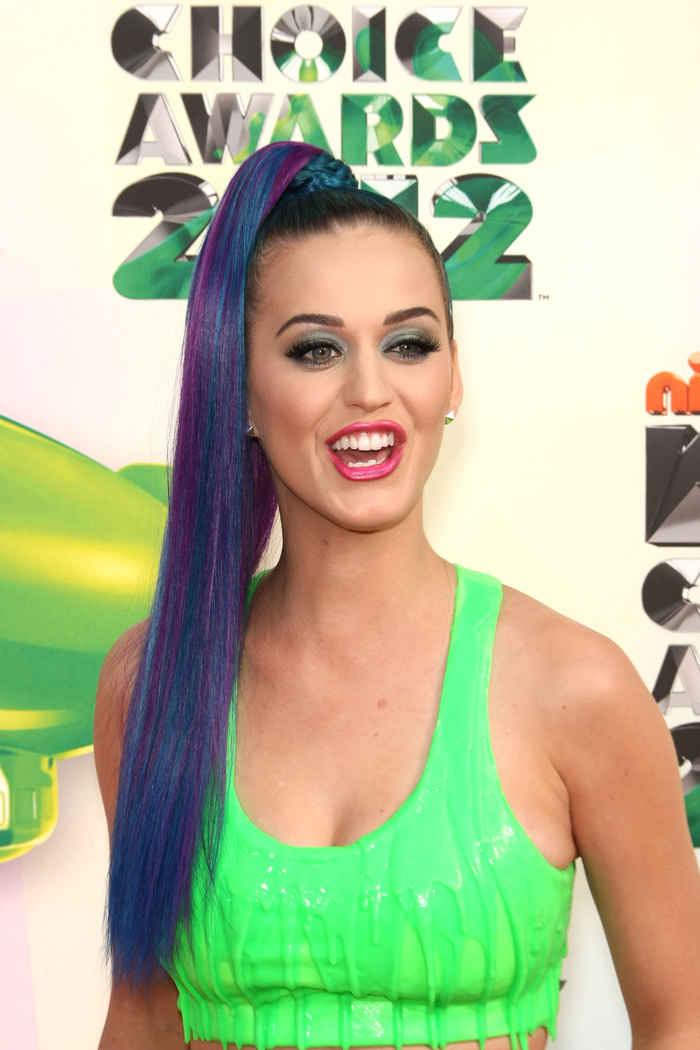 Quirky singing sensation Katy Perry is planning to hit a new high note in her career…as a movie star.

The songbird known for her wild fashion style and revolving hair colors has already branched out by being a spokesperson for Proactiv skin care products, and she now wants to add "leading lady" to her resume.

"Even people who don't know Katy's music know her form her Proactiv ad campaign," said a close source. "With her photogenic face, producers are confident she'll be able to make the jump from the recording studio to the big screen."

To accomplish her new goal, Katy has enlisted the help of "Saturday Night Live" star Kristen Wiig.

She's betting that Kristen, who's also won raves for her acting and scripting of the movie hit, Bridesmaids, can help katy reinvent herself in the wake of her split from comic actor Russell Brand, say insiers.

The "Part of Me" singer and the "SNL" funnylady have been fast friends since Katy hosted the late-night comedy show in December.

"Katy is plotting a huge image and career makeover," revealed the source. "Coming off a painful divorce from Russell, she wants to start fresh. She feels like she's reached her full potential as a musician. She is looking for new challenges and is begging Kristen to write a comedy for her."

The 27-year-old pop idol has already had some minor screen roles. But with Kristen's help, she's hoping to make movie magic, and if a role calls for showing a lot of skin, Katy's all for it.

"Although Katy is a real-life preacher's daughter, she's not shy," said the source. "She's never had a problem showing off her ample assets."
[From Enquirer, print edition, April 30, 2012]
This will probably happen in some shape or form even if Kristen says, "Sorry, no dice." All that movie producers really care about are dollar signs, and acting ability matters very much in the grand scheme of starting out in Hollywood. However, once people realize that Katy is merely a "pretty face" (and a very made-up one at that, she'll be a goner after one or two movies. In other words, Katy probably shouldn't give up her mindless music anytime soon. Yes, she is very pretty though.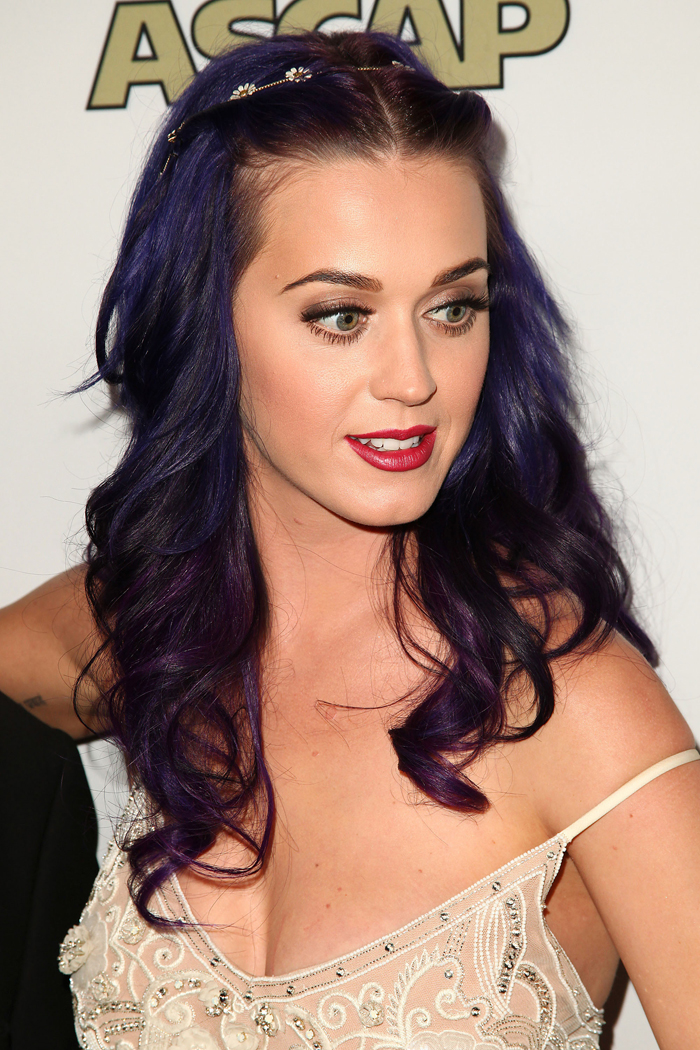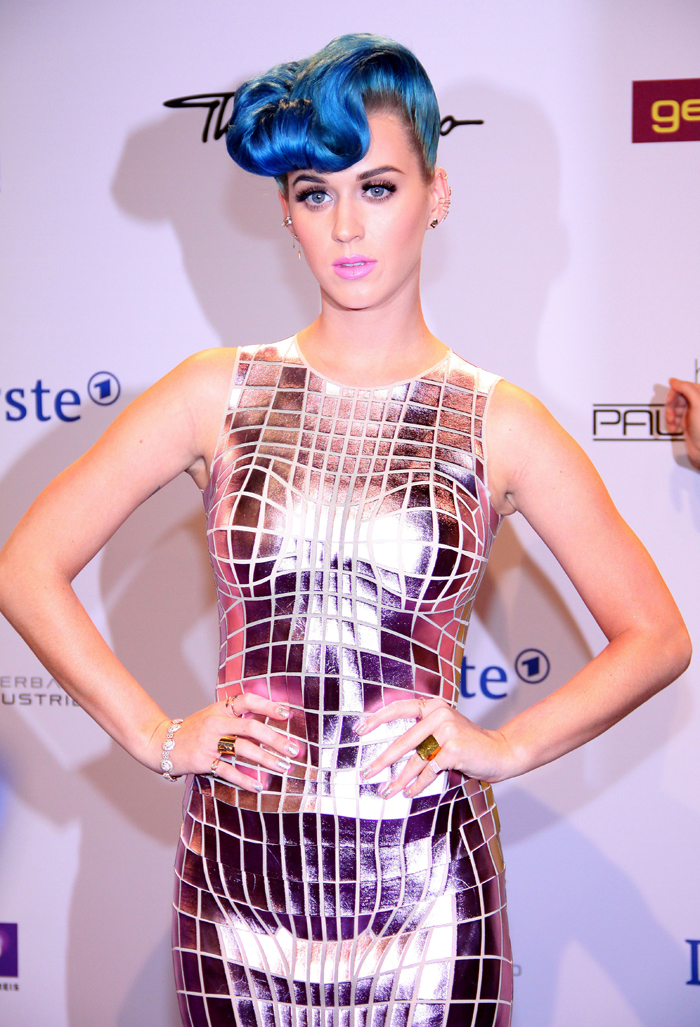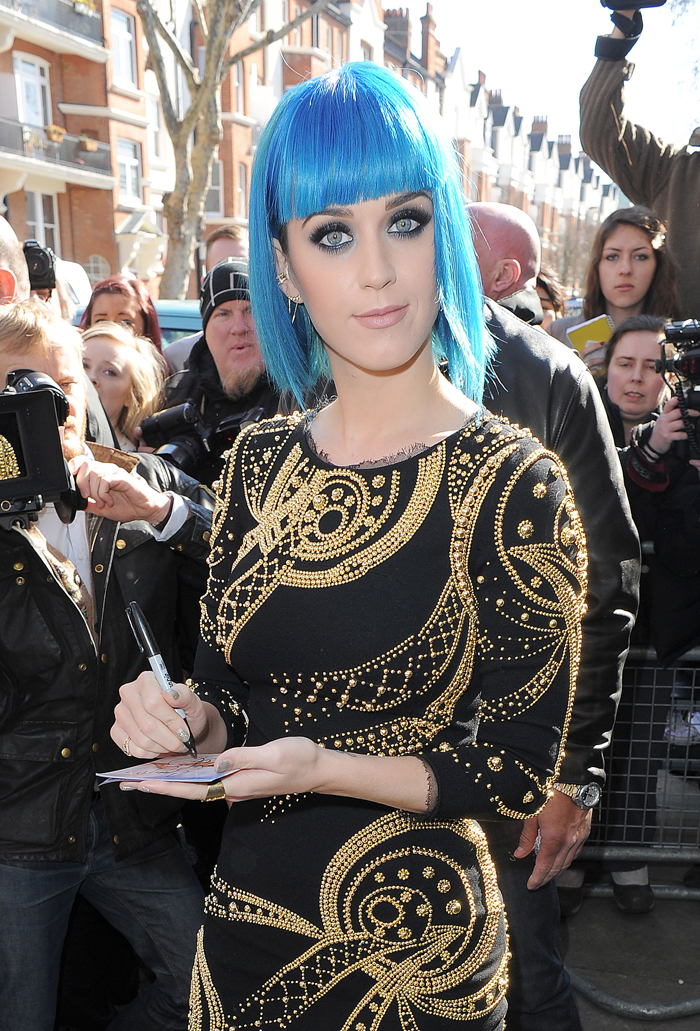 Photos courtesy of WENN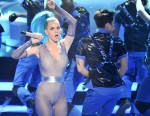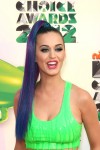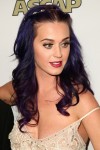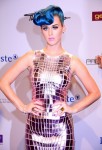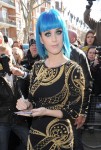 You are subscribed to email updates from Cele|bitchy
To stop receiving these emails, you may unsubscribe now.
Email delivery powered by Google
Google Inc., 20 West Kinzie, Chicago IL USA 60610
You have read this article with the title Cele|bitchy. You can bookmark this page URL http://thisgirlreprobate.blogspot.com/2012/04/celebitchy_20.html. Thanks!