---
Rihanna's EMOTIONAL Reaction To Fan's TRIBUTE To Her Grandmother + Journalist Liz Jones RESPONDS TO FEMINIST ATTACKS And Rihanna's Pop Back
Posted: 01 Jul 2013 07:30 AM PDT
During a recent concert stop, Rihanna had an emotional reaction to a fan's tribute to her deceased grandmother. See what happened inside and see how Liz Jones, the UK journalist who bashed Rihanna, responded to the nasty tongue lashing that RiRi dished out on Instagram....
Over the weekend, Rihanna (who won the 2013 BET Award for Best Female R&B Pop Artist) had a very emotional reaction to a fan-made poster dedicated to the memory of her grandmother. Right before Riri performed in Zurich, she had posted several photos on her Instagram account in tribute to her deceased grandmother, Clara "Dolly" Braithwaite. And one special fan offered the bad girl for some emotional support from the crowd by making a sign with Dolly's face. And it brought her to tears mid-performance. On Instagram, Rihanna said,
"Today marks one year since you crossed the bridge! Still you never left...I can still remember your laugh, and I miss it, I miss the sound of your voice, your beautiful hands, the way you danced and got so happy when you heard music, I miss doing your makeup and taking your pictures, I miss the way you looked right at me, and I miss looking back at you, that proud look on your face!"

"Never did I think it could be this soon, but I'm happy you're in Heaven, laughing and dancing with the Angels! Dolly you are my precious Angel, I love you beyond what words can describe! I just miss you Gran Gran! #Dolly #FirstAnniversary"
In other Rihanna news......
A few days ago, we told you about Rihanna lashing out at Liz Jones, a British reporter, who called her a "poisonous pop princess". Now, Liz Jones has responded back. Though what Liz said does not amount to an apology, she does admit that neither she nor Rihanna are good role models for young women.
In her rebuttal, Liz seemed to take issue with Rihanna using a bad pic of her, saying,
"...what really annoyed me was the response of female journalists....published a photograph of me looking my worst, I think when I had dressed up as a homeless person, or perhaps it was from the shoot I had done made up as an 83-year-old."
Also, Liz went on to explain (in her own way) that neither she nor Rihanna are good role models for young women because of the choices they've made in their own lives.
"A British newspaper published a piece headed, 'So, who is the better role model: Rihanna or Jones?' Do I really need to point out that the definition of being a role model is that others want to be like you? While I can see why lots of girls want to emulate Rihanna, I can assure you no one wants to be me: old, as we've heard, broke, overworked, depressed, lonely, barren, deaf, friendless, pension less, in possession of cellulite and a post-menopausal beard…

I'm not a role model but a scarecrow, warning women that if they do succumb to the temptation of a new Mulberry bag or a facelift it will not make them happy or loved. I wanted to warn of the dangers of looking up to a star like Rihanna, who seems to hold their safety and well-being in disdain, because my life has been ruined by aspiring to be like a supermodel. I starved because models starved. Girls will drink because Rihanna drinks."

Thoughts?
Photos via GracieJenkinns Twitter/dailymailuk
VERSACE FACE OFF: Nicki Minaj VS. Amber Rose
Posted: 01 Jul 2013 06:36 AM PDT
Amber Rose slipped her post baby bod into a flirty Versace dress for last night's 2013 BET Awards. But Nicki Minaj rocked it first a few months ago on "American Idol." Decide if it was Nicki or Amber who rocked it best....
Last night's winner of BET/Colagte's "Best Face" Award, Amber Rose, rocked this summery yellow & black perforated Versace "Memphis" dress to walk the red carpet with her fiance' Wiz Khalifa. She added a strappy black heel, kept her hands clutch-free, and added a pop of pink lipstick to accent her face.
But it was Nicki Minaj who first rocked the cute $1620 dress. Back in March, the rapstress posted a Twitter snap of herself heading into "Idol" to perform her judging duties. And she also rocked--from what we can see--black shoes with an ankle strap. She also rocked a pop of pink lipstick and only carried her phone And she kept her long blonde wig with black roots bone straight for the occasion.
So...
WHO ROCKED IT BEST?!
Photos: Pacific Coast News/Nicki Minaj's Twitter
The 2013 BET AWARDS RED CARPET! MASSIVE ROUND-UP!
Posted: 01 Jul 2013 04:00 AM PDT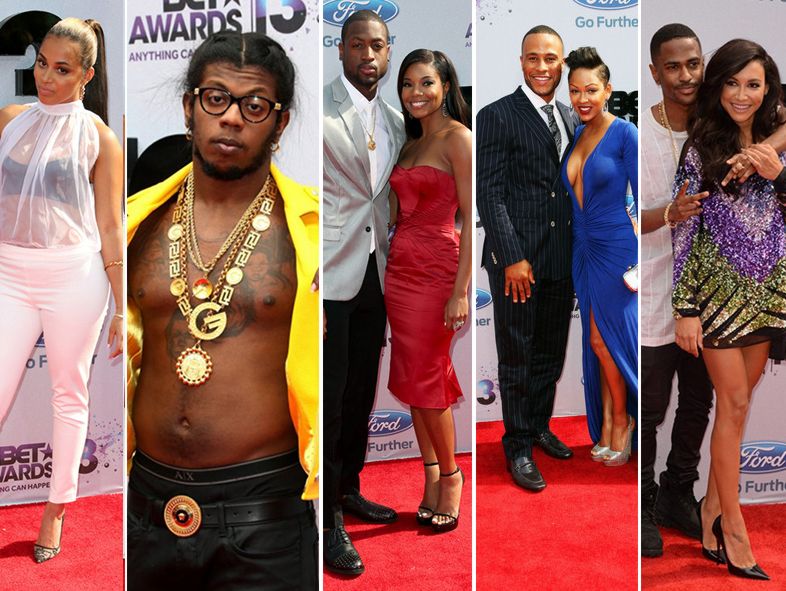 The 2013 BET Awards have come and gone. But we've got all the red carpet fabulousness to dive into tonight. Check out our massive red carpet fashion round up inside of YBF rocking their fave designers at the Nokia Theater.....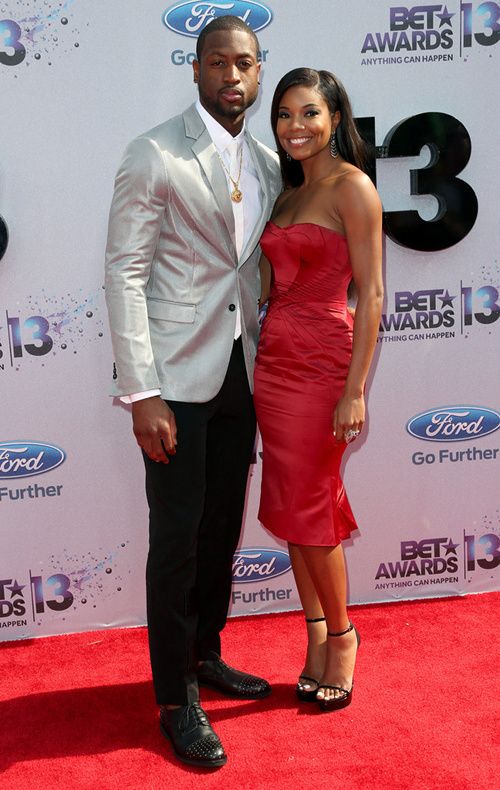 Let's kick this off with one of the best looking couples of the night. Before he accepted his Humanitarian Award for his work with his Wade's World Foundation, Dwyane Wade escorted his "Beautiful Black Queen" (as he called her during his acceptance speech) Gabrielle Union down the red carpet.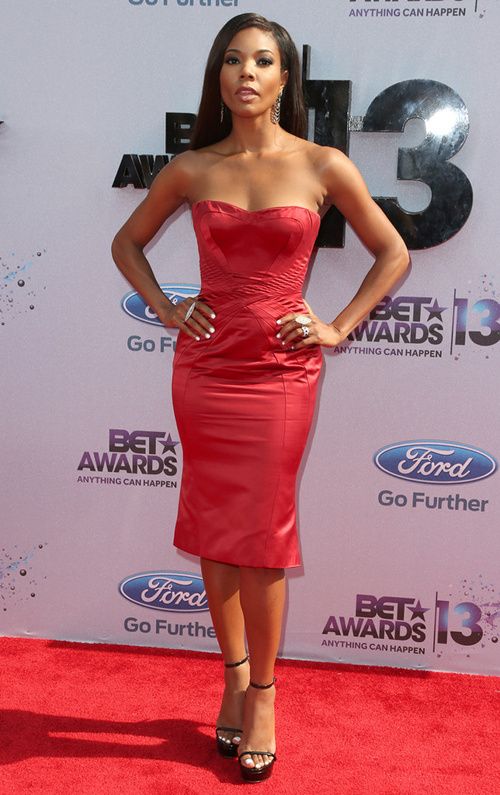 The Think Like A Man Too & "Being Mary Jane" star looked fab in her curve hugging Zac Posen strapless red dress, Ruthie Davis Eastgate sandals and great makeup and hair. The cast for Think Like A Man also walked away with an award by the end of the night.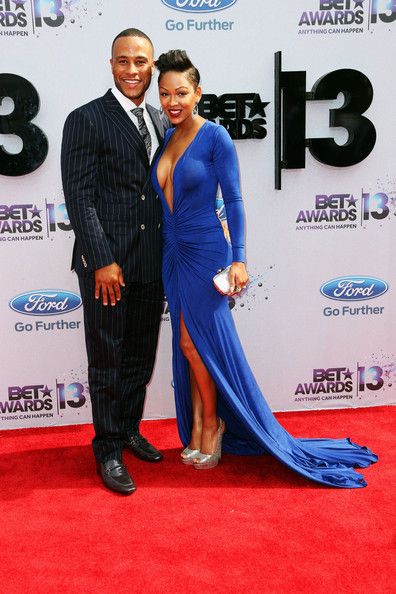 Meagan Good said TO HELL with covering up with the usher board's prayer cloth during the gospel segment. Because chick presented a gospel award rocking this extra deep plunging royal blue gown.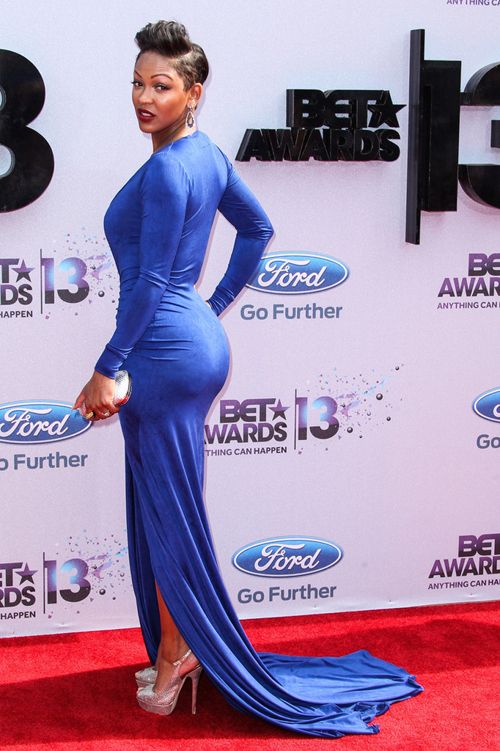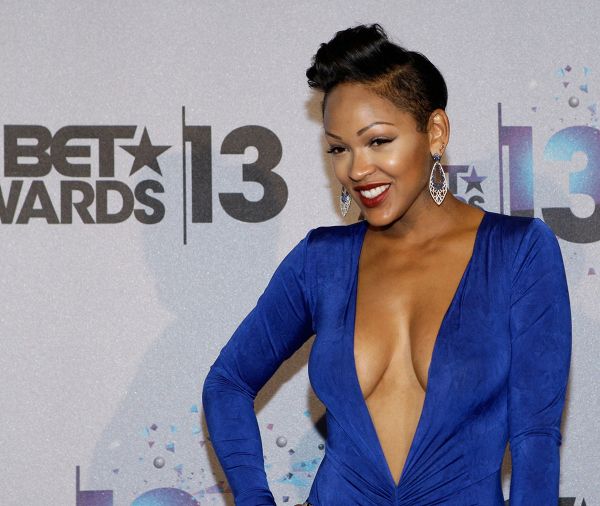 We know her hubby DeVon Franklin liked it, but sheesh. She looks stunning as always though.
She also hit the carpet with the show's host, Chris Tucker.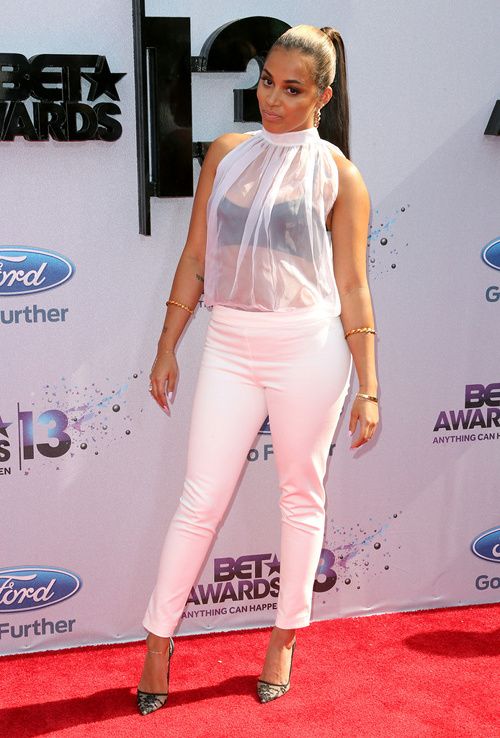 Speaking of stunning, Lauren London came out on the carpet and turned every head nearby. Pretty all around.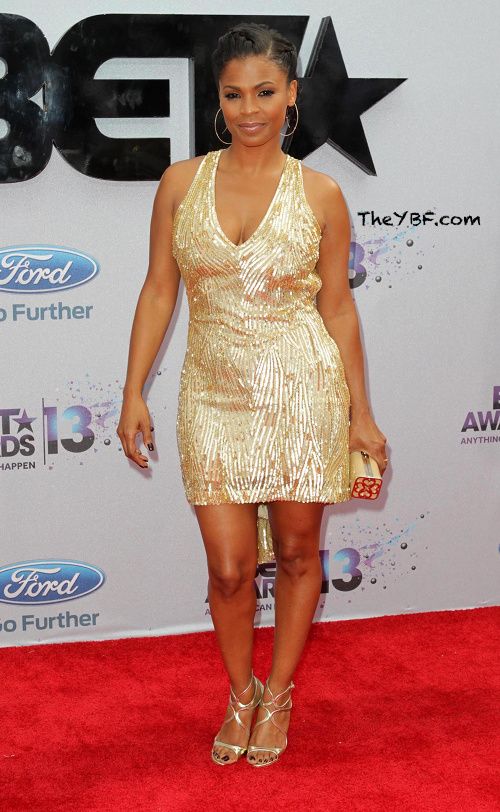 Yes Nia Long in all gold everything. She rocked a Naeem Khan sparkling dress, Jimmy Choo "Lance" shoes, and an LK Bennett clutch. Making 40-something look extra fly.
Chris Brown quickly hit the carpet with his artist Sevyn Streeter. Sevyn kept it sexy in an all white--the IT color on the carpet Sunday night--midriff baring look and the ever popular pink Gucci Victorie sandals.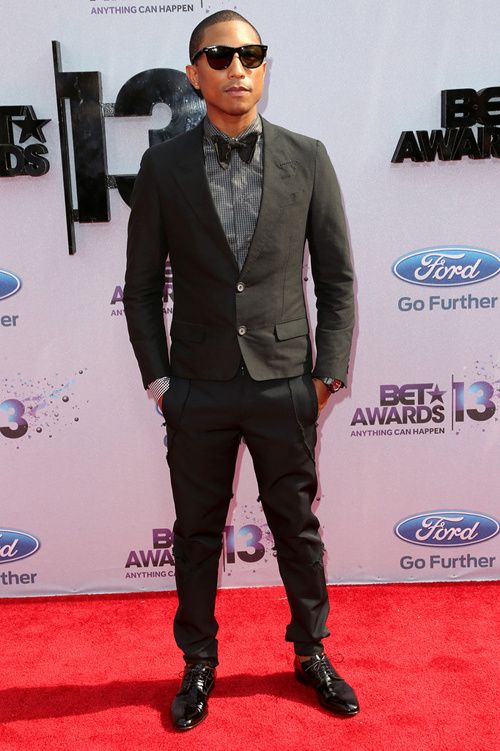 Pharrell kept it dapper in his Lanvin suit before rocking the stage a few times.
Ashanti rocked a sexy little white dress by Aiisha and nude Givenchy sandals, one similar to Brandy's look for the night.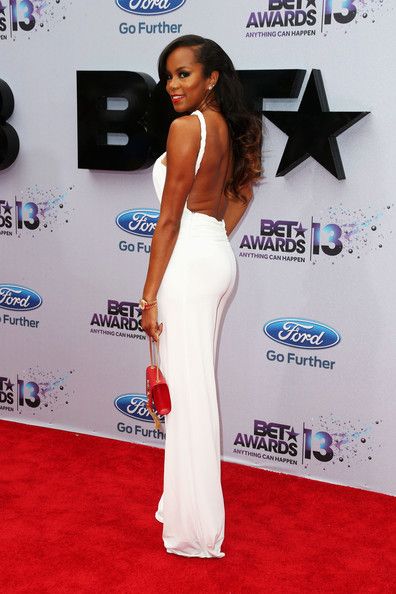 Cutie LeToya Luckett rocked her all-white jumper and mini red YSL purse. Gorgeous as always.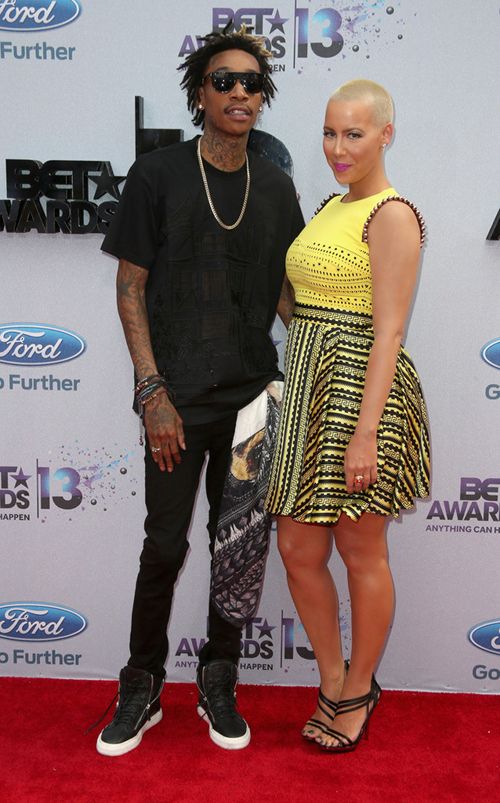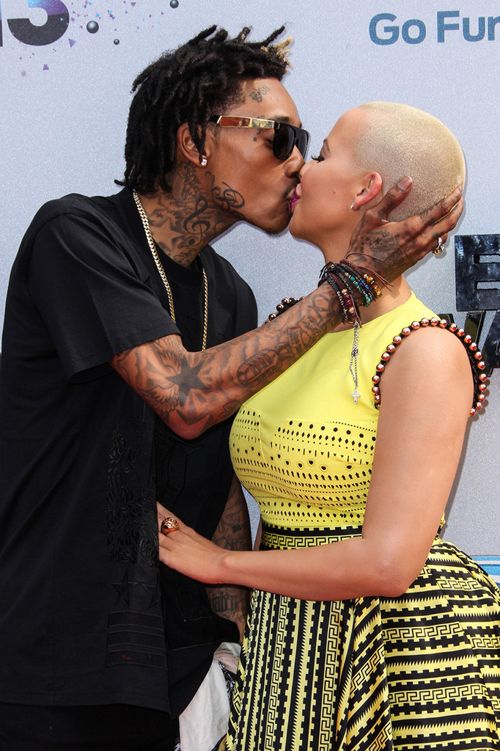 Amber Rose, who rocked Versace, and her fiance Wiz Khalifa hit the red carpet for a parents' night out. And got all kissy-faced for the cameras too. Y'all know everybody was yelling (in their heads) 'Get a room!'...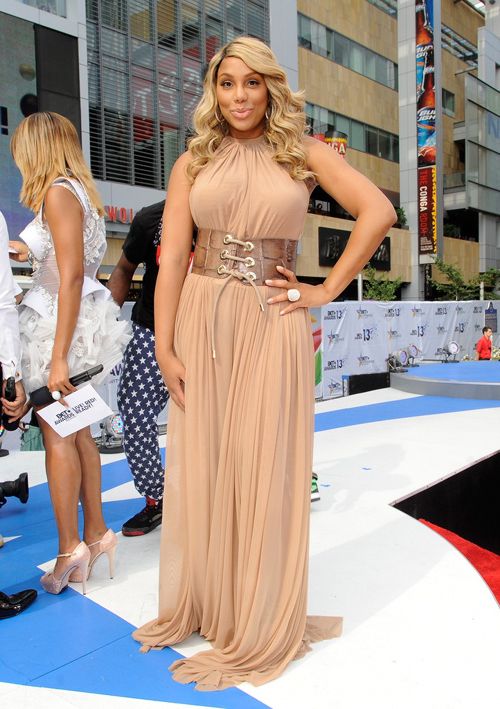 Tamar Braxton is looking all kinds of post-baby fabulous. She took a break from newborn Logan to hit the Awards Sunday night. And she even walked away with the Centric Award. Nice!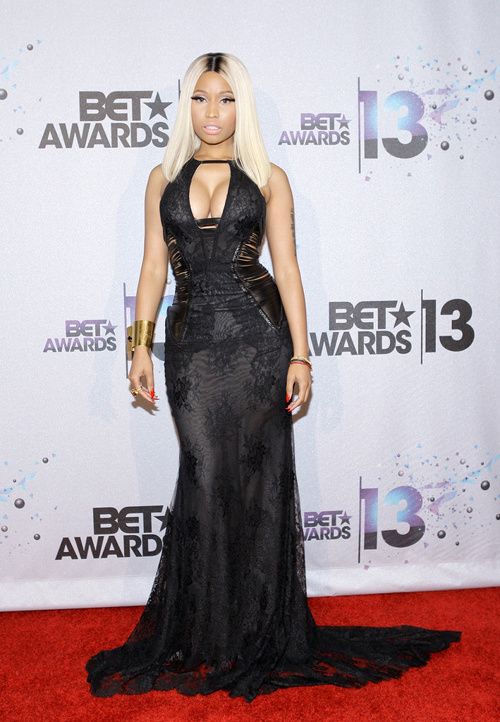 Nicki Minaj gave body in her silky black Roberto Cavalli gown with a dramatic lace overlay and major boobage shown through the cut-out. She completed her look with John Hardy jewelry.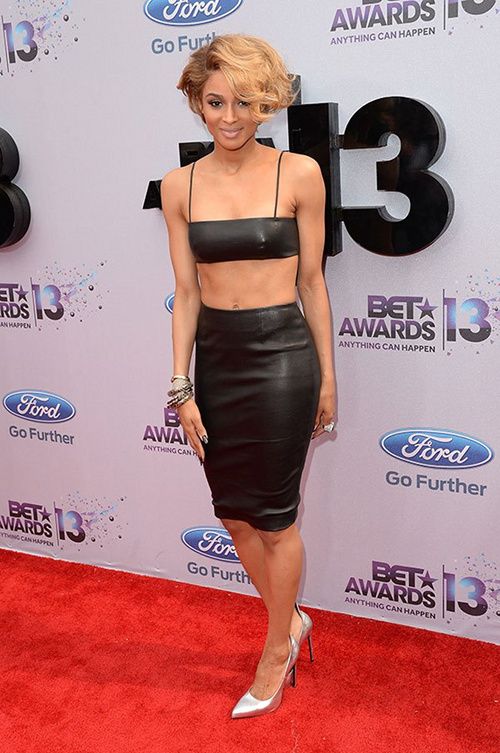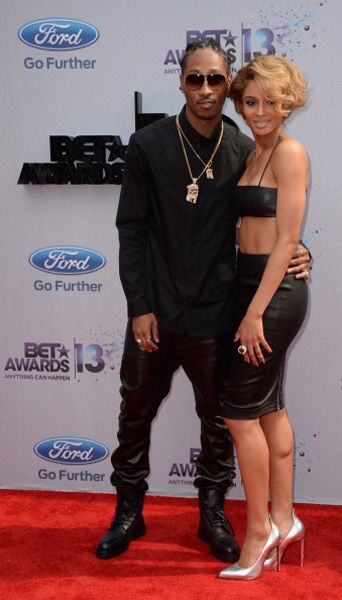 Before hitting the stage to perform, Ciara walked the red carpet in Lorraine Schwartz jewels, her silver Saint Laurent pumps, and a Saint Laurent combo of a leather pencil skirt and barely-there leather cop top as she posed it up with her man Future. Hot. Simply because she has the body to pull this off.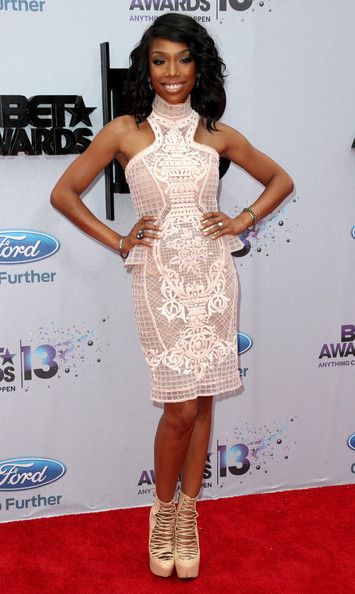 Brandy rocked a slightly sheer cream dress by Michael Cinco for her red carpet stint and her BET after party hosting gig.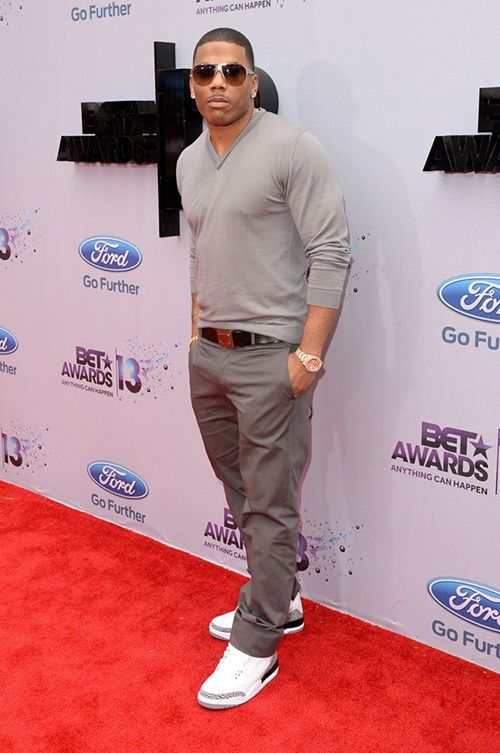 Nelly was there for the "Real Husbands of Hollywood" TURN UP TIME. That damn Kevin Hart....
Mya popped out the D.C. woodwork to make her way to L.A. in her all white look. No clue where this chick has been, but she's still looking gorge. Would say she should have hopped on stage with Beenie Man during his Girls Dem Sugar sing during that extra random (yet extra turnt) reggae break...but nevermind.
Think Like A Man Too star Regina Hall kept it classy and fabulous in her all black look by Misguided with a peek-a-boo sheer accent. And she topped it off with sexy & revealing Jimmy Choo "Taste" shoes.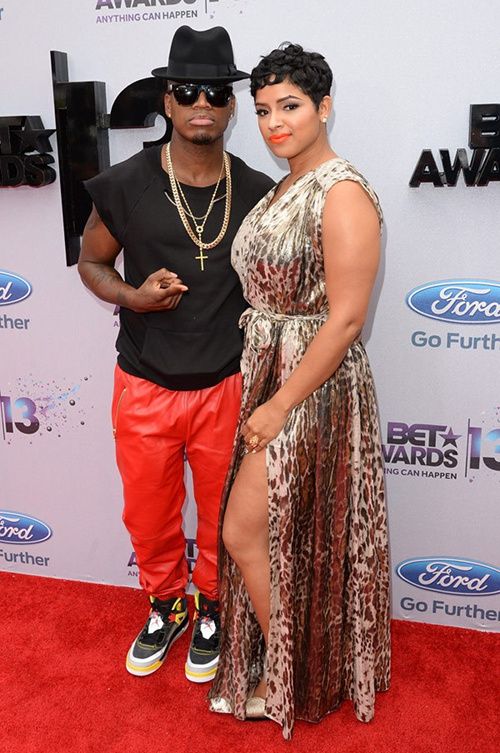 The newly single Ne-Yo helped his artist Ravaughn twirl her way onto the carpet in a Diego Dolcini dress and Barbara shoes. She chatted up the press about her upcoming new song with Wale "Better Be Good" (that Ne-Yo wrote) and her brand new single "Best Friend".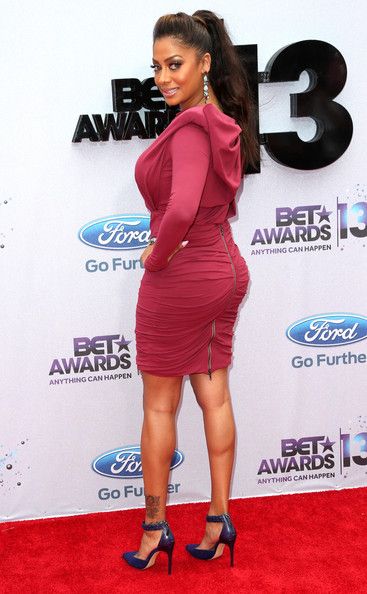 LaLa showed off those ASSets on the carpet in a ruched soft pink dress by Lanvin and blue heels. Chick must be on her squats game.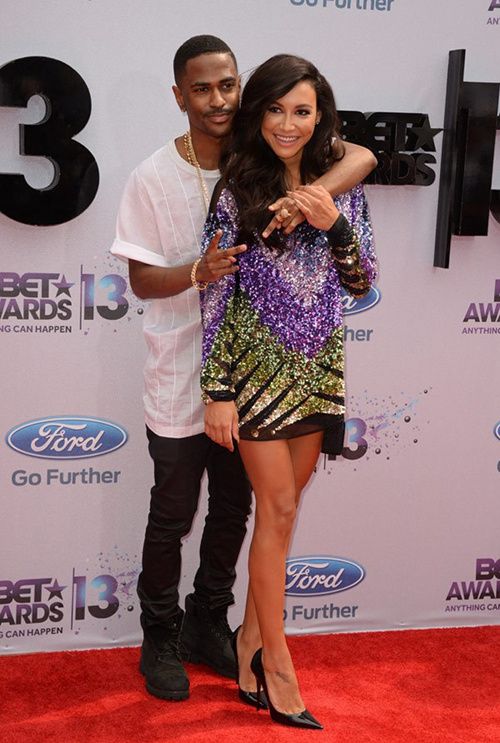 Big Sean was there and brought his girlfriend Naya Rivera, rocking colorful Emilio Pucci, along.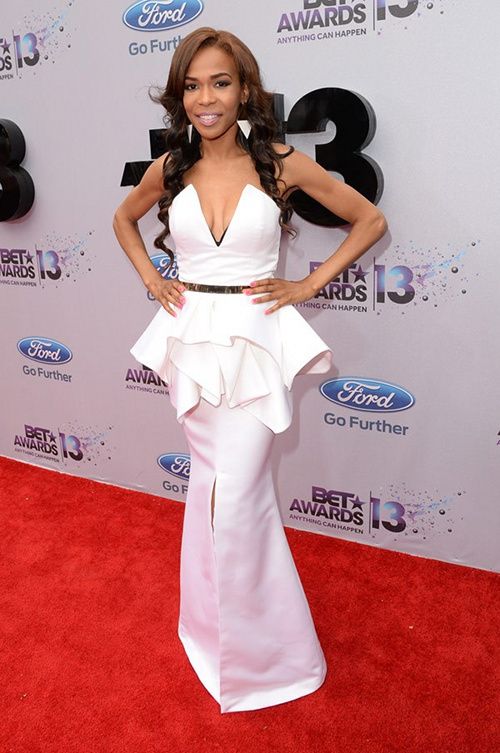 Michelle Williams helped co-host a red carpet show. Pretty look for her (her gown is by Nicci Hou), but she still looks like she's playing dress up in mommy's closet.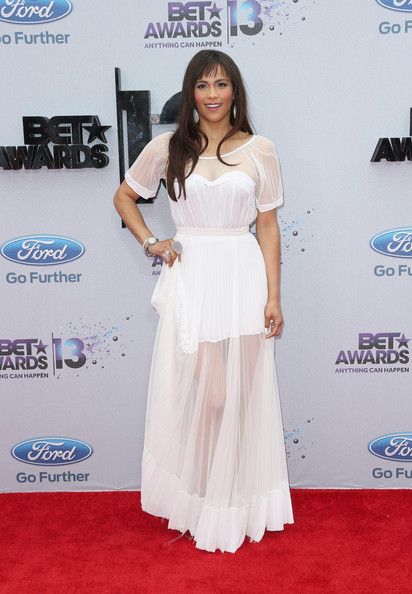 Paula Patton put down the liquor bottle and/or other ish long enough to hit this carpet in a Max Azria Atelier white gown with Louboutin pumps. Chick was on cloud nine and feeling EXTRA happy while presenting and doing interviews. She and her hubby like some blurred lines alright....
JB Smoove of "RHOH" hit the carpet with his wife Shahidah Omar.
Bridget Kelly was a showstopper in this chartreuse Maria Lucia Hohan gown.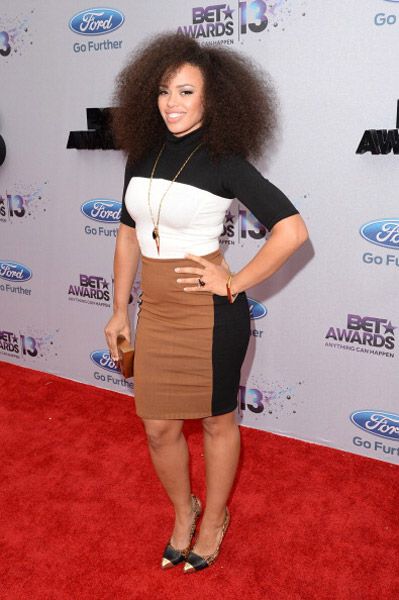 Elle Varner...is that a denim-like skirt? Alrighty...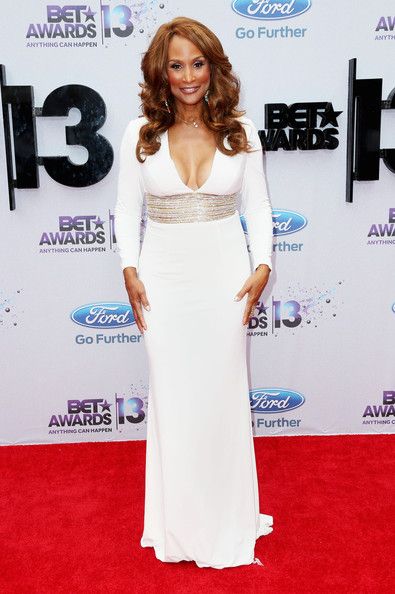 Chile...Beverly Johnson is not letting her Bad Chick title die anytime soon. She is snatched from face to knuckle. Work.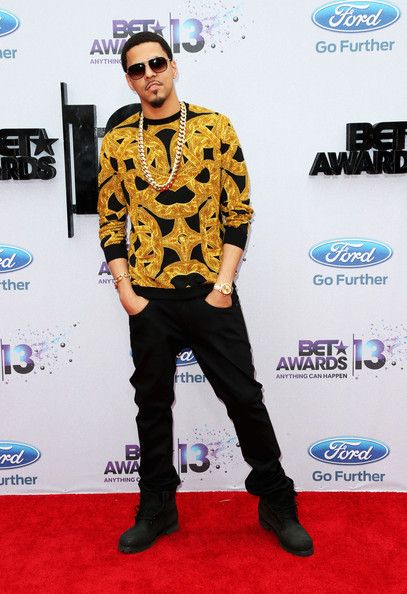 J.Cole was on hand to perform a few tracks off his hit album Born Sinner. And he rocked the ever popular Versace sweater.
DJ Drama knows all about that sweater.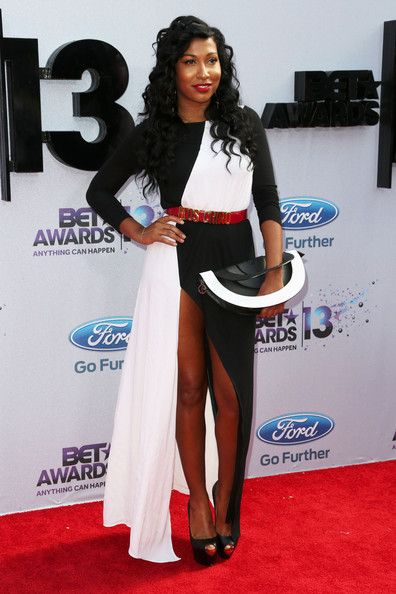 Melanie Fiona rocked one of our fave looks of hers ever. A black and white Moschino dress with MUCH leg and the matching rin Dana purse all on display with platform Louboutin pumps. Loves it.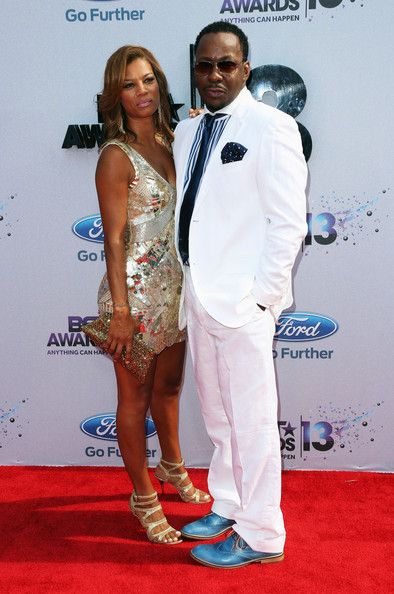 Bobby Brown hit the stage with his new "RHOH" co-stars after hitting the red carpet with his wife.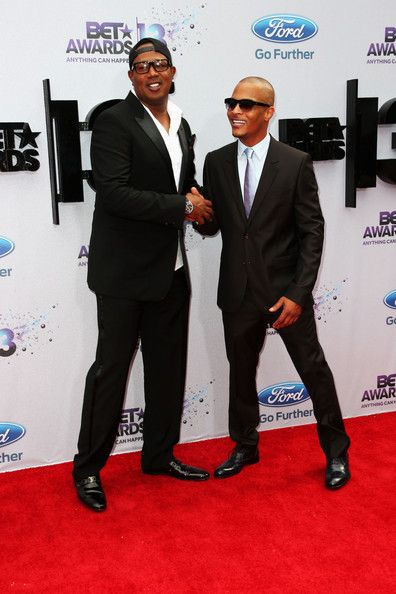 Master P and T.I. chopped it up on the carpet.
Janelle Monae rocked a classy stark white look with a fab embellishment for her turtle neck. Gorgeous as always.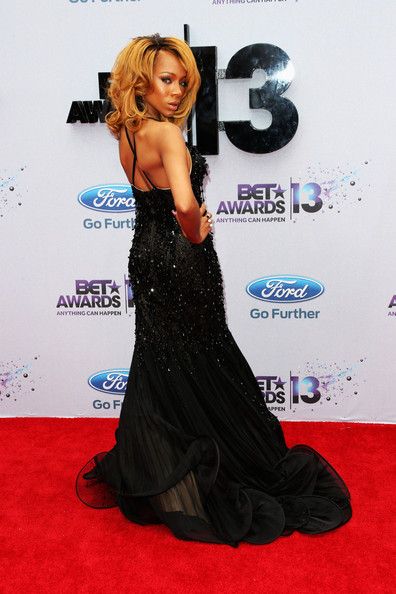 Lil Mama has done a complete 180. This look is perfection on her. Maybe it's the blonde hair, or maybe it's the adult version of clothes she's actually wearing these days. But either way, please keep it up.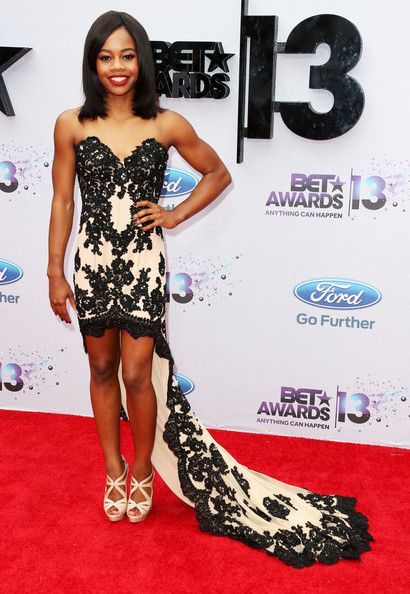 Gabrielle Douglas went home with two BET Awards while rocking this Sheri Hill dress with a major train. Not loving it on her, but it's pretty nonetheless.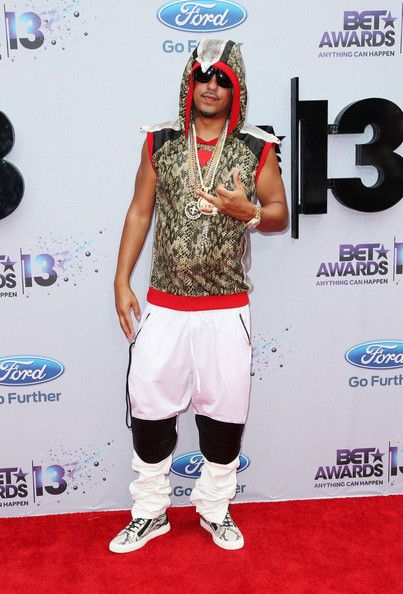 French Montana looked like he was headed to wrestling practice.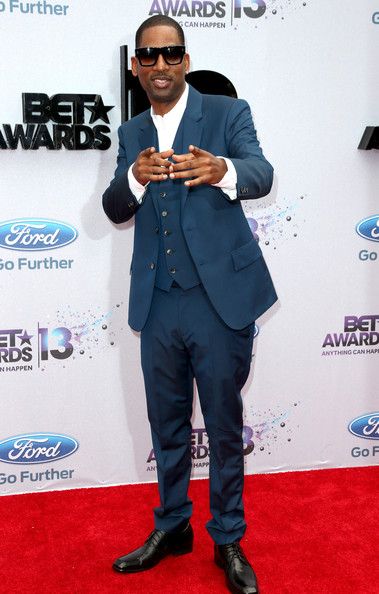 We love men in suits. Boris Kodjoe rocked his own line of custom suits, World of Alfa. And red carpet host Tony Rock looked dapper as well.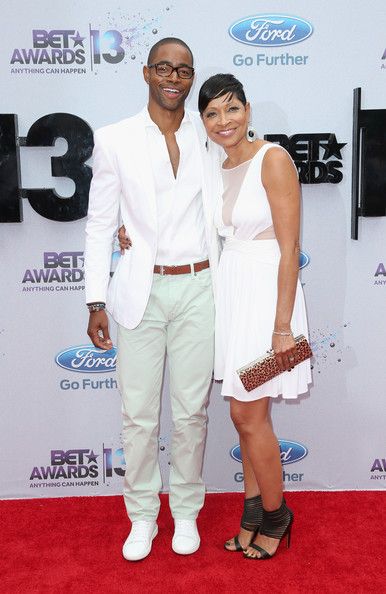 "The Game" star Jay Ellis brought his mom along for a fab night on the carpet.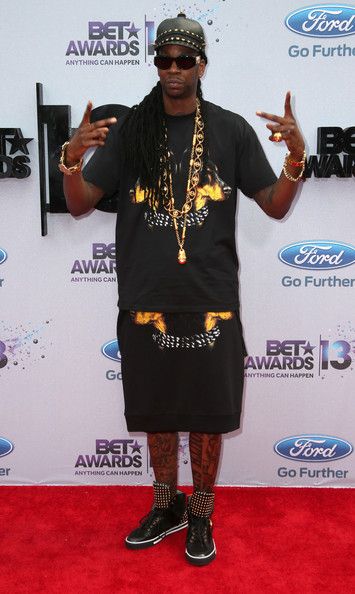 Nope, 2 Chainz wasn't wearing a sweatshirt skirt. It was a sweatshirt tied around his shorts. Yep...we had to check on that one.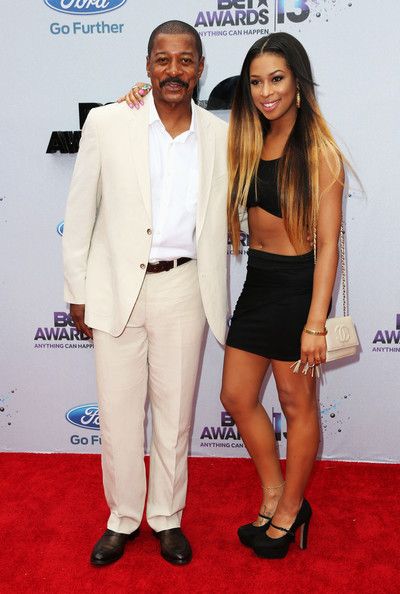 Robert Townsend brought his daughter Skye on the carpet.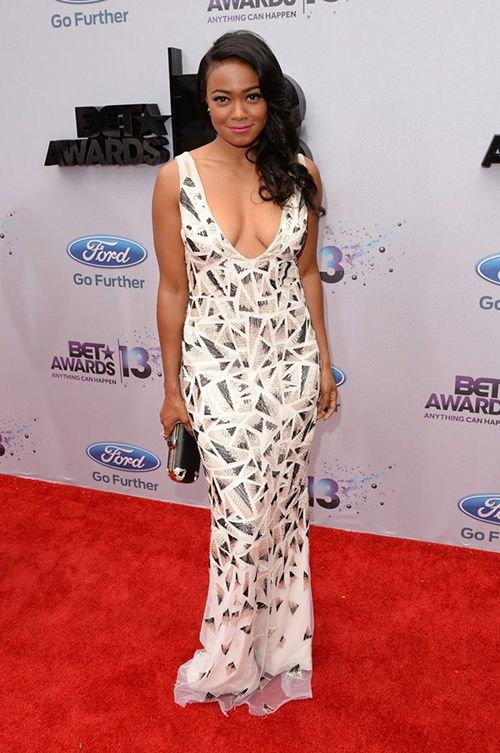 Tatyana Ali kept it effortlessly sexy in this Lorena Sarbu dress and a stylish clutch by Lancaster.
Angela Simmons held down the BET red carpet pre-show with Bow Wow (how AWKWARD was it when Ciara came on for an interview and Bow Wow looked like he had been set up??) in this futuristic sexy look.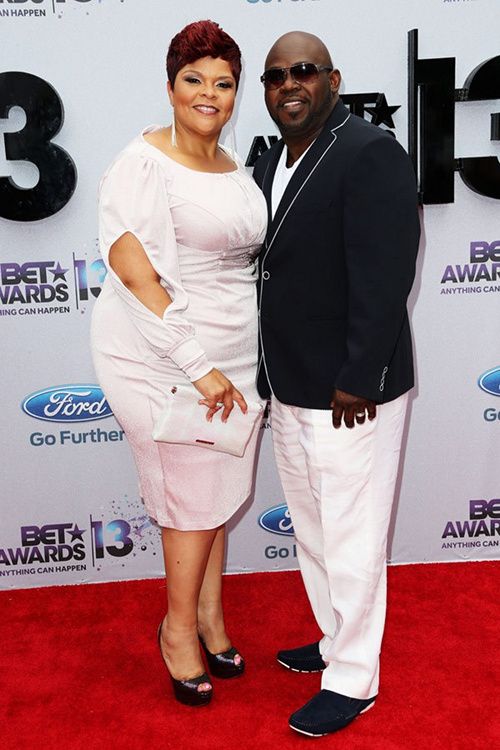 Tamela and David Mann hit the carpet before Tamela performed "Take Me To the King."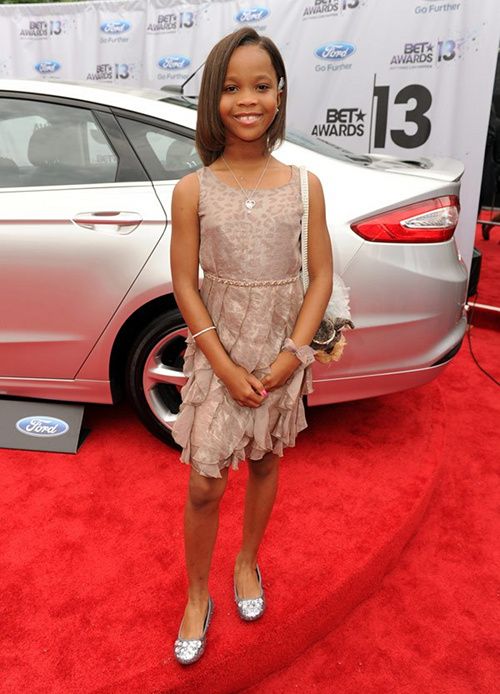 Little Quvenzhane Wallis brought her staple puppy bag on the carpet.
WNBA living legend and model Lisa Leslie worked this black leather dress.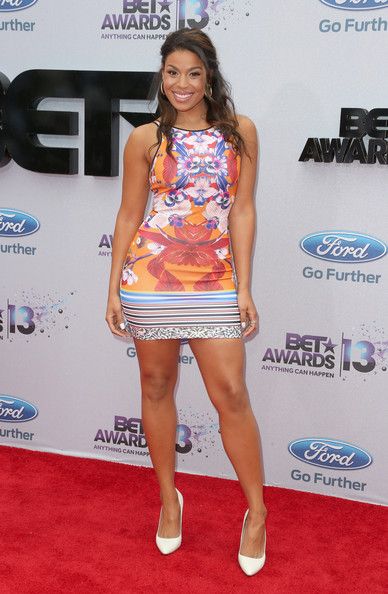 Jordin Sparks showed off her killer gams as usual in this brightly printed Clover Canyon body con dress.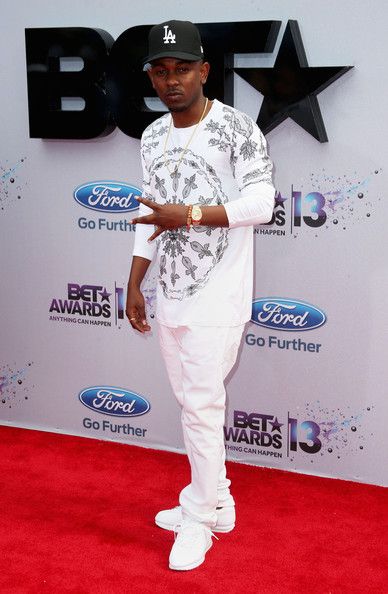 Kendrick Lamar took over the night winning Awards and performing a killer set.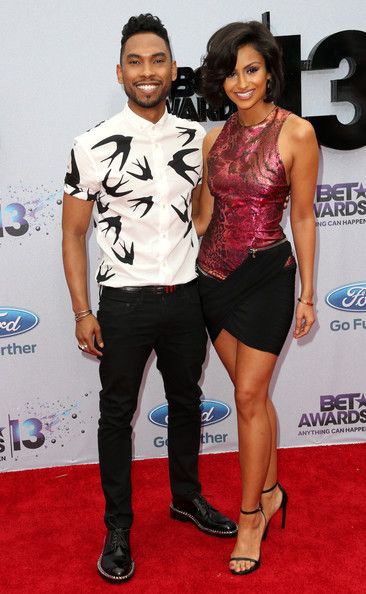 Miguel rocked the stage with his hit songs after walking the red carpet with girlfriend Nazanin.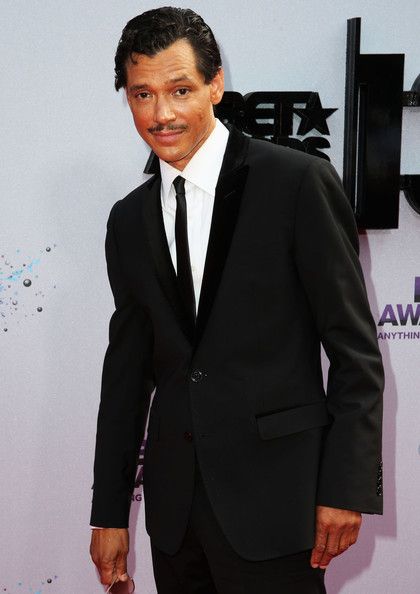 El Debarge....seemed like a work in progress. But he was on hand to introduce and present.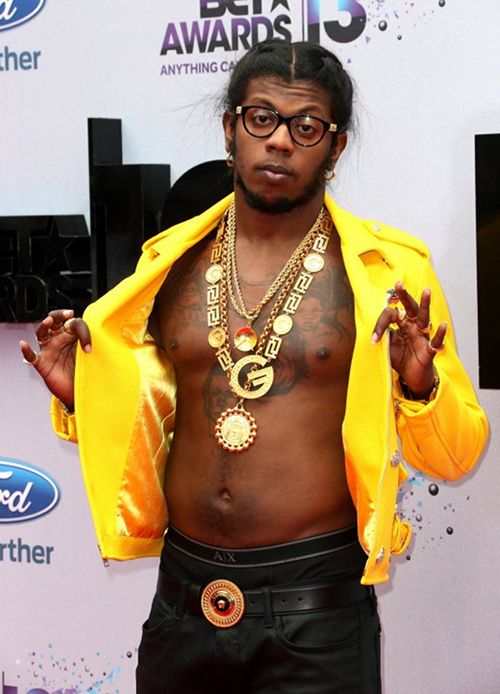 Yes, this is how Trinidad James walked the carpet before he performed at the pre-show. This guy...and those braids...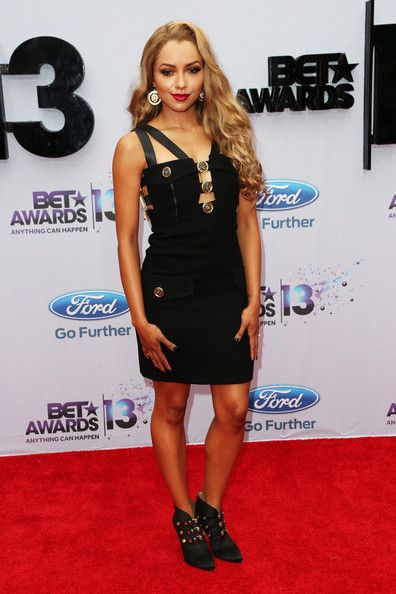 "Vampire Diaries" star and singer Kat Graham made a vampy appearance in head to toe Versace.
Angela Bassett was stunning as always. Did y'all see her dancing it up in the audience to A$AP's "Problems"?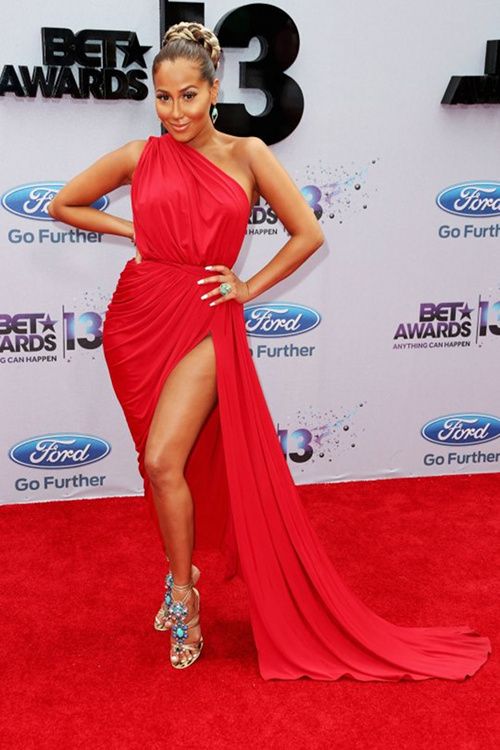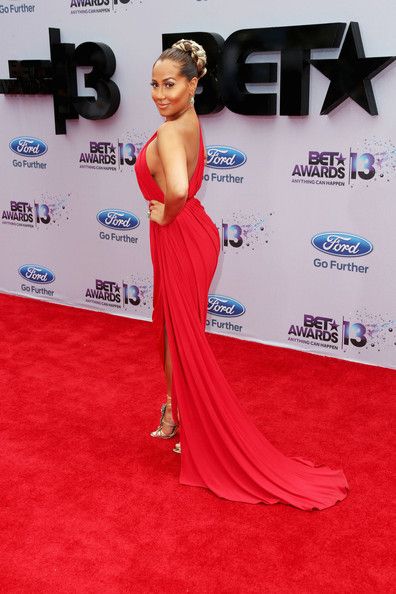 And Adrienne Bailon gave us bold red curvy sex appeal in a Michael Costello creation as she hosted the BET Awards Style pre-show.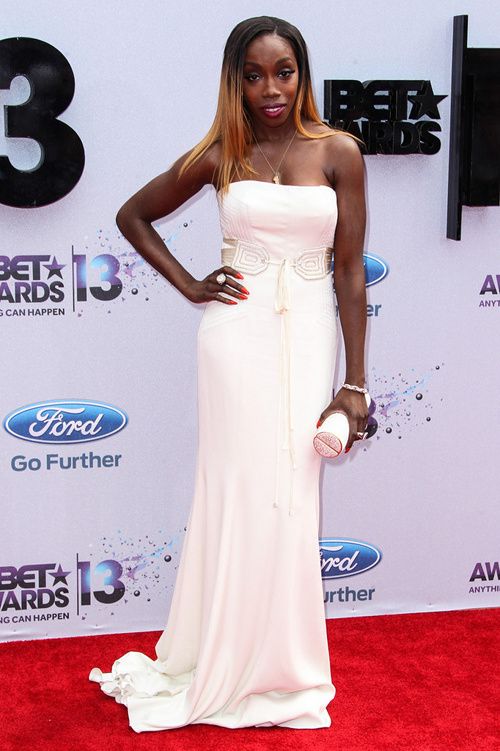 Estelle rocked the color of the evening--a white flowing dress with an embellished belt and mini train. Nice.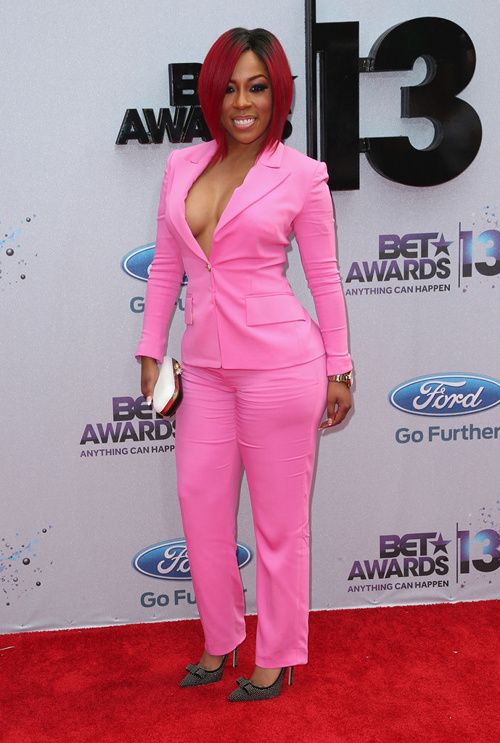 K.Michelle went the less obvious route and rocked a pink pantsuit. Not going to lie, we're not loving it. But so glad she stepped outside of the box and did something different. She also won BET's/Colgate's Best Hair Award.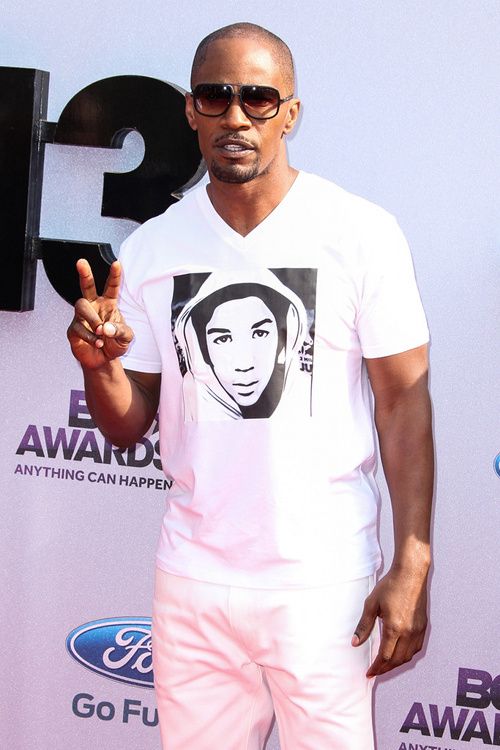 Jamie Foxx, rocking a Trayvon Martin tee, took a break from his White House Down promotion schedule to have some fun at the Awards.
Ron Isley hit the carpet with his wife.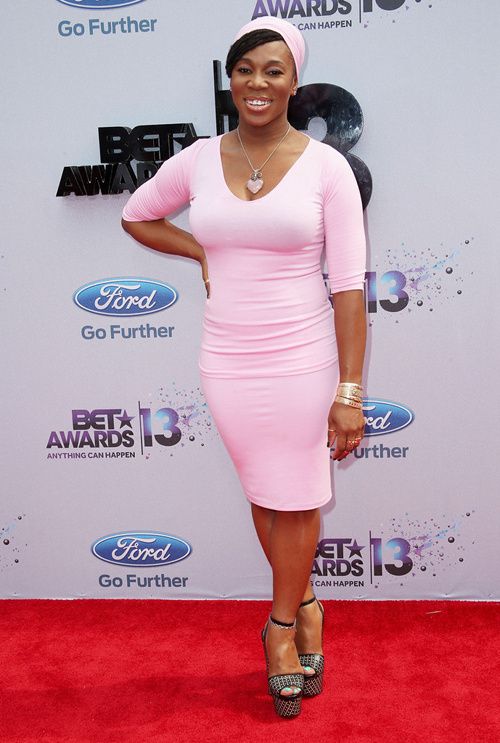 Not the Pepto pink India.Arie! And please don't ever be covered in it from head to knee again. Please and thank you.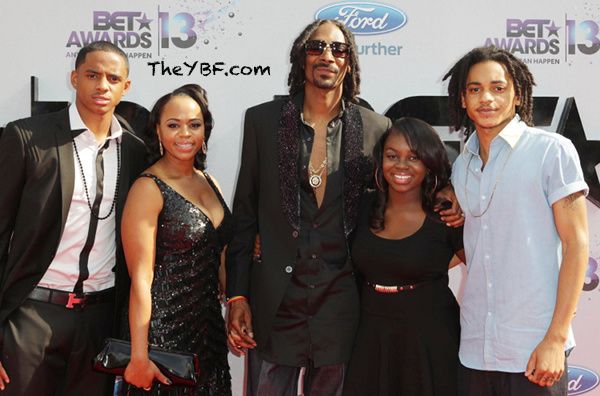 Snoop brought his whole fam on the carpet--wife Shante and the kids.
Fab times!
Photos: Frederick M. Brown/Getty Images North America/PCN/WENN
PERFORMANCE FAB: J. Cole Gives 2013 BET Awards "Crooked Smile" & "Power Trip" Ft. Miguel + 2 Chainz PERFORMS With Kendrick Lamar & A$AP Rocky, DROPS "Feds Watching" VIDEO
Posted: 30 Jun 2013 11:56 PM PDT
J. Cole performed two hits from his Born Sinner disc at the 2013 BET Awards. Watch him hit the stage with Miguel inside and see 2 Chainz's "Feds Watching" video and his award show performance with A$AP Rocky and Kendrick Lamar.
Following a successful sales week on the Billboard charts, rapper J. Cole hit the stage at the 2013 BET Awards to perform two hits from his Born Sinner album.
After performing his current radio single "Crooked Smile" he launched into "Power Trip" and was joined on stage by Miguel.
Watch the performance here:
Also on the show.....
2 Chainz hit the stage to perform his most recent single "Feds Watching". And for his second song of the night, he rapped to A$AP Rocky's "F---kin' Problems," with a special appearance by Kendrick Lamar. Watch 2 Chainz's performance here:
After the show......
2 Chainz debuted the official "Feds Watching" video from his upcoming album B.O.A.T.S. II: Me Time, due September 10.
Photos via Getty
PERFORMANCE FAB: Janelle Monae Closes The 2013 BET Awards With Erykah Badu With "Q.U.E.E.N." + Ciara's Dance Take Over
Posted: 30 Jun 2013 11:17 PM PDT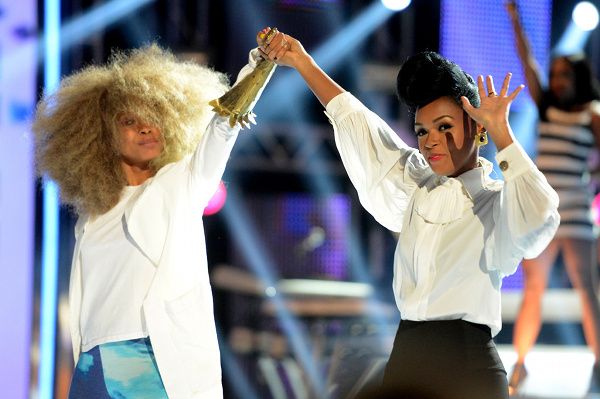 Janelle Monae indeed put on a SHOW to close out the 2013 BET Awards. She rocked the stage with her new single "Q.U.E.E.N." and brought out her collabo partner Ms. Badu.
Check out their performance inside, plus Ciara tearing the stage down with Nicki Minaj....
Janelle danced her James Brown-inspired ass off Sunday night while closing out the show. Decked out in her usual black & white look, she worked her cute booties all over the stage and even brought out Erykah Badu for their "Q.U.E.E.N." song.
Janelle is gearing up to release her Dance Apocalyptic album (September 10th), so she put on a show to make you remember. Curves, cakes, and poodles. You gotta watch it above.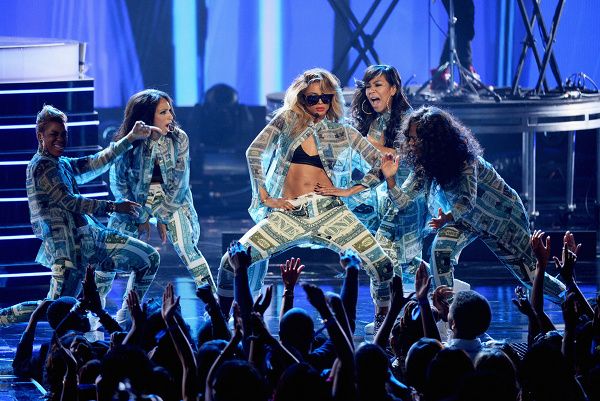 And Ciara also gave a hot performance Sunday night of her new track "I'm Out" Ft. Nicki Minaj. Nicki hopped on stage and went into a zone where she forgot to give the tv-friendly version:
But the ladies worked it out anyway. Ciara also gave us some of her "Body Party." Chick slayed with her dancing game. Nice work CiCi!
PERFORMANCE FAB: Charlie Wilson RECEIVES "Lifetime Achievment Award" And Tribute From Jamie Foxx, Pharrell & Timberlake + R. Kelly PERFORMS A Choir-Assisted Medley Of Hits
Posted: 30 Jun 2013 10:47 PM PDT
During the 2013 BET Awards, Lifetime Achievement Award recipient Charlie Wilson received a well-deserved tribute from Jamie Foxx, Stevie Wonder and Justin Tmberlake. Watch the performance inside and see R. Kelly spin through a medley of hits with a full choir.
At the 2013 BET Awards, legendary R&B crooner Charlie Wilson was honored with the Lifetime Achievement Award. For his star-studded tribute, BET lined up India.Arie, Jamie Foxx, Stevie Wonder, Justin Timberlake, Pharrell and Snoop Dogg. And if that weren't enough, Charlie took to the stage and put on an exciting performance of his own. Watch a legend in action above....
Watch part two here:
Also......
Wearing a studded hat and jacket that would have torn your outfit to shreds had you given him a hug, R. Kelly performed a medley of his hits including "Trapped In The Closet", "12 Play,' "You Remind Me" and "Ignition." Take a stoll down memory lane--with a choir--above....
Photo via Getty
PERFORMANCE FAB: Mariah Carey's "#Beautiful" (REMIX) Featuring Young Jeezy + Miguel Rocks "How Many Drinks" With Kendrick Lamar
Posted: 30 Jun 2013 09:58 PM PDT
During the 2013 BET Awards, Mariah Carey performed her #1 tune "#Beautiful" (Remix) featuring Young Jeezy. Watch Mimi inside and see Miguel hit the stage with Kendrick Lamar for "How Many Drinks".
R&B diva Mariah Carey hit the stage at the 2013 BET Awards to perform her Miguel-penned hit "#Beautiful".
And as a special treat for all the Lambs, she brought out Young Jeezy for the remix. And after their performance, Jeezy hung around to do his hit "R.I.P."
The song will likely appear on Mariah's next album, The Art of Letting Go. But don't expect to get the album on July 23 since Mimi has tweeted about pushing the album back.
"While making this album, I got so immersed in the creative process that I just don't feel I would be doing it justice to release it on 7/23.

I'd rather not exclude meaningful songs. I want to give you this album as it's meant to be heard. When I'm ready, you'll be the first 2 know!"
And later during the show.......
Miguel, who won the award for Best Male R&B/Pop Artist during tonight's awards, played the guitar and sung his hit song "How Many Drinks?" with Kendrick Lamar.
And while rocking a coat of fur..or yaki weave, he nailed ALL of his leaps and splits. No one was hurt during this performance! Watch it below....
D-LIST RATCHETRY: Claudia Jordan ACCUSES Omarosa's 65-Year-Old MOTHER Of PUNCHING HER At The BET Awards! Police Report Filed.....
Posted: 30 Jun 2013 08:15 PM PDT
Apparently all the action was OUTSIDE of the 2013 BET Awards as D-list "Celebrity Apprentice" star Claudia Jordan had a fight with the 65-mother of Omarosa! Deets inside....
We're sorta used to rappers getting into altercations at awards shows....but there were a few female "stars" (and we use that term VERY loosely) showing their ratchetness tonight. Out on the red carpet, "Celebrity Apprentice" alum Claudia Jordan filed a police report alleging that the mother of her frenemy Omarosa, punched her!
TMZ reports that Omarosa and Claudia had an all out war of words on the red carpet and the "B" word was thrown around a lot. Following the verbal fight, sources claims that Omarosa's mom jumped in and punched Claudia in the arm! Of course...security stepped in and Claudia filed a police report! She later tweeted, "Wow, that awkward moment when you're assaulted on the red carpet."
But, Omarosa told TMZ that Claudia started the incident by pushing her 65-year-old mother!
"I am deeply saddened by Claudia Jordan actions at the BET Awards. After all that my family and I been through this year. She should show at least an ounce of decency and respect "
We'll let you know if they met up in the parking lot after the awards let out! #ratchetbehavior
If y'all ask "Who?" after reading this....hilar.
Photos via TMZ
PERFORMANCE FAB: Kendrick Lamar's "B*tch, Don't Kill My Vibe" Ft. Erykah Badu (And Her CAKES) At The 2013 BET Awards
Posted: 30 Jun 2013 07:18 PM PDT
Kendrick Lamar performed his hit song "B*tch, Don't Kill My Vibe" at the 2013 BET Awards tonight with a special appearance by Erykah Badu. Watch the clip inside...
Tonight at the 2013 BET Awards, Kendrick Lamar walked away with the Best Male Hip Hop Artist award. And right after his big win, he performed "B*tch Don't Kill My Vibe" with a newly freckled face Erykah Badu.
And after they slayed the stage and made their...Erykah showed the world what REAL CAKES look like. #texasmadeit
Check it.
Photos via Epic/Getty
PERFORMANCE FAB: Robin Thicke Rocks "Blurred Line" With Pharrell And T.I.
Posted: 30 Jun 2013 06:41 PM PDT
Blue-eyed soulster Robin Thicke hit the stage at the 2013 BET Awards to rock out with "Blurred Lines" with Pharrell and T.I. Watch the performance inside....
Robin Thicke appeared on the 2013 BET Awards tonight. He had plenty of pretty ladies on stage joining his party as he had the whole crowd on their feet. His "Blurred Lines" single with Pharrell and T.I. is a worldwide smash and appears on Robin's Blurred Lines disc.
By the way, his wife Paula Patton was totally smitten when she was asked earlier on the red carpet about seeing her hubby perform tonight. Sweet!
PERFORMANCE FAB: Chris Brown KICKS OFF The 2013 BET AWARDS With "Fine China", Brings On Nicki Minaj For "Like This"
Posted: 30 Jun 2013 06:08 PM PDT
Chris Brown opened the 2013 BET Awards with a medley of new songs from his upcoming X disc. Watch Breezy hit the stage with Nicki Minaj inside...
Earlier tonight, Chris Brown opened the 2013 BET Awards with his radio hit "Fine China". He then moved into a tribute to Aaliyah with his anti-violence song "Don't Think They Know". Then rolled into a surprise performance of "Like This" featuring Nicki Minaj. The song will appear on the X album, dropping July 17th.
Check out Breezy dance circles around folks above....
TRIPLE FACE OFF: J.Cole, DJ Drama & Brandon T. Jackson In VERSACE
Posted: 30 Jun 2013 05:46 PM PDT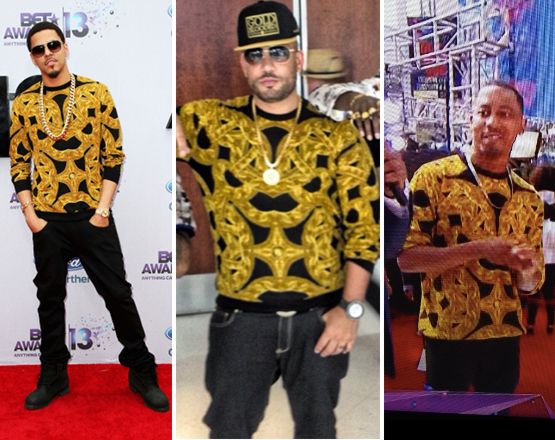 The fellas thought they were stuntin' on 'em tonight at the 2013 BET Awards, but this Versace sweater got around on multiple folks tonight. Decide which guy rocked it best inside...
Everybody was about that black & gold Versace tonight. And Twitter was all a-buzz when J.Cole, DJ Drama & Brandon T. Jackson all rolled to the BET Awards in the same sweater.
All 3 fellas rolled the sleeves up to deal with that L.A. heat. Brandon & Cole paired their sweater with black pants, while Drama rocked his with dark denim. It's the chains and the shades that set them apart.
So...
WHO RAN IT BEST?!
Photos: Getty Images/Miss Info IG
VIDEO FAB: Ciara's "I'm Out" FT. Nicki Minaj
Posted: 30 Jun 2013 05:31 PM PDT
Ciara premiered her "I'm Out" video featuring Nicki Minaj earlier tonight during the 2013 BET Awards pre-show. Watch the official vid inside.....
Before the July 9th release of Ciara, the dancing diva has released the dance-heavy video for "I'm Out" featuring Nicki Minaj. Directed by Hannah Lux Davis, the song will appear on Ciara's upcoming album. Watch the two ladies join the twerk team above. And CiCi prove why it's her dancing skills that's keeping us interested. #JanetTaughtHer
Jordin Sparks, Angela Simmons, A Ring Flashing Nene Leakes & MORE GET FAB For Debra Lee's Pre-BET Awards Dinner
Posted: 30 Jun 2013 12:46 PM PDT
As the 2013 BET Awards Weekend celebration continues, Debra Lee hosted a slew of celebrities for a pre-awards dinner Saturday night that brought out Nene Leaks, Jordin Sparks, Angela Simmons and many more. See the pics inside...
Newly re-married "Glee" and "RHOA" star Nene Leakes was among the celebs who attended the Pre-BET Awards Celebration Dinner Hosted By Debra L. Lee at Milk Studios in Los Angeles last night.
Nene brought along her "I Dream of Nene" co-star and husband twice over Gregg Leakes as she was quick to display her 10-carat diamond wedding band and 15.2-carat ring. Wowzers!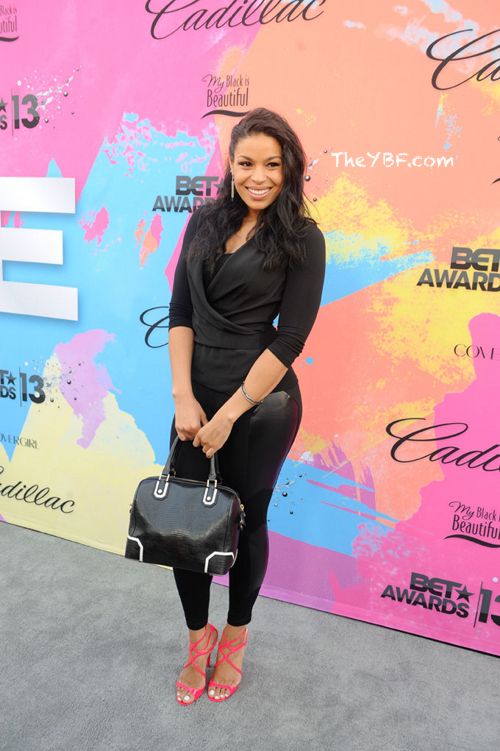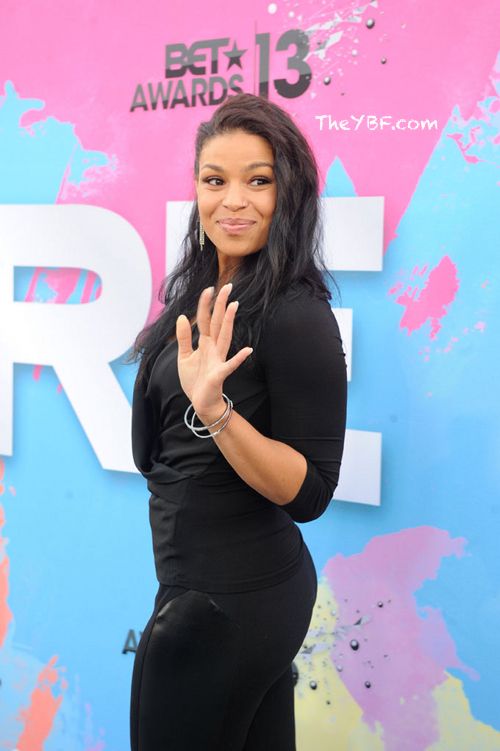 Singer Jordin Sparks rocked a body hugging black ensemble with hot pink sandals.
Jay Ellis of BET's "The Game" popped up on the carpet.
Singer Elle Varner, who hosted BET's rooftop pool party on Friday, worked a purple sequined dress.
She posed it up alongside Jordin and Michelle Williams on the grey carpet.
Michelle Williams recently released her new "If We Had Your Eyes" single. And spent some time promoting it at the dinner:
She attended with songwriter and producer Harmony Samuels.
Angela Simmons wore an interesting outfit complete with geometric shapes and sparkling pumps.
Russell Simmons was also spotted at dinner.
And he has a NEW model girlfriend! We're shocked because the dark-brown sister is a big departure from the type of model we normally see Uncle Russell with....
"RHOA" star Cynthia Bailey, who posed with husband Peter Bailey, recently disclosed that she'll be undergoing surgery on the next season of the series. And she's keeping her mystery ailment to herself until then...
While on the carpet, Michelle got a kiss on the cheek from the original-Shaft star Richard Roundtree. It looks like Richard is still a ladies' man.....
Sitcom chick Tichina Arnold smiled for the cameras while rocking a gorgeous tan.
Best-selling author Tyrese posed with his artist Lyndriette Kristal Smith. Wouldn't be surprised if these two pop up "dating" soon.

Soul Ties star Leon (the father of Cynthia Bailey's daughter) was seen at the party.
TV personality Wayne Brady posed alongside "Apollo Live" judge Doug E. Fresh.
"The Real" co-host Adrienne Bailon wore a sexy body hugging black dress. She's got this booty pose down to a tee doesn't she?
MC Lyte has signed on for a new BET reality series called "Hip Hop Sisters." Still thinking on whether we'll be catching that...
"Army Wives" star Ashanti wore a snakeskin cutout dress. And chick looked hot. Loving this dress. She attended with her sister Shia who was...more covered up than usual.
Singer Stephen Marley wore a floral print blazer. And only he could pull it off.
BET exec Louis Carr kept it dapper.
Chris Tucker will host the 2013 BET Awards later tonight. We hope he's funny because dude has been MIA for a minute...
KeKe Palmer kept it grown and sexy for the cameras. Loving this new image of hers.
Former WNBA star Lisa Leslie wore a striking white off-the shoulder dress.
Nelly, who just dropped the "Get Like Me" single, was also there to play co-host of the event.
"Raising Whitley" star Kim Whitley threw up the deuces in her blue lace dress.
Producer Future dressed up a pair of boots with a fitted shirt. This guy though...
Comedian Sherri Shepherd arrived with husband Lamar Sally. She will be starring with Chris Rock in his next film Finally Famous.
Judge Greg Mathis was there for the festivities.
"Being Mary Jane" producer Mara Brock Akil attended and looked to be almost makeup free. We love when fab chicks show their natural gorgeousness.
"The Game" star Hosea Chanchez sported a full beard. Is he going through something?
Laila Ali looked amazing as a lady in coral.
Vanessa Bell Calloway rocked an animal-print dress.
"Let's Stay Together" star Erica Hubbard lit up the place with all these sparkles.
Actress Demetria McKinney was also there.
"Bad" singer Tiara Thomas walked the press line. Hope she didn't run into Wale. Dude is still pressed and emotional over her leaving his almost-deal with her..
"Glamorous Life" drummer Sheila E looked amazing. She tore down a few parties over the weekend for BET.
Holly Robinson Peete was there with husband Rodney.
Ashanti posed for a few shots with Holly Robinson Peete. Pretty ladies!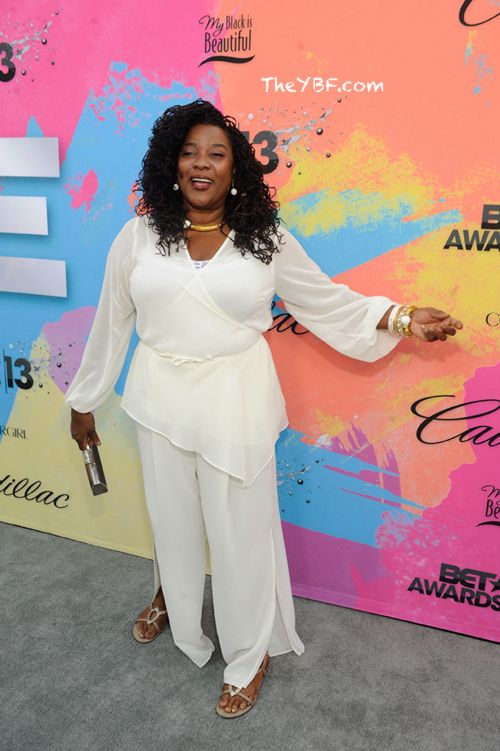 "The Client List" star Loretta Devine walked the silver carpet.
Producer Debra Martin Chase smiled for the photographers.
"Let's Stay Together" actress Nadine Ellis attended.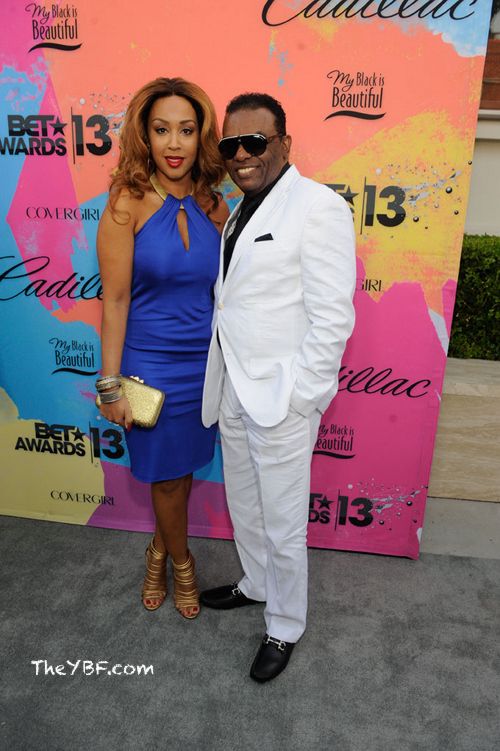 R&B veteran Ron Isley posed with his much younger wife Kandy Isley. No surprises there.
Watch Nene showing off her wedding ring and other arrivals here:
Photogs: Paras Griffin/G Paras Photography, PCN
You have read this article with the title The Young, Black, and Fabulous. You can bookmark this page URL http://thisgirlreprobate.blogspot.com/2013/07/the-young-black-and-fabulous_1.html. Thanks!