---
BIRTHDAY FAB: T.I., Lil' Wayne, Timbaland, & MORE Celebrate Tiny's Birthday In Miami
Posted: 15 Jul 2013 07:46 AM PDT
After their "America's Most Wanted" tour stop in West Palm Beach last night, T.I. and Lil' Wayne along with Mack Maine and Trae the Truth headed over to Bamboo to celebrate Tiny's birthday. See party pics inside....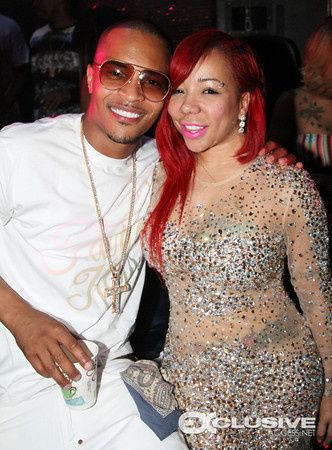 Trouble Man rapper T.I. took his ""America's Most Wanted" tour to West Palm Beach last night where he hit the stage with Lil' Wayne at the Cruzan Amphitheater. After the show, he and Weezy heading to Miami for Prestige Sundays at Bamboo where they celebrated the birthday of T.I.'s wife Tiny.
Following their arrival at 2am, T.I. jumped in the DJ booth and wished Tiny a happy birthday and told her she could have whatever she liked! He even launched into a special show just for her and performed five songs.
Tiny, who turned 38-years-old, enjoyed the festivities with her hairstylist and friend Shekinah. Tiny tweeted, "Look at my beautiful friend who came all the way to Miami just to be with her bestie on her Bday! She always come thru for her friend..thx buddy! I love u so much!! "
Weezy was spotted posing with Tip and giving a one-fingered salute.
Prior to Tip's arrival, Timbaland jumped in the booth with DJ Efezzy and vibed out before dropping a new Justin Timberlake record.
During the party, Timbaland and Tip posed with rappers E Class and Trae the Truth.
NBA baller Kenyon Martin (who "may" be returning to the NY Knicks) was spotted, as well as music executive Mike Kyser and promoter Simply Jess.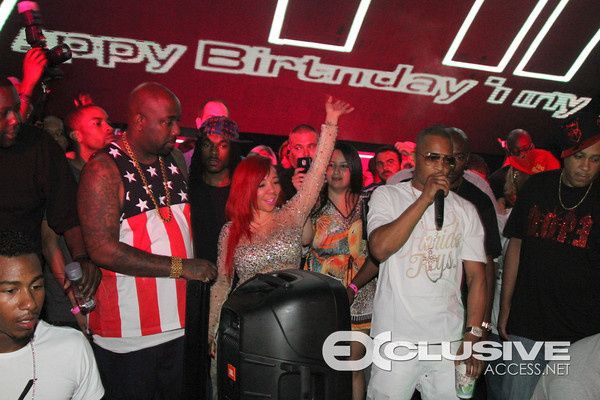 It was great seeing Tiny is such good spirits. She recently suffered the loss of her father and tweeted fans, "Thanks to all my friends & family for coming to see me & praying for me. I really appreciate the Love! Blessings.. #MyGuy"
Happy birthday Tiny!
Photos via Thaddaeus McAdams/exclusiveaccess.net
"The Real" SNEAK PEEK: The Game OFFERS Kanye West PARENTING Advice + Tamar, Loni, Adrienne, Jeannie, And Tamera LEARN How To TWERK!
Posted: 15 Jul 2013 07:28 AM PDT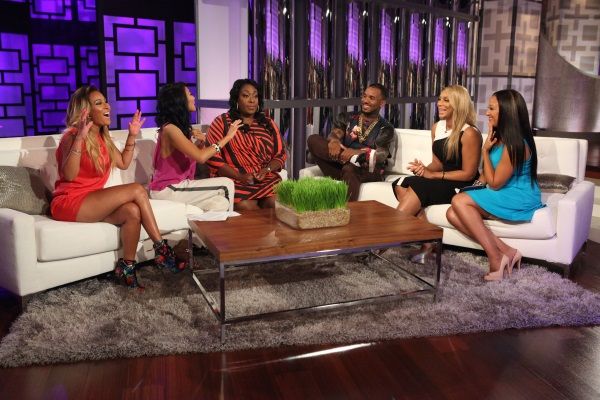 The ladies of "The Real" are all set for their national debut today and we have a sneak peek at their "How To" segment on twerking as well as The Game's parenting advice for Kanye West. Watch the clips inside....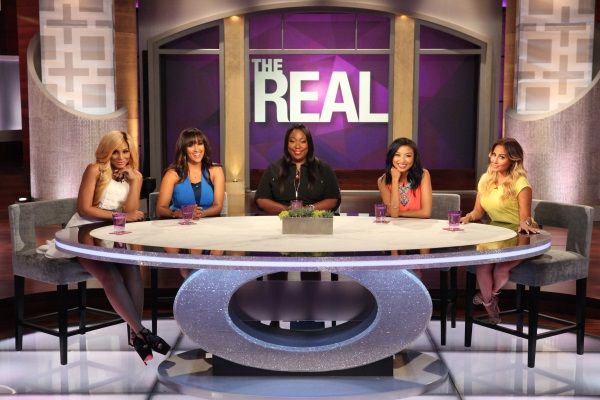 Today, Tamar Braxton, Tamera Mowry-Housley, Loni Love, Jeannie Mai and Adrienne Bailon kick off their new daytime chat fest "The Real". The highly anticipated launch includes segments with new moms Tamar and Tamera chatting candidly about coming back to work after having babies and how they're dealing with shedding the extra pounds. Also, the ladies weigh in on all the eccentric celebrity baby names including North West and Blue Ivy.
Fans will also get to see Tamar Braxton showing off her post-pregnancy body. When asked how she lost the weight (she revealed she gained 38lbs), Tamar joked,"There is a method to this madness…I didn't drop anything actually. I'm tucked and plucked. I got like 14 girdles on underneath!"
And when it comes to fatherhood, rapper The Game dished out some parenting advice for Kanye West,
"You know what I would just…I feel like with guys like us and I know Kanye since he and I battled outside of the Nike Town years ago broke…You just follow your heart. When I had my first son I just knew what to do for some reason. You just care because that child is of you….and for the people that don't care. I don't even understand how guys can't care. So he got it….
And during one of the show's funniest moments, the ladies get into the twerking dance craze and provide a "how to" segment!
Watch The Game offer Kanye West parenting advice here:
Watch "The Real" ladies learn how to twerk here:
It looks like the ladies are about to kick off a fun summer run and are set to change the face of daytime television!
Tune in to "The Real," beginning Monday, July 15th on:
• New York WNYW FOX5 at 12:00pm
• Los Angeles KTTV FOX11 at 1:00pm
• Washington D.C. WTTG FOX5 at 11:00am
• Philadelphia WTXF FOX29 at 11:00am
• Phoenix KSAZ FOX10 at 1:00pm
• Houston KRIV FOX26 at 1:00pm
• Tampa WTVT FOX13 at 1:00pm
Website: http://therealtalkshow.com/
Twitter: https://twitter.com/therealdaytime
Facebook: https://www.facebook.com/therealdaytime
YouTube: http://www.youtube.com/therealdaytime
Instagram: http://instagram.com/therealdaytime
Photos via Michael Rozman/Warner Bros.
MORNING FUNNIES: Gabourey Sidibe PRANKS Jimmy Kimmel, ARRIVES To HIS WEDDING In A BRIDAL GOWN!
Posted: 15 Jul 2013 07:00 AM PDT
Actress Gabourey Sidibe pranked television host Jimmy Kimmel by arriving to HIS wedding in a bridal gown! See the funny pics inside....
What would you do if a well-known actress showed up at YOUR wedding in a bridal gown? Luckily for Gabourey Sidibe, comedic writer Molly McNearney was in on the joke when the Precious star showed up at her wedding to television host Jimmy Kimmel in a white wedding gown!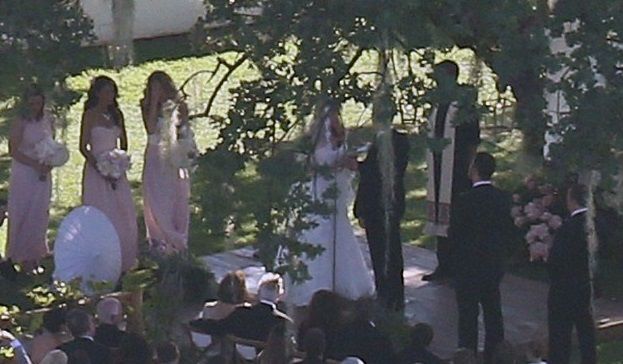 Gabby pulled out all the stops for the prank, which she pulled on Saturday at Jimmy and Molly's ceremony in Ojai, California. She arrived in a black Escalade limo and her an attendant hold her train as she was ushered into the ceremony.
But by the time the reception rolled around, Gabby had slipped out of her wedding gown and swapped it for a red dress! Clearly Jimmy and Molly were entertained by the antics as they were spotted laughing and joking with her at the reception. PEOPLE reports that Matt Damon, Ben Affleck, Howard Stern and Emily Blunt were all there to witness the fun.
And since Molly is the head writer on Jimmy's chat show, "Jimmy Kimmel Live", we suspect Gabby's wedding gag will be a segment on an upcoming show. Fun times!
Photos via Splash
Solange Knowles Holds A Peaceful Trayvon Martin Rally In Brooklyn
Posted: 15 Jul 2013 06:34 AM PDT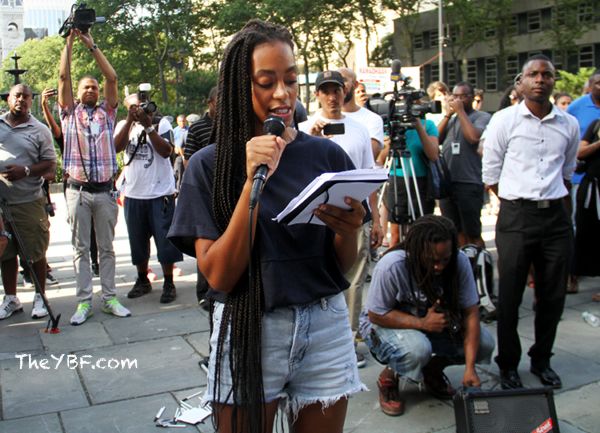 Solange Knowles held a rally for Trayvon Martin to speak out against the Zimmerman verdict on Sunday afternoon. Check out the "True" singer doing her part in response to America's justice system...
Singer, songwriter and actress Solange Knowles staked her ground at Brooklyn's Borough Hall Sunday night and invited all of BK out to protest against Saturday night's verdict of George Zimmerman being found Not Guilty.
She brought a sign with a Malcolm X quote printed on it, and spoke to the crowd about injustice:
Love seeing celebs put their status & influence to good use.
Photos: WENN
Jay-Z, Rihanna & JT Hit The Stage At Wireless Festival, Plus Rih Rih Rocks Out T In The Park
Posted: 14 Jul 2013 07:23 PM PDT
After she teased the paps on a balcony butt ass naked, Rihanna made her way to London to join Jay-Z on stage at the Wireless Festival. Pics and video inside...
Rihanna rocked the stage as the headliner for 85,000 Scottish Fans at Saturday's T In the Park in Balado, Kinross. Then, she skipped over to London to surprise fans by joining Jay-Z on stage at the Wireless Festival.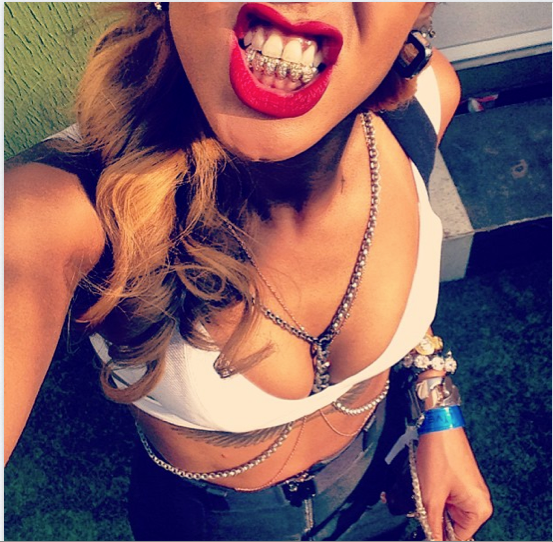 The twosome performed their usual "Run This Town" while Jay headlined with Justin Timberlake. She posted a pic from backstage & with her saying:
I'm an outlaw bitch!!...#Wireless #LegendzOfTheSummer #OpeningNight #Hov #JT #London you were on one tonight!! One Love!!
Peep a quick vid from 2 Chainz below:
Rih was spotted headed back to her hotel afterwards in a sexy zip-front leather Balenciaga suspender skirt and sneakers: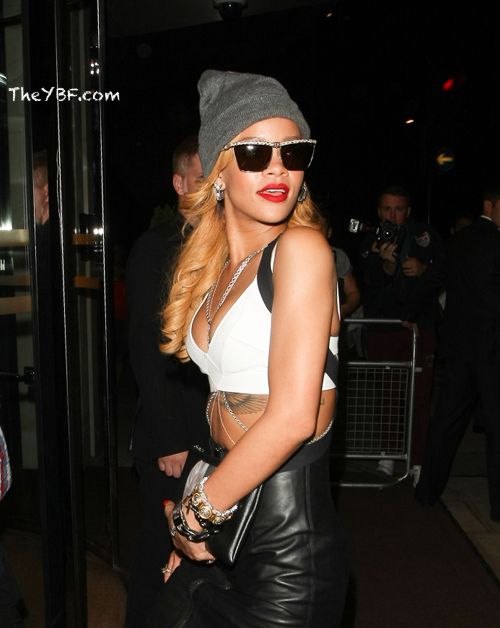 The bad gal also took some time to address the Trayvon Martin case. She posted:
A child was gunned down for no reason! And nothing about that sounds like murder? My baby brother is 17, this rocked my whole shit! #thesystemisandhasalwaysbeenphucked
Pics of Rih at T In the Park:

Photos: Roc Nation Daily/WENN
Ray-J....Come Get Ya Girl Teairra Mari....AND These Strippers....
Posted: 14 Jul 2013 05:59 PM PDT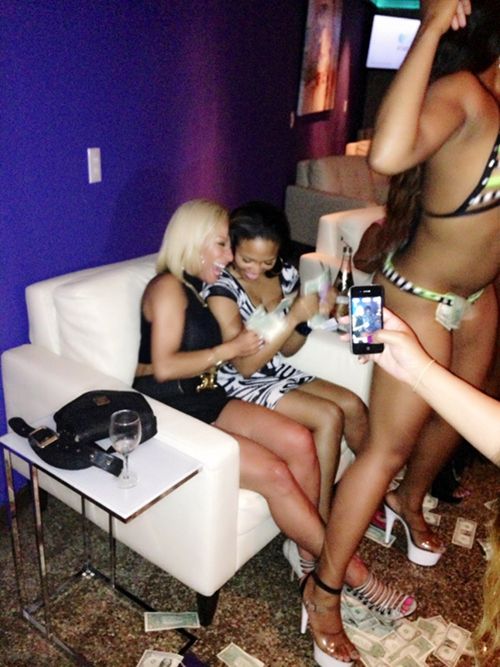 Ray-J's main boo, who he only partly claims, loves dem strippers. And she has no problem tossing major dollars in the strip club. We're not sure where those dollars came from, but check out Teairra Mari and her bestie Hazel E cutting up inside.
NSFW, obviously....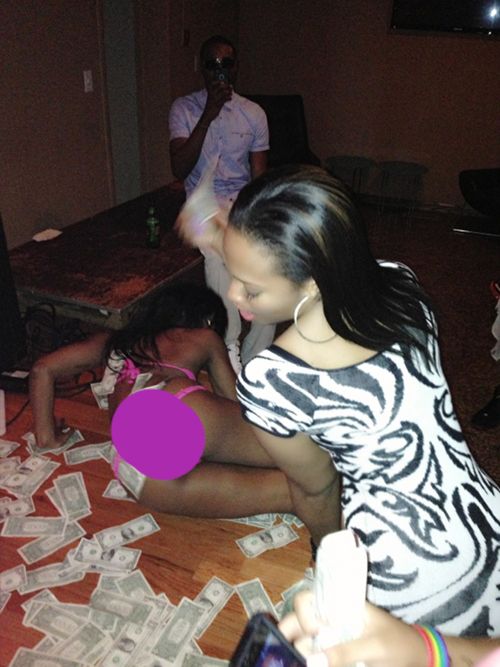 Singer T. Mari and her bestie, rapper Hazel-E , rolled into Cleveland, Ohio to party at Club Vibrations Friday night. We're told Teairra was all about dropping dollars, and even made a reference to her boo Ray-J requesting his song "I Hit It First". Yep, seriously.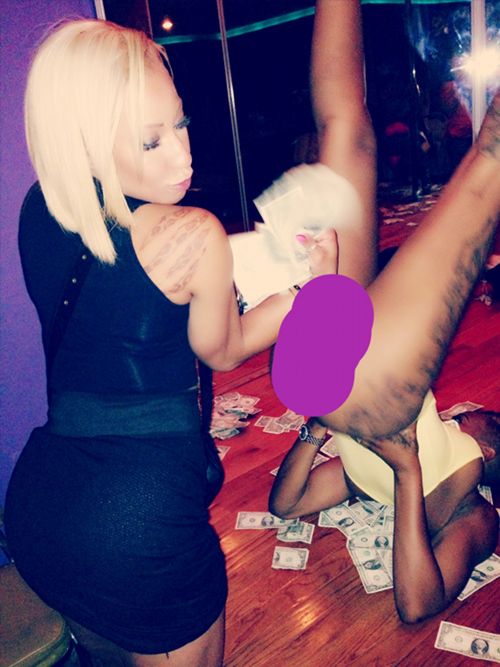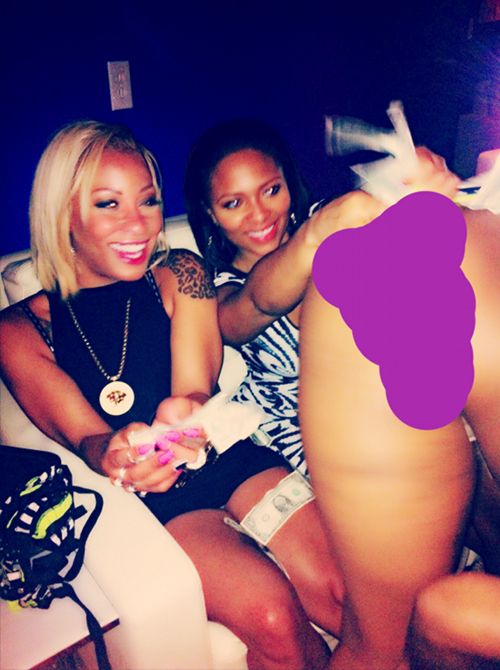 Not sure what Teairra's been up to lately other than being Ray-J's arm piece at the BET Awards and making a few videos for her mixtape tracks, but we're sure we'll find out soon.
Behave ladies...
Tamar Braxton Dishes The Secret To Her FAB Post-Baby Body, Talks "Hood" Names On "The Real"
Posted: 14 Jul 2013 10:06 AM PDT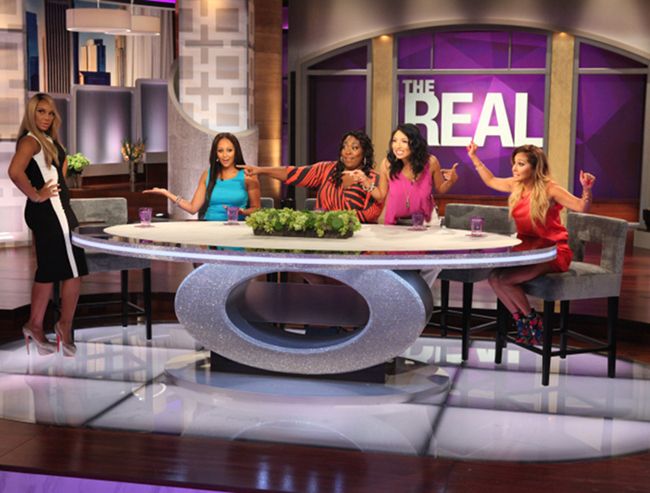 The girls of "The Real" aren't shy about a damn thing. Check out a sneak peek of Tamar Braxton revealing her post baby-body secret, plus what the panel has to say about "hood" baby names...
The five bold and outspoken hosts -- Tamar Braxton, Loni Love, Adrienne Bailon, Jeannie Mai and Tamera Mowry-Housley -- are gearing up for the big premiere (July 15th!) of daytime's newest daytime talk show, "The Real." And during a taping of an upcoming show, Tamar revealed just how she looks so good after having baby Logan less than a month and a half ago.
Tamar dished that it's all thanks to umpteen girdles:
"There is a method to this madness…I didn't drop anything actually. I'm tucked and plucked. I got like 14 girdles on underneath. I'm not going to let anyone put any kind of pressure on me…It took nine months to gain almost 60 pounds."
Not mad at that! Check out video below of new mom Tamera chiming in about her own Spanx tricks:
And since we already know, thanks to her saying it on her shows "Braxton Family Values" & "Tamar & Vince," that Tamar wanted her baby's initials to be LV like Louis Vuitton, this sparked a discussion about "hood" baby names and weird celeb baby names. Their words...
Check your local listings to find out when to watch the 4-week summer run of Fox's "The Real"!
Photo Credit: Michael Rozman/Warner Bros.
You have read this article with the title The Young, Black, and Fabulous. You can bookmark this page URL http://thisgirlreprobate.blogspot.com/2013/07/the-young-black-and-fabulous_15.html. Thanks!