---
CELEBS AT WORK: Octavia Spencer & Michael B. Jordan At The "Fruitvale Station" PREMIERE + Jourdan Dunn On Modeling & Motherhood
Posted: 09 Jul 2013 08:21 AM PDT
Oscar winner Octavia Spencer joined actor Michael B. Jordan at the premiere of their new film, "Fruitvale Station." See the premiere pics and film trailer inside and see what model Jourdan Dunn reveals about being a single mom and how her mother helps with her son.
Oscar winner Octavia Spencer posed for the paparazzi at the New York premiere of her latest movie, Fruitvale Station, last night. Octavia chose an ivory Tadashi Shoji-designed dress (her fave designer) for the red carpet at the Museum of Modern Art.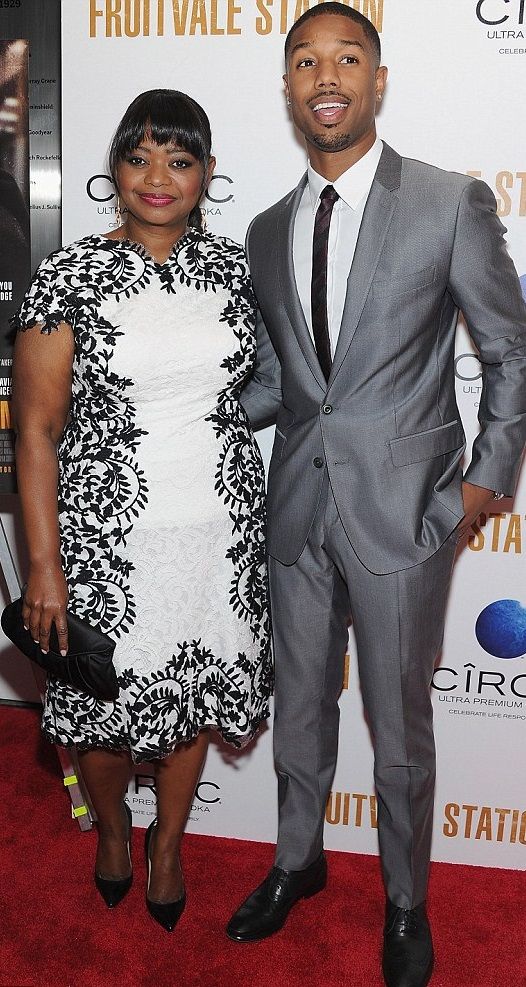 Michael B. Jordan co-stars with Octavia in the film, which is based on the true story of Oscar Grant, a young man killed early on New Year's Day by an Oakland, California transit officer in 2009. Michael, who also appeared on HBO's The Wire and Red Tails, has been receiving a good deal of buzz for his portrayal. And he's def a cutie.
The movie was directed by Ryan Coogler, who won the Grand Jury Prize and the Audience Award for U.S. dramatic film at the 2013 Sundance Film Festival. It's his first feature film.
Oscar-winner Cuba Gooding Jr. was among the celebs spotted supporting the cast and congratulating Ryan on his brilliant debut.
Watch the trailer here:
The Weinstein Company biographical drama opens July 12th in theaters.
And across the pond......
During a recent interview with the UK's Daily Mail, supermodel Jourdan Dunn opened up about her most important job yet....being a mom. And we love hearing stories of how successful YBF chicks stay on top of their game despite unplanned occurences in life.
The 22-year-old international beauty gushed to the magazine about raising her adorbale son Riley (shown above with her model besties Karlie Kloss and Cara Delevinge) and the large role her own mother plays in his upbringing. 'I've got so much going on at the moment and have been going back and forth between London and New York, so my mum looks after Riley when I'm away. It works well.'
Having her mom help out with Riley also allows Jourdan to branch into other areas outside of modeling, like hosting her online cooking segments. On the popular web series, she teaches famous folks like Wale how to cook her favorite dishes.
The Randomness:
1 Roland Martin has bounced back after getting fired from CNN. TV One just announced 'News One Now', a live 1-hour Weekday Morning News Program hosted by Mr. Martin himself. STORY
Photos via WireImage/Jourdan Dunn Instagram
50 Cent Says He's Re-Writing His Will, Claims It Was Marquis' Mom ACTING Like Her Son On Those Disgusting Texts
Posted: 09 Jul 2013 06:58 AM PDT
And the delusional tales continue. 50 Cent is now making excuses for those horrific text messages that leaked yesterday that were "allegedly" between him and his 16-year-old son.
Find out inside why 50 is admitting to the texts, but is essentially saying it's not his fault...
Curtis "50 Cent" Jackson made some moves recently that even the worst of the worst fathers may hesitate a bit before making. He railed his own kid, via text message.
Yesterday, we told you about the leaked texts between 50 and his son Marquis. Fif disowned him in the tets, called him several names, cursed him out completely, and essentially said he doesn't want to have anything to do with him. And apparently, it was all due to some custody/visitation issues where 50 believed Marquis was playing games in not allowing his father to come see him.
Here's a refresher:
50 Cent: Tell your mother she won. She has you and ill make another. I will have nothing to do with you. Don't text me ever again.

Marquise: U keep texting me lol

50 Cent: It's cool I will never go out of my way again. You disrespectful little mother f*cker.

Marquise: Lol u never do I don't know not that doesn't even call there son for his birthday

Marquise: Or get him a gift for his b-day or for Christmas.

50 Cent: You are your mothers son. I don't have a son anymore.

50 Cent: F*ck you all you want is a gift. Like your mother and your ungrateful sister.

50 Cent: Delete my number.

50 Cent: You never call what the f*ck I'm suppose to call you to give you something sorry
And it got much worse.
50 now owns up to the texts, but says he believes it was Marquis' mom, Shaniqua, acting like Marquis...all so she could sell the texts to a website. And he says he's re-writing his will....and giving most of his money to Tiffany Lighty, the daughter of his late long time manager Chris Lighty. (Oddly, Veronica, Chris' wife & Tiffany's mother, was involved in a bit of controversy surrounding Chris' suspicious death.)
Here's Fif's response yesterday:
I rewrote my will today now when I pass away all my physical property's and MOST of my money go's to charities and TIFFANY LIGHTY so when I'm done she can be 50cent #SMSAUDIO

That was his mother texting me as him.she sold that to a web site.she hate me for Winning, it's hard to replace me
People can often write in third person and it still actually be them on the texts. But apparently, 50 doesn't think so.
Photo: Fame
BAD TREATMENT: Mariah Rushed To Hospital After Accident In Heels On Video Shoot + Mos Def FORCE FED, Brings Awareness To HUNGER STRIKERS At Guantanamo Bay (VIDEO)
Posted: 08 Jul 2013 05:30 PM PDT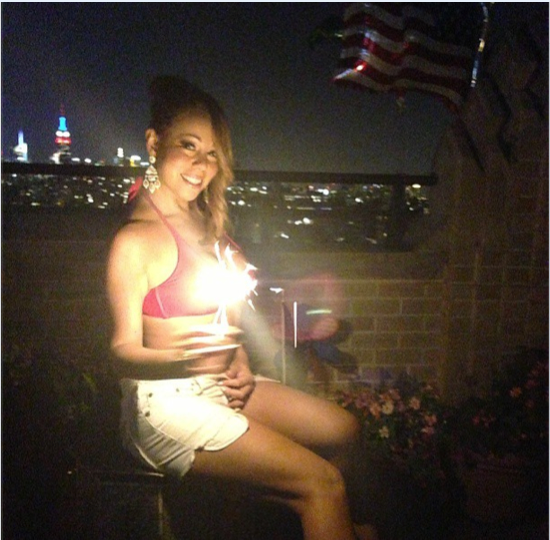 Mariah Carey just landed herself in the hospital after having an accident on the set of her new video. Find out what happened inside.
Plus, rapper & activist Mos Def posted a video of himself being force fed as part of a campaign to bring awareness to Guantanamo Bay hunger strikers. Watch the disturbing video inside....
Mariah and those 6 inch hees are no longer friends. because chick just took a major tumble on the set of her "#Beautiful" remix with Jeezy. And she reportedly dislocated her shoulder, but is now "doing fine."
MiMi's rep tells Us Weekly:
"Mariah injured herself while filming a video with Jeezy for the remix of #Beautiful, directed by her husband Nick Cannon. She was taken to hospital late last night, where doctors reset her shoulder. She is fine."
What caused the accident you ask? A source tells the site that she took a tumble in her heels. And y'all know MiMi likes to appear young and tight and able to do the same ish she did back in her 20's.
Glad to know she's OK. People who were in the video tweeted that the vid did wrap and is done. And no worries...she's still performing at the Sandy Benefit Concert via the MLB in Central Park this weekend.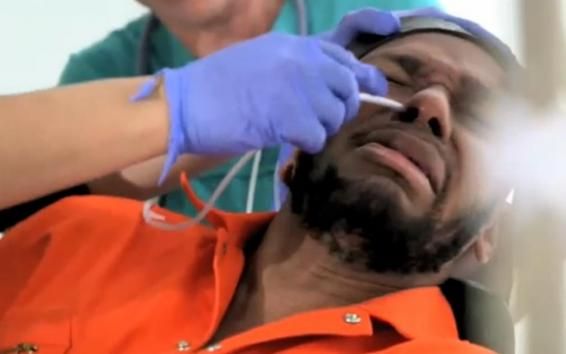 In an effort to bring awareness to the Guantanamo Bay hunger strikers, rapper Mos Def is featured in a new four-minute video (directed by Asif Kapadia, and launched by the human rights organization Reprieve) to demonstrate what hunger strikers are enduring at the U.S. military jail.
Since February, Guantanamo Bay, the detention center used hold terrorism suspects apprehended since 9/11, has being experiencing a mass scale hunger strike among detainees enraged about the handling of their Korans during cell searches.
According to the NY Daily News, the Pentagon has admitted to force feeding 45 hunger strikers (of the 106 detainees on strike). Ibrahim Hooper, spokesman of the largest US Muslim civil rights and advocacy group, the Council On American-Islamic Relations (CAIR) said,
"We believe it's wrong to force feed at any time but it is particularly upsetting to do it through Ramadan. It's not just a religious issue, it's also a human rights issue in violation of international norms and medical ethics."
In response to a lawsuit filed on behalf of four detainees, Colonel Greg Julian, director of public affairs for US southern command, said:
"We do not force-feed observant Muslims during daylight hours during Ramadan. These policies have been in place for years, and are consistent with our mission to safely detain while supporting the religious practices of those in US custody. If told to do differently, we will do so."
So far...the US government has not been "told" to stop the force feeding....so it continues.
Meanwhile...back at the ranch, we're not sure if the video will make a difference, but from looking at the tears Mos Def cries during the process....you wouldn't want to be strapped in that chair.
Watch the video here:
Essence Fest Finale Night ROUND UP: Beyonce, Brandy, Kenya Moore & More Hit The Superdome!
Posted: 08 Jul 2013 03:52 PM PDT
Beyonce Knowles took over the final night of the Essence Music Festival Sunday night at the New Orleans Superdome. Celebs and fans were packed to sold-out capacity in the Superdome with over 70,000 people there to watch Mrs. Carter do what she does best.
Pics inside....
Bey was spotted leaving her dressing room on her way to the stage with nephew Julez backstage at the Superdome, the same place where she rocked the stage at the 2013 Superbowl.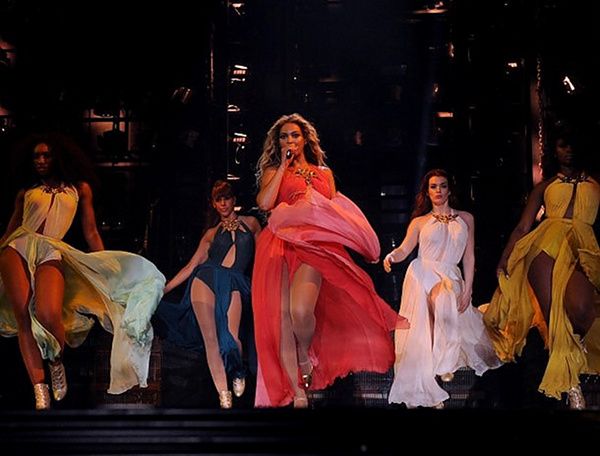 And rock the stage she did. She twirled through her almost 2 hour performance from her Mrs. Carter Show world tour, and even had her celeb fans like Brandy were standing up in their seats: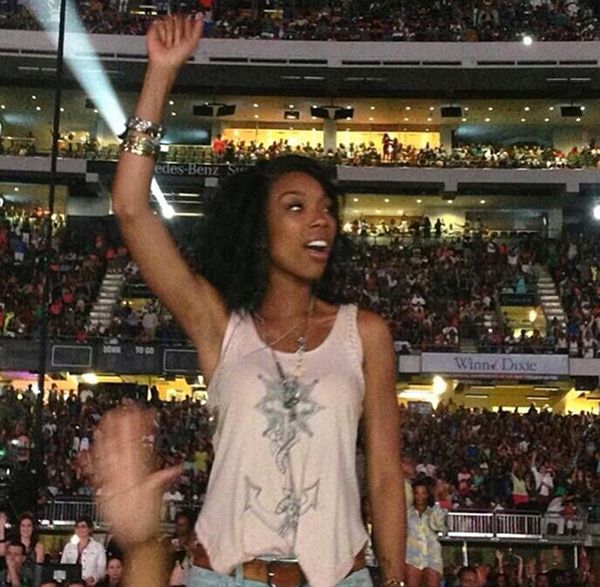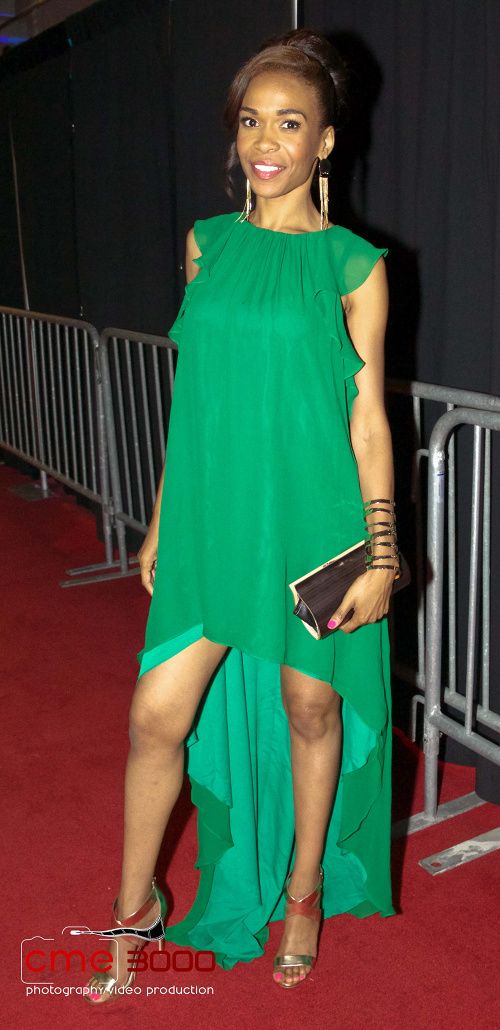 Former D-Childer groupmate Michelle Williams was there to support her girl.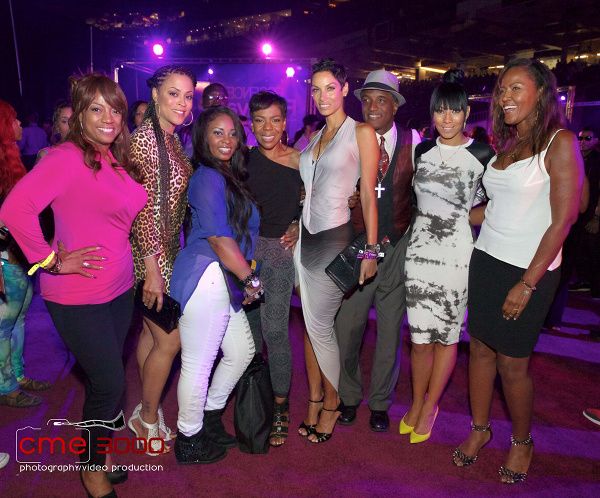 And folks like Bern Nadette Stanis, Shaunie O'Neal, Andrea Kelly, Nicole Murphy, Bridget Kelly and more were there in VIP watching.
Earlier in the night TGT -- Tyrese, Ginuwine and Tank -- took the main stage. And honestly, they could have just done one of the super lounges, but we guess they're really trying to make this group happen.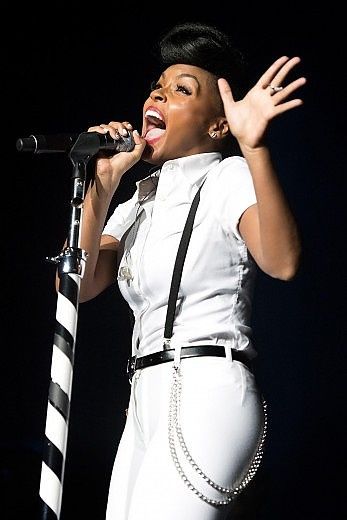 Janelle Monae went on right before Bey.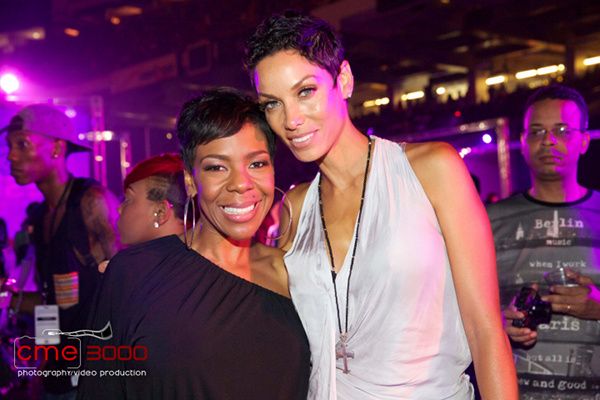 "Hollywood Exes" co-stars Andrea & Nicole had some fun in VIP. Season 2 of their show premieres tonight on VH1.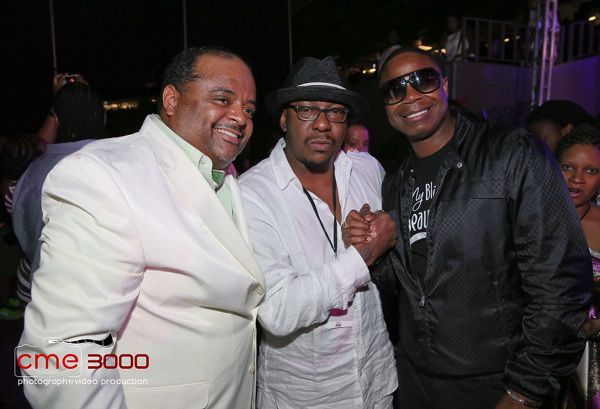 So did Roland Martin, Bobby Brown, and Doug E. Fresh.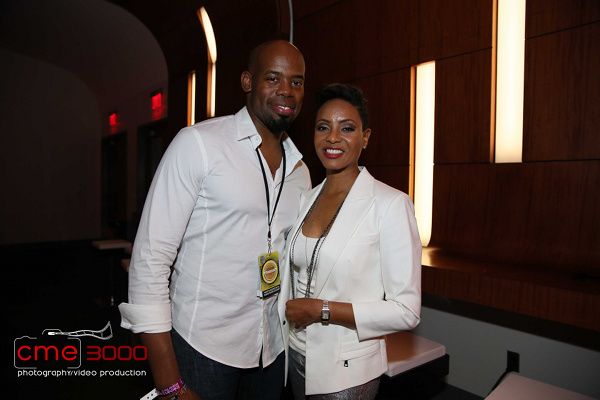 Photographer Derek Blanks and MC Lyte posed it up in VIP.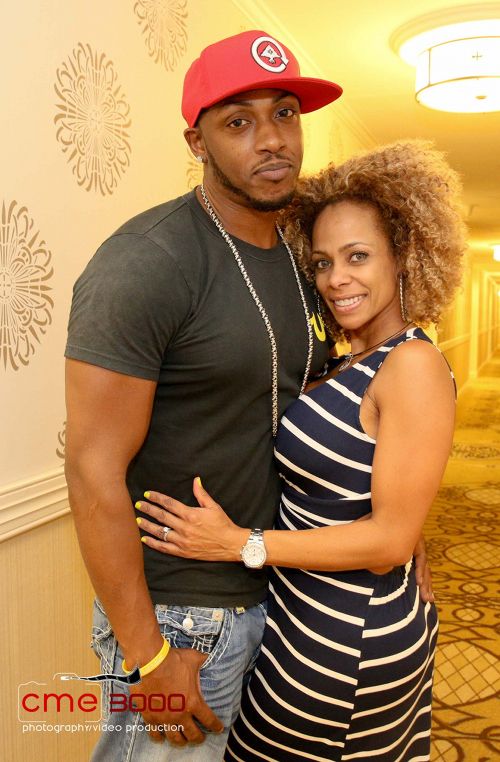 Yes...the man right chere! Mystikal popped up out of the blue in his hometown for the Essence festivities.
Kenya Moore kept it pretty in red...and likely was taking hand written notes on Bey's performance so she can perform it for some side hustle money. Since she gets mistaken for her so much and all. Gotta love that Kenya!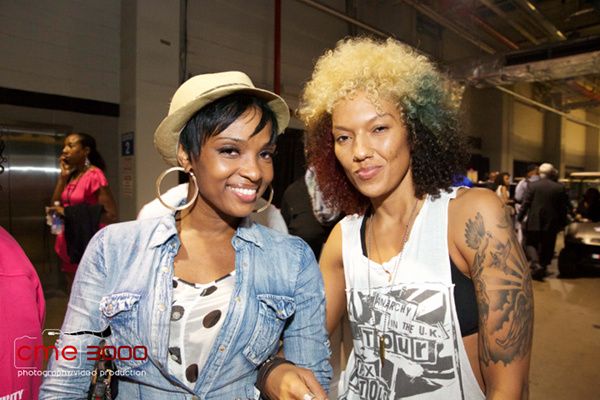 "LAHH ATL" star Ariane Davis was spotted backstage.
And Bridget Kelly, rocking a sexy body con dress, posed it up with Shaunie O'Neal and Marsha Ambrosius. By the way, Shaunie recently confirmed "Basketball Wives" will be back on VH1 August 19th.
Fab times indeed!
Photos: Brandy's IG, Chris Mitch/CME3000/Beyonce's Tumblr

HAVING HER SAY: Jason Collins' Ex-Fiancee Carolyn Moos -- "I Empathize....But I REMAIN Deeply Hurt By Him"
Posted: 08 Jul 2013 03:05 PM PDT
Carolyn Moos, the ex-fiancee of Jason Collins, the NBA baller who famously came out a few months ago, is speaking out about Jason's dishonesty during their courtship and how he's continued to lead her on since his announcement. Hear her side of things inside...
A few months ago, NBA player Jason Collins (who's still unsigned, but technically still in the NBA) became a hero for coming out, but Carolyn Moos, the woman who spent eight years of her life with him romantically, doesn't necessarily see him as a hero.
"I wish he could have been honest with me years ago...He's being hailed as a pioneer, but I believe true heroism is a result of being honest with yourself and with those you love."
In the August issue of Cosmopolitan, Carolyn offers a first-person account of how she felt before, during and after her courtship and engagement to Jason. And she's still hurting.....
After years of doubting herself and why she wasn't good enough, Jason's announcement added a further sting once he promised to follow up with her and answer any additional questions....but he didn't. Here are the highlights from the ex's interview:
On Jason calling off their four-year engagement:

The day Jason canceled the wedding was surreal. It was July of 2009, and he had just returned home from a road trip with his twin brother, Jarron. I had been living with Jason in Los Angeles for the previous year, ever since our engagement. He told me, "You may want to sit down." I loved this man deeply. He was intelligent, good-humored, handsome, and importantly, taller than I am—7 feet. (I'm 6 feet 5 and a former pro basketball player myself.) His words didn't make sense to me, and they hit me hard, freezing my heart. "I'm just not sure," he said. There were no tangible reasons, no explanations.

On Jason coming out (and ending the mystery of why he called of the engagement):

The phone call this April ended the mystery. He left a message on a Sunday, saying, "I have something important to talk about—please call me back." I was working and called the next morning. He uttered an eerily familiar phrase: "You may want to sit down." Then he said, "Carolyn, I'm gay." I was stunned. I managed to say, after a silent moment and then a deep breath, "I had no idea. I'm sure a huge weight is off your shoulders." During all the years I had known him, I never would have guessed that he would come out as gay.

On how Jason HASN'T spoken to her since his announcement:

We talked again briefly that night. He answered a few questions, but there was much left to discuss and he said he had to go. As I tell this story, it has been several weeks since he told me his news and he has made no further time to talk, despite saying he would do so. I am sad that the media seems to be a higher priority. I hope this changes in the coming weeks, as I value open dialogue more than anything.

Read the full story here.
Do you think Mr. Collins owes his ex-fiancee of four years a follow-up phone call...and a few explanations? SPEAK ON IT....
Photo via Twitter
JUST MARRIED! Wiz Khalifa & Amber Rose OFFICIALLY Married...FORMAL Wedding Is This Fall
Posted: 08 Jul 2013 02:19 PM PDT
Rapper Wiz Khalifa and Amber Rose, the mother of his son, are officially husband and wife. Deets on how the twosome officially tied the knot inside...
With a formal wedding going down this fall, 29-year-old Amber Rose & 25-year-old Wiz Khalifa got the technicalities out the way today and became husband and wife.
Not sure if they went down to the Justice of The Peace or had a small ceremony with just a few folks, if anyone, in attendance, but they indeed signed stheir papers today to make their union official.
Just a few days after filing for a marriage license, Wiz tweeted a few minutes ago:
Me and Amber got married today. Weddings this fall. Thought I'd let yall know
Sebastian's parents have been calling themselves husband and wife for several months now, so the paperwork now makes it real.
Photo: Amber's IG
POURING IT UP IN POLAND: Rihanna Hits The Beach With A Cocktail & Bikini, GETS PISSY Drunk At The Kings Of Leon Concert (PICS + VIDEO)
Posted: 08 Jul 2013 01:22 PM PDT
Rihanna and her killer bod were spotted soaking up some sun rays in Poland over the weekend, where she "recovered" from a pissy drunk night at the Kings of Leon concert. See the beach candids and footage of Rih Rih being escorted out of the concert inside....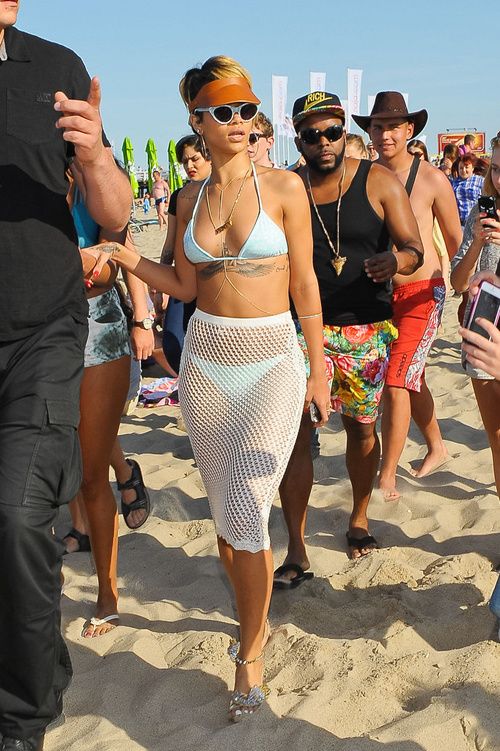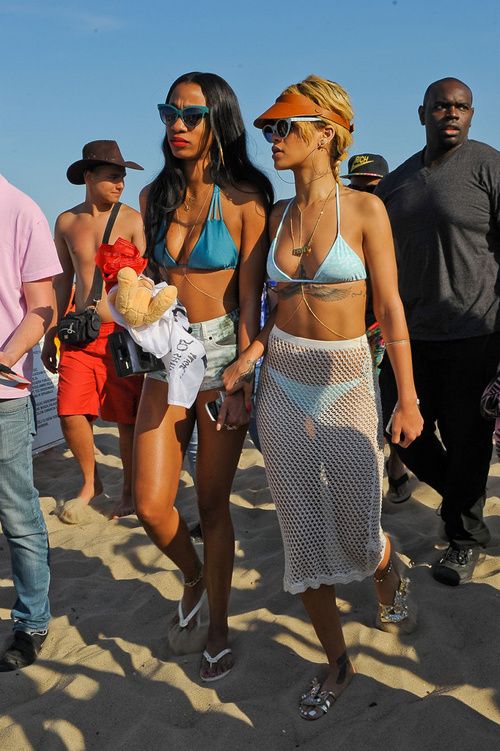 On Sunday, pop star Rihanna was spotted on the beach with her bestie Melissa Forde in Sopot, Poland, where the ladies sipped on a few cocktails.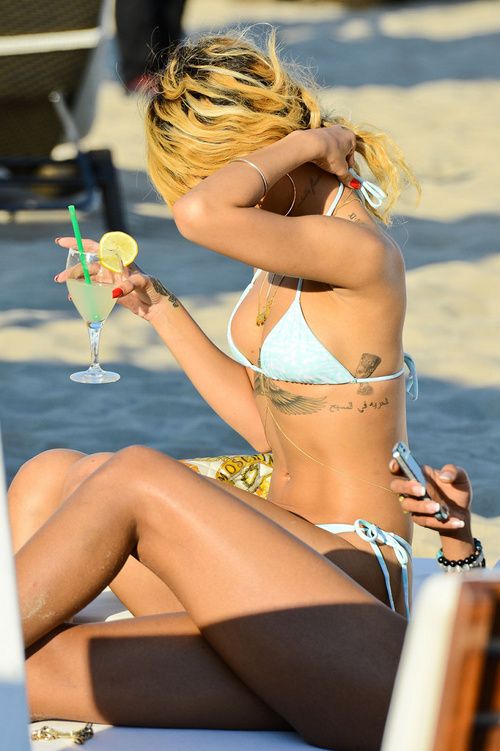 Rihanna started off her beach day in a crotchet white cover-up before unveiling a baby blue two-piece bikini that showed off her ridiculously perfect skin. Hopefully that sun drained out all the liquor form her skin after the KOL concert the night before...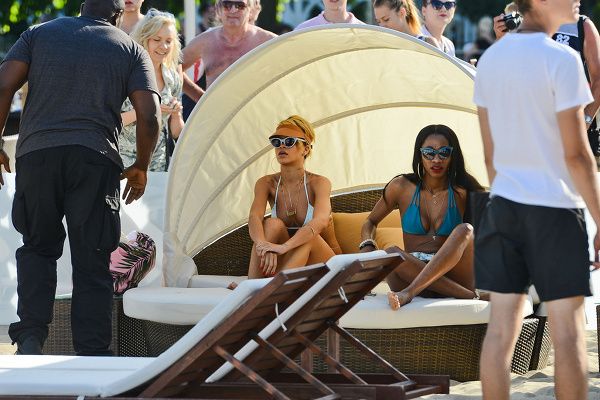 On Saturday night, Rihanna went to the Kings of Leon concert where she tweeted, "Easily the best night of our lives! To the Kings, we love you for life! Thank you always! #KingsOfLeon #KOL".
Unfortunately, Rih's day at the beach was short lived.....
Her team seemed perturbed by the paparazzi and fans buzzing around the pop star and she was forced to cut the day short. She later tweeted from her hotel room, "Tried to have a beach day, that was a fail!!"
Oh the perils of pop stardom....
And in case you missed it....
Rihanna had a REALLY good time at the Kings of Leon concert. The "Pour It Up" singer saw the bottom of her cup so many times that she needed an escort out of the venue. Watch her wobbling out of the concert above.....
The Randomness:
1. 50 Cent was just dropped from MLB's All Star Bash on the heels of his domestic abuse allegations. Lesson probably NOT learned. STORY
Photos via PCN
LAUGHING ALL THE WAY TO THE BANK: Kevin Hart's "Let Me Explain" Makes History As Biggest Opening Weekend For A Comedy Concert!
Posted: 08 Jul 2013 12:21 PM PDT
Kevin Hart's Let Me Explain had a strong opening over the weekend, taking in $17 million bucks. Get the deets on Kevin's success and the rest of the box office weekend inside....
Over the weekend, Kevin Hart's film, Let Me Explain, had an extra impressive opening, taking in over $17 millions dollars! And because the film only cost Kevin's HartBeat Productions and CodeBlack Films $2.5 million to produce (the film was distributed by Lionsgate), you can see why everybody's fave chocolate drop is laughing all the way to the bank!
While $17 million might not seem like a large number, you have to take into consideration how well the film performed on each screen. Considering that the film played in just 836 theaters and took in $11,530 per-screen, it's per-screen in take was BETTER than any film in wide release except for "Despicable Me 2". In sum, Kevin KILLED IT this weekend!
Plus, the birthday boy who celebrated (above) his 33rd Birthday at Hollywood hot spot Greystone Manor last night, made history with the biggest opening weekend for a comedy concert movie ever!
Kevin tweeted:
We are making history!!!! #LetMeExplain I just cried tears of fucking JOY!!!! I have the #1 comedy concert film opening of ALL-TIME!!! WOW

This is why I work so f*cking hard....this moment is what I've been dreaming about!!! Thank you god & thank you fans!!! I love y'all 4 this
Lionsgate's executive vice president for theatrical distribution David Spitz told TheWrap, "The challenge for us was cutting through the clutter surrounding the holiday and the other movies," Our marketing team did a great job of that, and we got a real boost from Kevin on social media."
Here's how the rest of the box office looked (via Box Office Mojo):
Photos: Hennessy V.S
LOVE 'DEM STRIPPERS: Nicki Minaj, Meek Mill, Fabolous, Future & More Drop Dollars In Perfections For SB's B-Day + Nicki & Mario's New "Somebody Else" Video
Posted: 08 Jul 2013 11:31 AM PDT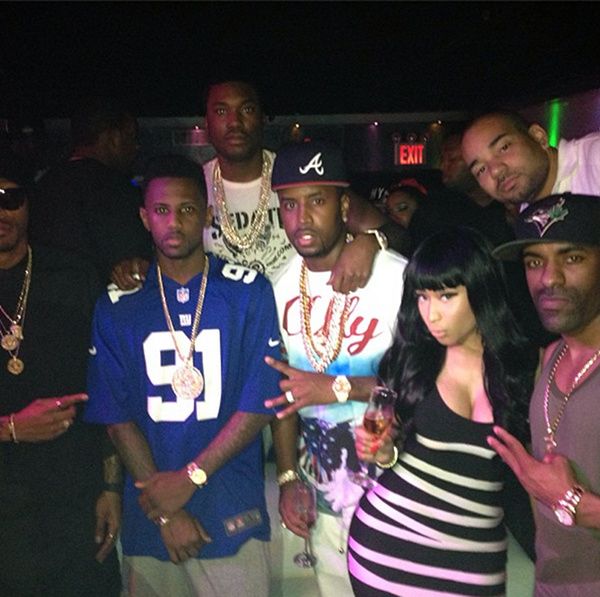 Nicki Minaj and her rapper friends all celebrated her hype man/boo Sarafee "SB" Samuels' birthday last night in the place where every classy birthday party goes down...the strip club.
Pics of the slightly NSFW b-day foolery inside...
Nicki brought her own cakes to Perfections strip club in Queens last night to pop bottles and drop dollars for the very strippers these rappers love making songs for and about.
So it's only right Nicki, who hosted for the night, partook in the birthday foolery that ensued with Meek Mill, DJ Clue, Fabolous, Future, DJ Envy and more: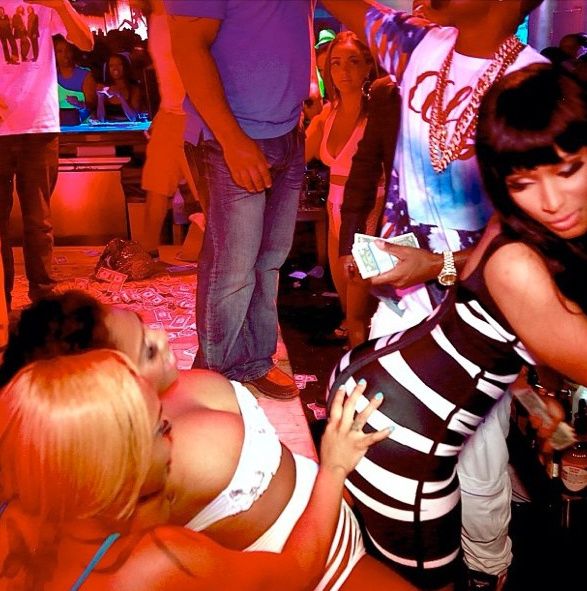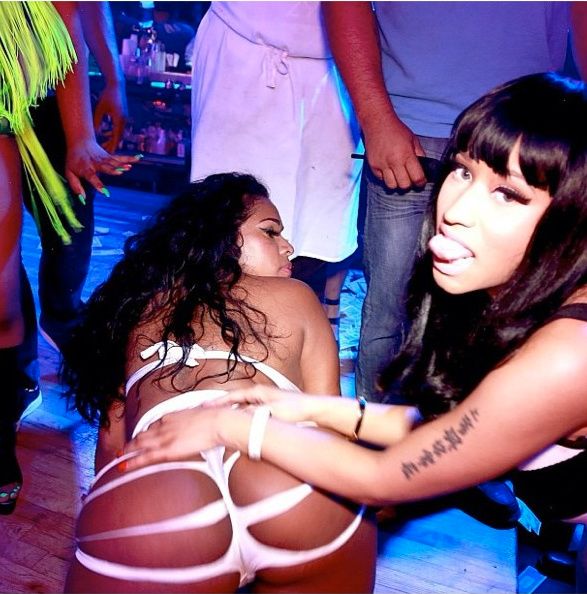 Y'all already know Nicki got in on the action. Booty grabs for everyone!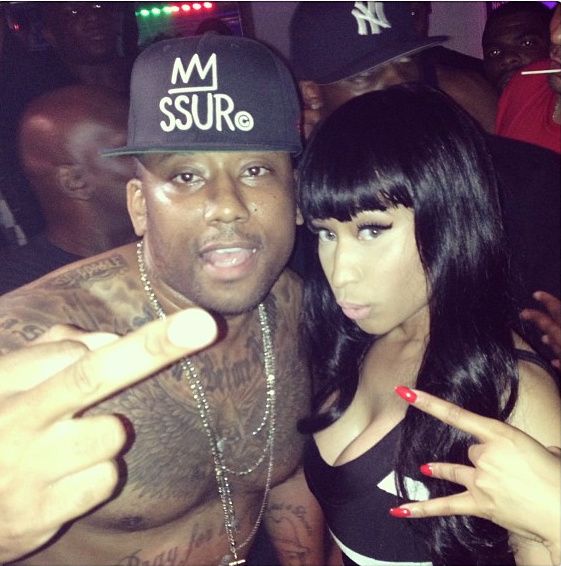 Nicki snapped pics with Clue and an always shirtless Maino.
Chilled up top with SB.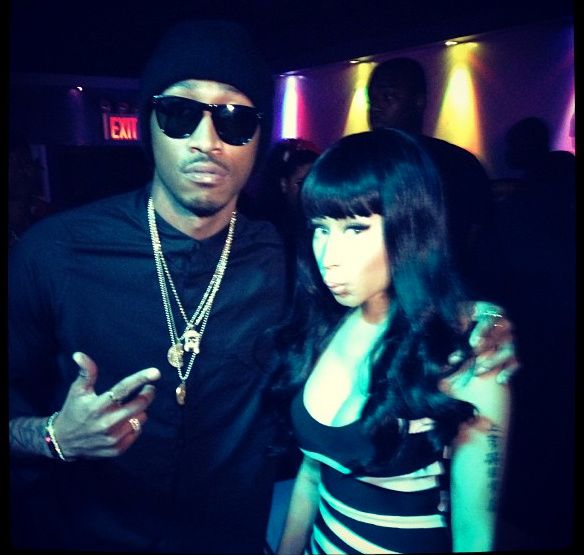 And made her faces with Meek & Future. And she also stopped to say wassup to her fans that were waiting outside: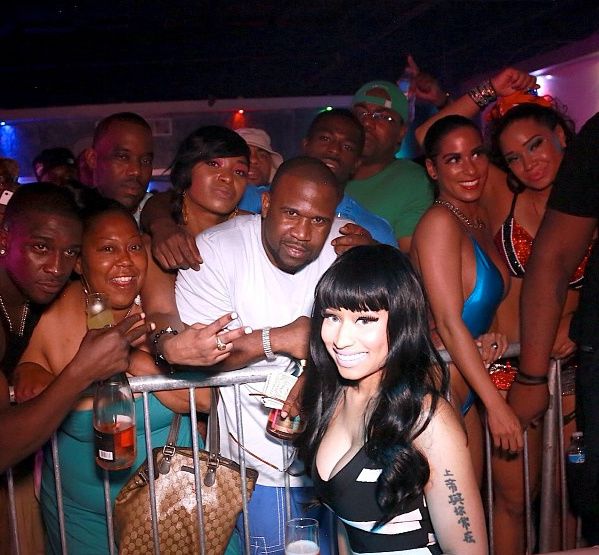 Fun times, we're sure.
And speaking of strippers:
New mom Amber Rose decided to post what looked like a dip into her past. She and a friend stopped on the street somewhere to do an impromptu stripper-move photoshoot with an iphone. And this is what became of it.
BONUS: Mario dropped his "Somebody Else" video ft. Nicki Minaj.
The track will appear on Mario's comeback album Restoration...his first in 4 years! Check otu the tragic love story that plays out in the Alxeandre Moors-directed vid.
Photos: Amber Rose's IG, @DJClue @allpinkbarbiedreamhouse @sbstunts

HELLO! Cool Kid Jaden Smith Turns 15 Today!
Posted: 08 Jul 2013 10:22 AM PDT
Actor and rapper Jaden Smith turns 15-years-old today. Celebrate with one of Hollywood's coolest kids inside....
"Hello" rapper Jaden Smith celebrates his 15th birthday today. The After Earth actor, who's also branched into hip hop with The Cool Cafe and fashion va MSFTS line, is proving to be one of young Hollywood's most talented stars. Uunder the guidance of his A-list parents, Will & Jada Pinkett Smith, we expect big things from young Jaden and what he chooses to do in the future. Even if some folks do raise an eyebrow or two at the total freedom the Smith kids seem to have.
We're keeping our fingers crossed about his love life though. He's allegedly mixed up with the Kardashian/Jenner clan.....but we're sure Jada is keeping a watchful eye.
And in case you missed it, you can watch Jaden and his equally cool sister Willow hanging out with other rich kids in an Independence day-themed-"Summer Fling" video with Melodic Chaotic .....
Also, Jaden shares his birthday with actor Lance Gross who turns 32.
Check out some of Jaden's coolest "looks" in our birthday gallery below....
Photos via PacificCoastNews.com
READY OR NOT: Lauryn Hill Checks Into Federal Prison To Start 3 Month Tax Evasion Sentence
Posted: 08 Jul 2013 09:51 AM PDT
Put on your sad faces. Because Lauryn Hill is really in lock up. Deets on her checking in today inside...
We were hoping that Lauryn and the State/IRS would reach some type of compromise, especially with her new music deal, but that's not the case.
Reports state that Ms. Lauryn Hill checked into the Federal Correctional Institution in Danbury, CT at 11:15AM. She is in a minimal security facility and will be housed with the general population.
The 38-year-old rapper/singer will serve a three month sentence for tex evasion.
Lauryn didn't leave a recent statement on her Twitter or Tumblr before going away, but her 14-year-old daughter Selah had this to say last night about her frustrations about her mom having to leave:
"Fuck the government"
Selah, who's a gorgeous model, recently entered high school and also posted pics of her beach day on Long Island beach this weekend. Likely to keep her mind off her mom leaving.
We wish Lauryn well and hopes she comes back stronger than ever!
You have read this article with the title The Young, Black, and Fabulous. You can bookmark this page URL http://thisgirlreprobate.blogspot.com/2013/07/the-young-black-and-fabulous_9.html. Thanks!