---
POST-COURT SHOWDOWN: Rachel Jeantel CALLS The Trayvon Martin RULING "BS" On "AC360" + Juror B37 SAYS George Zimmerman's "Heart Was In The Right Place" On Piers Morgan"--No Longer Writing Book As Publisher DROPS Her!
Posted: 16 Jul 2013 08:14 AM PDT
Cable news offered a post-courtroom showdown last night as Rachel Jeantel, the prosecution's star controversial witness in the Trayvon Martin trial spoke out about the jury's decision. Meanwhile, Juror B37 explained why she found George Zimmerman "not guilty" and why she felt "sorry" for Rachel Jeantel. Oh, and she's no longer writing her book. Watch the clips inside....
Last night, Rachel Jeantel, the prosecution's star witness, sat down with Piers Morgan to share her side of the story and to talk about her dearly departed friend, Trayvon. During their interview (which portrayed her in a much more personable light), Rachel discussed why she DID NOT want to attend the funeral (she has a fear of death), how she felt about the controversial cross-examination and how she felt about the media attacks on her. Here are the highlights:
On Trayvon Martin:
Trayvon is not a thug....(He's) a calm, chill, loving person who loved his family. Definitely his mother. A good friend.

On her reaction to the verdict:

Disappointed. Upset. Angry. Question. And mad.

On the notion the George Zimmerman acted in self-defense:

B.S.

On being disparaged by the defense:
When the state closed, they're trying to explain what kind of person I am. And you can see the kind of person I am. Out of the whole stand I never cussed out Don [West]. Even during our little [...] - since March. I'll hold it back. The only reason I have not said anything to Don West because my parents taught me better. As an adult you don't have the right to disrespect an adult. Don't curse - okay I did give attitude.

On her courtroom demeanor:
It's not that I didn't want to be there...I was dealing with a lot of stress.

On her speech pattern:
I have an underbite. I had this situation since kindergarten. Words I can say, they can't come out right.
Watch the interview here:
And on AC360.....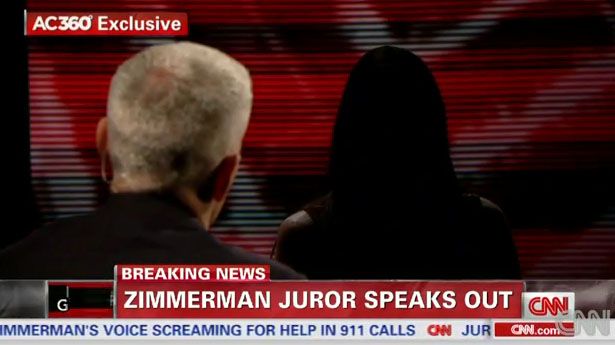 Juror B37, the woman we told you was pitching a book about the trial, gave her side of the story to Anderson Cooper where she explained how the jury came up with a "not guilty" verdict and why she thought George Zimmerman's heart was in the "right" place. Here are the upsetting highlights:
On the screams heard on the 911 call:

"...because of the evidence that he was the one that had gotten beaten...I don't think there was a doubt....that everybody else thought it was George's voice."

On Rachel Jeantel:

"I didn't think it was credible, but I felt sorry for her. She didn't ask to be in this place. She wanted to go. She didn't want to be any part of this case. I think she felt inadequate toward everyone because of her education and her communication skills. I just felt sadness for her...she was embarrassed by being there, because of her education and her communication skills, that she just wasn't a good witness."


On if Trayvon said "Creepy Ass Cracker"

I think it's just every day life. The type of life that they live, and how they're living, in the environment that they're living in."


On George Zimmerman:

I think George Zimmerman is a man whose heart was in the right place, but just got displaced by the vandalism in the neighborhoods, and wanting to catch these people so badly, that he went above and beyond what he really should have done. His heart was in the right place. It just went terribly wrong.
Is it just us, or does it feel like Trayvon was put on trial (seeing that she said the BOTH could have walked away despite the fact Trayvon was minding his business in a place he had every right to be), and he never had a chance with this juror....and possibly not with the whole jury? Sounds like this woman--possibly all the jurors as well--simply identify with George and excuse his behavior becasue he "meant well" due to the break ins. Apparently, it doesn't matter that he was 100% wrong in his assumption. As long as he "meant well"....it's OK that a boy is dead....
And about that book deal...............
Following the IMMEDIATE backlash Juror B37 received about her proposed book, she AND her literary agent had second thoughts. The Juror released a statement which effectively cancelled the book deal.
"I realize it was necessary for our jury to be sequestered in order to protest our verdict from unfair outside influence, but that isolation shielded me from the depth of pain that exists among the general public over every aspect of this case. The potential book was always intended to be a respectful observation of the trial from my and my husband's perspectives solely and it was to be an observation that our 'system' of justice can get so complicated that it creates a conflict with our 'spirit' of justice.

Now that I am returned to my family and to society in general, I have realized that the best direction for me to go is away from writing any sort of book and return instead to my life as it was before I was called to sit on this jury."
Of course there's more to the story......
It turns out that the Black Twitterverse had a hand in the squashing the book project. A Change.org petition, started by a young woman who tweets under the handle @MoreandAgain, landed on the timeline of literary agent Sharlene Martin and caused her to rescind her offer to Juror B37. Not to mention the floods of emails and calls we know she received after the Twitterer publushed her contact info. Let's just hope B37 really does have a seat and doesn't go looking for another publisher.
Watch the interview (that helped cancel her book deal) here:
BONUS:

In response to her mistreatment by the media, syndicated radio host Tom Joyner reached out to Rachel Jeantel and has now offered her a full scholarship to any HBCU of her choice!
BALLER LOVE...& CHEATERS: RGIII's ALLEGED MISTRESS Exposes His "Imprint" Pics & Cheating Texts? + Keri Hilson & Serge Ibaka Slow Grind In The Club
Posted: 15 Jul 2013 08:20 PM PDT
So...we've got more proof that athletes never learn. Redskins QB Robert Griffin, III has "allegedly" been caught cheating...and he's been married for less than a month! Check out all the proof his mistress has inside, plus Keri Hilson & OKC Thunder baller Serge Ibaka cuddled up in the club...and not caring who sees...
In case you missed it, Heisman trophy winner and NFL star RGIII just got put on blast by his "alleged" mistress. And by "alleged", we mean WE believe all this ish is true. The top pic is a bit suspect, but the one below looks very much like RGIII. So for legal reasons (and in case she pulled off an incredible photoshopping job)....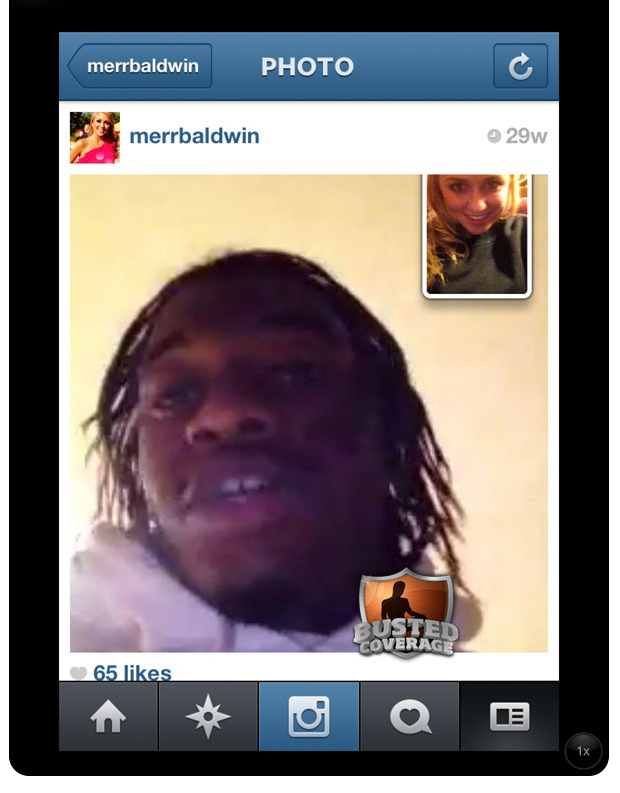 The alleged mistress' name is Meredith Barber and she's a college girl who goes to VCU. Not only does she claim she and RG have been facetiming, discussing when they would have sex, and sharing inappropriate pics (all of which she provided proof of), but she also claims RG sent her "penis imprint" pics ON HIS WEDDING DAY!
Sigh.
RGIII, who usually comes off as the "good kid" of the NFL, has been exposed with pics and more.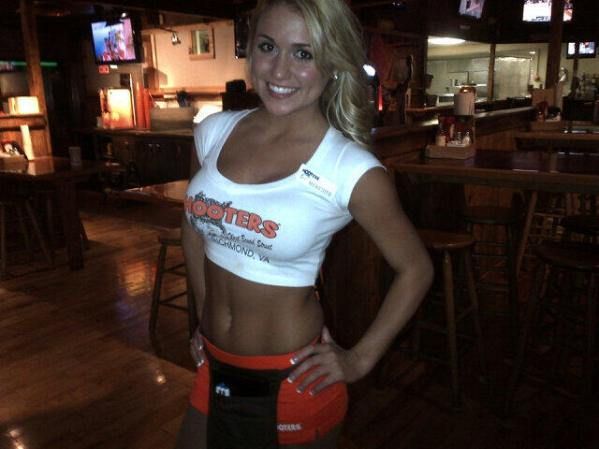 Meredith sent the info to the site BustedCoverage.com to seek out money for the full story. These chicks plot to expose you for cash from the first time you contact them for some ass fellas. Please learn the game.
Meanwhile, she posted pics of her jewelry she hinted that RG bought her as well: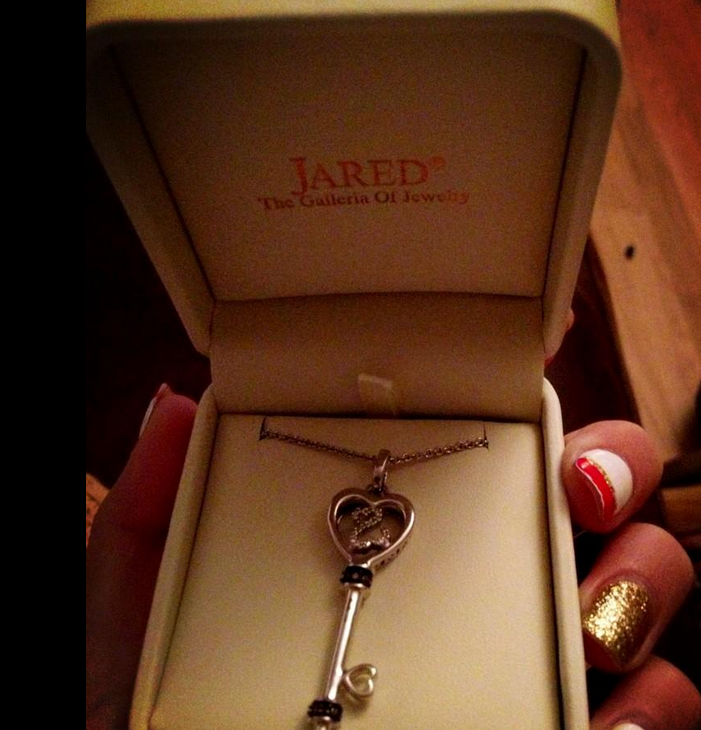 GASP. His behind went to JARED? This just got real.
So when Meredith contacted the site begging for compensation for her cheating story, she sent pics that HE sent her--of his package.
And when Merdith cut off negotiations when the site offered $500, they went ahead and published her thirsty emails:
Apparently, she believed some of their original article was "incorrect" and wanted to correct them. With the real info. Of course.
She also sent this foolery:
RG begging to "see" her...while sending a pic of his bare stomach. And if you notice the date, it was the morning of his damn wedding to Becky! How painfully basic of him.
You know what, we're done here.
In other news, hottie Serge Ibaka of the OKC Thunder was spotted hugged up with his boo Keri Hilson at Compound nightclub in Atlanta last night:
http://i368.photobucket.com/albums/oo126/theybf/July%202013/dsc_2696_zps...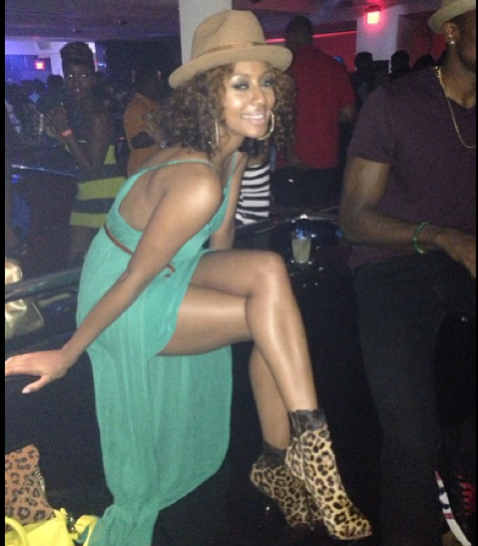 These two are usually pretty coy about being seen together, with only a few romantic pics of themselves out there. But clearly, they had no qualms last night:
Sexy. And they spent the day together earlier at an outdoor concert: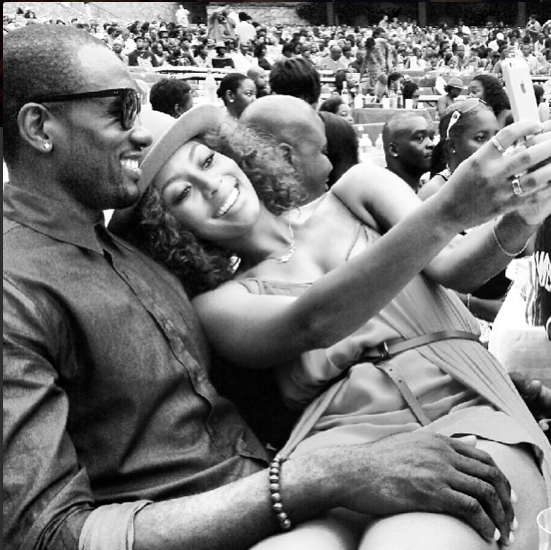 Cute. So much for "no boys allowed"...
Photos: ATLPics.net/Keri's IG/BustedCoverage.com
SERIOUSLY? Zimmerman Trial Juror B37 SIGNS BOOK DEAL With Literary Agent...And She Called Trayvon A "Boy Of Color"
Posted: 15 Jul 2013 04:37 PM PDT
In a move that will have you scratching your head, one of the jurors who set George Zimmerman free has signed on to write a book about the Trayvon Martin trial! Get the shocking deets inside.....
Juror B37, one of the six anonymous women who acquitted George Zimmerman of murdering Trayvon Martin, has decided to write a book about the trail!
Earlier today, Sharlene Martin, the literary agent for the juror, released a statement saying,
"My hope is that people will read Juror B37's book … and understand the commitment it takes to serve and be sequestered on a jury in a highly publicized murder trial and how important, despite one's personal viewpoints, it is to follow the letter of the law,

"It could open a whole new dialogue about laws that may need to be revised and revamped to suit a 21st century way of life.

The reader will also learn why the jurors had no option but to find Zimmerman not guilty due to the manner in which he was charged and the content of the jury instructions."
So what do we know about this anonymous woman who'll soon teach us a thing or two about the inner workings of the judicial system?
We know she's married to a lawyer (who's coincidentally going to co-author the book). We know that she described Trayvon as "a boy of color." And we know that she believed there were "riots" after Trayvon was killed, but twhat she thought were "riots" were actually peaceful protests.
Coupling this with the revelation that she dislikes the media, it will be interesting to watch this woman parade around the talkshow circuit promote a book that will allow her to profit from the death of a "boy of color". How interesting that soneone can remain 100% anonymous and profit off the very case they refuse to show their face in relation to.
Perhaps her thirst for money and fame will truly teach us another thing or two about the judicial system. It's royally flawed.
BONUS:
Tonight on a special episode of "106 & Park", Bow Wow and Angela Simmons join political commentator and activist Marc Lamont Hill, Professor and Huffington Post contributor Myisha Cherry, President and CEO of the Hip Hop Caucus Reverend Lennox Yearwood Jr., and Professor Paul Butler to provide additional insight on the Trayvon Martin verdict.
Photo Source: Michelle Breeze Johnson's FB
LeBron & Savannah's Wedding Invitations Leak...But No Details
Posted: 15 Jul 2013 02:57 PM PDT
LeBron James & his soon to be Mrs. are 2 weeks away from their wedding date. And the invitations just leaked....with top secret "phone numbers" and ish to call. Check it inside...
After a week of Vegas & Anguilla Bachelorette vacays with her bridesmaids and besties, Savannah Brinson is back home with her almosthubby, 2-time NBA champ LeBron James. He posted the above cute pic of the twosome saying:
Finally got my babe back away from Rump Shaker, C More Butts and Mandingo!! Smdh. Hahaha. #QueenVsBacheloretteIsOver #ImHating #LookAtMyFaceandLookAtHers #NawHappySheHadABallWithHerGirls #BachelorWeekIsNext
And one of their wedding guests, who we're sure they thought was their friend, leaked the wedding invite. The San Diego nuptials will go down September 14th (as we knew from the Save The Dates). But the intricate gold & white invite purposely lacks a place & time for the ceremony on Saturday, the welcome BBQ on Friday & the farewell brunch on Sunday: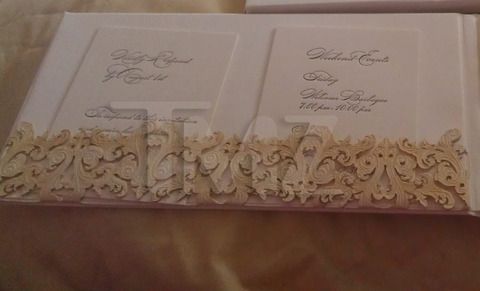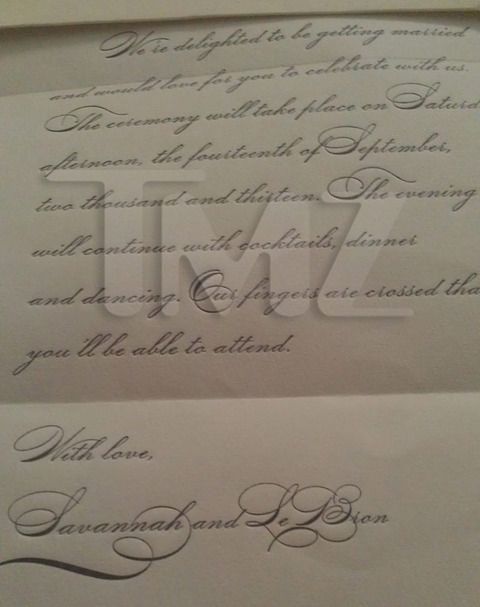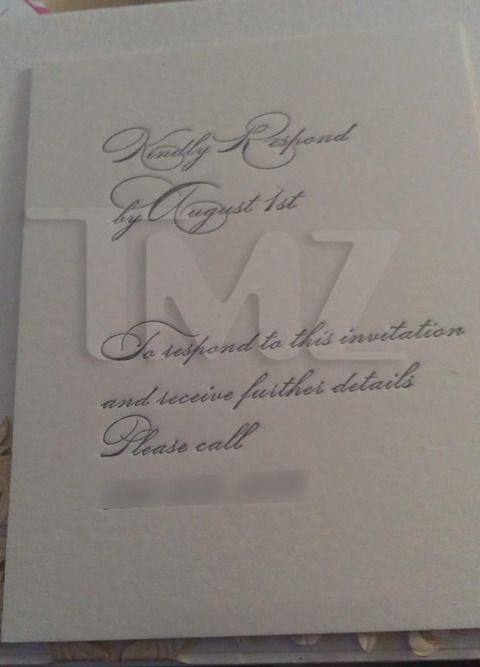 And the kicker.....guests have to call a top secret number, then receive a call back with the further details.
We're still pretty sure pics will leak sooner than they think....
Photos: TMZ
EVENT FAB: LAHH ATL's Rasheeda & Kirk Frost JOIN Cynthia Bailey To Host HHW Style Experience With Erica, Peter, Shay & More
Posted: 15 Jul 2013 01:05 PM PDT
Troubled reality-tv couple Rasheeda & Kirk Frost joined "RHOA" star Cynthia Bailey to host the Hip Hop Weekly (HHW) Style Experience in Atlanta over the weekend. See pics of Quad Webb, Erica Dixon, Shay Johnson and more inside...
"LAHH ATL" star Rasheeda proudly displayed her baby bump as she walked the red carpet for The Hip Hop Weekly (HHW) Style Experience. Looks like she's due any day now. At leat we hope..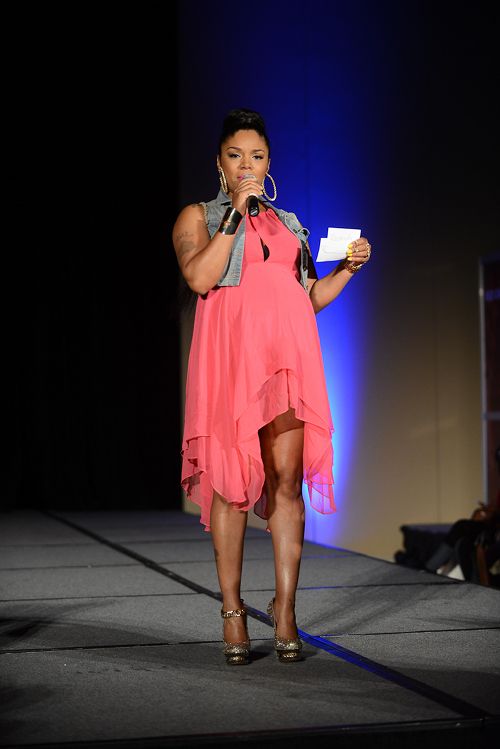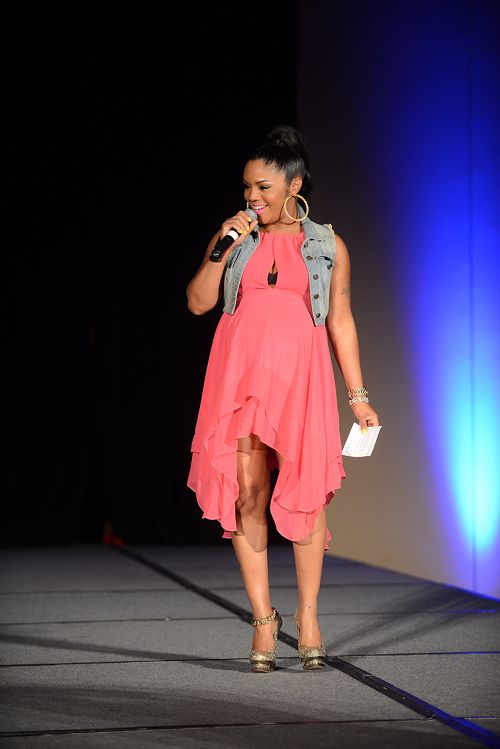 She kept it sexy in a short pink long side hem dress inhand hosted the event on behalf of Hip Hop Weekly and The Cobb Show for an evening highlighting next season's hottest streetwear looks.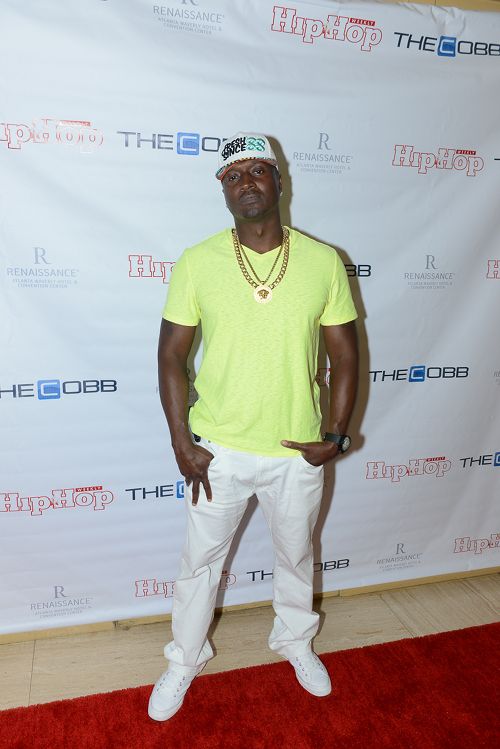 Despite their marital differences, which we've been watching unfold on camera, Rasheeda's husband, Kirk Frost, joined her as event host.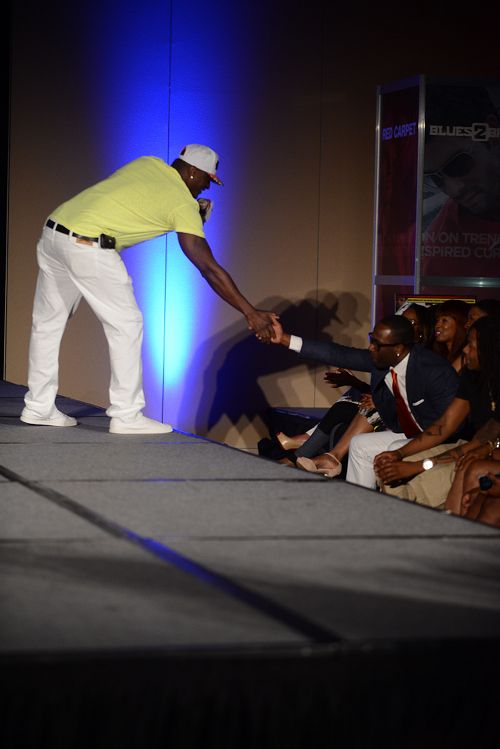 Though they didn't pose for pics together, you'll recall that the couple spoke to us at the 2013 BET Awards and revealed that they're still very much "together" in terms of the "business" they've built. As far as their marriage goes, we guess we'll have to see how that plays out during the season finale of LAHH ATL.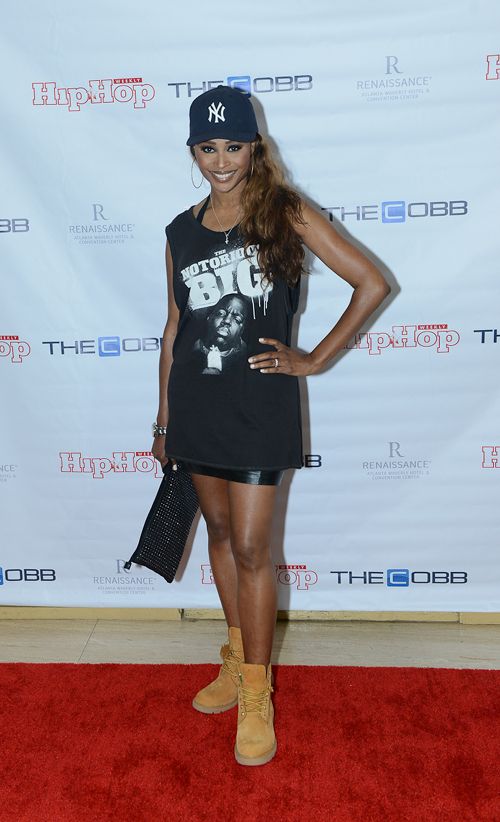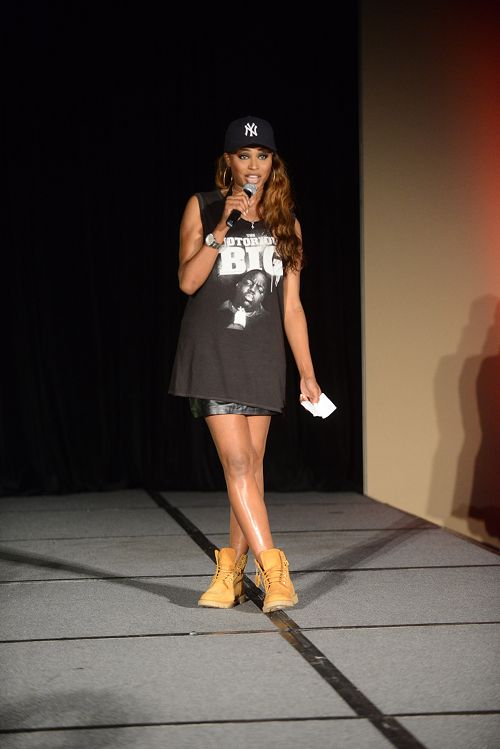 "RHOA" star Cynthia Bailey, who's dealing with an as-yet-unrevealed medical condition, served as the event's third host...in her Timbs.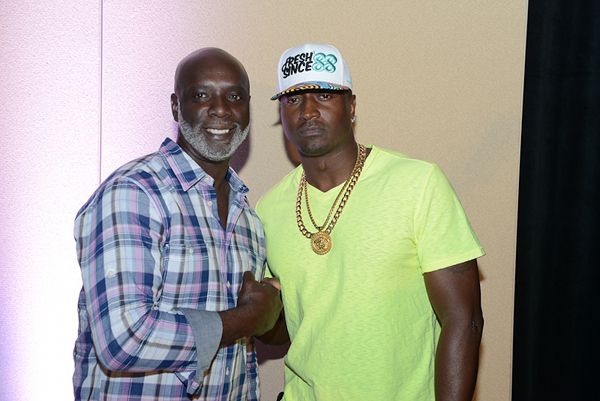 Cynthia's husband Peter Thomas, who co-authored Carry-On Baggage: Our Nonstop Flight with her, didn't play favorites in the "LAHH ATL" cheating scandal, as he was spotted posing for pics with both Rasheeda and Kirk.
In the audience, LAHH ATL stars Erica Dixon and Che Mack posed together. Those tattoos though.....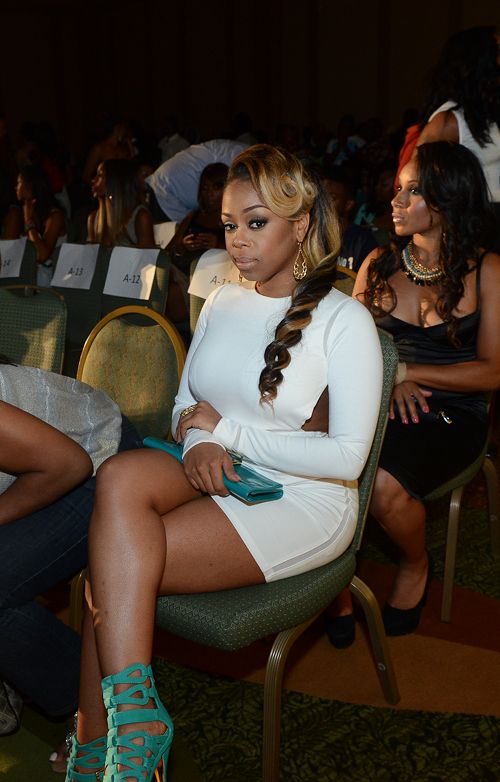 And across the room......Erica's LAHH ATL enemy Shay Johnson was spotted.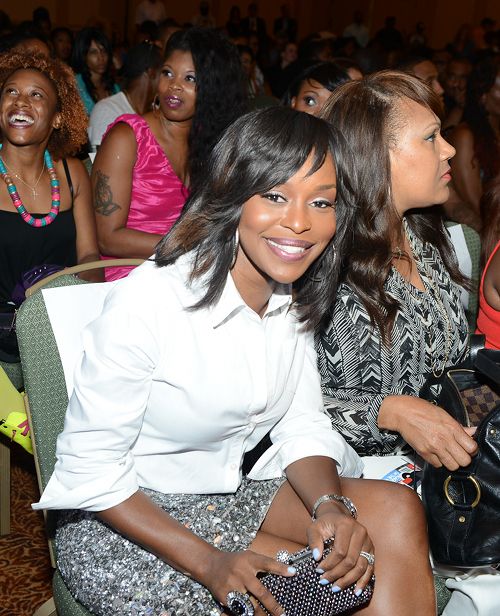 "Married To Medicine'"s Quad Webb was also spotted taking in the fashion show.
The Randomness:
1. VH1 has renewed "Hit The Floor" for a second season. Story.
2. BET acquires rights to air "Scandal" in syndication. Story.
Photos via gparasphotography
HOME AGAIN: Beyonce SPOTTED At Target & Pappasito's In HOUSTON, SINGS "I Will Always Love You" For Trayvon Martin + Tyrese ANNOUNCES "Black Rose" As His LAST Solo Album
Posted: 15 Jul 2013 09:11 AM PDT
Beyonce was spotted in Houston where she dined out and shopped at Target over the weekend. Also, she sang a tribute to Trayvon Martin during a recent performance. Watch the tribute inside and get the deets on Tyrese's last solo album...
While prepping for her tour stop through Houston, Beyonce was spotted out and about in her hometown doing a few "regular" things like discount shopping at a local Target! We know that Target is one of Beyonce's favorite stores and you'll recall that there was a popular flash mob staged at Target for the release of her 4 disc.
Bey and Blue Ivy were also spotted dining at Pappasito's Cantina, a popular Mexican restaurant.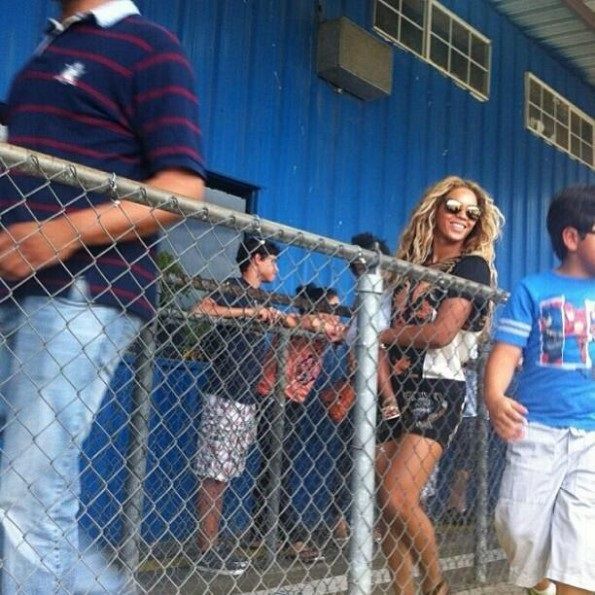 And later tonight, Bey is set to hit the stage for a performance at the Toyota Center.
On Saturday.....
Beyonce had a moment of silence for Trayvon Martin at Bridgestone Arena in Nashville, shortly after the verdict was read. She then sang part of Whitney Houston's "I Will Always Love You" before segueing into "Halo." Watch a clip of her singing "I Will Always Love You" in memory of Trayvon above.
Also caught on tape.....
Bey put an eager fan in Atlanta in check for not being in the moment. She scolded, "Put that damn camera down!"
In other music news.......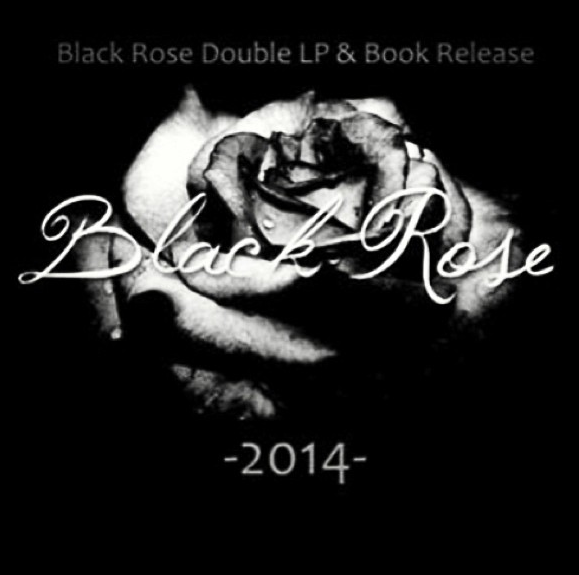 Tyrese announced via Instagram that his last solo album will be Black Rose (set for a 2014 release). He told fans,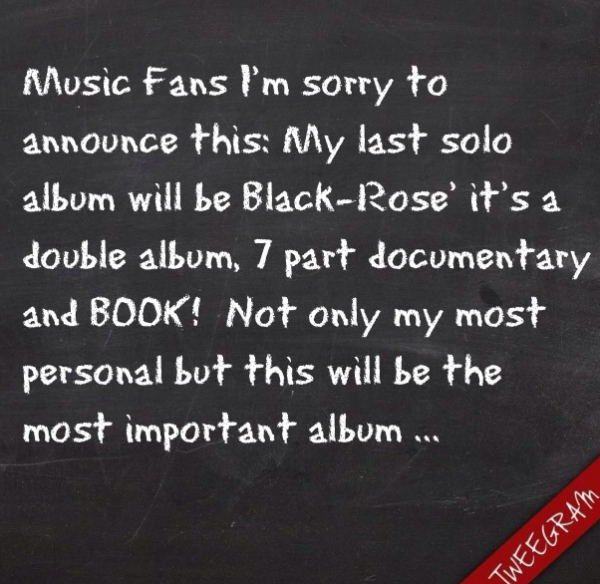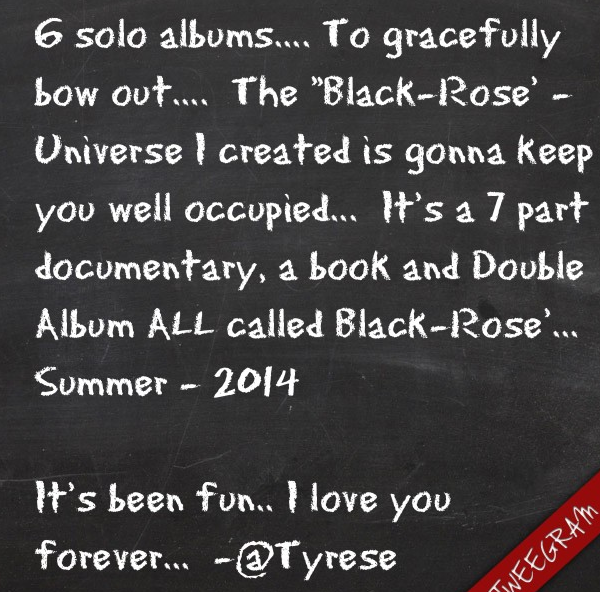 But before fans get the Black Rose documentary, book and double album, Tyrese is gearing up for the TGT's Three Kings debut album (with Tank and Ginuwine) on August 20.
Photos via honeygerman/IG/kingring/twitter/beyoncelite/twitter/tyrese intstagram/Amna Hussian Facebook
You have read this article with the title The Young, Black, and Fabulous. You can bookmark this page URL http://thisgirlreprobate.blogspot.com/2013/07/the-young-black-and-fabulous_16.html. Thanks!