---
PERFORMANCE FAB: Kelis And Her Ta-Tas KISS Las Vegas + Azealia Banks FLASHES Her Thong At The LoveBox Festival
Posted: 20 Jul 2013 07:30 AM PDT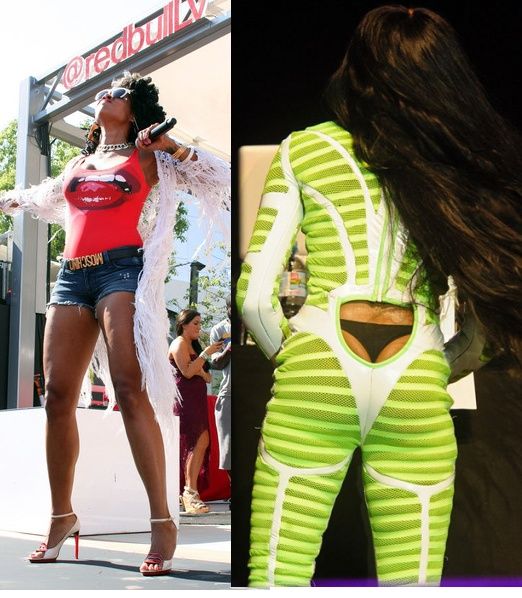 Kelis and Azealia Banks both treated their adoring fans to selections off their upcoming albums and some risque stage attire. See performance clips inside.....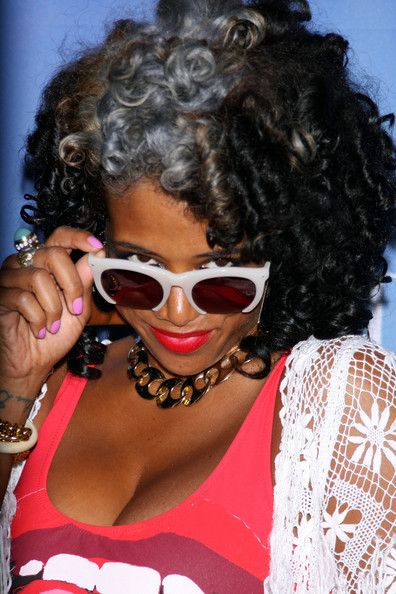 "Caught Out There" singer Kelis performed during 'Ditch Fridays' at Palms Pool and Dayclub in Las Vegas on Friday.
We see the fashion forward singer is still sporting her greyish-Cruella de Vil inspired hairdo.
The songstress performed selections from her forthcoming album on Federal Prism Records.
Kelis also rocked a sexy t-shirt that gave off the illusion of some kissable ta-tas.
Watch Kelis perform a medley of her hits here:
And across the pond......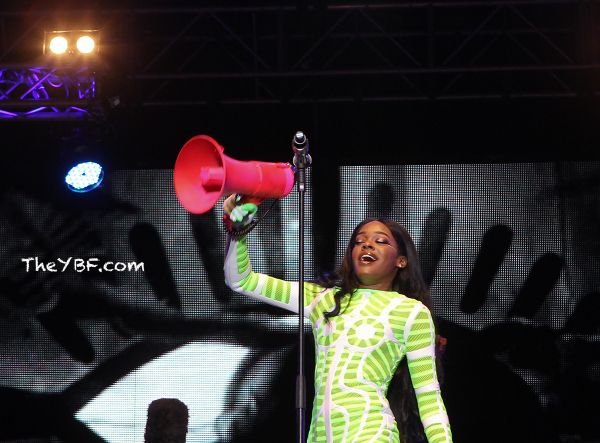 "Yung Rapunxel" rapper Azealia Banks performed for the Lovebox Festival at Victoria Park.
Clad in a glow-in-the-dark catsuit, Azealia performed tracks from her Interscope debut Broke With Expensive Taste.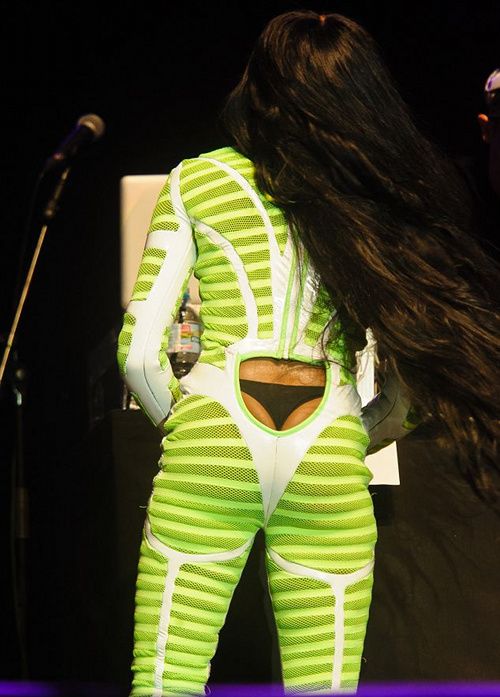 And when she turned her back to the audience....it was worth the price of admission! She must have gotten the memo about Nicki Minaj's ThongThursdays.
Watch Azealia perform "212" here:
Photos via WENN.com\PacificCoastNews.com\Wire
FOOLYWANG: Siovaughn Wade CLAIMS Dwyane Wade LEFT HER "On The Streets"!
Posted: 19 Jul 2013 06:42 PM PDT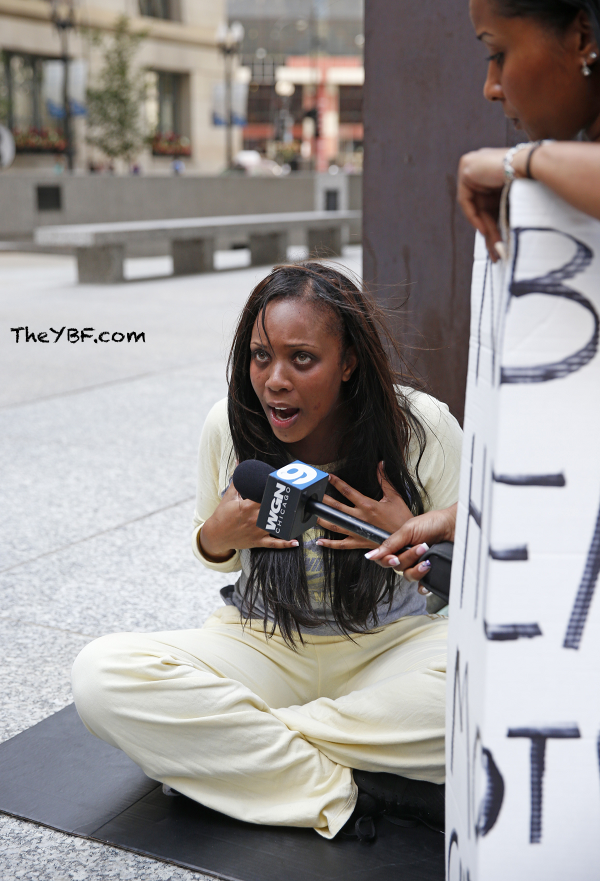 Siovaughn Wade made a huge spectacle of herself when she ranted to folks in downtown Chicago about Dwyane Wade leaving her broke! See the pics inside......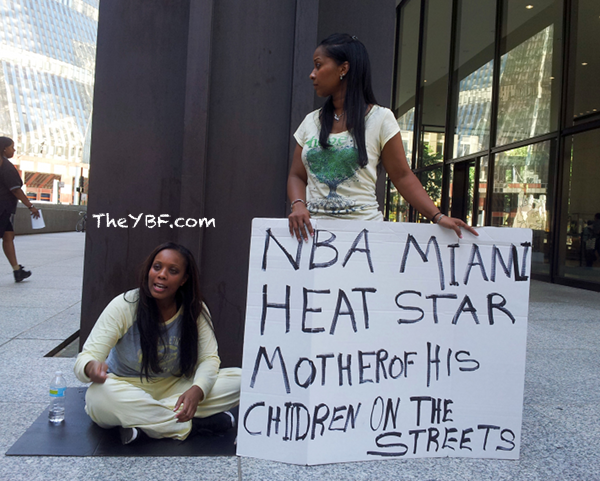 Chicago residents got a big dose of Siovaughn Wade's anger, bitterness and resentment today as she sat on a busy street downtown with a sign that claimed she was "on the streets".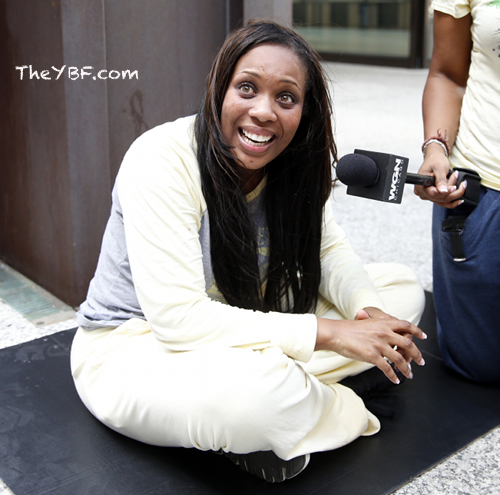 Now that Siovaughn has dropped the million dollar lawsuit she filed against Dwyane Wade (claiming he stiffed her out of money during their divorce), it looks like she's trying to shame him into upgrading her life.
We know Siovaughn must get sick to her stomach every time she sees Gabrielle Union boo'd up with her childhood sweetheart, living the life she imagined for herself.
Sadly....we don't think those science project poster boards are going to get any checks sent her way.

Photos via Kamil Krzaczynski/INFphoto.com
SPEAKING OUT: President Obama OPENS UP About Trayvon Martin, "I Said That This Could Have Been My Son"
Posted: 19 Jul 2013 06:04 PM PDT
Earlier today, President Obama offered his thoughts about the tragic death of Trayvon Martin and gave commentary on race relations in America. Watch it inside....
President Obama made a surprise statement to the nation earlier today, about the Trayvon Martin murder, race relations, and shared some insight into the social struggles that Black men face. Watch the video above and read the transcript below...
I wanted to come out here, first of all, to tell you that Jay is prepared for all your questions and is very much looking forward to the session. The second thing is I want to let you know that over the next couple of weeks, there's going to obviously be a whole range of issues -- immigration, economics, et cetera -- we'll try to arrange a fuller press conference to address your questions.


The reason I actually wanted to come out today is not to take questions, but to speak to an issue that obviously has gotten a lot of attention over the course of the last week -- the issue of the Trayvon Martin ruling. I gave a preliminary statement right after the ruling on Sunday. But watching the debate over the course of the last week, I thought it might be useful for me to expand on my thoughts a little bit.

First of all, I want to make sure that, once again, I send my thoughts and prayers, as well as Michelle's, to the family of Trayvon Martin, and to remark on the incredible grace and dignity with which they've dealt with the entire situation. I can only imagine what they're going through, and it's remarkable how they've handled it.

The second thing I want to say is to reiterate what I said on Sunday, which is there's going to be a lot of arguments about the legal issues in the case -- I'll let all the legal analysts and talking heads address those issues. The judge conducted the trial in a professional manner. The prosecution and the defense made their arguments. The juries were properly instructed that in a case such as this reasonable doubt was relevant, and they rendered a verdict. And once the jury has spoken, that's how our system works. But I did want to just talk a little bit about context and how people have responded to it and how people are feeling.

You know, when Trayvon Martin was first shot I said that this could have been my son. Another way of saying that is Trayvon Martin could have been me 35 years ago. And when you think about why, in the African American community at least, there's a lot of pain around what happened here, I think it's important to recognize that the African American community is looking at this issue through a set of experiences and a history that doesn't go away.

There are very few African American men in this country who haven't had the experience of being followed when they were shopping in a department store. That includes me. There are very few African American men who haven't had the experience of walking across the street and hearing the locks click on the doors of cars. That happens to me -- at least before I was a senator. There are very few African Americans who haven't had the experience of getting on an elevator and a woman clutching her purse nervously and holding her breath until she had a chance to get off. That happens often.
Read the full speech here.
NOT AGAIN: Kanye West "Allegedly" ATTACKS A Photographer, NOW A FELONY Suspect! (UPDATE)
Posted: 19 Jul 2013 04:51 PM PDT
We thought Kanye West made it clear a few days ago when he said, "Don't Talk Ever Again", but one photographer didn't get the memo. Watch Kanye put them paws on him inside.....
LAPD's Pacific Division launched a battery investigation earlier today after Kanye West allegedly attacked a photographer at Los Angeles International Airport.
According to the LA Times, the incident was reported around 2 p.m. on Friday.
Police said a scuffle went down after a photographer continued to take pictures of Kanye after Yeezus told him to stop. TMZ reports that after the photographer began fielding Kanye with questions, Kanye "attacked, attempting several punches".
The scuffle was quickly broken up and Kanye jumped into a waiting car before police arrived. Also, paramedics were called to the scene after the paparazzo complained of injuries. However, folks on the scene said they saw no immediate or visible signs of injury.
We smell a lawsuit.......
UPDATE
TMZ reports that Kanye West has been named a felony suspect in the airport attack. Police are claiming that Kanye committed an attempted robbery when he assaulted the photographer and tried to jack his camera.
The case has now been transferred to the Robbery Homicide Unit and cops are currently putting a file together.
More to come.....

Photos via Splash
YBF KIDS: Mariah Carey And Dem Babies, Jourdan Dunn And Son Riley POSE For VOGUE + Cory & Tia Mowry Hardrict OUT AND ABOUT With Baby Cree
Posted: 19 Jul 2013 02:31 PM PDT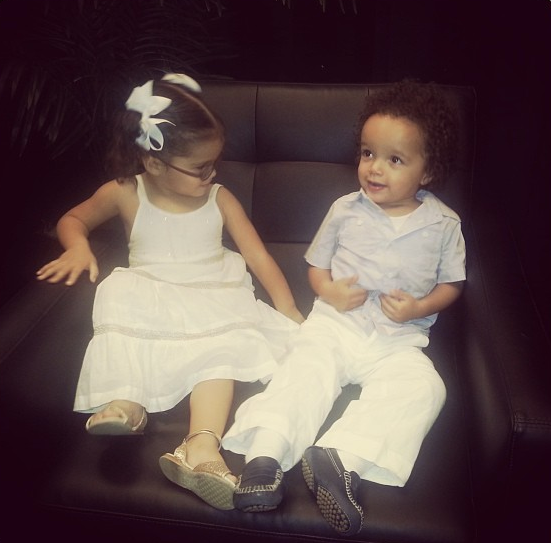 Mariah Carey posted an adorable pic of her twins Monroe and Moroccan from one of her concerts. See the pic inside and see family photos of Cory & Tia Mowry Hardrict and Jourdan Dunn and her son Riley posing for Vogue.
Singer Mariah Carey posted an adorable new pic of her tots after one of her sellout shows. She tweeted, "backstage at mommy's concert for the 1st time, Roc gave a Standing O and Roe blew kisses".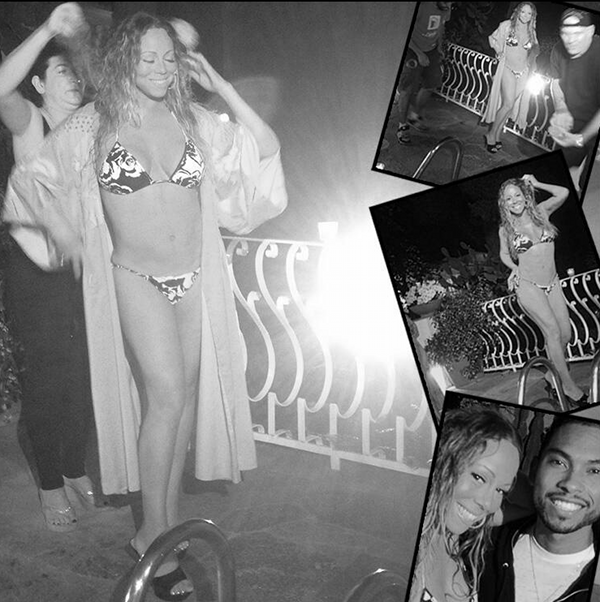 Mimi also shared a pic from the video she recent shot with Miguel. "in Capri while shooting the #Hermosa video with Miguel! http://po.st/MCHermosa". Obviously, this pic was taken before she tumbled off her heels and ended up in a sling.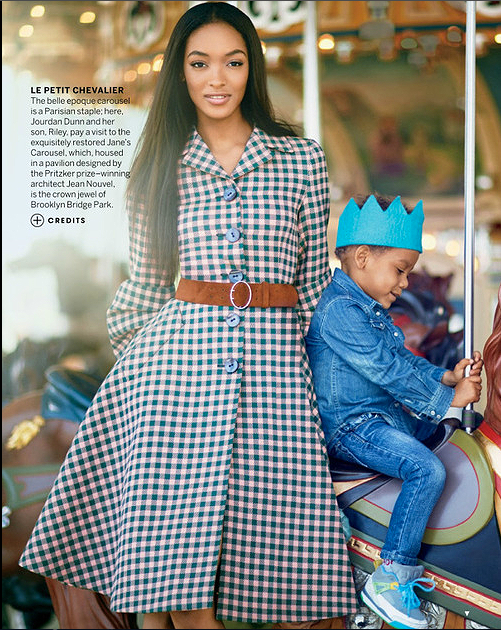 Model Jourdan Dunn posed for the August issue of VOGUE with her son Riley. The single mom and her son are featured in a cutsy spread called Bonjour Brooklyn. The pic was snapped at Brooklyn Bridge Park for a spread that stars several other models who are also moms.
And in other family pics.....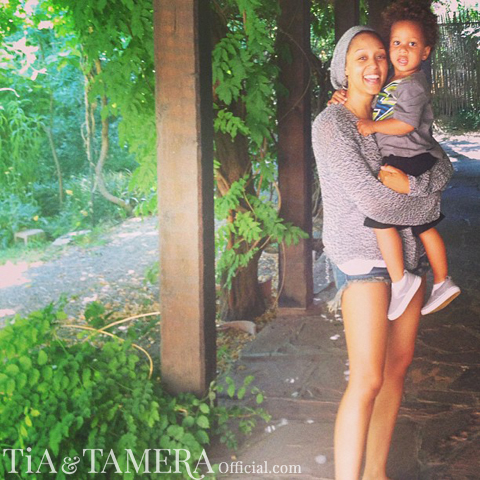 Tia Mowry Hardrict posted a few new snaps shots of her adorable son Cree.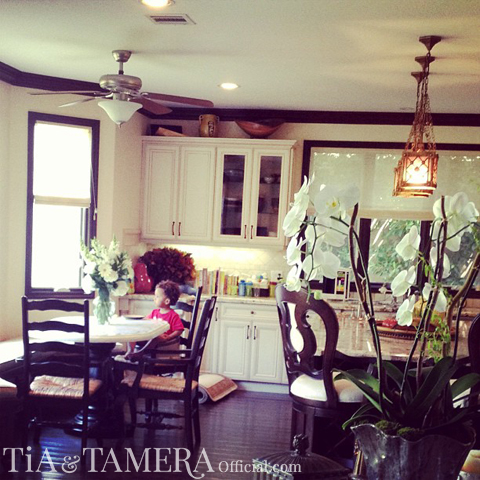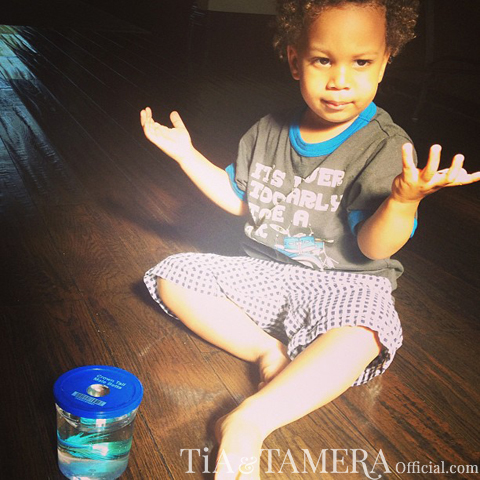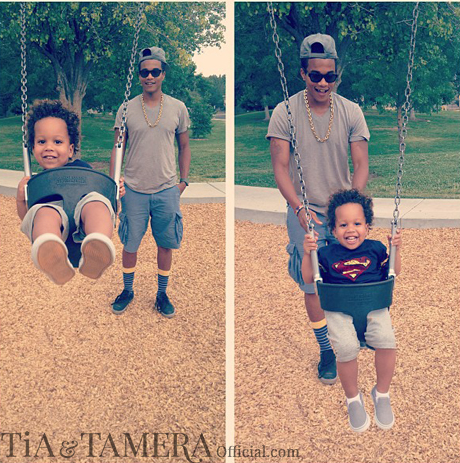 Cree, who recently turned two enjoyed being pushed in the swing by his dad Cory.
Photos via Tia Mowry blog/Mariah Carey IG/VOGUE
SHE SAID WHAT!!! Actress Rae Dawn Chong CALLS Oprah Winfrey "Fat", The "N" Word, & " A Total Bioootch" + "The Butler" PRODUCERS Battle In Court OVER Name Change
Posted: 19 Jul 2013 12:21 PM PDT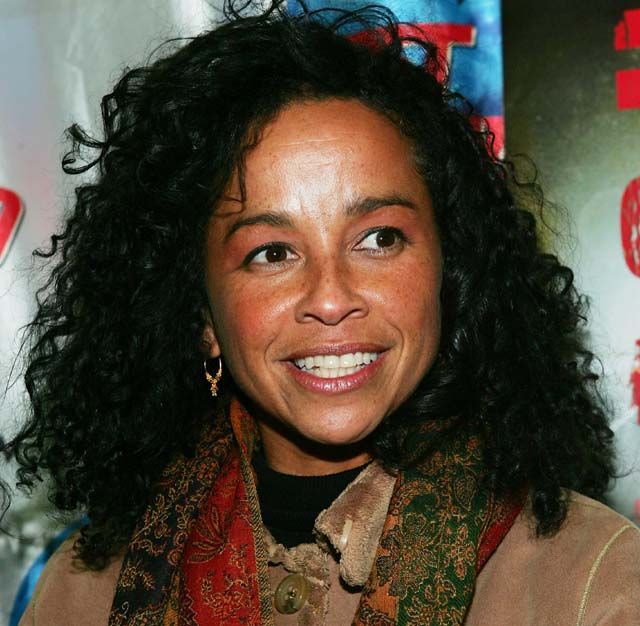 Actress Rae Dawn Chong, who co-starred with Oprah Winfrey in The Color Purple was caught bashing the mogul, calling her the "B" word, making fun of her weight and comparing her to a field n*gger. See what else she said inside and get the latest developments on the name battle regarding "The Butler."
Rae Dawn Chong, who rose to fame in films like Soul Man, Commando and The Color Purple, bashed her former co-star Oprah Winfrey during a shocking rant on Matty P's Radio Happy Hour that's probably the most insulting thing ever said about Oprah Winfrey....on the record. Rae clearly has no issue taking on one of the world's most powerful women saying,
Oprah is a "great brown-noser. If you're in a room with her, she'll pick the most powerful person and she'll become best friends with them. When we worked with her ... she was that fat chick that was the ... wannabe cheerleader that was the student council president that was best friends with the principal ... she was that fat chick in school that did everything and everybody loved her. That's Oprah -- love me, love me, love me."
So where did things go wrong between Mary Agnes and Miss Sophia? Rae says, "She was lovely [on The Color Purple]," It was after when I did Commando and I was starring with Maria Shriver's husband in the movie. That's when she was a total bioootch."
But the interview wasn't all salty. There was a bit of sugar thrown in.
"You gotta respect her, no matter how vile she is — 'cause ultimately she's all about Oprah and she's boring — but aside from that, you gotta kinda go, 'Hello, hats off, you have done an amazing thing. You have actually shifted the DNA of the universe."
But after a little sugar....Rae lashed out with, "She took a woman, if you look at the way she looks -- 60 years ago she would have been a housekeeper, luckily. She would not have been a house (n-word), she would've been a field (n-word)."
But just as sure as she tears Ms. Winfrey down, she extends a hand to lift her up.
"We have to give her props. ... I have to stop and say this woman is a miracle and I respect her and I say kudos to you and I don't give two cents about the other parts of it. She shifted the DNA in terms of our thinking of a woman of a certain size and a certain shape. I love her for that. I don't care what she's about, I don't care that I know her ins and outs, I just think that she's done a lot. I love her for that."
Ummm.....we haven't seen Rae on the big screen for a very long time so we don't think Oprah will destroy her career (we don't think she has one). But you have to wonder what's going through someone's mind when they go at Oprah in such a public way.
And in other Oprah Winfrey news....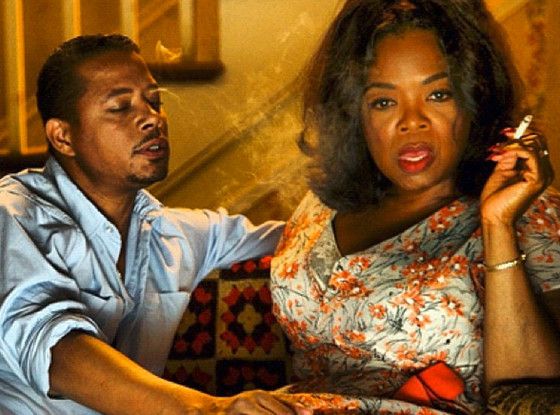 We told you earlier about Oprah Winfrey landing a starring role in the "The Butler" alongside Forest Whitaker and Terrence Howard, but we're not so sure if the movie will still be called "The Butler" by the time it hits the big screen on August 16.
Today at the Sherman Oaks offices of the MPAA, The Weinstein Co. will plead its case over the naming rights to Lee Daniels'-directed "The Butler". The company hit a hurdle once Warner Bros. sought to stop them from going forward with their use of the title. It turns out that WB owns the rights to a 1916 comedy named "The Butler" and they're under the impression that moviegoers might get the two confused. SMH.
And Harvey Weinstein has called in some heavy hitters in this battle of the butlers. He's enlisted Jesse Jackson, NAACP president and CEO Ben Jealous and national chairman of the Congress of Racial Equality Roy Innis. The three released a joint statement saying,
"We are all watching and waiting for the results of today's arbitration and hoping that Warner Bros. and the MPAA make the right decision on this important movie about civil rights," the three said in a statement."
We will keep you posted about the hearing.....
You have read this article with the title The Young, Black, and Fabulous. You can bookmark this page URL http://thisgirlreprobate.blogspot.com/2013/07/the-young-black-and-fabulous_20.html. Thanks!