---
STYLE FAB: Get Gabby Union's Sexy Looks From "Being Mary Jane"
Posted: 02 Jul 2013 08:22 AM PDT
Gabrielle Union is styled to a tee in her new TV movie (and soon to be TV series) Being Mary Jane. Check out the fashion break down for a few of her looks inside...
Being Mary Jane premieres tonight (July 2) on BET at 10:30p EST. We're so there.
Get even more about the show HERE.
DRAMA: K.Foxx Speaks On Getting NIXED From Hot 97....Possibly Because Of The Now CANCELLED "Gossip Game"
Posted: 02 Jul 2013 07:44 AM PDT
A few whammys were handed out yesterday to NYC's Hot 97 crew. Not only did morning co-host K.Foxx make it known she was fired from the morning show, but the show she (and much of the radio crew appeared on) "Gossip Game" got cancelled as well.
Check out the drama involving Hot 97's radio programmer Ebro supposedly calling K.Foxx out for sleeping her way around the business inside...
Everyone knows about long time beef between NY's top radio stations-Hot 97 & Power 105.1. Bt things got extra heated over the past couple years as The Breakfast Club at Power 105 took the #1 spot usually held by Hot 97's morning show. So when K.Foxx, Cipha Sounds and Peter Rosenberg slipped to #2, and their program director (who has been known to get caught up in drama) Ebro Darden started chiming in with the co-hosts everyday, ish changed.
Fast forward to K.Foxx joining that VH1 show "Gossip Game" and some of Hot 97's radio drama getting exposed when Kay often got into it with co-star Angela Yee of The Breakfast Club, and also Ebro and the co-hosts appeared.
Now, Kay has been abruptly "fired" after drama with Ebro and she's speaking out to EBONY magazine.
On her abrupt "firing"

In radio, they don't give you a two week notice because you could just go on the air and wild out, and say "F*ck you!" and all that. So they have you do a shift and tell you after your shift not to come back. It's not unheard of for you not know what's going on up till then.

On how her co-hosts, Rosenberg and Cipha Sounds responded

They're shocked. And confused...I'm a good person. I always came in to work I wasn't a bitch to anyone. I always smiled. Did lots of events. I was a team player. [DJ Funkmaster] Flex called me and he said: "You didn't deserve this. You rode for HOT-97." I wore that logo on my back.

On if VH1's Gossip Game reality TV show caused problems at work

I really don't know. I really don't know. I didn't know I had any problems at work. If I did, that's news to me.

On Ebro Darden saying "you've seen all the rappers' Johnsons" and that she "got your job" at HOT-97 by sleeping with someone--that you "slept your way to the top"?

I was thinking---is he saying that "the top" is HOT- 97? That's the top? For me it's not. So, I just think that when somebody says that they're just trying be malicious and hurtful and they just have no idea of who I am or what my story is. That's why it's so important for me to do interviews like this. Because you go through so many things, and you don't want to be a b*tch if you will and lash out but there are little girls who are looking at us.
One thing that I will say about it was that it was hurtful. Because the person that said it, my program director, is the one that hired me. And he brought me in and he knew that was not the truth. So why are you going to play with me like that? Why are you going to play with my livelihood like that?
K.Foxx pictured with "Gossip Game" Exec. Producer Mona Scott Young, co-star Kim Osorio & "LAHH" star Yandy Smith at the 2013 BET Awards
Meanwhile, we caught wind of an email folks connected with VH1 and "Gossip Game" producers sent out to the co-stars of the show. And the show has been cancelled. There will be no new season. Damn...ixnayed from a second season on VH1 of all places? Interesting...
The Randomness:
1. The medical examiner has confirmed that toxicology reports prove Chris Kelly of "Kriss Kross" died of a drug overdose. STORY
Photos: K.Foxx's Instagram
Kerry Washington Gets Wet For The August 2013 Cover Of "VANITY FAIR" + Malaika Firth Lands PRADA Campaign, First Black FACE In 20 Years!
Posted: 02 Jul 2013 07:16 AM PDT
Hottie Kerry Washington is featured on the August 2013 cover of VANITY FAIR. See the wet & sexy cover inside and find out how Kenya-born model Malaika Firth is breaking down barriers in the fashion world....
"Scandal" actress Kerry Washington dons a sexy one piece in Olivia Pope's fave spot to clear her mind--the pool--on the August 2013 cover of Vanity Fair Magazine. No swim caps here! Chick is looking all kinds of fab, wet slicked back hair and a white hot cut-out swimsuit to boot.
Inside the issue, Kerry stars in an editorial dubbed "Scandal's First Lady". The pictorial was by Norman Jean Roy and styled by Jessica Diehl.
Also, in the latest issue of The Guardian, Kerry talks about being a Black actress and admits that she doesn't want to live in a post-racial society.
"I don't believe in post-racial. It's like saying we should live in a post-gender world. But I love being a woman! I am interested in living in a post-sexist world and feel the same about race. I don't want to live in a post-race world because being black is really exciting. I mean" – she laughs – "it's who I am. I'm a woman, black, from New York, Aquarius – these are things that create who I am. I'm interested in living in a post-racist world, where being African American doesn't dictate limitations on what I can do – but I don't want to live post-race. Our differences are so fascinating and wonderful. We don't want to all be the same. Who wants that? Hitler did, but who else?"
Totally agree Kerry. Recognize the differences amongst others and RESPECT them. Don't ignore them.
And on Sunday, Kerry won the 2013 BET Award for Best Actress, but she didn't get to accept her award because she's on a much deserved vacay! She tweeted,
"STILL on vacay & twitter hiatus but...I COULDNT RESIST THANKING U ALL! So gr8ful 4 @BETAwards win! Thx 4 VOTING! BEST FANS EVER!"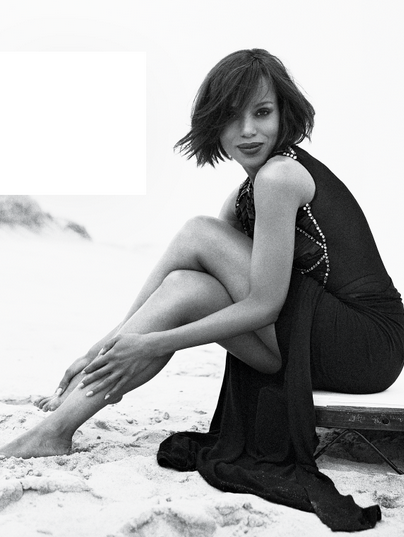 And in the fashion world....
Kenya-born gorgeous model Malaika Firth is breaking down the color barrier as Prada's first Black campaign model since Naomi Campbell in 1994.
The spread was a big feat for Malaika as it's her FIRST campaign and signals that Prada may be willing to add a little flavor to their shows and ads. Since 1994, the fashion brand had not had a Black model in its ads or on the catwalks until Jourdan Dunn walked for the brand in 2008.
When speaking to The Telegraph, Malaika named Jourdan as her inspiration, "She has inspired me the most, just because of how down to earth she is as a person. I love her drive and passion for modelling as well."
Congrats Malaika!
BONUS:
Malaika introduced herself via a YouTube video recently and her bubbly personality literally leaps off the screen! We'll be seeing a lot more of her.
Photos via Prada/VF
SPOTTED: Nas Parlaying In The South Of France....With A Mystery Boo?
Posted: 01 Jul 2013 06:19 PM PDT
When you're a legend in the game, you spend your work days in the South of France. Check out what Nas was up to...with a mystery boo by his side...recently while putting in work for Revolt TV....
Mr. Jones was spotted on a pier awaiting his small boat to take him and his date-of-the-moment off into the seas after a day with friends like marketing honcho Steve Stoute at the Hotel Du Cap-Eden Roc restaurant.
Before going back to NYC a few days ago, Nas, Steve and Diddy were in France soliciting corporate sponsors for Revolt TV. And Nas is doing a major partnership with Mr. Diddy Jet Dance himself in that new venture of his.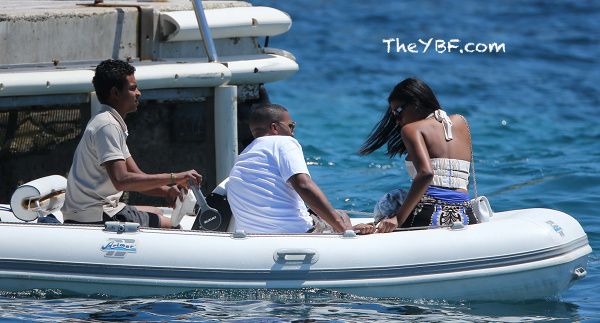 He chilled out with the folks on Steve's team...and life must be extra good when you call THIS "work":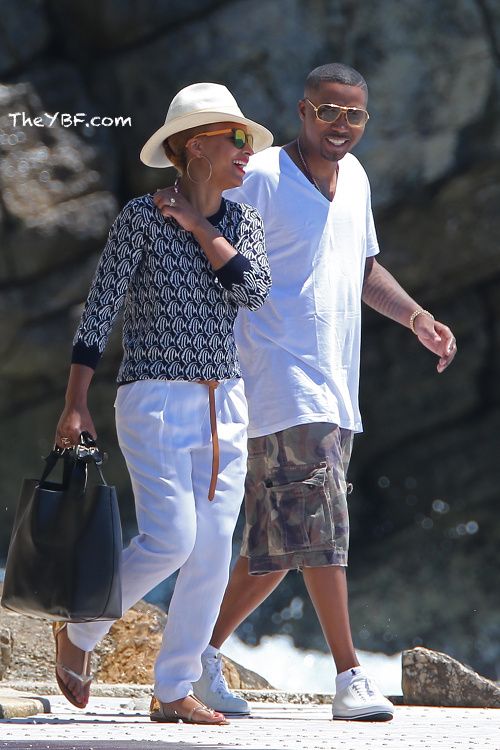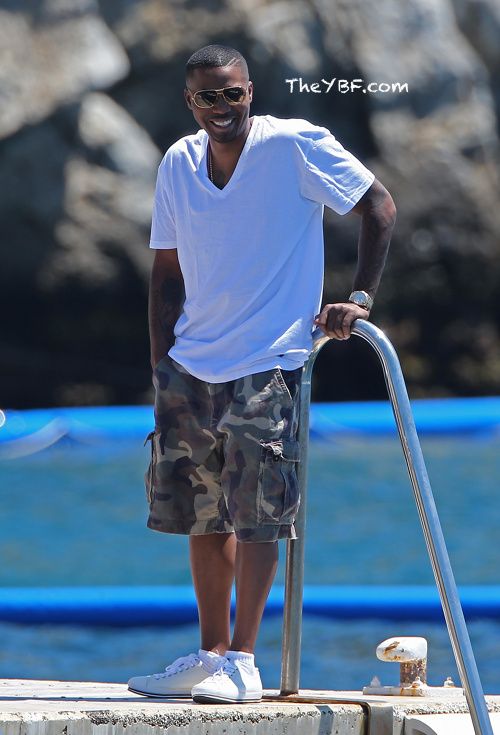 Next up for Nas....he's kicking off his European tour this weekend which takes him to the UK, Belgium, Germany, Poland, Romania, Netherlands & Hungary. And a few Rock The Bells appearances (he co-founded the festival). Nothing like a man who makes major business moves he rarely discusses.
Yes please!
Photos: WENN
VIDEO FAB: Fantasia's "Without Me" Ft. Kelly Rowland + A$AP Rocky SLAPS Female FAN + Janelle Monae DROPS Another "Dance Apocalyptic" TEASER
Posted: 01 Jul 2013 05:39 PM PDT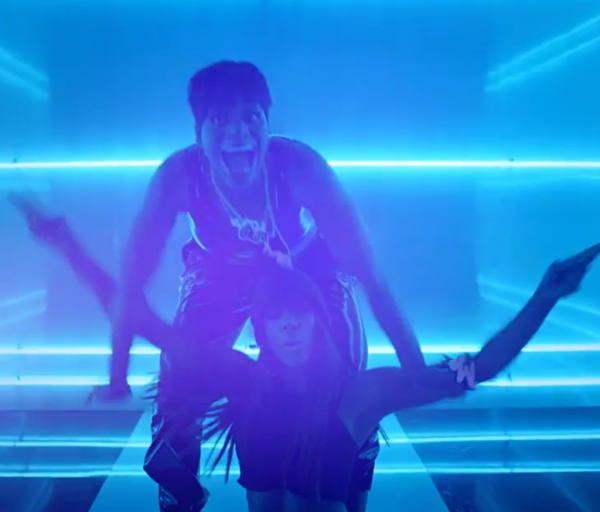 Fantasia has released her "Without Me" video featuring Kelly Rowland and Missy Elliott. Watch the clip inside and see A$AP Rocky slap an aggressive fan and check out the second teaser for Janelle Monae's "Dance Apocalyptic."
In the latest video from Side Effects Of You, Fantasia teams up with Missy Elliott and Kelly Rowland for a gritty club banger. In the erotic clip, Tasia shows a lot of skin in the Gomillion & Leupold-directed visuals and gives off a vixen-like aura that we've never seen from her before. Looks like Kelly's rubbing off on her.
Kelly talked to "Access Hollywood" about shooting the clip and said,
"The directors have captured Fantasia and myself in a video style that we've never done before. Even the grittiness of the song is reflected in the video."
The song was written by Kyle Stewart, Harmony Samuels, Al Sherrod Lambert, Missy, and Fantasia.
Watch "Without Me" here:
And caught on tape...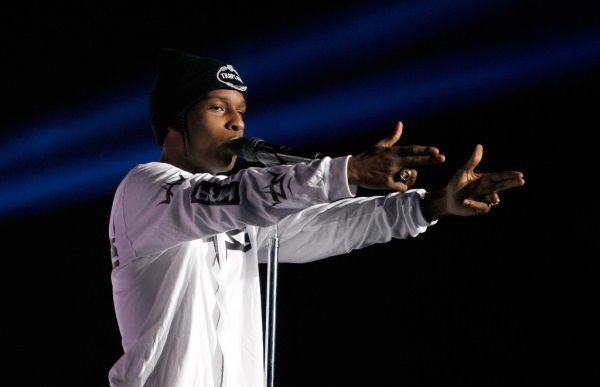 A$AP Rocky, who has a reputation for getting into fights, was caught slapping a female fan on the face! During his sold out concert at the Hordern Pavilion in Sydney, Australia, A$AP was walking through the crowd and became agitated after a female fan began tapping the top of his head and attempted to remove his cap.
The taps must have annoyed dude heavily because he looked up at the fan and slapped her in the face! After that, he shook his finger at her....like he was issuing a warning!
Since she did "hit" him first....was he wrong to lash out?
Watch the smack down here:
Do not reach out and touch A$AP Rocky or Rihanna. They "touch" back.....
And in upcoming videos.....
After a stunning performance at the 2013 BET Awards, Janelle Monae stopped by "106 & Park" today to drop the second teaser for her video, "Dance Apocalyptic." The song appears on her upcoming album The Electric Lady, due September 10.
The Randomness:
1. "American Idol" Ruben Studdard signs up for "The Biggest Loser". Story.
Photo via Mike Lawrie/Getty Images North America
YBF ON THE 2013 BET AWARDS RED CARPET: LaLa Anthony DISHES ON Kim K. & North West + Kenya Moore & Rasheeda Dish On Their Co-Stars (And PLENTY More!)
Posted: 01 Jul 2013 04:11 PM PDT
TheYBF.com got the latest on the ongoing drama with fab chicks like Kenya Moore (who was rocking Kandi's dress from the latest reunion show)...and we got some dish from a few of our fave artists and actresses on their upcoming projects. Find out what Lala Anthony said about her bff Kim Kardashian and North West. Also, watch Melanie Fiona sing the praises of Drake inside...
During the 2013 BET Awards, TheYBF.com was live on the red carpet with our L.A. correspondent Kourtney "K-Rich" Richard getting all in everybody's fashion and their personal business.
While on the red carpet, we spoke with rapper Rasheeda, who's very pregnant and dealing with some serious relationship drama with her husband and manager Kirk Frost (who was hiding in the cut until we called him out). Though Kirk has spoken out about their drama, and we've watched it play out on "LAHH ATL", Rasheeda talk to us exclusively and gave us an update.
"We'll just keeping it 100, I wouldn't even be here if it wasn't for the work that we do together as husband and wife. So we have to work together to make everything work like it needs to. We are......I'm making him work hard to get it back where it needs to. He's really trying....."
Kirk chimed in, "I'm here supporting Rasheeda....just standing on the sideline and let her do her job. I'm right here".
We also caught up with Lala Anthony who was fresh off the set of Think Like a Man Too. She talked to us about Kim Kardashian and her baby girl North West.
"I have not seen the baby becuase I've been in Vegas working and I haven't had a day off. But I talk to Kim everyday and she's doing great."
And Canadian songstress Melanie Fiona stopped by and reflected on writing her hit song "I've Been That Girl" with Drake. When asked if they'd ever work together again she said, "I'd love to do a song with Drake. I loved being able to work with him on the writing behind the scenes thing. Anything he wants to do on wax....I'm there."
Singer Luke James talked to us about going on tour with "The Queen" as he called her, Beyonce, and mentioned that his new single "I.O.U." (Remix) featuring Wale is out. (Check it here.) He's also starring in Black Nativity with Mary J. Blige and Jennifer Hudson.
And we got to talk to a few of the Best Man Holiday cast about what to expect from the sequel!
Watch our exclusive red carpet chat with your faves below:
Video by Steven Baffo / On Camera Correspondent -- Kourtney Richard
Photo: HipHollywood.com
SNEAK PEEKS: Queen Latifah Reveals New Talk Show TEASER + The Ladies Of "The Real" Go In About Paula Deen Fiasco...Plus Tamar Gets An Album RELEASE DATE
Posted: 01 Jul 2013 03:13 PM PDT
Queen Latifah is heading back to daytime television and we have a sneak peak at her new series inside! Watch the trailer and see the ladies of "The Real" discussing Paula Deen inside....
Queen Latifah is ready to jump back into daytime television with "The Queen Latifah Show," which is set to debut this fall on September 16.
Produced Overbrook Entertainment's Jada Pinkett-Smith, Queen Latifah spoke about her return to the competitive field of daytime television with the Real Style Network saying,
""I think the most important thing about the Queen Latifah Show is Queen Latifah and me bringing my perspective and style to it. I watch TV. I am a TV watcher. I come from a TV watching family. I watch a lot of the talk shows. I watch Ellen. I watch Maury. I watch Fallon. I watch TV. I know what I like. I want to create things that I like… I tend to live real life and I like to see some of that reflected on television. In my life experience, I relate to a lot of different kinds of people. If I can get into and entertained by it, then there are a lot of other people who can be entertained by it. I think the most important thing is for me to feel good about what we are doing."
And when fans tune in, they'll see a high-tech set designed by rocker Lenny Kravitz and his Kravitz Design Inc. Nice! Lenny talked about designing the set with RSN saying,
"It's a thrill to be designing the set for The Queen Latifah Show. This is the first time Kravitz Design has created an environment for television, which makes it a very exciting project for us. The set reflects Latifah's personality and spirit and will be an inviting, comfortable space for her guests, studio audience and viewers. I never thought of designing for television but I suppose growing up in a TV studio watching my mother has come full circle."
The award-winning actress chimed in, "Lenny is not only an incredible musician but an incredible designer, and I almost can't believe he is designing the set for my show. I can't wait for people to see it."
Watch the sneak peek here and be sure to tune in on September 16.
In other daytime sneak peeks....
Tamar Braxton, Loni Love, Adrienne Bailon, Jeannie Mai and Tamera Mowry-Housley are giving viewers their first taste of "The Real" in a new rehearsal video where the ladies discussed Paula Dean and her public backlash. The segment was taped during the ladies' rehearsal a few days ago and shows a feisty group of chicks who aren't afraid to discuss hot topics and disagree with one another. Just what we like to see...
"The Real" begins a 4-week test run on select FOX-owned stations in New York, Los Angeles, Washington D.C., Philadelphia, Phoenix, Houston and Tampa starting July 15. Get ready to tune in!
BONUS: Tamar Braxton has other big news. Her other baby, her album, just got a release date! She dished inside the BET Awards radio room this weekend that her Love & War album will drop September 3rd.
Photo via Getty
WEDDING FAB! Amar'e Stoudemire & Alexis' LAVISH Miami Nuptials
Posted: 01 Jul 2013 02:18 PM PDT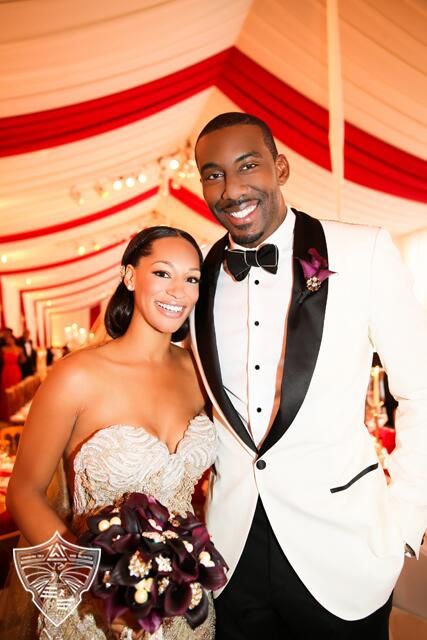 Amar'e Stoudemire has married his beautiful wife Alexis...again! Check the pics and details of the lavish ceremony with all the traditional fabness inside...
NY Knicks baller Amar'e Stoudemire may have officially wed his blushing bride and mother of his four kids last December in a private ceremony. But this weekend, the couple hosted a traditional BIG wedding in Miami with all their friends and family in attendance.
The statuesque twosome were hitched all over again, but this time in a formal ceremony, at the Vizcaya Museum & Gardens, according to Essence.com.
Amar'e & Alexis have been together for almost 11 years, so it's only right the woman gets two weddings! Amar'e tweeted their pic above saying, "Great weekend with friends & family. Alexis & I are so blessed and grateful."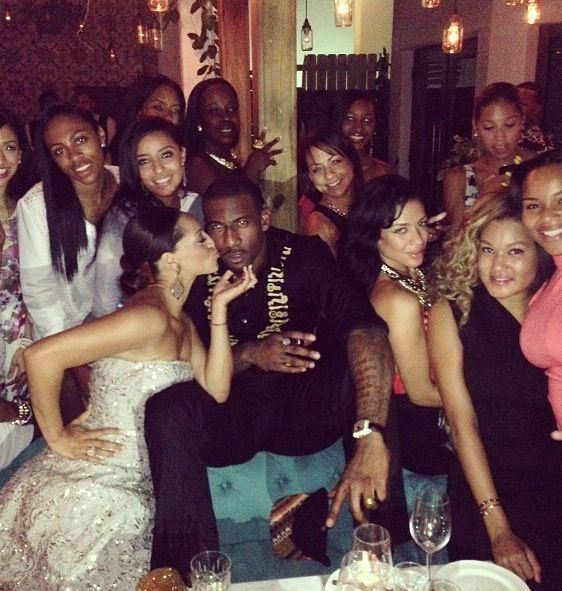 And they snapped lots of pics with their bridal party and friends and fam: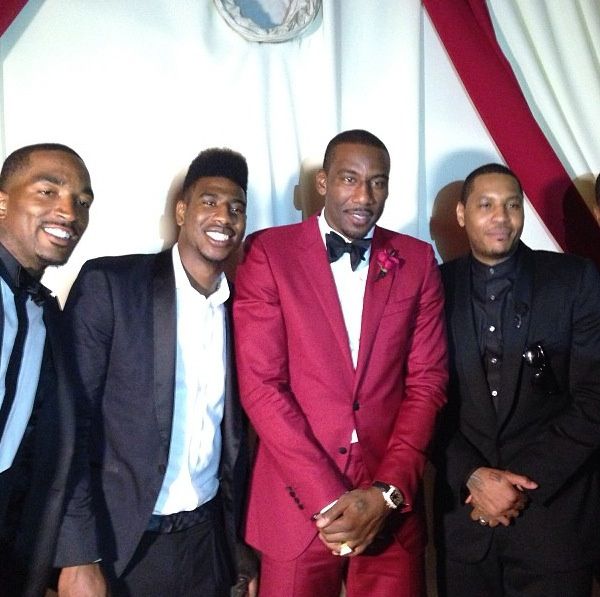 Amar'e's teammate Iman Shumpert was there...in case you were wondering why he wasn't accompanying his new girlfriend Elle Varner to the BET Awards. But he did RT a pretty photo of her getting touched up on the red carpet with a cutesy emoticon. How cute are they!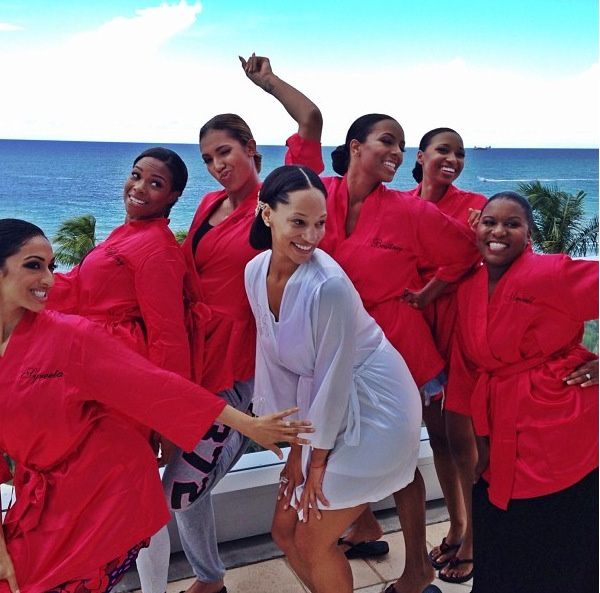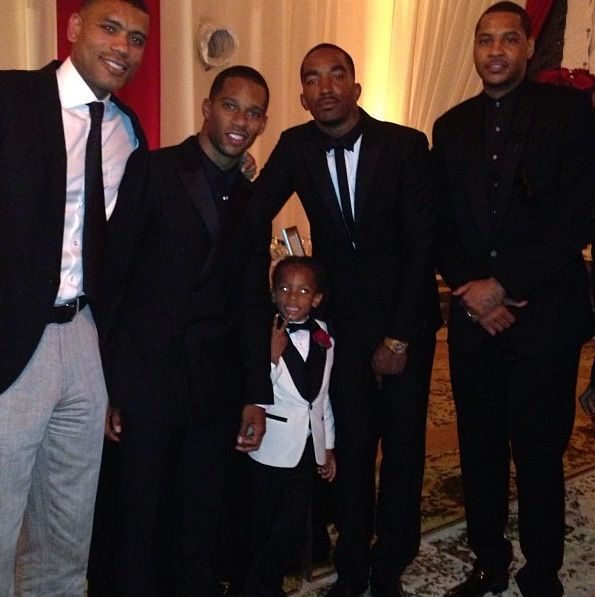 And Carmelo was also there, which explains his absence from the BET Awards with his wife LaLa. Oh, hey JR & Victor Cruz...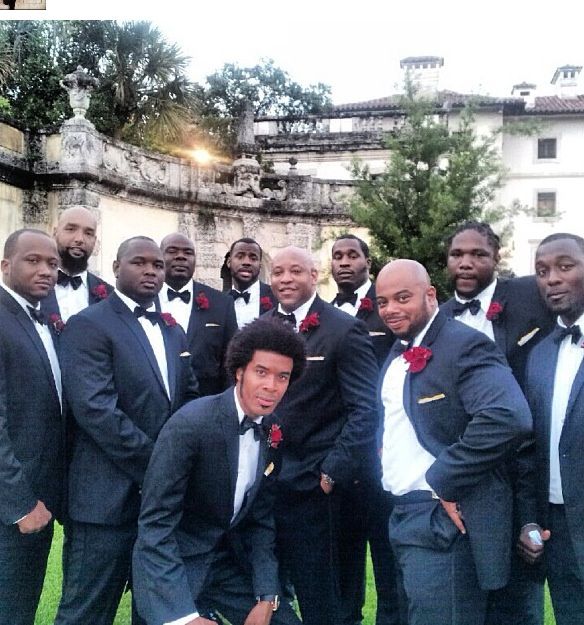 Alexis snapped a couple pics in a different white dress on her gorgeous balcony: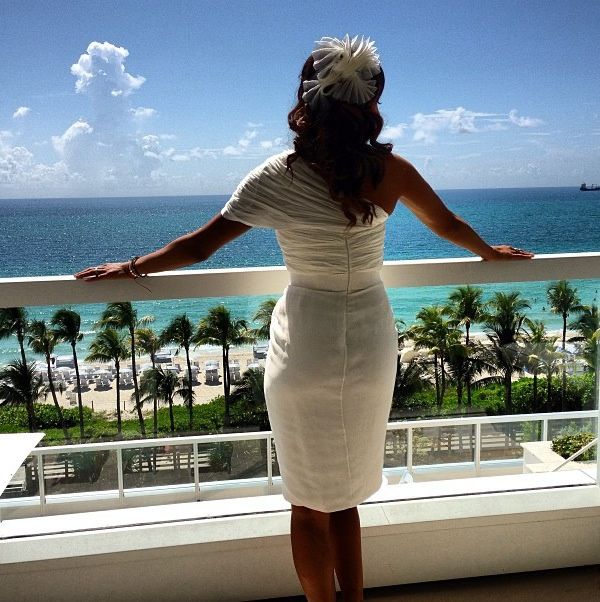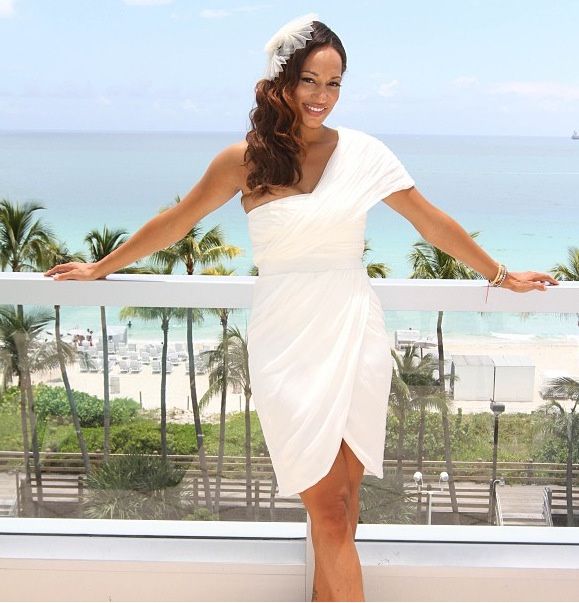 And showed off more pics of fun from the weekend: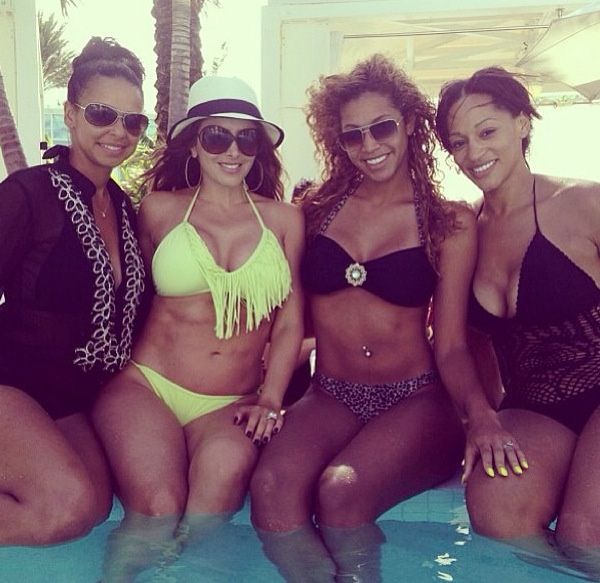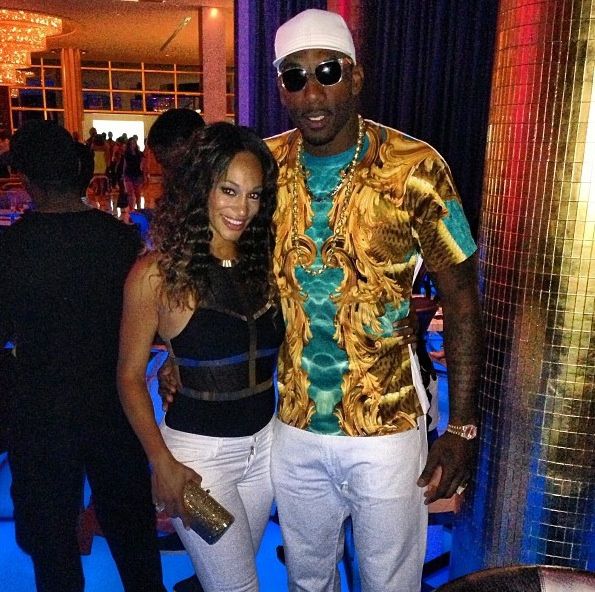 Fab times all around! Congrats once again to The Stoudemires!
The Randomness:
1. Pharrell has popped back at will.i.am with a lawsuit of his own over that petty "I Am OTHER" trademark dispute...even thogh will's lawyer says will is not actually sueing P. STORY
2. A judge dismisses three lawsuits against Elmo puppeteer Kevin Clash. STORY
Photos: Essence.com/Alexis Stoudemire's IG/Amar'e's IG, JR Smith's IG

Kanye West Tweets For The First Time About His Father's Day Gift + Jay-Z Forces NEW RULES On RIAA...Policy Change On Digital Sales
Posted: 01 Jul 2013 01:51 PM PDT
New papa Kanye West broke his Twitter silence about his brand new baby girl North today. Well, indirectly. Get a peek at Kanye's Father's Day gift inside, plus his homie Jay-Z is making MAJOR moves by changing the rules of the music sales game...
Kanye psted on Twitter today for the first time since his daughter was born. And he showed off his first Father's Day girft. He said, "one of the other gifts my girl gave me for fathers day" and posted the below pic: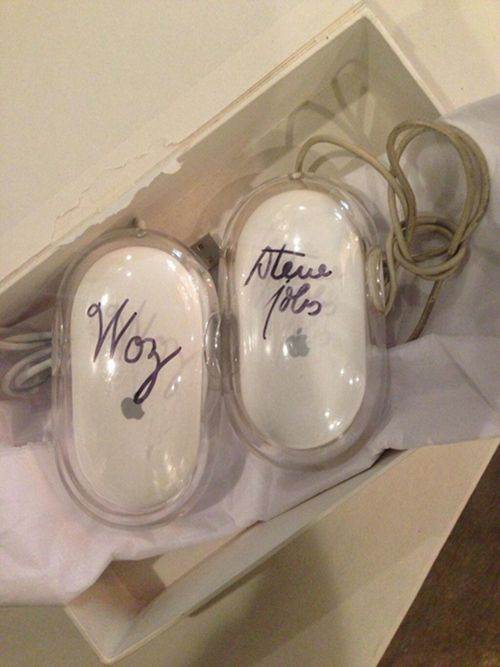 It's an Apple mouse autographed by the late Steve Jobs....and another mouse autotraphed by Jobs' Apple co-founder Steve Wozniak. Kanye has always been a huge Steve Jobs fan...and Woz even came to the hospital to visit his new baby girl, reportedly before Kim's brother Rob even saw her! So this was his gift from his girlfriend Kim K.
That original gift from Kimmy is, of course, his daughter North who was born just one day before Father's Day this year.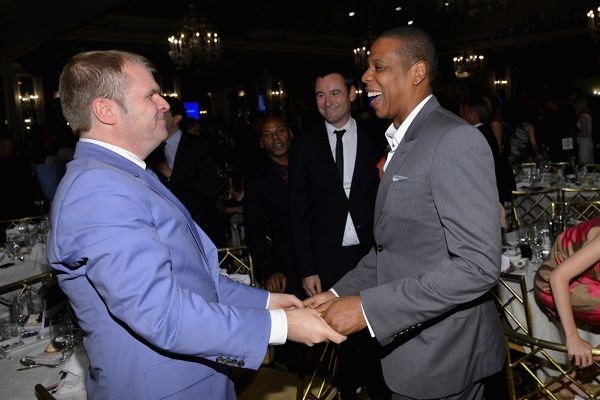 Liz Kennedy, the Director of Communications and Gold & Platinum Program for the RIAA, posted a blog today about the company's common sense policy change about how digital music sales are counted. And they can thank Jay-Z for that.
Jay's been on a "New Rules" tip ever since announcing his upcoming album Magna Carta Holy Grail. And at first, folks like Billboard said they would NOT count the digital sales as "Platinum Status" the first day Samsung purchases 1 million albums to distribute to the first 1 million users to download the MCHG app.
But now....new rules are in order. The RIAA has decided to re-evaluate...and they WILL count the digital Millie immediately with no more 30-day certification hold. And any corporations who buy any amount of digital music will be counted accordingly as well. Liz posted:
By now, many of us in the music business, as well as Jay-Z fans, know that Samsung has purchased one million "Magna Carta Holy Grail" digital albums to be given away to the phone maker's customers. It is a novel and creative marketing move and it has rightly stimulated a healthy conversation about the sale's meaning and implications for the modern music business.

.......

One of our program's requirements is that an album can become eligible for certification 30 days after release date. (There are other rules, of course – such as requiring that the price of the album meet certain requirements.) The 30-day rule exists to take into account potential returns of physical product – CDs, cassettes, vinyl, etc. that could be shipped to brick and mortar retailers and returned, in which case our auditors do not count the sales.

When we first created the Digital Single Award in 2004, we elected not to impose any 30-day rule because there are very few digital returns. According to our auditing firm, digital returns on average account for less than two percent of sales included in reports provided by the labels for certification – most digital retailer Terms of Use/Service allow users to return products only under limited circumstances.

...

We think it's time for the RIAA – and Gelfand, Rennert & Feldman – to align our digital song and album certification requirements. That's why today we are officially updating this rule in our G&P Program requirements. Going forward, sales of albums in digital format will become eligible on the release date, while sales of albums in physical format will still become eligible for certification 30 days after the release date.
So this means Jay has cut out the middle man and made himself platinum (while likely getting paid upfront) the day the album comes out. Talk about a major change in the landscape of how music is sold. We doubt this will be the last time a big corporation teams up with an artist to creatively sell their music.
This is what we call...BOSS moves.
The Randomness:
1. Model Jourdan Dunn gets CANCELLED by Dior fashion show because.....of her 32A boobs?! STORY
Source: Larry Busacca/Getty Images North America
Hot Couples Take Over The 2013 BET Awards
Posted: 01 Jul 2013 12:58 PM PDT
Love was in the air at the 2013 BET Awards and we picked out some of the evening's hottest couples who put their feelings on display last night. See Big Sean & Naya, Paula & Robin and Rasheeda & Kirk (stirring up rumors their "fight" is all for ratings) inside....
"Blurred Lines" singer Robin Thicke posed lovingly with his wife, Baggage Claim star Paula Patton. We had a few thoughts about Paula's awkward behavior during the broadcast...and y'all already know what they are. It seemed like she traded his blurred lines for slurred speech.
Being Mary Jane star Gabrielle Union posted a few pre-award show photos of her and her man Dwyane Wade. And the one above is pretty sexy.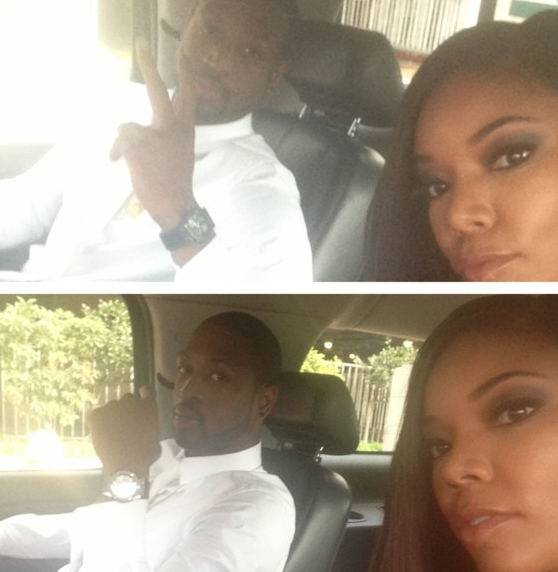 And when Dwyane Wade won the 2013 Humanitarian Award for his work with Wade's World Foundation, he thanked Gabrielle and called her his Queen.
Rapper Big Sean was hugged up with his "Glee" star girlfriend Naya Rivera.
They're a couple that's hot.....with gossip. These two were caught several times walking around the show together while trying to take pics separately to keep up appearances that they've split. But it looks like "LAHH ATL" stars Kirk Frost and Rasheeda have worked through their differences (off-camera) as they were spotted holding hands and looking at each other in a loving way. And by worked through their differences, we mean stopped fake fighting over a fake storyline...perhaps.
Amber Rose and Wiz Khalifa were up to their usual antics when it comes to public displays of affection. It looks like Amber is getting that post-baby body thanks to her work with Jeanette Jenkins.
And though they missed the red carpet, singer Teairra Mari (in Micahel Costello) looked very cozy with Ray J. She tweeted, "handsome date.. I'll post the whole outfit later being that we missed the carpet. #lateboots ". So much for Ray-J calling her "just a friend." During the BET Aftershow that Ray hosted, he kept shouting her out and calling her "Baby." Y'all aint slick....
Ciara posted a coupled up pic with Future, her "Body Party" collaborator (inside and outside of the studio).
And when she wasn't on stage performing with Chris Brown or Ciara, Nicki Minaj was in the audience with her constant companion--since she doesn't like to admit this is her man--Safaree.
Who were your fave couples of the night?!
Photos via Bobby Metelus IG/Gabrielle Union IG/Nicki Minaj IG/Getty/NayaRivera IG/Amber Rose IG/GParasPhotos' IG

Russell Simmons' Pre-BET Dinner Mystery Date REVEALED! She's The DAUGHTER Of A Reality Star...
Posted: 01 Jul 2013 11:28 AM PDT
Remember Russell Simmons' mystery date from the Debra Lee Pre-BET Awards dinner Saturday night? Well, we know who she is. And she's the daughter of a certain reality star...
It's not every day that Russell Simmons makes his model-of-the-moment someone with brown skin (for whatever reason). Hey, we're just calling it like we see it. So we raised an eyebrow when Russell arrived to MILK Studios with this striking beauty on his arm.
And now, we've learned she is Porsche Thomas...the 30-something daughter of "Real Housewives of Atlanta" co-star Peter Thomas. Yep, Cynthia Bailey--who is actually one of Russell's exes--is her stepmom.
Porsche, who is an up and coming model, called Russell her "date and long time friend" when she talked about hitting up the Dinner with him Saturday night. And she even posted a pic with Cynthia & NeNe from that night: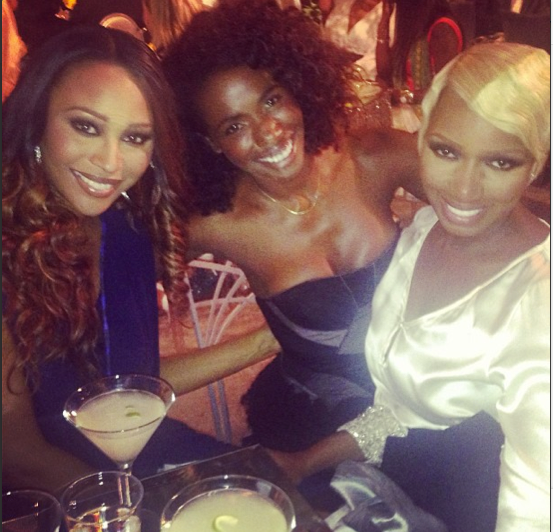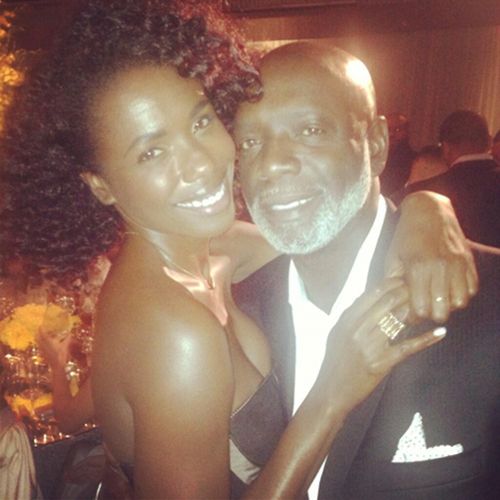 And her pops Peter posted a proud pic with his daughter as well.
As for whether or not she and Russell are actually "dating" romantically, well, it wouldn't be too far fetched. We do believe they are strictly friends for now and the twosome went together simply because Peter & Cynthia attended and they are good friends of Russell's as well.
But we hear Porsche has a history of dating older, wealthy men. So....it wouldn't be too surprising if these two actually got involved romantically. Russ currently has a main girlfriend, but we all know he changes chicks like he changes his underwear.
BONUS: Porsche's friend also posted a pic last week of her wining and dining with Russell and friends:
We shall see...
Photos: Porsche's IG, Peter's Twitter, Luna Angel's IG
LEFTOVERS From The 2013 BET AWARDS: Gabrielle Union, Laura Govan, Taraji P. Henson & OTHERS TWIRL For The Cameras
Posted: 01 Jul 2013 10:31 AM PDT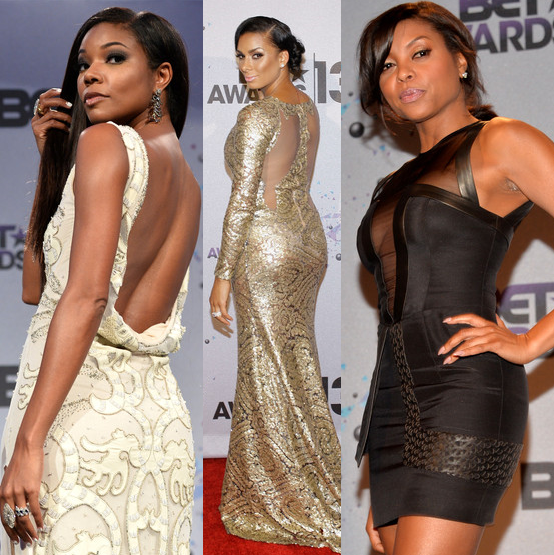 The 2013 BET Awards have come to a close. But there's always leftovers. We have pics of some of your fave YBF celebs hanging out backstage, on the red carpet and in the press room. See Gabby, Laura, Taraji, Chris, Kendrick and more inside.....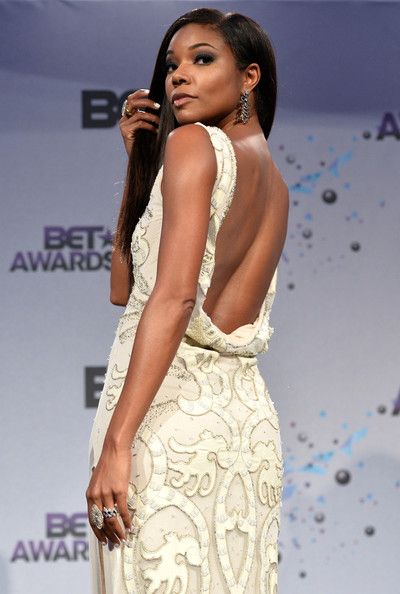 Though she donned a strapless Zac Posen for the red carpet, star Being Mary Jane Gabrielle Union slipped into this sexy white thigh-high slit dress during the show.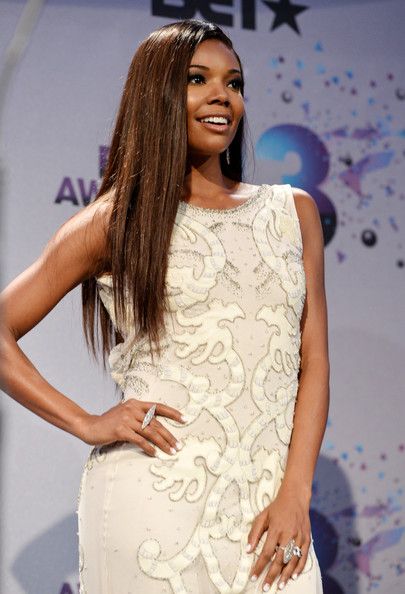 During an interview with E! News, Gabby revealed that she is styled by Rachel Zoe.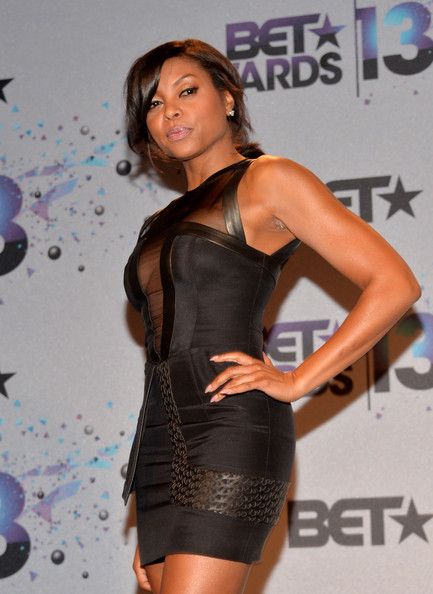 TLAM 2 star Taraji P. Henson did a few spins in her black Izmaylova Spring 2013 silk dress.
Her body looked amazing with the sheer panelling and leather detailing. Simply gorge.
Erykah Badu posed with Kendrick Lamar backstage. We wonder has he already fallen under her spell....avoid those eyes Kendrick!
Sherri Shepherd wore a pink lace dress from Jovani.
Toccara Jones posed in the press room with her Herve Leger gown and Christian Louboutin platform peep toes.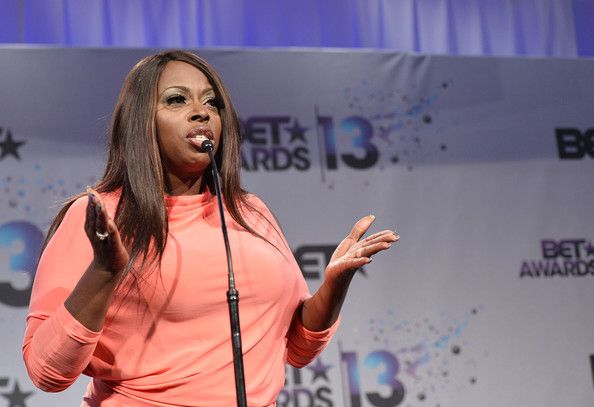 "R&B Divas" star Angie Stone wore a long peach dress that showed off her curves. Looking good Angie!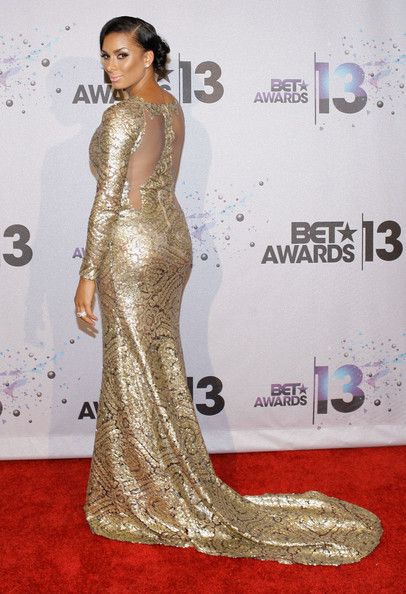 Laura Govan rocked a gold gown with a train as she enterered the venue with "hubby" Gilbert Arenas.
"Cocoa Butter" singer India Arie was all smiles after her Charlie Wilson tribute. Glad she change dout of that Pepto pink look.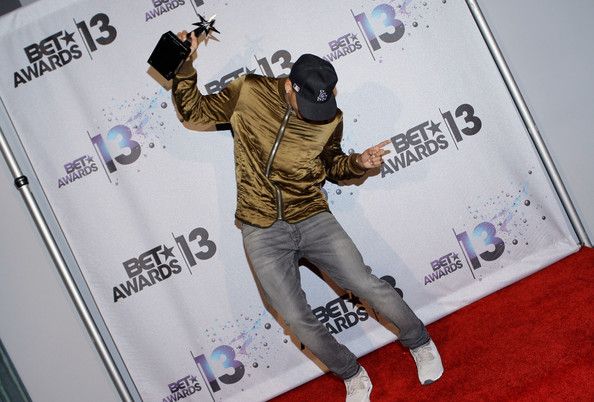 While holding his 2013 Fandemonium award, Chris Brown danced for photogs backstage.
Toya Wright walked the red carpet in Versace and posted her own pics.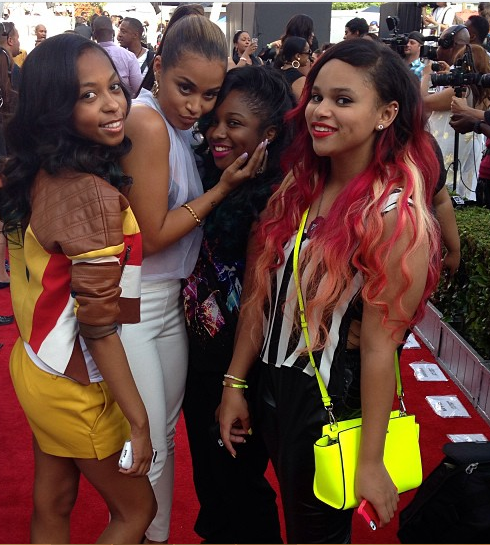 "The Game" star Lauren London posed with authors Bria Williams, Reginae Carter and former OMG girlz member Lolo.
"The Game" star Barry Floyd talked to the press backstage.
During the show, Barry joined his fellow co-stars Jay Ellis, Lauren London, Hosea Chanchez, and Brandy Norwood for a special presentation. And announced that the whole cast will be back for Season 7 on July 2nd.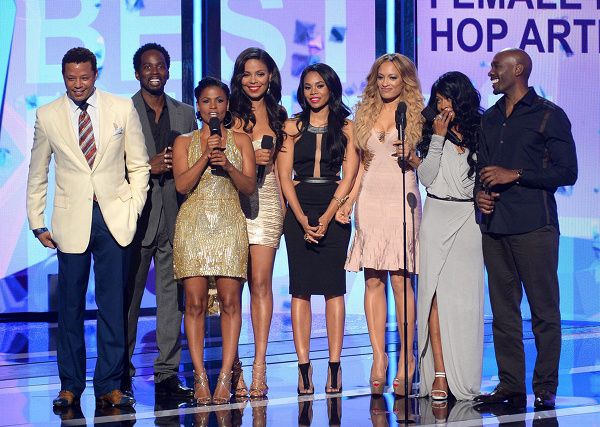 The Best Man Holiday cast also hit the stage and gave the audience a sneak preview at the upcoming film. These folks never age either. Terrence Howard, Harold Perrineau, Nia Long, Sanaa Lathan, Regina Hall, Melissa De Sousa, Monica Calhoun and Morris Chestnut all hit the stage together. Flawless ensemble cast.

Jamie Foxx acted the fool with Kevin Hart when Jamie went on stage to accept an award.
Dwyane Wade chilled in the audience with Don Cheadle.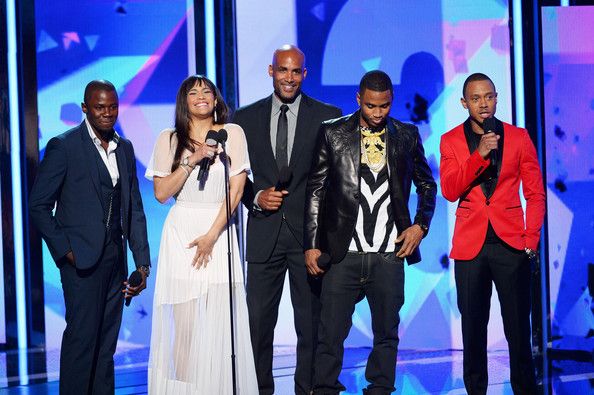 The Baggage Claim cast hit the stage to present. But it was Paula drunken (or high as a kite) antics that had everybody talking.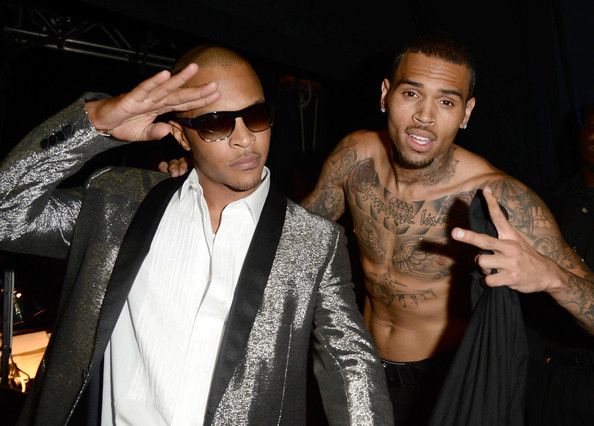 And a shirtless Breezy was spotted after his performance snapping pics with T.I.
Photos via Mark Davis/Mike Windle/Getty Images North America
After The Show Is The AFTERPARTY! Kanye West, Chris Brown & Karrueche, LaLa, Kevin Hart & More Flock To 2013 BET Awards Parties
Posted: 01 Jul 2013 09:18 AM PDT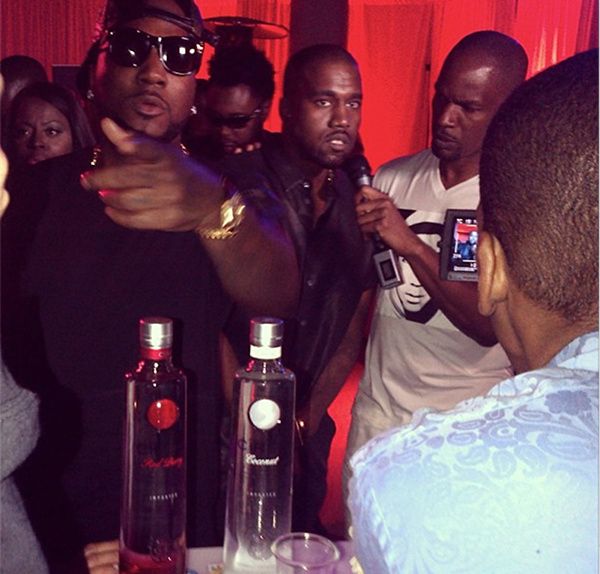 It's all about the after parties when a big show like the 2013 BET Awards go down. We've got a few flicks of folks hitting the afterparty circuit last night in L.A....
Jamie Foxx hosted an afterparty at his estate in the Hills (with a full camera crew and everything) with plenty of his celeb friends. Even new dad Kanye West made a surprise appearance and came out to kick it with the White House Down star and Jeezy.
Shemar Moore was spotted on the mansion grounds making an arrival.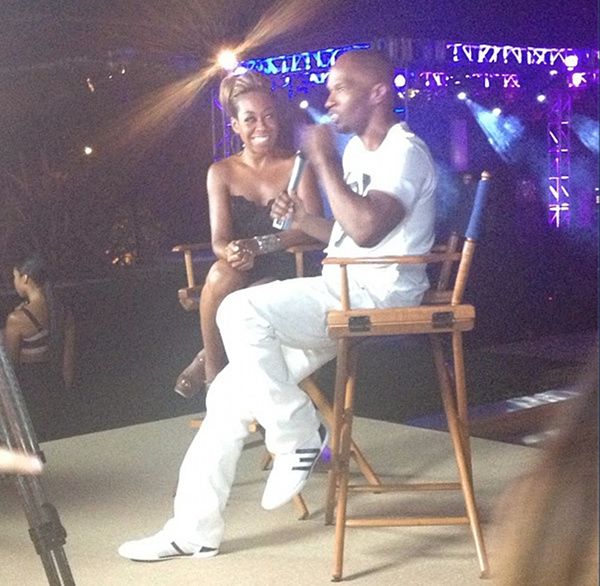 And Tichina Arnold was there to chop it up with Jamie on camera.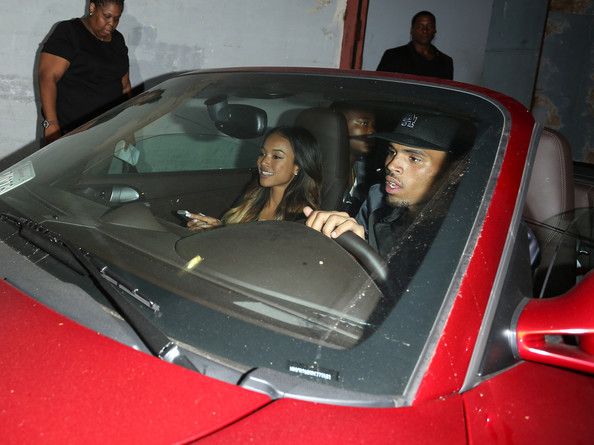 Singer Chris Brown hosted an afterparty at The Belasco Theater. And he was spotted arriving with girlfriend Karreuche Tran. Kae posted a cutesy pic of the twosome together earlier in the day where she said she wished "her baby" luck on his performance. Mmhmm....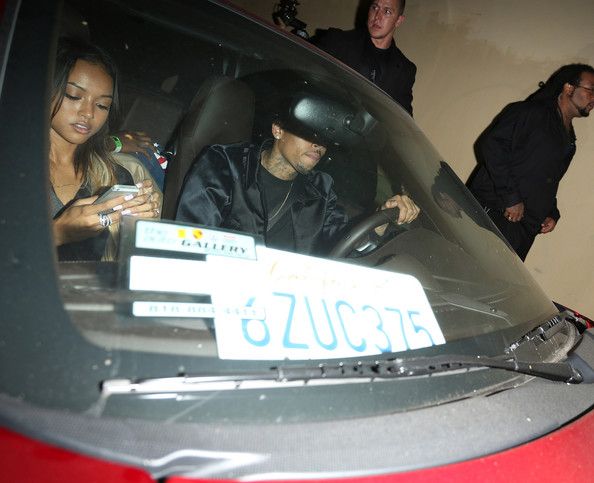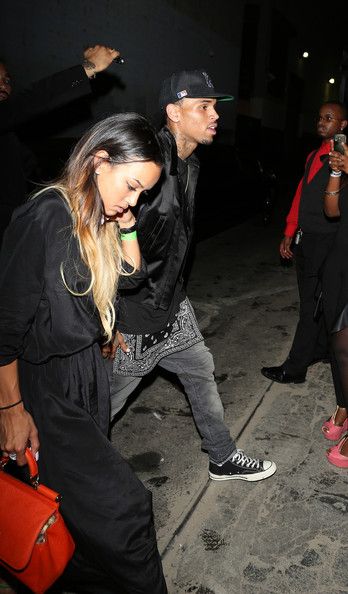 The twosome walked in together and partied it up all night: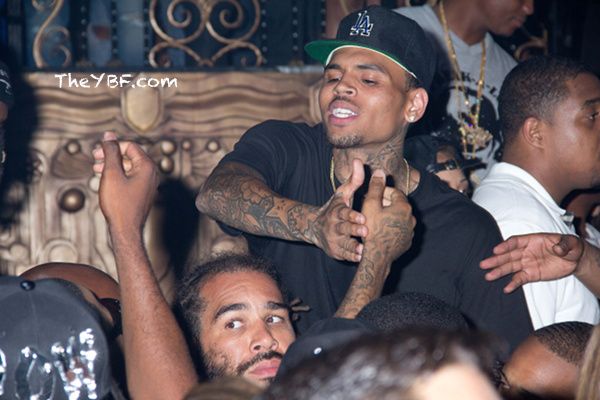 And also spotted at Chris' afterparty: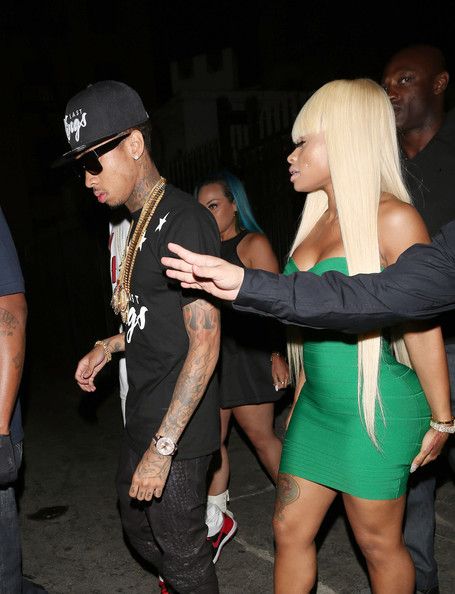 Rapper Tyga and his baby moms Blac Chyna, in a green bandage dress, made an appearance. Wonder why she's holding her booty in that last pic. Injection juice dripping? Tragedy....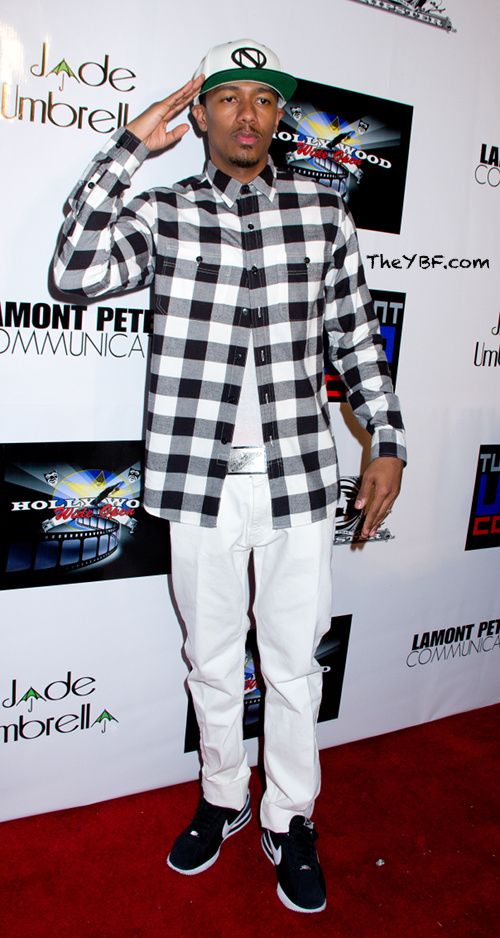 And Nick Cannon was on his Cali ish while hitting up Breezy's party as well.
Will Packer & his Think Like A Man crew (and his girlfriend Heather) all headed out to pop a few bottles to celebrate winning Best Picture at the Awards...and the fact they're already working on the sequel: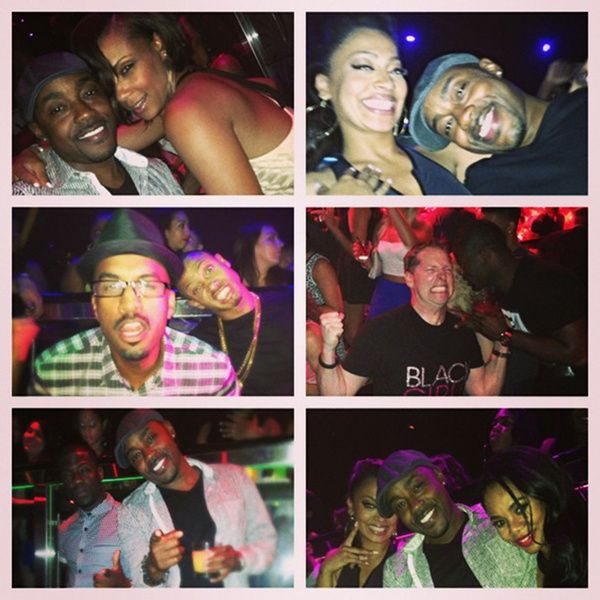 Cast members LaLa Anthony, Regina Hall, Terrence J, Gary Owen & Kevin Hart were all on TURN UP TIME as Kevin calls it. Hilar.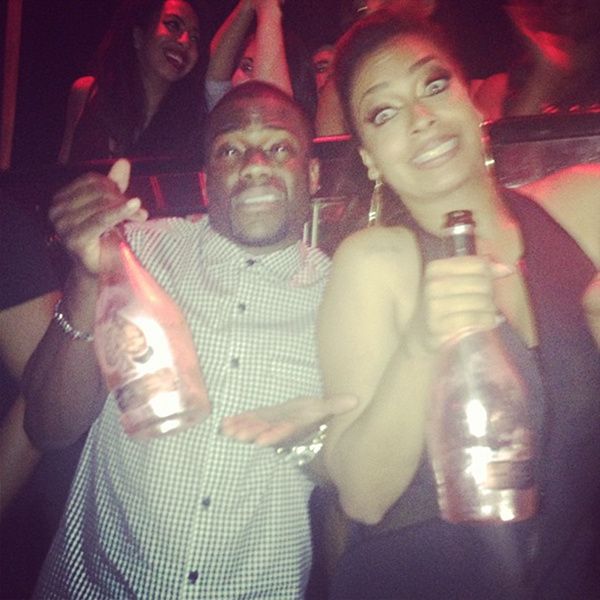 La posted a pic of her & Kevin readying more Ace of Spades. She said Kevin bought that ish though. Ha!
And the newly single Monyetta Shaw made her night out sans baby's daddy Ne-Yo a longer one with an afterparty. She and Toya Wright, Malaysia Pargo and friends chilled out: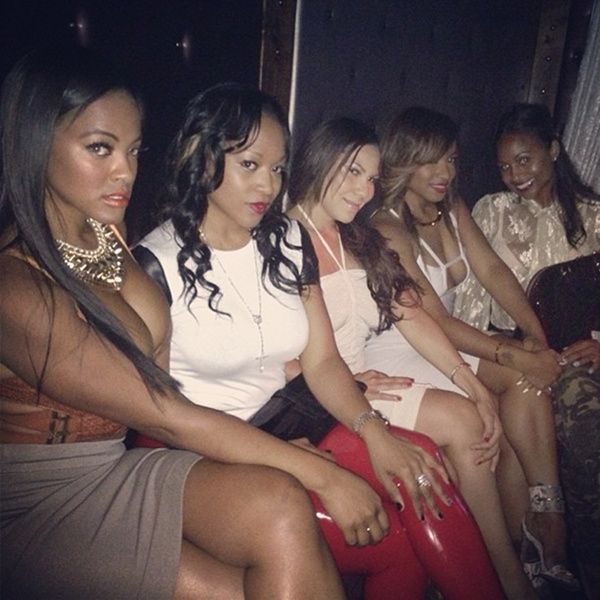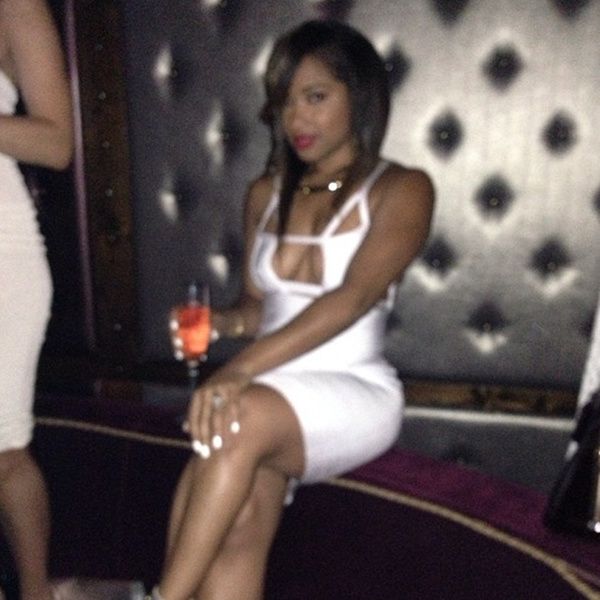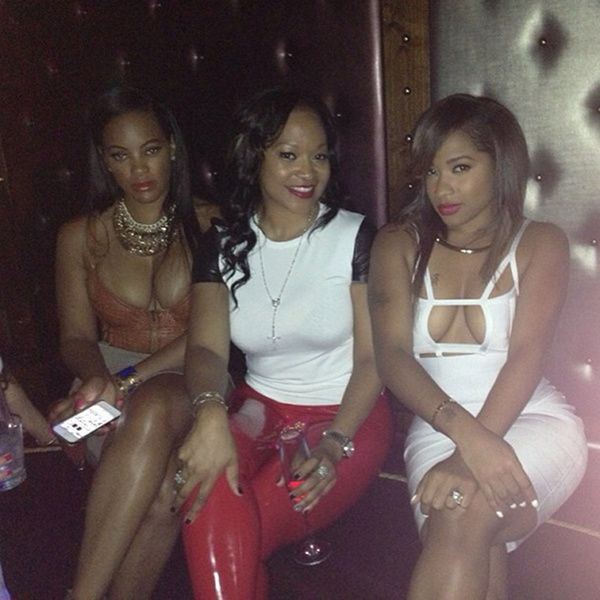 The girls were partying it up at Greystone...but looked a bit bored.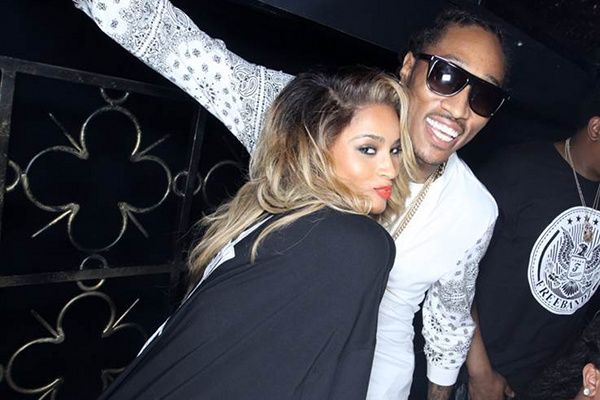 Ciara snuggled up to her boo Future after he performed at Greystone.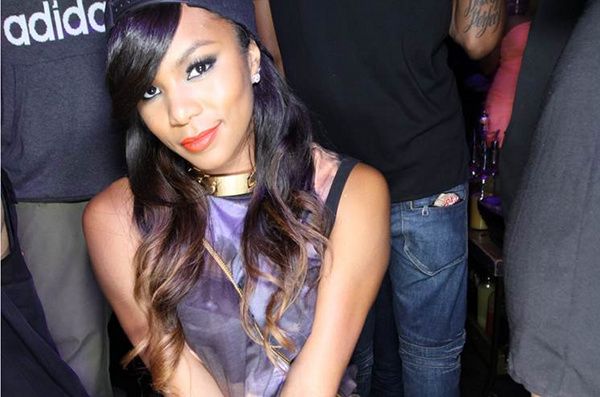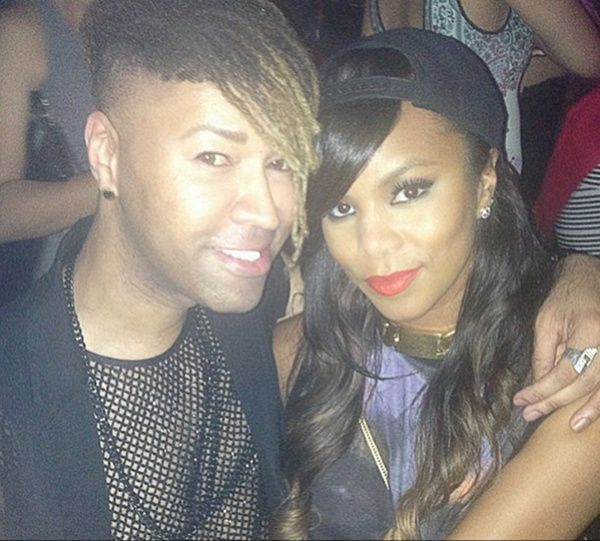 And LeToya Luckett caught up with her long time friend (and Beyonce's stylist) Ty Hunter over at Greystone too.
Photos: Splash, LaLa's Instagram, mayakgoldenberg's IG, Will Packer's IG, Toya Wright's IG, LeToya Luckett's IG, abegailjoy's IG, iamstevejames' IG, Hennessy V.S

You have read this article with the title The Young, Black, and Fabulous. You can bookmark this page URL http://thisgirlreprobate.blogspot.com/2013/07/the-young-black-and-fabulous_2.html. Thanks!