---
SPORT LOVERS: Gabby Union & Dwyane Wade Get Boo'd Up At Pre-ESPY Party + LoLo Jones & Colin Kaepernick
Posted: 17 Jul 2013 07:26 AM PDT
Gabby Union & her man Dwyane Wade just returned from a week long trip to China to promote Dwyane's sneaker company. And their first red carpet stop after entering the states was last night's ESPY pre-party and "Body Issue" release. Check out the sexy twosome boo'd up at the party, plus athletes LoLo Jones & Colin Kaepernick also hitting the carpet...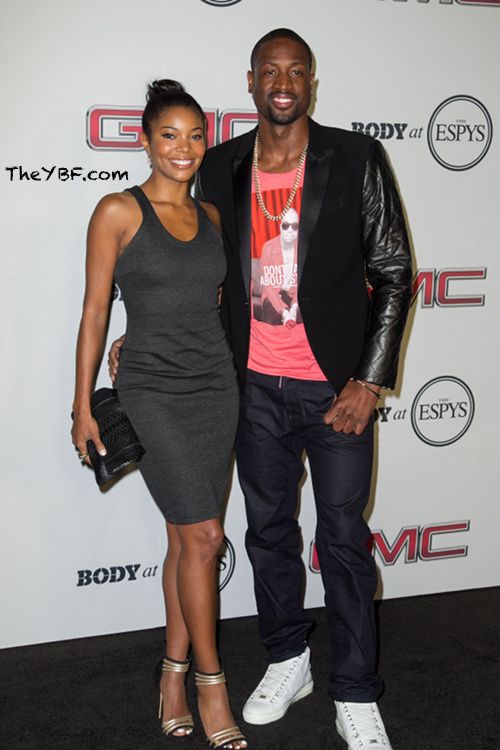 Love, basketball and fashion. Gabby & Dwyane Wade were about all three last night at The Lure Nightclub in Los Angeles for the ESPY pre-party. Gabby was hugged up on her man rocking a body hugging grey tank dress that showed off those toned arms, a cute bun and heels. And D-Wade rocked a Kanye West tee under his blazer that said "Don't Talk About Style."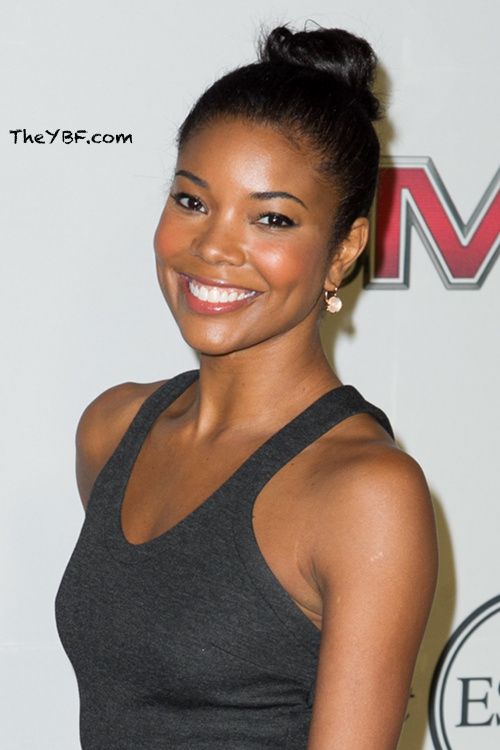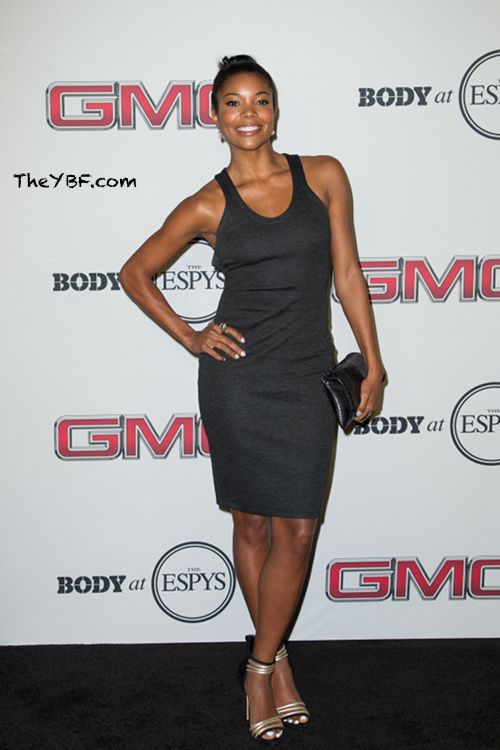 The effortless cute Gabby rocked a summer fresh face, hair pulled back in a bun and was smiling ear to ear. Her tv movie Being Mary Jane did serious numbers on BET, she just wrapped the flick Think Like A Man Too in Vegas, she's 40 and barely looks 30, and her NBA champ of a man completely adores her. We'd be smiling our asses off too.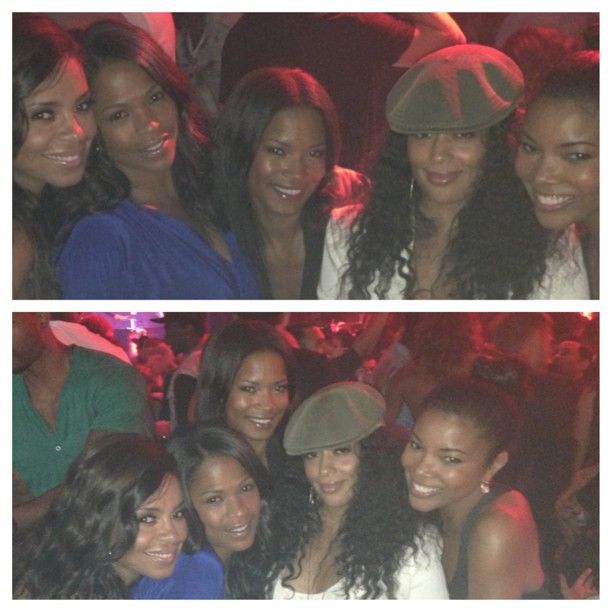 Gabby caught up with her bestoes, fab chicks Sanaa Lathan, Nia Long, and Essence Atkins.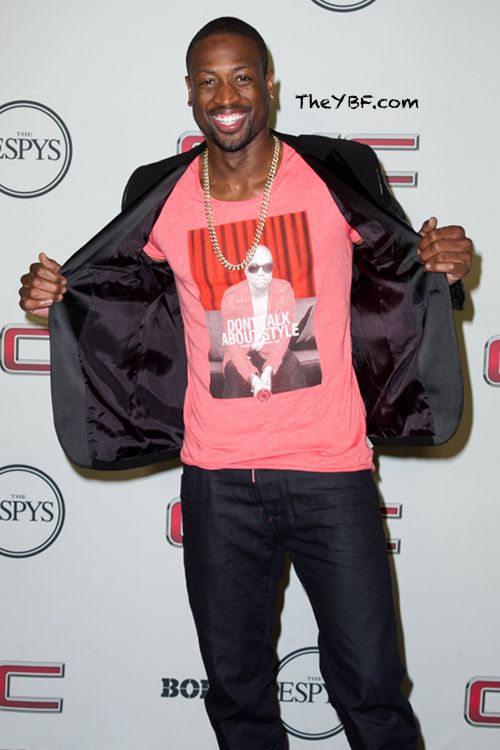 This guy...
Colin Kaepernick, the sexy 49ers QB, held up his nude Body Issue cover of ESPN mag:
Yes Lawd.
And LoLo Jones, who's now competing for the US Olympic Bobsled Team, showed off her athletic bod in a sexy corset & lace dress and heels. By the way, we hear she punched out the stepdaughter of the US Bobsled coach in a bar fight in Lake Placid last weekend.
Witnesses corroborate the story--they've been talking about it on social networks--but no charges have been filed.
LoLo, girl you aint about that life...
The Randomness:
1. Looks like Kendall Jenner is the newest Kardashian/Jenner to nab herself a black man. The 17-year-old model is reportedly dating her former high school sweetheart, a 19-year-old football player now at University of Nevada named Julian Brooks. Must be a requirement that your boyfriend/girlfriend has to be a black athlete or celeb in order to get into the family BBQ. Poor Scott. STORY
Photos: Splash/Gabby's IG
Hov Covers London's NME Magazine + Timbaland Pens A Jay-Z Apology Track
Posted: 17 Jul 2013 07:12 AM PDT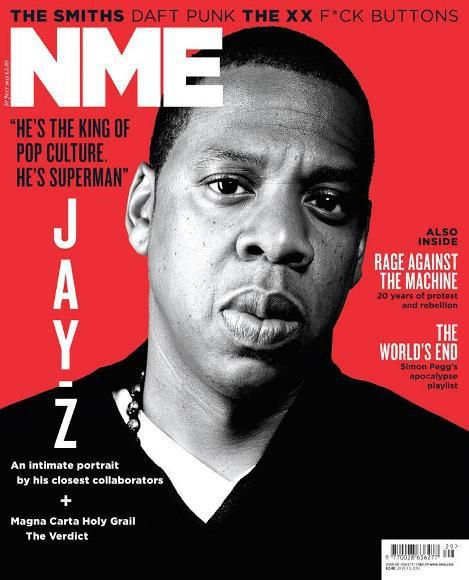 Jay-Z is covering the new issue of London's NME magazine. Check it out inside, plus find out how Timbaland penned Jay-Z an apology track after their big fall out a few years ago, and which song he put the lyrics in...
New Musical Express is going inside Jay's circle to talk to folks that contributed to Magna Carta Holy Grail. And to find out how he became the Superman of pop culture. Here's an excerpt from REM's Michael Stipe, whose lyrics were used by Jay on the album:
Michael Stipe of REM has told NME that he is "thrilled" that Jay-Z chose to include lyrics by his band on his latest album 'Magna Carta Holy Grail'. Speaking to NME as part of this week's cover feature on the US rapper, Stipe discussed his relationship with Jay-Z and his reaction to words from his song 'Losing My Religion' appearing on his new song 'Heaven'. "I've known Jay for a long time, he's super cool, super grounded, super smart and super talented," says Stipe in the magazine, available digitally and on newsstands from today (July 17). "I've always had the deepest respect for him, and his music and choices. We're thrilled (for our lyrics) to be included, it's a really great honour.
Check out the full article below:
And after Jay & Timbaland fell out before the BluePrint 3 album, Timbaland apologized in his own way, and said it was totally his fault and was some personal ish. Timb revealed to Revolt TV that he actually wrote an apology track that he did with Keri Hilson.
It was called "Sorry" and Keri spoke about apologizing for people thinking she came for Beyonce on several ocassions, while Timb said he just wanted to apologize for his own personal mess ups. Especially when he missed Jay's 40th birthday over some emotional ish.
Check out both Timba nd jay speaking on their past beef above.
K.Michelle's "I Don't Like Me" Video + "Rebellious Soul" Tracklisting
Posted: 17 Jul 2013 06:16 AM PDT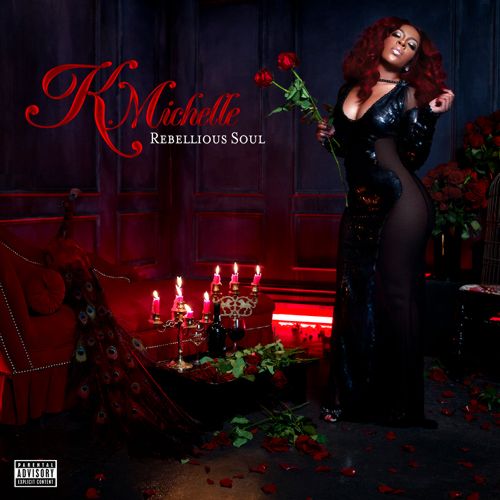 K. Michelle is exposing her insecurities in her new video for her newest single "I Don't Like Me". Check out the visuals for the track that's all about turning on herself when she doesn't receive a man's love....
K.Michelle is letting the world know she had (or may still be) having issues with insecurities and esteem on the ballad "I Don't Like Me". She sings that after having a sex with a man, she hopes he still likes her in the morning the same way he did the night before. And when he leaves and is with other women, the insecurities and thoughts like "I wish I had her body" set in if she's prettier.
So K. goes to a hidden lake to express her thoughts in the visuals for the newest single off her upcoming Rebellious Soul album. Check out the video below:
And the tracklisting for the album is below:
The "Love & Hip Hop Atlanta" reality star drops her album August 13th.
Jay-Z MOVES 528K Copies Of "Magna Carta Holy Grail", Announces European Tour Dates + Robin Thicke's "The Good Life" Single
Posted: 16 Jul 2013 05:00 PM PDT
Jay-Z debuted at #1 on the Billboard charts, moving 528K units of MCHG last week. Find out when his MCHG tour will be headed to Europe inside and hear Robin Thicke's "The Good Life" single.
After he hit up Bey's (she's rocking a printed Topshop look) hometown return in Houston for the Mrs. Carter Show (above) last night, Jay-Z's critically acclaimed disc Magna Carta Holy Grail debuted atop the Billboard Hot 200 today, moving 528,208 units. But he wasn't the only new addition to the charts. Ciara's Ciara moved 57,515 units while J. Cole shifted 38,718 units and Kanye West push 28,701 copies of Yeezus.
Although Hova has already garnered a platinum plaque, thanks to Samsung's Magna Carta app, those sales will not count towards his Billboard tally. And in celebration of the disc's success, Jay-Z's hitting the road. Now that he's nabbed Teen Choice Award noms for Choice Summer Music Star: Male, and Choice Summer Tour (with Justin Timberlake) he's announced the new "Magna Carta World Tour" – European Dates.
See where Jay-Z's headed here:
October 3 – Manchester, UK – Manchester Arena
October 4 – Manchester, UK – Manchester Arena
October 6 – Dublin, Ireland – O2 Arena
October 8 – UK, Birmingham NIA Arena
October 10 – London, UK – O2 Arena
October 11 – London, UK – O2 Arena
October 12 – London, UK – O2 Arena
October 14 – London, UK – O2 Arena (Birmingham NIA)
October 15 – London, UK – O2 Arena (Leeds/Newcastle/ Sheffield Arena)
October 17 – Paris, France – Bercy
October 18 – Paris, France – Bercy
October 20 – Zurich, Switzerland – Hallenstadion
October 21 – Antwerp, Belgium – Sportpaleis
October 23 – Oslo, Norway – Spektrum
October 25 – Stockholm, Sweden – Globe
October 27 – Hamburg, Germany – O2 World
October 28 – Cologne, Germany – Lanxess Arena
October 29 – Amsterdam, Netherlands – Ziggo Dome
In other music news......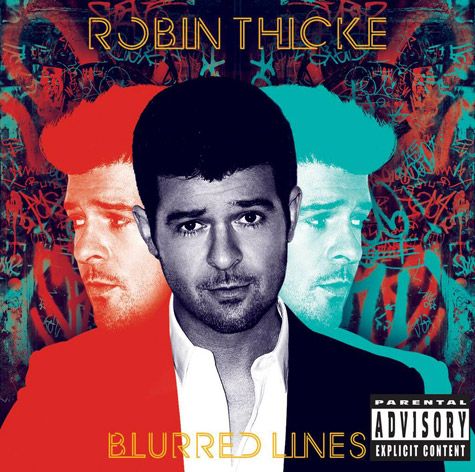 "Blurred Lines" singer Robin Thicke has revealed another track, "The Good Life", from his upcoming Blurred Lines disc (July 30). Produced by Projay, Robin orginally penned the soulful composition on his piano in 2006. Also, Robin was nominated for a Teen Choice award for male music star. The 2013 Teen Choice Awards will be held on August 11.
Listen to "The Good Life" here:
Photo via Beyonce Lite's Twitter

REALITY FAB: Sanya Richards-Ross CELEBRATES The "Sanya's Glam & Gold" PREMIERE With Estelle + Shay Johnson ALLEGES Erica Dixon Was PREGNANT With A Married Man's BABY!
Posted: 16 Jul 2013 03:39 PM PDT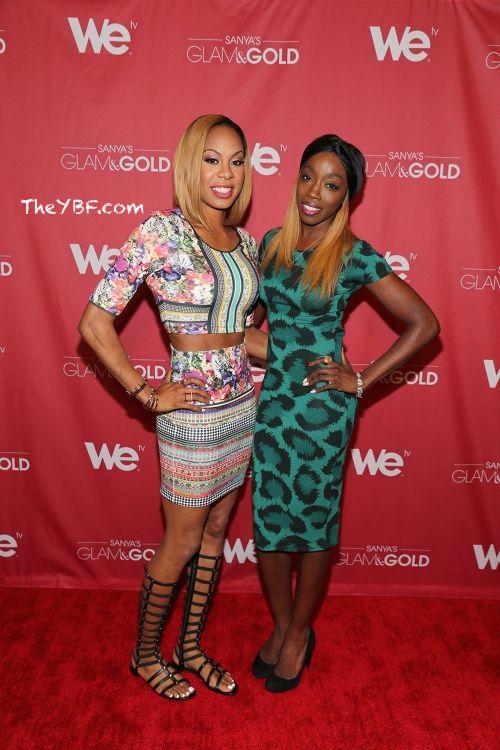 Last night four-time Olympic Gold medalist Sanya Richards-Ross and her husband, two-time Super Bowl Champion Aaron Ross, celebrated the premiere of their new reality show "Sanya's Glam & Gold" with Estelle. See pics from the red carpet inside and watch an explosive Power 105.1 interview where Shay Johnson accuses her "LAHH ATL" co-star & enemy Erica Dixon of getting pregnant by a married man!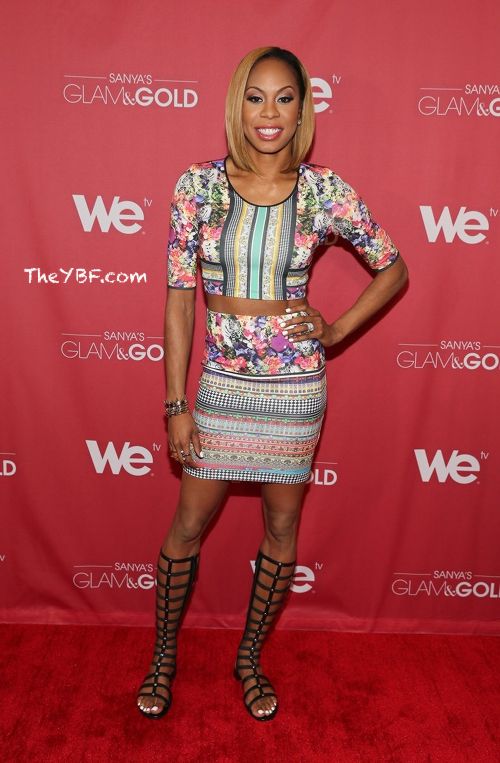 Last night, WeTV celebrated the launch of four-time Olympic Gold medalist Sanya Richards-Ross' new reality show "Sanya's Glam & Gold". The party took place in New York City as The Gansevoort Park Ave. Estelle (shown atop) was one of the celebs who came out to congratulate Sanya (who sported a crop top and strapped on her gladiator sandals for the event).
Premiering on July 25th at 10pm on WeTV, Sanya stars on the show with her husband, New York Giants cornerback and two-time Super Bowl Champion Aaron Ross. The show chronicles their marriage and the bond they share as athletes. And we kinda love a hard core athlete who still knows how to keep it girly.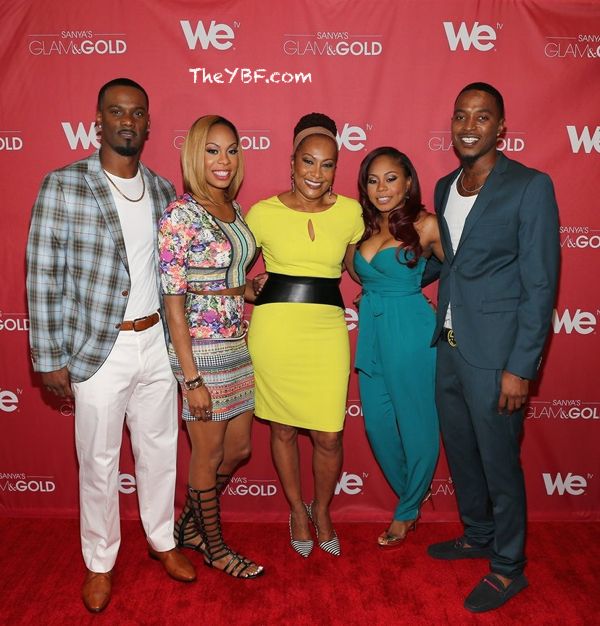 The couple's family and fellow cast members Sharon Richards, Shari Richards and Tyrell Gatewood were also on hand for the party.
Watch Sanya and Aaron discuss the show here:
And in "scandalous" reality tv news.....
"LAHH ATL" star Shay Johnson stopped by Power 105.1 and spilled the tea on what went on during the "LAHH ATL" Reunion taping last week. The most SHOCKING admission dealt with the on and off again relationship between Shay's former boo Lil' Scrappy and his baby momma Erica Dixon.
While Shay admitted that she wasn't supposed to reveal what went on at the taping, she let it slip (a little intentionally), that a some point, Lil' Scrappy confronted Erica about having an affair with a married man AND getting pregnant!
So where's Erica's baby bump? When DJ Envy asked if Erica had an abortion, Shay couldn't confirm it but simply repeated that Scrappy said Erica had been pregnant by a married man (at some point). Here are the highlights:
On Lil' Scrappy confronting Erica:

He said she was messing with a married man and got pregnant by him, thats we what he said on the reunion.

On how Erica was the side chick...when Scrappy was with Diamond:

When he was dealing with [rapper] Diamond, she was his side piece, she's been his side piece for nine years. Erica was his side piece, Diamond was his main girl. He was living with Diamond, he was with her for five years and Erica was always opening those legs for him all the time.


On what she thinks of Kirk and Rasheeda's marriage and if she thinks Kirk is gay:

Kirk is wrong. I just really just wanted to jump through the screen and slap him.....I dont think he is gay. I just think he wanted to play and thats exactly what he did. I think there were issues that were going on that we obviously didn't know about, it didn't just start on television, they been together thirteen years.
Watch the interview below and hear Shay discuss Scrappy & Erica at (8:31) :
So far......neither Lil' Scrappy nor Erica have commented about each other on social media. And we haven't heard Erica respond to Shay's interview......yet.
Photos via Neilson Barnard/Getty Images for WeTV/Power 105/Angela Yee's Instagram
Russell Westbrook & Girlfriend Nina Cuddle Up In NYC + Ashanti Balls Out At Celebrity Softball Game
Posted: 16 Jul 2013 02:36 PM PDT
Russell Westbrook was spotted out in his cuffed shorts with his girlfriend Nina. Peep the twosome getting cutesy in NYC, plus Ashanti knocking balls at the Celebrity Softball game during MLB all-star....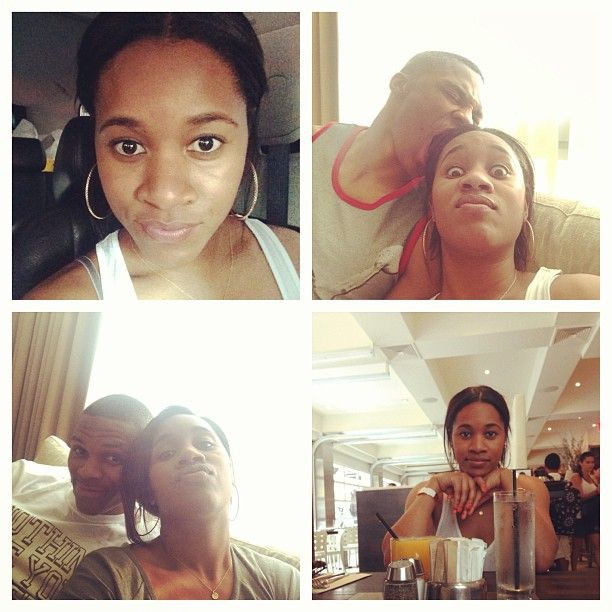 OKC baller Russell Westbrook has been recovering from major injury the last few months, and he looks to be almost back in fighting shape. He and his girlfriend, Nina Earl, were spotted spending some QT in NYC all weekend. They were spotted leaving the Trump Soho hotel and hitting up Cafeteria for dinner. Cute!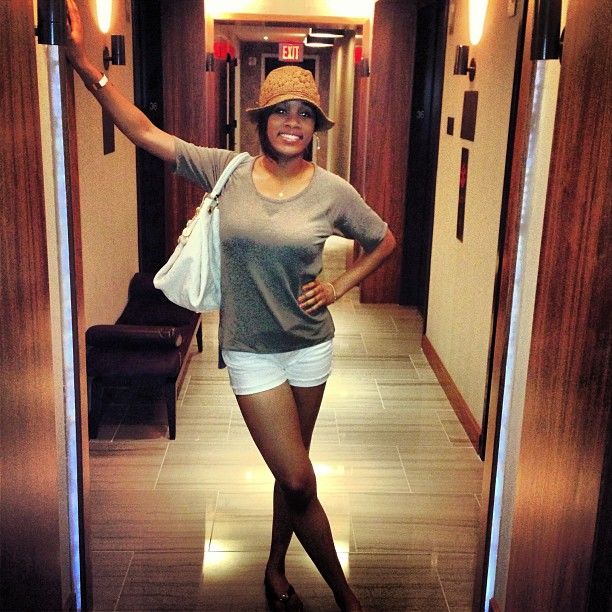 Russell posted a pic of his girl (she's a UCLA graduate and is currently getting another degree) before they left out, saying she "look great" and needs more followers.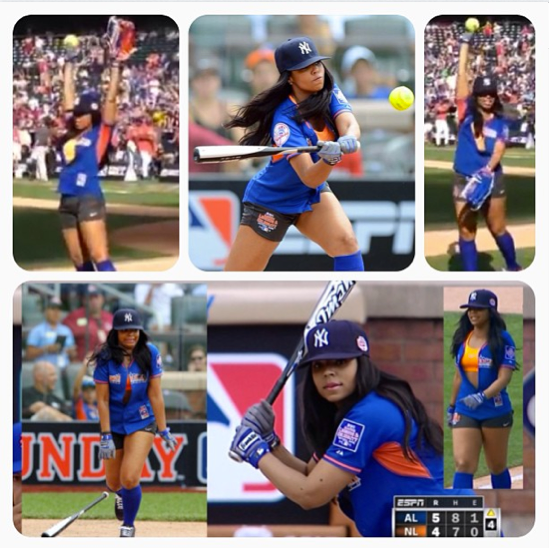 ''
Batter up! Ashanti spent her weekend doing MLB All Star festivities in NYC. She threw on a Yankees cap and her her custom team uniform for the Celebrity Softball game. And looked super cute doing so: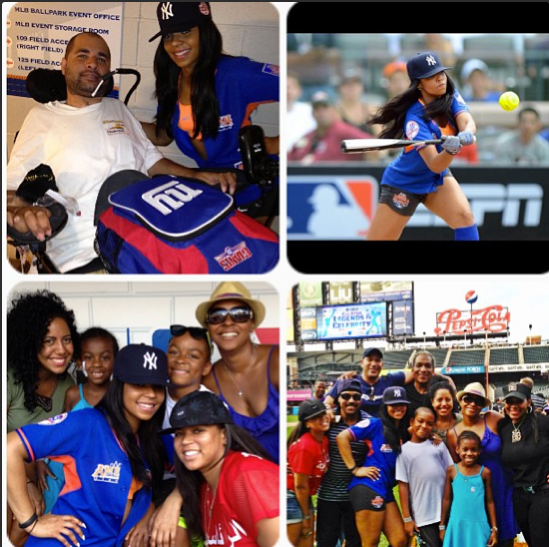 Her fam--including her mom Tina and sister Shia--came out to support too. And she also snapped pics, in a Mah-Jing Wong dress, with a few baseball greats:
The game aired yesterday. But check out this quickie vid Ashanti shot in the locker room:
Photos: Ashanti's IG/INF/Russel's IG/Nina's IG
DO WE LOVE IT: Rihanna Puts Her Guns In Her Ears As She Hits Manchester Gig
Posted: 16 Jul 2013 12:31 PM PDT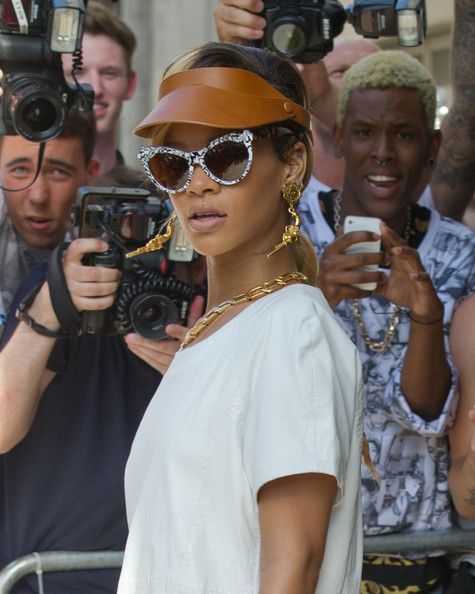 Rihanna stepped out of 45 Park Lane hotel yesterday in Manchester to make her way to her Diamonds World Tour show. And she flossed with her gold guns...made by Chanel. Decide if we love her weapons inside...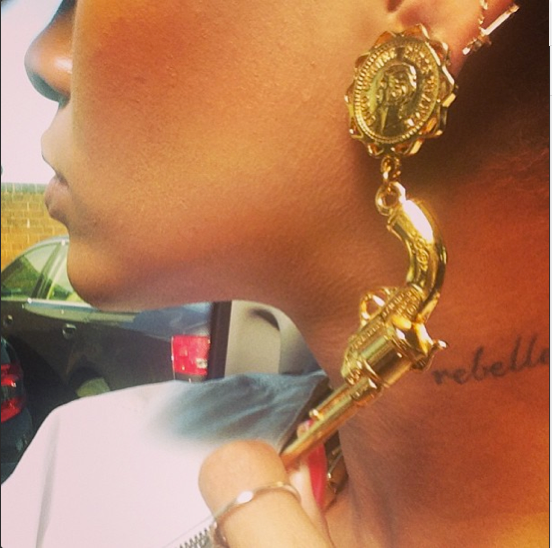 '
Rih posted a close up of her rare CoCo Chanel earrings plated in gold with a coin like emblem and dangling guns. Apparently she wanted some protection as she kicked off a week long of concerts at the Manchester Arena: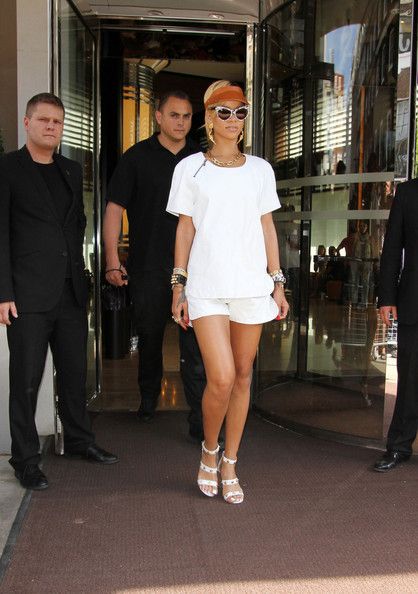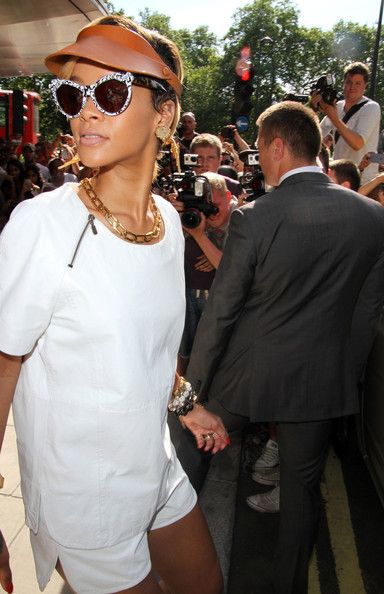 She kept it fresh in all white and her fave studded Balenciaga bracelet with a cognac colored leather visor. So..about those golden guns...
DO WE LOVE 'EM?!
The Randomness:
1. Rih Rih's Roc Nation peer Robinson Cano, the MLBer who signed recently with Roc Nation Sports, just copped his first major deal--Pepsi. STORY
2. The W.E.B. Du Bois Institute at Harvard University and the Hip-Hop Archive announced the Nasir Jones Hip-Hop Fellowship today. STORY
PHOTOS: Pacific Coast News/Rihanna's IG
Chris Brown's Probation REVOKED, PARTIES With Snoop Lion At The Playboy Mansion + Kanye West's A.P.C. Collection SELLS OUT, Reveals UNAIRED Comedy PILOT! (VIDEO)
Posted: 16 Jul 2013 09:29 AM PDT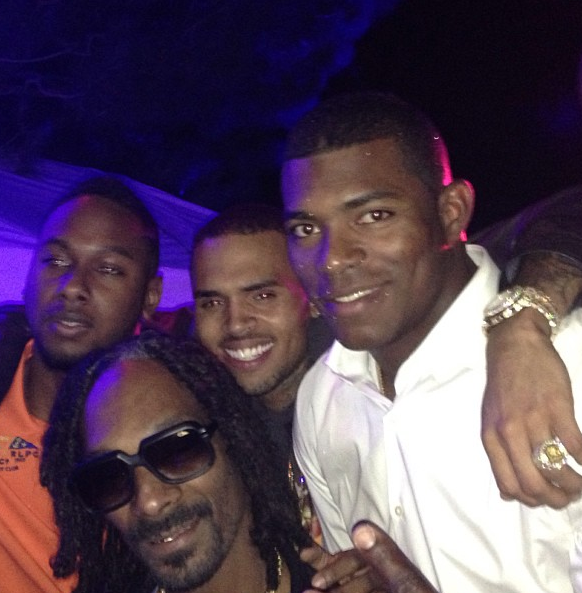 After his probation was revoked, Chris Brown spent last night partying with Snoop Lion and baseball player Yasiel Puig. Get the deets on his latest legal woes inside and watch footage from an unaired comedy pilot Kanye West shot for HBO and get the deets on his A.P.C. clothing line!
Chris Brown got bad news yesterday when a judge revoked his probation after reviewing details from an alleged hit-and-run incident in May. You'll recall that last month, Chris was charged with misdemeanor hit-and-run and driving without a valid license for the incident. He's now set to report to court for the hit-and-run on July 23.
Luckily for Chris, because Deputy District Attorney Mary Murray didn't ask for jail time, he was allowed to remain free. He'll answer to the probation violation on August 16.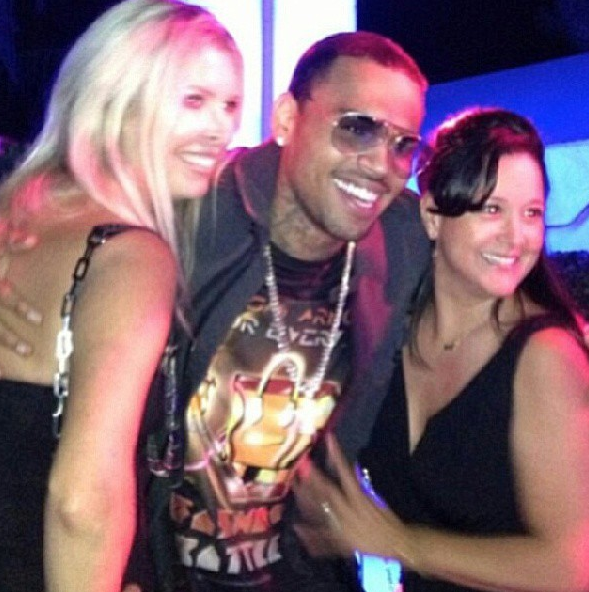 Following his day in court, Chris headed over to the Playboy Mansion (above) where he attended the 8th annual Bear Trap Entertainment (BTE) All-Star Celebrity Kickoff Party. Photographers captured him chilling with a bevy of Playbunnies, athletes and musicians.
Rapper Snoop Lion and LA Dodgers player Yasiel Puig were among the celebs seen at the party.
Later Chris and Yasiel also posed with Washington Wizards point guard John Wall.
Let's just all keep our fingers crossed that Chris avoids all drama (especially since his probation has already been revoked). One small slip up and he's going to jail.....no questions asked.
And in "unseen" television shows.....
Once upon a time, Kanye West aka "Yeezus" wanted to be known as the Black Larry David. No....seriously!
During a 2008 interview, writer and producer Larry Charles dished about an unaired HBO pilot that he and Kanye shot. It was Kanye's version of Larry David's cult hit "Curb Your Enthusiasm."
Now....actress Alison Quinn (who starred alongside Kanye) has uploaded the footage to YouTube and we're so grateful! It's not half bad and it looks like Kanye has a sense of humor about himself...and his huge ego. Or at least he used to.
And in more current Kanye news, his capsule collection for clothing line A.P.C. sold out on the first day (Sunday). Demand was so high that the brand's website crashed. We guess fans around the world really love his fashion sense.
Photos via Yasiel Puig IG/4theloveofbreezy IG/ Alberto E. Rodriguez/Getty Images North America
Beyonce Gets Trill With Bun B., Scarface, Slim Thug & More Backstage In Houston, Rocks "Bow Down" For The First Time In Concert
Posted: 16 Jul 2013 08:45 AM PDT
When Beyonce took the stage back in her hometown of Houston, Texas last night, H-Town rappers came out in full force to support the Queen Bey. Check out everybody chillin' backstage, plus Bey giving the H a little treat with "Bow Down"....
They've been on...and it was like a family reunion backstage at the Toyota Center last night. The "I Been On" chick was welcomed by her long time H-Town homies Scarface, Bun B., Slim Thug, Z-Ro and more before she hit the stage. She and her hubby Jay-Z snapped pics with everybody: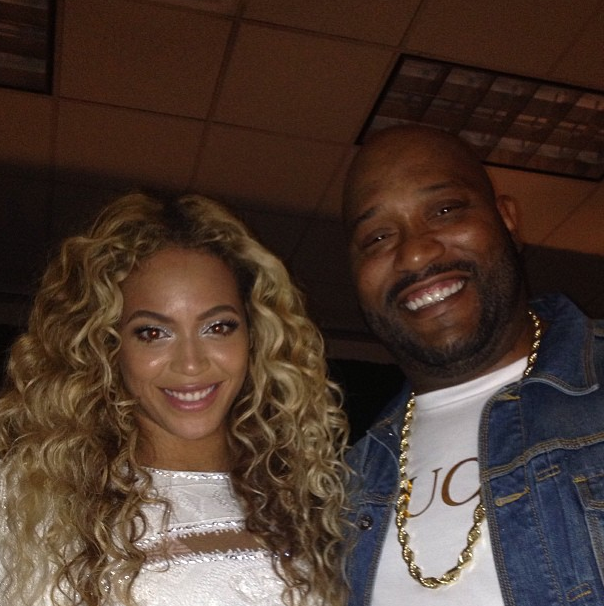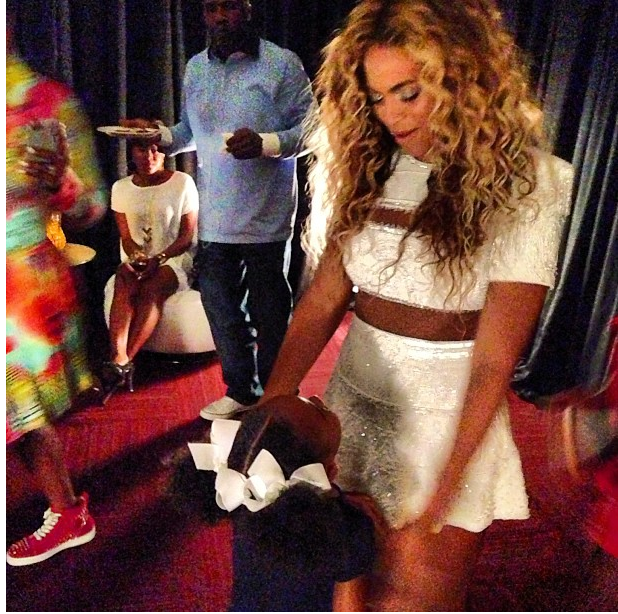 Bun's daughter Tay snapped the pic above, and he got a pic of Bey giving her a hug. Cute!
Slim snapped a pic with his collabo partner and showed off the Cartier gift she bought him and the other Houston rappers who hopped on her "I Been On" remix. He said he put it next to the MTV Award they got for "Check On It."
And Jay was chillin with his long time collabo partner Bun B. and Slim as well.
Bey also gave her folks a bit of a treat. She did a surprise performance of "Bow Down", her first time performing it on stage. Check it:
The Mrs. Carter Show rolls into Chicago tomorrow.
Photos: Bun B's IG/Slim Thug's IG/Scarface's IG
You have read this article with the title The Young, Black, and Fabulous. You can bookmark this page URL http://thisgirlreprobate.blogspot.com/2013/07/the-young-black-and-fabulous_17.html. Thanks!