---
50 Cent DENIES Assault Charges: "I'm Not In Jail, I'm On My Gucci Couch!"
Posted: 05 Jul 2013 08:21 AM PDT
50 Cent spent his holiday chilling on his Gucci couch, playing the piano and gambling. In other words...he's UNBOTHERED by the assault charges brought by his baby momma. Read his denial inside....
"I'm not in jail I'm on my Gucci couch #SMSaudio"
- 50 Cent
In a previous post, we told you about rapper 50 Cent being charged with 1 count of domestic violence and 4 counts of misdemeanor vandalism against his baby momma. And over the 4th of July, the rapper (via a statement from his lawyer) responded,
"Curtis Jackson [50 Cent] denies these allegations as made against him. It is important to note, Mr. Jackson has not been arrested and there is no warrant outstanding for his arrest."
And in true cocky-rapper form, 50 posted a series of photos on IG showing how he spent his Independence Day....proving he's not concerned about any potential legal actions against him..
And while his victim is still reeling from the $7,100 worth of damage "allegedly" done to her condo, 50 was gambling, posing at his indoor pool, chilling on his Gucci couch and playing the piano.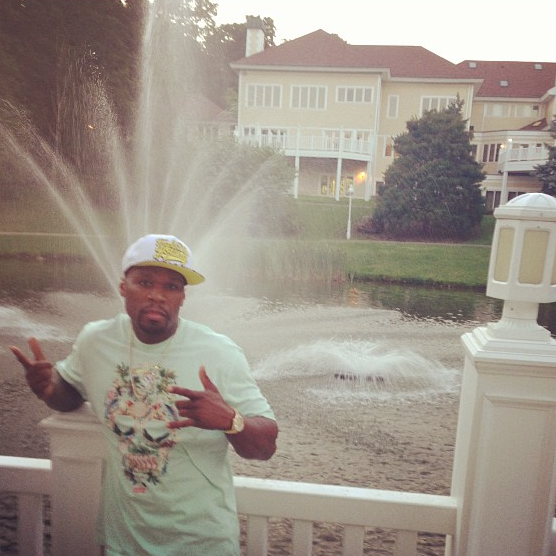 "I'm not in jail,I'm buy my pound #smsaudio"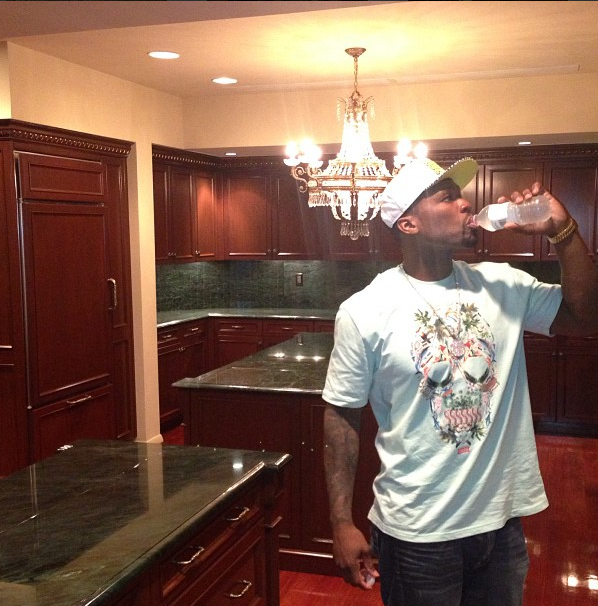 "I'm not in jail I'm in my kitchen fool#smsaudio"
"Im not in jail I'm dunking#smsaudio"
"I'm not In jail I'm in casino#smsaudio"
"I'm dunkin in my other pool indoors fool#smsaudio"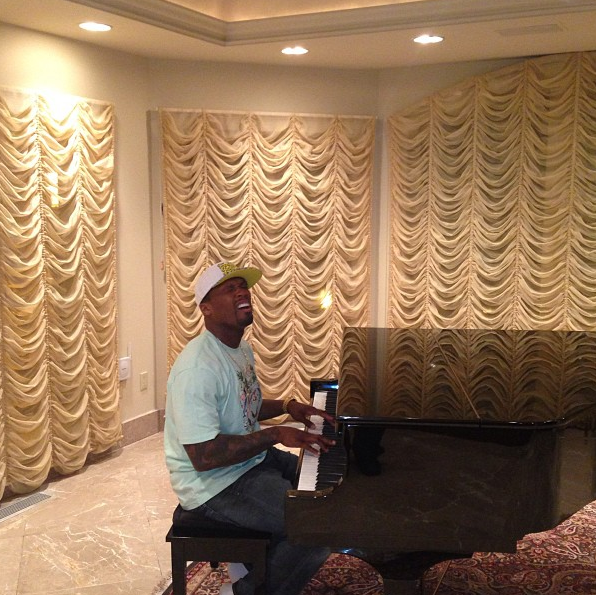 "Ok I'm not in jail but if I go I'm taking this piano with me#smsaudio" hhh
50 Cent has always been full of the foolywang.....we're wondering why any chick found this immature behavior attractive. It's not too funny once he cuts your gravy train off....and wrecks your ish.
The Randomness:
1. Trayvon Martin's mother takes the stand today, says it was indeed Trayvon screaming on the 911 call. Story.
Photos via 50 Cent IG
NEW MUSIC: Khia Attempts A Comeback On "We Can't Stop" Remix With Miley Cyrus
Posted: 05 Jul 2013 07:48 AM PDT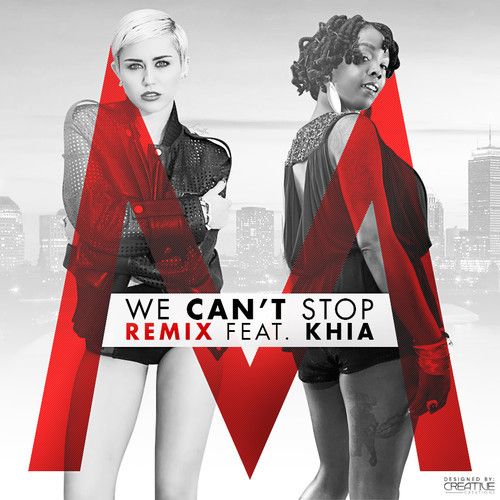 Apparently Khia hitting up Miley Cyrus on Twitter a little while ago paid off. Because the "My Neck My Back" rapper ended up hopping on the official remix for Miley's hit single "We Can't Stop."
Yep, Queen Khia is back. Since Miley Cyrus is in a ratchet twerk-loving mood these days, it's only right she hit up the queen of ratchetry for her official remix....Khia.
Here's their Twitter talk last month after Miley tweeted she was listening to "My Neck My Back":
It's that kinda day #myneck pic.twitter.com/ETLCbJ5B5I — Miley Ray Cyrus (@MileyCyrus) June 22, 2013

@MileyCyrus Yasssssssss Miley, yo Neck and Yo Back!! Maybe a #Collab with you and me on your new Urban album boo? — KHIA (@QueenKhia) June 22, 2013

@QueenKhia my life has officially been made. — Miley Ray Cyrus (@MileyCyrus) June 22, 2013

@MileyCyrus AND I LOVE YOU BABY!!! Im DM-ING YOU MY info now xoxoxo — KHIA (@QueenKhia) June 22, 2013
Miley tweeted out the link to the remix yesterday saying, "HELL YESSS". Khia said, "It's seems like this is the first time people heard me sing lol I'm glad you all are enjoying the Queen singing and rapping on the Remix".
For the Mike Will Made It-produced track, Khia chimes in on the remix singing & rapping. Check out her verses below:
RICH KIDS: Reginae Carter Hangs Out With Kylie Jenner, Lil Twist & Friends
Posted: 04 Jul 2013 11:00 AM PDT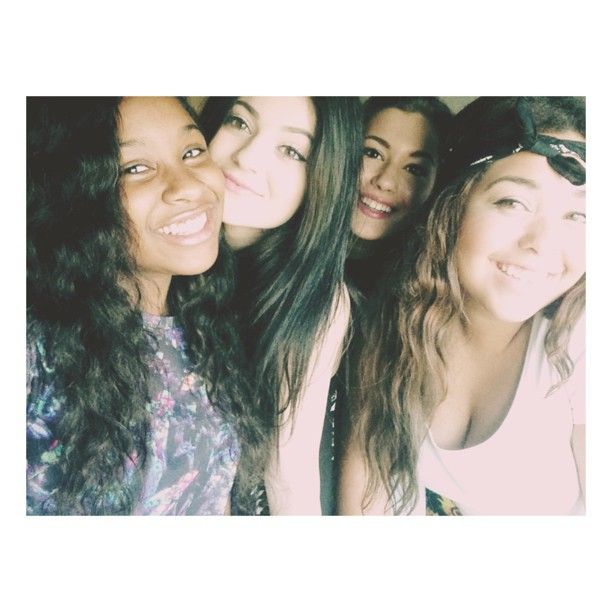 Reginae Carter is still chillin' in L.A. with her mom Toya Wright after Sunday's BET Awards. And she's now hanging out with one of the Jenner girls...who seems to have recently become a good friend of rapper Lil Twist. Pics inside...
Yesterday, Reginae headed to the studio with Young Money rapper Lil Twist (who she calls her uncle since he's a good friend of her dad's). But Kylie Jenner decided to stop holding hands with child star Jaden Smith long enough to pop up with Lil Twist as well.
So they all snapped pics together while hanging out.
Twist is the 20-year-old friend of Justin Bieber...you know, the one who drives all of Justin's cars and wrecks them multiple times, lives with Justin & throws parties at his house when JB's not there. Not sure why he's hanging with 14 and 15-year-olds. And as for why Kim Kardashian's little sister Kylie's hanging with him, well...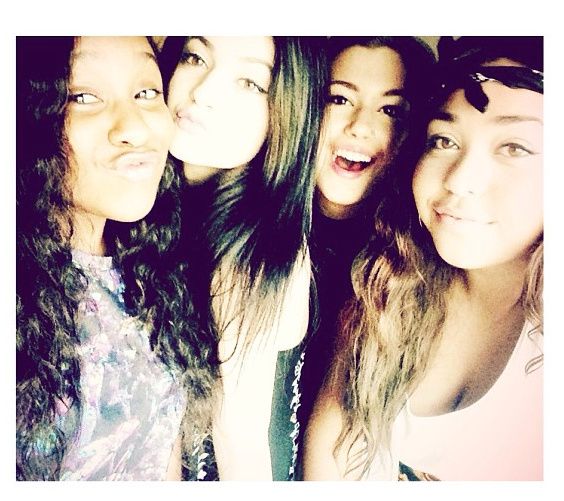 Cutie Reginae has been working on new music with her girl Bria and they are busy promoting their new book, The Paparazzi Princesses. They're headed down to New Orleans for Essence Fest this weekend for more promotion.
Twist posted a pic of himself on Nae's account saying he jacked his niece's phone. Well isn't that...cute.
Photos: Reginae's IG/Kylie's IG
Angela Simmons COVERS "ROLLING OUT", Confirmed As Co-Host For "106 & Park" THROUGHOUT Summer 2013....
Posted: 04 Jul 2013 10:24 AM PDT
Angela Simmons covers the latest issue of ROLLING OUT where she dishes on the pressures of being one of the "Simmons" and becoming more transparent with her fans. Find out what she said inside and get the deets her hosting "106 & Park" this summer....and what happened to the other hosts!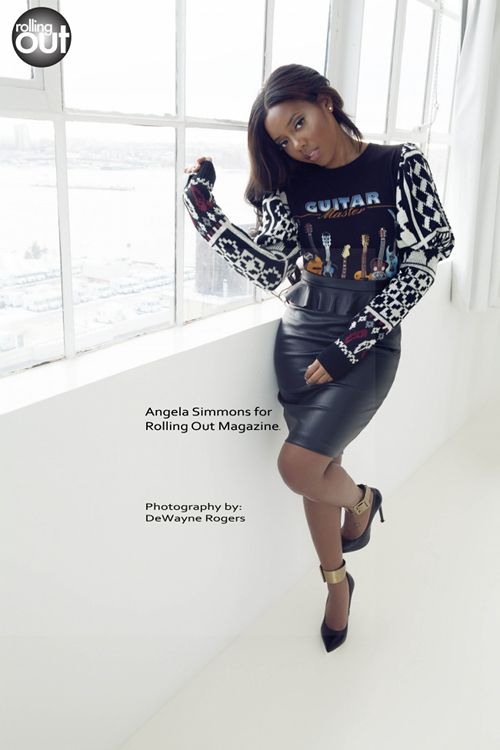 You might have noticed that Angela Simmons has raised her public profile with a string of co-hosting gigs on BET's "106 & Park", and there's a very good explanation. Outside of her obvious chemistry with her ex-boyfriend Bow Wow, the network released a statement revealing that they've booked Angela to co-host the program for the remainder of the summer. Remember when we said we believe BET is pushing out the other co-hosts? BET confirmed:
"106 & PARK" is undergoing exciting changes. Angela Simmons will continue to guest host until the end of the summer. Bow Wow aka "Mr. 106 & Park" will continue as the lead host; Miss. Mykie, Paigion and Shorty Da Prince will no longer remain on the show. BET Networks is happy to have worked with these bright, young stars and will continue to support them and their upcoming endeavors."

And while confirming the departure of Miss Mykie, Paigion and Shorty Da Prince, it remains to be seen if Angela will book the gig on a permanent basis. But for now, the fans are truly connecting to her.
And in the latest issue of RO, Angela continues that connection where she dished in an interview about her new clothing line, website and why she's not afraid to be vulnerable with her fans.
She also comments on some of the criticism she faces as the daughter of a minister and what impact it has on her lifestyle choices (and what she wears). And we're sure Meagan Good will co-sign. Here are the highlights:
We checked out your website, AngelaIam.com and you seem to be really passionate about it. Tell us about it.

It's basically a place for my fans and anyone that wants to keep up with me. It's also a place that's really about inspiring and helping young females. I have a beauty section, a fitness section, and an "Ask Angela" section; it goes on and on. It's pretty much everything in my life all in one place. I'm really excited about it. When I launched it, it crashed [laughs] … which is a good thing, because everyone ran there at the same time. I'm excited, because it's my baby, and I'm really owning it.

You also launched a fashion line. Can you give us some details on that?

It's really feminine, but still dressed down, because that's how I am. I think that an outfit should be able to carry you from day to night. It should be something that you can wear with sneakers, or something that you can wear with heels. That's the kind of girl that I am. I'm a New York City edgy girl on the go, so the clothing line is fun and young … it's also something that you can keep forever. I try to make pieces that people will be able to carry on for a long time. I want my pieces to be affordable, so it's a very moderate-end line that you can actually buy and be fashionable for the price.

You've stepped out a bit more as an individual, and not just as a member of this powerful family. Was that a conscious decision?

There comes a point in your life where you just evolve, and that's where I'm at right now. This is me. I've just grown into this person. I always get people asking me if it's a lot of pressure being a role model, or is there a lot of pressure because I come from this family, or that my dad is a reverend … and you know what, it is, but at the same time, I am who I am. I'm not faking it.

Do some people judge you through a small prism because of your dad.

Well I think with religion, people are just judgmental off the bat. They feel like if you have a relationship with God and Jesus Christ, then you're not allowed to have any fun. I think that's just wrong when people judge others … especially when you're not supposed to judge anyway. But I deal with it all the time. People will come up to me and say "Oh you shouldn't be wearing that skirt," and I just say "why not?" I'm not doing it distastefully, and I'm not being disrespectful. I have my relationship with God, so therefore I don't feel like anyone should judge me. But it's life, and people are going to judge. And there's so much controversy surrounding religion, so I just eat it. At this point, it is what it is, but I know who I am … and God knows my heart, so I don't take it any further.
See photos fron Angela's Olori Swank-styled photoshoot here: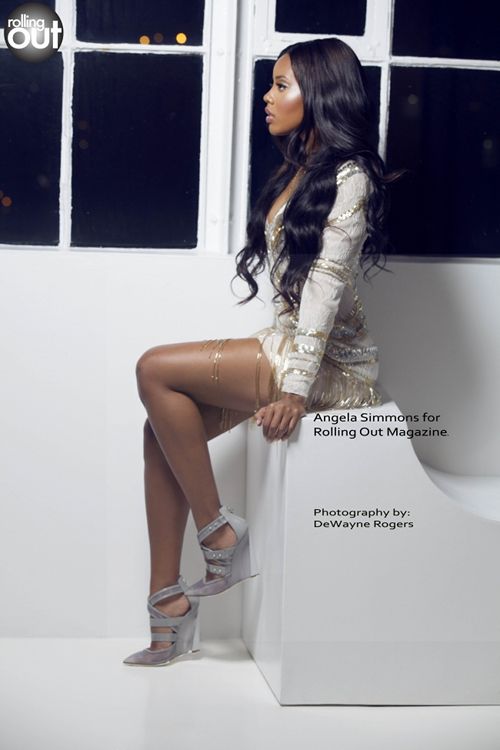 Read the full interview here.
Watch BTS video of Angela's cover shoot here:
Gorgeous photos.
The Randomness:
1. Nas set to headline the New York Mets 2013 "Summer Postgame Concert Series". Story.
Photos via RO/DeWayne Rogers
You have read this article with the title The Young, Black, and Fabulous. You can bookmark this page URL http://thisgirlreprobate.blogspot.com/2013/07/the-young-black-and-fabulous_5.html. Thanks!