---
OH SAY CAN YOU SEE: Mariah's FESTIVE (And HOT) Bikini Pic & Family Pics + The Bosh Family On HOLIDAY In Spain
Posted: 04 Jul 2013 08:14 AM PDT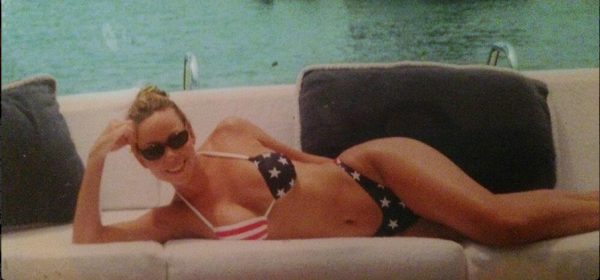 Mariah Carey lit a few firecrackers by posting a festive bikini photo for the Fourth of July. Get the deets on her NBC special inside and see pics of she, Nick, and the twins Roc and Roe at home inside and the Bosh family on vacay in Spain....
In celebration of her upcoming appearance on "Macy's 4th of July Fireworks Spectacular" tonight (airing on NBC at 7pmCT) Mariah Carey posted a festive "Independence Day" bikini photo tweeting, "Gotta be Pon de water for the Fourth of July! Can't wait for the NBC special, it's going to be festivity!"
Must be nice...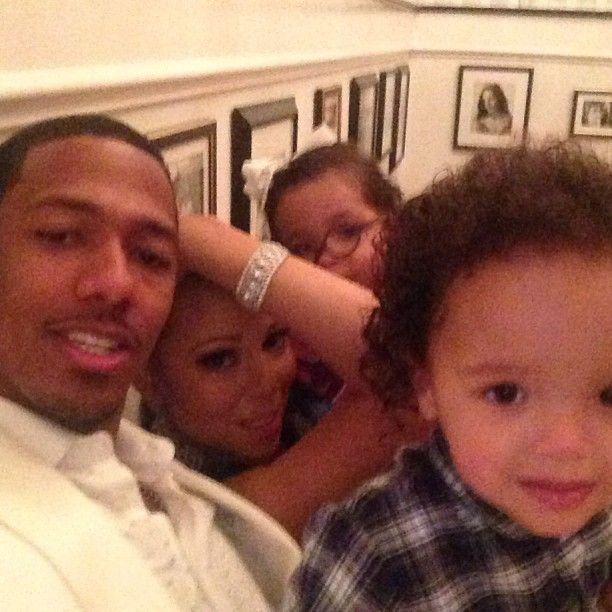 And via his Instagram account, Nick Cannon posted a few adorable pics of he and Mimi with the twins Roc and Roe.
We love how Roe is mimicking her mom's diva poses!
And the twins "got talent"......
It looks like Roe is already following in her mom's footsteps and getting comfortable performing in front of an audience. NicK posted a pic of her after Mariah's appearace at the 2013 BET Awards. "But first Monroe did her best impression of Mommy's performance from tonight #Beautiful".
And Roc might be heading to Nick's "AGT" show pretty soon as the world's youngest boxing champ. Nick joke that Roc is already 'bout tha life" tweeting ""But this is the life my son is about!!! #Rocky. First round knockout!!"
Also, Mariah shared a cute pic of Roe running around their home dressed like a "Baby Butterfly". Adorbs.
And for their holiday, Chris and Adrienne Bosh took baby Jackson to Spain......
Chris tweeted a pic of him and his son shortly before takeoff.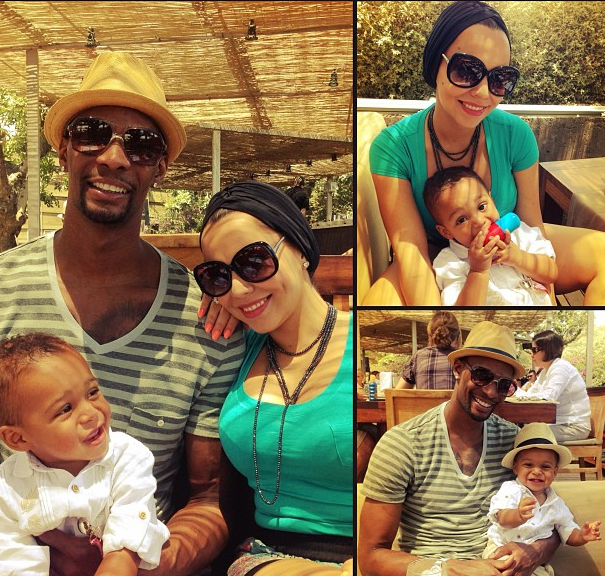 The Boshes in Barcelona for the holidays and Jackson seems to be enjoying himself.
In addition to the local culture, Jackson is also indulging in Spanish foods. Adrienne tweeted, "1st morning in Spain and Baby Jack has been thoroughly impressed with breakfast...even sampling the local fruit LOL #BoshFamily"
And he's growing up fast. "Dinner time w/an independent 1yr old...I don't know who got more pasta on them Daddy or Baby Jack LOL".
Fine family Holiday fun...
Photos via Mariah Carey Twitter/Instagram/Nick Cannon Instagram/Adrienne Bosh IG/Chris Bosh's WhoSay

COUPLEDOM: Chris & Jada Paul Have A Dinner Date + Christina Milian & Jas Prince Chill In Beverly Hills
Posted: 04 Jul 2013 07:28 AM PDT
Hollywood couples kicked off their 4th of July Holiday long weekend by having dinner dates. Check out "L.A. Clippers" star Chris Paul & his wife Jada, plus Christina Milian & her boo Jas Prince having some couples' time....
Chris & Jada Paul took a break from their two kids to go and grab dinner at BOA Steakhouse in West Hollywood last night. And Jada' s looking fabulous post-baby: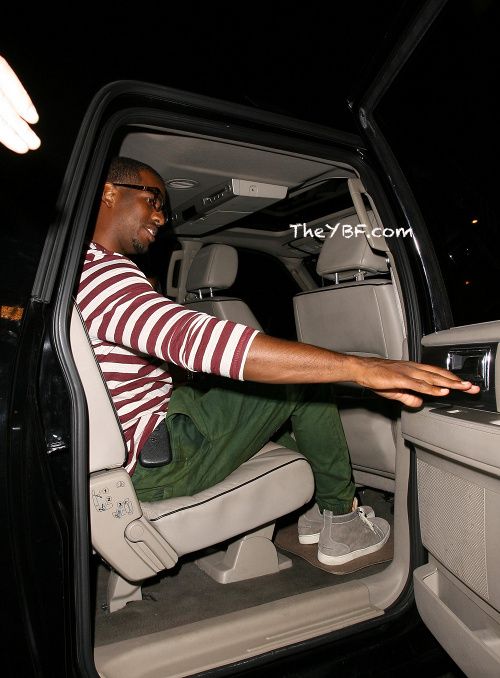 Chris just signed on to a new $107 million 5-year contract with the Clippers. Now THAT'S something to celebrate...
And over in Beverly Hills: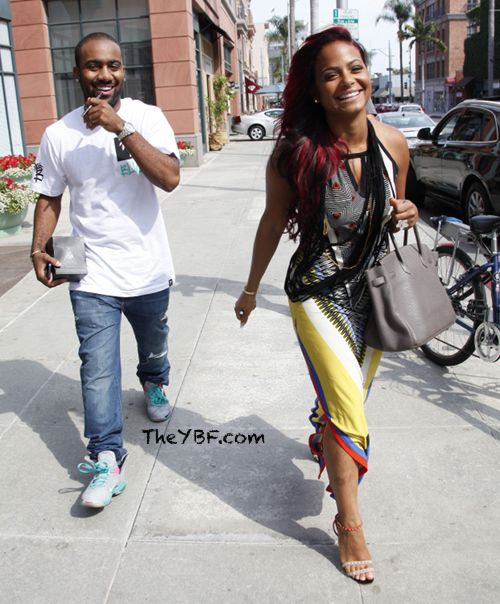 Christina Milian, rocking a sexy colorful maxi dress from Sarah's Boutique, was spotted grabbing dinner with her man Jas Prince. And, as always, she was flaunting one of her new Platinum E Hookah electronic cigarettes she's been pushing lately.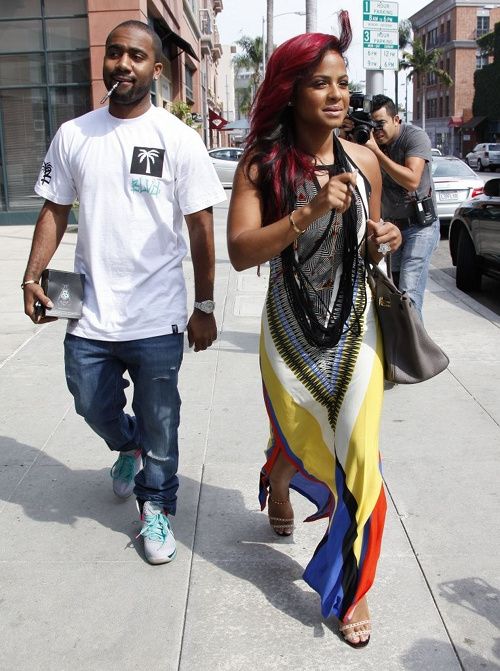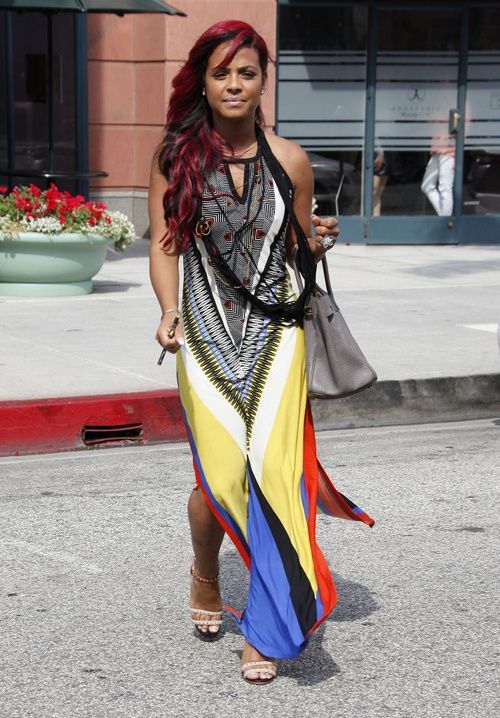 Cute. Chris recently posted a super cute video of her adorable daughter Violet getting her poolside one-piece fashion on. Check it out HERE.
Photos: FAME/Splash/INF
Jay-Z, Beyonce & More Celebrate "Magna Carta Holy Grail" Album Release In BK, "Holy Grail" Single Ft. Justin Timberlake PREMIERES
Posted: 03 Jul 2013 10:25 PM PDT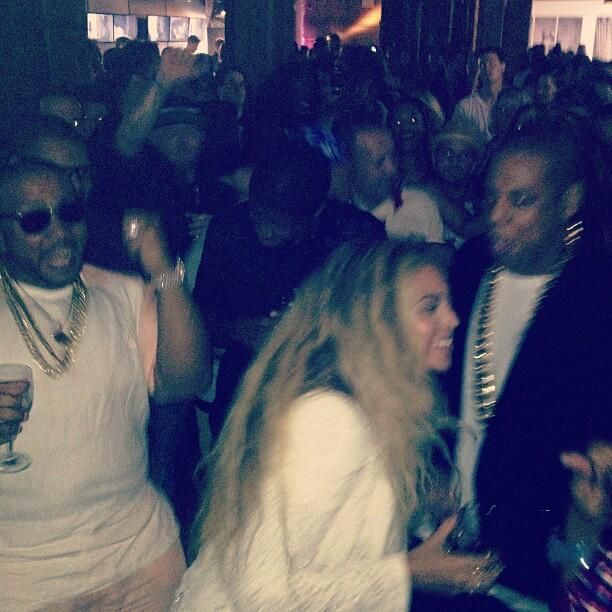 As Jay-Z, Beyonce and Timbaland celebrate with a secret album release party at Liberty Warehouse in Red Hook, BK...of what Timb calls Jay's "best album ever"....1 million lucky Samsung customers just downloaded the full Magna Carta Holy Grail album. And the very first single that was premiered on radio tonight is the opening track off the LP, "Holy Grail" featuring Justin Timberlake.
Check it inside, plus pics of The Carters at Jay's listening session Wednesday night...
Hov slid the "Holy Grail" track over to Funkmaster Flex to do a midnight premiere of his first official single. And even though many Samsung users reported not being able to download the album at midnight as promised (Samsung tweeted that they broke the internet), everyone was able to hear this new joint via Flex's site and Hot 97.
Justin kicks off the "Holy Grail" track crooning about being so in love. And he's going out of his mind trying to figure out how the woman truly feels about him. Jay comes in rapping a few bars and samples Nirvana's "Teen Spirit" on one of them.
Check out the full new single below:
More pics of The Carters and friends having some fun at Wednesday night's album release party: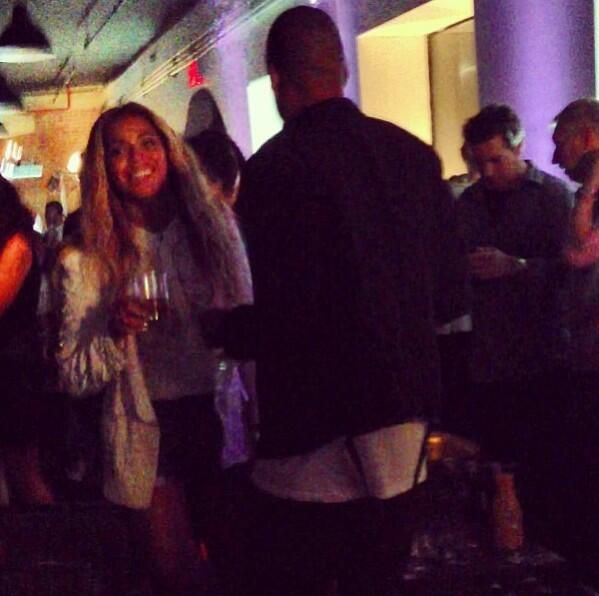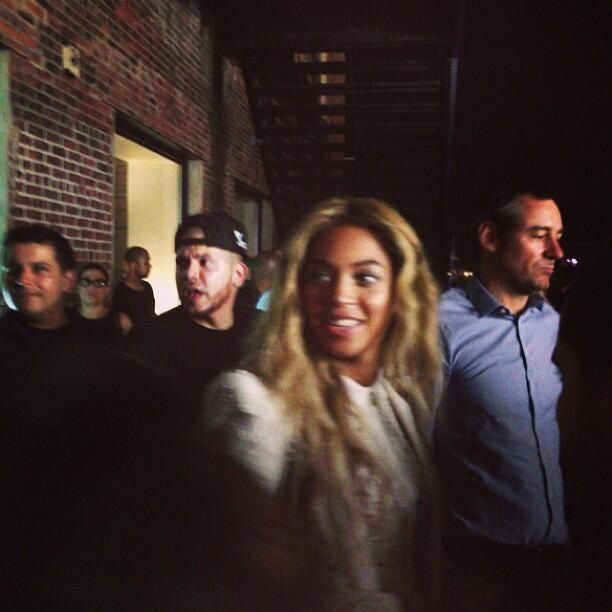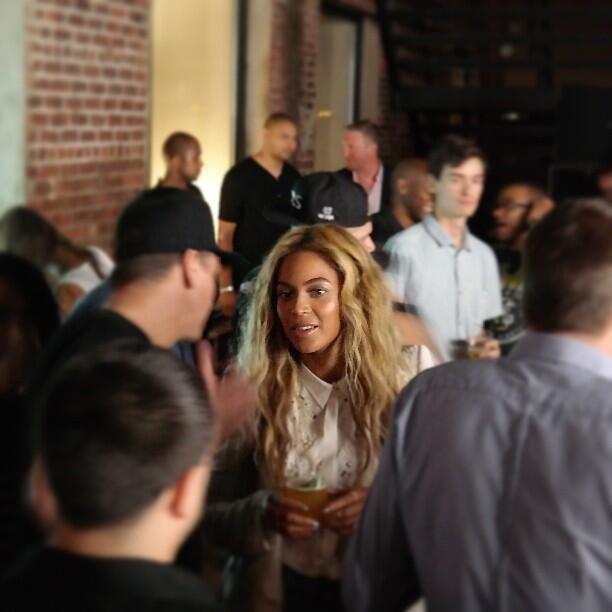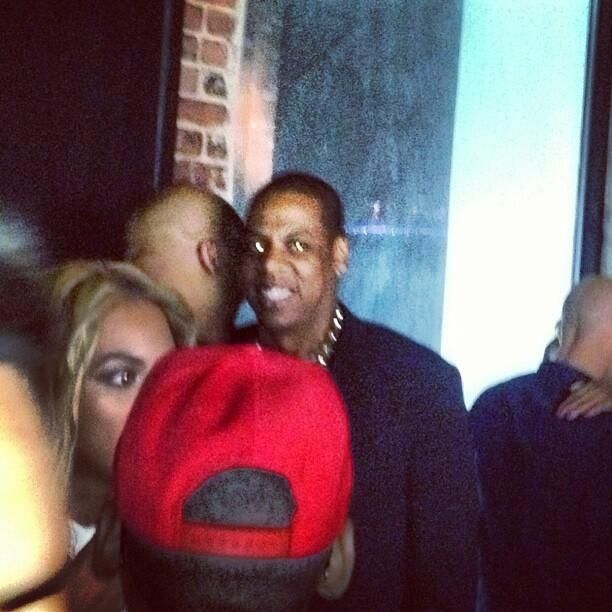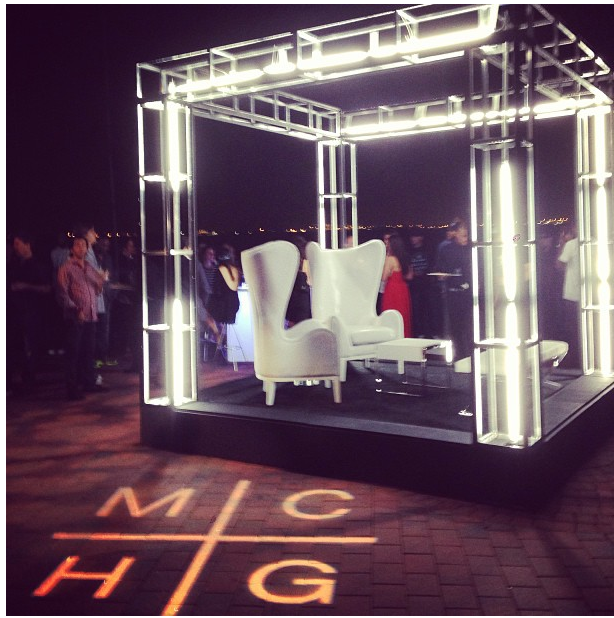 Nice!
Timbaland who produced most of the album, snapped some pics with the homie Nick Cannon: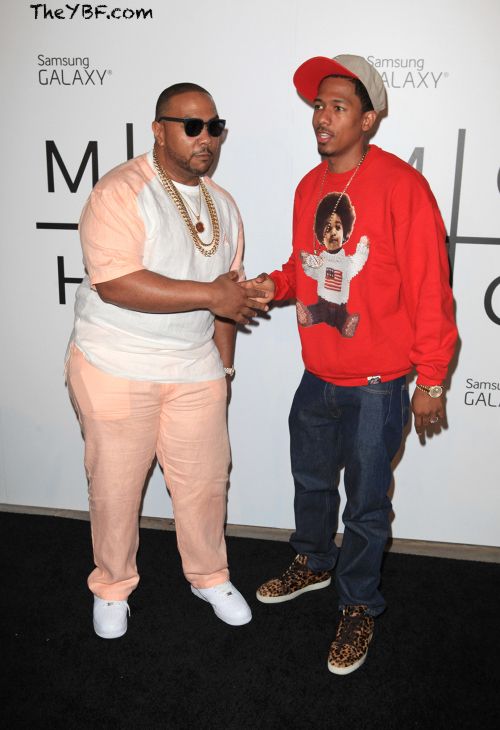 And Emily B. was there rocking a cute blue jumpsuit. Fab times.
"All the pigeons take flight...."
@10Deep's IG/BeyonceLite's IG/Bey_Exclusive's IG/WENN
Nicki Minaj's MARIE CLAIRE Cover Sneak Peek + Jay-Z Counts Down To "MCHG" With "Tom Ford " & More + Justin Timberlake's "Tunnel Vision" Video
Posted: 03 Jul 2013 07:14 PM PDT
Nicki Minaj is breaking down barriers of mainstream fashion & beauty magazines as she once again covers a major mag. Check out a sneak peek of the "High School" rapper rocking the upcoming over of Marie Claire, plus more sneak peeks of Jay-Z's Magna Carta Holy Grail, plus Justin Timberlake's "Tunnel Vision" vid....
Rocking her blonde wiggery and mohawk headpieces and sexy perforated leather body suits from LaQuan Smith, Nicki Minaj is covering the pages of Marie Claire's August 2013 issue.
The Myx Moscato owner RT'd a few fans losing their minds over what they just got in the mail today: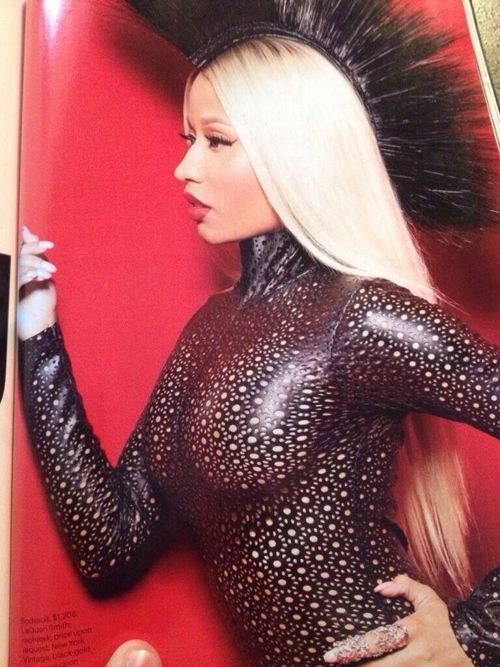 And this is what we can expect. Finally, an edgy look we're feeling from Ms. Minaj.
Technically, Jay-Z is already platinum with his Magna Carta Holy Grail album dropping at midnight tonight. But that hasn't stopped him from promoting it like crazy up until the very last minute. He just dropped the lyrics to 3 more songs on the album -- "Nickels & Dimes", "SomewhereInAmerica" and "FuckWithMeYouKnowIGotIt".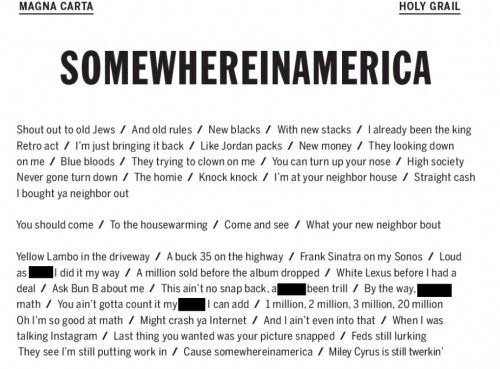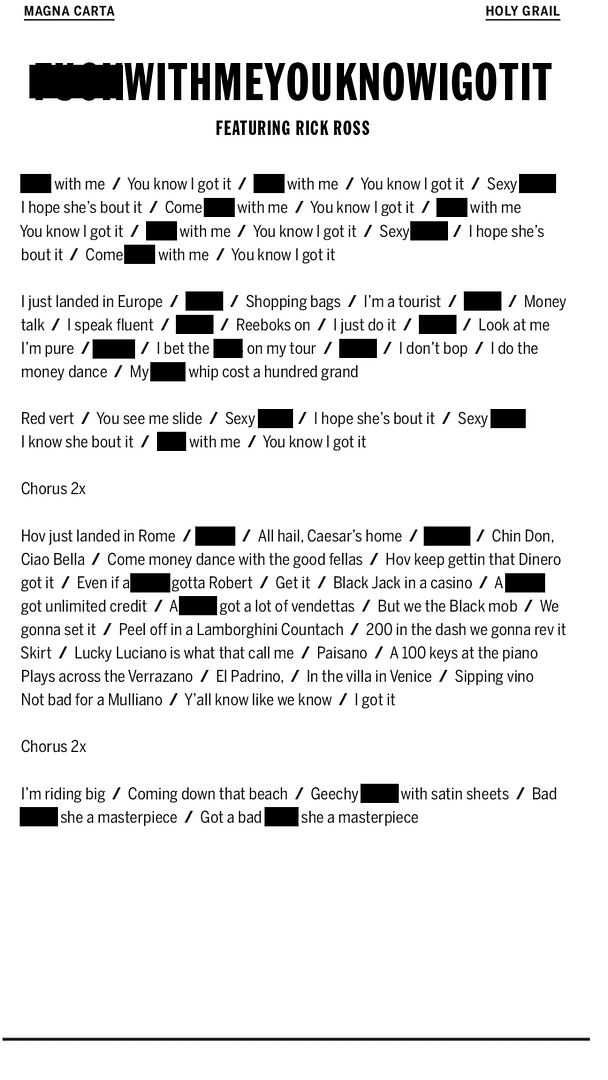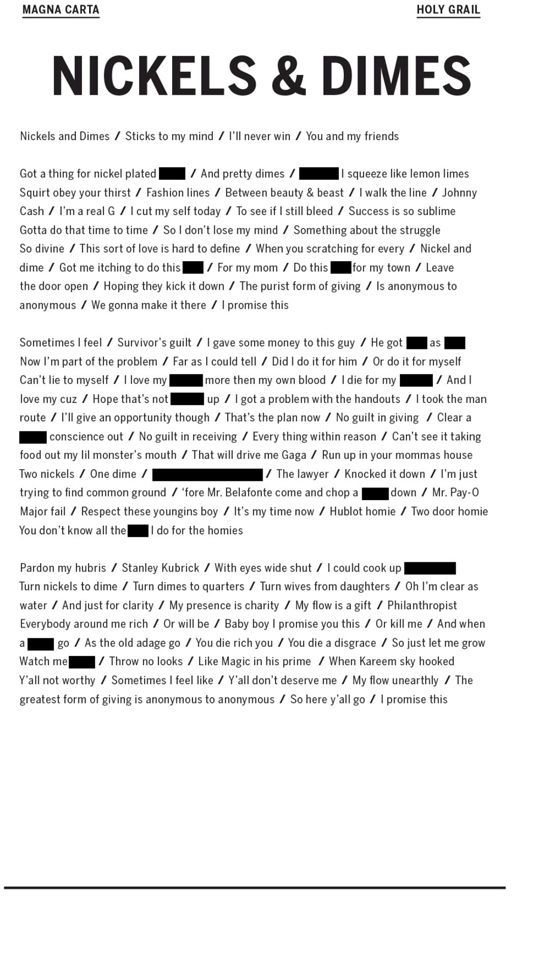 And he also dropped another video explanation, this time for his track "Tom Ford". Check it:
Meanwhile, Jay is currently having an album release party in Brooklyn.
Finally, check out Jay's homie Justin Timberlake's brand new video for "Tunnel Vision" below:
The track appears on the 20/20 Experience. And he's all about admiring naked women. Check it.
SCANDAL: Kerry Washington SECRETLY Marries San Francisco 49ers Cornerback Ezenwa Nnamdi Asomugha, County Clerk CONFIRMS
Posted: 03 Jul 2013 03:44 PM PDT
While ABC's "Scandal" is on hiatus, its leading lady, Kerry Washington, has caused a scandal of her own by marrying San Francisco 46ners cornerback Ezenwa Nnamdi Asomugha. See their wedding certificate inside....
With a storyline straight out of her hit tv series, "Scandal", E! News confirms that Hollywood royalty, Kerry Washington, quietly wed 31-year-old San Francisco 49ers cornerback Ezenwa Nnamdi Asomugha on June 24 in Hailey, Idaho. A rep from the county clerk's office told US Weekly,
"It has been recorded in the Blaine County clerk's office that Nnamdi Asomugha and Kerry Washington have been married on the 24th of June in the town of Hailey, Idaho."
ABC News reports that Kerry's parents Earl and Valerie Washington signed the license as witnesses to the nuptials and Chisaraokwu Asomugha officiated the ceremony.
Sports gossip site TerezOwens.com was the first to report the nuptials, saying, "We just received word that actress Kerry Washington has married NFL player Nnamdi Asomugha."
31-year-old Nnamdi, 31, is a three-time Pro Bowler, who played for the Oakland Raiders and the Philadelphia Eagles before signing with the 49ers this year.
Though the couple had been dating since last summer, their relationship was very "under the radar" and the marriage comes as a shock to most of Kerry's fans. Previously, Kerry was engaged to actor David Moscow for three years until they parted ways in 2007.
A rep for Washington told ABC News, "I don't comment on my client's personal life." And Nnamdi's rep said, "We don't comment on our clients' personal lives."
Kerry is currently on the cover of Vanity Fair's August 2013 issue.
Congrats Kerry!
Photos via Frazer Harrison/Maury Phillips/Getty Images North America
CHARGED! 50 Cent ACCUSED Of DOMESTIC ABUSE! Plus....He's Got A NEW (Secret) Baby Mama! (UPDATE)
Posted: 03 Jul 2013 02:29 PM PDT
Rapper 50 Cent has been brought up on charges of domestic violence. Oh, and we just learned he has a brand new secret baby mama! And SHE's the victim. Get the deets on the incident inside....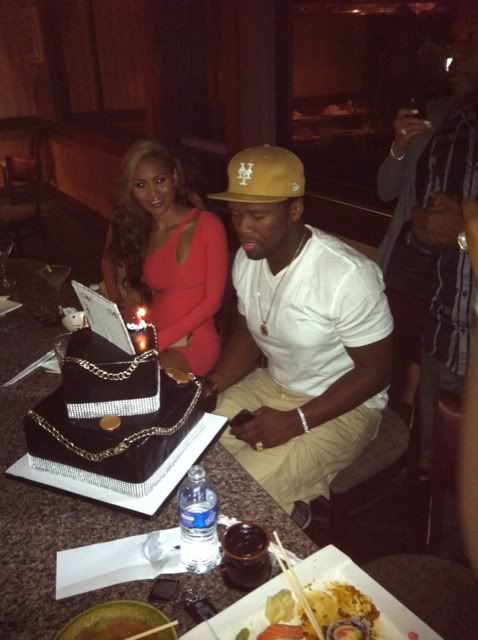 The L.A. City Attorney's office has charged "In Da Club" rapper 50 Cent with 1 count of domestic violence and 4 counts of misdemeanor vandalism against a female victim whom he has a "child in common."
According to TMZ, on June 23, the rapper is accused of kicking his baby momma, Shaniqua Tompkins, Daphne Joy (shown above in 2011) and causing nearly $7,100 worth of damage to her Toluca Lake, Ca. condo. If convicted on all counts, he could face up to five years in jail and $46,000 in fines.
While we're waiting for additional details to emerge, this incident isn't out of character for the rapper. You'll recall that there was a reported incident of 50's entourage trashing the office of Shaniqua's lawyer and there was suspicion around who REALLY burned down Shaniqua's home in 2008.
(UPDATE)
TMZ is now reporting that 50 Cent was accused of attacking former girlfriend Daphne Joy NOT Shaniqua Tompkins! Apparently. Daphne had a baby for 50 Cent last fall and WE MISSED IT! And for his part, 50 Cent has NEVER acknowledged having a second child. SMH.
When TMZ asked baby momma #1, Shaniqua Tompkins for a comment, she told TMZ that she DID NOT files charges against 50. Hmmmm. That only leaves Daphne in the mix....and we know she lives in Toluca Lake, Ca (just like the accuser)!
We'll keep you posted.
Photo via Stephen Lovekin/Getty Images North America
MUSIC FAB: Jay-Z REVEALS "Magna Carta Holy Grail " Album Art + Toni Braxton ANNOUNCES New Tour, DUET Album With Babyface
Posted: 03 Jul 2013 12:04 PM PDT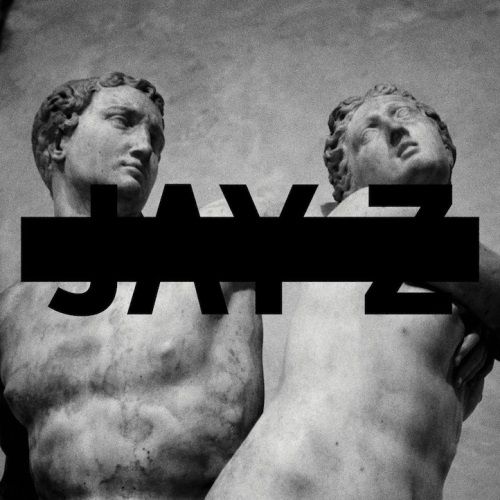 Jay-Z has unveiled the cover art for "MCHG" along with additional artwork from the album's art installation. See the photos inside and get more information on Toni Braxton's return to the studio and new tour.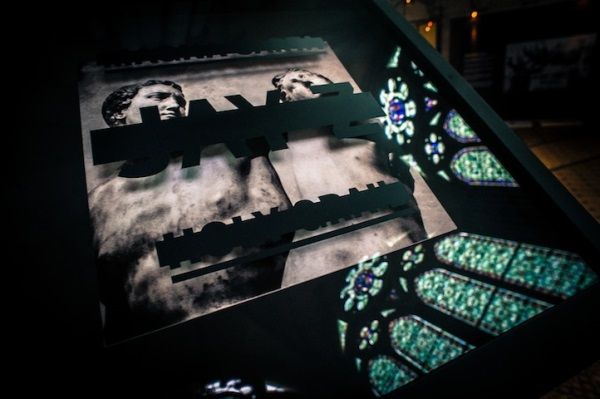 Via his Life + Times website and a heralded exhibit at The Salisbury Cathedral in the UK, rapper Jay-Z has unveiled the cover art for his next album, Magna Carta Holy Grail.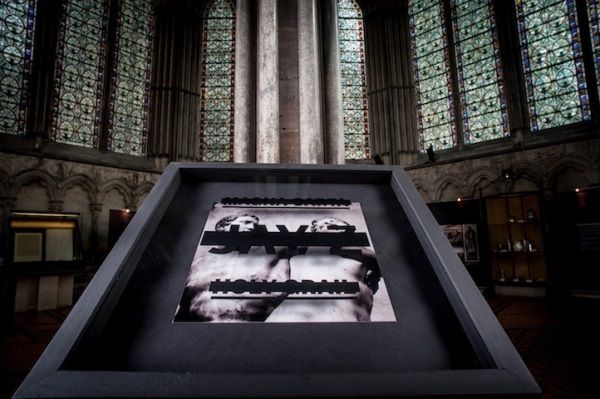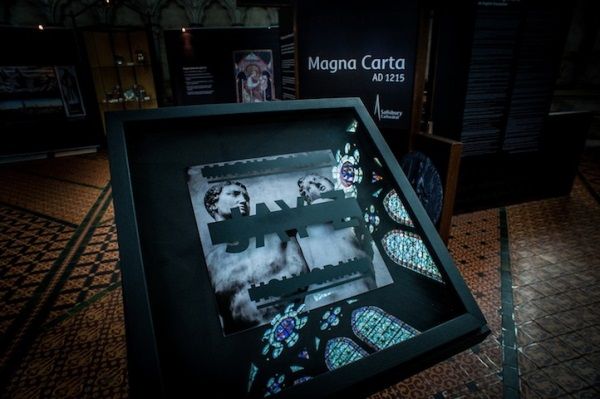 Currently on display at the Salisbury Cathedral Chapter House throughout the month of July, the site was chosen because it houses one of the four surviving original 1215 Magna Carta documents.
The first million users who downloaded Samsung new #magnacarta app will be able to access the disc on Thursday, July 4th. while the rest of the world will get access to the grail on July 9th.
Fans eager to see Jay perform tracks from MCHG will have to stay tuned as his recently concert atop the Ed Sullivan Theater in NYC was cancelled because the city had elevated fears of crowd control and other threats.
In other music notes...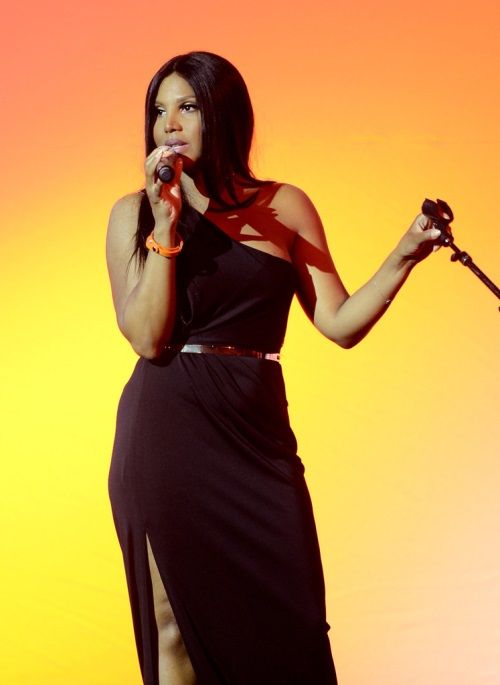 Despite several hints that she was considering retirement from the music industry, "Braxton Family Values" star Toni Braxton has had a change of heart. The "Breathe Again" diva has announced plans to hit the road again and release a new album.
Starting August 9, Toni will embark on a 14-city tour around the country, belting out her classics hits and also promoting an upcoming album of duets that she's working on with Babyface. In a press release announcing her return to music, Toni said, "I think I've made the right decision to get back involved with songwriting and working with Kenny."
Fans of Toni can catch her on the following dates:
August 9 --- Las Vegas, NV --- The Pearl—Palms Concert Theatre
August 10 --- Coquitlam, BC --- Red Robinson Theatre
August 12 --- Brooklyn, NY --- Martin Luther King, Jr. Summer Concert Series
August 14 --- New Brunswick, NJ --- State Theatre
August 16 --- Rama, ON --- Casino Rama Entertainment Centre
August 17 --- Detroit, MI --- Chene Park – Classic Soul Series
August 18 --- Durham, NC --- Durham Performing Arts Center
August 21 --- Baltimore, MD --- Pier Six Pavilion
August 23 --- Lincoln, RI --- Twin River Casino
August 24 --- Atlantic City, NJ --- Trump Taj Mahal—Mark G Etess Arena
August 25 --- Westbury, NY --- Theatre at Westbury
August 28 --- St. Petersburg, FL --- The Mahaffey Theater
August 29 --- Miami, FL --- James L. Knight Center
August 31 --- Atlanta, GA --- Chastain Park Amphitheater
That "Braxton Family Values" has done wonders for all...
Jay-Z's Life + TImes/ Kevin Winter/Getty Images North America
Ciara Gets Turnt Up On "Chelsea Lately" + Nicole Murphy Blasts Michael Strahan's Private (And Cute) Habits We Never Knew On "Live"
Posted: 03 Jul 2013 11:02 AM PDT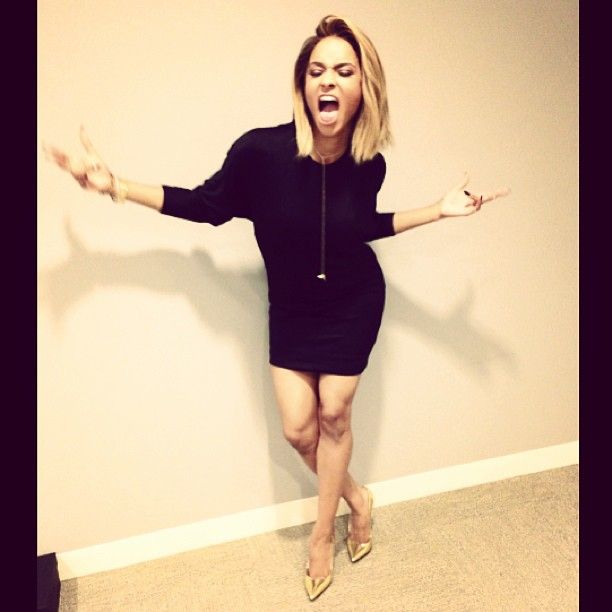 Ciara hit up "Chelsea Lately" last night to dish with the late night talk show host with whom she shares an ex-boyfriend in common. Check out their hilarious chit chat inside, plus Nicole Murphy putting her fiancee's private habits on blast on "Live With Kelly & Michael"...
Ciara hit up Chelsea Handler's show last night to dish about the private "body parties" she puts on for Future and her new album. And by the way, she calls her man "My love Nayvadius".
She told Chelsea about keeping Future happy, explained the definition of "turnt up", and avoided the topic of both of their exes 50 Cent. Check it out above. CiCi's new album Ciara is currently streaming on iTunes and hits shelves July 9th.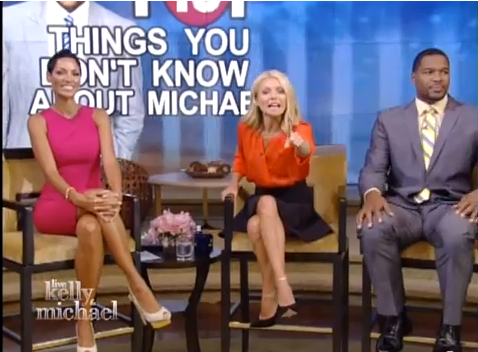 This morning on "Live with Kelly & Michael," Michael's fiancee Nicole Murphy stopped by to pub the new season of her reality show "Hollywood Exes." And she ended up telling a few stories about Michael's freak out session when a mouse landed in their bed, plus a few other embarrassing things we never knew. For instance, the #1 thing Nicole says no one knows about him is that he LOVES to spoon. Awwww.
Check otu the interview below:
Ciara photo: Ciara's IG
HOW THE RICH & FAB DO VACAY: Samuel Jackson And Magic Johnson Hit The Island Of Capri With Their Wives....And Holly Robinson Peete!
Posted: 03 Jul 2013 10:07 AM PDT
Samuel Jackson and Magic Johnson were spotted on vacation together with their families on the Island of Capri recently. See the vacay pics inside and see what other famous celebrity couple they joined them inside....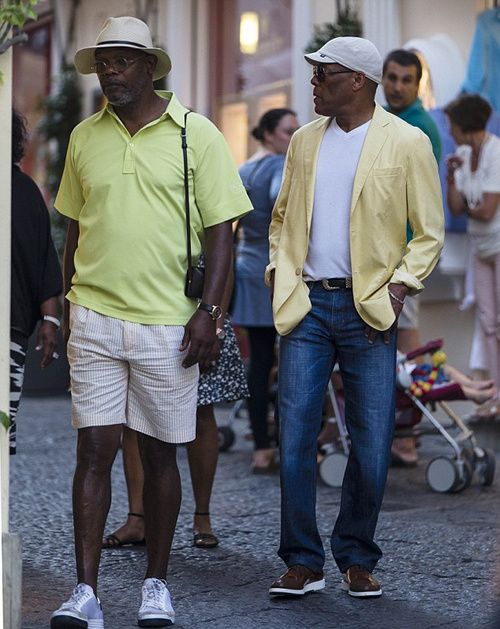 Once again, the Jacksons & The Johnsons are taking their YBF Hollywood royalties on vacay together. Reasonable Doubt actor Samuel Jackson was spotted on vacation on the island of Capri yesterday. And we love it.
The actor missed Sunday night's 2013 BET Awards after he hosted them last year, but his Twitter followers informed him that Jamie Foxx beat him out and won the award for Best Actor. Sam responded, "Wait...what happened?.....I lost something else....again? Really? Was I supposed to win? WHAT HAPPENED?? What Award?? Ohhhhh, sah ite!!"
Ha!
Sam and his wife LaTanya (not pictured) weren't alone on their trip to the beautiful island. Actress Holly Robinson Peete and her husband Rodney were also there.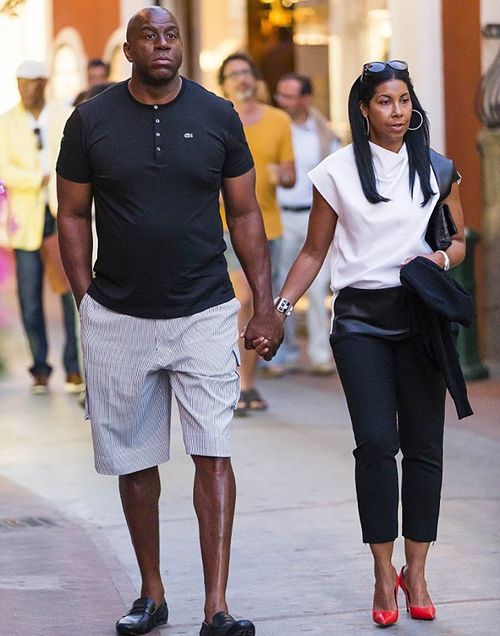 Samuel and LaTanya were also joined by their constant travel companions, fellow super rich folks Magic and Cookie Johnson.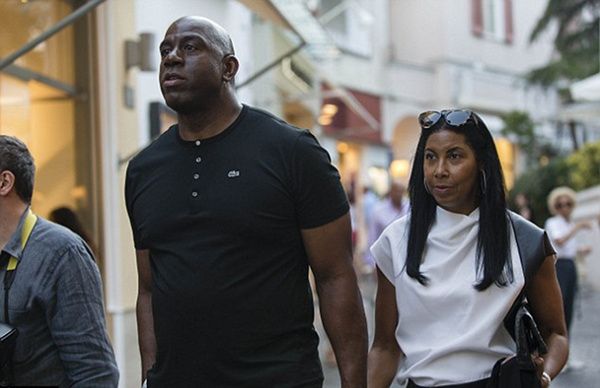 You'll recall that we spotted the couples on vacation together in Portofino, Italy a short while ago.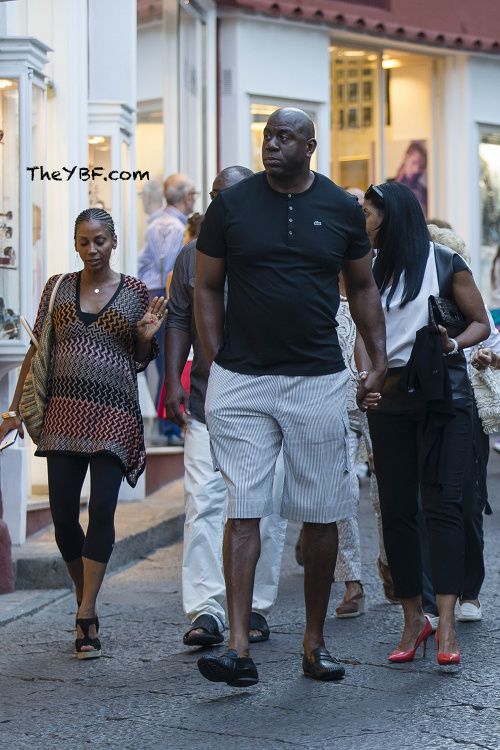 During their stroll, the couples were seen shopping at Prada and seen signing a few autographs along the way. Magic tweeted, "I didn't realize Italians love basketball just as much as we do in the US. Almost everyone in Capri lined up to take a picture with me!"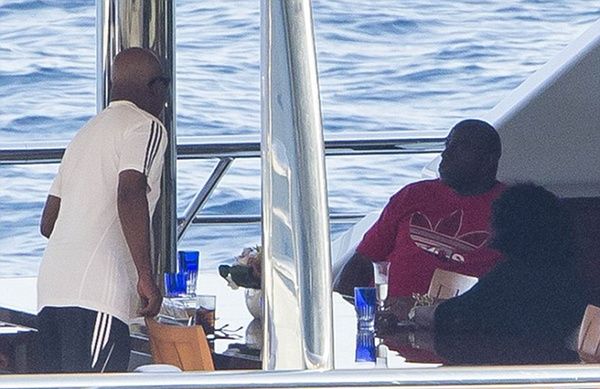 After their afternoon stroll, the couples boarded a private yacht for lunch.
And Holly & Cookie snapped a pic at their stop in Positano, Italy:
Must be real nice...
Photos via CAP / Splash News / Holly's IG

HOT MAMAS: Nia Long Goes Shopping In L.A. + Tracy Morgan's Fiancee Meagan Becomes NEW MOM After Delivering A BABY GIRL!
Posted: 03 Jul 2013 09:41 AM PDT
Nia Long was spotted out and about in L.A. shopping it up looking cute and casual. Check out the pics of the hot mom, plus the deets on Tracy Morgan's fiancee Meagan becoming a mom today for the first time...
Just days after she popped up at the 2013 BET Awards looking flawless, 42-year-old Best Man Holiday star Nia Long did a little shopping in L.A.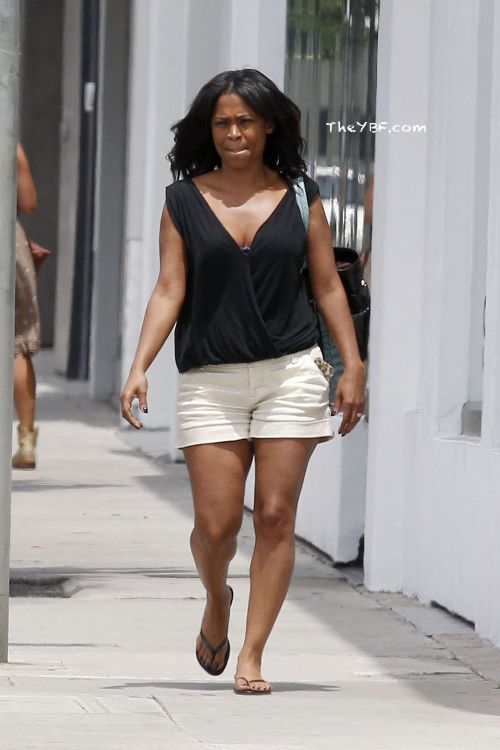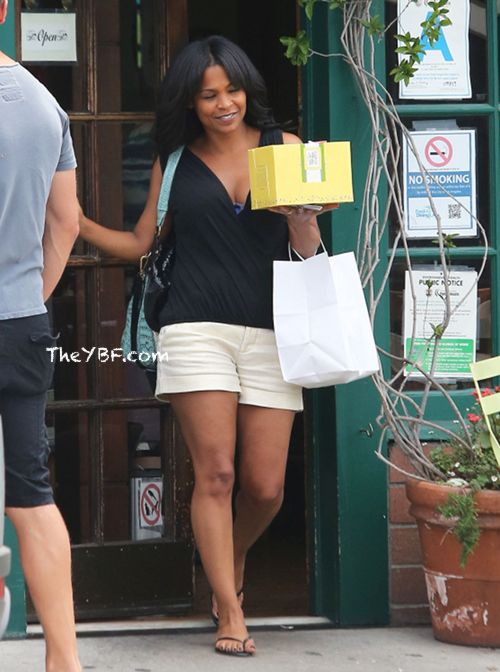 The mom of two hit up a bakery and looked fresh faced while rocking a makeup free face, khakis and flip flops. Effortlessly fab.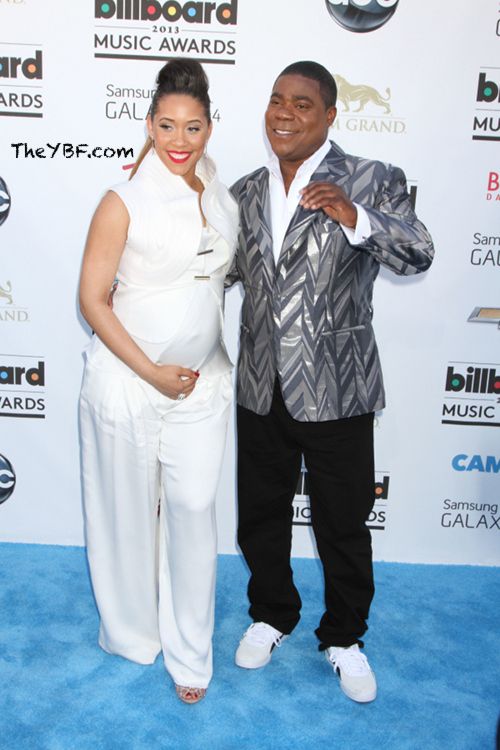 And comedian/actor Tracy Morgan just became a dad for the fourth time! He and fiancee Megan Wollover gave birth to little Maven Sonae in the early hours of Tuesday morning.
The former "30 Rock" star tells Celebrity Babies, "Mother and child are doing fine. Love to all my fans and thank you for your support. We hope to see you soon." Sweet!
The couple became engaged in 2011, and this is Tracy's 4th child. He has three grown sons with his ex-wife Sabrina.
Congrats to Tracy & Meagan!
Photos: PCN/WENN/Fame
You have read this article with the title The Young, Black, and Fabulous. You can bookmark this page URL http://thisgirlreprobate.blogspot.com/2013/07/the-young-black-and-fabulous_4.html. Thanks!