---
Jay-Z & Justin Timberlake Kick Off LEGENDS OF THE SUMMER Tour In Toronto + The Obama Ladies Hit Beyonce's Chicago Concert
Posted: 18 Jul 2013 08:41 AM PDT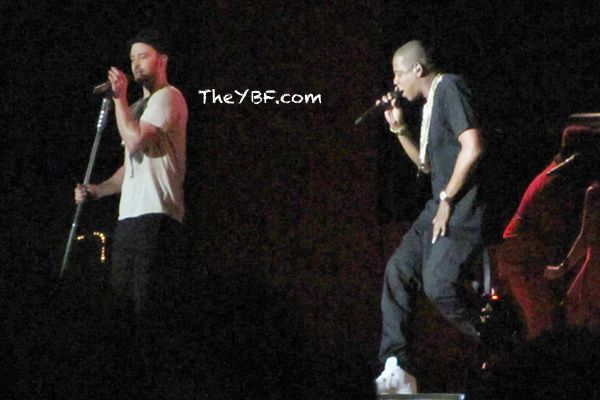 Jay & Justin are takig over the hot months with their Legends of the Sumer tour. It kicked off last night in Toronto at the Rogers Centre, and we've got pics and video inside. Plus, Beyonce's very special guests at her Chicago concert....
They belted out their own hottest #1's and their collabos like "Suit & Tie" and "Magna Carta Holy Grail" for a packed concert crowd last night. Hov & JT kicked their summer tour off with a bang last night in T.Dot. And they looked like they had plenty of fun: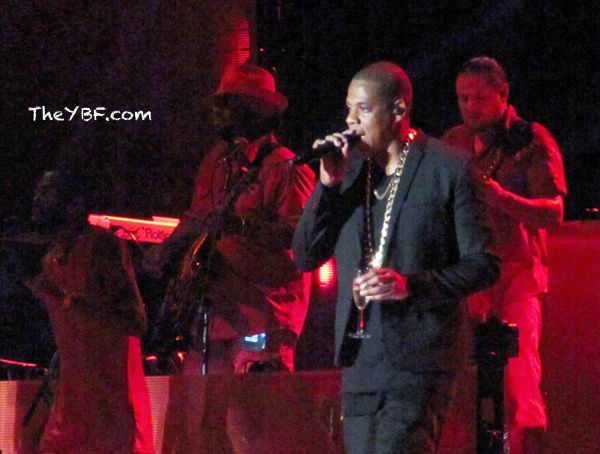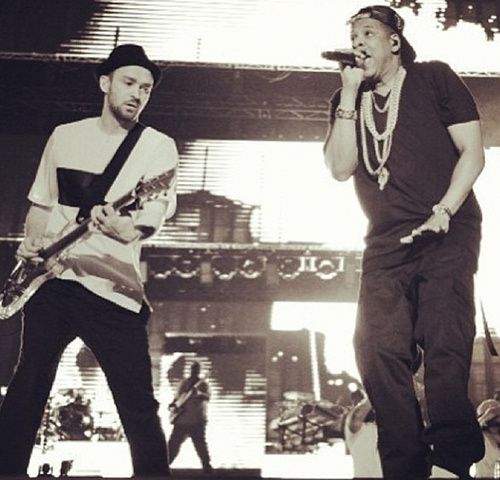 In case you were wondering what a day in the tour life is like. The twosome roll into NYC to rock Yankee Stadium for two nights this weekend. Nice! Check out their live performance of "Holy Grail" below:
And over in Chicago, Jay's wife Beyonce brought her Mrs. Carter Show tour to the home of the Obamas. And First Lady Michelle & First Daughters Sasha & Malia were there too since they were visiting home for a while this summer:
Cute! By the way, Mrs. O wasn't just there to stand in the sun with Bey. She was in her hometown to do some fab work.
Yesterday, The First Lady and Mayor Rahm Emanuel visited Urban Alliance Chicago, a year-long career education and employment program for underserved high school seniors which enriches students' lives through paid internships, formal training, and mentoring. The visit is part of the First Lady's focus on youth empowerment and providing more opportunities for young people to achieve their full potential.
Photos: Bey_Exclusive's Twitter, @YoungCollegiate's Twitter/PCN/Elliott Wilson's IG, @erincmpbl, @avin-marv09
ROUND OF APPLAUSE: Kerry Washington & Don Cheadle Nab Top Emmy Nominations!
Posted: 18 Jul 2013 07:49 AM PDT
The 2013 EMMY Nominations were revealed this morning and two of our YBF faves, Kerry Washington and Don Cheadle, nabbed nominations in the most prestigious categories. See the list inside and get deets on nominations for more....
This is really turning out to be a phenomenal summer for Kerry Washington. First, she married her true love, Ezenwa Nnamdi Asomugha, then she landed the August cover of Vanity Fair, and now she's been nominated for a primetime Emmy for Lead Actress in a Drama Series for "Scandal"! Kerry Washington is the first African American woman to earn a best actress Emmy nomination in 18 years!
Cicely Tyson was nominated in 1995 for her NBC legal drama "Sweet Justice."
And hot actor Don Cheadle returns as a nominee for Lead Actor in a Comedy series for "House of Lies". You'll recall that he nabbed a Golden Globe for the genuis role in 2012.
Also, Alfre Woodard landed a nod for Best Supporting Actress in a Miniseries or Movie for the Lifetime Original Movie in "Steel Magnolias" and Paris Barclay nabbed a directing nomination for "Glee's" 13th episode of season four, titled "Diva."
Who they're up against:
Lead actress in a drama series
Connie Britton, Nashville
Claire Danes, Homeland
Michele Dockery, Downton Abbey
Vera Farmiga, Bates Motel
Elisabeth Moss, Mad Men
Kerry Washington, Scandal
Robin Wright, House of Cards
Lead actor in comedy series
Jason Bateman, Arrested Development
Louis CK, Louie
Don Cheadle, House of Lies
Matt LeBlanc, Episodes
Jim Parsons, Big Bang Theory
Alec Baldwin, 30 Rock
See the full list here.
The 65th Primetime Emmy Awards will be held at NOKIA Theatre L.A. LIVE in Los Angeles, and will air LIVE on CBS at 8:00 p.m. ET/5:00 p.m. PT on September 22. We Gladiators will be watching....
Photos via Getty
REALITY FAB: VH1 Preps REALITY TAKEOVER -- "Basketball Wives", "Marrying The Game" & "T.I. & Tiny: The Family Hustle" Get Promo Pics & Fall Premiere Dates
Posted: 18 Jul 2013 07:02 AM PDT
VH1 has announced the return of three of their most popular reality tv franchises, "Basketball Wives", "Marrying The Game" and ""T.I. & Tiny: The Family Hustle". Get their start dates inside, lus new promo pics of the "BBW" cast....
One of reality tv's most controversial (and ratchet, even though we hear the cast tried to cut back on that this season) reality shows, "Basketball Wives" is back for a fifth season. We will watch Evelyn Lozada's first attempts at rebuilding her reputation (and fixing her life) post-Chad Ochocinco, and we'll also meet her friend, Tasha Marbury. Tasha will be bringing the drama and baggage from a 17-year scandalous marriage to former NBA player Stephon Marbury, now of the Beijing Ducks.
In addition to the return of Tami Roman, Suzie Ketcham and Shaunie O'Neal, the press release also touts the "return" of a notorious wife from seasons past, a girls' trip to London and a confrontation with a woman whose alleged relationship with a player puts one of the wives in an uncomfortable position. We hope it's Draya Michele! Season five is set to premiere August 19 at 10PM ET/PT.
Also coming in August....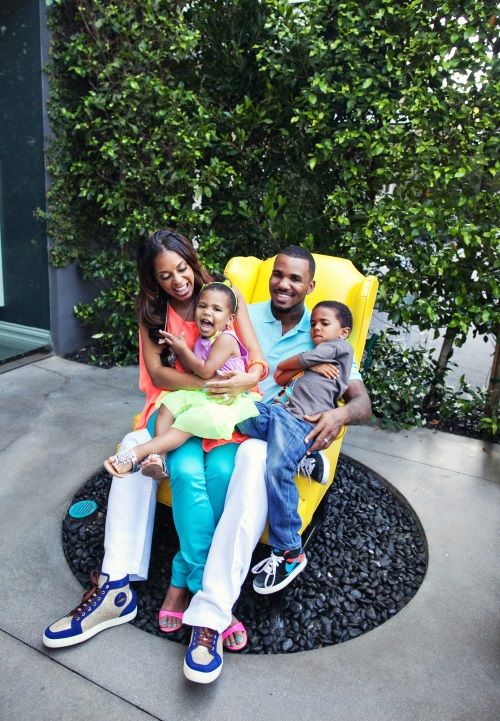 Tiffney Cambridge and Jayceon Taylor are back for a new season of "Marrying The Game." If you're wondering what the show will focus on (since their wasn't an actual wedding), this season looks at their "relationship" since Tiffney called off the wedding and moved out of their home.
According to the press release, she has regained her "independence", but the struggle to build a strong relationship is still there. She still wants to get married....but not until Jayceon leaves "The Game" behind and rededicates himself to his family. And based on his party life, we all know that didn't happen. We'll also see them focus on co-parenting their two children, Cali Dream (2 years old) and King Justice (6 years old). "Marrying The Game" Season 2 premieres Monday, August 5 at 9:30pm.
And back on their hustle....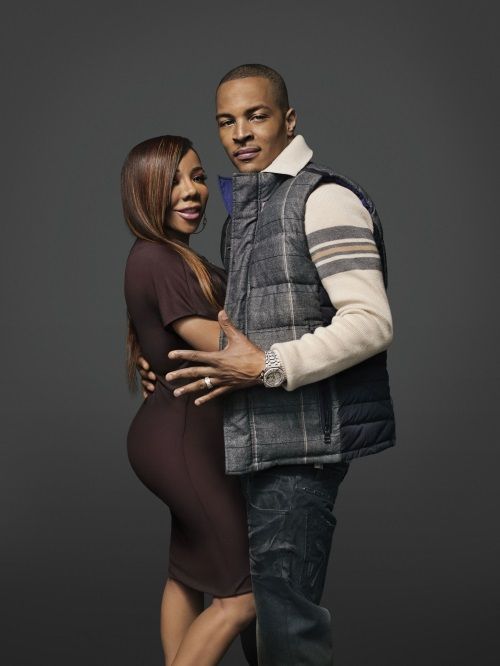 The King of The South, T.I., and wife Tiny are back with their six kids for "T.I. & Tiny: The Family Hustle" premiering on Monday, August 5th, 9PMET. This season, viewers will watch T.I. reveling in the success of Troubleman: Heavy is the Head and the premiere of Hollywood's biggest summer comedy "Identity Thief." Also, Tiny is busy at home taking care of business with the OMG Girlz! and working to develop a new girl group, French Kiss.
The Randomness:
1. Rapper Chief Keef accused of being a deadbeat dad by the middle schooler mom. Story.
Photos via VH1/Joy Marie
DO WE LOVE IT-NEW HAIR EDITION! Rihanna Goes Ice Gray (& Gets Food Thrown At Her At Concert) + Meagan Good Gets Bright In Purple
Posted: 18 Jul 2013 06:26 AM PDT
Chicks love switching up their hair on 'em. So two of the baddest did exactly that last night. Check out Rihanna's new gray look and Meagan Good going purple inside...
Rih Rih had some downtime in between her week long of gigs at Manchester Arena, so she used it wisely. She got her hair done and did a complete change up of the color. She went from blonde to "ice gray" as she calls it. And of course, she gave her fans a few peeks: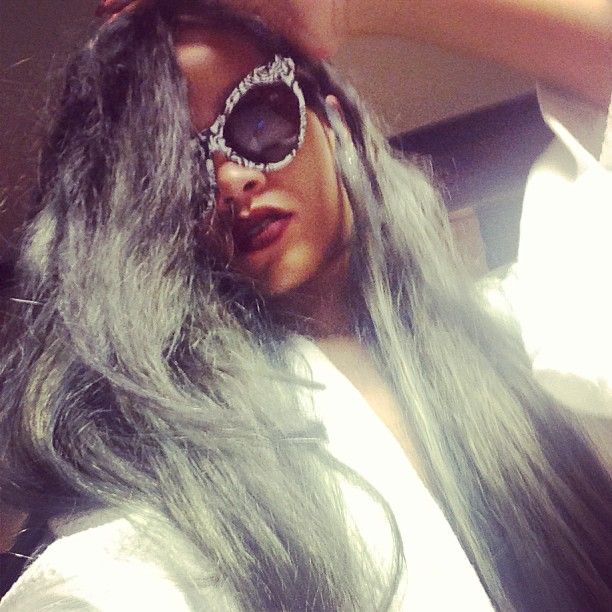 She said, "New color ice grey ish, call it #Brrr....Grey is the new black! Blondies, it's quiet for y'all! #brrr"
Meanwhile, at last night's Diamonds World Tour concert at Manchester Arena, while she was rocking out with "Rude Boy", a rude fan threw chips at her own stage. So Rih had to pop off and call it an Epic Fail.
"There's a good crazy and there's a bad crazy. When you throw shit up here, that's an epic fail…I swear to god, cut that shit out. Really, chips? Chips though?"
Check the video below:
And over in L.A., Meagan Good showed off her new Rainbow Brite inspired look: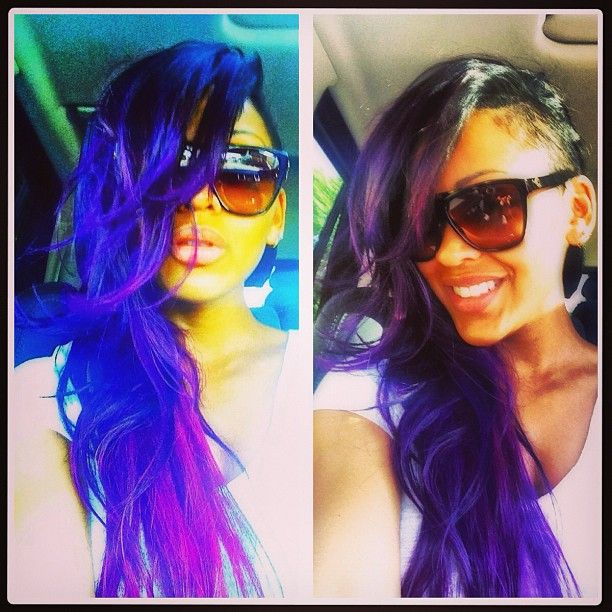 Her stylists gave her long straight locks, dyed a bold purple. Since she's no longer got a network show to look a certain way for, why not have a little fun with the hair, right?
So...
DO WE LOVE 'EM?!
Photos: Rihanna's IG/Meagan's IG
LeBron & Savannah, Gabby & D-Wade, Colin Kaepernick, The Game & More Hit The 2013 ESPYS
Posted: 17 Jul 2013 11:00 PM PDT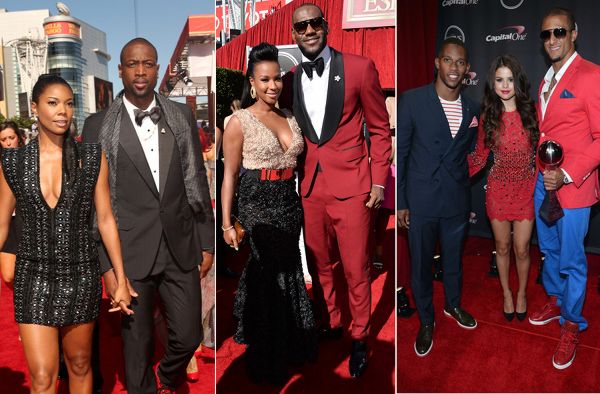 Wednesday night, the 2013 ESPY Awards went down at Nokia Theater L.A. Live. And all your fave athletes, their significant others, and more hit the red carpet for one of the biggest nights in professional sports. Pics inside...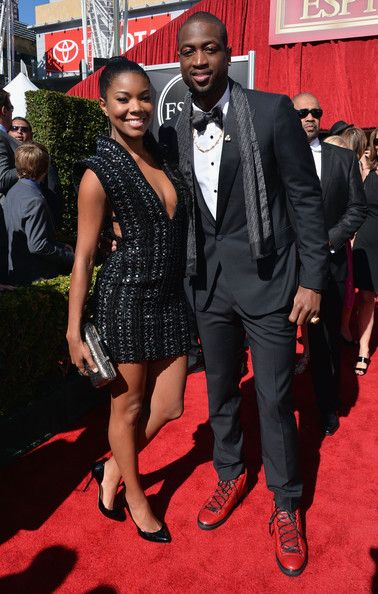 Gabby Union & Dwyane Wade looked like the belle & king of the ball when they hit the carpet. Gabby in a super sexy and backless deep plunging dress and Dwyane in a suit and tie.
Let's take a moment to soak in Gabby's ridiculously hot look...and equally tones bod: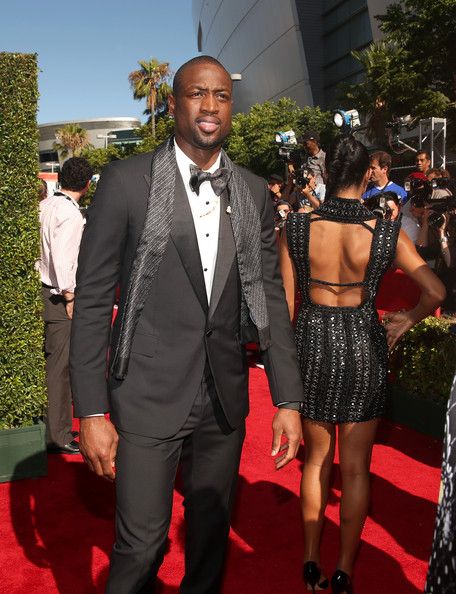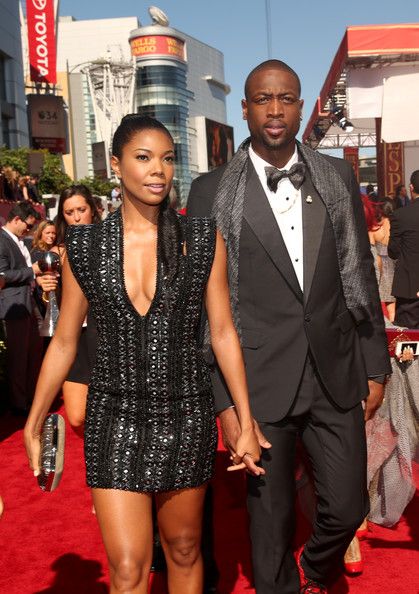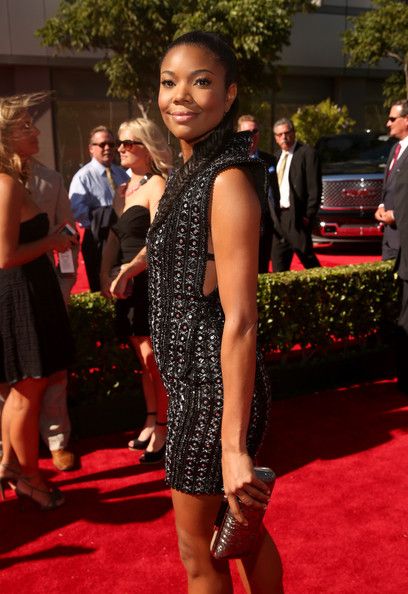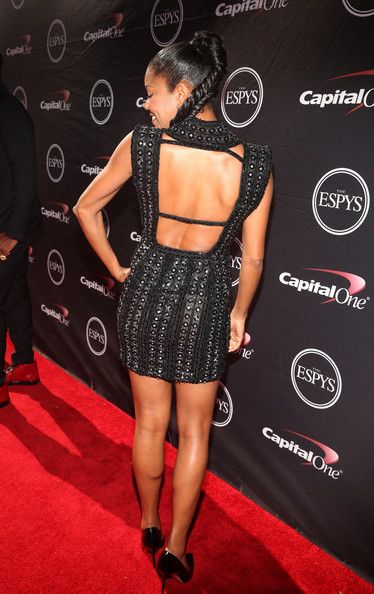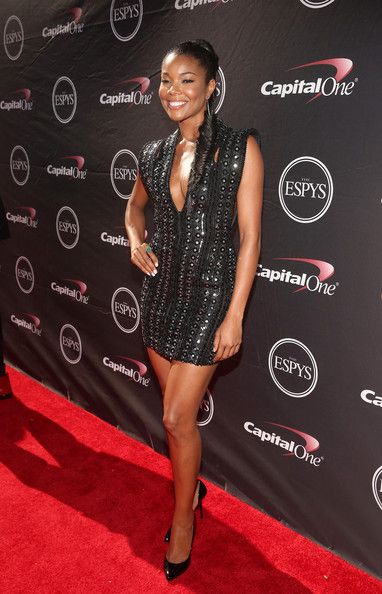 Smoking hot.
Her good friend Savannah Brinson hit the carpet with fiance King James: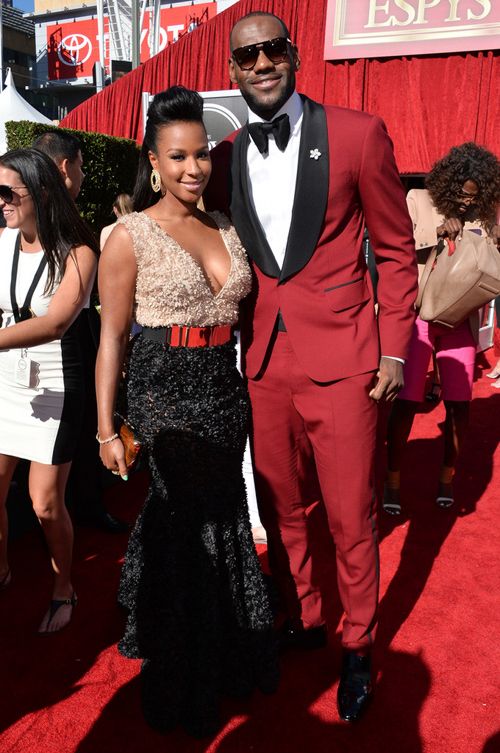 Stunning.
Bron Bron was looking suave in his red satin dinner jacket.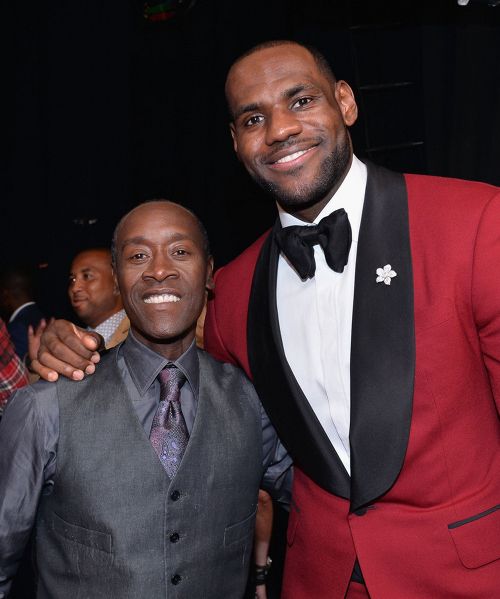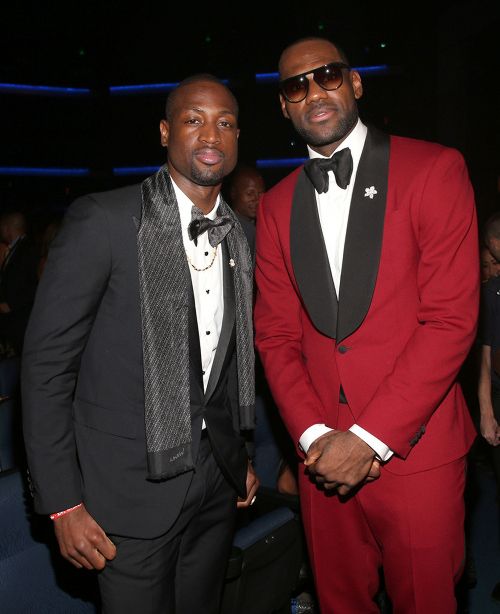 And inside, he snapped some pics with "House of Lies" star Don Cheadle, his teammate & homie D-Wade an Diddy.
LoLo Jones put the bar fight incident behind her and brightened up a bit in yellow.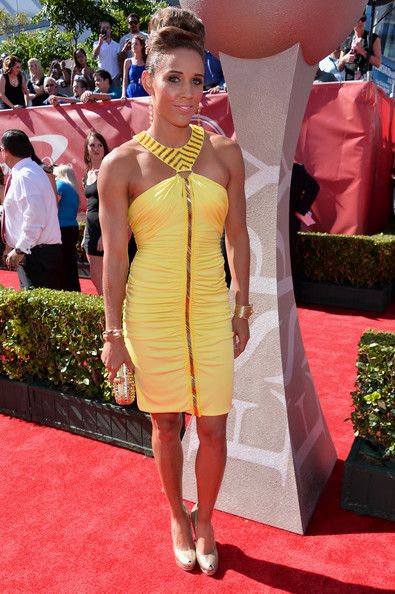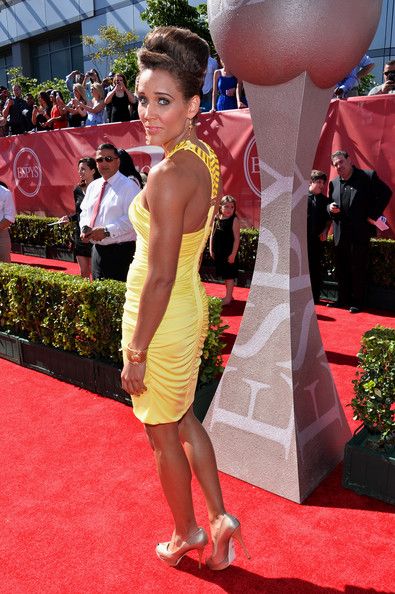 This chick loves getting carried away with the bronzer sticks.
Garcelle Beauvais kept it cool in a metallic deep pink geometric printed strapless dress. Gorge look on her.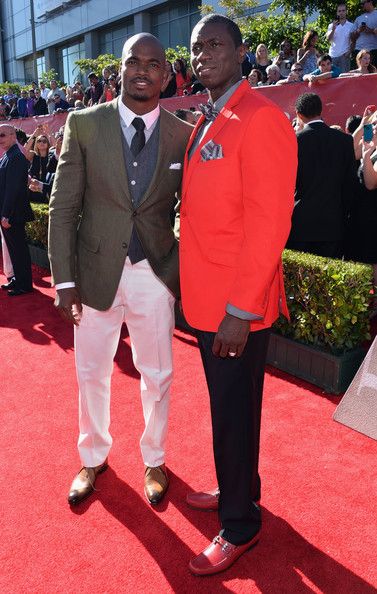 NFLer Adrian Peterson hit the carpet.
And NFL baller Reggie Bush and his baby moms/fiancee Lilit made an appearance on the carpet as well.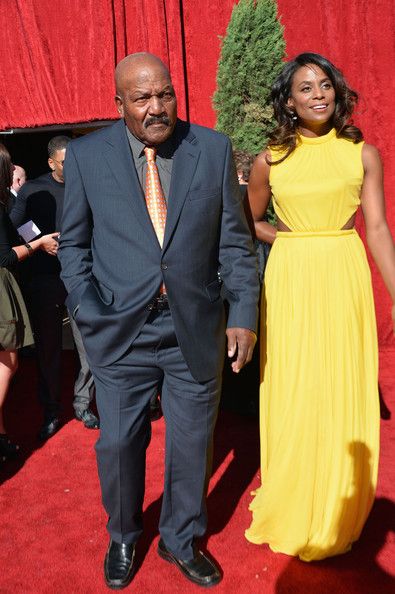 NFL legend Jim Brown arrived with his sunshine-bearing wife Monique.
The sexy Dennis Haysbert didn't miss out on the ESPYS.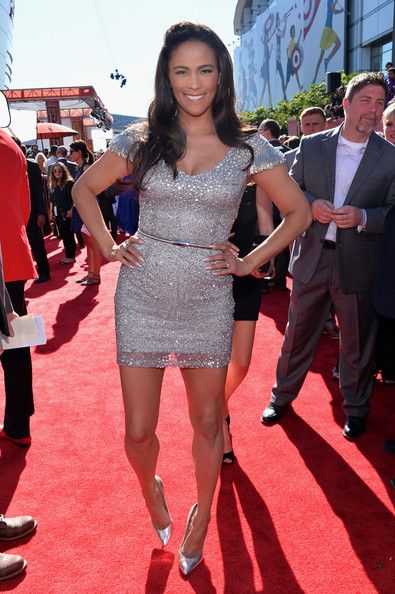 Paula Patton and her drunken picture stance were back at it again. She still looked pretty though in a THEIA Spring 2013 collection dress with a Swarovski crystal embellished neckline and a glass bugle fringe cap sleeve. She paired the look with metallic-silver Giuseppe Zanotti pumps and Katerina Maxine, Gilan and H.Stern jewels.

This softer hair look works for her though.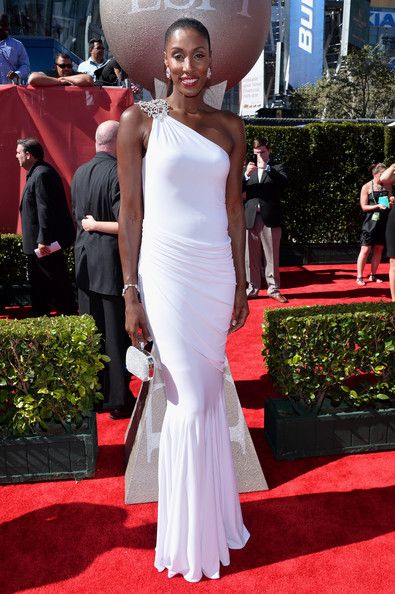 Former WNBA baller and model Lisa Leslie looking gorgeous as usual in a white one shoulder gown.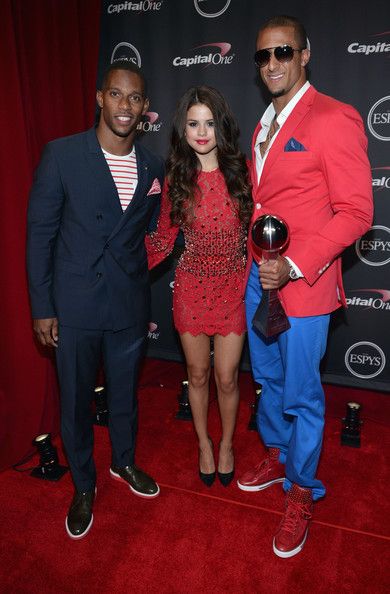 Colin Kaepernick, who's also rocking one of the ESPN Magazine Body Issue covers for 2013, did his best colorblocking with a coral blazer, white button down tuxedo shirt, bright blue pants and red sneakers. The 49ers QB also received this year's Breakthrough Athlete Award, so he posed it up backstage with Victor Cruz of the NY Giants and singer/actress Selena Gomez.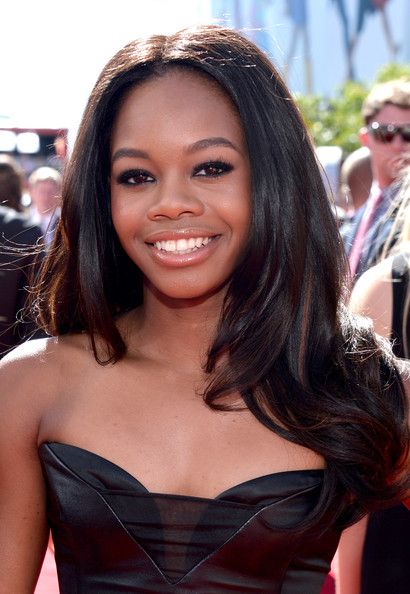 Olympic Gold Medalist Gabby Douglas stays in the much deserved spotlight as she rocked a black bustier dress with a slit int he skirt. One of the best looks we've seen the 17-year-old in. Oh, and that hair and makeup is poppin'.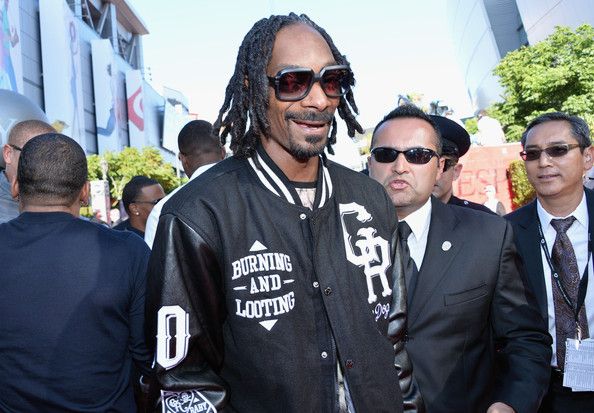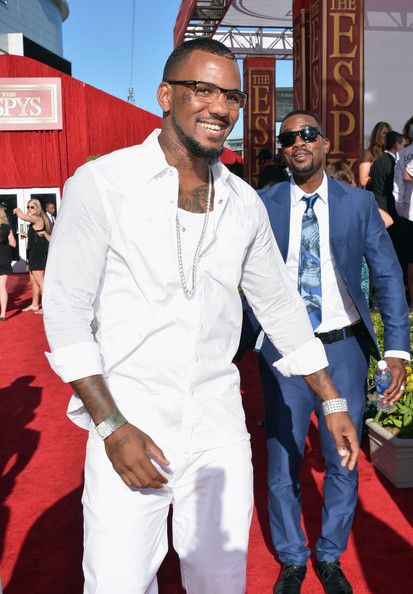 Rappers Snoop and The Game hit up the carpet too.
Celeb fitness expert Jeanette Jenkins was in the right place to pick up new clients..
The Heat champions LeBron James, D-Wade and Ray Allen, with Miami Heat head coach Erik Spoelstra won the Best Game award. Miami Heat assistant coach David Fizdale, NFL player Russell Wilson and Model Chrissy Teigen were on hand to snap a pic backstage.
ESPN Mag Body Issue cover guy, NBA star Kenneth Fareid, made sure to remind folks of where they first saw him--butt naked and flying through the air with a basketball.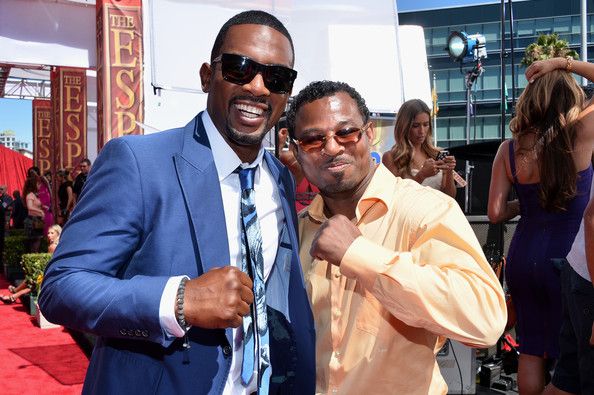 Bill Bellamy and boxer Sugar Shane Mosley hit the carpet together, while boxing chick Laila Ali rocked a purple gown and a golden Farbod Barsum clutch on the carpet: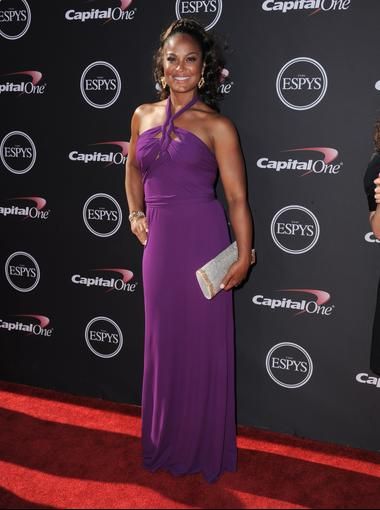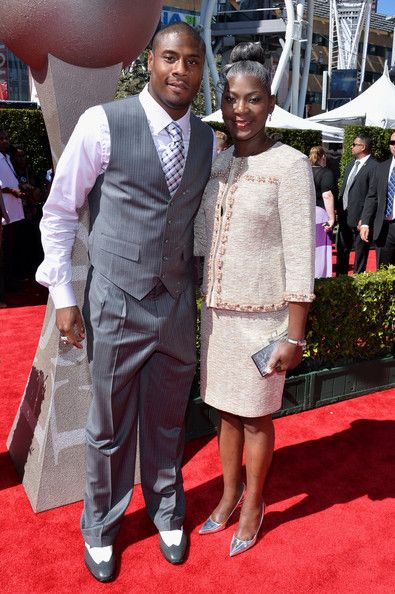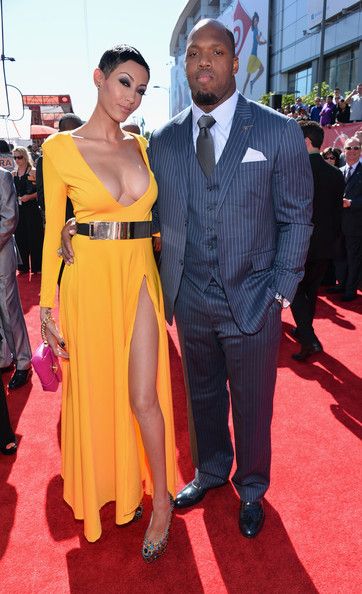 Ballers Jacoby Jones & Terrell Suggs brought their dates on the carpet. Jacoby brought his' fab mom along!
Robin Roberts was on hand to receive the prestigious Arther Ashe Courage Award.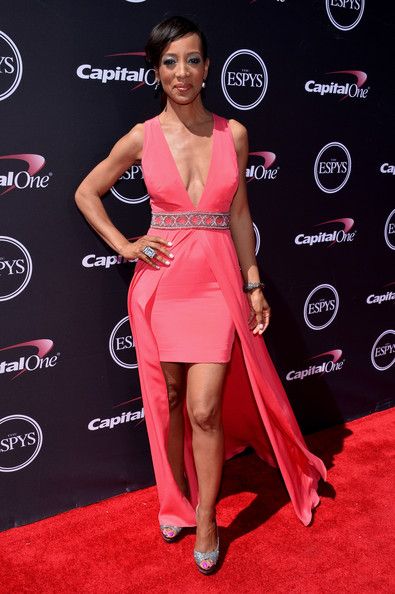 And finally, "Access Hollywood" correspondent Shaun Robinson kept cool on the steaming red carpet before the show. Nice look!
Photos: Getty
WORKIN' FAMILY: Beyonce, Jay-Z & Blue Ivy Grab Lunch In Toronto...And Brave A Mob Of Fans
Posted: 17 Jul 2013 04:52 PM PDT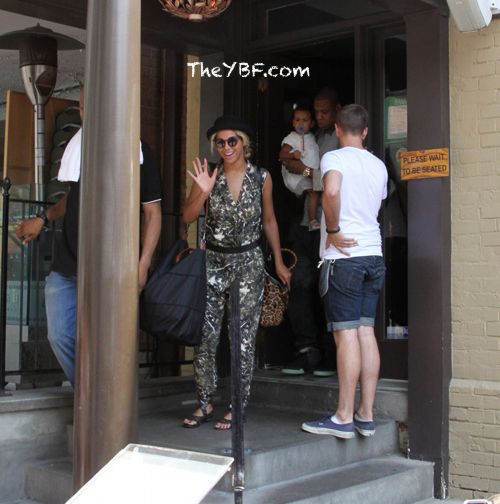 The jet-setting Carters are pulling double duty today as both of Blue Ivy's parents are taking the stage in 2 different countries. But they all met up in Toronto today to grab lunch as a fam.
Pics of Jay, Bey & B.I.C. inside....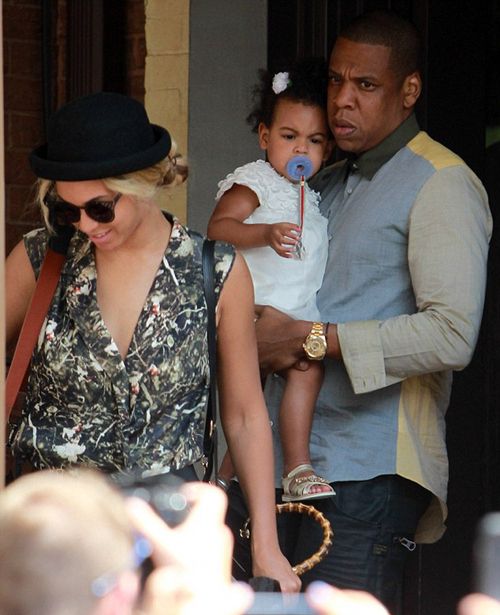 Well, Blue Ivy's surely got her daddy's "eye brow frown" down to a tee. Today, the cutie patootie was spotted being carried out of Nervosa Trattoria, an Italian Restaurant in Toronto. And she and her gold embellished sandals and adorable white dress with a matching bow braved the mob of fans like a pro.
Mrs. Carter & Blue jetted up to Toronto for a quick in-between-tour-gigs trip to see hubby & pops Mr. Carter before tonight's big stadium tour kick-off night with Justin Timberlake in T-Dot. And Bey left right after to travel to Chicago for tonight's Mrs. Carter Show tour stop.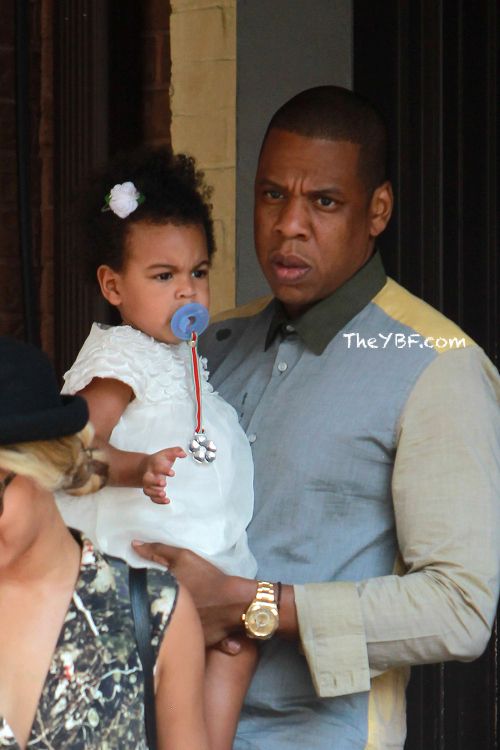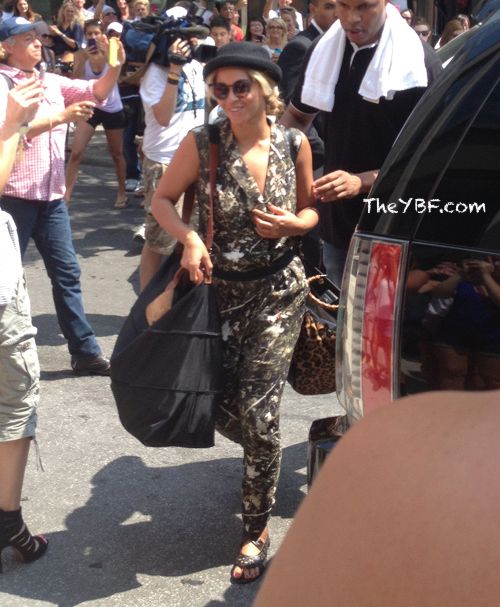 Mrs. C rocked a cute printed jumper and flat sandals with her fave black hat and shades. And looked ready to tear down the stage tonight in the Chi.
*UPDATE* Check out video below:
Fab times...
Photos: Splash/Pacific Coast News
TV FAB: BRAVO Reveals "The New Atlanta" TRAILER + "R&B Divas LA" RATINGS Hit The Right Notes + Omar Tyree's "Flyy Girl" GETTING Adapted For The Big Screen!
Posted: 17 Jul 2013 03:30 PM PDT
BRAVO has released the trailer for "The New Atlanta", the latest offering from reality tv producer Mona Scott Young. Watch the preview inside and get the deets on "R&B Divas LA" ratings victory and the big screen adaptation of Omar Tyree's classic Flyy Girl.
Mona Scott Young is expanding her TV empire beyond VH1 with a new franchise offering at BRAVO, "The New Atlanta." According to the network's press release,
"The New Atlanta" follows the next generation of the city's trailblazing young professionals who are hungry to achieve their dreams and find love as they struggle to resolve heartbreaks from the past. Aggressive in both their professional and personal lives, each hopes to make their mark in the cutthroat industries of fashion, music, event planning and business while taking advantage of Atlanta's hot social scene.
"The New Atlanta," will debut Tuesday, September 17 at 10pm ET/PT immediately following the premiere of "I Dream of NeNe: The Wedding" at 9pm ET/PT.
Meet the cast here:
Africa Miranda

A triple threat—actress, singer and model—Africa Miranda is turning heads in Atlanta. Co-creator of the live concept show "The Lipstick Junkies" and the face of several international hair campaigns, her sultry voice and lovely locks have put her front and center in Atlanta's entertainment industry.

Alexandra Dilworth

A recent college grad, Alexandra is seen and heard in Atlanta's hot Electronic Dance Music scene. She is a self-proclaimed "daddy's girl" on the look-out for a husband who will be able to accommodate her current luxurious lifestyle.

Emily Lipman

Emily has the looks of the girl next door, but is a force to be reckoned with on her hunt for love. A successful boutique owner, she has quickly emerged as a new leader in Atlanta's growing fashion industry.

Jevon "Vawn" Sims

Vawn is known in Atlanta's bustling music industry as the "Go-to-Guy" for artist development and discovering new raw talent. Now writing a book promoting his theories on love and romance, this "bad boy" with "good boy" qualities talks about relationships like never before. His tell-it-like-it-is attitude is one that you will either love or hate.

Tribble Reese

A partner in an event promotion company, Tribble always has the scoop on the hottest parties in town. An up-and-comer in Atlanta's entertainment industry, this former arena football quarterback knows what it takes to score on the field but is also looking for a touchdown in love.
Watch the trailer here:
And in other television news.......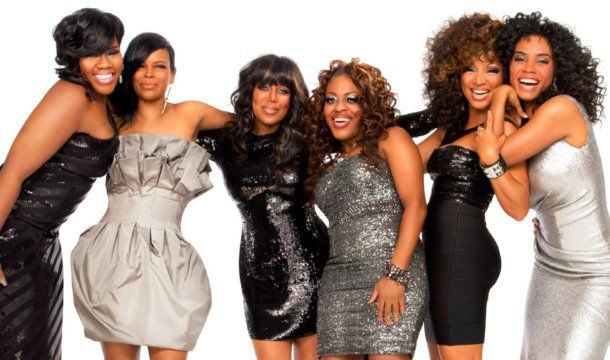 Last week's debut of "R&B Divas LA" hit all the right notes as TV ONE reported that the show was the network's most watched primetime telecast year-to-date among its core audience of viewer 25-54. The premiere episode was also the most watched third quarter Wednesday primetime telecast in the history of the network with 434,000 viewers. Alfred Liggins, President and CEO, TV One, said,
"The interest in R&B Divas LA has been overwhelming. The journey these six women take over the course of this season, and their willingness to share it with TV One's viewers, has been incredible. We are enormously pleased our audience has responded so enthusiastically."
"R&B Divas LA" airs on TV ONE Wednesdays at 9pmET.
And coming to the big screen.....
Codeblack Films (the producers behind Kevin Hart: Let Me Explain) have recently acquired the rights to Omar Tyree's Flyy Girl trilogy and plans to adapt the bestselling series for the big screen.
For those not familiar with the books, Flyy Girl amassed a cult following in the 90s and is a "...coming of age story that explores the journey of a young woman motivated by the material life who plunges into a fast-paced world of gratuitous sex, violence and heartbreak in an attempt to find herself and to assess her goals in life during the modern Hip-Hop era." The best-selling series won Omar an NACCP Image Award in 2001 best fiction writing for the trilogy's second book, "For the Love of Money".
Omar spoke about the venture saying,
"I couldn't be happier to embark on this journey with Codeblack Films and Global Renaissance Entertainment Group. I have every confidence that my brand has found the perfect home with one of the most effective machines in Hollywood."
Codeblack Films President Jeff Clanagan echoed Omar's excitement saying,
"Omar Tyree has created a franchise with an incredible story that connects with audiences worldwide. Codeblack is excited to have the film rights for these books which have been a staple in the African-American community for more than 20 years. We're thrilled to have the chance to finally bring these stories to screen."
Omar's books have been read by over 8 million people worldwide, and have grossed more than $30 million for publishing giant Simon & Schuster.
Photos via Bravo/TV ONE/Amazon
PARTY FAB: Christina Milian, Charli Baltimore, Deelishis, & The Game At The 2013 ESPY AWARDS VIP DAY PARTY
Posted: 17 Jul 2013 02:36 PM PDT
The Game hosted Deelishis, rapper Charli Baltimore, Christina Milian and a few others in the "Beauty and The Beast SWAG Suite" at the 2013 ESPY AWARDS VIP Day Party. See their party pics inside.....
Yesterday, rap superstar The Game hosted the "Beauty and The Beast SWAG Suite" at the Game Sports Club, celebrating the Beauties and the Beasts in sports. The suite was a part of the 2013 ESPY Awards Day Party in celebration of the ESPY awards in LA.
Reality tv star Deelishis was among the celebs who came out for the event.
Christina Milian was spotted smoking a Platinum E Hookah on the red carpet.
And rapper Charli Baltmore (who looks really good) took a few pulls during her stroll down the carpet.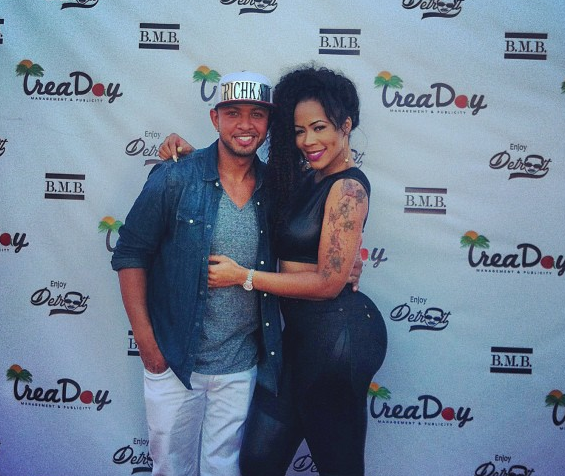 Deelishis gave a warm welcome to "LAHH ATL" star DJ Baby Drew, who DJed the party.
And Drew even autographed some sports memorabilia for the party.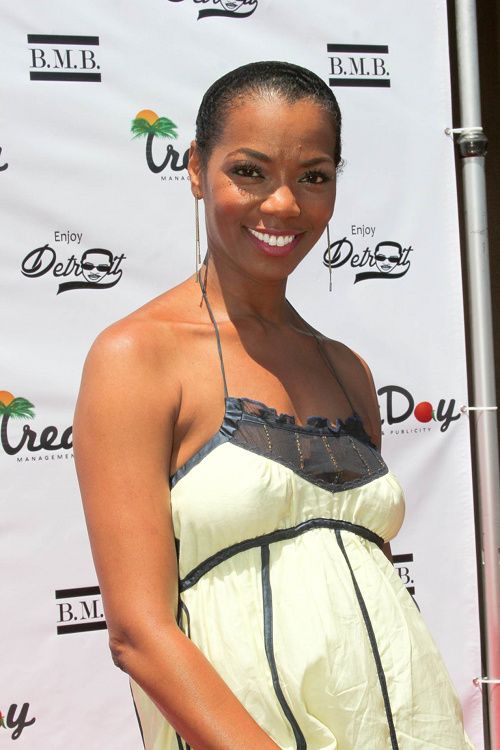 The "other" Vanessa Williams, who recently signed on for The Get Away with Loretta Devine, smiled for the cameras.
Once Christina got inside the VIP suite, she passed out Platinum E Hookahs to each of the guests. On Instagram, she revealed that she recently shot a commerical for the brand, which is run by her boyfriend Jas Prince.
And everytime a camera focused on Deelishis, she reminded us about her most famous asset....the one that caught the eye of Flavor Flav.
She also caught up with her friend Jayceon aka The Game. "CAUGHT ME CATCHING UP WITH MY BOY @handsomemurderer LOVE THIS GUY #LA ESPY AWARDS 2013"

The Game also posed with Charli and her daughter India Christin, who's signed to Ford Models. The Game took their family out for India's birthday and Charli tweeted, "Thanks @handsomemurderer for the bday dinner."
Photos via LoreneJanae/Deellishis IG/Charli Baltimore IG
OH: "The Real" Ladies GET IT With The PRANCING ELITES All-Male Cheerleading & Dance Team + Adrienne Dishes On That Ratchet Rob K. Tattoo
Posted: 17 Jul 2013 12:06 PM PDT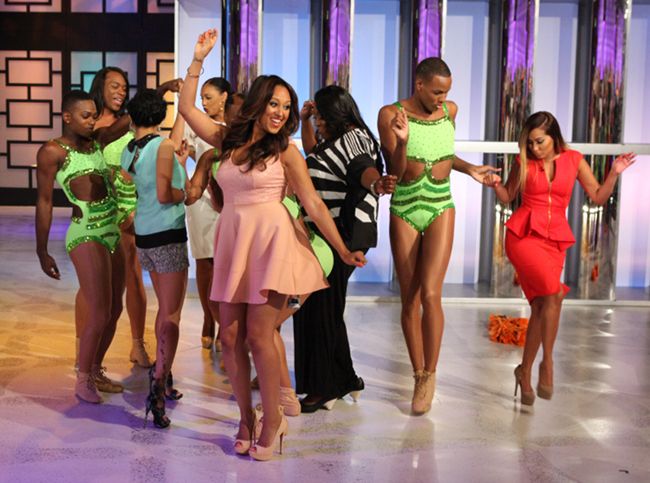 Remember that All-Male voguing/cheerleading/dance team from Alabama who went viral with their DJ Jubilee routine at a school game? Well, they just made their TV debut. Check out the boys werking (yes, W-E-R-K-I-N-G) it out with the ladies of "The Real" today in case you missed it...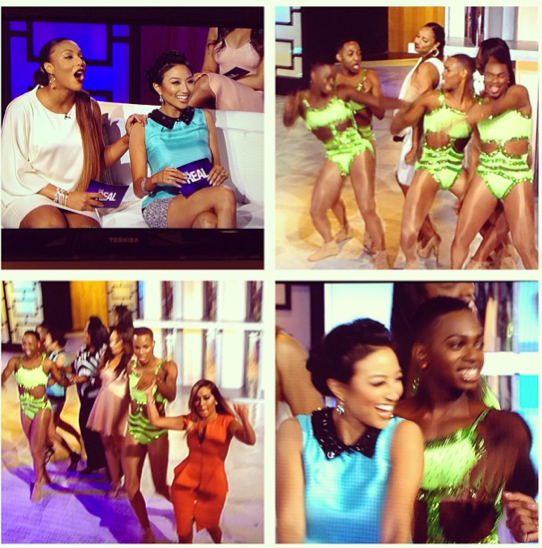 The Prancing Elites are an all-male cheerleading/dance troupe from Mobile, Alabama, and apparently, they're ready to go Hollywood. On today's episode of Fox's new daytime talk show "The Real," Tamar, Tamera, Adrienne, Loni & Jeannie had the boys teach them how to do their popping, shaking and voguing. Foolery ensued. And we loved it.
Check out a peek of a video below: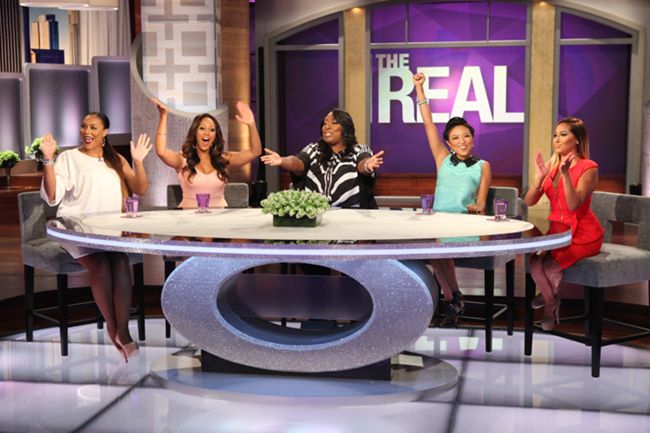 And the co-hosts all went in on a few of the craziest tattoos on people that have been circulating then net. So Adrienne fessed up about her Robert Kardashian tattoo on her butt. The two have been broken up for years, and chick is still in the process of laser removal. Good luck with that girl.
Check out her talking about how ratchet it is below:
Tune in for "The Real" DAILY on Fox. Check here to see if/when it airs in your city.
P.S. If the show gets fab ratings during this 4-week summer test, it gets picked up for a fell season and will air nationwide.
Photo Credit: Michael Rozman/Warner Bros./Jeannie's IG

KEEPING UP WITH THE BRAXTONS: Toni, Traci & Trina DINE OUT IN LA + Towanda & Traci's "BFV" Photo Shoot
Posted: 17 Jul 2013 09:58 AM PDT
The ladies of "Braxton Family Values" were spotted out in LA recently, dining out and rocking a WeTV photo shoot. See the photos inside....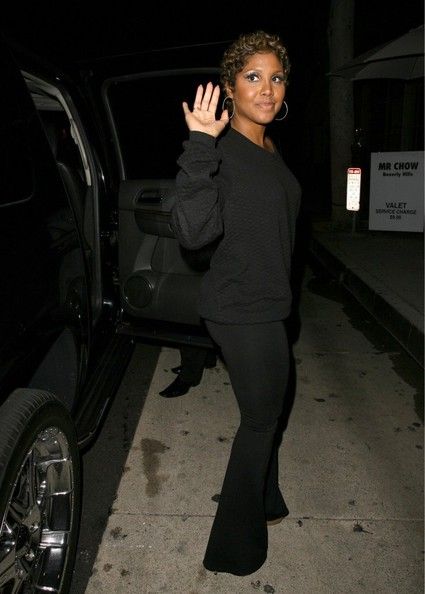 Singer Toni Braxton, who recently announced a new tour as well as a duet album with Babyface, was spotted out and about in LA last night back to her cropped coif she's known for.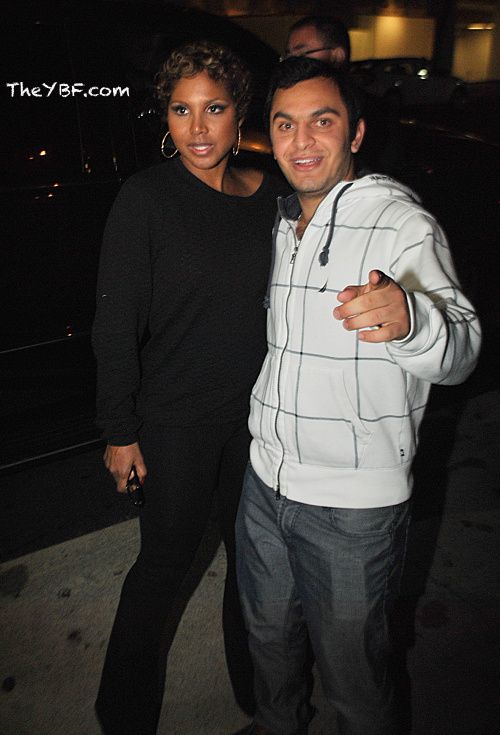 Toni, who graciously stopped to pose for a pic with a fan, recently settled her latest bankruptcy suit and has become very vocal about social issues, including the recent George Zimmerman verdict. She tweeted, "Today I am embarrassed to be an American…my heart goes out to the Martin family."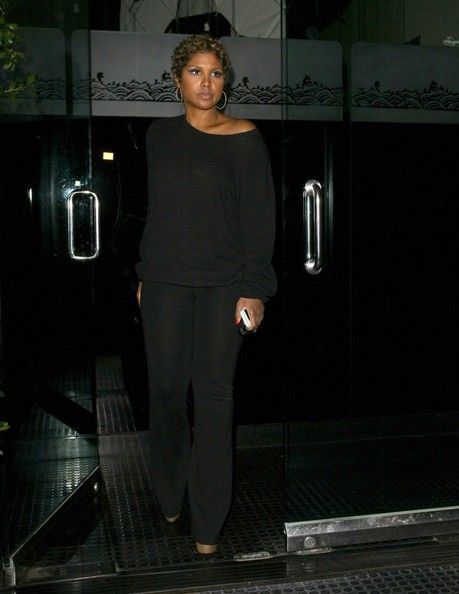 The "Breath Again" diva also just celebrated the 20th anniversary of her debut disc, Toni Braxton. The disc (which sold 8-million copies) hit shelves on July 13, 1993! That'll make ya feel old.
Traci Braxton, who's gotten snatched with a hot new bod since she began documenting her health and fitness journey on the latest season of "BFV", dined out with Toni.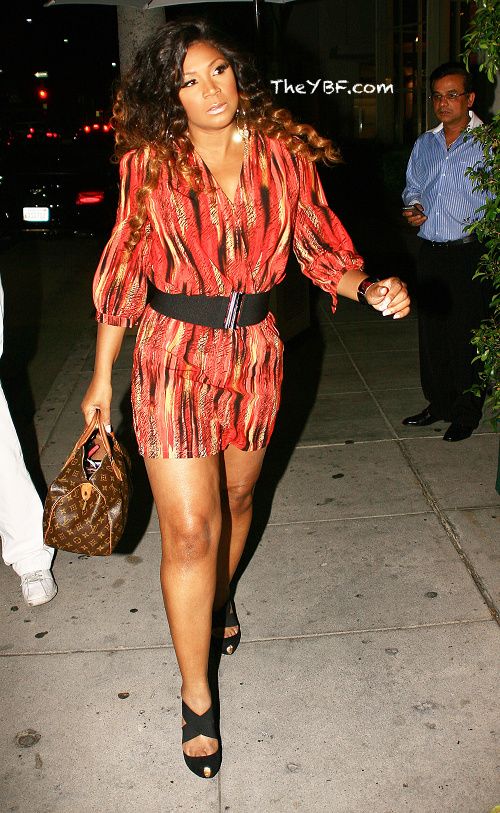 Trina Braxton also joined Traci and Toni for dinner at Mr. Chow in Beverly Hills. Trina still really pushing her solo singing career and recently announced that she'll be performing at the WNBA Atlanta Dream vs Indiana game at the Philips Arena on September 4.
And in photo shoots.......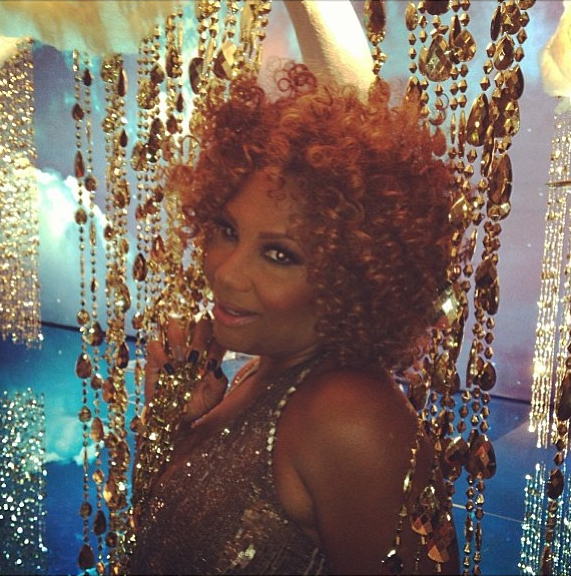 Traci sparkled during a promo shoot for WeTV and the next season of "BFV" yesterday Looking good Tray!
And Towanda Braxton also shared one of her upcoming promo stills where she "swung" into action.
Are you ready for season four?
Photos via JD Pht Bx & MCGM /FAME / Splash News / we tv IG / towanda Braxton Twitter
WEDDED BLISS: Halle Berry & Olivier Martinez's Return From France, FIRST Photos As Husband & Wife + Tina Turner's WEDDING DEETS!
Posted: 17 Jul 2013 09:02 AM PDT
Halle Berry and Olivier Martinez were married over the weekend and we've got the first stateside photos of the newlyweds! See their candids inside and get the details on Tina Turner's wedding to longtime beau Erwin Bach.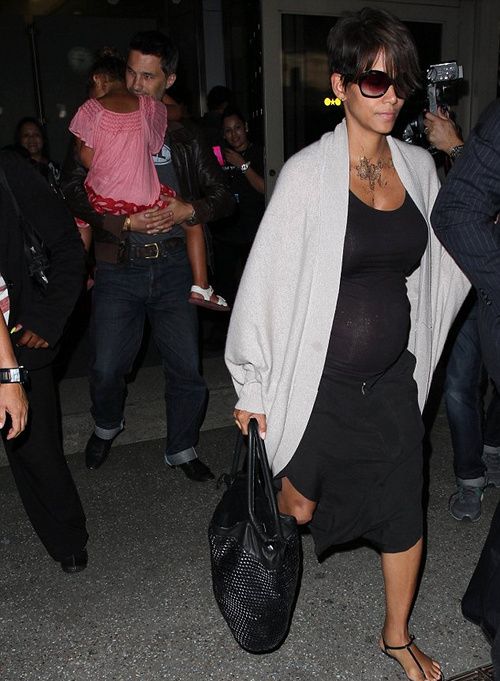 Halle Berry and her husband Olivier Martinez were spotted arriving at Los Angeles International Airport yesterday, their first stop on American soil since marrying outside of Paris over the weekend.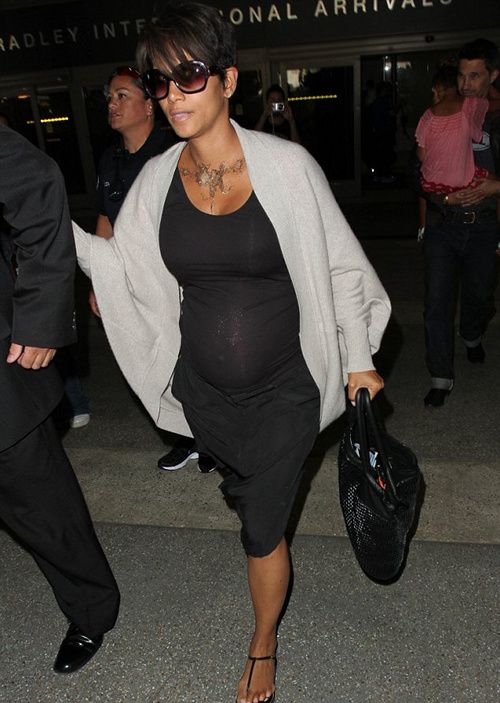 Both Halle and Olivier opted for simple yellow gold bands with rounded edges, as they tied the knot in front of 60 guests, on Saturday, at the Chateau des Conde, in the Burgundy countryside, an hour's drive south of Paris.
She and Olivier exchanged vows with a civil ceremony followed by a religious one. They then joined guests for dinner, a fireworks display and dancing.
It was clearly a festive occasion as Halle (carrying her Straw Woven City Tote by Foley+Corinna) was still sporting a glittery temporary tattoo upon her arrival. And Oliver was protective of a sleeping Nahla as photographers snapped pics of the new fam. Congrats to the couple!
In other celebrity marriages.......
Legendary music icon Tina Turner married her longtime beau, music exec Erwin Bach in Switzerland a few days ago. According to municipal official Hannes Friess, Tina, who's 73-years-old, wed 57-year old Erwin in a ceremony on the banks of Lake Zurich in Kusnacht. On July 21, the couple plans to celebrate their union with a Buddhist ceremony at their estate in Kusnacht with 120 expected guests.
Interesting. Congrats!
Photo via Pascal Le Segretain/Getty Images Europe/Splash/WENN/FAME
You have read this article with the title The Young, Black, and Fabulous. You can bookmark this page URL http://thisgirlreprobate.blogspot.com/2013/07/the-young-black-and-fabulous_18.html. Thanks!