---
Denzel & Pauletta Washington Cover EBONY Mag, School Folks On Keeping A Marriage Strong 30 Years Later
Posted: 08 Jul 2013 09:04 AM PDT
One of the strongest couples in Hollywood, Denzel & Pauletta Washington, just celebrated their 30th wedding anniversary on June 25th. And the YBF couple is covering the brand new issue of EBONY magazine...schooling folks on how they keep their marriage tight....
With major movies like Flight & Safe House under his belt in just the last year, Denzel's upcoming action flick 2 Gunz, co-starring the sexy Mark Wahlberg and Paula Patton, is out August 2nd.
So the 58-year-old actor who stays with a good movie role is also opening up a little about his personal life. Denzy and his fab wife Pauletta are rocking the cover of EBONY mag in a rare portrait pic. And actress/producer Pauletta tells just how she's kept a sex symbol like her husband nailed down for three decades. (And yes, despite all the cheating rumors and such):
"I live with this man. I see the down part. I see the sad part. I see every part. He has and knows he has that stability in me as his wife. That's gives him strength, regardless of if he misuses it. I can't dwell on that. But I do know that gives him a great platform to go and fly."

We know that's right Pauletta..know your worth!
The couple, who share four kids, are gracing the August 2013 "Black Wealth Issue" that's on newsstands now. Inside the magazine, the power couple gives an intimate insight on their 30 year marriage, how they met and how Denzel courted his wife for six years!
The Randomness:
1. NFL legend Lawrence Taylor's son, 31, was arrested in Georgia on statutory rape & sodomy (in this case, sodomy means forced oral sex) charges involving a girl under the age of 16. LT Sr. was embroiled in his own alcohol abuse & prostitution controversy back in 2010. STORY
Chris Brown DONATES 1,000 SNEAKERS To Kids In LA! + Kanye West CREATES New Menswear Line With A.P.C.
Posted: 08 Jul 2013 08:21 AM PDT
Chris Brown donated 1,000 pairs of sneakers to kids in the LA area recently. See pics of Breezy spending time with the kiddies he donated to inside and find out about Kanye West's most recent fashion line collaboration....
Chris Brown may have issues with fender benders and ex-girlfriends, but no one can deny that he loves the kids! Weeks after he released an anti-gang violence song, "They Don't Know", Chris spent the weekend continuing his message of unity and postivity at Crenshaw High School during the "WE US: Walk Everywhere in Unity's Shoes".
On Saturday, as part of his Unity campaign (which has partnered with the L.A. mayor's office and several gang reduction organizations), Breezy gave away 1,000 pairs of Reeboks to youth in Compton and Baldwin Village.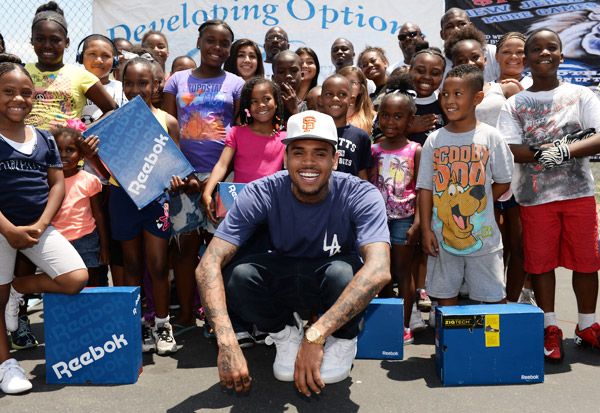 After the event, he tweeted, "Thank you for allowing me to continue to inspire change in the world. Today was a great step forward!"
We wonder if this will count towards his community service hours?
And on the fashion scene...........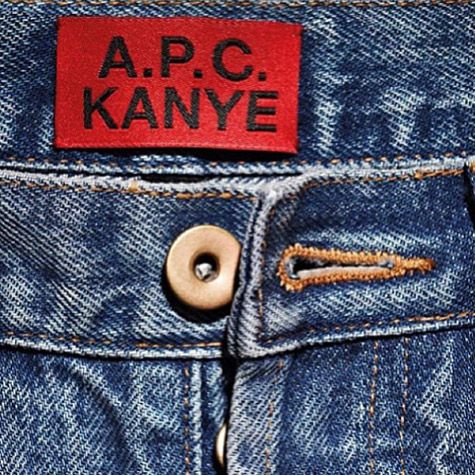 The French fashion brand A.P.C. announced on Twitter that they've teamed with Kanye West for a capsule collection tweeting, "A.P.C. KANYE CAPSULE COLLECTION JULY 14." The collection will include jeans, T-shirts, and hoodies and was has been mentioned in both W Magazine and French Vogue.
Kanye, who reportedly took his new daughter North West out to a family 4th of July bash in Malibu, confirmed the new collection in a tweet to A.P.C.'s founder, "Thank you Jean Touitou for letting me create with you."
BONUS: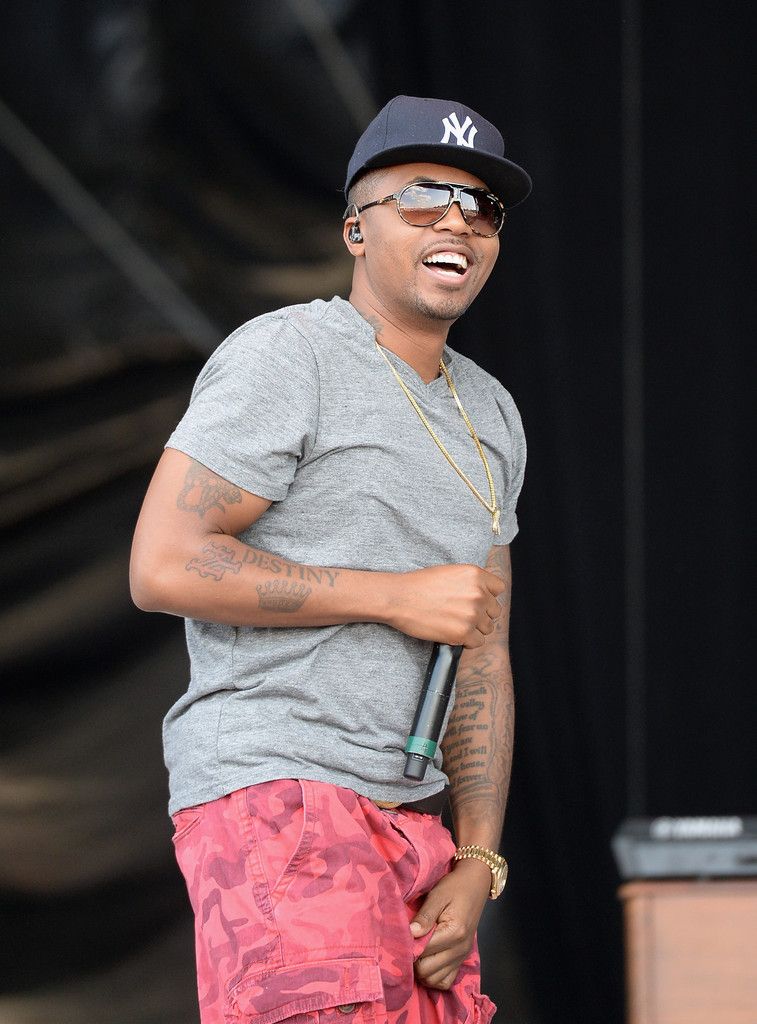 In other clothing lines, Nas has teamed with the Grungy Gentleman to launch HSTRY, a clothing and accessories line that takes classic sportswear items into tougher, edgier territory (according to GQ). Made in the USA, the line debuts in Fall 2013. We love when Nas makes quiet boss moves. View the slideshow here.
Photos via APC twitter/rap-up/Jason Merritt/Getty
BAD DAD: 50 Cent DISOWNS Son Marquise During ALLEGED VICIOUS TEXT RANT, Calls BABY MOMMA A "D*ck Su*king B*tch ", DEMANDS DNA TEST!
Posted: 08 Jul 2013 07:14 AM PDT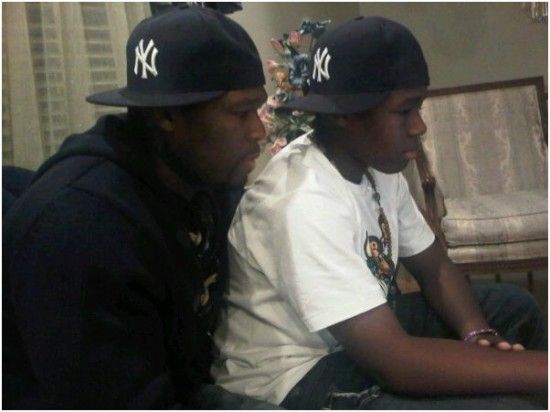 We know 50 Cent isn't the best ex-boyfriend, or the best baby's daddy, but his aggressive demeanor goes far beyond the women in his life and has spilled over into the life of his son. Read the alleged excerpts of the expletive laced tirade he unleashed on his son where he disowned him, called him horrific names and demanded a paternity test inside!
Money sure can't buy maturity. And those domestic abuse allegations against this rapper are becoming more and more clear.
Over the years we've watched rapper 50 Cent publicly diss his exes Ciara and Vivica Foxx, and we've seen the home of his baby momma Shaniqua Thompkins burned to the ground (under VERY suspicious circumstances) and we've recently found out about baby momma #2, Daphne Joy, claimed he kicked her and tore up her condo. So...it's safe to say that 50 has a hard time dealing with his emotions.
And during an alleged recent text message tirade, his son, Marquise Jackson, felt the brunt of his dad's emotions. During a text conversation, which was garnered and printed by Radar Online, the rapper (clearly feeling "rejected"), snapped off on his son for failing to answer the door during a recent custody visit.
During the rant, he disowns him saying, "I don't have a son anymore...... I will have nothing to do with you. Don't text me ever again." And questions paternity "I need a blood test cause that d*ck sucking b*tch you call mom was f*cking the hole time."
It's interesting to note that 50 Cent penned a book called Playground: The Mostly True Story of a Former Bully a few years ago. A few years later....it's sad to see that his playground antics have spilled over into his parenting.
Here's the alleged conversation that Radar Online posted:
50 Cent: Hey I'm outside the house at the front door.

50 Cent: I came to the front door then lights went off. What's up?

Marquise: U lying u outside?

Marquise: Lol.

Marquise: Lol u fronting.

50 Cent: I saw you looking out the window good luck in life. Your gonna need it.

Marquise: Lol u fronting hard body now, how u going to see me when I'm in the basement lmao

50 Cent: F*ck you

50 Cent: You are your mother child

Marquise: Lol why would u lie about that lol

50 Cent: I need a blood test cause that d*ck sucking b*tch you call mom was f*cking the hole time

50 Cent: I don't think your funny at all. I drove out here for nothing.

Marquise: Pops ur trippen now, why u won't been get one u had 16 years lol, I know u lying bc u didt even call me too go outside

50 Cent: Are you f*cking crazy I don't have time to play boy. I told you I would come see you. I came motherf*cker start turning lights out and looking threw the blinds.

50 Cent: Are you f*cking stupid. You had me drive over there why do you think I needed a address sh*t head. I saw the lights go out then some one playing in the blinds and there no party going on. F*ck you to

50 Cent: You your mother and your sister f*ck all of yal.

Marquise: I might dumb, come thru then, no need to get upset

Marquise: Stop by and say hello too ur son

50 Cent: What the f*ck are you taking about I'm not f*cking with you after this I leave Atlanta in the morning.

Marquise: So come thru then

50 Cent: F*ck you

Marquise: No need for all that

50 Cent: You are bigger enough to know better so f*ck you stop texting me

Marquise: Ight

50 Cent: Tell your mother she won. She has you and ill make another. I will have nothing to do with you. Don't text me ever again.

Marquise: U keep texting me lol

50 Cent: It's cool I will never go out of my way again. You disrespectful little mother f*cker.

Marquise: Lol u never do I don't know not that doesn't even call there son for his birthday

Marquise: Or get him a gift for his b-day or for Christmas.

50 Cent: You are your mothers son. I don't have a son anymore.

50 Cent: F*ck you all you want is a gift. Like your mother and your ungrateful sister.

50 Cent: Delete my number.

50 Cent: You never call what the f*ck I'm suppose to call you to give you something sorry

Marquise: Welp if u feel that way, I don't about no gift it's the thought that means the most, remember this money ain't everything

Marquise: I'm tired of calling u, why don't call me and please can't wait to hear this excuse

50 Cent: Good luck with you life man. I tried to come talk to you. You din't have to have me come all the way out there if you don't to see me you little ass hole.

50 Cent: I don't have to make a excuse for anything. I'm a grown ass man boy. You talking about money ain't everything. Your right but when you don't have any your gonna understand why I work so hard. I'm done texting you delete my number. Marquise: Thank u, and u know dang well u ain't come out here too see, but if that's what u want to stick then I'm sorry, and I know why u work hard, ok, god bless

50 Cent: Are you f*cking stupid.
Absolutely disgusting and disheartening. Regardless of how badly a teenager pisses you off, these words should never be said. But now we know the type of person Curtis Jackson REALLY is....if we didn't already know before.
We checked Marquise's twitter page and he has not tweeted anything about his dad recently. And both 50 Cent and Shaniqua have been quiet about this incident....so far.
You'll recall that 50 and his lawyers stopped Shaniqua from appearing on the cancelled-reality series "Starter Wives".....maybe she isn't allowed to speak about him at all.
Photo: 50's Twitter
REPORT Confirms Kevin Durant Is ENGAGED To WNBA Star Monica Wright (Yes, Like The Character In "Love & Basketball")
Posted: 08 Jul 2013 06:26 AM PDT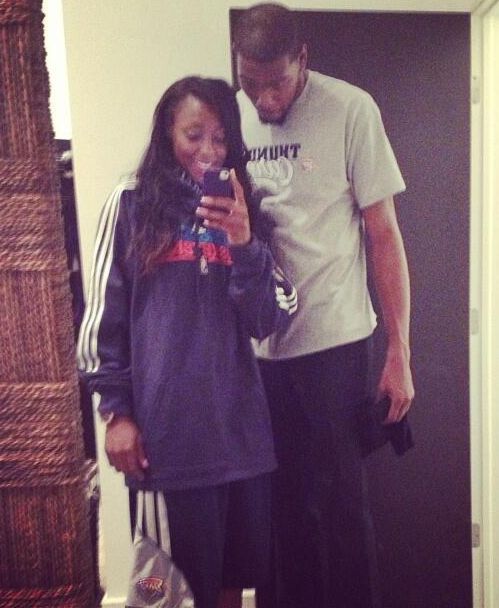 So...this happened over the weekend: Kevin Durant is engaged. Yep, the 24-year-old OKC Thunder star popped the question to a girlfriend we didn't even know he had. And it's a real life Love & Basketball situation. Check the pics and deets inside...
While you were partying your tail down at the Essence Fest or partaking in post-4th of July alcohol-fueled festivites....OKC star Kevin Durant got engaged.
Nope, not to LeToya Luckett, who he was rumored to be dating heavily for a while and who traveled to London just last summer to cheer him on at the Olympics.
Kevin's fiancee is Monica Wright, the 2011 WNBA champ who balls for the Minnesota Lynx. Yep, we're just as shocked as you. Like, when did this happen?
Gossip reports started to spill out earlier in the weekend about the two getting engaged, but neither Kevin nor Monica confirmed. But as of this morning, the Associated Press--who is as credible as you're going to get--said that Monica confirmed. They did not say how she confirmed, where or to whom....but the AP simply says she confirmed the engagement rumor.
And if her name sounds familiar, that's because coincidentally, "Monica Wright" is also the name of Sanaa Lathan's character in the classic movie Love & Basketball. And...she also rocked the #22.
Even the movie's writer/director, Gina PrinceBythewood, had to hit up the real life Monica on Twitter this weekend to tell her how coincidental it was.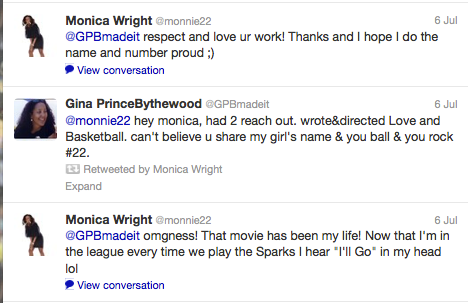 More pics of the pretty bride-to-be: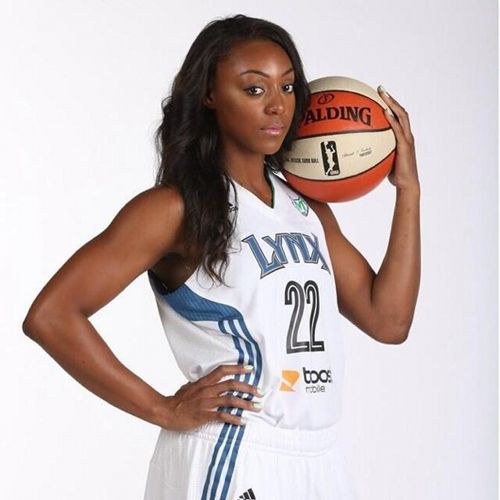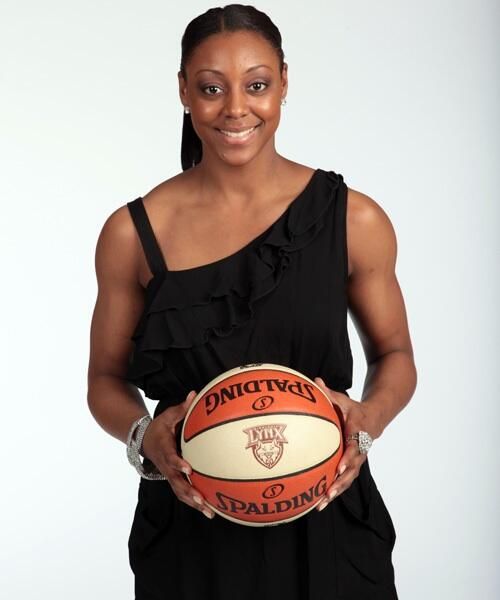 Monica has yet to say anything on her social media about the engagement, but she did tweet this bible verse 4 days ago:
As a young man marries a young woman so will your Builder marry you as a bridegroom rejoices over his bride so will your God rejoice over u
Congrats to the couple!
Photos: Just Women's Basketball's Twitter, WNBA
BALLERIFIC: Savannah Brinson LETS LOOSE At Bachelorette Party In Vegas + Kevin Garnett & Wife Brandi Take The Kids To A Celeb Kid's B-Day Party
Posted: 07 Jul 2013 03:15 PM PDT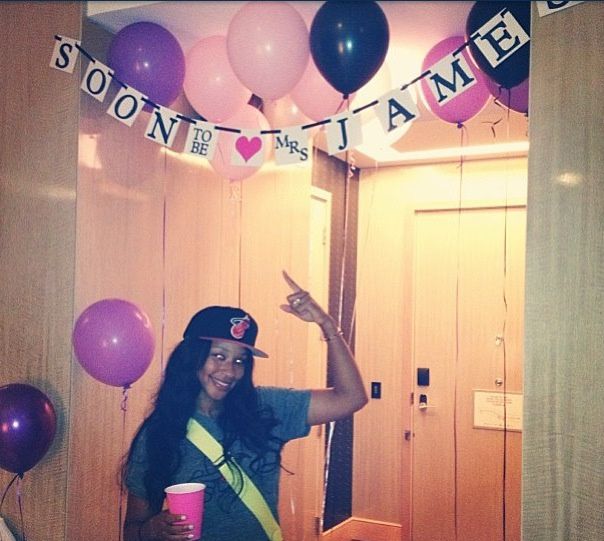 With over 2 months to go before LeBron James & Savannah Brinson tie the knot, the bride-to-be had a major Bachelorette weekend in Vegas with all her friends. Check out the non stop fun inside, and where they're off to next.
Plus, pics of NBA baller Kevin Garnett and his wife Brandi and kids hitting up a celebrity kid's b-day bash....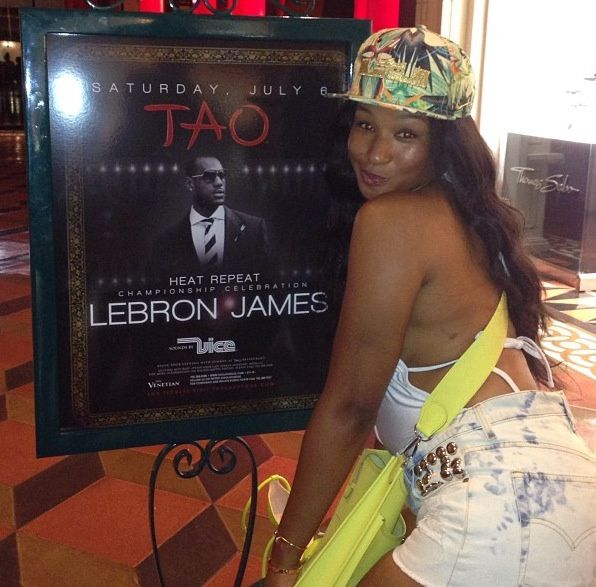 Fab chick Savannah Brinson is more than ready to become Queen James.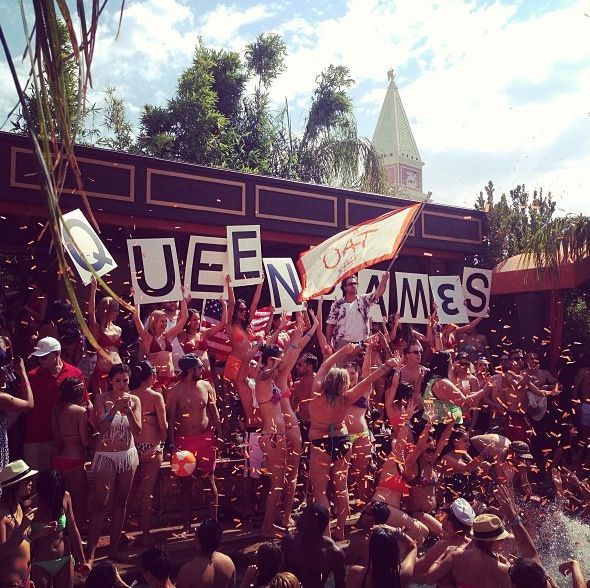 Even her Vegas party signs say so. The gorgeous fiancee of Miami Heat champ LeBron James hit up Las Vegas this weekend for luxe scavenger hunts, dancing on tables, stripper poles (in the party buses), pool parties and more. And it all made for a ridiculously fun Bachelorette Party Weekend.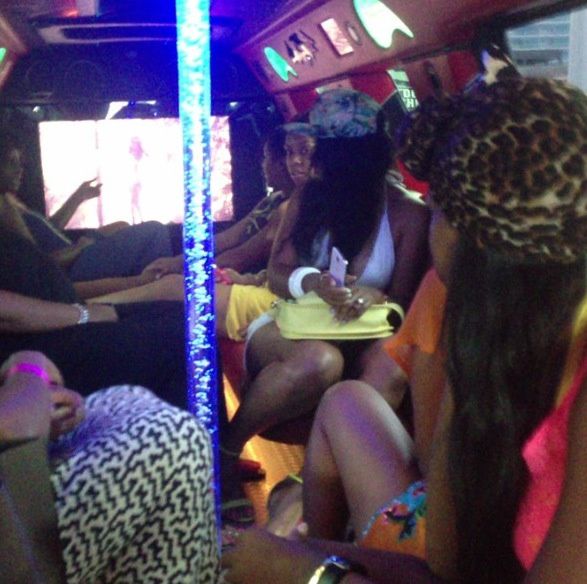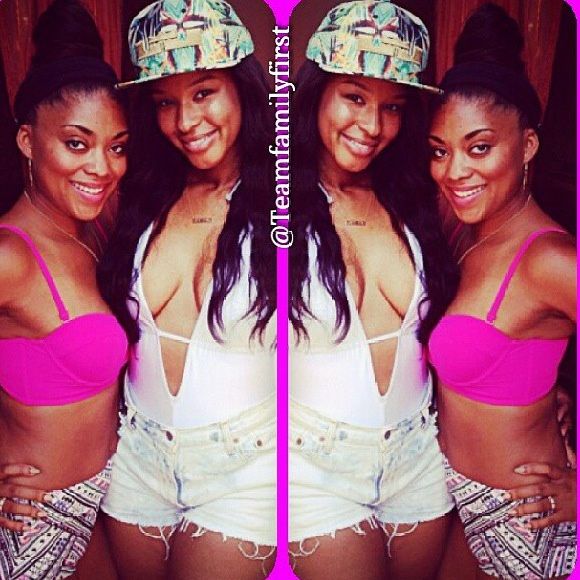 Her good friend Jada Paul--who married L.A. Clippers star Chris Paul just a few years ago--was front and center for all the festivities.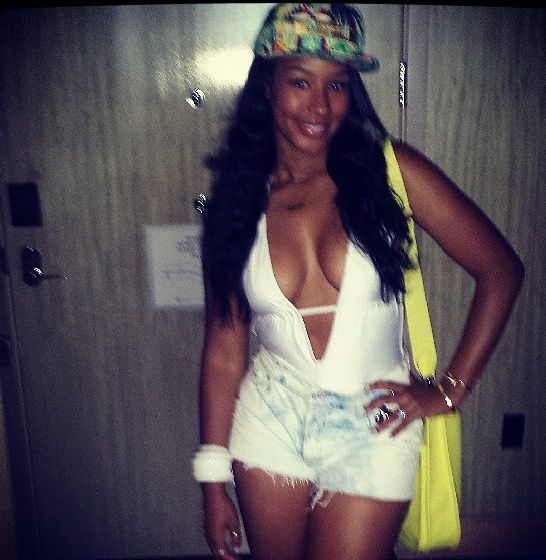 Cute. The mom of two showed off her bridal bootcamp bod all weekend.
And the pool party fun was all over the place: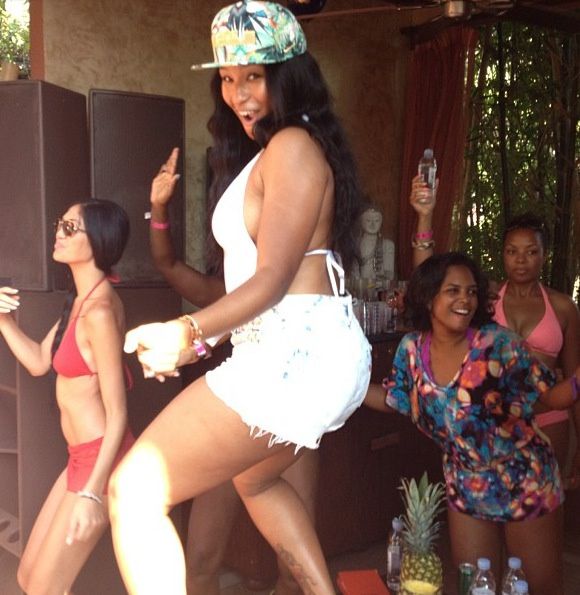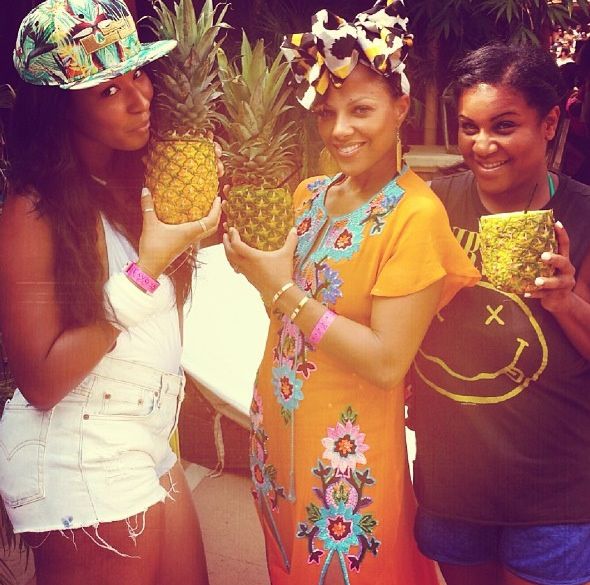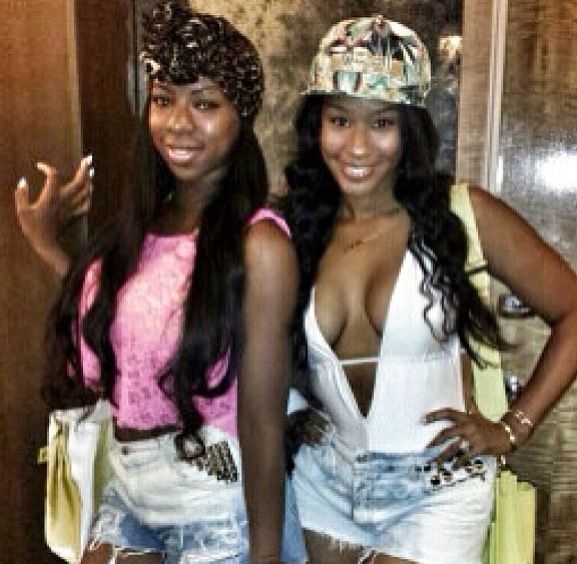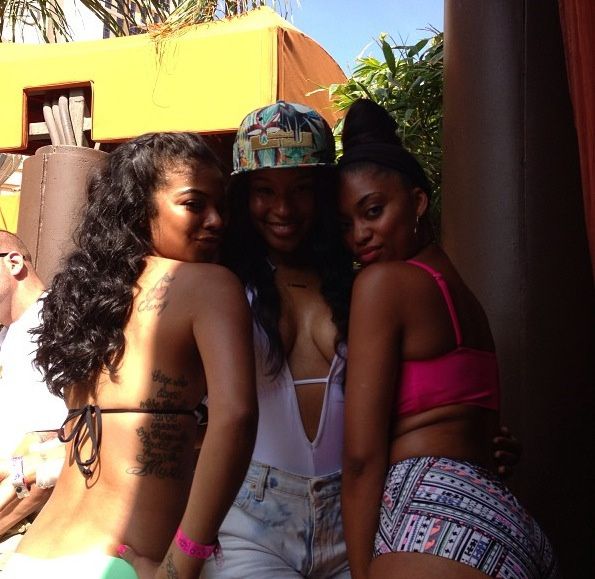 Oh ok.
And when they weren't popping bottles at pool parties: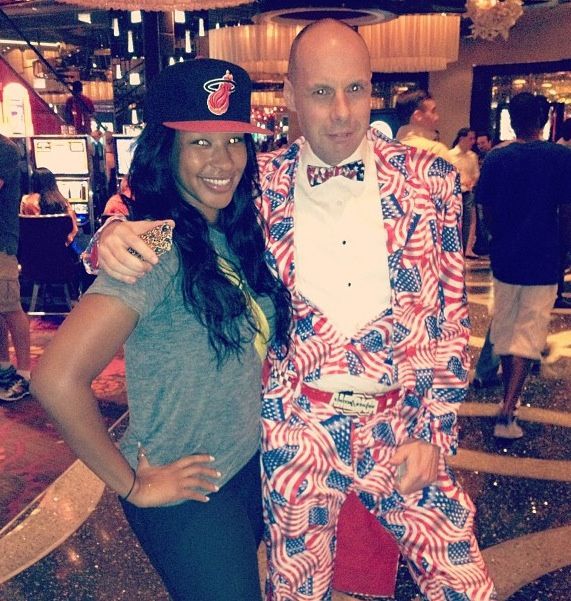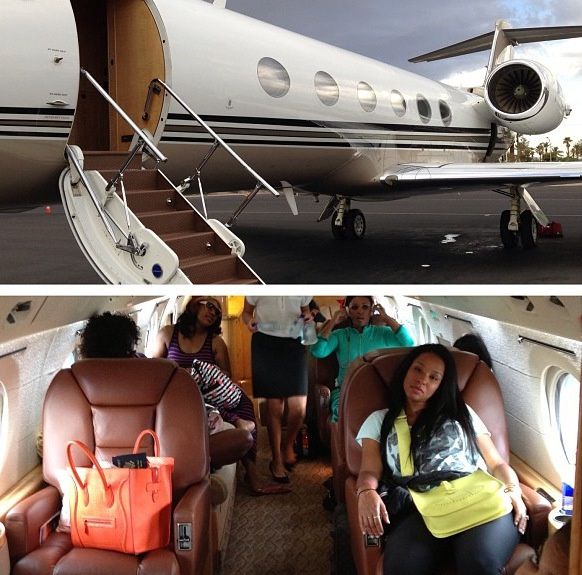 They were out and about around the town. And hopped a private jet today saying they were taking the party to Anguilla. Behave ladies!
And over in Cali: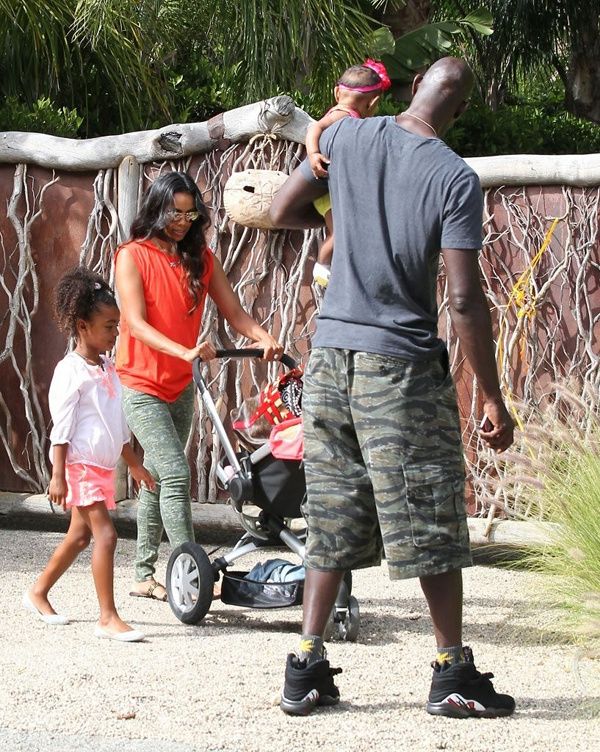 The newest Brooklyn Net...as of last month...37-year-old Kevin Garnett was spotted in Malibu yesterday having a day out with his fam. He and his wife, Brandi Padilla, and their cute kiddies hit up actor Matthew McConaughey's son Levi's birthday party.
And how cute is Kevin on daddy duty with his little girls: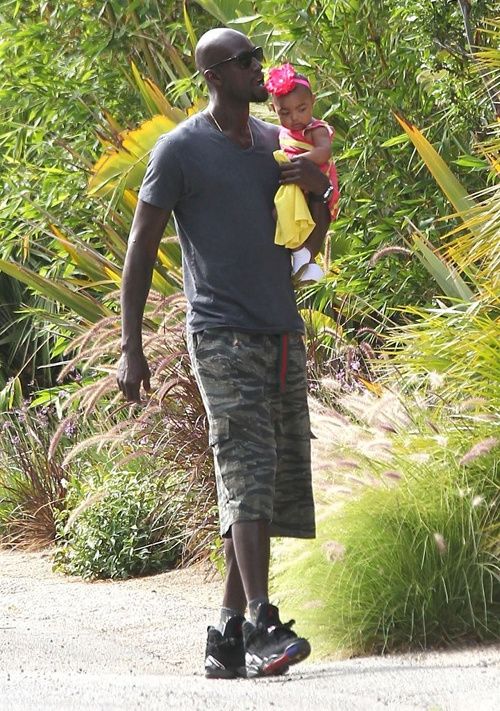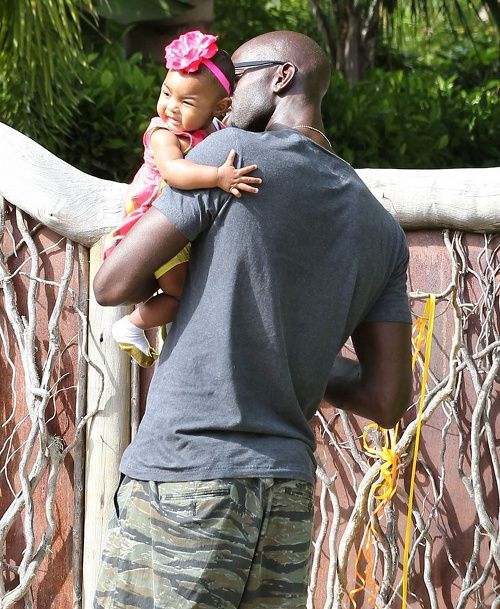 Precious!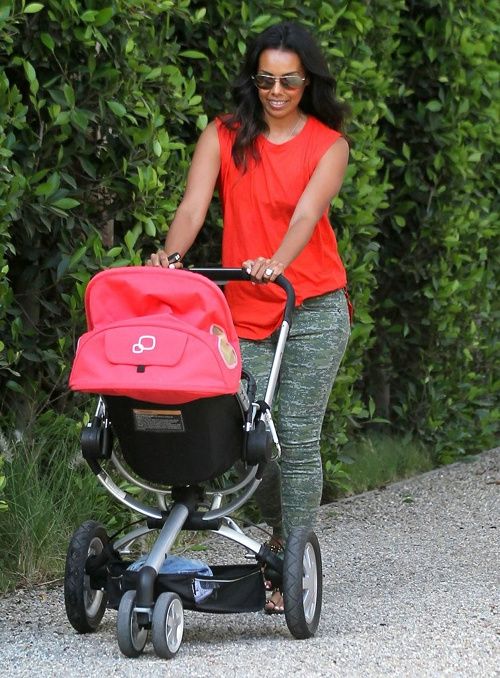 His fab wife of almost 10 years, Brandi, rolled her Louis Vuitton bag and their 5-year-old daughter Capri into the party too. By the way, Brandi's sister Lisa Padilla is married to super producer Jimmy Jam.
Fun times!
Photos via Fame, IG: @cherriepie82 , @teamfamilyfirst, @jada_ap, @ms_deidre, @simplyredemmed1, @melt324, @ebonyjhair, @j9_howard
ESSENCE FEST DAY 2 ROUNDUP: Solange, Trey Songz, Tamia, Meagan Good, Wale, Keyshia Cole & MORE Hit The W Day Party, The Superdome, & More
Posted: 07 Jul 2013 12:46 PM PDT
Solange Knowles, Trey Songz, Keyshia Cole and more took over the Superdome during Day 2 of the 2013 Essence Festival last night. We've got the pics, plus everybody who hit up the day party and afterparties...
Solo Star made her way to the Superdome just one day ahead of her sis' main stage performance.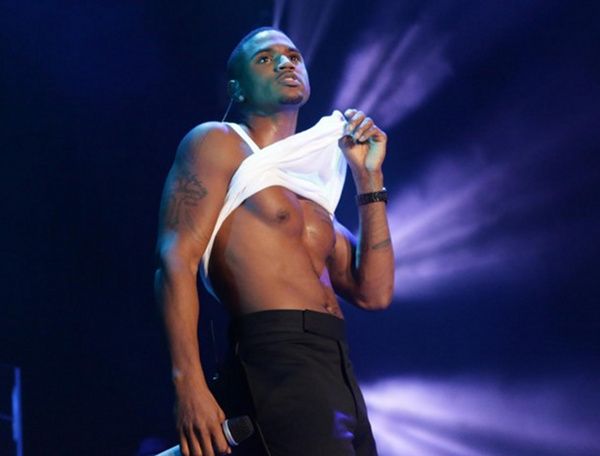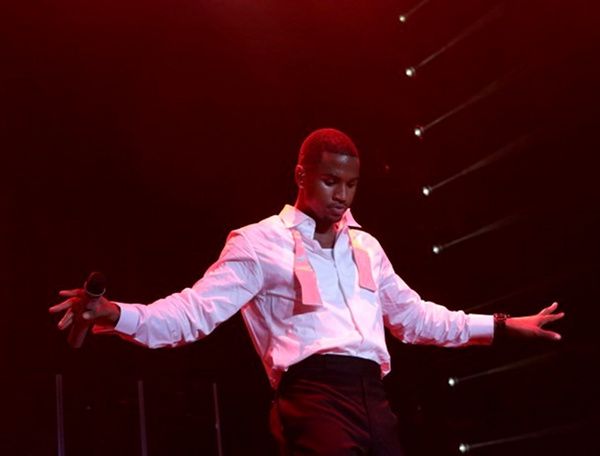 Trey Songz hit the mainstage...shirtless.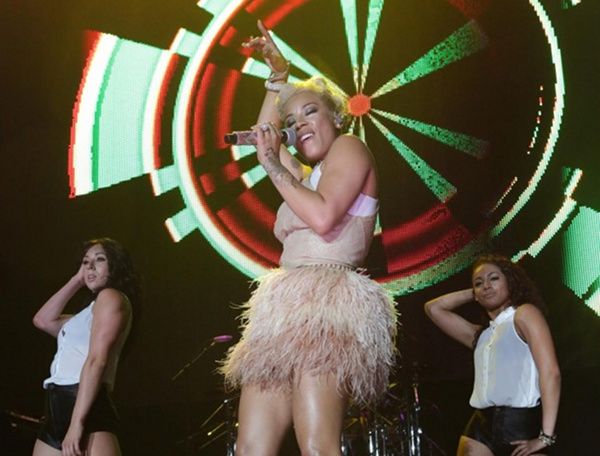 Keyshia Cole did her best to rock the stage.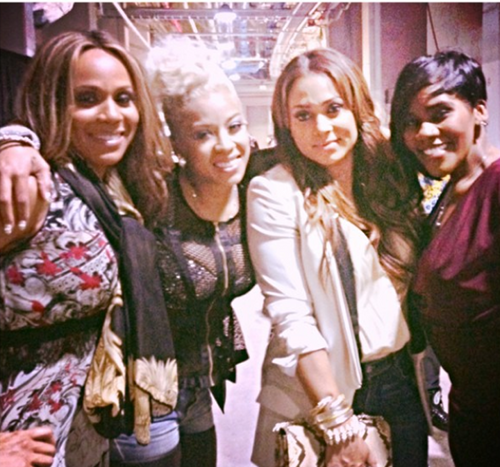 And she was spotted around the Superdome with a few of our fave R&B chicks--Deborah Cox, Tamia and Kelly Price.
A sparkling Charlie Wilson worked it out.
Over in the press room: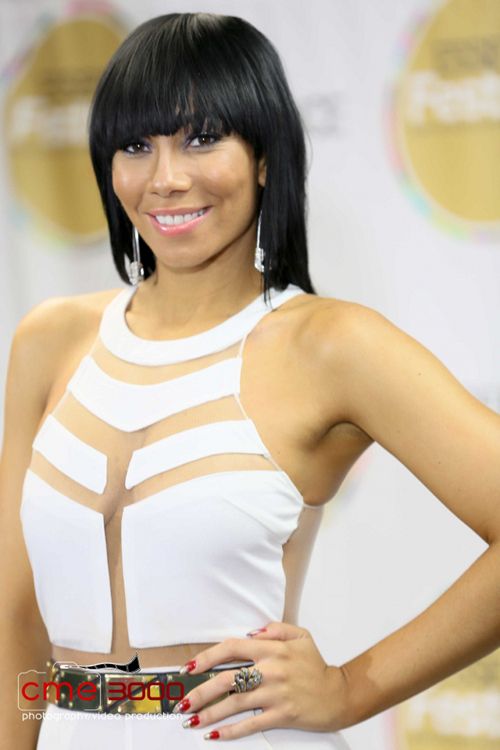 Keyshia Cole and Bridget Kelly snapped some pics.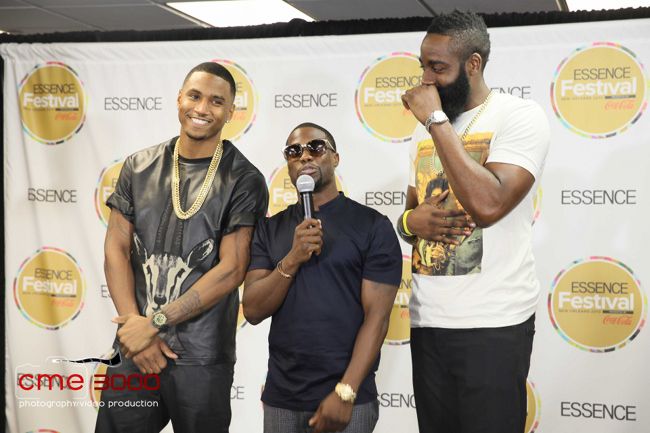 And Kevin Hart, Trey Songz & James Harden kept it extra silly.
In the VIP lounge: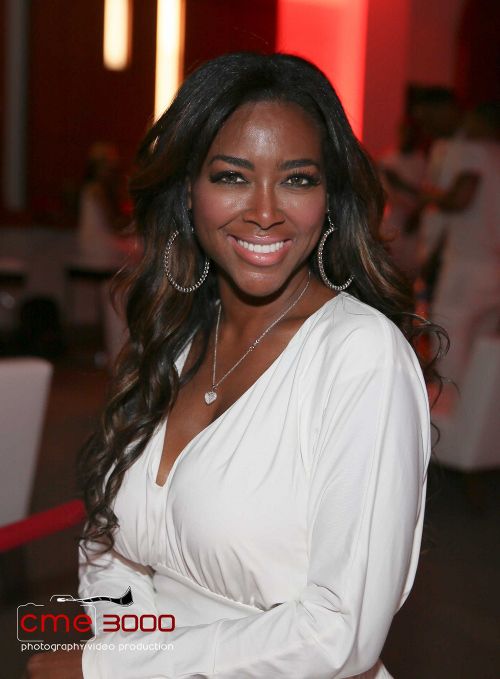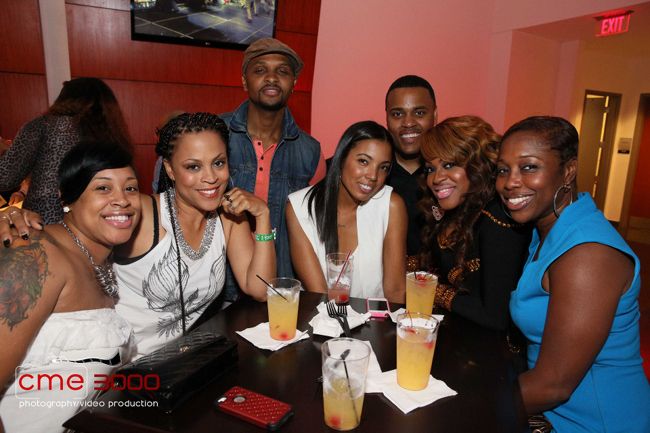 Reality stars Kenya More, Shaunie O'Neal and Lil Mo all chilled out with friends.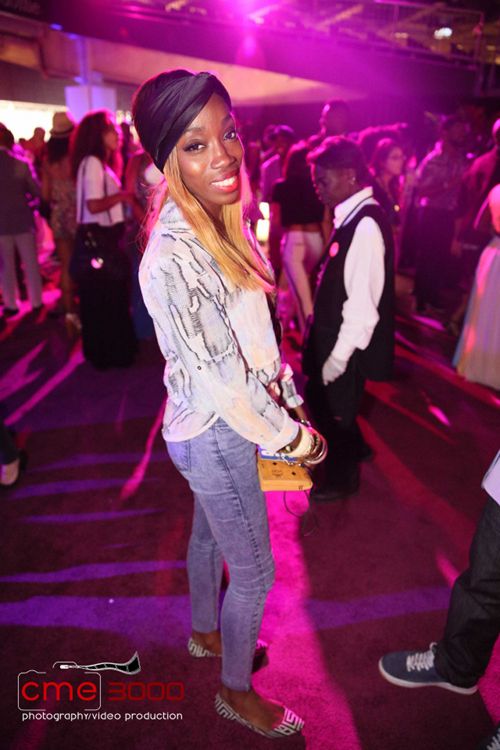 Estelle was spotted walking around catching some performances.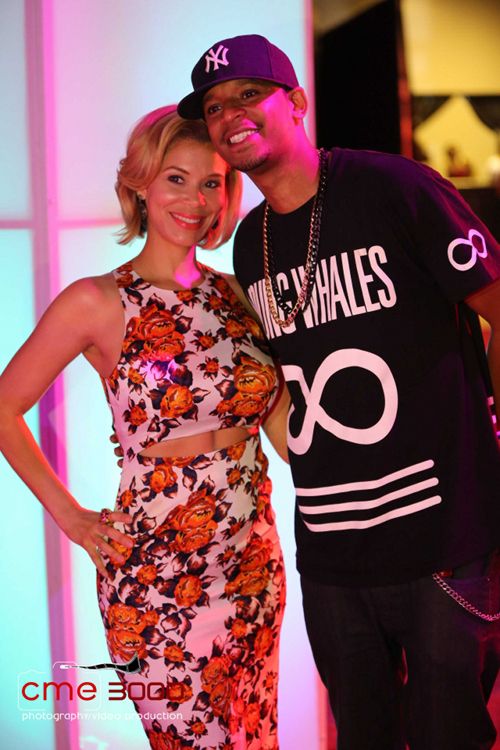 Erika Liles posed it up with Chef Roble.
MC Lyte was spotted around the Dome.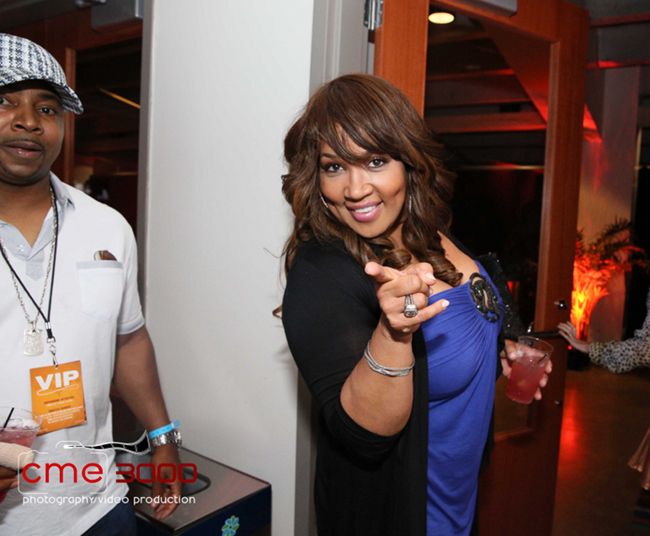 Hey Kym Whitley.
And in the superlounges: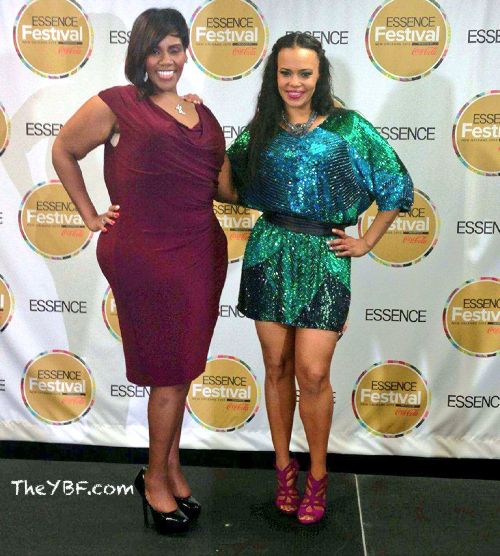 Faith Evans, rocking her pink Jimmy Choos, had the Superdome lounge packed out, and even had fellow "R&B Diva" Kelly Price come up to sing with her.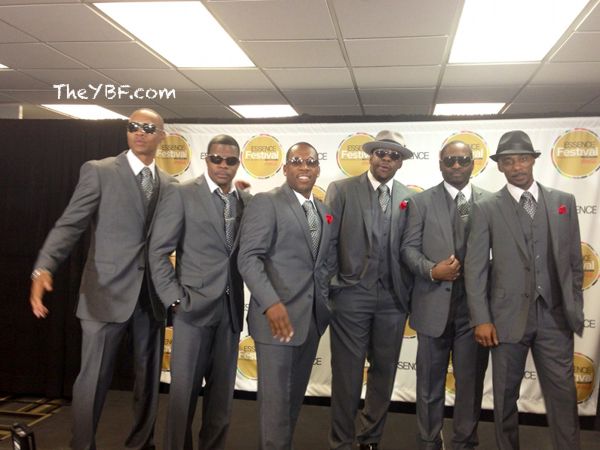 And New Edition hit the press room after taking over the stage 6 strong. By the way, they had the entire Superdome losing their minds. They've still got it...
Celebs also hit up the Essence Day Party at the W Hotel in full force yesterday afternoon: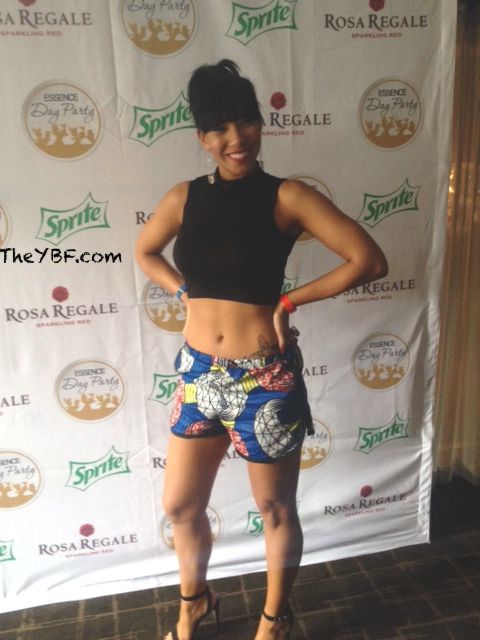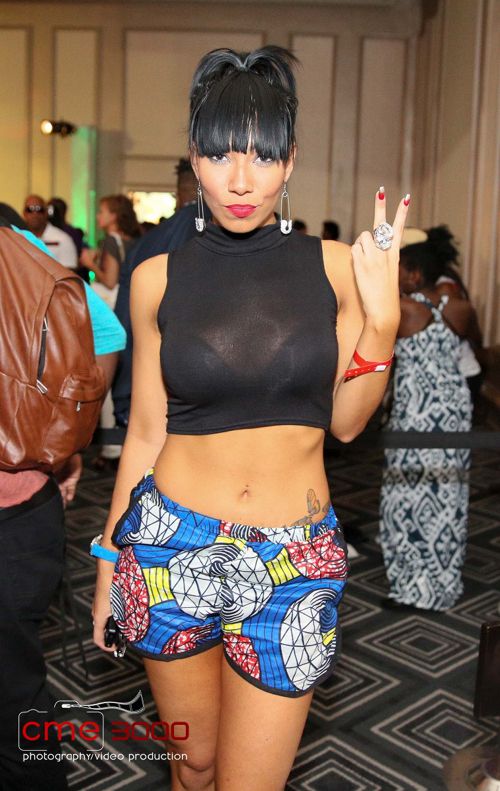 Fab chick Bridget Kelly was there to sing the hook on Wale's song for his "Bad" performance.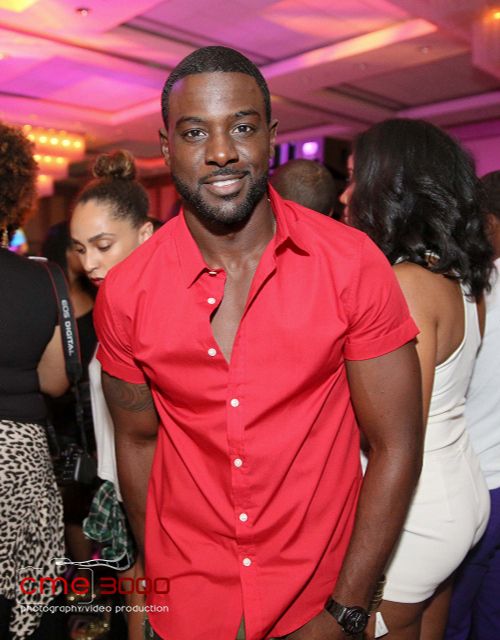 Lance was there looking yummy in red.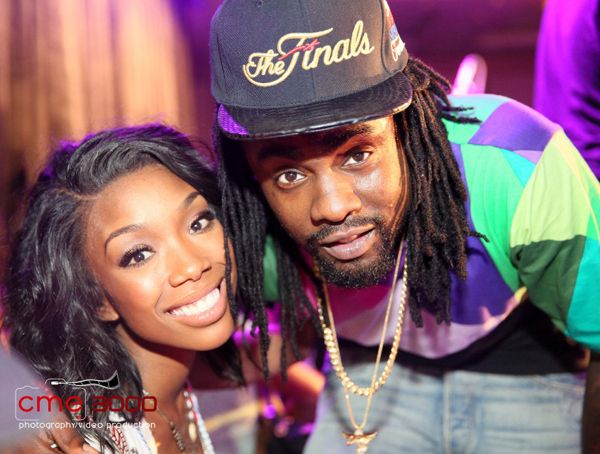 Wale posed it up with Brandy.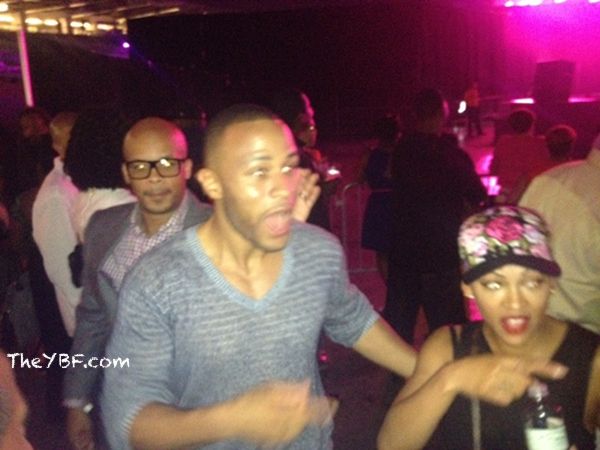 And hubby & wife Meagan Good & DeVon Franklin were spotted chatting up all the gospel artists.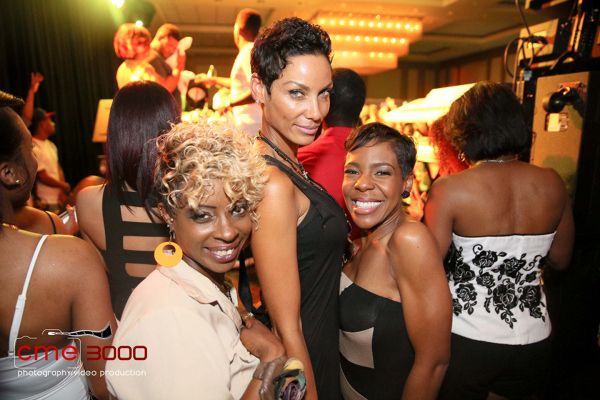 And "Hollywood Exes" stars Nicole Murphy & Andrea Kelly had some fun there.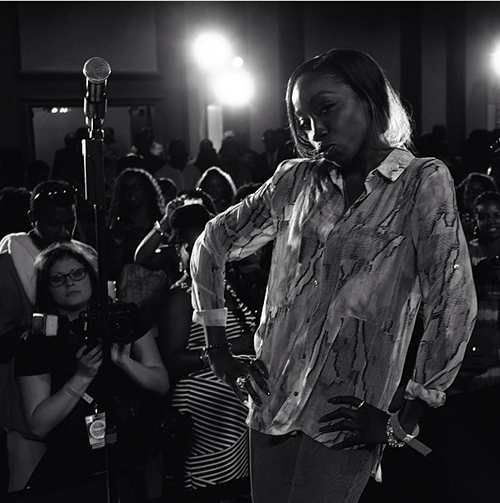 And Estelle also took the stage to perform.
Back at the Convention Center, the Hollywood panel for the Verizon Wireless booth took place with Jill Scott, Kevin Hart, Laz Alonso & Will Packer: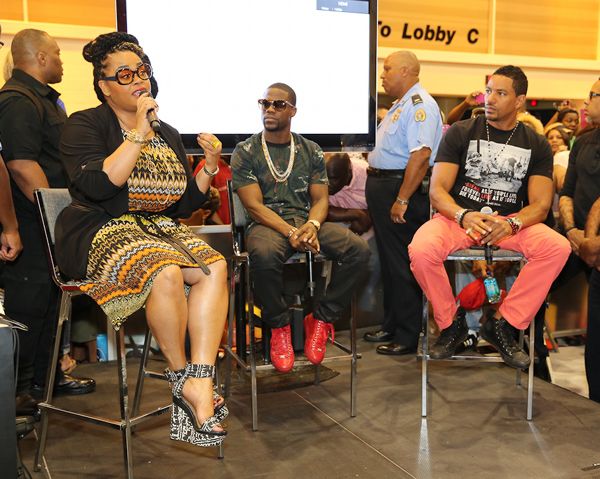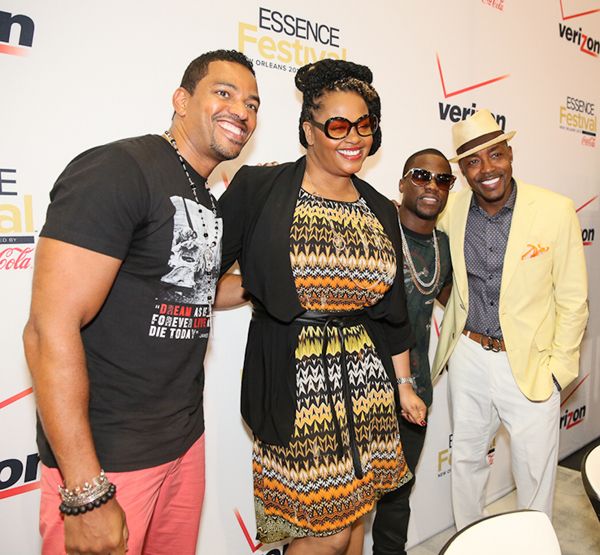 Fab.
Brandy was spotted around the Convention Center with her fiance Ryan Press, who everyone believes looks way too much like Laz. And this pic proves it: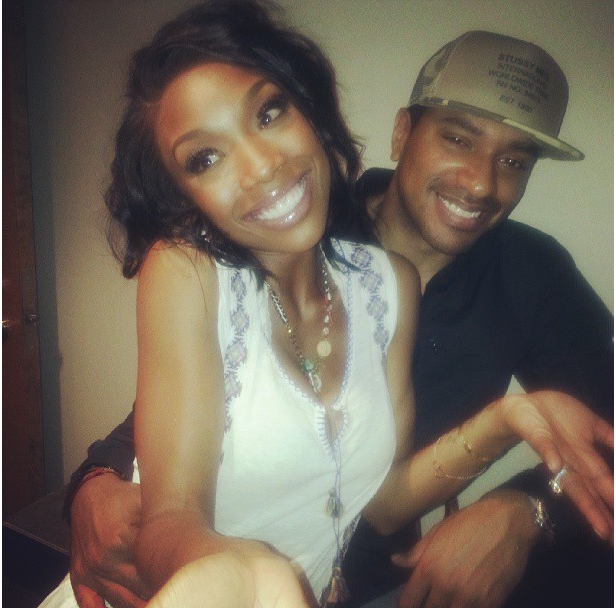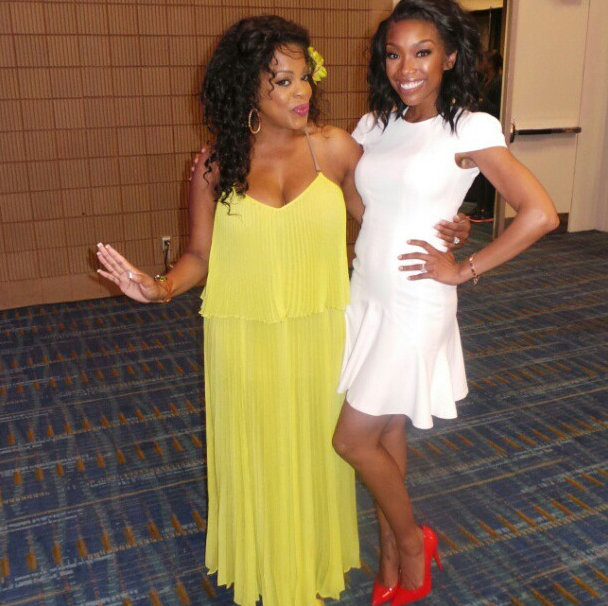 She also caught up with her girl Niecy Nash.
And at Kevin Hart's b-day bash/Essence afterparty, he kicked it with Trey Songz: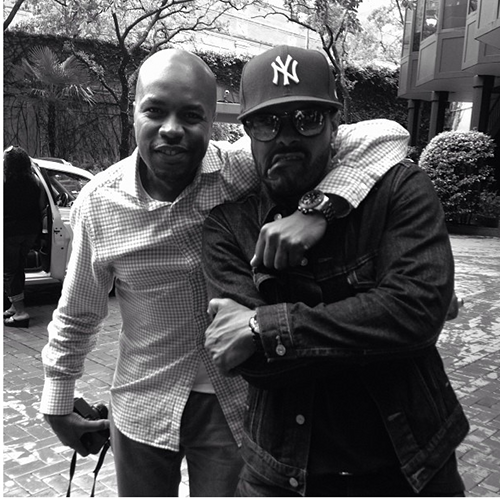 And D-Nice hung out with Maxwell before the "Fire We Make" singer jetted off to Atlanta.
The YBF is on the scene! Follow us on Twitter (@TheYBF) for up to the minute updates, pics & videos LIVE from the 2013 Essence Festival!
Photos: WeTV's IG/Brandy's IG/DJ D-Nice's IG/Chris Mitchell/Essence.com/Keyshia's IG/TheYBF.com/Chris Mitchell / CME 3000
BEACH LOVERS: Russell Simmons & Girlfriend Frolick On The Beach In Malibu + Eve Rocks Bagatelle Beach In Vegas
Posted: 07 Jul 2013 09:42 AM PDT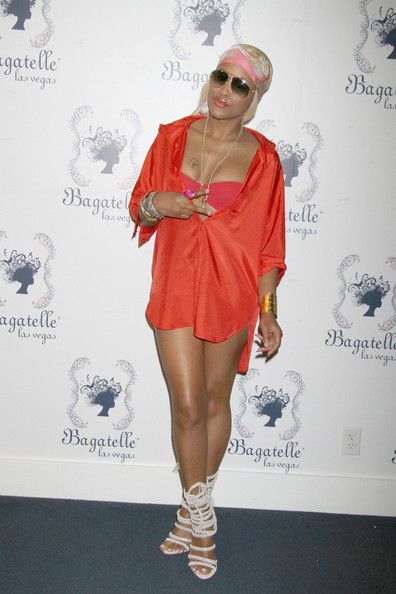 Eve showed off her killer gams while rocking out Bagatelle Beach at Tropicana in Las Vegas. Check the pics inside, plus Russell Simmons and his German girlfriend chillin' out in Malibu...
Eve brought her talents to Bagatelle Las Vegas yesterday in a sexy coral bikini and cover up to rock the stage for the bikini clad guests.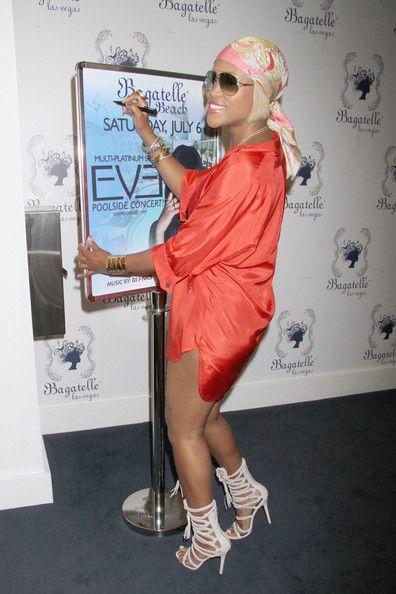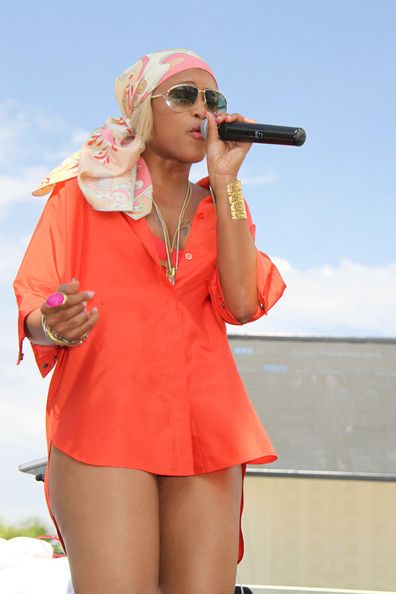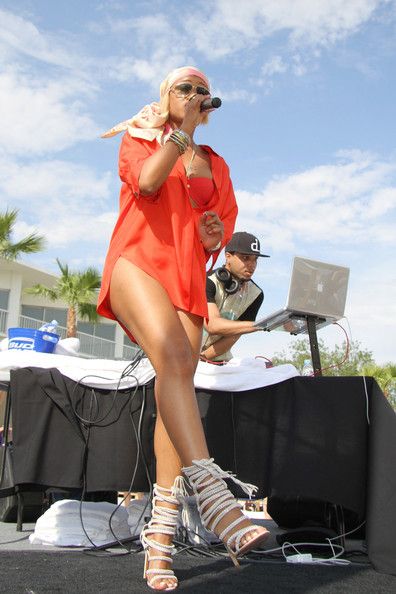 Hot. The "She Bad Bad" chick later partied it up with DJ Afro Jack at the XS Encore.
And over in Malibu: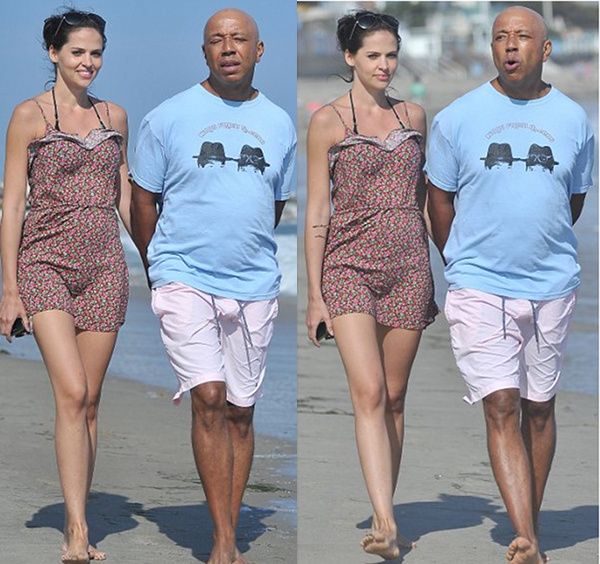 Russell & his girlfriend, 26-year-old German model Hana Nitsche, hit the beach. Is that a party in your pants Uncle Russ? Ew...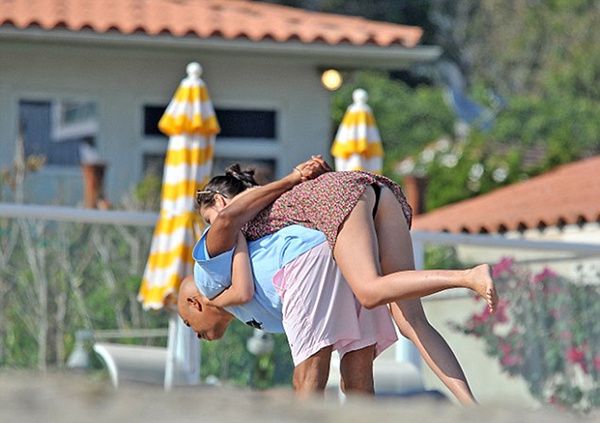 The twosome played some games and played around all afternoon together. Well isn't that....sweet.
The Randomness:
1. While Jay-Z is chillin' with his riches, his former partner Dame Dash was just hit with yet another tax lien. This one equaling $2.8 mill. STORY
Photos: Pacific Coast News, Fern / Splash News
Greenlight! Taj, Coko & LeLee Get New "SWV - Sisters With Voices" WeTV Reality Show About Their Comeback
Posted: 07 Jul 2013 08:56 AM PDT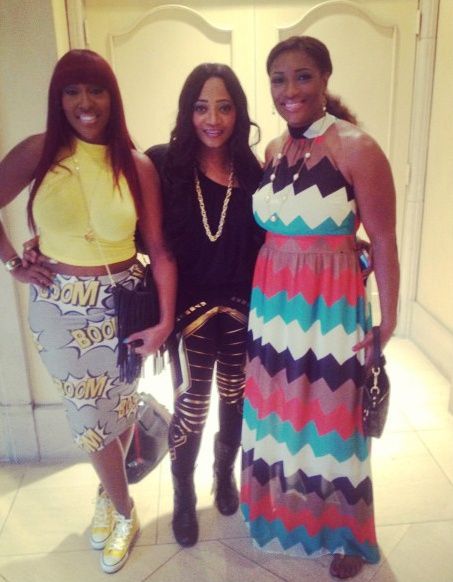 Wondering what's been up with the Sisters With Voices? Well SWV just nabbed a new reality show on WeTV that's all about their make-it-or-break-it comeback.
Deets inside...
Taj George is about to embark on her second reality show after her stint on TV One's "I Married A Baller". SWV (pictured above this weekend at the Essence Festival) announced during their mainstage performance at the Superdome that WE tv is profiling their make-it-or-break-it comeback through a new unscripted series.
"SWV - Sisters With Voices" will join WE tv's successful slate of unscripted programming in early 2014 with six, one-hour episodes from Entertainment One Television.
"The journey of SWV is the kind of real and personal comeback story our viewers love to see," said Lauren Gellert, WE tv's senior vice president of original production and development. "These dynamic women experienced enormous success together, then it all fell apart. United again, the stakes are higher than ever, and so – at times – is the drama and tension. We can't wait to present this fresh, new series to WE tv viewers."
The background: After a string of hit songs in the 1990s (we ALL still know the words to "Weak" like the back of our hands), the ladies of SWV – Cheryl "Coko" Clemons, Leanne "Lelee" Lyons and Tamara "Taj" Johnson – were on top of the music world. Then, at the height of their success, in-fighting and drama lead to their demise. After a 15-year separation the trio reunited in an attempt to recapture their fame at the top of the music charts.
According to the press release, the series will follow SWV as they write new music, tour and finally face the issues that ended their friendship and their careers once before.
We'll be watching...will you?
Photo: Coko's IG
You have read this article with the title The Young, Black, and Fabulous. You can bookmark this page URL http://thisgirlreprobate.blogspot.com/2013/07/the-young-black-and-fabulous_8.html. Thanks!